Pac-12:

pac12 spotlight 2014
March, 5, 2014
Mar 5
9:00
AM ET
We're taking a look at a player from each Pac-12 team who could step into the spotlight in 2014.
[+] Enlarge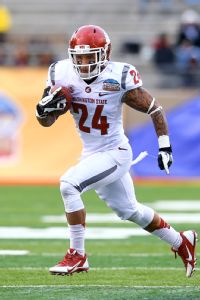 Mark J. Rebilas/USA TODAY SportsTheron West had a big bowl game.
Spotlight:
RB
Theron West
, 5-7, 172
2013 summary:
4 carries, 18 yards; 3 catches, 50 yards, 1 TD.
The skinny:
A brief look at West's season summary doesn't read like a player in line to make a big impact next year -- and that still could be the case. His regular-season totals -- 1 carry, 1 yard; no catches -- are even less inspiring. So, why West? The Gildan New Mexico Bowl, that's why. Whether it was something he did during the bowl lead-up that opened coach Mike Leach's eyes or a build up that finally peaked, there was a difference. West got an opportunity to showcase what he can do and took full advantage. In addition to contributing in both the receiving and running game, West blocked a punt. He won't necessarily make a huge impact as a runner, receiver or on special teams next year, but he looks like a player who could hold a measurable value doing all three.
Previous spotlights


March, 4, 2014
Mar 4
9:00
AM ET
We're taking a look at a player from each Pac-12 team who could step into the spotlight in 2014.
[+] Enlarge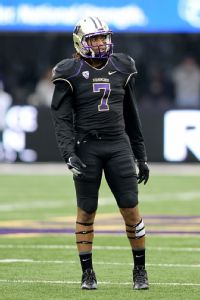 Jesse Beals/Icon SMIShaq Thompson leads Washington's defense.
Spotlight:
OLB
Shaq Thompson
, 6-2, 225
2013 summary:
Thompson recorded 78 tackles, with four coming for a loss, 0.5 sacks and an interception.
The skinny:
I know what you're thinking: Everyone knows who Shaq Thompson is. He's already in the spotlight. Well, everyone does know who Thompson is -- a touted recruit with tremendous upside. Yet while Thompson has been mostly impressive his first two seasons, he has not yet fully broken out, so to speak. He is not yet a national star. He ranked second on the Huskies in tackles and didn't contribute many big plays. He only earned honorable mention All-Pac-12 honors. He didn't make the
Pac-12 blog's 2013 top 25 players list
, and Washington fans know as well as anyone that the Pac-12 blog's top 25 players list should be carved into granite tablets, inscribed with gold leaf and placed behind a glass case in the Smithsonian. There's no question Thompson is a preternatural talent and a good leader. Heck, he could see some action on offense next year as a running back, going all
Myles Jack
for the Huskies. The general feeling is this will be Thompson's last season before he enters the NFL draft. He leads a Huskies defense that should be pretty darn stout next fall, at least if the secondary can be rebuilt. He should become a first-team Pac-12 guy who earns All-American consideration. If he reaches his potential, he should become a first-round NFL draft pick in 2015. But only after he earns a coveted spot near the top of the Pac-12 blog's 2014 top 25 players list.
Previous spotlights
March, 3, 2014
Mar 3
9:00
AM ET
We're taking a look at a player from each Pac-12 team who could step into the spotlight in 2014.
[+] Enlarge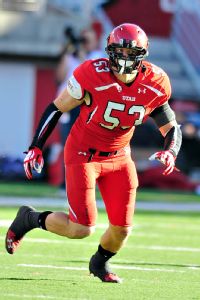 Boyd Ivey/Icon SMIJason Whittingham will be asked to lead Utah's defense.
Spotlight:
LB
Jason Whittingham
, Jr.
2013 summary:
In 10 games, Whittingham ranked second on the team with 81 tackles.
The skinny:
Utah loses defensive standouts DE/OLB
Trevor Reilly
, DL
Tenny Palepoi
and CB
Keith McGill
, which leaves a potential leadership void on that side of the ball. After making 81 tackles as a sophomore and landing on the all-Pac-12 honorable mention list, Whittingham will likely be called on to fill it. Whittingham, who is head coach Kyle Whittingham's nephew, was originally expected to move to defensive end after starting six games as a middle linebacker in 2012. Another player to keep an eye on is receiver
Dres Anderson
, who is setup for a big senior year after catching 53 passes for 1,0002 yards. He'll be one of the conference's best returning receivers.
Previous spotlights
February, 28, 2014
Feb 28
11:00
AM ET
We're taking a look at a player from each Pac-12 team who could step into the spotlight in 2014.
Spotlight:
WR
Darreus Rogers
, So., 6-2, 210
2013 summary:
Rogers caught 22 passes for 257 yards last season.
[+] Enlarge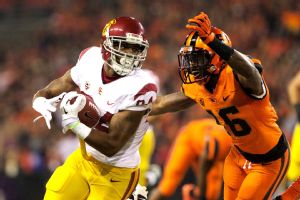 Jaime Valdez-USA TODAY SportsDarreus Rogers has a good chance this spring to put a stranglehold on the USC No. 2 WR spot.
The skinny:
Marqise Lee
is gone. So
Nelson Agholor
will step in as the Trojans' No. 1 receiver in 2014, a post he arguably held last season even with Lee on the team. But who will be No. 2? While many will be watching the QB competition between incumbent starter
Cody Kessler
and touted redshirt freshman
Max Browne
, USC really needs someone to decisively step into the No. 2 WR role. Rogers, the leading returning receiver after Agholor, flashed plenty of promise last season as a true freshman. He has good size, hands and play-making ability. Further, there won't be too much competition this spring, with the oft-injured
George Farmer
coming off a knee injury, as is
Steven Mitchell
. Both figure to see only limited action. Rogers' chief competition might be the
Victor Blackwell
, but he caught just four passes last season and has yet to show much. Further, there is pressure on Rogers to step up this spring, because a strong incoming receiver class --
Juju Smith
,
Rahshead Johnson
and
Ajene Harris
-- will arrive this summer, and those guys surely are eyeballing immediate playing time.
Previous spotlights
February, 27, 2014
Feb 27
5:30
PM ET
We're taking a look at a player from each Pac-12 team who could step into the spotlight in 2014.
Spotlight:
WR
Devin Fuller Jr.
, 5-foot-11, 195 pounds
2013 summary:
Fuller caught 43 passes for 471 yards and four touchdowns, all of which ranked second on the team.
[+] Enlarge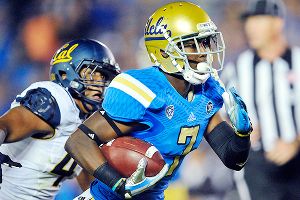 Gary A. Vasquez/USA TODAY SportsDevin Fuller, who had 43 catches for 471 yards and 4 TDs last season, has a chance to play an even bigger role in UCLA's offense this season.
The skinny:
The past two seasons aren't necessarily how Fuller saw his college career playing out when he was getting recruited to play quarterback, but, in all likelihood, it has worked out for the best. As he enters his junior year, it's clear the transition is complete -- he can longer be considered merely an athlete playing receiver. With
Shaq Evans
, the Bruins' leading receiver from 2013, off to the NFL, Fuller has an opportunity to play a bigger role in the offense next season. He and
Jordan Payton
will serve as Nos. 1 and 1A in a receiving corps that has the benefit of a pairing with quarterback
Brett Hundley
. Fuller, who lines up primarily in the slot, has caught a pass the last 19 games dating back to his midseason position change in 2012 brought on by a rash of injuries. Fuller's production dipped toward the end of the 2013 season -- potentially related to a hamstring injury that kept him out against Arizona State -- but for most of the season he was a reliable option for Hundley on short routes.
Previous spotlights
February, 26, 2014
Feb 26
9:00
AM ET
We're taking a look at a player from each Pac-12 team who could step into the spotlight in 2014.
[+] Enlarge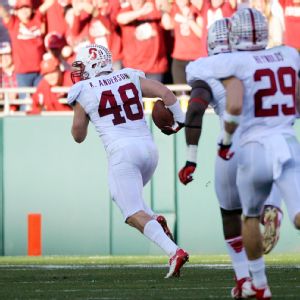 Richard Mackson/USA TODAY SportsKevin Anderson returned an interception for a touchdown in the Rose Bowl.
Spotlight:
OLB
Kevin Anderson
,
R-Jr., 6-foot-4, 244 pounds
2013 summary:
Anderson had 26 tackles, including 6.5 for loss and 1.5 sacks, and one interception.
The skinny:
Anderson, a redshirt junior, has big shoes to fill -- those that belonged to 6-foot-6
Trent Murphy
, who led the nation with 15 sacks last year. When you toss in other big losses to the Cardinal's defensive front seven -- LB
Shayne Skov
, DE
Ben Gardner
, DE
Josh Mauro
, LB
Jarek Lancaster
-- it's clear that guys like Anderson are going to have to step up this fall if the defense is not going to take a step back after a dominant two-year run. The good news is Anderson is hardly green. He's been given significant playing time the past two seasons as Murphy's backup. He played an important role last season and was productive when he got on the field. He had 1.5 sacks against Oregon State, earning co-Defensive Player of the Game, and had a 40-yard interception return for a TD in the Rose Bowl against Michigan State. But will he be able to play the position the way Murphy did, effective against the run and pass? Can he consistently bring edge pressure, so the Cardinal aren't forced to take chances with blitzes? It will be worth watching to see what Anderson weighs in August. He probably could add 10-plus pounds to his frame without losing any quickness.
Previous spotlights
February, 25, 2014
Feb 25
9:00
AM ET
We're taking a look at a player from each Pac-12 team who could step into the spotlight in 2014.
Spotlight:
WR
Richard Mullaney
, R-Jr. (6-3, 194)

2013 summary:
Mullaney caught 52 passes for 788 yards and three touchdowns.
The skinny:
In 2012,
Markus Wheaton
and
Brandin Cooks
were Oregon State's top two receivers and combined for 2,395 yards receiving. Last season, Mullaney replaced Wheaton, a 2013 third-round pick, in that equation and combined with Cooks for 2,518 yards. Yes, an overwhelming majority came from Cooks (1,730 yards), but with the Biletnikoff Award winner off to the NFL, that production needs to be replaced. No one is expecting him to be Cooks, but he should be the leading receiver on a team that likes to throw the ball. What remains to be seen is how the Beavers offense will change after Mike Riley hired John Garrett to be the team's new offensive coordinator. Presumably there won't be wholesale changes with Riley still overseeing things, but it's also doubtful returning quarterback
Sean Mannion
will chase the 603 passing attempts from last year either. With Mullaney taking on a bigger role, the same should be assumed for running backs
Terron Ward
and
Storm Woods
as the Beavers strive for more offensive balance.
Previous spotlights
February, 24, 2014
Feb 24
9:00
AM ET
We're taking a look at a player from each Pac-12 team who could step into the spotlight in 2014.
Spotlight:
TEs
Pharaoh Brown
, Jr. (6-6, 241);
Evan Baylis
, R-So. (6-6, 235);
Johnny Mundt
, So. (6-4, 232)
2013 summary:
This tight end troika combined for 30 receptions for 475 yards and five touchdowns.
[+] Enlarge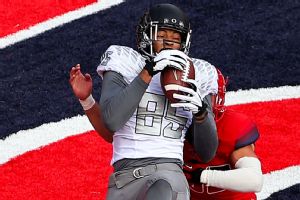 Christian Petersen/Getty ImagesPharaoh Brown, who had 10 receptions for 123 yards in 2013, hopes to get more involved in the Oregon offense in the fall.
The skinny:
Quick: Which Pac-12 team probably has the most talent at tight end heading into 2014? Stanford? Nope. USC? Nope. Oregon State? Well, maybe. The Beavers are pretty stacked at the position, too. But Oregon, which has long had good tight ends -- future NFL players, in fact -- laboring mostly in obscurity, has a dynamic threesome that coach Mark Helfrich and offensive coordinator Scott Frost need to more fully integrate into their offense this spring and fall. All three of these guys are big and athletic. Note the yards per catch: 12.3 for Brown, 17.8 for Baylis and 17.6 for Mundt. Brown started five of the last nine games after missing the first three games with an injury, finishing with 10 catches for 123 yards and two touchdowns. His injury provided the opportunity for Mundt to turn in one of the true "what the heck?" performances of 2013, when the freshman caught five passes for 121 yards and two touchdowns in his starting debut against Tennessee, though his best moment might have been a vicious and effective stiff arm to an SEC defender. He didn't, however, keep up the pace, finishing with 16 receptions for 281 yards and three TDs. Baylis might have been playing the best of the three at season's end, though he finished with just four receptions for 71 yards. QB
Marcus Mariota
's top two passing targets next fall are sure to be receivers
Bralon Addison
and
Keanon Lowe
, but there is no reason the tight end position can't boost the Ducks' offensive diversity with 50 or 60 receptions, not to mention help in the running game in two-tight end sets. Who says you can't use Stanford's "jumbo" formation in an up-tempo offense?
Previous spotlights
February, 21, 2014
Feb 21
9:00
AM ET
We're taking a look at a player from each Pac-12 team who could step into the spotlight in 2014.
Spotlight:
WR
D.D. Goodson
, 5-foot-6, 170 pounds, Sr.

2013 summary:
Goodson caught 22 passes for 306 yards and a pair of touchdowns.
The skinny:
Stability isn't something D.D. Goodson has been privileged to during his time at Colorado. He started at defensive back under former coach John Embree, switched to running back as a sophomore and then to wide receiver, at his request, when Mike MacIntyre's new staff arrived in 2012.
With
Paul Richardson
on the team, there wasn't necessarily the need for immediate production from Goodson, but now that Richardson -- and his 83 catches for 1,343 yards -- is off to the NFL, he is expected to play a much bigger role.
It's an opportunity Goodson is highly anticipating.
"I want to chase records set by receivers in school history," he said. "And I want to be more of a vocal leader rather than just leading by example."
The second part is something he's already got down, according to receivers coach Troy Walters, who won the Fred Biletnikoff Award as a senior at Stanford in 1999.
"He's probably the hardest worker on the team," Walters said. "When other guys are winded and bending over [during conditioning], he's the one holding them up, getting them to the next station. He's at the front of the line in gassers.
"He just has that chip on his shoulder to prove he can be a great player."
Walters said Goodson's strengths are his hands, finding open zones in the defense and what he can do after the catch, which he attributed to his background at running back.
Previous spotlights
February, 20, 2014
Feb 20
12:00
PM ET
We're taking a look at a player from each Pac-12 team who could step into the spotlight in 2014.
Spotlight:
DE
Brennan Scarlett
, 6-4, 260, R-Jr.

2013 summary:
Scarlett missed the 2013 season due to a hand injury.
The skinny:
Scarlett is one of those guys you hear a lot about in terms of potential but haven't really seen him strut his stuff when the lights are on. The most significant part of that isn't his fault. He was expected to be a breakout player in 2013, but a nagging hand injury that got infected killed his season, though that odd bit of bad luck was par for the course for an injury-ravaged unit that ended up becoming pretty much the worst defense in Cal history. If healthy, this former A-list recruit can flat play, whether he's a defensive end or outside linebacker. He started nine games as a true sophomore in 2012 and had 40 tackles, six tackles for a loss, 2.5 sacks, three QB hurries and two forced fumbles. He's smart, athletic and has a good motor. Further, the Bears defense is going to need leadership under new coordinator Art Kaufman. Scarlett leads a list of several key defensive players coming back -- or trying to -- from injury, including safety
Avery Sebastian
and defensive lineman
Mustafa Jalil
. Scarlett is expected to be full-go this spring, and if he can remain that way in the fall, his presence alone will make the Bears defense dramatically better.
Previous spotlights
February, 19, 2014
Feb 19
12:00
PM ET
We're taking a look at a player from each Pac-12 team who could step into the spotlight in 2014.
Spotlight
: Arizona State guard
Christian Westerman
, 6-4, 305, R-Jr.
[+] Enlarge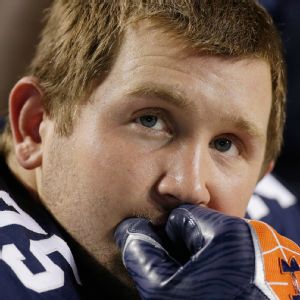 AP Photo/Dave MartinChristian Westerman hasn't seen much game action since committing to Auburn in 2011 then transferring to Arizona State.
2013 summary:
Westerman sat out the regular season after he transferred from Auburn, but played sparingly after becoming eligible for the National University Holiday Bowl.
The skinny:
Arizona State teammates and coaches refer to him simply as "The Prototype," but Westerman isn't satisfied with just looking the part of an NFL guard. He's anxious to prove he can live up to the expectations created when he was one of the most recruited Arizona-based players in history as a part of the Class of 2011.
Westerman chose Auburn, which had just won the national title, and didn't strongly consider playing for the Sun Devils.
"The philosophy wasn't what I wanted it to be (at ASU)," he said. "It just really wasn't the place to be."
However, after a redshirt season and an injury-riddled 2012 campaign, neither was Auburn -- at least not for
the former five-star recruit
. Westerman had kept tabs on ASU and came away impressed with the turnaround under coach Todd Graham. When he chose to leave Auburn, it was clear where he wanted to be.
"I really missed home," he said. "I missed the family atmosphere and the not just from family, from the people I'm around here. The support I have now is much better."
Forced to sit out the 2013 regular season due to NCAA transfer rules, Westerman was relegated to mostly scout team duty in practice. That meant a lot of quality one-on-one time working against two-time Pac-12 Defensive Player of the Year,
Will Sutton
.
"That was awesome going against a guy that has accomplished so much," Westerman said. "That definitely helped me get better ... the top guy in the league the past two years."
ASU offensive line coach Chris Thomsen said Westerman competed well and held his own against Sutton.
"We put him down here on the scout team, which, for him, probably wasn't very fun," Thomsen said. "But from a competition standpoint, it made him better and helped him develop."
Westerman was eligible to play in the Holiday Bowl, but was used minimally as an extra lineman in jumbo packages as the staff didn't want to mess with the chemistry the line had built throughout the season. It was just the third real game he'd appeared in since high school.
"That's been the hardest thing. Not being on the field," he said. "I'm ready to start playing again and hoping to get out there and have a good season."
It's unclear what guard position Westerman will wind up at, but he'll be an important cog on what has a chance to be a very good unit.
"You look at him and say, 'that's what a guard is supposed to look like in the Pac-12,'" Thomsen said. "He's a guy that's ready to prove himself. He was so decorated coming out of high school. Guys like that want to get on the field quick. I know he's eager to make his mark."
Previous spotlights
February, 18, 2014
Feb 18
11:00
AM ET
We're taking a look at a player from each Pac-12 team who could step into the spotlight in 2014.
Spotlight:
Arizona WR
Cayleb Jones
, 6-3, 210, R-So.
[+] Enlarge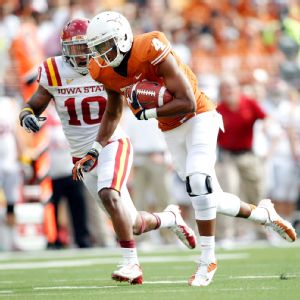 Brett Davis/USA TODAY SportsTexas transfer Cayleb Jones has the size and speed to be a playmaker at wide receiver for Arizona.
2013 summary:
Jones transferred from Texas, so he practiced but couldn't play last season because of transfer rules.
The skinny:
You surely have heard about Arizona's depth at receiver. Not only are six of the top seven WRs from 2013 coming back, the unit also will be bolstered by the return of
Austin Hill
, the Pac-12's second-leading receiver in 2012. Toss in Notre Dame transfer
Davonte' Neal
and you have quite a crowd. But guess what? There are more than a few folks who say Jones might turn out to be 1B to Hill's 1A. Jones is big and fast and played as a true freshman at Texas. He opted to transfer after running into some off-field trouble -- felony aggravated assault charges, which were later dismissed and reduced to a misdemeanor -- and followed former Texas QB
Connor Brewer
to Arizona, turning down a host of suitors. Jones was an Under Armour All-American and ESPN 150 recruit coming out of Austin, Texas, and Jones and Brewer were considered two of the leaders of Texas' No. 3 ranked 2012 recruiting class. The big question for Arizona is who will throw the ball to Hill, Jones and company. The good news is whoever wins the QB job, he will have plenty of targets capable of making him look good.
PAC-12 SCOREBOARD
Saturday, 12/20
Monday, 12/22
Tuesday, 12/23
Wednesday, 12/24
Friday, 12/26
Saturday, 12/27
Monday, 12/29
Tuesday, 12/30
Wednesday, 12/31
Thursday, 1/1
Friday, 1/2
Saturday, 1/3
Sunday, 1/4
Saturday, 1/10
Monday, 1/12
Tweets from https://twitter.com/ESPNCFB/lists/pac12