September, 8, 2014
Sep 8
10:30
AM ET
Each college football season is a whodunit. Or, more accurately, it's a "who-will-do-it." It contains plot twists and turns, false leads and subtle clues about how things will play out. It's basically a 14-chapter potboiler, so if we seemed to have a couple of big reveals in Chapter 2, we should greet them with equanimity. Even skepticism.
No. 3 Oregon made the biggest national statement so far this season with a 46-27 victory against No. 7 Michigan State. The Ducks answered questions about their ability to match up with an elite physical defense and established their legitimacy. That quarterback
Marcus Mariota
turned in a tour de force for the Ducks further validates the preseason feeling that he was the Heisman Trophy front-runner. Also getting a hole punched in their validation cards were Ducks coach Mark Helfrich and new defensive coordinator Don Pellum.
[+] Enlarge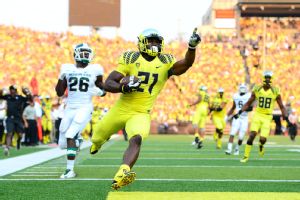 Phil Ellsworth/ESPN ImagesWe shouldn't punch Oregon's ticket to the College Football Playoff just yet.
Meanwhile, USC and new coach Steve Sarkisian also answered questions, though the Trojans' 13-10 triumph at Stanford was pretty much a quasi-comic thriller unto itself. For one, there's USC athletic director Pat Haden, who has never previously merited a rating on the wacko scale, apparently deciding there was some wisdom in his engaging the officials for all to see. Yes, a former USC quarterback, Rhodes Scholar and 61-year-old member of the College Football Playoff selection committee apparently didn't think making a spectacle of himself would turn out badly.
As for football, the Trojans won a second consecutive nail-biter over the Cardinal, propelling themselves into the top 10, They won in large part because Stanford couldn't get out of its own way. The Cardinal had nine drives inside the Trojans' 35-yard line but scored just 10 points, which almost seems mathematically impossible. That red zone ineptitude would be notable for any team, but it's even more stunning when you consider Stanford's well-established reputation for disciplined, bruising, efficient play.
Nonetheless, the victory made the Trojans the second-highest rated team in the Pac-12 in both major polls. Two weeks into the season, one might call them the South Division favorite and most likely team to challenge the Ducks.
But what of USC's friends from Westwood, UCLA, the previous holder of both those designations? The Bruins improved to 2-0, but only after an unimpressive performance in an anxious 42-35 victory against lightly regarded Memphis. They continued a tumble in national estimation, falling from a preseason ranking of No. 7 to No. 12 in the latest AP poll. In Week 1 at Virginia, the Bruins' offense, particularly the line, appeared hapless. In Week 2, the defense took the day off.
UCLA is a cipher. The Bruins look good on paper -- the depth chart suggests no obvious deficiencies -- but have not looked good on turf, at least thus far. They remain unbeaten but are presently the most deserving owner of the dreaded "overrated" label. They could turn out to be the Chapter 1 good guys who end up as heels. Or the opposite. They could be lying in wait, bland and unimpressive, before leaping out of the shadows to make their heroic flourish. Feel free, by the way, to put your own spin on coach Jim Mora's brief postgame interview in which he said he liked his defense "a lot," before frumping off, leaving reporter and audience hanging.
In the preseason, there was some hope that UCLA's game with Texas on Saturday in Cowboys Stadium would be revealing. While expectations weren't terribly high for the Longhorns under first-year coach Charlie Strong, there were reasonable projections this game at least would be a matchup of ranked teams. But Texas is battling growing pains, as well as injuries and suspensions, under Strong. It just got whipped for a second consecutive season by BYU, so the Longhorns look like more of a banana peel than a national stepping-stone for the Bruins.
If UCLA loses, it probably will fall out of the Top 25, going from vogue pick for CFP semifinalist to unranked within three weeks. If it wins, most will shrug and point to the Sept. 25 date at Arizona State, a Thursday night showdown between South Division contenders, as a true measuring stick for whether the Bruins merit our preseason gushing.
This skepticism, however, carries little more authority than everyone's present approbation of Oregon. It's just fickle words, really. Fodder for the daily grind of sports fandom, this week's topic. In December, Oregon's 2-0 might not end up being any more meaningful than UCLA's 2-0. Further, UCLA at 4-0, no matter how it got there, would probably rework its popular descriptive term from "overrated" to "opportunistic."
In other words, our present takes are no more than hunches. These are educated hunches based on tangible evidence, but we all know tangible evidence often has a brief shelf life in college football. Oregon, USC and UCLA have made statements about themselves through Week 2, and it's inevitable that we react to what has been said.
That doesn't mean we won't be breaking down a rematch between Arizona State and Stanford in the Pac-12 championship game when the regular season ends.