December, 12, 2014
Dec 12
8:30
AM ET
Marcus Mariota's Oregon career has included decidedly few interceptions and decidedly little drama. The Ducks' quarterback has been machine-like in his efficiency, providing superb stats but not much suspense.
Suspense should be in short supply Saturday night
in New York during the Heisman Trophy ceremony. Mariota and fellow Heisman finalists Melvin Gordon of Wisconsin and Amari Cooper of Alabama will sit nervously next to each other as the winner is announced. But deep down, all three know it will be Mariota, who
picked up two more honors
-- the Maxwell Award and the Davey O'Brien Award -- Thursday at the Home Depot College Football Awards at Disney World.
As a Heisman voter, I'm not allowed to reveal my vote until after the ceremony. But I can make predictions about the voting: it'll be Mariota in a landslide.
The Heisman was a legitimate two-man race entering championship weekend, as Mariota and Gordon both had strong cases. Then Mariota had his typical performance in the Pac-12 championship (313 pass yards, five total touchdowns), while Gordon was bottled up in the Big Ten title game (76 rush yards, no touchdowns).
April, 5, 2013
4/05/13
6:00
PM ET
Happy Friday.
Follow the Pac-12 blog on Twitter
.
Greetings to all our new Pitt fans. Maybe you can start a blog club with
Kansas State
and
Mississippi State
fans?
To the notes!
Alex from Ann Arbor, Mich., writes
: Ted,Your article about
Rushel Shell
's transfer reveals a lack of research on your part. Pitt's transfer policy has been consistent for the past 15 years. The University of Pittsburgh has never allowed transfers to schools with multiple former Pitt staffers. While the merits of this can be argued, this is an issue that needs to taken up with the NCAA as a whole, not just Pitt. If I remember correctly, in a previous article about Todd Graham leaving Pitt for ASU
you told Pitt fans to get over it
while not bringing to light the issue in college sports where college Presidents can freely lure coaches away from signed contracts. In other words, when Graham came to ASU there was no mention of the underlying NCAA issue at hand but when Shell transfers to ASU you are calling Pitt fans to take action against this problem that is an NCAA problem. It appears that you might be the one who needs to "get over" the fact that Shell won't be joining ASU or AZ unless he wants to pay his own way.
Ted Miller
: This was one of the less addled responses to my column on
Pitt blocking running back
Rushel Shell from transferring to either Arizona or Arizona State, reportedly because former Pitt coaches are on the Wildcats and Sun Devils coaching staffs.
That, of course, includes Arizona State head coach Todd Graham, who isn't very popular at Pitt.
There were a variety of counterpoints from Pitt fans -- see below -- none that I found terribly compelling. There's a reason for that. As noted in the article, there really isn't anyone in the world who doesn't believe Pitt coach Paul Chryst and athletic administrators are wrong for limiting a young man's transfer options for no credible reason other than being petty.
Of course, some
liked
the idea of being petty. At least they were honest.
I did read one writer who said allowing Shell to transfer where he wanted would set a "bad precedent." That sort of thinking emerges from the perspective of "program above all else, right or wrong." Within that thinking is the justification that is that if Shell gets to join Graham at Arizona State, others might follow.
The gee whiz solution to that false problem is to make your program appealing so players don't want to leave. And if they do, good riddance.
Further, part of establishing a strong locker room culture as well as credibility with recruits and their parents is not doing things that are counter to the interests of student-athletes. Yes, schools that recruit against Pittsburgh will add the treatment of Shell to their clip file.
Alex from Ann Arbor seems like a pretty bright sort, but I'm not sure his initial point is very effective: "Your article about Rushel Shell's transfer reveals a lack of research on your part. Pitt's transfer policy has been consistent for the past 15 years. The University of Pittsburgh has never allowed transfers to schools with multiple former Pitt staffers."
You are correct. I didn't research whether this was institutional policy. For one, CB
Lloyd Carrington
already followed Graham from Pittsburgh to Arizona State (apparently Pitt didn't know his destination, other than to be closer to his Texas home, when he was granted his release). And, second, I don't think it bolsters Pitt's position to point out that a petty decision by Pitt is actually a petty institutional policy.
As for "college Presidents can freely lure coaches away from signed contracts," well, college presidents can freely fire their head coach, too. Within those signed contracts are buyout clauses that explain what happens if a coach is fired before his contract is over or if he decides to go elsewhere before his contract is over. These are business relationships. Not marriages.
Neither Pitt denying Shell the freedom to transfer where he wants to go, nor Graham leaving Pitt are NCAA issues. The NCAA does have transfer rules -- Shell will lose a year while he sits out the season -- but Pitt has the power to decide the nature of its release.
Beyond Alex's note, most of what landed in the mailbag -- and on Twitter -- made the following weak assertions:
"Arizona State is tampering!" Really? That's an NCAA violation. Report it.
"Everybody else does this!" Er, no. But, still, this is what happened TODAY. Ergo, my column.
There were lots of attacks on Shell's character, which is called "changing the subject." And being petty and churlish in a new way.
There were lots of "You defended Graham." Yep. I don't believe a guy should be forced to not take a job he really wants or to stay in a place he doesn't want to be.
There were lots of "You live in Scottsdale!" Yeah ... since 2008. Lived in Seattle from 1999-2008. Mobile, Ala., before that. Went to the University of Richmond. And was born and raised in Atlanta. So what?
There were accusations of a "hatchet job." This column wouldn't exist without Pitt's actions. No hatchet. Just doing my job.
There were lots of "Get your facts straight" with zero examples of facts not being straight.
And there were plenty of the classic, "Your an idiot."
Kevin also dropped me a note, thanking me for ruining his spring vacation to Pittsburgh.
Steve from Highland, Mich., writes:
Can you please tell me why the
Oregon Ducks
have not been hit with sanctions yet? Is it because of the big bucks of Phil Knight with Nike? I find it rather odd some of the other schools are getting hammered with the exception of Oregon.
Ted Miller
: Nothing to do with Phil Knight and Nike.
The NCAA simply moves at a glacial pace, which is unfair to the investigated school because part of the ultimate punishment becomes the prolonged presence of a dark cloud over the program.
I wrote this in December,
and it still holds true today
.
And you might have noticed the
NCAA has its own issues these days
.
Jay from Cambridge, Mass., writes:
In a world where a lot of people around the country still characterize the Pac-12 as an offense-only conference, to what degree does having someone like DE
Dion Jordan
going as a second-overall draft pick remind people otherwise?
Ted Miller
: It's even more than that: Both ESPN NFL draft gurus Mel Kiper Jr. and Todd McShay project the first three Pac-12 players picked in the first round will all play defense: Jordan, Utah DT Star Lotulelei and Washington CB Desmond Trufant.
It probably will surprise some folks, but the Pac-12 has long had plenty of good defenses and plenty of good defensive players. The more pass-happy and, more recently, uptempo styles of offense out West have skewed defensive numbers, often making them look worse than they are.
Just about every Pac-12 team that has beoame a national contender played good defense, most notably Washington under Don James, USC under John McKay and Pete Carroll. Oregon under Chip Kelly and coordinator Nick Aliotti consistently played underrated defense. And Stanford's legitimacy as a national title contender is more about defense than offense.
April, 5, 2013
4/05/13
1:30
PM ET
On March 28, Pittsburgh
released a statement of support
for running back Rushel Shell, who apparently was mulling his future at the school.
Said coach Paul Chryst:
"Like many college freshmen, Rushel is working through some challenges right now. As it is for all members of our team, my most important concern is his personal well-being. Rushel and his family have our full support. We are giving him time away from football to work through this situation but he very much remains a part of our family on a daily basis. We want to be sensitive and respectful of Rushel, and I would ask others to do the same."
Well said. Classy. Obviously Chryst's chief motive is helping out a young man.
[+] Enlarge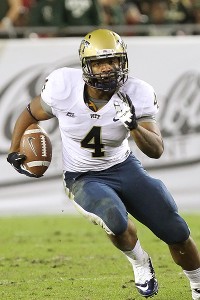 Kim Klement/USA TODAY Sports The Panthers will not allow Rushel Shell to transfer to Arizona State, which is led by former Pittsburgh head coach Todd Graham.
A few days later, it was confirmed that Shell, the Panthers' second-leading rusher as a true freshman last year,
wanted to transfer
.
This morning, we learned that Chryst and Pitt no longer rate Shell's "personal well-being" as the "most important concern," nor does the school offer him and his family its "full support." Shell, clearly, is no longer part of the compassionate and loving Pitt "family."
We know this because Pitt has informed Shell
he can't transfer to Arizona State
, one of four Pac-12 schools he indicated he wanted to consider.
Is there a competitive reason that would justify this decision? No. Pitt and Arizona State have no scheduled games.
So what is the reason?
Well, there's only one: Chryst and Pitt are choosing to role model petty, churlish behavior
because they can,
and that apparently will appeal to many Pitt fans who still are fuming that over a year ago Todd Graham preferred a job at Arizona State over one at Pittsburgh.
The only other explanation is that Chryst and Pitt hate freedom.
The high-minded response for a college coach in every single instance when a player wants to transfer is: "OK. Your choice. Good luck."
The middle-minded response for a college coach is: "OK, but you can't transfer to any team in our conference or on our schedule."
The low-minded response for a college coach is ... what Chryst and Pitt did.
By the way, Pitt also said Shell can't transfer to Arizona. Why? According to ESPN's Joe Schad, it's "because former Pitt staffers coach there as well."
I know this is frustrating and embarrassing for Pitt folks. Coaches and players seem to prefer their association with the Pitt program to be "former" rather than "current." That's not me just typing that; Don't blame the messenger! That's what we keep seeing with people's behavior.
So here's a measure of character for Pitt fans. All of them know what is right and all of them know this isn't right. They know it. Not a single Pitt fan truly believes Pitt is acting like a bastion of higher learning and integrity with this decision.
Now will those Pitt fans take a stand for what is right, contact Pitt and support the freedoms of a young man?
Or will they support petty, churlish behavior because they can?
October, 5, 2012
10/05/12
5:30
PM ET
Happy Friday.
This is the mailbag. If you were looking for a nice fried egg sandwich, you will not find it here.
Follow the Pac-12 blog on Twitter
.
To the notes!
Ken from Berkeley, Calif., writes
: If you look back at the fifty years before Tedford, Cal had about 14 winning seasons. This is through eleven other coaches and who knows how many academic administrations. To what extent are the demands/challenges of coaching at Cal different than other places? At Ohio St., for example, fans kept asking isn't Berkeley just a liberal place full of radicals. Hasn't Coach Tedford uniquely succeeded in providing competitive football at despite the challenges more than any other Cal coach in 50 years? Do some Cal fans have an illusion of what the past 50 years were like and how that a jerk coach like some have would not be acceptable as a role model?
Ted Miller
: You make a fair point. It's a point that factors into the thinking of the decision-makers/power brokers at California.
No one denies what Tedford has done for Cal. Even, I'd hope, his fiercest critics. He is, in many ways, a victim of his own success. In 2001, regularly posting winning records and going to bowl games sounded thrilling in Berkeley. By 2006, folks had refocused on Rose Bowls and 10-win seasons.
Tedford won despite facilities that were among the worst in the Pac-12. Heck, worst among AQ conference programs. He's also represented the program with class.
But this is a tough business. And a big business. Tedford's success was the linchpin for the massive facilities upgrades, including the $330 million renovation of Memorial Stadium. Now there is concern about whether the product inside the remodeled stadium is up to the task of paying for it.
Tedford's success changing the perception of Cal football, the new facilities, the changing landscape of college football and the Pac-12's moving into the sport's fast lane has changed the dynamic. This isn't 2001. The judgment on Tedford operates almost entirely over the past two-plus years, which haven't gone well.
Further working against Tedford are the types of losses, many of the blowout variety, as well as a good number of upsets against teams that were viewed as inferior. Meanwhile, Cal has become one of the biggest pipelines to the NFL. That suggests talent isn't the issue.
At 1-4 so far this season, with a 13-17 record -- 7-13 in Pac-12 play -- since going 8-5 in 2009, it is legitimate to question the
direction of the program
under Tedford. And to ask if he can reverse it.
The parallel thought is: If not Tedford, then who? And how? If the decision is made to go into another direction, then folks making that decision need to have a solid map for what comes next and how they plan to pay for it.
There also is this: The season is not over. The Bears have flashed enough potential this year to maintain hope for a turnaround, even though the schedule ahead remains daunting. A win over UCLA on Saturday could be the touchstone for a rally.
Ken, it's good to hear some measured, big-picture perspective. My feeling is you are not alone in supporting Tedford. I'd suggest that you make your feelings known to athletic director Sandy Barbour, whom I'm guessing is not enjoying this situation in the least.
---
Engineer Mike from WinterthurSwitzerland writes
: We've already talked about how 9 conference games gives the PAC-12 some extra guaranteed losses. However, I'm starting to suspect that the real advantage the SEC has comes from the fact that the easy non-conference schedule is so EARLY. When everybody else is seeing drops after a week of unbeatens matched up against one another, you're actually providing yourself great early access to the polls. Never mind that some of those currently ranked won't be there at the end of the season. They're there now, and used as a stepstool for whoever wins this week. Once established, teams are hard to bring back down. I see a matchup of two 5-0 teams that really should have little more value than the first game of the year for either, and yet they both sit in the top 6. Thought?
Ted Miller:
There is no disadvantage to playing eight conference games. None. Other than your fan experience, and SEC teams have no trouble for the most part selling 90,000 tickets even when the opponent is a directional school.
I hear your point about creating a lot of 3-0 and 4-0 teams based on weak opponents. That makes it easier for teams to produce winning records and earn bowl eligibility. It also makes it easier to get ranked.
But, in terms of placement on the schedule, what typically happens with four nonconference games is at least one is scheduled for later in the season. That, too, offers major benefits. It's like adding a glorified bye week or scrimmage at some point in the season when it helps to rest your starters.
For example, on the Nov. 17 weekend Oregon plays host to Stanford and USC and UCLA square off, Alabama takes on Western Carolina and Georgia plays Georgia Southern. The two frontrunners in their respective divisions get a nice weekend to get their legs back under them.
We hear a lot about the grind of the SEC schedule, but a lot of times it pays to go, "Really, let's see that schedule." That's even more true now if the SEC doesn't move to a 9-game schedule, despite growing by two teams to 14. Conference misses will become a HUGE deal in that league. Think back to 2011, when LSU, Alabama and Arkansas were the best teams in the conference. Imagine the good fortune of an East team not playing any of the three. You know: Like SEC East champ Georgia didn't.
The hope, of course, is that going forward in 2014 under our new four-team playoff, a selection committee will essentially disqualify teams that refused to play tough nonconference games and not allow them to hide behind the specious, "Our conference is already tough enough!"
---
Pep from Stanford, Calif., write
s: I'm a little perplexed how my Stanford offense got so terrible, so quickly. Last week, we scored 6 offensive points (both field goals) against the same team we scored 65 against last year.I know we're trying to replace The Best Quarterback Since Peyton Manning, but seriously, do we not have a single guy on the roster who's capable of completing a simple slant route? Or a 5 yard screen pass for crying out loud!Any advice?
Ted Miller
: My first thought is that you're forgetting this offense didn't just lose Andrew Luck. If OG David DeCastro and OT Jonathan Martin were still on the line, the Cardinal probably could have won against the Huskies without throwing a pass. And if they'd had to throw every once and a while, TE Coby Fleener probably could have helped.
My second is to wonder how things might have been different if
Josh Nunes
hadn't suffered at least four drops against Washington. It's tough making your first career start on the road. Tougher when your teammates are letting you down.
My third: Nunes had a bad game. Most QBs have those every once and a while. You might recall a certain USC QB looking terrible in a recent game you might be familiar with as a Stanford fan.
Folks are quick to make broad pronouncements about one game. I mean, I still can't believe how in over his head Chip Kelly is! Didn't you see how Boise State stomped him in 2009!
If Nunes is who his coaches think he is, he'll learn from his mistakes and get better. I suspect he might look pretty good Saturday against a questionable Arizona defense.
---
David Fertal from Calgary, Alberta, writes
: Hey Ted, Now that we're 1/2 way through the season, which team has the highest rated defense in the conference? Being a Duck fan, I'm actually a touch worried about our pesky neighbors in Black & Orange... (They who shall not be named)
Ted Miller
: Too early to make a final call. We've just started the conference slate, and not all nonconference schedules were created equal.
Here are the notable numbers from my "
Stat Attack
!" post this week (number to left is national ranking).
Scoring defense
14. Arizona State, 13.6 points per game
21. Stanford, 15.25 ppg
Total defense
10. Arizona State, 276.2 yards per game
21. Washington, 315.0 ypg
24. Stanord, 316.5
Rushing defense
3. Stanford, 65 yards per game
9. Oregon State, 83 ypg
24. Oregon, 110.6
Pass efficiency defense
7. Arizona State
18. Stanford
20. Washington
23. USC
24. Oregon
Third-down defense (percentage)
2. Oregon State, 20.5 %
4. Stanford, 24.62
5. Oregon, 24.69
13. UCLA, 28.21
Sacks
5. Arizona State, 4.2 per game
6. USC, 4.0
10. UCLA, 3.4
13. Oregon, 3.2
13. Washington State, 3.2
25. Stanford, 2.75
25. Utah, (2.75)
Arizona State, which has played a solid schedule, leads the conference in scoring, total and pass efficiency defense as well as sacks.
So, to this point, I'd rate the Sun Devils No. 1, which no one saw coming.
But Oregon, Stanford, Oregon State, USC and UCLA remain in the picture. Heck, even Washington does, based on its early numbers.
---
Derek from Salt Lake City writes
: In your chat yesterday, you mentioned Cal perhaps going with a cheap up-and-coming coach, presumably because of the cost to fire Tedford. Do you think WSU going with coach Wulff for 3 years was a good thing? At 600 grand a year, it allowed them to save up a little for the two mil a year that Coach Leach costs, right? Although, Wulff is an example of not all up-and-comers working out. And the ones that do usually aren't up and comers for long, kinda by definition. Chip Kelly was an OC for what, maybe two years before his first and only head coaching job? How many hot names are out there besides Wilcox and anyone that works at Alabama?
Ted Miller
: I don't think you go cheap just to save money. At the time of Wulff's hiring at Washington State, he was a former Cougar player who'd done a good job at Eastern Washington. It seemed like a roll of the dice that either would prove to be a perfect fit or one that fizzled in obscurity. I personally thought it was an inspired decision at the time.
I'm not going to make this specific to Cal, but my theory is the best coaching hires are accomplished, veteran coordinators who have the charisma to front a program or an accomplished coach at a nontraditional power. And, if I'm the guy doing the hiring, I'd ask any candidate to tell me who would be on his staff, which is darn near as important as the head coach. Maybe even more so.
Folks were skeptical about UCLA hiring Jim Mora. Then he hired a great crew of assistants and the scuttlebutt changed.
There are only a handful of programs that can make a splashy hire, such as Ohio State getting Urban Meyer or Alabama getting Nick Saban. The circumstances of Arizona hiring Rich Rodriguez and Washington State getting Mike Leach were fairly unique. It's rare two coaches with their pedigrees are available.
Everyone else is best off doing their homework instead of trying to grab a big name. That means having a meeting with the powers that be and hashing out the qualities everyone wants. Then the decision-making should be handed off to one person, typically the athletic director. The more folks playing a role in the search, the less like it will be successful.
Further, the one thing I can say with absolute certainty: It's a waste of money hiring a coach search firm. They offer little and charge a lot.
Last year, I banged a drum for Wisconsin offensive coordinator Paul Chryst, who was hired by Pittsburgh to replace Todd Graham.
This year? Here are some guys worth a look, listed merely in the order in which I thought of them:
Head coaches: Charlie Strong, Louisville; Art Briles, Baylor; Sonny Dykes, Louisiana Tech; Willie Taggart, Western Kentucky; Gary Anderson, Utah State; Butch Jones, Cincinnati.
Coordinators: Kirby Smart, Alabama; Chad Morris, Clemson; Mark Helfrich, Oregon; Justin Wilcox, Washington; Noel Mazzone, UCLA; Todd Monken, Oklahoma State; Brent Venables, Clemson; Manny Diaz, Texas; Lorenzo Ward, South Carolina; Kalani Sitake, Utah; Pep Hamilton, Stanford; Pat Narduzzi, Michigan State.
And, of course, there's always the NFL. Plenty of great coaches there, many of whom have extensive college experience, such as San Francisco 49ers offensive coordinator Greg Roman, one of the most creative offensive guys out there.
---
UODucky Tempe, Ariz., writes
: Ted, good fellow, have you or Kevin been reading the discussion boards this week on the
UW vs. UO articles
[
and here
] ? If so, have you noticed how civil the discussions have been (notwithstanding 55USC's valiant attempts to stir the pot). Further, does such civility, in light of the apparent attempt by the articles to start a throw-down, frustrate our gallant Pac-12 bloggers?
Ted Miller
: Kevin and I both have one, two-pronged purpose: To entertain and inform. If your joy comes from trash talking -- us or other readers -- fine. If you enjoy civility, that's great, too.
The important thing is that you are here, saving lives, making the world safe for democracy and ensuring every puppy finds a loving home.
And, really, "ARE YOU NOT ENTERTAINED!"
September, 7, 2012
9/07/12
12:00
PM ET
Are there any upset specials on the menu in Week 2? Your Pac-12 bloggers can think of a couple.
Ted Miller
: Wisconsin whipped Oregon State 35-0 last year. No way the Beavers can notch an upset against Wisky, right? A 35-plus point swing? Please.
Believe it. For one, we expect the Beavers to be much better than they were last year. And this Badgers team seems potentially much worse.
[+] Enlarge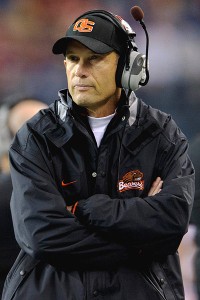 Steven Bisig/US PresswireOregon State coach Mike Riley welcomes back 17 starters.
Beavers better: QB
Sean Mannion
is no longer a redshirt freshman snagging a job away from a returning starter who was popular in the locker room.
Wisky worse: New Badgers QB
Danny O'Brien
, a Maryland transfer, is solid, but he's no
Russell Wilson
. Wilson made the Badgers last year, giving them a potent, efficient passing attack to complement a physical running game.
Beavers better: While things are chippy in Corvallis after consecutive losing seasons, the Beavers and coach Mike Riley mostly had a newsless offseason, only losing secondary coach Keith Heyward to Washington. They have stability.
Wisky worse: The Badgers have six new coaches, and among their losses was offensive coordinator Paul Chryst.
Beavers better: Oregon State welcomes back 17 starters.
Wisky worse: The Badgers welcome back only 11 starters.
Beavers better: Those seven freshmen or sophomore starters for Oregon State from a year ago will be far more seasoned.
Wisky worse: The Badgers, no matter how they say they won't, will have to difficult time mustering a focused respect for Oregon State, based on how easy things were a year ago.
Beavers better: They are playing at home, not in front of 80,000 hostile fans in Camp Randall Stadium.
Wisky worse: While it's not good that Oregon State's opener against Nicholls State was postponed, the Beavers got to stay home and watch the Badgers struggle in a 26-21 win over Northern Iowa. That game film, which Badgers coach Bret Bielema really, really didn't want Oregon State to see, surely boosted the Beavers confidence.
I think Oregon State is going to be better on both lines of scrimmage. I think Mannion's maturity as a passer will make it easier for the Beavers to establish an adequate running game. And I don't think the Badgers offensive line, replacing three starters, will be as good this fall.
Last year, the Beavers were outrushed 208 yards to 23. I think that number will be far closer this go-around.
Finally, there's this: Nobody on the Wisconsin defense can keep up with receiver
Markus Wheaton
. We know this because nobody on the Badger defense could keep up with
De'Anthony Thomas
in the Rose Bowl, and Wheaton is faster than Thomas.
No, this game is not 50-50. Or even 60-40. If the Beavers do win, it will be an upset, and just about everyone will be surprised.
Our point here is merely to prepare you to not be
that surprised.
Kevin Gemmell
: Wow. That was pretty compelling. Can't refute any of that, only to say that the last product we saw from Oregon State was the last product they had on the field in 2011. And it wasn't great. I too believe Oregon State will be much better this year, but if I were picking an upset in Week 2, I'd go with a team I've already seen in action (a lesson learned from my Washington State debacle last week).
[+] Enlarge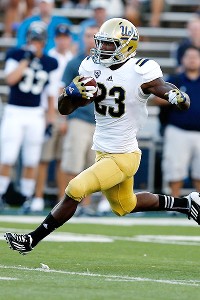 Scott Halleran/Getty ImagesUCLA running back Johnathan Franklin ran for 214 yards in the opener against Rice.
Just so we're clear, I'm on record with
a prediction that Nebraska beats UCLA
. I was asked in my
chat on Wednesday
to assign a percentage to UCLA's chance of winning. And I went with 49 percent.
Were the Bruins outstanding in Week 1? No. But they won on the road with a rookie quarterback (never easy) and for the most part they were pretty good considering all of the youth they put out there. And that youth was evident, especially in the first half when the defense yielded 24 points and 282 yards.
Ah, but here's a little not-so-secret secret, Jim Mora can coach. Consider the second half -- a couple of tweaks to what Rice was doing on offense and the Bruins surrendered just 76 yards in the final 30 minutes -- only crossing into the UCLA half once. I asked Mora to explain the defensive difference between halves and his answer was satisfactory. UCLA didn't do a lot of full tackling in the fall camp, so they were a little rusty. Makes sense.
UCLA can't win this game on athleticism alone. Because Nebraska can match them speed-for-speed and player-for-player. In fact, when you look at the rosters side-by-side, it's probably a draw in terms of who has the better athletes. So UCLA will have to take advantage of the wealth of coaching knowledge it has on the sidelines and exploit the mismatches it does have.
For example, UCLA's offensive line is young and probably inferior to Nebraska's defensive front. So expect a lot of quick passes from second-time-starter
Brett Hundley
. No reason to make those guys pass block for three seconds, because they probably won't be able to. Nebraska will pressure Hundley far more than Rice did.
Also,
Joseph Fauria
is a mismatch for any linebacker or safety in the country. I wouldn't be shocked to see the Bruins ride that guy to the tune of nine or 10 catches. And we'll find out whether
Johnathan Franklin
is as good as his three-touchdown, 214-yard rushing performance against Rice suggests.
Defensively, they need an answer for
Taylor Martinez
. I'm not going to pretend to have it. But I will say
Datone Jones
might finally be maturing into the player we all thought he could be and a little pressure -- especially against a team on the road -- can go a long way.
This is going to be a competitive game, and much like your Oregon State scenario, no one should be shocked if the Bruins walk away from this game 2-0.
September, 6, 2012
9/06/12
12:00
PM ET
Almost exactly year ago, Oregon State was suffering total program misery.
First, it opened with a home loss to FCS foe Sacramento State. Then, it got drubbed 35-zip at Wisconsin.
[+] Enlarge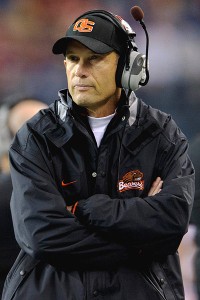 Steven Bisig/US PresswireIs Oregon State coach Mike Riley on the hot seat?
Amid those two dispiriting defeats -- the Beavers would start a shocking 0-4 -- Oregon State made a surprising change at quarterback, benching returning starter
Ryan Katz
in favor of redshirt freshman
Sean Mannion
.
Sure, Katz had gone 5-7 as first-year starter, but he'd flashed a huge arm and plenty of promise. Yet a leak that started dripping while an injured Katz sat out 2011 spring practices became a torrent by the end of fall camp. Katz couldn't afford a slow start, and that's what he had. And he lost his job. From the outside, it seemed to happen very quickly, and it surprised even the writers who covered the team every day.
The end result was locker room upheaval, an embarrassing 3-9 finish and Katz transferring to San Diego State, where he is now the starter. Oh, and there are now grumbles that coach Mike Riley, two years ago probably the most secure coach in the conference, is now on the hot seat.
Hot seat talk or not, things feel far more stable now.
"Those are difficult times," Riley recalled this week. "With the young men here, that's not easy. We've managed to avoid those kinds of issues right now."
What's the same compared to last year is a Week 2 game with No. 13 Wisconsin on Saturday. What's different is this year's FCS opener, Nicholls State, cancelled its visit last weekend due to hurricane concerns in the Gulf Coast. There's no QB controversy for the Beavers, as this is solidly Mannion's offense. And the Badgers are making the long trip to Corvallis.


"It's as big a nonconference game as Oregon State has ever hosted," Riley said.

There are two ways to look at last year's game: 1. The Beavers got whipped, as they were outgained 397 yards to 284 and outrushed 208 yards to 23; 2. The Beavers shot themselves in the foot with stupid penalties and special teams mistakes.

Of course, it was a combination. But Oregon State held up physically better than the final tally suggests. Some might recall that Wisconsin's first touchdown came after Johnny Hekker produced the only backwards punt most football fans have ever seen. Or will ever see.


Said Riley at the time, "Just bad football."
This matchup seems far more manageable for the Beavers. While the Badgers have imported another ACC QB, this year's
Russell Wilson
is former Maryland QB
Danny O'Brien
, only 11 starters are back from last fall's 11-3 team that lost to Oregon in the Rose Bowl. Further, coach Bret Bielema lost not only his highly respected offensive coordinator, Paul Chryst, now the head coach at Pittsburgh, but also five other coaches.
Last weekend, the Badgers barely escaped with a 26-21 win over Northern Iowa. While they still look like the favorite in the Big Ten Leader's Division, they presently don't look like a top-10 team.
While it's probably a negative that Oregon State didn't get its first game jitters out last weekend, it does have some advantage in having seen Wisconsin play and having the Badgers not get to do the same.
Riley has said over and over the Beavers, in order to get back to where they were in the conference pecking order, need to run the ball and stop the run better. The Badgers and Heisman Trophy candidate
Montee Ball
will present an immediate and challenging measuring stick on potential improvement going both ways.
"We'll see a lot about who we are." Riley said.
The Beavers are in a far better place than they were a year ago. But have they improved enough that they can turn a blowout defeat into a "We're back!" upset?
November, 29, 2010
11/29/10
6:24
PM ET
By
ESPN.com staff
| ESPN.com
Stanford offensive coordinator Greg Roman has been chosen one of five finalists for the 2010 Broyles Award, which is given annually to a top assistant coach.
The list of finalists:
Dick Bumpas, TCU, defensive Coordinator/defensive line coach
Paul Chryst, Wisconsin, offensive Coordinator/quarterbacks
Dana Holgorsen, Oklahoma State, offensive coordinator
Gus Malzahn, Auburn, offensive coordinator, quarterbacks
Greg Roman, Stanford, offensive coordinator
The 2010 Broyles Award winner will be announced Dec. 6 at 11:30 a.m. at the Peabody Hotel in Little Rock, Ark. The Broyles Award is presented by The Rotary Club of Little Rock. The winner of the 2009 Broyles Award was Kirby Smart, University of Alabama.
PAC-12 SCOREBOARD
Saturday, 12/20
Monday, 12/22
Tuesday, 12/23
Wednesday, 12/24
Friday, 12/26
Saturday, 12/27
Monday, 12/29
Tuesday, 12/30
Wednesday, 12/31
Thursday, 1/1
Friday, 1/2
Saturday, 1/3
Sunday, 1/4
Saturday, 1/10
Monday, 1/12
Tweets from https://twitter.com/ESPNCFB/lists/pac12