August, 16, 2013
Aug 16
10:30
AM ET
We continue our day-by-day snapshots of each Pac-12 team heading into the 2013 season in reverse alphabetical order with the
Colorado Buffaloes
.
Colorado
Coach
: Mike MacIntyre (16-21, 0-0 at Colorado)
2012 record
: 1-11, 1-8 Pac-12 South
Key losses
: OT
David Bakhtiari
, TE
Nick Kasa
, OLB Jon Major, DT
Will Pericak
, FS
Ray Polk
.
[+] Enlarge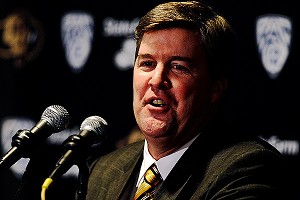 AP Photo/Brennan LinsleyMike MacIntyre is charged with turning around Colorado after making a winner out of San Jose State.
Key returnees
: C
Gus Handler
, TB
Christian Powell
, WR
Tyler McCulloch
, S
Marques Mosley
, DE
Chidera Uzo-Diribe
, P
Darragh O'Neill
, WR
Paul Richardson
,
Derrick Webb
.
Newcomer to watch
: It's too early to tell which one, but three freshmen wide receivers --
Elijah Dunston
,
Devin Ross
and
Bryce Bobo
(ironically numbered 1, 2 and 3) -- are all making a case to be in the rotation and two-deep.
Biggest games in 2013
: The season opener against Colorado State (Sept. 1) is always a big one, and the rivalry with Utah (Nov. 30) is starting to take shape.
Biggest question mark
: While no official word has come down on who will start at quarterback, it's looking more and more like
Connor Wood
will at least begin the season as the starter. So we can at least put a partial check mark there. The biggest question is really what sort of progress -- if any -- we'll see in Mike MacIntyre's first season as the new head coach. He comes in with solid credentials and was Mr. Fix-It at San Jose State. But with the new job comes a new set of challenges. Chief among them, the proverbial challenge of "changing the culture." MacIntyre made it clear that he wants to win and compete immediately, and he believes that his players have bought in. We'll see how much on Sept. 1.
Forecast
: The media
doesn't have much faith
in the Buffs, picking the team that went 1-11 last season to finish last again in the Pac-12 South. This might be one of those situations in which the team shows improvement -- just not in the win department. Remember, San Jose State appeared to take a step back in MacIntyre's first season, going 1-12, but it was during that time that he was establishing his schemes and philosophies, and in Year 2 they went 5-7. By the third season, the Spartans were 11-2 (10-2 under MacIntyre) and ranked in the top 25. No one is saying the Buffs will be ranked in three seasons, and most people probably aren't expecting it. The Pac-12 is a different animal than the now football-less WAC, but it's not wrong to hope for a postseason berth in the next 3-5 seasons.
And this season, the Buffs are loaded with young players who gained a ton of experience last season. They return 17 starters (eight offense, nine defense) including a young secondary that took its licks last season. Mosley,
Kenneth Crawley
and
Yuri Wright
all started last season, and
Greg Henderson
and
Parker Orms
are the veterans of the group. Up front defensively, Uzo-Diribe is a talented pass-rusher, and linebackers
Derrick Webb
and
Paul Vigo
should be the anchors on defense.
Offensively, they lose Bakhtiari to the NFL and Alex Lewis announced a transfer, which was followed by
some bizarre and unfortunate circumstances
. But they get Richardson back after he missed all of 2012 with a knee injury. When he's healthy, he's one of the most explosive wide receivers in the country and should give the Buffs a stretch-the-field threat they were lacking.
Powell also quietly put together a strong second half last season, posting a pair of 100-yard games and four touchdowns over the final five. If they can plug the left side of the line (it's looking like veteran
Jack Harris
at left tackle and
Kaiwi Crabb
at left guard), he could inch closer to 1,000 yards on the ground after posting 691 and a 4.4 yards per carry average last season.
There is talent on Colorado's roster, but, as what's becoming a trend with Colorado, fans are going to have to be patient until the new staff figures out how best to use it.
July, 16, 2013
Jul 16
2:30
PM ET
Everybody panic! Oh my God, there's a bear loose in the coliseum! There will be no refunds! Your refund will be escaping this deathtrap with your life! If you have a small child, use it as a shield! They love the tender meat! Cover your sodas! Dewie loves sugar!
June, 21, 2013
Jun 21
1:00
PM ET
The
Colorado Buffaloes
selected their 2013 captains on Thursday -- picking six players through two rounds of voting.

Seniors
Jack Harris
(offensive tackle),
Chidera Uzo-Diribe
(defensive end),
Paul Vigo
(linebacker) and
Derrick Webb
(linebacker), along with juniors
Paul Richardson
(wide receiver) and
Connor Wood
(quarterback) will serve as the Buffs' captains in the upcoming season.
Traditionally, Colorado has picked its captains in August. But new head coach Mike MacIntyre wanted to move up the process.
"We elected captains early this year so they could be leaders throughout the summer," MacIntyre said in a statement. "We demand and expect a lot out of our leaders on this team, and I'm very excited about the six players selected by their teammates to serve as the captains."
An initial vote was held June 2 and the field was narrowed to 10 finalists. The top six were so close that MacIntyre opted for six captains. A maximum of four players are allowed to walk out for the coin toss, so the players will rotate throughout the year.
September, 25, 2012
9/25/12
2:30
PM ET
No, sir! I didn't see you playing with your dolls again.
August, 8, 2012
8/08/12
12:30
PM ET
Fooling around in public with a pellet gun that looks real is never a good idea. And it's really not a good idea these days in the state of Colorado.
But that's why two Colorado receivers have been
suspended for the team's first two games of the season
, and part of the reason a third, linebacker
Jermane Clark
, is leaving the program. (That link, by the way, includes video of coach Jon Embree talking about the incident).
The receivers, Jeffrey Thomas and
DaVaughn Thornton
, are suspended from playing against Colorado State and Sacramento State. The threesome were among eight players in two cars early Saturday morning that apparently were playing around with an Airsoft pellet gun.
From the Boulder Daily Camera:
According to a police report, CU football players Clark, 21, Thomas, 18, Thornton, 21, Jered Bell, 20, Keenan Canty, 19, Joshua Moten, 20, Paul Vigo, 22, and Derrick Webb, 20, were in the two cars. Paul Vigo's brother Moses Vigo, 18, also was in one of the cars but is not a CU football player.

No arrests were made nor any tickets given, but Boulder police, according to the report, planned to raise concerns with CU's athletic department about the athletes and the "impact their behavior had on police services throughout the entire city at the time of the incident."
Canty, Moten, Thornton and Webb all played in games for CU last season. Only Webb, a linebacker, and Moten, a cornerback, are listed as a starter on the post-spring depth chart, and Colorado officials view them as just passengers in the cars.
These suspensions won't likely damage the Buffaloes chances in their first two games. And there's certainly a "boys will be boys" quality to this. But there's also a clear lack of judgment -- including an antagonistic reaction to police -- that surely bothers Embree.
He's got enough to worry about without his players freaking people out around Boulder with a pellet gun.
October, 6, 2011
10/06/11
11:11
AM ET
You've got to break some eggs to make an omelet. And sometimes a coach gives players the boot to establish the culture he wants.
It appears that Colorado coach Jon Embree is willing to sacrifice his team's present for its future, as he has
indefinitely suspended five players
from a defense that is already thin, particularly in the secondary, where four of the five play.
And that secondary faces Stanford quarterback
Andrew Luck
on Saturday. Luck is generally considered a capable passer.
The five suspended players, according to the Boulder Daily Camera: CB Parker Orms, CB Ayodeji Olatoye, CB Paul Vigo, CB Josh Moten and LB Liloa Nobriga. None of the players were listed as starters on this week's depth chart.
According to the Daily Camera, all five were notified of the decision Wednesday and the entire team was told during a post-practice team meeting. Further:
None of the problems that led to the suspensions involved the police, but the rules violations were serious enough that CU is expected to announce today that none of the five will play again this season.

Whether the players remain with the program beyond this season remains to be seen.
It will be interesting to see how the Buffaloes react at Stanford. While these suspensions aren't devastating in terms of starting personnel, you'd guess each of these guys have relationships in the locker room with the guys left behind. That means there will be plenty of chatter, either for or against Embree's "my way or the end of my boot" methods.
The Daily Camera article is worth a read because it does a nice job of recalling Embree's prescient prediction of significant attrition last spring. I particularly like this quote:
"It's going to be hard because you have to go to class every day," [Embree] said in that spring interview. "It's going to be hard because you have to sit in the first three rows. I don't want your iPod on or your iPad or your laptop. I want you there, I want you prepared. I want you to have a pen, paper, book. I want you prepared and I want you to engage.

"It's going to be hard because of what you're going to do in the weight room and what's going to be demanded of you as a football player, how we expect you to study and prepare for the game. That's going to be hard for the guys because that requires consistency and discipline and they don't have that."
While it's purely speculative to try to figure out what these five may have done to fall out of favor, if the police or NCAA isn't involved, then it's likely that they fell afoul of Embree's specific demands that perhaps didn't exist during the Dan Hawkins era. And Embree wants his players to know he takes those demands seriously.
PAC-12 SCOREBOARD
Saturday, 12/21
Monday, 12/23
Tuesday, 12/24
Thursday, 12/26
Friday, 12/27
Saturday, 12/28
Monday, 12/30
Tuesday, 12/31
Wednesday, 1/1
Thursday, 1/2
Friday, 1/3
Saturday, 1/4
Sunday, 1/5
Monday, 1/6
Tweets from @ESPNCFB/pac-12