September, 24, 2014
9/24/14
12:00
PM ET
Pete Carroll won't be at USC on Saturday when he will be one of 16 former Trojans inducted into the university's Hall of Fame class, but it's not too difficult to wax nostalgic imagining his name again reverberating in the Coliseum where he helped establish a college football dynasty. It also will be impossible not to recall that he bolted shortly before NCAA sanctions sent a wrecking ball through the program he constructed.
That program is 37-18 (.673) in the four-plus seasons since he left, which isn't bad for many teams, particularly when operating with scholarship reductions. But this is USC, and Carroll went 97-19 (.836) in nine years. He won seven consecutive Pac-10 titles and two national championships. The program he led to 34 consecutive victories during a remarkable span of dominance, however, is coming off an enfeebled effort at Boston College. While those NCAA sanctions will no longer yoke the program going forward, they are still being painfully felt, see a scant 61 scholarship players available Saturday against Oregon State.
[+] Enlarge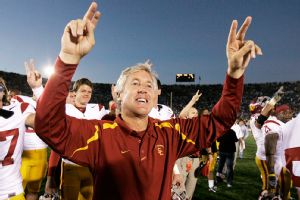 AP Photo/Michael ConroyLove him or hate him, former Trojans coach Pete Carroll will be inducted into USC's Hall of Fame.
The distance between the program 10 years ago and now seems vast. Can that distance again be traversed? The Pac-12 at present is much deeper than the Pac-10 he ruled. The effort at BC also had some wondering if his top acolyte, Steve Sarkisian, owns even an approximate resurrective power, though it might be worth recalling Carroll went 6-6 and lost to Utah in the Las Vegas Bowl his first season.
USC fans are going to cheer for Carroll in absentia on Saturday, as well they should. But for some there will be a tangle of competing feelings, which are aggravated by the uncertain present and future of the program.
Very few fame narratives are straight lines in our culture. While college football isn't Hollywood or national politics in terms of a Pavlovian response to scandal, you can't name too many coaches who posted careers without well-reported embarrassments, particularly over the past two decades when media coverage expanded exponentially. At least, not too many successful ones.
While the totality of their work on the field and general consensus about their overall character often wins out over the longterm for their lasting public perception, a legitimate evaluation can't ignore the ugly events that happened under their watch. So it is with Carroll.
He took over a foundering national power that went 19-18 over the three seasons before he arrived and built a dynasty. He went 6-1 in BCS bowl games. The Trojans also were crushed by NCAA sanctions for extra benefits
Reggie Bush
and his parents received when Carroll was head coach. More than a few outsiders, as well as a few insiders, believe Carroll dashed for the
Seattle Seahawks
in 2009 after spurning previous NFL entreaties because he wanted to get out while the getting was good.
There were other reasons that might have motivated him to leave, other than the NCAA. It shouldn't be omitted that Carroll bolted after his worst season since 2001, his first at USC. The Trojans had lost three of their final six games in 2009, including the humiliating
55-21
"What's your deal?" defeat to Jim Harbaugh and Stanford. His last game was an Emerald Bowl victory over Boston College -- no irony intended -- and the Trojans finished 9-4 overall.
There were whispers that his magic was gone, a not entirely unpopular take with opposing coaches. Carroll had started to miss on some recruits, and others who had sign ended up becoming highly rated busts.
Carroll has repeatedly and adamantly denied he left because he was worried about the direction at USC or impending NCAA sanctions. In fact, this summer he
told the Los Angeles Times
that he wouldn't have left the Trojans, even for a five-year contract worth about $35 million and near total control over personnel decisions, if he'd known how severe the sanctions would be.
[+] Enlarge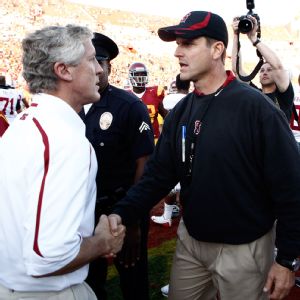 AP Photo/Matt SaylesPete Carroll's No. 11 USC Trojans lost their third game of the season to Jim Harbaugh and his 25th-ranked Stanford Cardinal on Nov. 14, 2009.
"Had we known that that was imminent ... I would never have been able to leave under those circumstances," he told The Times. "When I look back now, I would have stayed there to do what we needed to do to resolve the problem."
That's an eyebrow-raising assertion that can't be measured for factuality, so you can choose to believe it or not. While there are many, many coaches more predisposed to spout bull manure than Carroll, he has always been media savvy and is not above a little gamesmanship during interviews. He knows saying that might score him some points with USC fans. It is, however, just words.
Of course, what he produced on the field is his truest measure, at least for how we, the observing class, evaluate his professional output. His hiring in December 2000 was widely mocked as bumbling athletic director Mike Garrett settling for his fourth choice. A lot of pundits wondered if his "Win Forever!" shtick would work in the NFL, where he'd previously failed, when the Seahawks gave him a big and blank check. He's proven two sets of naysayers wrong, joining Jimmy Johnson and Barry Switzer as the only coaches to win a Super Bowl and a college national championship.
He's even won the PR battle with the NCAA. The overwhelming consensus now is the 2010 sanctions against USC were unfair, even borderline corrupt. That ruling, in fact, might even be viewed as a Point A for the NCAA's recent decline into a feckless body that can neither govern effectively nor enforce rules. With Ohio State, North Carolina, Miami and Penn State seemingly being far worse transgressors of rules and decorum in recent years than USC under Carroll -- Head coaches lying! Academic fraud! A booster running amuck! A child molester on staff! -- the Bush ruling has become more of a negative reflection on the NCAA than Carroll.
In 2000, Carroll was a coaching afterthought. Nearly 14 years later, he's persevered into rarefied air, where he merits consideration for greatness.
USC fans are going to cheer when Carroll's name is announced and remember him fondly on Saturday, as well they should. It's also probably time for the conflicted to untangle their feelings about the man.
January, 27, 2012
1/27/12
2:30
PM ET
By
ESPN.com staff
| ESPN.com
The 2011 season is over. That means report cards are due.

And our last grade
: Pac-12
Offense
: The Pac-12 is known for offense and QBs, and 2011 was no different. Stanford's
Andrew Luck
and USC's
Matt Barkley
were among the best in the nation, but Oregon again was the conference's top offense in total offense, scoring and rushing. Eight Pac-12 teams ranked in the top 45 in the nation in total offense, including five in the top 25. Seven ranked in the top 45 in scoring, including four in the top 25. Seven ranked in the top 38 in passing efficiency, including four in the top 12. While the conference is known for passing, offenses also typically run well. The results there were mixed in 2011. Oregon and Stanford were both elite running teams, but six teams ranked 80th or worse in rushing. Protecting the QB was a good projector of success in the conference. USC, Stanford and Oregon did it very well. Washington State, Washington, Utah, Colorado, Oregon State and California did not. When you look at the conference's offensive numbers, Oregon, Stanford and USC were good in just about every meaningful category. That should come as no surprise. And the only team that had any success with consistently bad offensive numbers was Utah, which obviously relied on its defense. As far as star quality, the Pac-12 produced All-Americans at every position -- QB, RB, TE, WR and O-line.
Grade
: B+
Defense
: It was not a great year on defense in the conference. No team produced an elite defense. Utah ranked 19th in the nation in scoring defense (without playing Oregon or Stanford), and California ranked 25th in total defense. It's fair to say that five teams were good to solid on defense: Utah, Cal, Stanford, Oregon and USC. And the other seven were middling-to-poor. Perhaps the most telling number: Colorado, Oregon State, UCLA and Washington ranked from 102nd to 110th in third-down conversion defense. Not getting off the field is bad. Seven teams ranked 74th or below in the nation in scoring defense. Seven teams ranked 82nd or below in total defense. Eight teams ranked 75th or below in pass efficiency defense. The numbers against the run were better -- eight teams ranked from No. 4 to No. 67 in run defense -- but that could be attributed to a conference full of pass-first offenses. The A-list offensive talent always needs to be held into account when assessing Pac-12 defenses. Just as good defenses play great in the SEC because of bad offenses, good-to-middling defenses look middling-to-bad in the Pac-12 because of great offenses. In terms of star power, the conference didn't produce many All-Americans, though some recognition was landed by USC safety
T.J. McDonald
and Stanford OLB
Chase Thomas
. The two biggest names entering the season -- Arizona State LB
Vontaze Burfict
and Oregon CB
Cliff Harris
-- flopped, with Harris getting kicked off the team.
Grade
: C-
Overall
: The inaugural year of the Pac-12 produced three elite teams: Oregon, USC and Stanford. All three finished ranked in the top 7. The conference went 1-1 in BCS bowl games, with Oregon winning the Rose Bowl and Stanford falling a late field goal short of beating No. 3 Oklahoma State in the Fiesta Bowl. No season that produces two BCS bowl teams is a failure because that puts extra cash in every team's pocket. And the conference produced a glittering array of offensive talent that should light up NFL draft boards this spring. That's the good news. The bad news is a wide chasm between the three elite teams and everyone else: Eight teams won seven or fewer games. Further, the conference went 2-5 in bowl games and was a middling 7-7 against AQ nonconference foes in the regular season. The Pac-12's only victory over a nonconference foe that ended up ranked was Oregon's win over Wisconsin in the Rose Bowl, though Utah did whip BYU, which finished 25th in the coaches poll. A few years ago, the main gripe centered on the conference producing depth but a lack of multiple elite teams -- a legit alternative to USC under Pete Carroll. Now the conference is producing multiple elite teams without the depth. The ideal scenario is at least two teams in the national picture along with multiple teams with eight or nine wins and seven or eight bowl-eligible teams. Ultimately, the Pac-12 probably rated as the nation's No. 3 conference in 2011, behind the SEC and Big 12. That's not bad. But it could be better.
Grade
: C