Pac-12:

Pittsburgh Steelers
June, 1, 2011
6/01/11
1:43
PM ET
By
ESPN.com staff
| ESPN.com
Oregon State has hired a
new head athletic trainer for football
, Ariko (uh-Ree-ko) Iso (eye-so), whose previous position was assistant athletic trainer for the Pittsburgh Steelers.
Iso, an Oregon State graduate, was the only female athletic trainer in the NFL and worked in three Super Bowls for the team.
Before Pittsburgh, Iso spent five years as the associate athletic trainer for Portland State University, where she served as the head football trainer. Her collegiate career includes serving as the assistant athletic trainer at Foothill College in California for nearly three years.
Iso was also the head trainer at the 2006 World 21 and Under Track Championships, the 2001 World Cross Country Championships, the 1998 Yokohama International Ekiden and the 1996 East-West Shrine Football Game. Additionally, she has worked at the Nike World Master Games, U.S. Mobil Outdoor Track and Field Championships, and at the 1994 World Cup Soccer tournament.
"I have been around only a few folks that have the same work ethic as Ariko, but what sets her apart is that her efforts are always made with a positive attitude," Steelers head athletic trainer John Norwig said in a statement. "Ariko has always been the consummate professional. She loves her job."
Said former Steelers coach Bill Cowher: "Without a doubt Ariko will be a great asset to Oregon State. She has a great personality, and is very professional and knowledgeable. I have tremendous respect for her."
Iso graduated from Oregon State with a bachelor's of science degree in health and human performance in 1993 and earned a master's of art in physical education from San Jose State University in 1995. She is a member of the National Athletic Trainers Association and the Professional Football Athletic Trainers Society. The Tokyo native is certified by the National Athletic Trainers Association.
May, 5, 2011
5/05/11
12:36
PM ET
The
Wall Street Journal
wonders if it's time to induct coach Chip Kelly and his
Oregon Ducks
into the "Hall of Geniuses."
In a potentially related item: Thousands of heads spontaneously exploded throughout Seattle and Corvallis.
The gist of the story is that, "Every now and then in sports, some team will come up with a better way," and that Oregon's high-tempo, spread-option attack is a "better way" in large part because it doesn't rely on A-list talent.
[+] Enlarge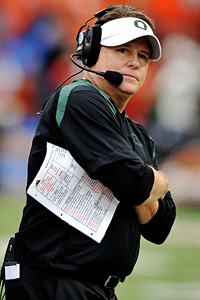 Steve Dykes/Getty ImagesChip Kelly has built a reputation for fielding an elite team without having a lot of elite talent.
But before you Duck-haters out there spew all over your computers, consider that the WSJ article doesn't compare Oregon to sports dynasties such as the Celtics, Lakers, Steelers or even Pete Carroll's
USC Trojans
. Instead:
Think "Total Football"—the free-flowing brand of soccer that the Dutch club team Ajax perfected in the 1970s; or the warp-speed Loyola Marymount basketball program of two decades ago, which still holds the single-season Division I scoring record (122.4 points per game); or the University of Houston football team, whose innovative run 'n' shoot passing attack allowed it to score 95 points in a single game.
Dutch soccer, Loyola Marymount hoops and
Houston Cougars
football: My guess is Oregon fans aren't popping champagne over those comparisons.
Still, it's an interesting take. After touring the Pac-12 over the past few years, I can say this: Oregon has replaced USC as the most interesting place to observe practice.
During the glory days under Carroll, Trojans practices were like the circus: Famous people -- Snoop Dogg! Will Ferrell! The Terminator II Terminator! -- watching future NFL stars. Practices were boisterous, with lots of hitting and spectacular athleticism.
Now it's Oregon, though for far different reasons. Oregon plays fast in games but they practice faster. Crisp undersells it. It's finely tuned mayhem and it's often fun to watch. Last spring, Kelly made a point in a team meeting that while other coaches across the country were complaining about bad practices, the Ducks never had a bad practice. That runs counter to old-school coaching psychology of mostly withholding praise as a motivational tactic.
From the WSJ article:
This team's recent accomplishments have been well noted. Using a warp-speed offense that operates 34% more quickly than most conventional teams, Oregon averaged 47 points and 531 yards per game last season, both No. 1 nationally, and has won 20 of its past 21 games in the Pac-10 conference. Though Oregon lost to Auburn in the BCS national championship game, it recently received another kind of validation that's typical of genius teams: that it has done what it has without superior talent. During the NFL's recent seven-round draft, only one Oregon player was selected.
Of course, several Ducks who will start next season are NFL prospects, starting with running back
LaMichael James
and tight end
David Paulson
. Still, most see Oregon as being a sum of its parts rather than a gathering of individual stars.
The article quotes several coaches who admitted that "solving" Oregon is a high priority.
"We can't just wait until the week of the game to get our defense prepared for that tempo," said Washington coach Steve Sarkisian. He said the Huskies will do more no-huddle work in practice to learn how to compete when fatigued. He said he'll shuffle the lineup earlier to keep players fresher. "We have to get to that level in order to compete with them," he said.
Still, here's a guess that Kelly isn't interested in being a part of this so-called "Hall of Geniuses." Why?
Historically, the life cycle of "genius" teams is often short. [UCLA coach Rick] Neuheisel points out that previous college-football innovations like the triple option, the run 'n' shoot and the West Coast offense, all have been cracked. The famed "46" defense popularized by the 1985 Chicago Bears, with its emphasis on pressuring quarterbacks, was eventually killed off by the quick, short passing of the West Coast offense.
What's the big takeaway from the story? That Oregon's best bet for retaining its elite position is retaining Kelly, who has made a quick ascent up the ladder of "best coaches in college football."
Whether he's a genius or not.
January, 25, 2011
1/25/11
9:42
AM ET
By
ESPN.com staff
| ESPN.com
The Associated Press has announced its 2010 NFL All-Pro Team, and
it includes four former Pac-12 players
:
Edit note: The original version of this incorrectly listed OG Logan Mankins as going to Utah instead of Fresno State.
Defense

Haloti Ngata
, DT, Baltimore (Oregon)
Clay Matthews
, OLB, Green Bay (USC)
Nnamdi Asomugha
, CB, Oakland (California)
Troy Polamalu
, S, Pittsburgh (USC)
Interesting that more than a third of the defense comes from the Pac-12.
January, 24, 2011
1/24/11
5:08
PM ET
By
ESPN.com staff
| ESPN.com
The Super Bowl is set for Feb. 6 -- or as college football fans will remember it, "the Sunday after national signing day" -- and the
Pittsburgh Steelers
and
Green Bay Packers
both feature a number of former Pac-12 players.
Here's the list (some are injured or inactive).
Pittsburgh

Dennis Dixon
, QB, Oregon
Chris Kemoeatu
, OG, Utah
Stevenson Sylvester
, LB, Utah
Keenan Lewis
, CB, Oregon State
Troy Polamalu
, S, USC
Green Bay

Aaron Rodgers
, QB, California
Dimitri Nance
, RB, Arizona State
Spencer Havner
, LB, UCLA
Nick Barnett
, LB, Oregon State
Brandon Chillar
, LB, UCLA
Brad Jones
, LB, Colorado
Clay Matthews
, LB, USC
Mason Crosby
, K, Colorado
Desmond Bishop
, LB, California
January, 19, 2011
1/19/11
12:01
PM ET
By
ESPN.com staff
| ESPN.com
Pro Football Weekly and the Professional Football Writers of America have announced their 2010 All-NFL team, and there's plenty of Pac-10 presence.
Former USC linebacker
Clay Matthews
was named Defensive MVP, and he led three Pac-10 defenders on the team:
Haloti Ngata
, DT, Baltimore (Oregon)
Clay Matthews, LB, Green Bay (USC)
Troy Polamalu
, S, Pittsburgh (USC)
Further, an All-Rookie team was announced, and four from the Pac-10 made the team.
LeGarrette Blount
, RB, Tampa Bay (Oregon)
Rob Gronkowski
, TE, New England (Arizona)
Tyson Alualu
, DE, Jacksonville (California)
*
T.J. Ward
, S, Cleveland (Oregon)
*Ward also was honored for special teams.
It's fair to say that Blount's fortunes have taken
a positive turn since Sept. 3, 2009
.
August, 5, 2010
8/05/10
2:30
PM ET
By
ESPN.com staff
| ESPN.com
I don't say he's a great man. Willie Loman never made a lot of money. His name was never in the paper. He's not the finest character that ever lived. But he's a human being, and a terrible thing is happening to him. So attention must be paid. He's not to be allowed to fall in his grave like an old dog. Attention, attention must finally be paid to such a person.
October, 31, 2009
10/31/09
7:55
PM ET
By
ESPN.com staff
| ESPN.com
Posted by ESPN.com's Ted Miller
EUGENE, Ore. -- Lots of black in the stands. Some green. Flashes of that bright, Oregon-yellow, too.
On my walk to the stadium, though, I saw a guy in a pink tutu riding a pink toy pony.
Yes, I did a double-take.
A number of former Ducks players are in town, including Dennis Dixon, now with the Pittsburgh Steelers. Saw him last night during a Pac-10 blog investigation at Taylor's bar. There are rumors he's a huge fan of the Pac-10 blog, though I may have started that rumor.
Oregon isn't wearing all-black, as some thought it might. It's wearing dark green jerseys and black pants with dark green helmets.
But maybe the Ducks will change when they go back to their locker room before emerging for the kickoff.
USC is in white and gold. No surprise.
I've been eyeballing USC fullback
Stanley Havili
, but I can't tell whether his shoulder injury might keep him out of the game. He's expected to try to play.
The Trojans are following the Ducks into the locker room. The nearly all-black garbed student section is giving them an Autzen "hello." Earlier, they chanted a greeting to the Trojans that I am not allowed to share because this is a family blog.
Buckle up.
April, 6, 2009
4/06/09
10:05
PM ET
By
ESPN.com staff
| ESPN.com
Posted by ESPN.com's Ted Miller
The Oregon Legislature is considering instituting a "Rooney Rule," which would require the state's public universities to interview at least one minority candidate when there's a football head coaching vacancy.
Ken Goe, the respected college sports writer for The Oregonian, wrote about it on his blog, supporting the effort. He also noted that "the last time I wrote about this, I was surprised at the visceral reaction my opinion provoked."
First, I agree with Ken. This is a good thing.
Second, I'm shocked that Ken is telling us he's surprised by the reaction.
(See the comments section under his story and links for a taste).
You can quibble about whether a Rooney Rule is effective, though that's an argument you'd lose because it is -- see the Super Bowl champions.
Or you can shrug your shoulders.
But if the notion offends you and makes you angry then perhaps you need to ask yourself where those feelings come from. No. Where they really come from.
I've never met anyone -- ANYONE -- who knows about the inner-workings of big-time football schools who doesn't believe the process of hiring a head football coach is stacked against minority candidates.
When I tell you it is, I'm not saying, "My opinion is the process is stacked against minority candidates."
It's not an opinion.
I know this sounds dogmatic. But I get weary of folks acting like this is a debate with two sides -- or at least two sides grounded in reality and guided by a moral compass.
A Rooney Rule doesn't say a school has to hire a minority. It only requires an interview. An opportunity.
I've talked to more than a few black assistant coaches about this through the years. When asked if they'd be bothered by the specter of a token interview, nearly all said, "Hell no!'
Why?
Well, would you turn down an interview for your dream job, even if you knew you were the longest of shots?
Hell no.
You'd go in there full of bravado and prepared to the hilt and you'd knock the freaking interview out of the park.
Which is why all these black guys who continually get passed over want an opportunity to do.
Nothing is more American than that.