Pac-12:

preseason position reviews 2010
August, 12, 2010
8/12/10
7:00
PM ET
By
ESPN.com staff
| ESPN.com
Our Pac-10 position rankings are done. You can
review them here
.
But now that they are done, we want to put them together and see what they reveal: How does everyone pencil out?
So, in a totally unscientific way that will have California fans slapping their foreheads over my mental midgetry (headline from
California Golden Blogs
: "Miller's correlation of coefficients conspicuously confounding!"), I will give each team three points for a "Great shape" two points for a "Good shape" and one point for a "We'll see."
And, yes, I realize that this method gives a team with a good punter the same number of points as a team with a good quarterback. Sorry. But, hey, every position matters and nobody is better than anyone else on the Pac-10 blog.
Other, course, than you.
So without further adieu, here are the standings:
August, 11, 2010
8/11/10
4:12
PM ET
By
ESPN.com staff
| ESPN.com
The Pac-10: A conference of punters.
You have both the first- and second-team All-Pac-10 punters back, two on the seven-man Ray Guy Award watch list and three that ranked among the nation's top 21 in punting last year.
Oh, and every team welcomes back their punter from 2009.
Any of the six teams in "Great shape" here could produce an All-Pac-10 punter.
Great shape
California: Bryan Anger, first-team All-Pac-10 in 2009, might be the nation's most talented punter. Though he ranked fourth in the conference with a 42.3-yard average, he led the conference with 24 punts downed inside the 20 with only four touchbacks, which means he's got great touch.
Arizona State: Trevor Hankins led the Pac-10 with a 44.2-yard average. His 18 punts of 50 or more yards tied for most in the conference.
UCLA: Jeff Locke, who's on the Ray Guy watch list, earned second-team All-Pac-10 honors in 2009. His 43.6-yard average ranked second in the conference.
Washington State: Reid Forrest punted 86 times in 2009 -- 16 more boots than anyone else in the league -- and averaged a stout 43.2-yards per punt.
Oregon: As a true freshman, Jackson Rice, despite an unimpressive 40.5-yard average, downed the second-highest percentage of punts inside an opponent's 20-yard line in the conference (37.7).
Oregon State: Johnny Hekker, one of seven punters on the Ray Guy watch list after being a semifinalist in 2009, doesn't have a huge foot but he did down 19 of his 51 punts inside his opponent's 20-yard line, which means he did so at a higher rate than Anger.
Good shape
Arizona: Keenyn Crier was first-team All-Pac-10 as redshirt freshman in 2007 and honorable mention pick in 2008, but he fell off a bit last year.
Stanford: David Green doesn't have a big foot -- only two punts went for more than 50 yards -- but he dropped nearly half (15) of his 33 punts inside an opponent's 20.
Washington: Will Mahan is a solid if unspectacular punter.
We'll see
USC: A touted JC transfer, Jacob Harfman ranked last in the Pac-10 last year with a 39.8-yard average. Only nine of his 48 punts pinned a foe inside its 20-yard line.
August, 10, 2010
8/10/10
1:41
PM ET
By
ESPN.com staff
| ESPN.com
Safety in the Pac-10 this year? Solid for the most part.
Only UCLA, Oregon State and Washington "officially" welcome back both of their starting safeties, with the Bruins boasting perhaps the best in free safety in the nation: Rahim Moore. Only Arizona State and USC must find two new safeties.
So how do things stack up?
Great shape
UCLA: Moore, a true junior and 25-game starter, led the nation with 10 interceptions in 2009 and is a consensus All-American. Tony Dye ranked fourth on the Bruins with 73 tackles.
Oregon: Sure, the Ducks lost hard-hitting T.J. Ward to the NFL, but Ward was hurt much of last season, so John Boyett, the first freshman to lead the Ducks in tackles, and Javes Lewis, who played both free safety and rover, are returning starters, as is Eddie Pleasant, a linebacker starter in 2009 who's moved to rover.
Oregon State: Lance Mitchell and Cameron Collins give the Beavers a solid, experienced combination and Suaesi Tuimaunei also has starting experience.
Good shape
Washington: Nathan Felner and Nate Williams are both returning starters, but the competition is ongoing among players with experience, not to mention touted incoming freshman Sean Parker.
Arizona: The Wildcats lost Cam Nelson, and Robert Golden might move back to cornerback after playing strong safety last year. Still, there's talent here. Adam Hall, a touted, 6-foot-4, 212-pound 2009 recruit, might make a move.
Arizona State: Both starters, Jarrell Holman and Ryan McFoy, are gone, but Clint Floyd and Keelan Johnson have started games and junior Eddie Elder has been surging since the spring.
California: While the Cal secondary didn't play well in 2009, Sean Cattouse is solid. Senior Chris Conte has converted to safety from cornerback, but he could be challenged in camp for the starting job.
Stanford: Strong safety Delano Howell should blossom as a junior, and Michael Thomas has potential at free safety. Still, the Cardinal secondary got burned in 2009 and is probably the team's biggest question mark.
We'll see
USC: The Trojans are replacing all four starters in their secondary, and the days of giving them a free pass based on recruiting rankings are over. Still, Jawanza Starling, T.J. McDonald and Drew McAllister (if he's healthy) are a talented trio.
Washington State: WSU lost free safety Xavier Hicks, but LeAndre Daniels, Chima Nwachukwu, Tyree Toomer, Casey Locker and Jamal Atofau give the Cougars hope at the position.
August, 5, 2010
8/05/10
2:09
PM ET
By
ESPN.com staff
| ESPN.com
The good news for all those big-name Pac-10 quarterbacks? Every conference team has questions at cornerback.
And, for the first time in Pac-10 blog history, no one earns a "Great shape" tag.
Only one cornerback who earned All-Pac-honors is back: Arizona's second-teamer Trevin Wade. Only one other returning corner, Washington's Desmond Trufant, even earned honorable mention.
Three teams welcome back both starting corners from 2009: Oregon, Stanford and Washington. But the Ducks have moved Javes Lewis to rover, and a pair of true freshmen -- Terrance Mitchell and Avery Patterson -- are battling for the starting job opposite Talmadge Jackson. Stanford and Washington? They ranked eighth and ninth in the conference in pass efficiency defense last season.
USC and Arizona State are replacing both starting cornerbacks, but both actually look fairly strong at the position with plenty of returning experience and athleticism.
A number of teams might end up pretty good at the position. But no one looks like a sure-thing during the preseason. (Heck, we thought California was
a sure thing in 2009
and things
didn't exactly go according to plan
).
So how do things stack up?
Great shape
Good shape
Arizona: Wade is an All-American candidate, and Marcus Benjamin showed he can play with a good performance against USC in 2009. And Mike Stoops always has good cornerbacks, so we won't dwell on the questionable depth.
Oregon: Probably not a lot of worry here for the Ducks. Injuries in 2009 earned young players experience, and Oregon did rank third in the Pac-10 in pass efficiency defense. Still, it remains uncertain who will start opposite Jackson, with the freshmen outplaying the more experienced Cliff Harris and Anthony Gildon during the spring.
Arizona State: On the one hand, both starters are gone from a unit that ranked second in the conference in pass efficiency defense. On the other, Omar Bolden would have been a starter if he didn't get hurt, and Deveron Carr, Osahon Irabor and LeQuan Lewis give the Sun Devils a nice mix of talent and experience.
USC: Shareece Wright was academically ineligible last season, but he might end up first-team All-Pac-10. He might, in fact, be the conference's best cover cornerback. Torin Harris and T.J. Bryant are battling for the other spot in a secondary replacing all four 2009 starters.
Washington: Trufant is an up-and-comer, Quinton Richardson is experienced, and backups Vonzell McDowell and Adam Long have starting experience, so the Huskies should be much improved here in 2010. The operative word, though, is "should."
UCLA: It isn't easy to replace an Alterraun Verner. Sheldon Price returns at left cornerback after a good freshman season as a starter, and Aaron Hester has potential on the opposite side. Undersized junior Courtney Viney is an experienced third option.
Oregon State: James Dockery is solid and new starter Brandon Hardin is big -- 6-2, 215 pounds. There's respectable depth. But the Beavers gave up 23 touchdown passes in 2009, tied for the most in the conference. Of course, the Beavers cornerbacks suffered last season because of an anemic pass rush. That might change in 2010.
We'll see
Stanford: If the Cardinal is going to take another step forward, it must get better in pass coverage. Three players who started last seaon are back: Richard Sherman (who's a sure-thing at left corner), Corey Gatewood and Johnson Bademosi. But opponents completed 63 percent of their passes with 23 touchdowns against those guys. Might redshirt freshman Terrence Brown make a move?
California: Syd'Quan Thompson is gone; is Darian Hagan back? As in the 2008 version, not the one who lost his job and got buried on the depth chart in 2009. After being touted as one of the best secondaries in the country, the Bears finished 111th in the nation in pass defense in 2009. Bryant Nnabufie, who started four games in 2009, is listed No. 1 opposite Hagan, but Josh Hill (a five-game starter) and Marc Anthony and redshirt freshman Steve Williams are in the mix.
Washington State: The Cougars feel pretty good about junior Aire Justin and sophomore Daniel Simmons, who was the defense's best cover corner before he got hurt midway through last season. But it's hard to ignore that the Cougars ranked 112th in the nation in pass efficiency defense with opponents completing nearly 67 percent -- 67 percent! -- of their passes.
August, 4, 2010
8/04/10
12:40
PM ET
By
ESPN.com staff
| ESPN.com
Linebacker is not an easy position to rate in the Pac-10. It's fair to say that only Oregon is worry-free at the position.
There are plenty of good individual players: Arizona State's Vontaze Burfict, California's Mike Mohamed and UCLA's Akeem Ayers are getting preseason All-American attention and Washington's Mason Foster looks primed for a breakout. But other than the Ducks, every team gives you reason to pause over the depth chart.
So what's the pecking order?
Great shape
Oregon: The Ducks are fast and deep and experienced. Casey Matthews was second-team All-Pac-10, while Spencer Paysinger was his equal in production. Josh Kaddu and Boseko Lokombo are impressive enough that returning starter Eddie Pleasant moved to rover. And sophomore Michael Clay might end up the best of the lot by season's end.

USC: Everyone read all about the Trojans problems at LB during spring practices, but that was mostly about a lack of depth. The bottom line is there are three returning starters from the Pac-10's No. 1 scoring defense, and sophomore Devon Kennard may be good enough to beat out Chris Galippo in the middle.
Good shape
[+] Enlarge

Matt Kartozian/US PresswireVontaze Burfict had 61 tackles and two sacks last season.

Arizona State: Burfict may be the best middle LB in the conference, and Brandon Magee and Shelly Lyons saw plenty of action as backups for a unit that ranked No. 1 in the conference in total defense. Still, there's reason to pause over the loss of Mike Nixon and Travis Goethel, two heady, productive players.

Stanford: The Cardinal switched to a 3-4 defense, and the lineup of LBs is impressive in terms of potential. Sophomore Shayne Skov is a budding star and Owen Marecic is a beast, though this will be his first season as a full-time LB after playing FB last year. It's possible Chase Thomas and Thomas Keiser will be better OLBs than DEs. But we'll have to see.

California: Mohamed led the Pac-10 in tackles last year and, though two starters must be replaced, there's talent and experience on the depth chart, particularly if Mychal Kendricks breaks through. The Bears ranked second in the conference in run defense in 2009.

UCLA: The Bruins are breaking in two new starters next to Ayers, though MLB Steve Sloan started nine games in 2008. But Ayers may end up the conference's defensive Player of the Year, so he makes up for a lot of the issues here.

Washington: Mason Foster is as good a LB as any in the conference, and Cort Dennison is solid in the middle. But who starts on the strong side is one of the Huskies' biggest preseason questions.

Oregon State: The Beavers are replacing their two best linebackers: Keaton Kristick and David Pa'aluhi. Keith Pankey and Dwight Roberson both have significant experience platooning on the outside, though it remains to be seen how full-speed Pankey is after tearing his Achilles during the offseason. Tony Wilson and Rueben Robinson are competing in the middle.
We'll see
Washington State: Though the Cougs are replacing two starters, they have plenty of experience. The problem is the run defense has been terrible the past two years.

Arizona: The Wildcats, you might have heard, are replacing all three starters. Derek Earls and Paul Vassallo are JC transfers who have never played a down in the Pac-10. Sophomore Jake Fischer is hardly a veteran. Things could turn out fine, but as the title says, "We'll see."
August, 3, 2010
8/03/10
12:09
PM ET
By
ESPN.com staff
| ESPN.com
Defensive tackles clog the middle and collapse pockets. Dominant ones who demand attention from two blockers make life much easier for defensive coordinators, who suddenly see their linebackers running to the ball unmolested.
And it's typically not a strength position in the Pac-10. Coaches who have worked both down south and out west will tell you that one of the peculiar differences is how many more DTs there are in SEC and ACC country. (Quarterback goes the other way.)
[+] Enlarge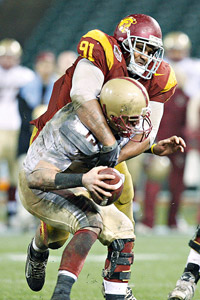 Tony Medina/SMICasey Jurrell had 54 tackles and four sacks in 2009.
In 2010, however, defensive tackle is solid in the conference. The three teams at the top of this list feature potential All-Americans at the position.
So how do things stack up?
Great shape
USC: The Trojans would rank among the nation's best at the position if not for the season-ending knee injury to Christian Tupou. Still, Jurrell Casey is a beast, Hebron Fangupo is huge and DaJohn Harris was one of the surprises of spring practices.

Oregon State: All-America candidate Stephen Paea is powerful and explosive and if he turns in a big season beating double-teams, he could end up a first-round NFL draft pick. Brennan Olander is a returning starter and converted end Kevin Frahm provides depth.

Arizona State: Both 2009 starters, Lawrence Guy and Saia Falahola, are back, and Corey Adams and Williams Sutton should provide quality depth.
Good shape
Oregon: Brandon Bair is underrated, and Zac Clark saw plenty of action as a backup in 2009. While inexperienced, there's young talent to provide depth.

Washington: The Huskies are solid with Cameron Elisara and Alameda Ta'amu, returning starters who turned in their best work this past spring.

California: Hard to rate teams that use a pure 3-4 because there's only a single nose tackle. Still, if Derrick Hill can stay healthy, he and Kendrick Payne will be an outstanding tandem making life tough for opposing centers.

Stanford: The Cardinal is breaking in its own 3-4 this year. Nose tackle Sione Fua is solid in the middle, with Terrence Stephens his backup. Stephens saw limited action as a true freshman in 2009.
We'll see
UCLA: The Bruins are replacing two starters, including the dominant Brian Price. David Carter, Justin Edison and Nate Chandler were solid in spring practices, so the position isn't a huge concern.

Arizona: The Wildcats are replacing two starters, including the underrated Earl Mitchell, a third-round NFL draft pick. After spring practices, Sione Tuihalamaka and Lolomana Mikaele topped the depth chart, which featured six names.

Washington State: Another position where the Cougars might be "better than you think," particularly if Bernard Wolfgramm can stay healthy. Touted JC transfer Brandon Rankin was impressive this spring, and true sophomore Anthony Laurenzi, a five-game starter in 2009, offers experienced depth.
August, 2, 2010
8/02/10
1:30
PM ET
By
ESPN.com staff
| ESPN.com
The best way to neutralize the impressive quarterback talent in the Pac-10 this fall is to get someone in their faces as much as possible. That's what pass-rushing defensive ends do, and there is a solid cast of them coming back.
Even the two teams that fall in the "We'll see" category here don't lack for talent or experience. They just have obvious questions heading into preseason camp.
So how do things stack up?
Great shape
Arizona: The Wildcats were in great shape at the spot last year with the same two players, though Ricky Elmore eclipsed Brooks Reed when he recorded 10.5 sacks while Reed was hurt (ankle) much of the season. Word on the street is Reed has been a maniac in the weight room this offseason. Solid depth here, too.
USC: Two players worth buying stock in: Armond Armstead and Nick Perry. Perry had eight sacks as a backup in 2009 and Armstead was dominant this spring. Transfer of Malik Jackson hurts depth.
Oregon: Kenny Rowe led the Pac-10 with 11.5 sacks in 2009, while Dion Jordan was perhaps the breakout player of the Ducks' spring practices.
Good shape
California: Cameron Jordan has been good, but he has a chance to be great: Is 2010 his year? Trevor Guyton is the leader to replace first-round draft pick Tyson Alualu, while Deandre Coleman and Ernest Owusu provide high-quality depth.
UCLA: Datone Jones had a great spring, while Keenan Graham looks like the favorite to start on the opposite side. Solid depth with Damien Holmes, Iuta Tepa and touted incoming freshman Owamagbe Odighizuwa.
Oregon State: The Beavers struggled to rush the passer in 2009 and returning starter Matt LaGrone quit, but Gabe Miller is a talented athlete who came on late and had a good spring. Sophomore Taylor Henry is No.1 on the other side.
Arizona State: The Sun Devils must replace four-year star Dexter Davis. James Brooks and Greg Smith are the likely starters. Solid depth here but no standouts.
Washington State: The Cougars are sneaky good with sophomore Travis Long and senior Kevin Kooyman.
We'll see
Stanford: The Cardinal is hard to rate because they are switching from a 4-3 to a 3-4, so Thomas Keiser and Chase Thomas, returning starters at end, are now outside linebackers and don't qualify. Meanwhile, Matt Masifilo and Brian Bulcke are experienced tackles but are new to end.
Washington: This is as pure of a "we'll see" as you can get. Four-year starter Daniel Te'o-Nesheim is off to the NFL and potential starter Andru Pulu got kicked off the team. If Everrette Thompson and Kalani Aldrich are healthy and ready to play 12 games, the Huskies are solid. Maybe even better than solid. If not, things are iffy.
July, 30, 2010
7/30/10
10:36
AM ET
By
ESPN.com staff
| ESPN.com
A good kicker solves a lot of problems. An inconsistent one makes everyone anxious, particularly late in tight games.
The Pac-10 will feature two of the best kickers in the nation -- two Lou Groza Award winners, no less -- in 2010, but for a handful of schools, the position is questionable.
So, who stands where?
Great shape
UCLA: Kai Forbath is the best kicker in the country. The first-team All-American and 2009 Groza Award winner is practically automatic, even outside 50 yards.
Arizona State: Thomas Weber suffered through a lost 2009 season because of injuries, but when healthy the 2007 Groza Award winner is a potential All-American.
Oregon State: Justin Kahut earned second-team All-Pac-10 honors in 2009 after converting 22 of 27 field goals with a long of 50 yards.
Washington: Erik Folk bounced back from two injury-plagued years to connect on 18 of 21 field goals in 2009.
Good shape
Stanford: Nate Whitaker made 16 of 22 field goals last year, which is solid, but his 54-yarder against Wake Forest was the longest in the conference last season.
Arizona: As a sophomore, Alex Zendejas was true on 17 of 22 field goals with a long of 47 yards.
We'll see
California: Cal used two kickers last season -- Giorgio Tavecchio and Vincenzo D'Amato -- but neither was consistent.
Washington State: Nico Grasu was solid in 2008 -- booting the game-winner in the "Crapple" Cup against Washington -- but he faded in 2009, missing the final four games with a thigh injury.
Oregon: The Ducks are replacing the reliable Morgan Flint. Rob Beard and incoming freshman Alejandro Maldonado are the top candidates for the spot.
USC: Unproven seniors Joe Houston and Jacob Harfman are competing to replace Jordan Congdon, the seventh-best kicker in the conference in 2009.
July, 28, 2010
7/28/10
9:00
AM ET
By
ESPN.com staff
| ESPN.com
Welcome to the review of the weakest position in the Pac-10. And that was going to be the case even before Washington gave
Kavario Middleton
the boot
.
Middleton, by the way, was named preseason first-team All-Pac-10 by Phil Steele, even though he only caught 26 passes last year and was being challenged for the starting job by
Chris Izbicki
.
Only four teams welcome back their starting tight end, and only one -- California's
Anthony Miller
-- even earned honorable mention all-conference honors.
Why is the position down? Attrition after an "up" season. Consider the departed: Arizona's Rob Gronkowski, Oregon's Ed Dickson, Stanford's Jim Dray, UCLA's Logan Paulsen and Ryan Moya and USC's Anthony McCoy. Those guys are now stocking NFL rosters.
So where do things stand? Well, you might say we graded the position on a curve, though there is plenty of potential here.
Great shape
California: Miller was the Bears' third-leading receiver last year. Six-foot-7 sophomore backup Spencer Ladner saw action in seven games.
Good shape
We'll see
USC: Attrition and injuries make this a questionable position for the Trojans. If Blake Ayles and Rhett Ellison stay healthy, things should be OK. The incoming freshman class is strong, starting with Xavier Grimble, who ranked No. 1 at the position, according to ESPN Recruiting.
Washington: With Middleton, the Huskies would have been in great shape. Izbicki had a good spring, but he only caught three passes for 7 yards in 2009 and the depth is questionable.
Arizona State: Jovon Williams is gone and Dan Knapp is a tackle, but the Sun Devils could move up here just because the position figures to be more involved in the offense in 2010. Trevor Kohl and Christopher Coyle top the depth chart.
July, 27, 2010
7/27/10
1:30
PM ET
By
ESPN.com staff
| ESPN.com
Receiver is a difficult position to evaluate this year. Just about every team has a solid (or better) lead receiver back and some intriguing, but inexperienced, talent around him. But, other than Washington, no team should feel completely secure.
There is, however, a lot of potential at the position. Many of the names below who appear as secondary options could end up competing for All-Pac-10 spots.
Note: Tight ends and running backs don't count here.
Great shape
Washington: The Huskies entire two-deep is back, topped by second-team All-Pac-10 pick Jermaine Kearse and Devin Aguilar, who ranked seventh in the conference in receiving yards per game in 2009. James Johnson was probably the best freshman receiver in the conference last year.
Good shape
[+] Enlarge

AP Photo/Ben MargotOregon State's James Rodgers caught 91 passes for 1,034 yards and nine TDs last year.
We'll see
California: The Bears only lose No. 2 WR Verran Tucker and the underwhelming Nyan Boateng, but, other than Marvin Jones, they didn't get much production here in 2009.

Arizona State: The Sun Devils lost their top-two WRs, but the cupboard isn't empty, with Oregon transfer Aaron Pflugrad, who would have started for the Ducks in 2009, and JC transfer George Bell, Gerell Robinson, Jamal Miles and Kerry Taylor. Still, it's not a proven group.

Washington State: The Cougars went through spring with just four scholarship receivers, a crew topped by Jared Karstetter and Gino Simone. The incoming recruiting class features five receivers, and at least a couple will get on the field. The Cougars are OK here but they did rank last in the conference in passing in 2009.
July, 26, 2010
7/26/10
5:09
PM ET
By
ESPN.com staff
| ESPN.com
It's hard to imagine too many conferences will be as experienced on the offensive line as the Pac-10 in 2010. One would think that's a good thing.
A really good thing
.
Eight teams welcome back four or more starters. Only Arizona State, with one full-time and one part-time starter back, and USC, with three starters returning, have more than one void to fill.
This is a much different situation than last year, when the position was a
huge question
for most conference teams (other than USC, which, nonetheless, dramatically underachieved last fall).
Of course, returning starters aren't everything: Both UCLA and Washington State welcome back four starters, but both units probably still keep their fans up at night because of the poor production in 2009. And both were experienced units heading into last fall.
So where do things stand?
Great shape
Oregon: The Ducks not only welcome back all five starters, they welcome back all 10 members of their 2009 two-deep.
Stanford: The Cardinal have four starters back from what might have been the best offensive line in the Pac-10 last year.
Arizona: The Wildcats have four starters back and a fifth lineman, Phillip Garcia, who started two games last year.
Oregon State: Four starters are back and the re-emergence of oft-injured tackle Wilder McAndrews could bolster depth.
California: Four starters are back from a talented line that underachieved in 2009 -- see 31 sacks surrendered.
Good shape
USC: Three starters are back and all three have NFL futures. Beyond them, though, there's a lack of experience and depth.
Washington: Four starters are back from a unit that struggled at times in 2009. Depth also is a question.
We'll see
UCLA: Four starters are back, but Nik Abele, projected to fill the void at LT, was forced to retire due to neck problems. Bruins ranked ninth in rushing and gave up 29 sacks in '09.
Washington State: Four starters are back, and JC transfers should help, but Cougars couldn't block anyone last year.
Arizona State: The Sun Devils lost four starters from a crew that ranked eighth in rushing and gave up 27 sacks. Both projected starting tackles haven't played a down of college football.
July, 22, 2010
7/22/10
6:56
PM ET
By
ESPN.com staff
| ESPN.com
Another year, another strong collection of running backs, even with the departures of Toby Gerhart and Jahvid Best.
While Pac-10 quarterbacks will grab most of the preseason headlines -- that's what happens when the two best NFL prospects at the position play in the same conference -- the class of running backs is nearly as strong.
Three 1,00o-yard rushers are back, and that doesn't include California's
Shane Vereen
, who piled up 952 yards as a backup, nor does it including Arizona's
Nic Grigsby
, who rushed for 1,153 yards in 2008. Six of the top-nine running backs will return this fall, and more than a few teams are decidedly deep at the position.
By the way, you might note there is more mention of incoming freshman at this position than others. Two reasons: 1. The Pac-1o had a strong haul of RBs in recruiting; and, 2. RB is often the easiest place for a young player to break into the lineup.
Great shape
[+] Enlarge

Rick Scuteri/US PresswireJacquizz Rodgers may be the most talented individual running back in the Pac-10 this year, but Oregon has the best group.
Good shape
We'll see
Stanford: The Cardinal doesn't have one guy who can replace Gerhart. But who does? The good news for a backfield-by-committee approach with Jeremy Stewart, Tyler Gaffney, Stepfan Taylor and freshman Usua Amanam in the mix is the offensive line in front of them should be outstanding.

Arizona State: The Sun Devils must replace leading rusher Dimitri Nance, who didn't exactly scare opposing defenses in 2009. Cameron Marshall is the leading returning rusher with 280 yards. James Morrison and Jamal Miles will provide depth, though an incoming freshman might get into the mix. As has been the case for a while with the Sun Devils, the first order is improving the offensive line.

Washington State: Leading 2009 rusher Dwight Tardy is gone. If James Montgomery is healthy -- and stays that way -- he gives the Cougars a quality runner. He was clearly the best guy last preseason before he got hurt. Logwone Mitz, Chantz Staden, Carl Winston and Marcus Richmond will compete for touches during fall camp. Whatever the pecking order, the offensive line is the biggest issue.
July, 21, 2010
7/21/10
6:49
PM ET
By
ESPN.com staff
| ESPN.com
Last year, we fretted that the so-called "Conference of Quarterbacks" was
losing its luster
at the game's most important position. Only Oregon and Washington -- with Jeremiah Masoli and
Jake Locker
-- were 100-percent certain at QB heading into 2009.
Well, seasons change, and 2010 is an entirely different story, even with Masoli's unfortunate demise.
Only two teams, Oregon and Arizona State, will enter preseason practices uncertain at quarterback. Four teams boast QBs with legitimate shots at postseason honors, and two of those are widely projected as first-round NFL draft picks this spring.
So this position of strength seems like a good place to start our preseason position reviews.
Great shape
[+] Enlarge

Charles Baus/Icon SMIWashington quarterback Jake Locker keeps opponents guessing with his ability to run and pass.

Washington: Jake Locker is a certain No. 1 draft pick this spring who could go No. 1 overall. While his passing figures to be more refined in year two under Steve Sarkisian, it's his running ability that keeps defensive coordinators up at night.

Stanford: If Andrew Luck opts to enter the NFL draft after his third season on the Farm, he almost certainly will be a first-round pick and could go higher than Locker. Which, yes, means he could be the top overall pick. While he's a more traditional pocket passer than Locker, he's also a good athlete.

Arizona: While Nick Foles had his struggles in 2009, he also threw 19 TD passes (vs. nine interceptions), despite not taking over the starting job until the fourth game. It's reasonable to think he'll take another step forward in 2010. A strong supporting cast doesn't hurt, either.

USC: While Pete Carroll's over-the-top praise of Matt Barkley got a bit old last fall, it only takes a few minutes watching the true sophomore to recognize his talent. He looked great this spring. Don't be surprised if he is in the conversation for All-Pac-10 honors by season's end.
Good shape
California: Kevin Riley has had his ups and downs, and that inconsistency has irritated Cal fans. Still, he's an experience guy who could be in store for a strong senior campaign.

UCLA: While Kevin Prince didn't put up good numbers last year as a redshirt freshman, there were plenty of moments when he flashed ability. While it's unclear how well the Bruins new "pistol" offense will work, projecting considerable improvement from Prince is entirely reasonable.

Washington State: Jeff Tuel is smart and poised and showed a lot of guts after taking over the starting job as a true freshman. If his offensive line gives him time, he's capable of making plays downfield.
We'll see
Oregon: Coach Chip Kelly has produced a productive quarterback every season since he arrived in Eugene as the Ducks offensive coordinator. There's no reason to believe either Nate Costa or Darron Thomas won't continue that run. But QB remains THE question for what could be a very good team in 2010.

Oregon State: Sophomore Ryan Katz is a good athlete with a good arm, and he's got a good supporting cast around him. But you don't know how he will react when he steps into the spotlight because he has yet to take a meaningful college snap.

Arizona State: It's a good bet that either Brock Osweiler or Steven Threet will be better than Danny Sullivan was last year. The real question, however, is how much better. And, unlike the two teams above, the supporting cast on offense is decidedly questionable.
PAC-12 SCOREBOARD
Friday, 12/26
Saturday, 12/20
Monday, 12/22
Tuesday, 12/23
Wednesday, 12/24
Saturday, 12/27
Monday, 12/29
Tuesday, 12/30
Wednesday, 12/31
Thursday, 1/1
Friday, 1/2
Saturday, 1/3
Sunday, 1/4
Monday, 1/12
Tweets from https://twitter.com/ESPNCFB/lists/pac12