Pac-12:

preseason position reviews 2011
July, 25, 2011
7/25/11
11:00
AM ET
By
ESPN.com staff
| ESPN.com
Our Pac-12 position rankings are done. You can
review them here
.
But now that they are done, we want to put them together and see what they reveal: How does everyone pencil out?
So, in a totally unscientific way that will have many of you slapping your foreheads over my mental midgetry, I will give each team three points for a "Great shape" two points for a "Good shape" and one point for a "We'll see."
If you're getting a sense of déjà vu, this is the same intro we did last year -- a handful of you asked to see how accurate last year's rankings were,
so you can check them out here
.
We are making two changes: 1. kickers and punters have been reduced in value; 2. elite quarterbacks have been increased.
So if you are in "great shape" at kicker or punter, you only get two points, and you get one point for good and zero for "we'll see." If you are in "great shape" at quarterback, you get four points. Good shape still gets two and "we'll see" one.
My thinking is "great shape" at quarterback is really valuable.
So without further adieu, here are the standings:
Oregon... 25
USC... 25
Stanford... 24
Washington... 24
Arizona... 22
Arizona State... 22
California... 21
UCLA... 21
Colorado 19
Utah... 18
Washington State... 18
Oregon State 16
Maybe we are mad at Oregon State -- they ranked No. 1 last year, one point ahead of eventual champion Oregon.
Any surprises here? USC and Washington seem a little high, Arizona State and Utah too low. Cougars fans: How does it feel to be out of the basement in
something
, even if it is as trivial as this?
USC is high because of strength at DT, DE, WR, TE and QB. Arizona State lags because of a lack of star-power on offense, though being the only team with a "great shape" on the O-line is meaningful.
Last year the numbers ranged from 29 to 17, and we called the conference wide-open. This year it appears things are wide opener.
Some notes:
"Great shape-We'll see" per team
Arizona 3-4
Arizona State 3-3
California 1-2
Colorado 2-5
Oregon 3-1
Oregon State 0-4
Stanford 5-4
UCLA 2-3
USC 5-3
Utah 0-4
Washington 6-3
Washington State 2-7
Pac-12 teams averaged 2.67 "great shapes" and 3.58 "we'll sees." Hmm.
Washington is the only team that got a 2-point "great shape" for kicker and punter. Arizona State, Colorado and USC got zero points for specialists.
Oregon's only "we'll see" was at receiver. Every other team had at least two. Cal didn't have many extremes. Stanford has a lot of extremes.
Oregon State and Utah aren't in "great shape" anywhere. Do you agree?
Every team has at least two "we'll sees," while no team -- other than specialist-fortified Washington -- has more than five "great shapes."
Washington State is strong at receiver and QB, questionable just about everywhere else.
Positions with the most "Great shapes": quarterback (5), running back (4), wide receiver (4)
Position with the most "We'll sees": kicker (7), punter (5), offensive line (4), tight end (4) and running back (4).
Every position had at least one great shape, though Arizona State was the only team in "great shape" on the O-line.
Every position had at least two "We'll sees."
July, 22, 2011
7/22/11
12:00
PM ET
By
ESPN.com staff
| ESPN.com
Only Arizona, UCLA and Washington welcome back both starting cornerbacks, but only Utah and Colorado lost both starters.
So most teams are at least half-way there at cornerback heading into fall camp.
How do things stack up? Read on.
Great shape
Arizona
: It's not just that the Wildcats welcome back four of the five names from their 2010 depth chart, including both starters. In fact, Robert Golden is moving back to safety. It's that Trevin Wade, Jonathan McKnight and Shaquille Richardson are an outstanding trio on team that is extremely well-coached -- Mike Stoops' specialty -- in the secondary. Of course, if the Wildcats struggle to rush the passer after the departure of D-ends Brooks Reed and Ricky Elmore, their CBs could end up looking ordinary.
Good shape
[+] Enlarge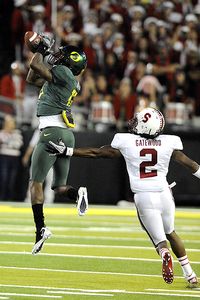 Steve Dykes/Getty ImagesCliff Harris had 30 tackles and six interceptions last season.
Oregon
: We're assuming Cliff Harris gets his act together -- he's suspended for the LSU game. If so, he's one of the best cover corners in the country. The experienced Anthony Gildon steps in for Talmadge Jackson, while redshirt freshmen Terrance Mitchell and Troy Hill turned in strong springs.
California
: Steve Williams is back and Marc Anthony saw plenty of action in 2010. They are a good combo. Josh Hill is a veteran backup, and redshirt freshman Adrian Lee is talented.
Washington
: The Huskies have both starters back in Desmond Trufant and Quintin Richardson. And here's a "did you know" (I didn't): Guess which team tied Oregon and Cal for giving up the fewest TD passes in the Pac-10 last year? Not completely sold on the depth, though.
Stanford
: The Cardinal lose the underrated Richard Sherman, but Johnson Bademosi is back. Sophomore Barry Browning will step in for Sherman. He started three games as a true freshman. Depth is questionable. Still, Stanford ranked second in the conference in pass efficiency defense last season. It gets the benefit of the doubt.
UCLA
: Juniors Aaron Hester and Sheldon Price are both back. Both look the part. Both are taller than 6-feet. Yet both were inconsistent last season. They have the potential to be a strong combination, but that hasn't happened yet. Depth is a bit of an issue.
USC
: Sophomore Nickell Robey turned it on late last season and had a great spring. He's a potential All-Conference guy. There's an "or" on the depth chart between Tony Burnett and Torin Harris on the other side. You'd think the Trojans have talent here, based on their typically strong recruiting classes. But you'd also think a secondary under Monte "Tampa-2" Kiffin wouldn't give up 30 -- 30! -- touchdown passes. That, folks, is five more than Washington State.
Arizona State
: The Sun Devils took a major hit when unanimous first-team All-Pac-10 selection Omar Bolden went down with a knee injury in spring practices. Deveron Carr and Osahon Irabor are the projected starters, but Carr is coming back from a shoulder injury and Irabor needs to hold off redshirt freshman Devan Spann. It's possible that Alden Darby also could be in the mix, though he's listed as a safety. There's potential here, but also a lack of experience that engenders plenty of questions.
Oregon State
: The Beavers lose James Dockery, who was honorable mention All-Pac-10, but Brandon Hardin is back. Hardin is the biggest cornerback in the conference, and sometimes played that way, which isn't always a compliment. Hopes are high for Jordan Poyer, a junior. Rashaad Reynolds and Sean Martin provide solid depth. It's worrisome that the Beavers ranked ninth in pass efficiency defense in the conference last season.
We'll see
Utah:
The Utes lost both starting cornerbacks, and they ranked 88th in the nation in pass efficiency defense last season. Conroy Black has experience and good speed, but not as good as Ryan Lacy, who's tied for fastest on the team with receiver Reggie Dunn. Reggie Topps and Wykie Freeman provide depth. The Utes' season might turn on how things go here.
Washington State
: Nolan Washington is back, Aire Justin is not. Daniel Simmons has experience, but Damante Horton topped the depth chart at the end of spring. The depth is inexperienced and the Cougars ranked 110th in the nation in pass efficiency defense last season.
Colorado
: The Buffaloes ranked 112th in the nation in pass efficiency defense in 2010, surrendering 27 touchdown passes and a stunning 68 percent completion rate. And they did that poorly with two NFL draft choices playing corner, in Jimmy Smith and Jalil Brown. There were more than a few observers of Buffs spring practices who are worried about this position. Parker Orms, who seems to be more of a natural safety, was hurt last season (knee) and missed spring practices but he tops the depth chart at one corner anyway, while Arthur Jaffee is No. 1 on the right side. This is a decided "we'll see."
July, 20, 2011
7/20/11
9:00
AM ET
Though both first-team All-Pac-10 safeties -- UCLA's Rahim Moore and California's Chris Conte -- are off to the NFL, safety is a position of strength in the conference.
Even the two teams listed as "We'll see" here don't seem desperate at the position. Only Utah doesn't welcome back a safety with starting experience.
That said, 10 teams have at least some question at the position, whether that's a new starter, depth or returning starters who were inconsistent in 2010.
So how do things stack up? Read on.
Great shape
[+] Enlarge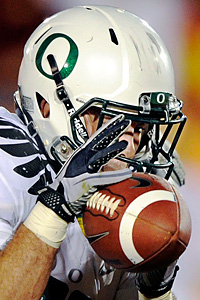 AP Photo/Mark J. TerrillJohn Boyett had five interceptions and 67 tackles in his second season with the Ducks.
Stanford
: The Cardinal have second-team All-Pac-10 strong safety Delano Howell and honorable mention all-conference free safety Michael Thomas back. Depth isn't certain, but that's a strong combination.
Oregon
: Free safety John Boyett is a big hitter and ball hawk -- see five interceptions -- and earned honorable mention all-conference honors. Rover Eddie Pleasant was solid last season after moving from linebacker to safety, and he's expected to take another step forward in 2011.
Good shape
USC
: Second-team All-Pac-10 safety T.J. McDonald is a top NFL prospect, and someone should emerge from the competitive gaggle opposite him at strong safety. Still, the Trojans fall short of the top category because they got beat deep a bunch last season.
UCLA
: It's possible by season's end we will consider the combination of free safety Tony Dye and strong safety Dietrich Riley the best combo in the conference. And the depth looks solid.
California
: Sean Cattouse was honorable mention all-conference, while D.J. Campbell is experienced. There are some intriguing young players, including freshman Avery Walls and redshirt freshman Michael Coley.
Washington
: Free safety Nate Felner had five interceptions last season. While there's some experience around him, the most intriguing option at strong safety is Sean Parker, a touted 2010 recruit who's competing with Will Shamburger and Taz Stevenson.
Arizona State
: The Sun Devils have everyone back, but they weren't terribly consistent at safety in 2010. Alden Darby, Clint Floyd, Eddie Elder and Keelan Johnson each have plenty of experience.
Oregon State
: Lance Mitchell is an NFL prospect, but there's not a lot of experience around him. Junior Anthony Watkins, who had 27 tackles in 2010, topped the depth chart at the end of spring practice.
Arizona
: The Wildcats are replacing both starting safeties, but feelings were pretty good entering the spring with free safety Adam Hall and strong safety Marquis Flowers, both up-and-coming young talents. Then Hall went down with a knee injury. Still, with Robert Golden moving back to safety from corner and Flowers, the Wildcats are above average at the position.
Washington State
: Deone Bucannon made a major impact as a true freshman and Tyree Toomer is an experienced veteran. They ranked No. 1 and No. 3 in tackles for the Cougs last season. There's solid depth behind them. Still, ranking 110th in the nation in pass efficiency defense keeps the Cougs down here.
We'll see
Colorado
: Cornerback is a far bigger concern, but the Buffaloes had two NFL corners last season and they were terrible against the pass. That said, junior Ray Polk and senior Anthony Perkins, who's knee injury is often cited as a big reason the pass D stunk, are experienced and have skills, while Terrell Smith and Travis Sandersfeld have seen action.
Utah
: The Utes lost all four starters from their secondary, though safety Brian Blechen moved up to linebacker. While things seemed to go well this spring, there's little to no experience here. Terrell Reese and Damian Payne are competing at free safety and both are redshirt freshmen. Michael Walker is ahead of Quade Chappuis at strong safety, and he had eight tackles last season.
July, 18, 2011
7/18/11
9:00
AM ET
The Pac-12 welcomes back a number of good linebackers this fall, including five who earned spots on the watch list for the Butkus Award: Arizona State's Vontaze Burfict, USC's Chris Galippo, Oregon's Josh Kaddu, California's Mychal Kendricks and Stanford's Shayne Skov.
But just about every team, other than the Sun Devils, has questions.
So how do things stack up? Read on.
Great shape
[+] Enlarge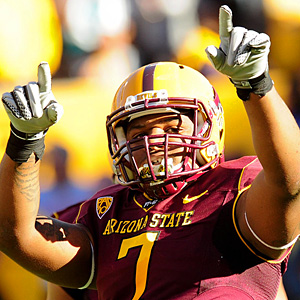 Matt Kartozian/US PresswireVontaze Burfict leads a deep group of Arizona State linebackers.
Arizona State
: All three starters are back, including preseason All-American Vontaze Burfict, who might be the nation's best linebacker. Further, there's experienced, capable depth.
Stanford
: The Cardinal, who run a 3-4, lost two good LBs in Owen Marecic and Thomas Keiser, but Shayne Skov on the inside and Chase Thomas on the outside are all-conference talents, and Max Bergen, Alex Debniak and Blake Lueders have experience and talent. While we don't like to include incoming freshman in this evaluation, we've seen film of James Vaughters and, well, he's good and may end up starting.
Good shape
California
: Two starters are gone from the Bears' 3-4, including mainstay Mike Mohamed, but D.J. Holt and Mychal Kendricks are an outstanding combo inside, while hopes are high on the outside for David Wilkerson and Cecil Whiteside. And there's intriguing young talent, including top guys in an incoming recruiting class.
Utah
: Utah loses one of three starters, but standout Brian Blechen moved from safety to "stud" linebacker and looked good this spring. Further, Chaz Walker and Matt Martinez are a good returning combination, and the potential return of former starter Nai Fotu, who was suspended after a DUI arrest in February, makes this a position of strength for the Utes.
Oregon
: Sure, Oregon lost multiyear starters Casey Matthews and Spencer Paysinger, but a regular rotation of backups the past two seasons means there's plenty of experience surrounding returning strongside backer Josh Kaddu. Junior Michael Clay is a budding star, and Boseko Lokombo, Dewitt Stuckey and Derrick Malone are also going to see action. The wild card is MLB Kiko Alonso, a big hitter who had a great spring but is presently under indefinite suspension for a criminal mischief arrest in May.
Arizona
: The Wildcats were an interesting case at LB in any event: They began spring with three quality starters back but almost no depth. Then Jake Fischer went down with a knee injury. Derek Earls and Paul Vassallo are a nice tandem, but after them things are murky.
UCLA
: The Bruins have plenty of potential here, despite the loss of Akeem Ayers. Patrick Larimore has flashed all-conference ability at in the middle -- a shoulder injury ended his 2010 season -- while Sean Westgate has been a steady starter on the outside. Glenn Love and Jordan Zumwalt are competing for the strongside spot. Redshirt freshman Aramide Olaniyan, Isaiah Bowens, Eric Kendricks and Ryan Hofmeister are also in the mix. A caveat: The Bruins were terrible against the run last year.
Colorado
: Leading tackler Michael Sipili is gone, but the guy who would have led the Buffs in tackles -- Jon Major -- is back after suffering a knee injury midway through the 2010 season. Patrick Mahnke and Liloa Nobriga have experience, while Douglas Rippy had an outstanding spring at middle linebacker.
USC
: The Trojans lost two of three starters, and Devon Kennard moved back to defensive end, but Chris Galippo is back in the middle. Shane Horton has some experience, but he's competing with impressive redshirt freshman Hayes Pullard, as are Dion Bailey and Marquis Simmons on the strong side. Depth is an issue.
We'll see
Washington
: Cort Dennison is back in the middle, but things are unsettled outside, where Mason Foster and Victor Aiyewa made a lot of plays. The post-spring depth chart list seven youngsters at the two outside spots separated by an "or."
Oregon State
: Outside LBs Keith Pankey and Dwight Roberson are gone, and it's uncertain if Rueben Robinson will again start at MLB, as he's being challenged by Tony Wilson and Kevin Unga. That said, hopes are high for Cameron Collins and Michael Doctor on the outside. A former safety, Collins has 13 career starts, though only two at LB. Doctor is an impressive youngster with a nice motor.
Washington State
: On the one hand, Alex Hoffman-Ellis, C.J. Mizell, Sekope Kaufusi and Mike Ledgerwood give the Cougars an experienced foursome at the position. But after ranking 115th in the nation in run defense, the only option is to wait and see. On the plus side for Cougars fans, this looks like a position that could be dramatically improved this fall.
July, 12, 2011
7/12/11
7:22
PM ET
Just like this isn't a banner year for defensive tackles in the Pac-12, it's also not much of a year for defensive ends.
No first- or second-team All-Pac-10 players is back. The leading sack man in this group, Arizona State sophomore Junior Onyeali, only got the opposing quarterback 6.5 times.
There are some good players -- NFL talents, in fact -- but guys such as USC's Nick Perry and UCLA's Datone Jones have been riddled with injuries.
So how do teams stack up at this questionable position? Read on.
Great shape
Arizona State
: Junior Onyeali, the conference Defensive Freshman of the Year, Jamaar Jarrett and James Brooks combined for 15 sacks and 29.5 tackles for a loss in 2010. That's a pretty good start, and there's even some solid depth behind that troika.
USC:
Nick Perry and Wes Horton -- if healthy -- along with the move of Devon Kennard from linebacker to end gives the Trojans a potentially potent threesome, and Kevin Greene looked good this spring.
Good shape
California
: Sure, the Bears lost Cameron Jordan to the first round of the NFL draft, but Trevor Guyton and Ernest Owusu both have starting experience, while Gabe King and Deandre Coleman are talented backups. Further, though these rankings resist the urge to include freshmen, the Bears incoming class boasts some guys who probably will help immediately.
Washington
: Hau'oli Jamora, Everette Thompson -- back playing his natural end position instead of tackle -- and Talia Crichton give the Huskies a strong, experienced foundation. And you have to include redshirt freshman Josh Shirley, who was so explosive this spring, they created a "rush" position for him that functions as a rush end/linebacker on passing downs.
UCLA
: Damien Holmes, Owamagbe Odighizuwa and Keenan Graham all are experienced, but the return of Jones -- an All-Conference talent -- from a foot injury could advance the Bruins from good shape to great shape. Jones had 11 tackles for a loss in 2009.
Oregon
: The Ducks lost their lead player -- Kenny Rowe -- but Terrell Turner is back, and Dion Jordan looks poised for a breakout season after a strong spring. There's capable depth, topped by Brandon Hanna and Tony Washington.
Utah
: The Utes lost Christian Cox, but Derrick Shelby is back, and the Kruger brothers -- Dave and Joe -- were both impressive this spring. Tevita Finau also is in the mix.
Washington State
: Travis Long, honorable mention All-Pac-10, is back and Ian Knight is an intriguing, athletic junior college transfer. Jordan Pu'u Robinson and converted tight end Skylar Stormo provide depth.
Colorado
: The Buffaloes are difficult to rate here because they are moving from a 3-3-5 to a 4-3, which uses ends differently (the Buffs 2010 depth chart only listed Josh Hartigan as an "end"). Hartigan is back, and he led Colorado with seven sacks. Sophomore Chidera Uzo-Diribe is penciled in at the other end. He had 3.5 sacks last season. Depth is a little tricky.
We'll see
Stanford
: Matt Masifilo, a lunch pail guy, is back, and Ben Gardner takes over for the departed Brian Bulcke (another lunch pail guy). There is not a lot of experience beyond Masifilo, and the coaches even talked this spring of mixing things up schematically, considering the depth at linebacker and the thinness of the D-line.
Oregon State
: Gabe Miller is off to the NFL, and Dominic Glover has moved inside to tackle. Taylor Henry as well as junior college transfers Rusty Fernando and Blake Harrah and redshirt freshman Scott Crichton flashed some potential as quick, undersized guys, but only Henry has experience and he had just one sack last fall.
Arizona
: Gone are Brooks Reed and Ricky Elmore, who were an often dominant tandem, and third end D'Aundre Reed was good enough to get drafted. That's a lot to replace. There was some nice buzz this spring about C.J. Parrish and Mohammed Usman, but neither has any notable experience, much less a sack.
July, 11, 2011
7/11/11
9:00
AM ET
No team in the Pac-12 wows you at defensive tackle. No team is a sure thing. There is a lot of "maybe" at the position. And probably some maybe not.
The uncertainty of quality -- both in terms of returning stars and depth -- made this a difficult position to rank. For example, Washington has a nice foursome at tackle, led by Alameda Ta'amu, who might be the best tackle in the conference.
That's great. Good for the Huskies. But they ranked 97th in the country in run defense last year. You sort of pause over that, you know?
So a lot of this ranking is feel thing, a projection of potential. And "great shape" here is relative to the conference. Nebraska, for example, wouldn't exchange its tackles -- Jared Crick and Baker Steinkuhler -- for any Pac-12 tandem.
Some of this figures to inspire a bit of debate.
Great shape
USC
: This may be in some part based on fumes from the Trojans reputation at the position. It definitely includes a vote of faith that they will get a 100 percent Christian Tupou back from the knee injury that killed his 2010 season. If so, the threesome of Tupou, George Uko and DaJohn Harris is strong. And if you toss in Armond Armstead -- who missed spring with an undisclosed medical condition that threatens his career -- you'd have a clear No. 1.
Washington
: Ta'amu seemed to find himself during the second half of last year, and the 330-pounder could end up getting some All-American consideration if he consistently plays like he did against Nebraska in the Holiday Bowl. Sione Potoa'e and Semisi Tokolahi are both experienced, and Lawrence Lagafuaina a space-grabbing, 344-pound redshirt freshman.
Colorado
: The Buffaloes are sneaky good here, even though they only ranked 48th in the nation in run defense in 2010. Both starters, Will Pericak and Curtis Cunningham, are back, but Conrad Obi was a revelation this spring. He looked like a future NFL draft choice, not a player who'd mostly been a bust. Nate Bonsu, who missed spring with a knee injury, also should help.
Good shape
Utah
: The Utes, who ranked 11th in the nation in run defense in 2010, lost Sealver Siliga, but they believe they have a budding star in, er, Star Lotulelei, while James Aiono, LT Tuipulotu and Joape Peta are solid. Also, Dave Kruger, who played end this spring, is 280 pounds and can play inside.
Arizona
: The loss of backup Willie Mobley to a knee injury hurts depth, but Justin Washington figures to take a step forward after an impressive true freshman season, Sione Tuihalamaka started four games in 2010. Depth is a question. The Wildcats ranked 33rd in the nation in run defense last fall.
Oregon
: On the one hand, Oregon lost both starting defensive tackles in Brandon Bair and Zac Clark from a unit that ranked 27th in the nation in run defense. On the other, they played so many guys last fall, the new starters are experienced players. Further, Ricky Heimuli, Taylor Hart, Wade Keliikipi, Isaac Remington and Jared Ebert played well enough this spring to suggest the position will be a strength in the fall.
Arizona State
: If Lawrence Guy didn't make his ill-fated decision to enter the NFL draft, the Sun Devils, who were 16th in the nation against the run last fall, would be in great shape here. As it was, Will Sutton had a great spring and looks like a potential All-Conference guy. Grinder Bo Moos is listed as the starter at the other tackle, though he could be eclipsed by Corey Adams. Toa Tuitea saw limited action last year.
UCLA
: The Bruins defensive line was terrible last year, ranking 108th in the nation against the run, but the talent is there for a significant turnaround. Cassius Marsh, Nate Chandler, Justin Edison, Donovan Carter and Seali'i Epenesa should do a much better job plugging the middle.
California
: Cal is actually fine here, despite the loss of NG Derrick Hill. For one, when you run a 3-4 defense, it's hard to rate your DTs, even if your DEs often operate like them. The Bears have two solid options at NG in Aaron Tipoti and Kendrick Payne, and it's also possible that touted 350-pound incoming freshman Viliami Moala will eclipse both of them.
We'll see
Oregon State
: Dominic Glover moves inside from end and Kevin Frahm has experience, but this unit didn't play well last year -- 89th in run defense -- even with one of the best DTs in the nation in Stephen Paea. 340-pound Castro Masaniai could help but he missed spring after shoulder surgery and has off-field issues. There's also Mana Tuivailala and Ben Motter.
Stanford
: Like Cal, Stanford runs a 3-4, so it naturally it is going to suffer a bit in DT rankings. More important: The loss of Sione Fua is significant. Terrence Stephens and Henry Anderson had solid springs but neither has much experience.
Washington State
: Brandon Rankin, a returning starter, was listed No. 2 on the depth chart behind Anthony Laurenzi after spring practices, with redshirt freshman Toni Pole No. 1 at the other tackle. Justin Clayton, Steven Hoffart and Xavier Cooper provide depth. It's not unreasonable for Cougars fans to expect improvement, perhaps significant improvement. But a team that ranked 115th in the nation in run defense the previous season is automatically a "We'll see" here.
July, 6, 2011
7/06/11
6:00
PM ET
By
ESPN.com staff
| ESPN.com
Punters often don't get much respect, but if you understand the value of field position, you understand the value of a good punter.
California and UCLA might be offensively challenged this fall, but if their defenses step up, they might be able to steal a few games by being opportunistic after their punter creates a field-position headache for their opponents.
So how does the entire conference stack up? Read on.
Great shape
California
: Bryan Anger, first-team All-Pac-10, is on the short list for the Ray Guy Award. Huge foot. Averaged 45.6 yards per boot in 2010, which ranked sixth in the nation. Twenty one of 62 punts downed inside 20-yard line.
UCLA
: Jeff Locke is also a leading Ray Guy candidate. He led the conference in punting last fall at 45.8 yards per punt and earned second-team All-Pac-10 honors. Twenty four of 64 punts went for 50-plus yards.
Washington
: The Huskies actually have two good punters. Will Mahan averaged 40.6 yards per punt in 2009 and got off to a good start in the 2010 opener at BYU -- 45.2 yards per boot -- before getting hurt. Then Kiel Rasp stepped in and averaged 43.8 yards per punt. An "or" was between the two on the post-spring depth chart.
Good shape
Oregon
: Jackson Rice averaged a solid 42.3 yards per punt in 2010, with 18 of 40 punts downed inside the 20.
Stanford
: Dan Zychlinski didn't punt much last season -- see a conference-low 27 punts -- but he averaged a decent 41.8 yards per attempt.
Oregon State
: Johnny Hekker averaged 41.7 yards per punt, which ranked eighth in the conference.
Utah
: Sean Sellwood, a South Africa native, was solid last season with a 41-yard average. Ten of his 33 punts were downed inside the 20. On the worrisome side, three of his punts were blocked.
We'll see
Colorado
: Zach Grossnickle is back. That's good. His 35.7 yards per boot average from 2010 is not. Potentially more good news: Mark Brundage, a transfer from Rice, averaged 44.2 yards for 26 punts in 2009. They will compete for the starting job.
Washington State
: Dan Wagner averaged 51 yards per punt last season. On one punt. Of course, he backed up one of the nation's best punters in Reid Forrest and had a solid spring.
Arizona State
: Josh Hubner is a touted junior college transfer. At 6-foot-4, 230, he looks like a tight end.
USC
: Kyle Negrete was No. 1 on the depth chart after spring practices. Incoming freshman Kristopher Albarado was one of nation's top recruits at the position.
Arizona
: Kyle Dugandzic takes over for Keenyn Crier, which might be a good thing because Crier was the worst punter in the conference last season.
July, 5, 2011
7/05/11
6:00
PM ET
By
ESPN.com staff
| ESPN.com
Kicker is typically a strong position in the Pac-12. That is not the case -- at least based on preseason appearances -- this fall.
Just five teams welcome back experienced kickers. The pickings is so slim in terms of quality that Phil Steele named Arizona's Alex Zendejas third-team All-Pac-10 in his preview magazine.
So how does this thin group stack up? Read on.
Great shape
Washington
: Erik Folk was perfect on 33 PATs last year while also connecting on 13 of 20 field goals with a long of 54 yards. Most years, these numbers would rate as "good" rather than "great," but having the best returning kicker in the conference, even if his numbers aren't scintillating, is a significant boost.
Good shape
Oregon
: Rob Beard made 10 of 13 field goals last year -- coach Chip Kelly doesn't like field goals -- and was 63 of 64 on PATs.
Arizona
: Zendejas had some, er, notable issues -- we won't even bring up the PATs in the Arizona State game -- but he did make 14 of 19 field goals with a long of 47. His 73.7 percent field goal percentage ranked third in the Pac-10 in 2010, ahead, by the way, of UCLA's Kai Forbath.
Washington State
: Washington State only attempted 11 field goals last year. It made seven of those, three from Andrew Furney, who tops the post-spring depth chart. He also was 18-of-18 on PATs.
California
: Giorgio Tavecchio is probably not going to be a great kicker, but he's experienced. He made 11 of 16 kicks last year with a long of 53. He missed two of his 39 PATs.
We'll see
Stanford
: Jordan Williamson and Eric Whitaker battled this spring to replace Whitaker's older brother, Nate, who was first-team All-Pac-10 in 2010. Williamson seemed to have a slight lead heading into the offseason, though Whitaker has more experience.
USC
: True freshman Andre Heidari was the nation's top-rated prep kicker last year. It's unlikely he will do worse than last year's kicker, Joe Houston, who ranked last in the conference in field goal percentage, though he was perfect on 43 PATs.
UCLA
: The post-spring depth chart included an "or" between junior Jeff Locke -- the Bruins' punter -- and redshirt freshman Kip Smith.
Oregon State
: Trevor Romaine was ahead of Max Johnson after spring practices to replace Justin Kahut. Both missed two attempts in the spring game. Romaine showed a good foot on kickoffs.
Utah
: Coleman Petersen beat out Nick Marsh, the Utes' kickoff specialist last year, this spring to replace Joe Phillips. He's never kicked in a game.
Arizona State
: Thomas Weber is gone. His replacement looks like redshirt freshman Alex Garoutte, who wasn't consistent this spring.
Colorado
: Justin Castor topped the depth chart this spring -- he wasn't terribly consistent -- but incoming freshman Will Oliver might give him some competition.
June, 30, 2011
6/30/11
6:48
PM ET
No Pac-12 offensive line is going to scare you heading into 2011. Even Arizona State, which welcomes back its entire 2010 depth chart, doesn't look like a dominant unit.
So there is no Washington in 2000, California in 2004, USC in 2005 or Stanford in 2010. Just about every team has at least some concerns up front.
So how to things stack up? Read on.
Great shape
[+] Enlarge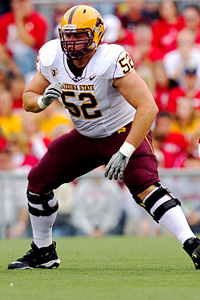 Jeff Hanisch/US PRESSWIREArizona State center Garth Gerhart anchors the top returning line in the Pac-12.
Arizona State
: 11 of 12 from the 2010 two-deep are back, including center Garth Gerhart and tackle Evan Finkenberg. The Sun Devils line was not dominating in 2010, so this unit is not a sure-thing. But it's reasonable to project a solid unit becoming a very good one in 2011.
Good shape
Colorado
: Sure, tackle Nate Solder is gone, and center Mike Iltis decided to give up football, but three quality starters are back and several others have experience. Ryan Miller and Ethan Adkins might be the best guard tandem in the Pac-12.
Stanford
: The Cardinal lost three starters, but the two coming back are first-team All-Pac-10 guys from 2010 and All-American candidates this fall: tackle Jonathan Martin and guard David DeCastro. The new guys played well this spring. It's possible this line will again be very good, but three new starters is three new starters.
Utah
: The Utes welcome back three starters, including both tackles, from a line that was solid in 2010. Tony Bergstrom and John Cullen will be one of the better tackle combinations in the conference, and Tevita Stevens, who played guard last year, provides experience at center.
California
: The Bears were uncharacteristically mediocre last year, but they probably weren't as bad as some think, seeing that they didn't have a passing threat to keep defenses honest after QB
Kevin Riley
got hurt. Three starters are back -- tackle Mitchell Schwartz was second-team All-Pac-10 last year -- and a number of other players have experience.
Oregon
: While the Ducks officially lost three starters, tackle Darrion Weems started enough games in 2010 to count as a returning starter. Tackle Mark Asper and guard Carson York are solid, but there are questions after that. The line struggled this spring -- perhaps the D-line is just good? -- and former walkon Ramsen Golpashin was able to hold onto a starting spot. It's nice when a walk-on does well but it does cast the scholarship players in a questionable light.
Washington
: Three starters are back and there's optimism the Huskies struggling line is ready to take a step forward. The run blocking was much better over the second half of the season. Still, none of the three returning starters even earned honorable mention All-Pac-10 honors in 2010.
Oregon State
: Four starters are back but that might not be good news considering how mediocre-to-bad the line play was in 2010. Still, the Beavers have, traditionally, found a way to get it done up front. Perhaps 2010 was just a blip.
We'll see
UCLA
: If healthy, the Bruins could be solid on the O-line, but that's a big if. The unit struggled during spring practices due to injuries, which exposed a lack of depth. It's uncertain when tackle Jeff Baca will be back from a broken ankle and he may be the Bruins best lineman. Center Kai Maiava and guard/tackle Sean Sheller are expected to be OK in the fall, but will they stay that way?
Washington State
: The Cougars welcome back three starters and should be better in 2011 due to young players getting experience last fall. But you have to wait-and-see with a unit that gave up 51 sacks a year ago.
USC
: The Trojans lost three starters from a line that mostly underachieved in 2010. They have two good starters back -- tackle Matt Kalil and guard Khaled Holmes -- but things are wide-open after that. And the struggles this spring, due in large part to injuries, revealed a worrisome lack of depth.
Arizona
: There was plenty of optimism in Tucson that the Wildcats will be fine on the O-line, that losing five starters from a unit that underachieved isn't that big of a deal. But replacing five starters means a team has no idea what things will look like when the lights come on for real. So we'll see.
June, 29, 2011
6/29/11
5:37
PM ET
It has become a difficult day to rank Pac-12 teams at receiver due to reports of the
uncertain health
of Arizona's
Juron Criner
.
Criner is only the best returning receiver in the conference, a potential All-American and the leader of one of the nation's best units. Still, the Wildcats would rate in "great shape" on this list even without Criner, though they wouldn't top it.
As for the conference as a whole at receiver, things look pretty solid, top-to-bottom. Even the two teams in "We'll see," aren't desperate at the position.
So how do things stack up? Read on.
[Note: Stanford was left off the original version -- a cut and paste error, no less -- apologies].
Great shape
Arizona
: The Wildcats may have the best collection of receivers in the nation. First-team All-Pac-10 selection Criner is the headliner, but there's also
David Douglas
,
David Roberts
,
Terrence Miller
and
Richard Morrison
-- each caught between 19 and 52 passes a season ago. Oh, and there's also Texas transfer
Dan Buckner
,
Austin Hill
,
Garic Wharton
and
Tyler Slavin
. There's size, speed, depth and experience.
[+] Enlarge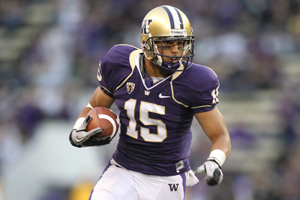 Otto Greule Jr/Getty ImagesJermaine Kearse had his best season yet for the Huskies, catching 63 passes for 1,005 yards.
Washington
:
Jermaine Kearse
, second-team All-Pac-10, is a 1,000-yard receiver who caught 12 touchdown passes.
Devin Aguilar
has 90 career receptions.
James Johnson
struggled to get in sync last season but caught 39 passes as a true freshman in 2009.
Kevin Smith
turned in a good spring, and hopes are stratospheric for incoming freshman All-American Kasen Williams.
Washington State
:
Marquess Wilson
was a 1,000-yard receiver as a true freshman.
Jared Karstetter
caught 62 passes.
Gino Simone
has seen plenty of action, while hopes are high for redshirt freshman
Kristoff Williams
and
Bobby Ratliff
. Quarterback
Jeff Tuel
has plenty of targets for what should be a potent passing attack.
USC
: Perhaps no team has more upside than the Trojans. Sophomore
Robert Woods
is a potential All-American, while
Brandon Carswell
and
Brice Butler
are experienced players. But the upside is all about incoming freshman George Farmer and redshirt freshman
Kyle Prater
. If those two live up to their talents, the Trojans will be tough to stop in the passing game.
Good shape
California
:
Keenan Allen
and
Marvin Jones
are a potentially strong tandem if the Bears get good quarterback play. Oft-injured
Michael Calvin
posted a solid spring.
Kaelin Clay
has a lot of speed, and he and
Coleman Edmond
need to step up.
Arizona State
:
T.J. Simpson
's knee injury didn't help, but the Sun Devils are fairly deep and experienced at the position.
Gerell Robinson
was a standout this spring, while
Mike Willie
,
Aaron Pflugrad
and
Jamal Miles
each caught at least 25 passes in 2010.
George Bell
,
A.J. Pickens
,
J.J. Holliday
and
Kevin Anderson
provide good depth.
UCLA
: Just because UCLA couldn't pass in 2010 doesn't mean it's bad at receiver. It certainly will be experienced in 2011 because everybody is back.
Nelson Rosario
has the talent to be a star, as do
Randall Carroll
and
Josh Smith
. Still, the Bruins lack consistency at the position -- too many dropped balls, too few big plays.
Oregon State
: With a healthy
James Rodgers
and
Jordan Bishop
, the Beavers are in "great shape." But they have enough talent and experience at the position to at least end up in pretty good shape even if they don't.
Markus Wheaton
caught 55 passes as a sophomore, while
Darrell Catchings
and
Geno Munoz
are two guys who can help, if they can stay healthy.
Kevin Cummings
also should see action in the slot.
Utah
:
DeVonte Christopher
, the second-leading receiver from 2010, and he's the only returning receiver who caught more than 20 passes, but the Utes feel pretty good about the guys they have coming back. With
Reggie Dunn
,
Dres Anderson
,
Luke Matthews
,
Dexter Ransom
and
Kenneth Scott
.
We'll see
Oregon
:
Jeff Maehl
and
D.J. Davis
are gone and they took 119 receptions with them.
Lavasier Tuinei
caught 36 passes and
Josh Huff
caught 19, but there's little experience beyond that. The Ducks are stacked at tight end and the incoming class is thick with speedy, touted receivers. But, as we've said before, "we'll see."
Colorado
: Colorado has two guys it can count on in
Paul Richardson
and Tony Clemons, who combined for 77 receptions in 2010. After that, things are fairly questionable.
Stanford
: Andrew Luck is the best QB in the nation and the Cardinal is loaded at tight end, but the top-two wide outs from 2010 are gone -- Doug Baldwin and Ryan Whalen -- and there are a lot of questions here. If Chris Owusu gets healthy and stays healthy, then the Cardinal has a speedy, dangerous deep threat, but that's a big if. And after him, there's not much experience. Drew Terrell, Darren Daniel, Griff Whalen and Jamal-Rashad Patterson need to step up.
June, 27, 2011
6/27/11
4:02
PM ET
By
ESPN.com staff
| ESPN.com
Tight end looks like a solid position heading into 2011, which wasn't the case in 2010.
So where does everyone stand? Let's check it out.
Great shape

Stanford
: An embarrassment of riches at the position, even though 2010 official starter
Konrad Reuland
is gone.
Coby Fleener
,
Zach Ertz
and Levin Toilolo all have NFL futures. Ertz was dominant in the spring game. Fleener, second-team All-Pac-10, caught three touchdown passes in the Orange Bowl. Toilolo won the starting job in 2010 before he got hurt in the opener (after catching a 27-yard pass, no less). Fleener and Ertz combined for 44 receptions and 12 touchdowns in 2010. All three are athletic and taller than 6-foot-6. No team in the nation is stronger at tight end.

Oregon
:
David Paulson
was first-team All-Pac-12 after catching 24 passes for 418 yards with four ouchdowns in 2010. He's also a good blocker. Backup
Brandon Williams
is an impressive specimen who figures to contribute more this fall -- unless touted true freshman Colt Lyerla eclipses him.

USC
: The underrated
Rhett Ellison
caught 21 passes for 239 yards and three touchdowns in 2010, and
Xavier Grimble
,
Randall Telfer
and
Christian Thomas
provide quality depth. Ellison is versatile enough to double as a fullback, when necessary. Grimble, a redshirt freshman, led the Trojans with eight receptions for 73 yards the spring game.

Good shape
Colorado:
Ryan Deehan
, honorable mention All-Big 12, caught 25 passes for 249 yards and a touchdown in 2010. Backup
DaVaughn Thornton
has potential.

The position figures to get more work with new coach Jon Embree, a former Buffaloes and NFL tight end.
UCLA
:
Cory Harkey
and
Joseph Fauria
are both solid veteran players, though Harkey suffered an outbreak of the dropsies last fall. They combined for 17 receptions -- 14 from Harkey -- in 2010.

California
: Both
Anthony Miller
and
Spencer Ladner
are back, and Miller had 13 of their combined 16 receptions in 2010. Both are solid but unspectacular players.
Oregon State
: While
Joe Halahuni
is officially an H-back, we count him as a tight end.

He caught 30 passes for 390 yards in 2010 and led Beavers receivers with six ouchdowns. If he wasn't coming back from shoulder surgery -- he could miss the first month of the season -- the Beavers would be in great shape. Junior
Colby Prince
is the "official" tight end. He caught one pass last season.

Utah
:
Kendrick Moeai
, a three-year starter, caught 11 passes for 225 yards and a touchdown in 2010. Yes, that's an average of 20.5 yards per reception. He might get more looks in Norm Chow's pro-style offense. Backup
Westlee Tonga
hasn't caught a pass.
We'll see

Washington
: On the one hand, the Huskies have no experience at the position. On the other, true freshman Austin Seferian-Jenkins and redshirt freshman
Michael Hartvigson
looked like a potentially outstanding duo this spring. Still, you've got to prove it.

Arizona
: Since Rob Gronkowski departed, tight end hasn't been a go-to position for the Wildcats.
Jack Baucus
, atop the post-spring depth chart, caught four passes last season as a backup. Departed 2010 starter
A.J. Simmons
caught eight.

Arizona State
: Not a big position for the Sun Devils, either.
Trevor Kohl
caught two passes in 2010. Center Garth Gerhart is credited with one reception. The ASU offense uses a "Y" receiver, who sometimes operates as tight end, which would be 235-pound
Christopher Coyle
.

Washington State
: 2010 starter
Skylar Stormo
is now a defensive end. Junior
Andrei Lintz
sat atop the post-spring depth chart, and he caught one pass for four yards last fall. Promising freshman
Aaron Dunn
is the backup.
June, 23, 2011
6/23/11
1:41
PM ET
The Pac-12 features another strong crop of running backs -- five returning 1,000-yard rushers -- but there are also a few teams facing uncertainty at the position.
So how does it stack up?
Great shape
[+] Enlarge

Jonathan Ferrey/Getty ImagesLaMichael James leads a talented running back corps that has both experience and depth.
Good shape
We'll see
Previous reviews
Quarterback
June, 21, 2011
6/21/11
6:35
PM ET
By
ESPN.com staff
| ESPN.com
It's time to start our preseason position reviews. And quarterback seems like a good place to start. For most Pac-12 teams, at least.
For our new friends in Salt Lake City and Boulder,
here's how we do this
: We provide three evaluative categories: "Great shape," "Good shape" and "We'll see."
You'd prefer your team to be in "Great shape."
And I like the vagueness of "We'll see." Because that's exactly what we'll do. Plenty of promising players tank. And previously lousy ones blossom.
For one, we had no idea what to expect from Oregon at the position last year. Who knew that
Darron Thomas
would lead his team to the national title game and earn second-team All-Pac-10 honors ahead of -- cough-cough -- NFL first-round pick Jake Locker?
And away we go.
Great shape
Good shape
We'll see
UCLA: Bruins have two quarterbacks with considerable starting experience in Kevin Prince, who sat out spring but was No. 1 on the depth chart released in May, and Richard Brehaut. In fact, if you could guarantee Prince's health -- a huge "if" -- the Bruins would be in good shape. But you can't. Moreover, neither Prince nor Brehaut have played well consistently, which is why so many UCLA fans were eager to see touted true freshman Brett Hundley this spring.
California: Zach Maynard, a starter at Buffalo before transferring to Cal, won the Bears job this spring over Brock Mansion and Allan Bridgford. He put up decent numbers at Buffalo in 2009 and he's a pass-run threat. But he hasn't played against Pac-12 competition and he sat out last season. Ergo, the category.
Washington: Keith Price turned in a solid performance in his lone start for an injured Jake Locker at Oregon last fall. And he was consistently impressive this spring, so much so he was announced as the starter over Nick Montana after a strong spring game. Still, it's impossible to know how he will react when Steve Sarkisian hands him the keys to the offense.