April, 18, 2011
4/18/11
1:26
PM ET
By
ESPN.com staff
| ESPN.com
Longtime NFL executive Jim Steeg has been hired by the Pac-10 "as a consultant to help plan and execute the inaugural Pac-12 Football Championship game," the conference announced today.
The news release says Steeg "built the Super Bowl into the world's premier sporting event and managed all special events for the NFL, including championship games, the Pro Bowl and the Draft."
So it would seem commissioner Larry Scott continues to
aggressively court top talent
-- and
make major changes
-- as the conference moves into a new era.
The Pac-10, which officially becomes the Pac-12 on July 1, will host its first-ever football championship game at the home stadium of the team with the best overall conference record. The game is tentatively scheduled for Dec. 3, 2011 at 3:30 p.m. ET. Steeg will serve as the Director of the Pac-12 Football Championship Game.
Steeg spent 35 years with the NFL, including 26 in charge of special events, where he grew the Super Bowl from a championship football game to a week-long extravaganza featuring signature events, including The NFL Experience. Steeg served as COO of the San Diego Chargers from 2004-2010. He left the Chargers in
March of 2010
.
You can read the rest of the
news release here
.
May, 13, 2010
5/13/10
3:53
PM ET
By
ESPN.com staff
| ESPN.com
Shortly after California's final spring practice ended, the Bears erupted in cheers in the locker room. But it wasn't for themselves. Or even about an ending. It was about a surprising beginning.
[+] Enlarge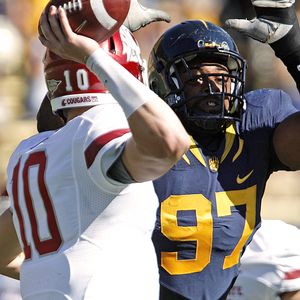 AP Photo/Ben MargotCameron Jordan embraces the fact that neither he nor Cal is garnering much national attention.
Their former teammate, defensive end Tyson Alualu, was picked 10th overall in the NFL draft by the Jacksonville Jaguars. Boom! He was a millionaire.
Cameron Jordan was among those cheering. He said he wasn't surprised the player who manned the opposite end of the line from him over the past two seasons was selected 10th overall. Nor, he said, did he consider that he was only a year away from finding where he might fall on draft day.
"I didn't even think about that part," the 6-foot-4, 282-pound senior defensive end said. "I was just happy and excited for him."
Jordan has the talent to become a first-round pick. Presently, he likely will be projected, much like Alualu was last May, as a second- or third-round selection.
He's flashed plenty of tantalizing ability, earning honorable mention All-Pac-10 honors the past two seasons. He had 48 tackles, 9.5 tackles for a loss and six sacks last fall. He also had five quarterback hurries, which suggests a lot of "what might have been." Not unlike Cal's 2009 season.
Last fall, Jordan looked like a potential All-Pac-10 selection, just as the Bears looked like a top-10 team and a threat to unseat USC atop the conference. More than a few
Cal fans reacted angrily
when Jordan was left off the Pac-10 blog's ranking of the conference's top 30 players.
Why did the Bears -- and Jordan -- fall short?
"There were multitude of reasons," Jordan said. "It seemed like after that first loss some guys were rattled and didn't really come back."
That would be the visit to Oregon, where the Bears swaggered into Autzen Stadium ranked sixth in the nation and staggered out 42-3 losers.
As for the defense -- which was mostly mediocre, despite eight returning starters from a unit that ranked among the nation's top-30 teams in nearly every statistical category -- Jordan said "some of it had to do with a lack of adjustments."
That's fairly general, but there was unhappiness with Cal's scheme last year. This led coach Jeff Tedford to say repeatedly during the offseason that the Bears would be more aggressive when attacking the quarterback.
New coordinator Clancy Pendergast will run more stunts and blitzes out of the Bears 3-4 front, which could benefit Jordan, who faced a lot of double teams last fall.
"Hopefully, it will free me up to get in the backfield more often," Jordan said. "I got a lot more one-on-ones this spring, and that only makes my day."
Jordan reportedly
had a good spring
. Here's what Pendergast said about him in a
Q&A with the Pac-10 blog
: "He's been very receptive. He pays attention to detail. He's very interested. When you have a guy like that, with his potential skill set, he can have an opportunity to make plays. So he's bought into the system and he's doing the different things that we are asking him to do within the scheme. So far so good."
Jordan has good bloodlines. His father, Steve, played at Brown and then 13 years in the NFL with the Minnesota Vikings, earning six invitations to the Pro Bowl. A gifted athlete, the young Jordan has always been a strong pass rusher, with good speed for his size. He's fallen short a bit with his strength in run support.
That might be changing. Jordan said he focused on that area.
"I'm more confident in my run game," he said. "It's been getting better every year. My freshman and sophomore year, I knew I wasn't a great run stopper. Pass rush yes. My junior year, I was a little bit more confident. Now, I'd like to say I'm one of the better guys on the unit against the run. I'm already confident in my pass rush abilities."
The next step, he said, is being so confident in his ability to defeat blocks that he focuses his attention on reading the action in the backfield: "Sometimes I get too focused on the man in front of me instead of what play can actually happen in the backfield."
Cal doesn't figure to get much preseason attention. Most projections will dump the Bears into the conference's muddled middle. That probably means Jordan, too, won't get too much preseason hype.
He seems fine with that.
"Coming in under the radar, there's no pressure on us. No one is looking at us," he said. "If we are under the radar, all we have to worry about is what we can do as a team, not what everybody else thinks we can do."
It's possible that by doing just that, the Bears might end up cheering in December -- and again in the spring when NFL Commissioner Roger Goodell calls Jordan's name.
May, 11, 2010
5/11/10
3:36
PM ET
By
ESPN.com staff
| ESPN.com
USC
takes on Georgia
and UCLA
faces Pittsburgh
in our latest NFL pipeline showdowns.
USC's win is obvious. The Trojans have accounted for 111 Pro Bowl berths. The Bulldogs 47. It is notable, however, that from 1990-99 Georgia nipped USC -- in the ESPN.com point system -- 43-42. The Trojans were clearly superior in the decades before and after.
It won't be surprising to UCLA fans that the Bruins' recent history brought them down. UCLA didn't rank in the top 34 from 2000-2009; Pittsburgh was 18th during that span. The Bruins' strength was the previous two decades. They ranked 11th from 1990-99 and fifth from 1979-89.
You can
review the bracket here
.
February, 24, 2010
2/24/10
3:52
PM ET
By
ESPN.com staff
| ESPN.com
Mosi Tatupu, a fullback on USC's 1974 national championship football team who played 14 years in the NFL,
died on Tuesday
in Attleboro, Mass.
He was 54. The cause of his death has yet to be determined.
Tatupu's son, Lofa, was a standout linebacker for the Trojans on two national title teams -- 2003 and 2004 -- and now plays for the Seattle Seahawks.
The elder Tatupu, a native of American Samoa, lettered four years (1974-77) at USC. He rushed for 1,277 yards on 223 carries in his career at Troy and was USC's Offensive Player of the Year and Most Inspirational Player in 1977. USC went 37-10-1 in his career and won four bowl games, including two Rose Bowls.
He played in the NFL with the New England Patriots (1978-90) and Los Angeles Rams (1991). He was known for his rugged running style, tough blocking and stellar special-teams play, making him a fan favorite. He played in the 1986 Super Bowl and made the Pro Bowl that year. He rushed for 2,415 yards and scored 18 touchdowns in his 13-year Patriots career. He set an NFL record for most games played by a running back (199).
From 1997 through 2006, the Mosi Tatupu Award was given annually to the college football special teams player of the year.
After his playing career, Tatupu was the head football coach at King Philip Regional High in Wrentham, Mass., where he coached his son, Lofa. From 2002 to 2007, he was an assistant coach at Curry College in Milton, Mass.
January, 28, 2010
1/28/10
2:30
PM ET
By
ESPN.com staff
| ESPN.com
When you wake up in the morning and the light is hurt your head
The first thing you do when you get up out of bed
Is hit that streets a-runnin' and try to beat the masses
And go get yourself some cheap sunglasses.
PAC-12 SCOREBOARD
Saturday, 12/20
Monday, 12/22
Tuesday, 12/23
Wednesday, 12/24
Friday, 12/26
Saturday, 12/27
Monday, 12/29
Tuesday, 12/30
Wednesday, 12/31
Thursday, 1/1
Friday, 1/2
Saturday, 1/3
Sunday, 1/4
Monday, 1/12
Tweets from https://twitter.com/ESPNCFB/lists/pac12