December, 14, 2011
12/14/11
3:46
PM ET
A glimpse at the future ...
On the evening of Jan. 17, an Arizona State pep rally broke out in the most unlikely of places -- at a basketball game.
With the Sun Devils cruising to a win over Northern Arizona, the Sun Devils' newly minted head football coach, Todd Graham, took the microphone at halftime.
"One of the things I can guarantee you is we will be blue collar, hard-nosed and physical," Graham told the spirited crowd. "We are going to restore the Best of the West!
We will work to bring Pac-12 championships, BCS bowl championships and a national championship to Arizona State!"
The above is plagiarism. Apologies. It's a paraphrase of Graham's introduction from his
official bio on the website of the Pittsburgh Panthers
, where Graham bolted Wednesday for Arizona State after just one 6-6 season.
College football is a crazy business. Sometimes it makes you want to take a shower. But to employ a hackneyed term that has become so because it's so convenient: It is what it is.
Graham is going to get hammered in Pittsburgh and all points outside -- and some points inside -- Tempe. Graham, for a second time in his career, is one-and-done. He previously bolted Rice for Tulsa after a single season in 2006. Not only did Graham suddenly leave the Panthers in the lurch, but he announced his decision to his players via a
secondhand text message
.
That won't play well with many folks. Panthers players are blistering him on Twitter. And it will stick to Graham for a while. It looks cowardly and reminds folks of the horrible transition for Randy Edsall from Connecticut to Maryland, where his first year was an absolute disaster. When the media comes calling this spring and next fall, it will be a central part of their "Meet Todd Graham at ASU" stories.
It will mostly be malarkey. But it will be everywhere, which is often how malarkey becomes accepted truth.
[+] Enlarge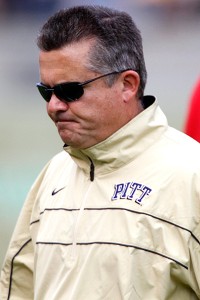 AP Photo/Keith SrakocicTodd Graham is leaving Pitt for Arizona State after one 6-6 season.
Look, folks: Being a college football coach is a job. It is not a charitable calling. Loyalty? There are going to be more than 25 coaching changes next fall. There are 120 FBS teams. The nature of the business is to get fired or to climb. It's best to do the latter.
Todd Graham wants to coach at Arizona State more than Pittsburgh. Most folks would. So instead of doing something he doesn't want to do, he's doing what he wants to. His only loyalty should be to his family and friends, not his bosses.
Some will throw around insults like "liar." They will say things like Graham told his players he was staying. Well, he was staying. Until he got a better offer. The lesson the players should learn from this is to be ambitious and to learn how the big-boy world works. In other words, Graham just helped them grow up.
By the way, this is not an inconsistent opinion from me. Some Arizona State fans
might recall this about former Sun Devils coach
Dennis Erickson when he left Idaho.
Is this a ringing endorsement of ASU's hiring of Graham? No.
Understand: The only Pitt game I watched this season was the Panthers' home date with Utah. The Utes won 26-14, manhandling what looked to me like a feckless team with the worst offense in the history of the world.
That said, Graham has a solid track record. Sure, he bolted Rice after one season. But he did so after taking a 1-10 team to its first bowl game in 45 years and winning Conference USA Coach of the Year.
At Tulsa, he went 36-17 and 3-0 in bowl games. His final season, 2010, he won 28-27 at Notre Dame.
He's a defensive guy -- he got his start in big-time college coaching working for new Arizona coach Rich Rodriguez at West Virginia -- who is known as much for potent offenses. To use his term, he likes "high-octane football." He's a longtime believer in the no-huddle, spread-option.
He had some clumsy media moments this past season. He's a fast talker who doesn't shy away from taking shots at players. But the
general feeling among Pitt fans was positive
. Until he left. Now he's the second coming of Lane Kiffin.
How's the third coming of Lane Kiffin going?
Still, it's impossible to ignore the reality that being a perceived mercenary climber brings baggage that will make Graham's job more difficult.
It's likely some Sun Devils will greet any early talk of "family" and "the Sun Devil way!" with eye rolls. Graham's reputation will make it more difficult for him to mend a fractured locker room. Selling loyalty and commitment to recruits will not be easy. It also will make it harder for school administrators to get boosters to open their wallets.
The first question some will ask: "What's his buyout?"
Here's a statement from Arizona State
:
"Criteria for our head coach was established, and the word that was at the forefront of discussions was `energy'...energy towards promoting our program in the community and with former players. Energy towards instilling discipline, leadership and in recruiting. Energy towards representing our brand in every facet of the program," notes Love. "In Todd, we have not only hired a young and sitting head coach, but one with a history of success on the field and in hiring top-notch assistant coaches. For the first time in his career, he will be taking over a program with a strong nucleus at the beginning. We are excited to watch Coach Graham take over a very well-positioned program and elevate it to the next level."
So: boilerplate.
Arizona State's coaching search was sloppy. Graham was well down the list of top candidates. And the June Jones debacle -- no matter how the school has tried to spin it afterward -- was embarrassing.
But the ultimate measure of this coaching search is no different than the ultimate measure of Todd Graham. And it is devoid of sentimentality: wins and losses. Stay out of trouble with the NCAA. Graduate players who stay off the police blotter. Yes, in that order.
August, 27, 2010
8/27/10
3:00
PM ET
By
ESPN.com staff
| ESPN.com
Washington State has won just one Pac-10 game over the past two seasons -- three overall -- and the Cougars are a consensus pick by media pundits to finish last in the conference in 2010.
That has many believing third-year coach Paul Wulff is on the hot seat, even though it's been widely acknowledged that he was handed a monumental rebuilding job in 2008 when he returned to his alma mater from Eastern Washington.
The expectations outside the program aren't just low: Many tweak the Cougars as among the worst BCS programs in the nation.
[+] Enlarge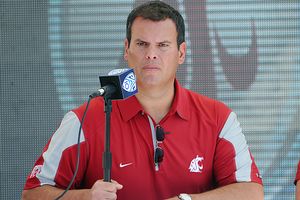 Chris Williams/Icon SMICoach Paul Wulff identified running back as a prime area of competition on his football team.
It shouldn't be surprising that, in Pullman, the view is quite different. Wulff sees a strong offseason, improved recruiting and a more experienced depth chart. He sees potential.
What does he keep saying? "We're going to surprise some people."
The Cougars face a tough opener at Oklahoma State on Sept. 4, so it seemed like a good time to check in and see how the rebuilding is going on the Palouse.
The pundits have you guys pegged at 10th in the conference: How do you deal with that negative outlook when you address your team?
Paul Wulff
: A lot of that is based on what happened in past years. It's a new year. We're a new team and we've changed a lot. The players know we've worked hard and we know we are getting better. The people predicting don't know what's happening in the offseason. But it is what it is. We probably deserve to be picked there. I don't know if that's a surprise. It doesn't mean that's where we're going to end up. We sure don't think so. We'll keep working hard. And we believe we will be able to put ourselves in position to surprise a lot of people and win a lot of ballgames and take that step to a bowl game.
I know we've talked about this before and I know you are tired of the topic but there's a general perception that you are on the proverbial coaching hot seat: What's your feeling on that perception?
PW
: My feeling again is that's a natural thing for people on the outside that don't understand the situation to think when you have a major rebuilding job. It's never pretty. You go back to Mack Brown, who was 1-10 his first two years at North Carolina. There are a lot of examples: Randy Edsall and Connecticut. We [Eastern Washington] actually beat them as a I-AA school in 2001. We went back there and beat them. We've had to build something here, and like John Wooden says 'good things take time.' We're trying to build something special for the long haul. We're not trying to bring in a bunch of transfers and JC kids to try to win a few games one year. I'm not here to do that. I'm here to build a program that can compete for the Pac-10 title and be in the Rose Bowl and win one and put ourselves in position for a national title. Those programs in those situations didn't get there in one night. It's a five- to six-year building process. You've got to climb a ladder. I care about this university because it is my school. I came here to do that. If I have to take the bullets, as [former WSU basketball coach] Dick Bennett told me I would, I'm just going to have to do that. He was a guy who knew the situation. So I'm doing it and I'll continue to do it. But it's going to turn and when we turn we're going to be an awfully good football team.
On the football side of things: What is better about QB Jeff Tuel in Year 2 after he was forced into action as a true freshman?
PW
: His comfort level with the offense and comfort level with some of the players who he's had the offseason to work with. There's a little better continuity there. He's making better decisions, he stronger. Things are happening at a quicker pace for him in his own brain. Obviously that helps our offense. We think highly of Jeff, but he's still got to prove lot of things in ballgames on a consistent basis. But there's no question in practice we see flashes of some really great things.
Where are some prime areas of competition on your team that have yet to be resolved?
PW
: Running back is definitely one. We feel like a lot of guys are battling in there. We're hoping two or three really emerge come game day. Because we've got a lot of guys, no one has gotten a tremendous amount of reps. We're hoping that kind of sorts itself out in the first few games. At wide receiver, we're still battling through there, getting a lot of guys time, trying to see who's going to make the plays when the games are live. But we like the young nucleus we have. We think we have a couple special ones that are going to great players here the next four years.
The comeback of James Montgomery is pretty cool: How is he doing?
PW
: He's doing great. I think it's got be one of the best stories in the country to do what he's done. He didn't just battle compartment syndrome. He battled a knee surgery that was a pretty extensive one. To do both and to come back and to perform where he is right now is impressive. He's not 100 percent, not in shape and as crisp, as sharp, as he's going to be. We're hoping by the time he gets to Game 3 or Game 4, he'll have caught back up with all that. But where he is today, he's a very good player. He's going to play and be our starter in the opening game and were hoping he progresses from there.
Who are your playmakers in the passing game?
PW
: I think
Jared Karstetter
will be back -- there's no question we can rely on him. We're taking a hard look at Marquess Wilson, a true freshman. He's as dynamic a true freshman receiver as I've been around. Even coach [Mike] Levenseller, who's been here for 19 years, thinks Marquess is a special talent. I think Isaiah Barton and
Gino Simone
, our slot receivers, will make a difference, along with
Jeffrey Solomon
and
Daniel Blackledge
. Those guys will be good players for us. I'm excited to see how they will perform for us.
What have you seen out of your offensive line this spring? How close are they to breaking through as a quality unit?
PW
: They're close. Coach [Steve Morton] has done a great job melding those guys together. We're getting better, no question. I'm excited. I think we have some raw talent. It's a relatively young unit -- we really have two seniors who will be contributors on a consistent basis. We have 15 others who are younger. If we can stay healthy there, we're going to surprise a lot of people with our production on the offensive front.
Let's look at defense: How are things stacking up at linebacker?
PW
: The thing that's hurting us is two players who aren't playing this fall, who we have high hopes for, and that's Louis Bland, who we're going to redshirt, and Andre Barrington, a redshirt freshman for us, who is academically ineligible this fall. But I do like Alex Hoffman and Myron Beck, those guys have done well. Mike Ledgerwood, Hallston Higgins,
Arthur Burns
and CJ Mizell -- he's come along. We feel like we've got some makings there. It's a young unit from an experience standpoint, but I like our speed there. If we can stay healthy, it will be a big improvement from where we've been.
And the defensive line: Has tackle Brandon Rankin continued to impress?
PW
: He has. He's a good player. He has a chance to show a lot of people what he's all about this fall. He's already doing things in practice that make it pretty obvious. We need him to have a big year. I think he's going to do extremely well. Bernard Wolfgramm is back and it's the first time he's healthy for us. Those two at defensive tackle are probably as athletic at pass rushing as we've had here in years. They will be quality pass-rushing D-tackles that you don't get a lot. They are not just pluggers, they're fairly active guys. I'm very encouraged about those two guys.
You guys are pretty salty on the defensive line. There's four pretty good players.
PW
: I think our front four is right up there right now with most people in the Pac-10. We got two fifth-year seniors and a fourth-year junior in Brandon Rankin and a second-year kid, an excellent player, in end Travis Long. It's our most experienced group on our football team. It's probably the best unit we have right now. It goes back to having fifth- and fourth-year players in your program. When you have that consistently throughout, you have a chance to be pretty salty. Right now, if those guys can stay healthy, they give us the most experienced group on our football team.
Finally, the secondary: It sounds like there's some depth back there.
PW
: It's been good -- good, healthy competition. It's a young, young group, but there's some really good football players. We've kind of been hit a little bit over the last couple of days with the injury bug. LeAndre Daniels is going to battle a neck issue that we're still working through. We don't know that he'll be healthy at safety. Nolan Washington has been a little nicked up with his hip at cornerback. If those guys can come back, I'm not sure, but I like our talent there. It's a young and green group but we have some kids who can run for the first time in a while. We need to stay relatively healthy because we're youthful back there. I like the group. Our team speed on defense is far and away faster than we've been. I think people are going to notice that pretty quickly.
What is your expectation for this team: What would be a successful season?
PW
: I don't want to put any limitations on them. These guys have trained so hard since the end of last season. They've done everything right to get better. We finally got the culture changed to what we expect. So when you work that hard, I refuse to put a limitation on what they are capable of doing. Right now we truly are trying to take it just one game at a time. But we're going to break this thing up into four segments. We've got 12 games, with three games in each quarter. We're going to take it one quarter at a time. We're going to block it like that, and move our way up the chain. I think this team is capable of surprising a lot of football teams, a lot of people out there. I really believe people are going to see a much improved team from what you saw last year. How many wins that's going to equate to, I'm really not sure. It just depends on a few breaks here and there and staying healthy at the right spots.
PAC-12 SCOREBOARD
Saturday, 12/20
Monday, 12/22
Tuesday, 12/23
Wednesday, 12/24
Friday, 12/26
Saturday, 12/27
Monday, 12/29
Tuesday, 12/30
Wednesday, 12/31
Thursday, 1/1
Friday, 1/2
Saturday, 1/3
Sunday, 1/4
Saturday, 1/10
Monday, 1/12
Tweets from https://twitter.com/ESPNCFB/lists/pac12