September, 24, 2014
Sep 24
3:52
PM ET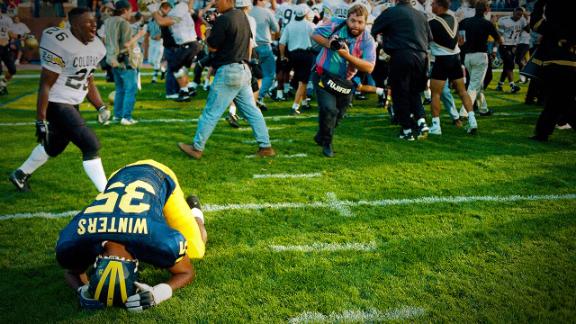 Colorado running back Rashaan Salaam says the game meant more to him than winning the Heisman. Michigan assistant Greg Mattison says it still feels as if it all happened 10 minutes ago.
Twenty years ago today, the No. 7 Colorado Buffaloes shocked the nation -- and the Big House -- when they rallied from a 12-point deficit with less than three minutes left to beat the No. 4 Michigan Wolverines on a last-second, 64-yard Hail Mary. The college football world will forever remember the play as the Miracle at Michigan.
Wolverines players were beside themselves. Linebacker Jarrett Irons says he never thought they would lose the game. Defensive back Chuck Winters says one Michigan assistant just "went off" on players in the locker room and had to be pulled away.
No one thought the play was possible. Buffaloes quarterback Kordell Stewart evaded a three-man rush and then hurled the ball nearly 70 yards, before one wideout tipped it and wideout Michael Westbrook pulled it in.
Those interviewed say they've never experienced anything else quite like that in their lives. Said ABC sports commentator Keith Jackson: "It's part of your soul the rest of your life."
Click here to read the oral history of the Miracle at Michigan
, from the time before the catch to the actual catch, immediate aftermath and long-term impact.
June, 13, 2012
6/13/12
5:00
PM ET
"College Football Live" made of list of the greatest individual seasons in college football history this month, and it left off a great season from Colorado's 1994 Heisman Trophy winning running back Rashaan Salaam.
At least one reader pleaded for some consideration of Salaam, and not without justification. In 1994 he was just the fourth player to rush for more than 2,000 yards (2,055) in a season. This was before bowl games counted, which has served to inflate recent numbers.
Salaam, who won the Heisman over Penn State great Ki-Jana Carter and an
impressive list of other players
, led the nation in rushing, scoring (24 touchdowns) and all-purpose yards (213.8). He played for a team that finished 11-1 and ranked No. 3 in the final polls. But it wasn't just about his numbers or his team's success. It was about quality opposition.
Colorado played six ranked teams -- three top-10 teams -- during the first eight weeks of the season. Through eight games, Salaam had rushed for 1,390 yards; 1,041 against ranked teams. That's 173.5 yards per game against ranked foes.
That crew of Buffs, by the way, was a heck of a collection of players, particularly on offense. Early in the season, it wasn't easy to figure who the team's top Heisman candidate was: Salaam, quarterback Kordell Stewart or receiver Michael Westbrook. Westbrook made "The Catch" at Michigan that season, one of the all-time great college football stunners. By the way, Salaam had 141 yards in the Big House, more than any visiting back since Ohio State's Archie Griffin in 1973.
The next weekend at Texas, Salaam rushed for 317 yards, with a school record 362 all-purpose yards.
The only time he was held to fewer than 100 yards was against Wisconsin. Of course, he did score four touchdowns against the Badgers.
Salaam hit 2,000 yards in game 11. How? With 1,988 yards entering the fourth quarter, he took a pitch against Iowa State and raced 67 yards for a touchdown.
Here's the game-by-game for Salaam's 1994 season, with his carries, yards and touchdowns.
August, 10, 2011
8/10/11
2:30
PM ET
By
ESPN.com staff
| ESPN.com
What that make you? Good? You're not good. You just know how to hide, how to lie. Me, I don't have that problem. Me, I always tell the truth. Even when I lie. So say good night to the bad guy! Come on. The last time you gonna see a bad guy like this again, let me tell you. Come on. Make way for the bad guy. There's a bad guy comin' through! Better get outta his way!
June, 29, 2011
6/29/11
11:52
AM ET
By
ESPN.com staff
| ESPN.com
ESPN.com is running a cool feature this week that has some Pac-12 flavor:
Simply Saturday
.

It's about 50 great college players who never made a mark in the NFL.
So far the only Pac-12 players noted is former Colorado running back Rashaan Salaam at No. 42, but there will be more ahead. Trust me.
Pat Forde wrote this about Salaam:
In 1994, Salaam rushed for 2,055 yards. At the time it made him just the fourth player in FBS history to break the 2,000-yard barrier. The previous three (Marcus Allen, Mike Rozier and Barry Sanders) all won the Heisman Trophy, and Salaam did the same.
Then he turned pro, and the glory didn't go with him. He rushed for more than 1,000 yards and 10 touchdowns as a rookie for the Chicago Bears, but injuries and fumbles curtailed his career. He played three seasons with the Bears, bounced around with a couple more NFL teams, dabbled in the CFL and XFL and was out of the game.
January, 25, 2011
1/25/11
2:30
PM ET
By
ESPN.com staff
| ESPN.com
I was slowly losing hold of my original and better self, and becoming slowly incorporated with my second and worse.
PAC-12 SCOREBOARD
Saturday, 12/20
Monday, 12/22
Tuesday, 12/23
Wednesday, 12/24
Friday, 12/26
Saturday, 12/27
Monday, 12/29
Tuesday, 12/30
Wednesday, 12/31
Thursday, 1/1
Friday, 1/2
Saturday, 1/3
Sunday, 1/4
Saturday, 1/10
Monday, 1/12
Tweets from https://twitter.com/ESPNCFB/lists/pac12