July, 6, 2011
7/06/11
9:00
AM ET
See your team in your mind's eye -- 24 starters, including specialists.
If you could put an absolute halo of safety -- perhaps a girdle of indestructibility? -- around just one, who would it be?
We're rating each team's most indispensable player. And when the choice is too obvious -- say, Stanford -- we'll try to offer a second choice.

Up next:
Arizona State
LB Vontaze Burfict
We get it: This is obvious. Burfict is the Sun Devils' lone superstar, particularly with cornerback Omar Bolden out with a knee injury. He might be the best linebacker in the nation. Heck, he might end up becoming the national defensive player of the year. When you project another season of his special talent guided by a more mature head, well, the upside hints at the second coming of Burfict's favorite player, Ray Lewis (of course, he's
only
a Hall of Fame NFL career away from matching Lewis, but the comparison isn't ludicrous in terms of style -- and attitude -- of play). But this is about more than Burfict's skills. Fact is, Arizona State would still be pretty good at linebacker without him. It's about setting a tone, particularly this season with a veteran team that has Top 25 potential and is the South Division favorite. If Burfict can harness that edge he plays with and make it work for him -- and his teammates -- ASU's defense will create long days for opposing offenses. Burfict can intimidate. He can play like a heat-seeking missile. He can avoid getting flagged while doing so. And if he does, his strut and stomp will become contagious.
April, 26, 2011
4/26/11
12:52
PM ET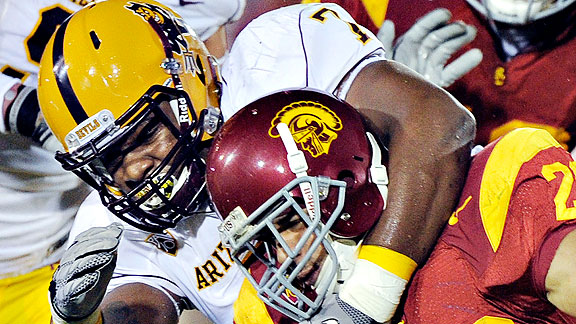 AP Photo/Mark J. TerrillThe Sun Devils are counting on Vontaze Burfict to be the leader of their defense in 2011.
TEMPE, Ariz. -- The question is about personal fouls, and the look on Vontaze Burfict's face suggests that he's tired of that sort of inquiry. He's not a chatty sort as it is, but this is not a successful pathway into figuring out what makes the fearsome Arizona State linebacker tick.
"It matters what times you're talking about," he said of the myriad flags he's drawn for extracurricular activity during games over the previous two seasons. "They are totally different times. Some calls are bull crap."
Fellow linebacker Brandon Magee, a Centennial High School (Corona, Calif.) teammate, is sitting nearby. He offers his take on Burfict, who may be the nation's best inside linebacker.
"I wouldn't trade the fouls. Personal fouls are going to come," Magee said. "The way he plays out there, it doesn't matter to me. That's the way he plays. Great players, you might not like everything about them. But the one thing you can say is he gives it his all on every down."
One analyst, Petros Papadakis, called Burfict the "scariest" player in the country last year. In a not unrelated matter, it seems like an opportune time to change the subject, so Magee is asked if he thinks some players are scared of Burfict.
"They better be scared," said Magee, with just a hint of Don King showmanship. "We're not trying to be nice out there. We're not your friends. We're nobody's friends out there. I hope they know that, too. We try to make enemies. We don't want friends."
Burfict cracks up while Magee is talking.
Magee is told that some folks in the Pac-12 think Burfict is crazy. Does Magee ever hear that in games?
Replied Magee, "Oh, yeah, and I say, 'Yep. See if you can stop him.'"
Few can stop Burfict, a speedy, instinctive 6-foot-3, 252-pound package of football fury. Burfict more often has stopped himself after the whistles with personal foul and unsportsmanlike conduct penalties. Coach Dennis Erickson took away his starting job -- briefly -- last season after Burfict head-butted Oregon State quarterback
Ryan Katz
. A few weeks later, in a tight game with Stanford, Burfict was called for a critical facemask penalty. The call, to use Burfict's term, was "bull crap," but Burfict couldn't resist the urge to point that out.
He was slapped with an unsportsmanlike conduct penalty on top of the facemask, which gave the Cardinal the ball on the Sun Devils' 7-yard line. Shortly thereafter, Stanford pushed in the game-winning score.
Burfict, you might have gathered, isn't a fan of interviews. He doesn't like the spotlight. He doesn't like to talk about himself. He just wants to bust heads and win games. At 4:30 p.m. ET -- 1:30 p.m. PT -- Tuesday, a video interview of Burfict will appear on the Pac-12 blog. You probably haven't seen many of those. Roy Firestone won't be jealous of its penetrating insights. It took a handful of takes to get through (hey, I messed it up once, too). But Burfict was a good sport and did what the folks at Arizona State asked. He's trying to take on a leadership role this season for a team with lofty aspirations, and that often includes stuff that isn't fun, such as being the superstar fronting the team for the media.
"I've got to lead by example, going to everything on time, being 10 minutes early," he said.
The public is probably not going to get to really "know" Vontaze Burfict, at least until he's ready to let them do so. But it's pretty clear that there's some distance between the Tasmania Devil on the field and the quiet, guarded dude off it.
"A lot of my friends from back home ask about him: 'How is Vontaze? Is he crazy? Is he a nice guy?'" offensive tackle Evan Finkenberg said. "He's actually really quiet outside of the football field. He's a really nice guy. He hangs out in my apartment sometimes."
The second-team All-Pac-10 selection earned a number of All-American honors last fall after leading the Sun Devils with 90 tackles, including 8.5 for a loss and two forced fumbles. His ability has never been a question since he was a touted recruit who was once committed to USC. More than a few folks will tell you a comparison to Ray Lewis, of whom Burfict said he models his game, is apt. But his big-picture development as a mature player has been a gradual process, learning self-control, becoming a leader instead of merely being a contact-seeking missile.
For Erickson, there's been a fine line between keeping Burfict from drawing too many flags while not muting his intensity, which is contagious for a defense.
"He's a boisterous guy on the field and in the locker room," Erickson said. "He is what he is. He's going to play with great enthusiasm and that sometimes gets you in trouble. During the spring, he was a real leader. He's matured."
And with the knee injury to first-team All-Pac-10 cornerback Omar Bolden, Burfict is the leader the entire defense will turn to.
Burfict can get better, and not just by staying on good terms with the officials. He sometimes misses his gap assignments. He could improve his drops in pass defense. But the expectation is the junior will enter the NFL draft after this season, when he'll likely be a first-round selection.
But, as for this season, Burfict wants to change the subject from himself and from the yellow flags of the past. What does he want to talk about?
Said Burfict, "Everybody is talking about national championships."
June, 9, 2010
6/09/10
7:47
PM ET
By
ESPN.com staff
| ESPN.com
When Arizona State dials up 6-7-8 this fall, it won't be calling relatives in the Atlanta area. It will be summoning a Sun Devils linebacking frenzy.
No. 6 is junior Shelly Lyons, No. 7 is sophomore Vontaze Burfict and No. 8 is junior Brandon Magee, at least those are their numbers after Lyons and Magee changed jerseys to create the numerical sequence among the starting linebackers.
Burfict, a budding All-American, might have been the best true freshman linebacker in the nation last year. Magee put up impressive numbers as a backup in 2009. And Lyons saw plenty of action and is certainly no slouch. By season's end, they might form the best linebacking trio in the Pac-10.
What's shocking is they used to form the best linebacking trio in California high school football. All three played for Centennial High in Corona, Calif. Toss in tackle William Sutton, and four former Huskies will be seeing lots of action on the ASU defense in 2010.
The number change isn't just a cute, casual gesture. It represents a deep connection. The troika are best friends and roommates.
"We're letting everybody know we are a brotherhood," Magee said. "I thought it would be good for the city of Corona to see how close we are."
Burfict, the man in the middle, is the best known. He was the Pac-10's Defensive Freshman of the Year, earned
freshman All-American honors
and is on the Lombardi Award
watch list
. He piled up 69 tackles -- second on the team -- with seven tackles for a loss, two sacks, five pass breakups, two forced fumbles and a handful of
personal foul penalties
, including three vs. Washington.
Burfict, who chose No. 7 because of John Elway but models his play on Baltimore Ravens LB Ray Lewis, said the penalties are due to "my passion for the game and competitiveness." And, no, neither he nor coach Dennis Erickson is not going to send Burfict to charm school to learn to keep his emotions in check.
"Naa. I'm just out there playing football," he said when asked if the penalties were a problem he was working on. "Coach [Erickson] said that if I'm out there playing football aggressively, flags are going to come but to just try to hold them to a minimum."
While his sometimes too aggressive play has earned him a bit of a reputation, Magee and Lyons describe Burfict as "shy" and "humble."
"You'd be surprised how different he is off the field than how he is on the field," Magee said.
Magee, who also plays for the Sun Devils No. 1-ranked baseball team, had 34 tackles, seven tackles for a loss, two sacks and an interception last year as Mike Nixon's backup on the weakside. Lyons and Burfict both describe him as a "neat freak."
"He doesn't even want wrinkles in his bed," Lyons said.
Lyons? He's the comedian. "He's one of the finniest guys there is," Magee said. "He just has jokes for days. And he's not scared to say what's on his mind."
Lyons has seen significant action the past two seasons behind Travis Goethel. He had 36 tackles as a true freshman and 17 last year.
Magee was glad to change his number from 48. "That's Terrell Suggs' number. I have a lot of respect for him so I didn't really want to wear the number any more because I know they are going to retire it sooner or later," he explained. This is Lyons' third number. He was 41 as a freshman and 13 last year.
Arizona State ranked No. 1 in total defense and No. 2 in scoring defense in the conference last year. Despite losing seven starters, there's plenty of scuttlebutt coming out of Tempe that the 2010 unit will be even better -- faster and deeper on all three levels.
One of the big reasons for optimism? It's as easy as counting 6, 7 and 8.
"We're bringing our own flavor to it," Magee said.