June, 3, 2013
6/03/13
2:30
PM ET
That rug really tied the room together.
August, 23, 2011
8/23/11
1:00
PM ET
CBSSports.com's Brett McMurphy looks at the biggest
AP preseason poll busts
since 2001, and three Pac-12 teams make the list.
2002: No. 9 Washington (finished 7-6)
2001: No. 11 Oregon State (finished 5-6)
2009: No. 12 Cal (finished 8-5)
Easy to remember each of those teams.
The 2002 Huskies featured quarterback Cody Pickett, who passed for 4,458 yards that season, and wide receiver Reggie Williams. The season began with a last-second loss at Michigan due to a
massive coaching blunder
that cost the Huskies the game. Said then-coach Rick Neuheisel: "We switched substitution groups, which we're going to kick ourselves about for a thousand years."
The Huskies seemed to lose their mojo, but they then rallied for three consecutive wins to finish the regular season -- Neuheisel memorably created the "Northwest Championship" -- over Oregon, Oregon State and Washington State to earn bowl eligibility.
That Oregon State team was touted -- Sports Illustrated ranked the Beavers preseason No. 1 -- after an 11-1 finish in 2000, with quarterback Jonathan Smith and running back Ken Simonton returning. Things immediately fell apart with a blowout loss at Fresno State. A 1-3 start, in fact, featured a 38-7 home loss to UCLA.
As for Cal, at least one writer [insert uncomfortable cough] celebrated the 2009 Bears as a potential national title contender. (They
were
stacked with talent: backs Jahvid Best and Shane Vereen, defensive ends Cameron Jordan and Tyson Alualu, linebackers Mike Mohamed and Devin Bishop, cornerback Syd'Quan Thompson, etc.) After a 3-0 start, the Bears headed to Oregon ranked sixth.
SPLAT! Cal goes down 42-3. The next weekend, just in case we didn't get the message, USC ripped the Bears 30-3 in Berkeley. Suffice it to say, there was nothing subtle about Cal's unmasking.
Here's this year's preseason top 10. So who becomes the bust this year?
1. Oklahoma
2. Alabama
3. Oregon
4. LSU
5. Boise State
6. Florida State
7. Stanford
8. Texas A&M
9. Oklahoma State
10. Nebraska
June, 30, 2011
6/30/11
1:47
PM ET
ESPN.com has been doing a series on great college players who didn't pan out in the NFL -- "
Simply Saturday
," -- which has featured a number of Pac-10 players, including Washington's Steve Emtman and USC's Matt Leinart.
Interesting stuff.
But ESPN.com's Bruce Feldman, who is always working the angles, decided to take a look at
NFL stars with so-so college careers
, and his list also includes some Pac-12 guys: USC linebacker Clay Matthews, Oregon State wide receiver Chad Ochocinco and California cornerback Nnamdi Asomugha.
He ranks Matthews No. 2. Notes Feldman:
No NFL player has better bloodlines than Matthews, but when he was coming up as a recruit he was a wiry, undersized, off-the-radar prospect who reportedly only weighed 166 pounds as a backup LB-TE for Agoura (Calif.) High. Matthews stared to sprout in his senior year, yet still only had one scholarship offer -- from former USC assistant Nick Holt at Idaho.
Sure, Matthews blossomed as a junior and senior. But he never really was seen as the brightest star in the constellation that was the Trojans' 2008 defense.
Still, Oregon's Nick Reed and Oregon State's Victor Butler were the first-team All-Pac-10 defensive ends. Matthews proceeded to wow scouts with his explosiveness and determination. Green Bay drafted the one-time walk-on 26th overall, and he has rewarded them with two spectacular seasons, going to back-to-back Pro Bowls and winning NFC Defensive Player of the Year honors, while helping lead Green Bay to a Super Bowl victory.
Ochocinco rates No. 4.
The Miami native didn't spend much time in the Pac-10 -- just one season at Oregon State. The receiver, then known as Chad Johnson, did flash some big-play potential during his time in Corvallis, catching 33 passes for 713 yards. He also flashed a lot of personality on his way to the draft, as you can tell if you read this old Q&A he did with Mel Kiper Jr., who at one point asks: "When all is said and done, how do you want people to remember Chad Johnson?"

Johnson's response: "As a very humble, nice person who had no off-the-field problems."

I'm not sure how many will recall the Cincinnati Bengals star as "humble," but he certainly has produced, notching seven 1,000-yard receiving seasons and going to six Pro Bowls. In truth, he'd be even higher on this list, but at 33, he has dipped some in the last three years.
Asomugha is No. 5.
Oakland certainly didn't whiff on this pick. Asomugha has emerged as a true shutdown corner, earning trips to the past three Pro Bowls. He's also as good as they come off the field, winning NFL Man of the Year honors, too.

He had a good but not great career for the Bears, getting chosen as an honorable mention All-Pac-10 pick as a senior. Some great individual workouts took a guy who some touted as a fifth-rounder all the way up into the first round when the Raiders selected him 31st overall.
On a personal note, I covered Asomugha's coming-out game: a 34-27 Cal win at Washington in 2002, which ended a 19-game Huskies winning streak in the series. In that game, Cal matched Asomugha, previously a safety, on All-American receiver Reggie Williams. Asomugha's physical style --
read here to see what Williams thought of it
-- threw the Huskies' passing game out of sync.
Bet more than a few Cal fans remember that game fondly.
April, 14, 2010
4/14/10
2:30
PM ET
By
ESPN.com staff
| ESPN.com
Men, you are about to embark on a great crusade to stamp out runaway decency in the west. Now you men will only be risking your lives, whilst I will be risking an almost certain Academy Award nomination for Best Supporting Actor.
January, 22, 2010
1/22/10
6:25
PM ET
By
ESPN.com staff
| ESPN.com
It's probably no surprise that many of our all-decade stories generated a lot of feedback, much of it the "how the heck can you . . . ?" variety.
Some of you made valid points. If it helps any, when putting together the
All-Decade team
, I grappled most with leaving off California center Alex Mack, Oregon State running back Steven Jackson, Arizona State receiver Derek Hagan and Washington receiver Reggie Williams.
It's too much to go through each gripe.
That said: Couple of things, Cal fans.
First, Aaron Rodgers?
No.
Rodgers had 5,469 career passing yards and 43 touchdowns.
USC's Matt Leinart, who won the Heisman Trophy and two national championships, passed for 10,693 yards and 99 TDs, most in Pac-10 history.
Again: 99 TDs. That's 336 points more than Rodgers.
Then there's
Toby Gerhart
. Cal fans preferred Marshawn Lynch.
First, Gerhart was a Heisman Trophy runner-up and Doak Walker Award winner. Second, he accounted for 27 rushing touchdowns this past season. Lynch rushed for 29 in his career.
Gerhart, who sat out his sophomore year with a knee injury, finished with 3,522 career rushing yards vs. 3,230 for Lynch. Lynch was a better receiver, no doubt, but even with his six touchdown receptions, his 35 career touchdowns is still well behind Gerhart's 44.
Now, perhaps, Cal fans, you might argue that Gerhart was surrounded by a better supporting cast?
Do you want to argue that?
Now, Oregon State fans, about Steven Jackson . . . er, it's too much to go through each gripe.
To the notes.
Brandon from Phoenix writes
: Considering offensive coordinator Sonny Dykes leaving Arizona [for Louisiana Tech], and Foles, Grigsby, and Criner in place. Which coach out there is a good fit to be hired by Arizona to run the potentially great offense in 2010?
Ted Miller
: I do not know what Mike Stoops is going to do, but if he called me and said, "Hey, Ted, love the blog. It's so super awesome! By the way, who should I hire as my next offensive coordinator?" I'd say "Josh Heupel," who is presently Oklahoma's quarterbacks coach.
Stoops
might have competition
though.
Heupel was the quarterback and Stoops was the defensive coordinator when Oklahoma won the 2000 national championship, so they obviously know each other. Heupel has been working under Stoops' older brother, Bob, so there's a strong connection. And Heupel is a spread guy, just like Dykes is.
The only downside: Heupel is a rising star at just 31-years-old. If he were successful, he obviously becomes a hot coaching candidate -- much like Dykes did.
Still, Heupel would be a great get for Arizona and an outstanding tutor for
Nick Foles
.
---
Jai from San Francisco writes:
Is Jim Harbaugh really turning down NFL head coaching jobs to stay at Stanford? All my friends from Tennessee, So Cal, & Cincinnati keep telling me not to get all emotionally involved and that all head coaches are the same, but I'm really starting to think he's the one. Am I setting myself up for heartbreak, or can I go ring shopping?
Ted Miller
: I'd advise Stanford fans to enjoy the present and be hopeful that Harbaugh sticks around. He's clearly a good coach and good recruiter.
It's always hard to say just how many "offers" a coach actually received. But if we can say Harbaugh was a legitimate candidate at Kansas, the Buffalo Bills and the Oakland Raiders, we can conclude that he's not just going to jump at any job, even if the money is better.
Keep this in mind: While he could make a lot of money elsewhere, he's got a pretty good setup at Stanford. Really, is there any better place to live than Northern California if you've got the money to support the lifestyle?
Is Harbaugh going to retire as Stanford's coach? Unlikely. But he may stick around long enough to win a few bowl games and earn the right to take the next step up the coaching ladder.
---
Bob from the Bay Area writes
: As the "Pac-10 guy", who can influence public perception of the conference, I have one small request.Yes, USC won 7 titles. BUT, it shared 3 of them.When writers write that USC won 7 titles without the modifying phrase, it simply reinforces the 1 King and 9 Dwarfs image. "Won outright or shared" is not that many words to modify.
Ted Miller:
Fair enough.
USC shared the Pac-10 title in 2002 (Washington State), 2007 (Arizona State) and 2006 (California).
And one of those years, 2002, USC lost the tiebreaker and didn't go to the Rose Bowl.
---
Gary from Portland writes
: The
Oregon-Oklahoma replay
...sigh. I was at the game and here's what it looked like from the stands. At the time, no one in the stadium knew what really happened. They ran the replay on the jumbotron only once. The fans didn't know. The coaches didn't know. The players didn't know. It was simply a close call that went Oregon's way. (OK benefited from several calls earlier in the game, by the way.) And at the point, guess what? Oklahoma was still leading! It isn't like the blown call handed Oregon the win. It isn't the Oregon's players fault that Oklahoma's defense stopped playing. And still, OK had a chance to win with a field goal after Ducks took the lead -- yet they let the Ducks block the field goal to seal the victory.So, had OK recovered the onsides kick, the surely would have won. But that's not why they lost. A close call went against them, and Ducks outplayed them from that point on.
Ted Miller
: Gary makes a valid point that's popular among Oregon fans: Oklahoma was not the first team to lose a game in which a lousy call went against it at a critical moment.
Still -- and most Oregon fans realize this -- that was a horrible, horrible call.
---
Gerry from Scottsdale writes
: Every time someone writes about Pete Carroll winning two national championships, someone insists he only won one and that 2003 doesn't count. What's your take?
Ted Miller:
USC won national titles in 2003 and 2004. Period. There is no debate, discussion or question.
It's not valid, or legitimate, or honest to say otherwise.
---
Sam from Nashville writes
: I don't listen to much local sports talk radio, but every time I've tuned in this past week its been about Kiffin. These people hate him. One ridiculous comment after another and the collective Vol fandom has no memory or perspective. Its a big family hate fest out here.I'm looking forward to providing Vol fans some perspective on the West during Oregon's trip east on September 11 and to the unavoidable Neuheisel / Kiffin drama that is sure to come out of LA in 2010.
Ted Miller
: I understand where you are coming from, Sam, but a lack of perspective is fundamental to passionate fans.
And Tennessee has as passionate fans as any team in the nation.
January, 19, 2010
1/19/10
9:00
AM ET
By
ESPN.com staff
| ESPN.com
The assignment: Rank the top-10 Pac-10 players of the decade.
Gulp.
The list of folks not on this list includes numerous consensus All-Americans, award winners and record-setting players. So feel free to disagree.
And, yes, NFL success sometimes functioned as a tiebreaker, which is why Reggie Williams, Mike Williams, Rien Long, Dave Ball, J.J. Arrington, Mike Hass, Derek Hagan and Joey Harrington, among others, are not on this list.
Every player on this list, other than Steven Jackson, was a consensus All-American.
10.
Troy Polamalu, S, USC
: Pete Carroll's first great defensive player, he was a two-time All-American. The 16th overall pick in the 2003 draft and five-time All-Pro is on track for a Hall of Fame NFL career.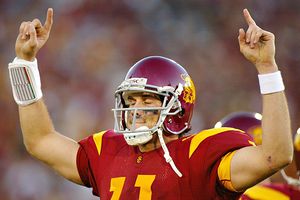 Christian Petersen/Getty ImagesUSC quarterback Matt Leinhart led the Trojans to three national championship game appearances.
9.
Antoine Cason, CB, Arizona
: The four-year starter grabbed 15 career interceptions and won the the Thorpe Award as the nation's best defensive back in 2007. He was the 27th pick (San Diego) of the 2008 draft.
8.
Haloti Ngata, DT, Oregon:
The 345-pounder was the best run stuffer the Pac-10 has seen of late. He blocked seven kicks at Oregon and piled up 17.5 tackles for a loss his final two seasons before becoming the No. 12 pick in the 2006 draft (Baltimore).
7.
Dwayne Jarrett, WR, USC
: What separates Jarrett from the conference's other All-American receivers is simple: His 41 career touchdown receptions are nine more than any other player in Pac-10 history.
6.
Steven Jackson, RB, Oregon State:
Jackson's NFL career has proven that he was ridiculously underrated in college. He finished with 3,625 career rushing yards, which ranks 11th on the Pac-10 career list, and 46 career touchdowns.
5.
Toby Gerhart, RB, Stanford
: The 2009 Heisman Trophy runnerup finished with 3,522 career yards and 44 touchdowns.
4.
Terrell Suggs, DE, Arizona State
: In 2002, he set an NCAA record with 24 sacks and Pac-10 record with 31.5 tackles for a loss. He won the Lombardi Trophy as the nation's best defensive lineman and the Nagurski Award as the nation's best defensive player.
3.
Reggie Bush, RB, USC
: He won the 2005 Heisman Trophy after finishing fifth the year before. He led the nation with 222.3 all-purpose yards per game and set the Pac-10 record for total yards from scrimmage with 513 (294 rushing, 68 receiving, 151 return) against Fresno State. And every time he touched the ball, everyone held their breath.
2.
Carson Palmer, QB, USC
: He won the 2002 Heisman Trophy and his 11,818 career yards passing is No. 1 all-time in the Pac-10.
1.
Matt Leinart, QB, USC
: He won consecutive national championships and the 2004 Heisman Trophy. In 2005, he finished third in the Heisman voting and lost the national championship game to Texas. He owns the Pac-10 single-season (38) and career (99) records for touchdown passes.
October, 13, 2009
10/13/09
8:00
PM ET
By
ESPN.com staff
| ESPN.com
Posted by ESPN.com's Ted Miller
After the "
Immaculate Deflection
/Interception/Deception" decided the Arizona-Washington game, my first thought was "Wow."
Then I realized we shouldn't be surprised.
It might be one of the great secrets in college football that the Arizona-Washington series has produced as many wild, weird, meaningful and controversial finishes as any with which I'm familiar.
Consider.
1992: End of an Era
Top-ranked Washington, riding a 22-game winning streak and seeking its second consecutive national championship, is stunned -- first by quarterback Billy Joe Hobert's suspension after he admitted accepting a $50,000 loan from an Idaho businessman -- and then by Arizona, 16-3.
The extraordinary Don James Era would ingloriously and controversially end three games later -- after the Huskies lost the Rose Bowl to Michigan -- amid NCAA and Pac-10 investigations into the Hobert affair and recruiting violations.
The program went to six Rose Bowls and one Orange Bowl in 18 seasons under James.
It's been to one Rose Bowl since he "retired" 17 years ago.
1998: The Leap by the Lake
.
Arizona quarterback Ortege Jenkins, in a desperation scramble with the clock ticking down its final seconds, met three Washington defenders at the 2-yard line.
Jenkins leaped toward them, flipped over them and landed on his feet in the endzone, which gave Arizona a 31-28 victory.
It became one of the great all-time highlight-reel plays.
The Wildcats would lose the next weekend at home against UCLA, 52-28, which would be their only defeat in the greatest season in school history.
Arizona beat Nebraska in the Holiday Bowl and finished 12-1 and ranked No. 4 in the country.
Washington fired Jim Lambright at the end of the season.
1999: The Drive
Washington produced one of the best drives in team history, going 80 yards in 17 plays -- knocking 9:13 off the clock in the process -- on its way to a 33-25 victory over the homestanding Wildcats, who began the season ranked No. 4 but ended up a disappointing 6-6.
A wild, post-game celebration breaks on the field out among Huskies players, coaches and fans. Roses are handed out. A fan produces a sign, "Rose Bowl Bound."
All the Huskies had to do to win their first Pac-10 championship since 1992 was beat a horrible, injury-ravaged UCLA squad and a horrible Washington State team.
Washington lost 23-20 in overtime at UCLA, inspiring more than a few snide comments about the premature post-game celebration.
Stanford went to the Rose Bowl.
2000: 22 points for Curtis Williams
A week after Washington safety Curtis Williams suffered a spinal cord injury at Stanford that would render him a quadriplegic -- and eventually kill him -- the then-seventh-ranked Huskies overcame a 12-point fourth-quarter deficit with a 22-point scoring barrage.
Running back Willie Hurst, a forgotten man much of the season, posted a pair of highlight-reel TD runs, and quarterback Marques Tuiasosopo scored the winning points from two yards out with 1:10 left.
Washington went on to win the Rose Bowl and finished ranked third in the country.
May, 12, 2009
5/12/09
2:30
PM ET
By
ESPN.com staff
| ESPN.com
Posted by ESPN.com's Ted Miller
Son, if you really want something in this life, you have to work for it. Now quiet! They're about to announce the lottery numbers.