April, 19, 2010
4/19/10
3:10
PM ET
By
ESPN.com staff
| ESPN.com
Got bogged down on Friday, so this mailbag fermented over the weekend.
To the notes.
Jason from the Bay Area writes
: So having seen most of the Pac-10 this spring, what are your impressions?
Ted Miller
: Obviously, we'll have more on this going forward with a spring wrapup, but here are some quick hits.
My top three remain: USC, Oregon and Oregon State.
Every team has significant questions. It doesn't seem like there's a national title contender.
USC's defensive line is going to be strong, and I think the Trojans will again rank among the nation's elite in defense in 2010.
That's why I favor the Trojans at present. That and QB Matt Barkley appearing ready to take a significant step forward.
Washington's offense is going to be very good if the O-line stays healthy.
UCLA's and Arizona State's offenses will be better.
Arizona is a top-25 team if it gets solid play at linebacker, but that's a significant "if."
Washington State is the clear choice for No. 10, but the Cougars will not be the patsies of 2008 and 2009.
You could throw Arizona, Arizona State, California, Stanford, UCLA and Washington into a hat and randomly pick their order and probably be as accurate as what you'll read among preseason predictions from publications and pundits.
At this point, 2010 looks to be a black-and-blue season. Hard to imagine the eventual champion going undefeated in league play. Things might end up like last year, when the conference had a lot of ranked teams, just none near the top of the polls.
Scott from Palo Alto writes:
Let's put
Andrew Luck
in perspective to help jog readers' memories... very few turnovers... back-to-back victories over Oregon and USC. Did we mention he was a mere freshman? I think you have to be amazed by Luck overall and I'm sorry but Stanford vs. Oregon was not a game for the defensive-minded. We put the pedal to the medal and outscored them when they were considered the hottest team around.
Ted Miller
: No question Luck looks like a budding star after leading the Pac-10 in passing efficiency as a redshirt freshman. He looks, at this point, like a future first-round NFL draft pick. Perhaps a top-10 pick. Or higher.
We've
already discussed
the possibility of him and
Jake Locker
battling for the top spot in the 2011 NFL draft.
However -- you knew that was coming -- any quarterback will tell you having the nation's best running back vexing a defense makes it easier to throw the ball.
Toby Gerhart
rushed for 1,871 yards and 28 TDs last fall. Every defender Luck threw against was leaning forward on its toes thinking one thing: "Gerhart... hope he runs to the other side."
Luck is in luck that he's got almost his entire receiving corps back and the Cardinal offensive line should again be solid. There is no reason he can't be an elite QB in a conference loaded with elite QBs.
Still, don't take for granted a blockbuster season. It's possible that it will take time for the Cardinal offense to reinvent itself with Gerhart off the the NFL.
Nick from Washington D.C. writes
: I have been a Duck fan for most of my life and growing up in Portland, it always felt like we were the dark horse... My question is this: Has Chip Kelly turned the corner? Even with all the haywire crazy that is the athletic department, are we now a legitimate year in year out contender?
Ted Miller
: Oregon has won nine or more games six times over the past 10 seasons. And during that decade, it suffered only one losing season.
The Ducks are no longer darkhorses. They are perennial contenders, a second-tier power rating a step below programs such as Texas, USC, Florida and Ohio State.
If your question is will the Ducks make that next step and become an equal to those schools, my guess would be no, not on an annual basis.
Why? Start with population base. Those four schools have huge head starts in recruiting.
Moreover, what's the common denominator for nearly all BCS football champions? Big Stadiums. The only team that won a BCS title that doesn't play in front of home crowds of 80,000-plus is Miami, which is smack-dab in the middle of prime recruiting real estate.
That doesn't mean Oregon can't regularly beat the superpowers and contend for a national title every few years. They've proven they can.
The program's momentum under Kelly, despite the recent bad off-field news, is clearly positive. The distance between what the program was in the "old days" and present is significant.
So, yeah, Oregon has turned the corner. What benchmark challenges are ahead? Win a Rose Bowl in the modern era. Or a national title.
Bill from Oakland writes
: Why is it that when an offense/defense performs well in a Spring Game all the talk is about how the other side of the ball struggled and not about how good the offense/defense may be? It happened with Cal and their defense performing well and with Oregon and their defense performing well too. Is it all about perspective and expectations? With both Cal and Oregon their offenses were thought to have some issues (Cal more than Oregon) so is it just everyone saying I knew that would be a problem, instead of looking at the possibility that maybe the defenses are good?
Ted Miller
: Well, obviously when a team is scrimmaging against itself any success on one side of the ball means failure on the other.
Still, it's not that difficult to figure out if a unit is playing poorly or is simply getting beat by outstanding opposing talent.
For example on offense: penalties, missed receivers, unblocked defenders, fumbles, dropped passes, a QB with happy feet not seeing open receivers, etc. Those sorts of things indicate a poor offensive performance.
Same thing for defense: penalties, wide-open receivers, missed tackles, multiple explosion plays, huge holes through the line, etc. Those sorts of things indicate a poor defensive performance.
Moreover, a person can make distinctions. If Oregon State defensive tackle Stephen Paea whips an opposing offensive lineman one-on-one, you sort of go: "Well, Paea's a beast." But if you see a starting offensive tackle getting whipped by a junior what's-his-name defensive end, you might wonder how he'll do against, say, Ricky Elmore or Nick Perry.
Michael from Houston writes
: I think that a lot of Oregon State fans are tired of reading about how dominant our defensive line looks. Last spring and fall, I constantly took in all the stories I could about how dominant the defensive line looked, yet we all know how poorly the sack total was for the defense last year. So here we are again with a new year, but with the same stories of dominance by the D-Line. At this point, I'm having a real hard time buying into this idea. I sorta feel like it's déjà vu all over again. Is it truly possible to get a good take on a position (O-Line, D-Line, Secondary, etc) from Spring reports?
Ted Miller
: The Beavers defensive line looks like a bunch of petunias.
Feel better?
Well, see above for some explanation. Does a dominate D-line suggest a weak O-line during spring? Which comes first, the chicken or the egg? If a tree falls in the woods, will it leave?
My
impression from my one day
at Oregon State is both Beavers lines should be better in 2010 than 2009. Paea is the Pac-10's best defensive tackle and end Gabe Miller looks poised for a breakout. Obviously, the D-line would be better if end Matt LaGrone didn't quit and the O-line will look better when it gets some guys back who are
sitting out spring with injuries
, including tackle Michael Philipp and guard Grant Johnson.
It's possible, in fact, that the D-line looks so good because the O-line is beaten up.
But to your final question: You really don't know how good a team is until it plays a real game. And recent history has taught us that Oregon State often takes four or five games to find itself anyway.
Jacob from Myrtle Point, Ore., writes
: Ted Miller, pardon my informality, but you are the man!! This blog has kept me sane throughout the offseason, especially as a Duck fan. One quick question for you: can you use your powers to talk either Oregon or Oregon State into putting its Spring Game later/earlier in the day on May 1!? I know that the UO game is scheduled on ESPN2, and I could TIVO it and go to the OS game, but it just isn't the same! I could go to the first part of the Beaver scrimmage then fly (no pun intended) up I-5 for the Duck game, but that really takes a hit on beverage choice. Miller, I ask your professional advice!! What should I do!?!?
Ted Miller
: No, you're the man.
Couple of ideas. First, you could
replicate yourself
. Not only could you be in two places at one time, but you could make a third and force him to be the designated driver.
You could
buy a helicopter
. Or
a jet
.
You could hire
the Flash
to carry you back and forth.
As for my professional take: It's my responsibility to recommend against seeing both games, particularly if you plan to wear Ducks colors at Reser Stadium.
But your obsessiveness is certainly admirable.
December, 3, 2009
12/03/09
11:00
AM ET
By
ESPN.com staff
| ESPN.com
EUGENE, Ore. -- State pride is the fundamental stake in a rivalry game, and that's certainly at issue tonight in the Civil War.
But so is the Rose Bowl.
[+] Enlarge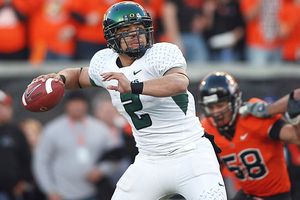 Jonathan Ferrey/Getty ImagesJeremiah Masoli threw for 274 yards and three scores in last year's Civil War.
The winner goes. The loser knows it operated as a travel agent to Pasadena.
That's never been the case in 112 previous Civil Wars between Oregon and Oregon State, which means the joy and misery on opposite sidelines figure to touch unprecedented extremes when the clock strikes zero in Autzen Stadium.
The simplicity is elegant.
But there's more.
The winning coach? He's almost certainly the Pac-10 Coach of the Year.
The winning quarterback? He's likely the first-team All-Pac-10 quarterback.
The winning fan base? Well, let's just say bragging rights might extend a little bit longer than a year on this one.
The game's national ramifications and the 12 days of hype-accumulation -- both teams were off last weekend -- has created an electric and contentious atmosphere that has consumed the state.
"You just mention the Civil War and you get goose bumps," Oregon tight end
Ed Dickson
said.
Both coaches have been preaching about "living in the moment" and focusing on the task at hand -- the game itself, not what it means. If either program knows the pratfalls of looking ahead, it's Oregon State. It needed only to win last year's Civil War to advance to the Rose Bowl but suffered a historic
65-38 faceplant
-- the most points the program has surrendered -- in front of Beavers fans whose roses brought along for an expected celebration ended up cast down among the detritus of the Reser Stadium stands.
"We really did fall into the trap of being consumed by the thought of going to the Rose Bowl," Oregon State linebacker Keaton Kristick said.
The last of Oregon's four Rose Bowl trips followed the 1994 season. The Ducks would have gone to the Granddaddy after the 2001 season, but it was the BCS title game that year and the computers saw fit to send Nebraska to face Miami instead of the No. 2 Ducks, who stomped Colorado in the Fiesta Bowl. (The Buffaloes had crushed Nebraska in the regular-season finale. Ask any Oregon fan about how it went down -- the skulduggery! -- if you have an extra hour or two).
Oregon State has been to the Rose Bowl three times, the last time in 1965. In 1971, the Beavers began a streak of 28 consecutive losing seasons. Ah, but they are 6-5 in the Civil War since 1998, a year that is typically cited as the program's turning point.
The last time either team won a Rose Bowl was 1942, but that's the story for next week.
Both teams didn't exactly explode out of the gate. Oregon looked terrible in a 19-8 loss at Boise State to open the season, and looked worse afterward when running back
LeGarrette Blount
melted down. The Beavers, typically slow starters, were 2-2 after four games and mostly off the national radar.
The seventh-ranked Ducks (9-2 overall, 7-1 Pac-10) roared back with seven consecutive wins, including beatdowns of California and USC. The No. 16 Beavers (8-3, 6-2) climbed back quietly, re-entering the BCS standings on Week 10 and the AP rankings the following week (in all likelihood a number of poll voters responded to the computers recognizing the Beavers first).
[+] Enlarge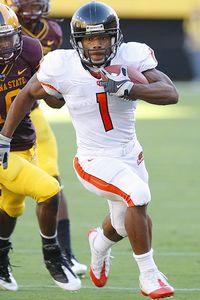 Rick Scuteri/US PresswireThe Ducks will have their hands full with running back Jacquizz Rodgers, who has scored 20 touchdowns.
Beavers coach Mike Riley seemed comfortable embracing the underdog role.
"I think a lot of people didn't notice us until all of the sudden -- poof -- you look up at the last game and we're playing for the conference championship," he said. "I kind of think that's a neat thing. I do think it surprised some people."
While every year and every team is different, and it's often misleading to bring up last year's game for reference, it's hard to ignore what happened in Corvallis, and both teams were asked about it repeatedly this week. Oregon rolled up 694 yards against one of the nation's best defenses. A few weeks later, that defense pitched a shutout in a Sun Bowl victory over Pittsburgh.
The big question: What will the Beavers do differently to stop the Ducks high-powered spread-option offense, which again has quarterback
Jeremiah Masoli
at the controls? It seems like Oregon coach Chip Kelly is as curious as anyone.
"We've got to use the first quarter or the first couple of drives to confirm if they are staying with what they've normally done or have they changed to face us," he said.
One of the best things the Beavers can do? Play keep-away, with quarterback
Sean Canfield
and running back
Jacquizz Rodgers
churning out first downs as they have done much of the season.
While Riley, who grew up in Corvallis, has played along with reporters looking for colorful quotes about the grandeur of this year's Civil War, Kelly has stuck with his "every game is a Super Bowl for us" line.
Make no mistake, though, everybody on both sides knows what's at stake.
"We are one game away and everybody knows it," Masoli said. "There's one team standing in the way. One more stone to step on before we get to our goal. And Oregon State is it."
And likewise for the Beavers.
October, 29, 2009
10/29/09
8:00
AM ET
By
ESPN.com staff
| ESPN.com
Posted by ESPN.com's Ted Miller
The big one is in Eugene but every game matters. Three teams are chilling at home.
1.
Matt Barkley thinks Autzen Stadium is going to be a barrel of monkeys
: Matt Barkley told the
LA Times
that he's looks forward to playing in Autzen Stadium -- "the energy is going to be awesome and it's going to be a cool atmosphere, especially on Halloween night," he said. Hmm. You know, maybe all this talk about how intimidating and loud Autzen Stadium is a bollocks. This whole, really cool "
blackout
" thing is just a rumor, after all. Hey,
wear yellow
! That will be scary. Oregon fans aren't really loud. They're very nice, actually. Cuddly even.
2.
Were Arizona State's defensive numbers a mirage
? Last weekend, Stanford piled up 473 yards -- 237 yards rushing -- against the Sun Devils, who entered the game ranked seventh in the nation in total defense (248 yards per game) and second vs. the run (58 yards per game). It's fair to ask if the Sun Devils' previously impressive defensive numbers were a function of the middling-to-poor offenses they faced during the early going. They can answer that question by shutting down -- or at least slowing down -- California and running back
Jahvid Best
.
3.
Oregon State can't afford a "USC hangover
:" The Beavers have a right to be disappointed with their close-but-no-cigar effort at USC last weekend. But if they spend too much time wondering what might have been, the Bruins might steal one in Reser Stadium. UCLA has enough athletes that, despite a 0-4 Pac-10 mark, it remains dangerous.
4.
Washington State may shock the world
: It's entirely possible that Notre Dame is going to run over the Cougars like a Mack truck rumbling through a garden party. And yet upsets -- even big ones -- happen all the time in college football. All it's going to take for the Cougars is a combination of their best effort and a team, such as the Fighting Irish, taking a victory for granted. At some point this season, that could happen, and it might as well be against a Notre Dame crew that has endured a series of emotional games and may be due for a letdown.
5.
Who wins the trenches in Autzen?
In terms of pure talent, Oregon doesn't match up on either line vs. USC. The Trojans' offensive line is athletic and experienced. It should be able to handle the Ducks' speedy D-front. The Trojans' defensive line isn't experienced, but neither is the Ducks' O-line. And the Trojans' front seven, despite its youth, has been dominant against the run and has been able to pressure opposing quarterbacks with just four pass-rushers. The Ducks have surrendered only 11 sacks this year. USC leads the nation with 29 sacks. This is one area where USC has a decided advantage. Or appears to.
6.
Riley must be sharp in Tempe
: Arizona State is going to gang up against Cal's run game, and the Sun Devils have enough talent and speed to make things hard on Best and the Bears' offensive line. That means, however, that there are going to be opportunities in the passing game. Can Cal QB
Kevin Riley
take advantage? He's been hot and cold much of the season. This would be a good time for some consistent execution. Of course, ASU ranks third in the nation with 13 interceptions.
7.
Bruins try a two-quarterback system
: It seems there's a split between UCLA head coach Rick Neuheisel and his offensive coordinator, Norm Chow. Chow doesn't like to play two quarterbacks and he thinks
Kevin Prince
is the man. Neuheisel doesn't necessarily have a problem with Prince but the Bruins' offense is struggling and he wants to get a look at
Richard Brehaut
. So both will play at Oregon State. Who plays better? Or do both play badly? And what does it mean for the future? And are Neuheisel and Chow at loggerheads? We shall see.
8.
Jeremiah Masoli must attack the USC secondary
: No one has consistently run well against USC. The Trojans, however, have of late been fairly vulnerable against the pass. That may be due to playing against a couple of good quarterbacks in Notre Dame's
Jimmy Clausen
and Oregon State's
Sean Canfield
. Or maybe there are some things that a balanced offense can take advantage of. Ducks QB Jeremiah Masoli isn't chopped liver, and he's thrown well over his past three starts (he missed the UCLA game with a sprained knee). He will need to make plays downfield in order to keep the Trojans defense honest.
October, 19, 2009
10/19/09
8:00
AM ET
By
ESPN.com staff
| ESPN.com

Posted by ESPN.com's Ted Miller
We have a new No. 1, and California moves up. UCLA falls into the dreaded No. 9 spot after starting Pac-10 play 0-3.
1.
USC
: The Trojans have now beaten two ranked teams on the road and are back in national title contention, rising to No. 4 in
both polls
. While they made things unnecessarily interesting at Notre Dame, it's clear that they are elite on both sides of the ball.
2.
Oregon
: The idle Ducks fall out of the top spot, but their eyes shouldn't be focused on the Trojans. A visit to what figures to be a very angry Washington squad on Saturday will be a considerable obstacle. It's been a while since Washington had a chance in this bitter rivalry, and Husky Stadium is certain to be rocking.
3.
Arizona
: The Wildcats were fortunate to beat Stanford, but they will be quick to note they deserve some good fortune. If not for that "Immaculate Deflection" at Washington, Arizona would be comfortably in the Top 25 and tied atop the conference standings. As it is, quality wins over Oregon State and Stanford aren't too shabby.
4
. Oregon State
: Beavers fall a spot during their bye week -- recall Arizona won at Reser Stadium. They visit USC on Saturday. One school of thought is the Trojans will be focused and out for revenge after what happened last year in Corvallis. The other school might note that all those new Trojans starters might be emotionally spent after the win at Notre Dame.
5.
California
: It was only a win at sagging UCLA -- and the Bears are still only 1-2 in the conference -- but there was enough about the way Cal played to suspect this team is rising again. The Bears play three of their next four at home, with Washington State coming to town on Saturday.
6.
Arizona State
: Know why winning sloppy is so good? 'Cause it's winning! The Sun Devils' bowl hopes got a huge boost with the win over Washington. Now, how will that physical defense deal with a road trip to Stanford, a physical team that figures to be a bit angry this week?
7.
Stanford
: If someone had said the Cardinal was going to gain 584 yards at Arizona, you'd be hard-pressed to find anyone who would believe Stanford would have lost. But it did, in excruciating fashion. As dynamic as the offense is, the defense lacks the athleticism to consistently stop Pac-10 offenses, something Oregon State and Arizona exposed.
8.
Washington
: Win by the miracle, lose by the miracle. But this one fell heavily on coaching mistakes -- clock management and a horrible defensive breakdown. The Huskies are still a work in progress and so is the coaching staff. You know what, though? If the Huskies upset the Ducks, the fan base will be fairly forgiving.
9
. UCLA
: Speaking of works in progress, the Bruins took a step back against California, but this time the defense let the offense down -- particularly against the run. Things won't be any easier Saturday because Arizona's offense is humming.
10.
Washington State
: The Cougars spent the bye week trying to get healthy. They head to Berkeley on Saturday, hoping that Cal will revert to the team that scored just six points in two games, not the one that pounded out 45 vs. UCLA.
PAC-12 SCOREBOARD
Friday, 12/26
Saturday, 12/20
Monday, 12/22
Tuesday, 12/23
Wednesday, 12/24
Saturday, 12/27
Monday, 12/29
Tuesday, 12/30
Wednesday, 12/31
Thursday, 1/1
Friday, 1/2
Saturday, 1/3
Sunday, 1/4
Monday, 1/12
Tweets from https://twitter.com/ESPNCFB/lists/pac12