September, 7, 2012
9/07/12
12:00
PM ET
Are there any upset specials on the menu in Week 2? Your Pac-12 bloggers can think of a couple.
Ted Miller
: Wisconsin whipped Oregon State 35-0 last year. No way the Beavers can notch an upset against Wisky, right? A 35-plus point swing? Please.
Believe it. For one, we expect the Beavers to be much better than they were last year. And this Badgers team seems potentially much worse.
[+] Enlarge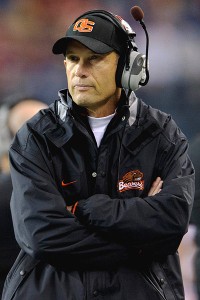 Steven Bisig/US PresswireOregon State coach Mike Riley welcomes back 17 starters.
Beavers better: QB
Sean Mannion
is no longer a redshirt freshman snagging a job away from a returning starter who was popular in the locker room.
Wisky worse: New Badgers QB
Danny O'Brien
, a Maryland transfer, is solid, but he's no
Russell Wilson
. Wilson made the Badgers last year, giving them a potent, efficient passing attack to complement a physical running game.
Beavers better: While things are chippy in Corvallis after consecutive losing seasons, the Beavers and coach Mike Riley mostly had a newsless offseason, only losing secondary coach Keith Heyward to Washington. They have stability.
Wisky worse: The Badgers have six new coaches, and among their losses was offensive coordinator Paul Chryst.
Beavers better: Oregon State welcomes back 17 starters.
Wisky worse: The Badgers welcome back only 11 starters.
Beavers better: Those seven freshmen or sophomore starters for Oregon State from a year ago will be far more seasoned.
Wisky worse: The Badgers, no matter how they say they won't, will have to difficult time mustering a focused respect for Oregon State, based on how easy things were a year ago.
Beavers better: They are playing at home, not in front of 80,000 hostile fans in Camp Randall Stadium.
Wisky worse: While it's not good that Oregon State's opener against Nicholls State was postponed, the Beavers got to stay home and watch the Badgers struggle in a 26-21 win over Northern Iowa. That game film, which Badgers coach Bret Bielema really, really didn't want Oregon State to see, surely boosted the Beavers confidence.
I think Oregon State is going to be better on both lines of scrimmage. I think Mannion's maturity as a passer will make it easier for the Beavers to establish an adequate running game. And I don't think the Badgers offensive line, replacing three starters, will be as good this fall.
Last year, the Beavers were outrushed 208 yards to 23. I think that number will be far closer this go-around.
Finally, there's this: Nobody on the Wisconsin defense can keep up with receiver
Markus Wheaton
. We know this because nobody on the Badger defense could keep up with
De'Anthony Thomas
in the Rose Bowl, and Wheaton is faster than Thomas.
No, this game is not 50-50. Or even 60-40. If the Beavers do win, it will be an upset, and just about everyone will be surprised.
Our point here is merely to prepare you to not be
that surprised.
Kevin Gemmell
: Wow. That was pretty compelling. Can't refute any of that, only to say that the last product we saw from Oregon State was the last product they had on the field in 2011. And it wasn't great. I too believe Oregon State will be much better this year, but if I were picking an upset in Week 2, I'd go with a team I've already seen in action (a lesson learned from my Washington State debacle last week).
[+] Enlarge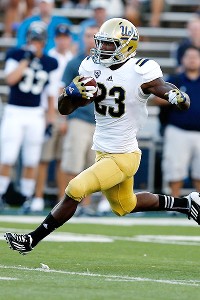 Scott Halleran/Getty ImagesUCLA running back Johnathan Franklin ran for 214 yards in the opener against Rice.
Just so we're clear, I'm on record with
a prediction that Nebraska beats UCLA
. I was asked in my
chat on Wednesday
to assign a percentage to UCLA's chance of winning. And I went with 49 percent.
Were the Bruins outstanding in Week 1? No. But they won on the road with a rookie quarterback (never easy) and for the most part they were pretty good considering all of the youth they put out there. And that youth was evident, especially in the first half when the defense yielded 24 points and 282 yards.
Ah, but here's a little not-so-secret secret, Jim Mora can coach. Consider the second half -- a couple of tweaks to what Rice was doing on offense and the Bruins surrendered just 76 yards in the final 30 minutes -- only crossing into the UCLA half once. I asked Mora to explain the defensive difference between halves and his answer was satisfactory. UCLA didn't do a lot of full tackling in the fall camp, so they were a little rusty. Makes sense.
UCLA can't win this game on athleticism alone. Because Nebraska can match them speed-for-speed and player-for-player. In fact, when you look at the rosters side-by-side, it's probably a draw in terms of who has the better athletes. So UCLA will have to take advantage of the wealth of coaching knowledge it has on the sidelines and exploit the mismatches it does have.
For example, UCLA's offensive line is young and probably inferior to Nebraska's defensive front. So expect a lot of quick passes from second-time-starter
Brett Hundley
. No reason to make those guys pass block for three seconds, because they probably won't be able to. Nebraska will pressure Hundley far more than Rice did.
Also,
Joseph Fauria
is a mismatch for any linebacker or safety in the country. I wouldn't be shocked to see the Bruins ride that guy to the tune of nine or 10 catches. And we'll find out whether
Johnathan Franklin
is as good as his three-touchdown, 214-yard rushing performance against Rice suggests.
Defensively, they need an answer for
Taylor Martinez
. I'm not going to pretend to have it. But I will say
Datone Jones
might finally be maturing into the player we all thought he could be and a little pressure -- especially against a team on the road -- can go a long way.
This is going to be a competitive game, and much like your Oregon State scenario, no one should be shocked if the Bruins walk away from this game 2-0.
July, 31, 2012
7/31/12
7:00
PM ET
We've told you about the
preseason Pac-12 media poll
, which projected things as most folks believed it would. But what about all the other media polls out there for teams that cross paths with Pac-12 teams this fall?
Don't worry. We are here to help.

The Pac-12 has dates with the preseason SEC (LSU-Washington) and Big Ten (Wisconsin-Oregon State) favorites, but there also is plenty of mediocrity on the nonconference slate this season. There's only one game between the conference and the ACC (Duke-Stanford) and Big 12 (Oklahoma State-Arizona). There's two between the Pac-12 and SEC because Missouri (Arizona State) switched its affiliation away from the Big 12.
And it's clear the Big Ten, the Pac-12's Rose Bowl rival, is still the chief partner for quality nonconference action. There also are dates with Illinois (Arizona State), Ohio State (California) and Nebraska (UCLA).
There also are seven dates with the Mountain West Conference: Colorado State (Colorado), Fresno State (Oregon, Colorado), Nevada (California), Hawaii (USC), San Diego State (Washington State) and UNLV (Washington State).
BYU and Notre Dame, as Independents, aren't in preseason media polls. FCS teams aren't included
Arizona
: Toledo (first in MAC West Division); Oklahoma State (fourth in Big 12)
Arizona State
: Illinois (fourth in the Big Ten Leaders Division); Missouri (fourth in SEC East)
California
: Nevada (second in Mountain West); Ohio State (second in Big Ten Leaders Division);
Colorado
: Colorado State (eighth in Mountain West); Fresno State (third in Mountain West)
Oregon
: Arkansas State (second in Sun Belt); Fresno State (third in Mountain West)
Oregon State
: Wisconsin (first in Big Ten Leaders Division)
Stanford
: San Jose State (third in WAC); Duke (last in ACC Coastal Division)
UCLA
: Rice (fifth in Conference USA West Division); Nebraska (first in Big Ten Legends Division; Big Ten champs); Houston (first in Conference USA West Division)
USC
: Hawaii (seventh in Mountain West), Syracuse (seventh in Big East)
Utah
: Utah State (second in WAC)
Washington
: San Diego State (fifth in Mountain West); LSU (first in SEC West, SEC champs)
Washington State
: UNLV (ninth in Mountain West)
July, 3, 2012
7/03/12
12:00
PM ET
Week 1 can't get here soon enough. Every team plays an out-of-conference opponent in the first two weeks of the season, so we thought we'd take a quick look at who is coming up in Week 1. We'll go into greater detail as the start of the season draws closer. This is just a primer for those who need their beaks moistened and whistles whet. We'll take a look at the North later today.
TOLEDO
Game
: at Arizona, Saturday, Sept. 1
Coach
: Matt Campbell (1-0, first full season)
2011 record
: 9-4 (7-1 MAC)
Did you know
: Even though the Rockets lose seven starters on offense, quarterbacks (yes, plural)
Terrance Owens
and
Austin Dantin
both ranked in the top 20 nationally last year in passing efficiency. Fun fact: Owens
was also drafted by the San Diego Padres
in the 40th round (pick 1,215), even though he has almost no baseball experience. (Wisely, he turned down the offer and as someone who used to be on the Padres beat, can't say I blame him).
NORTHERN ARIZONA
Game
: at Arizona State, Thursday, Aug. 30
Coach
: Jerome Souers (76-82, 15th season)
2011 record
: 4-7 (3-5 Big Sky)
Did you know
: Running back
Zach Bauman
returns after posting 1,435 rushing yards and 15 touchdowns in 2011. He's joined by returning quarterback
Cary Grossart
, who completed almost 66 percent of his passes for 2,745 yards with 16 touchdowns to seven interceptions. ASU downed the Lumberjacks 41-20 in 2010, pulling away in the fourth quarter after NAU drew to within 27-20 at the end of the third.
COLORADO STATE
Game
: at Colorado, Saturday, Sept. 1
Coach
: Jim McElwain (first year)
2011 record
: 3-9 (1-6, MWC)
Did you know
: Last year Colorado State ranked 116th in rush defense and Colorado ranked 106th in rush offense. Something's gotta give, and since Colorado's offensive line is fairly solid this year, I'm banking on the Buffs and
Tony Jones
. The Rams also need to break in a new quarterback after
Pete Thomas
, a two-year starter, opted to transfer following the firing of Steve Fairchild.
RICE
Game
: UCLA, Thursday, Aug. 30
Coach
: David Bailiff (23-38, sixth year)
2011 record
: 4-8 (3-5 Conference USA)
Did you know
: Canadian-born tight end
Luke Willson
played in the Toronto Blue Jays extended spring training and was drafted by the Toronto Argos of the CFL. The running joke around campus is that the Maple Leafs will draft him next (yes, he played hockey in high school). This is someone Jim Mora & Co. will have to worry aboot.
HAWAII
Game
: at USC, Saturday, Sept. 1
Coach
: Norm Chow (first season)
2011 record
: 6-7 (3-4 WAC)
Did you know
: Chow spent four years at USC. Of course you knew that. Everyone knows that, which is what makes his return to Southern California such a fascinating reunion. Though it's not entirely novel because he spent time at UCLA prior to Hawaii. But now he's coming back as a head coach. This will be Hawaii's first year in the Mountain West Conference and they return seven starters on offense, four on defense.
NORTHERN COLORADO
Game
: at Utah, Thursday, Aug. 30
Coach
: Earnest Collins Jr. (0-11, second year)
2011 record
: 0-11 (0-8 Big Sky)
Did you know
: The Bears only lose three offensive starters and those who return accounted for 94.5 percent of their total offensive yards. However, returning quarterback
Seth Lobato
(Buffs fans might remember the name) loses his favorite receiving threat in
Patrick Walker
, who had 84 catches last year for 1,171 yards and 10 touchdowns.
June, 19, 2012
6/19/12
5:30
PM ET
What if the Mayans got it right? Or worse ... what if John Cusack got it right? That means there is only one season left of college football before civilization gets a facelift (and we won't even get to see the national championship game, bummer). So every week has got to count. We're taking you on the ultimate week-by-week road trip in the Pac-12.
Welcome to Week 1.
Thursday Aug. 30
Northern Colorado at Utah
UCLA at Rice
Northern Arizona at Arizona State
Washington State at BYU
Friday, Aug. 31
San Jose State at Stanford
Saturday Sept. 1
Nevada at Cal
Nicholls State at Oregon State
Colorado State at Colorado
Hawaii at USC
San Diego State at Washington
Arkansas State at Oregon
Toledo at Arizona
My choice:
Washington State at BYU


Why
: Who isn't excited to see Mike Leach return to his roots in Provo, Utah? As we talked about in our most-important-game series, this is going to be a good first measuring stick to see how far Washington State has come in Leach's short tenure.
There is a good vibe coming out of Pullman right now with the potentially explosive combination of
Jeff Tuel
to
Marquess Wilson
and a quality road victory to start the year -- and the new era -- would keep that momentum going.
BYU is replacing at least one starting cornerback and one safety, so the Cougars will be tested by WSU's passing onslaught. Should make for an exciting first game.
If that game is sold out, my backup would be San Diego State at Washington. First, Ryan Katz makes his return to the Pac-12 since transferring out of Oregon State. Second, a lot of folks are curious to see what Washington's overhauled defense is going to look like outside of a scrimmage situation. (But we'll get to the Huskies in Week 2).