May, 7, 2013
5/07/13
5:30
PM ET
Mark Helfrich has a few more months before he can officially coach a game as Oregon's new man in charge. And yet he's already received an encouraging endorsement from the guy who would love nothing more than to squash the Ducks' on Nov. 7, crushing their chances of a North Division crown and possible berth in the BCS championship game.
Stanford head coach David Shaw knows a little something about taking over for a strong-willed coach who left for the NFL. Shaw's calm and even-tempered demeanor was a stark juxtaposition to the animated, and at times hot-headed and eccentric Jim Harbaugh. And yet in two years, Shaw has earned a pair of Pac-12 Coach of the Year awards and found a way to make Harbaugh's team, almost seamlessly, his own.
[+] Enlarge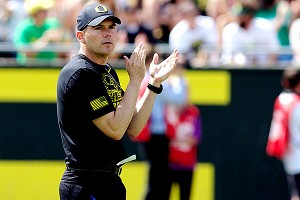 Scott Olmos/USA TODAY Sports"This is a place where succession and continuity has been very successful," new Oregon head coach Mark Helfrich said, "and hopefully, obviously, we hope for that to continue for a long time. "
Helfrich, Shaw says, is on the same path.
"I think he's done it perfectly so far," Shaw said. "The first thing you don't want to do is spend so much time putting your stamp on it that you don't do what's best for the kids. The most important thing is that you put the kids in position to be successful. It's got to be about the team. And your team feeds off of that.
"It's a great opportunity for Mark to step out in front and poke his chest out and talk about how great he is and all the things he's going to do and change. He hasn't done that," Shaw continued. "He's said 'Hey, we're going to play our offense. This is Oregon's offense. We're going to play as best as we can. We're going to improve every single day.' All the moves he's made, all the decisions he's made, all the words he said have all been exactly what should be done. That reassures your team. Really, that's how the team becomes your team because they believe in the coach and they believe he's going to do what's best for them."
Pretty classy answer. He could have just as easily said, "We try not worry about anyone but ourselves," a quote Shaw is fond of during the season, and that would have been perfectly acceptable.
From what we know about Helfrich, which is limited until we see what he does on fourth-and-3 from the 50, we do know that he has a different personality than Chip Kelly -- who departed for the Philadelphia Eagles after taking the Ducks to four straight BCS bowl games. Kelly was a confident coach. Fearless. Brash, even. No one is certain if Helfrich will share Kelly's aggressive nature or take on a more conservative approach. Not even Helfrich.
"I don't know," Helfrich said. "I guess we'll find out."
Oregon's new coach isn't worried about the comparisons to his predecessor -- which will no doubt be flying in the preseason, during the season and after the season. He simply sees himself as the next in line.
"[From coach Rich] Brooks, to [Mike] Bellotti, Chip, they all gave me the advice to be yourself," he said "This is a place where succession and continuity has been very successful and hopefully, obviously, we hope for that to continue for a long time. We have a lot of great things in place here from an infrastructure standpoint. Not only the facilities, which are obviously incredible, but the people inside the facilities are even more important. When your strength coach has been here for almost a quarter of a century and almost every person that touches our guys' lives have been here for more than a decade. That's continuity of culture."
Then again, he's also following a coach who won 91 percent of his conference games. The expectations for Helfrich and the program are atmospheric. But he's off to a good start. So says the guy who wants to beat him.
March, 4, 2013
3/04/13
9:00
AM ET
On Jan. 4, Oregon, fresh off its second consecutive BCS bowl victory, was at an all-time high. Then, while riding that wave of emotion, it watched Chip Kelly transformed into Hamlet -- "To go or not to go, that is the question..."
Kelly was certain to leave for the NFL before he wasn't. And then -- poof -- he was gone, off to coach the Philadelphia Eagles. Hey, a guy can change his mind.
If Kelly had stayed, the big spring and fall question for the Ducks was what do they need to do to make the proverbial next step. Seeing that they had finished ranked No. 2 in 2012 and played for a national title in 2010, the singular step that needed to be taken was winning a national championship.
[+] Enlarge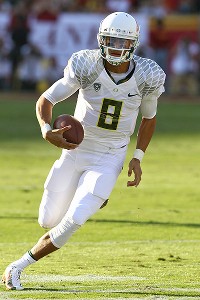 AP Photo/Bruce SchwartzmanEven with Chip Kelly's departure, the Oregon Ducks are still in pretty good shape with talented starting quarterback Marcus Mariota.
Kelly knew this and thought about it a lot, though that's not the sort of thing he'd admit. While Kelly always preached laser-like focus on the task at hand, let's just say that he didn't turn away from a TV set when Alabama was playing. He knew the team -- and the conference -- that needed to be overcome.
Now, with Kelly cracking wise at reporters on the East Coast, the question becomes slightly less ambitious and more general for the Ducks, who open spring practices on April 2: Can new coach Mark Helfrich & Co. sustain what Kelly built?
Of course, anybody who has paid more than passing attention to the Ducks of recent vintages knows exactly the three-word phrase that will meet all such inquiries: Next man in.
The program is -- wisely, most believe -- following a formula that has worked before. Rich Brooks begat Mike Bellotti, who begat Kelly, who begat Helfrich. That pattern would seem to position well new offensive coordinator Scott Frost, who was elevated from receivers coach. Bellotti, Kelly and Helfrich each was the Ducks' offensive coordinator when he was promoted to the corner office.
Still Frost, who knew how things would fall if Kelly bolted, felt an ambivalence during Kelly's NFL flirtation and eventual elopement.
"It was just an interesting ride," Frost said. "I think all of us were a little bit torn on the whole thing. We've had such a great amount of success here that part of us didn't want to see anything change. We wanted to keep it status quo and see how long we could do this thing. Everybody loved Chip and how the program was running. But at the same time, change is inevitable, and it's given me and some other guys more opportunity and responsibility."
The hand Helfrich and Frost inherited is pretty darn strong. The Ducks have 16 starters returning from a 12-1 team, including eight from an offense that ranked second in the nation -- first among AQ conference teams -- with 49.5 points per game. Topping that list of returning starters is quarterback
Marcus Mariota
, a short-list Heisman Trophy candidate.
Still, it's not unreasonable to think some players might be shaken at Kelly's departure. After all, he had a pretty big personality.
"During our time here, we've lost players people didn't think we could replace and our message has always been it's the next man up. Do the job," Frost said. "It would have been hypocritical of us not to treat [Kelly leaving] the same way. We're approaching it the same way we ask the players to approach it when we lose a key piece. Step up, do your job and go forward 100 miles an hour."
Along that very line, Helfrich and Frost well know that one of their chief tasks is sustaining the culture around the program. While the coaches need to be themselves and not try to ape Kelly, it does help that Kelly took only one full-time assistant with him to Philly -- D-line coach Jerry Azzinaro. There's plenty of continuity, both in terms of scheme and the day-to-day operation, procedures and philosophies of the program.
"The culture is already built," Frost said. "It isn't like we have to start from the bottom. We're excited about that. We'd be fools to try to change much at all because of the success we've had."
The same goes for Frost now coaching quarterbacks. It's long been a position of strength for the Ducks, and Mariota might be the most talented player the Ducks have ever had at the position, at least since Joey Harrington, circa Y2K. There was little Mariota didn't do well in 2012, when he earned first-team All-Pac-12 honors as a redshirt freshman, ranking seventh in the nation in passing efficiency.
"I think we can clean some things up and be even more efficient," Frost said. "There are some things we want to tweak to help him have more of an opportunity to impact the game. We wouldn't trade him for anybody. We think he can do some amazing things and win a lot of games. We're going to feature him as much as we can."
The Ducks' offense under Frost won't change, but it will evolve. For one, there's good reason to believe Oregon will throw more in 2013, with Mariota and his entire cast of receivers back.
And, as good as the offense was last fall, it did have a bad game -- a 17-14 home loss to Stanford.
"I give Stanford credit," Frost said. "That game kept us out of the national championship game. There's always room to fix things and get better."
Oregon's improvement on defense -- a combination of scheme and talent -- has bolstered it as a national contender. The question that looms among Oregon skeptics is whether the Ducks' offense can roll up big numbers against a big, fast and well-prepared defense. Like Stanford. Like Alabama.
To find out, the Ducks first need to solve Stanford, a team they'd taken to the cleaners the previous two years.
The word in Eugene, post-Kelly, Spring I? Change is good. Of course, there are plenty of things many are going to miss with Kelly no longer around.
Offered Frost: "I could make some sarcastic remarks to you if you want me to."
January, 21, 2013
1/21/13
11:15
AM ET
Just about everyone inside the Oregon program has faith in Mark Helfrich, believes he can keep the Ducks among the nation's elite after he was promoted from offensive coordinator to head coach, replacing Chip Kelly.
After all, that's what Oregon did when Rich Brooks, the grandfather of the Ducks' national relevance, handed off to Mike Bellotti and when Bellotti handed off to Kelly. Helfrich is the third consecutive sitting offensive coordinator to be promoted, and the formula has yet to let the school down.
[+] Enlarge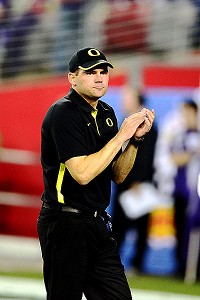 Mark J. Rebilas/USA TODAY SportsA major key to Mark Helfrich being promoted from offensive coordinator to head coach at Oregon -- system continuity.
For about a year, Helfrich was widely known as the heir-apparent to Kelly, and it was widely thought he'd ascend sooner rather than later after Kelly's flirtation with the Tampa Bay Buccaneers last year.
The profiles have mostly been written -- he's an Oregon guy through and through, a state native and a son of a former Duck. He's a lighter touch than Kelly. He's smart. His specialty is quarterbacks. He'll provide system continuity. And he'll retain most of the staff, one that is considered among the nation's best.
But now belief yields to actual day-to-day business results. Speculation will be replaced by performance: The signing of a recruiting class on Feb. 6. Spring practices. His first disciplinary issues. Deciding who calls plays.
Games.
The good news is he doesn't face the difficult career opener Kelly did, that regrettable evening at Boise State. Recall that shortly after that humiliating defeat and LeGarrette Blount meltdown, there was a sense of panic among some fans that Kelly was in over his head. Fair to say he wasn't.
Helfrich gets Nicholls State, then a Nevada team breaking in a new coach and a Tennessee squad doing the same. His Pac-12 opener and road debut is at Colorado. So the odds are high that he and the Ducks will be 4-0 and ranked in the top 5 -- top 3? -- when they head to Seattle to play their good friends, the Washington Huskies, in renovated Husky Stadium on Oct. 12.
Now, I don't want to blow you guys away with my local knowledge, but there could be some emotions surrounding that one. Washington looks like it has the personnel in place to make a move in Year 5 under Steve Sarkisian. Beating Oregon at home would feel transformative to Huskies fans. And to Ducks fans, though they will surely harrumph the notion.
The reality for Helfrich is one that no other Ducks coach faced before: Three losses is a bad season. Failing to win the Pac-12 is a disappointment. And Ducks fans are ready for their national title, if you please, Mark.
Helfrich now moves into the corner office in the Moshofsky Center. It's a big space to fill. No man has sat there who did any better than Kelly.
We suspect it will mostly be business as usual. But you only know when you know. Further, the true measure won't come in 2013. We'll only have a good idea of the Helfrich era if three or four years from now the Ducks remain atop the Pac-12 and ranked in the top 10.
Some links:
January, 2, 2013
1/02/13
1:00
PM ET
SCOTTSDALE, Ariz. -- The overwhelming sentiment at the Tostitos Fiesta Bowl is the game will be Chip Kelly's last as the Oregon head coach before he fills one of the seven new NFL vacancies. If that is so, the equally overwhelming sentiment is that offensive coordinator Mark Helfrich will step into Kelly's spot atop the program.
Kelly, clearly anticipating the NFL questions, has fought off all inquires on the matter by saying he is only focused on the Fiesta Bowl on Thursday. He has emphasized that the NFL talk is not a distraction to him or his team, and that he and his players have not addressed it.
His players have been on message, too.
[+] Enlarge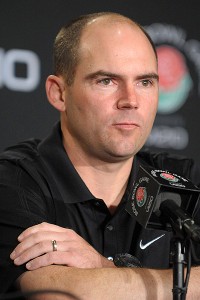 Kirby Lee/Image of Sport/USA TODAY SportsMark Helfrich was a quarterback coach at Boise State, Arizona State and Colorado, before joining Oregon in 2009.
Said linebacker
Michael Clay
: "He doesn't talk about it. No body talks about it."
And offensive lineman
Kyle Long
: "There isn't really a lot of talk about that. You can control what you can control. What we can control is our attitude, our effort and our preparation."
And quarterback
Marcus Mariota
: "Whatever happens, happens. Coach Kelly will make a decision that is best suited for him. Whatever he does, this team will support him."
And center
Hroniss Grasu
: "He's our head coach right now. That's the only way I can look at it. I will play for whoever is our head coach right now. Right now, it's Coach Kelly. I won't look too far ahead."
As for Helfrich, he also is staking out a "wait-and-see" position: "I don't think [Kelly leaving for the NFL is] a slam-dunk like everyone else does. I hope he stays at Oregon forever," he said.
It's important to note there have been no concrete reports of contact with NFL teams, and Oregon athletic director Rob Mullens said he's received no courtesy calls from an interested NFL team. It's plausible -- and very, very Chip Kelly -- that Kelly's non-denials emerge from his enjoyment in making the media awkwardly tap dance in front of him.
Still, if Kelly's departure is just days away, it is reasonable to get an early measure of Helfrich, who has been a quarterback coach at Boise State, Arizona State and Colorado -- he was the Buffs' offensive coordinator, too -- before Kelly hired him in 2009.
"He's really smart, really intelligent," Kelly said of why he made Helfrich his first offensive coordinator. "He brought a different perspective to our staff, because he had a different background. He wasn't a spread guy. I wanted to bring someone in who wasn't going to tell us what we already knew."
When asked what advice he'd give to Helfrich if he became a head coach, Kelly said he'd give him the same advice Rich Brooks gave Mike Bellotti and Bellotti gave him: "Be yourself. You can't be someone else."
Which is interesting in itself, because Helfrich is different than Kelly. Very different.
"Coach Kelly is the yin and he's the yang," Ducks senior running back
Kenjon Barner
said. "Coach Kelly is on you. He knows what he wants and he's going to get it out of you. Coach Helf is kind of that guy who brings you along smoothly, rather than rough. Good cop, bad cop. Sometimes they switch roles."
That said, continuity is a big reason to promote Helfrich. Oregon has a team culture, system of practicing and schemes on both sides of the ball that have been working fabulously over the past four years with Kelly. Helfrich wouldn't be expected to change much. Further, he'd likely be able to retain some of the Ducks' staff because Kelly probably will need to hire veteran NFL coaches to offset his lack of professional experience.
Still, Helfrich, as Kelly would advise, is unlikely to transform into a Kelly clone. He's worked with a number of successful coaches, so he'd likely put his own stamp on existing systems.
"You take a little bit of everybody with you," Helfrich said. "I've learned a ton from Chip."
While some players seemed -- for obvious reasons -- uncomfortable with the topic, there was a strong undercurrent of support for Helfrich, and not just with offensive players.
"He's a great guy and knows what he's doing," linebacker Michael Clay said. "Everyone respects him on the team and around the league. I think he'd do a great job as a head coach."
Helfrich is certain to be a head coach at some point. The big question to be answered after the Fiesta Bowl is whether that ascension is just days away.
November, 2, 2012
11/02/12
12:30
PM ET
Nick Aliotti, a native of Walnut Creek, Calif., a graduate of Pittsburg High School, a former freshman MVP at running back for UC Davis, arrived at Oregon as a graduate assistant in 1978 under Rich Brooks. The Ducks celebrated his arrival by going 1-10.
After a 4-7 season the next year, Oregon State coach Joe Avezzano hired him to coach running backs. In 1984, he was the offensive coordinator at Chico State. The Ducks went 6-5 that year.
Funny how things turn out. Back then, there was little to suggest Aliotti would become a defensive coach, or that he would circle back to Oregon, or that there would be any reason to go back to Eugene. After all, if Aliotti wanted to climb the coaching ladder, didn't he want to go to a place where you had a chance to win?
Yet here he is, now close enough to an Oregon lifer that we're going to call him that, a guy who has been a firsthand witness to a program rising from nothing to respectability to legitimate goodness. And then to the cusp of greatness.
[+] Enlarge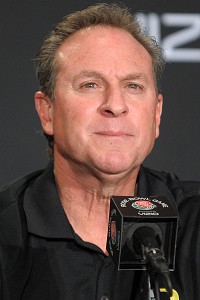 Kirby Lee/Image of Sport/US PresswireWhile Oregon's offense gets all the hype, Nick Aliotti's defense has also shined this season.
"I'll tell you how it feels for me personally," Aliotti said. "It feels fantastic."
And anyone who knows Aliotti, 58, will guess that there was a prelude to that quote -- "It's not about me" -- and a postlude -- "It's really, really special" -- as well as some entertaining parentheticals along the way.
Yet this season includes something new: respect.
Aliotti has been a good defensive coordinator for a long time, although his defenses often were outmanned. During the Ducks' rise under Chip Kelly, Oregon has played better defense than most folks realized, but it often required observers to look behind the numbers. And who has time for that?
Yet before this season began, more than a few pundits, including folks on the benighted East Coast, took a look at the Ducks' depth chart and noted that there were some salty characters on the mean side of the ball. The Ducks had some size to go along with their speed. There were some 300-pounders inside and there was, as coaches say, "great length" across the board, with seven of the top nine defensive linemen over 6-foot-4. And four over 6-6.
They passed the sight test.
What about the football part of football? Glad you asked. ESPN's numbers guy, Brad Edwards,
took a closer look at the Oregon defense this week
, noting that if you go beyond some superficial numbers that don't look impressive, you can make a case that the Ducks are playing defense on par with the finest teams in the country.
He took a measure of the Oregon defense only when an opponent was within 28 points, noting, "Using only statistics from when the score is within 28 points allows us to evaluate how teams perform when the starters are on the field and playing with maximum intensity."
What did he find? First, he found the Ducks have allowed 19 touchdowns this season -- one a pick-six against the offense -- but only seven were given up when the game margin was within 28 points.
Then he entered that into his Bat Computer.
Here's what he found. The Ducks ranked third in the nation, behind only Alabama and Notre Dame, in points per drive at 0.89. The Ducks allow just 4.03 yards per play, which ranks fourth in the nation. The Oregon defense leads the nation in red zone TD percentage at 22 percent, or four TDs allowed in 18 drives. Finally, on third-down conversion defense, the Ducks rank second, trailing only Oregon State, with a 24.7 percent success rate.
Not bad, eh?
Aliotti's defense, however, will face a major test on a big stage Saturday when it visits USC. Although the Trojans' offense has been surprisingly inconsistent this season, it still has all the main players from the squad that turned in a scintillating performance a year ago while ending the Ducks' 21-game Autzen Stadium winning streak with a 38-35 victory.
"Those great receivers and the quarterback were able to have their way with us last year," Aliotti said. "They beat our defense last year with their offense."
Matt Barkley
completed 26 of 34 passes for 323 yards with four touchdowns as the Trojans rolled up 462 yards.
Marqise Lee
, then a true freshman, caught eight passes for 187 yards and a score. Aliotti, by the way, was perhaps more upset about the Trojans' 139 rushing yards than the passing numbers.
Barkley is a four-year starter who has seen just about every defense. He's not easy to fool. But that doesn't mean Aliotti isn't going to try.
"The best I can answer is we're going to do a little bit of all of it," he said.
And Aliotti has a lot of tricks in his bag. When you talk to opposing offensive coaches, it's clear the Ducks' defense has evolved in the past few years. Calling it "multiple" doesn't do it justice. You could almost call it "nonstandard." Aliotti will give a general idea of the evolution, but he doesn't want even that to appear in print.
USC coach Lane Kiffin coached the Trojans' offense under Pete Carroll from 2001 to '06. He sees dramatic changes.
"You see no similarities," he said. "You'd think it was a different staff. Obviously it's not; they've been there forever. I don't know what changed, but they are very different. They are very multiple. They change fronts. They disguise things very well."
Aliotti has played a lot of chess games with opposing offenses since he returned to Oregon for good in 1999. Shutting down Barkley and the Trojans on Saturday would help him further secure his grandmaster bona fides this fall.
August, 26, 2011
8/26/11
9:00
AM ET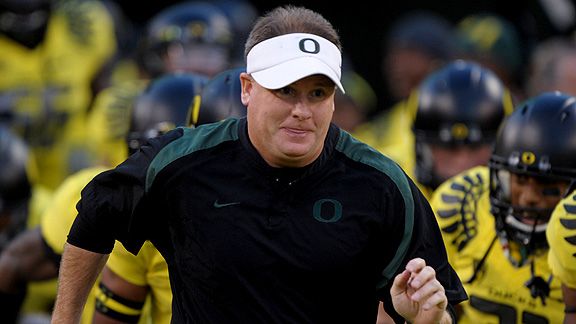 Kirby Lee/US PresswireChip Kelly and the Oregon Ducks remain focused on taking care of business on the field.
Wise folks have said and written many things about dealing with the hills and valleys of life. Most of us are well aware that it's a mistake to get too high when things are good or too low when they aren't. We know it's better to focus on things we can control and to avoid allowing our emotions to overcome constructive decision-making and ensuing action.
And if any of that were easy, wise folks would spend more time talking and writing about other things.
So we have Oregon. No college football program in the country has combined stunning successes and swirling controversies over the past two-plus seasons as much as Oregon has under coach Chip Kelly. Perhaps even more amazing than the frenetic tempo and creativity of the Ducks' offense is their ability to make news in positive and negative ways, yet remained focused.
Year 1 started with a humiliating loss at Boise State and a punch from then-Ducks RB LeGarrette Blount and ended with a Pac-10 championship and a Rose Bowl berth. Year 2 started with quarterback Jeremiah Masoli -- a Heisman Trophy candidate -- getting booted from the team and ended with another Pac-10 championship and a berth in the national title game.
Year 3? It's started with an NCAA inquiry into the recruitment of redshirt freshman running back Lache Seastrunk, who decided to transfer last weekend, and a $25,000 payment to his mentor, Willie Lyles, who is a recruiting scout and alleged "street agent."
Where will Year 3 end? Will this be the year that the Ducks do get distracted and upended by off-field issues?
"I think the media around here is the smartest people I've ever been around my entire life," Kelly said with what sources said may have been some sarcastic shadings.
"If they voted us No. 1 in the conference and No. 3 in the country, they must not think it is a distraction. So we shouldn't let it be a distraction, because I don't think anyone would vote us No. 3 in the country if you guys thought it was a distraction."
Zing! The capacious "Book of Quotable Chip" adds another entry.
Kelly then referred to one of his handful of mantras: "We have the same mentality all the time. We have a vision for what this football program is supposed to be about and we prepare against that vision. We compete against that vision every Saturday and that's how we measure ourselves. ... We are not concerned with any outside influences, whether it be praise or blame."
Kelly's ability to impose that philosophy -- all part of his "Win the day" credo -- has been remarkable, the fuel for the Ducks' rapid rise in the college football pecking order. When you talk to his players, they either parrot what he says verbatim or provide their own little twist.
Said redshirt junior running back
LaMichael James
: "I focus on my team and that's it. I don't really care what outsiders have to say."
Still, there's just a little bit of double-speak. Don't believe for a moment the Ducks are unaware of -- and not following -- both the intrigue (Lyles & the NCAA!) and hype (national title contender!) that surrounds them. Kelly claims he doesn't pay attention to what reporters write, but he is curiously apt to tweak them for their stories -- Hey, Chip! -- most notably when they are wrong.
And the players, though totally bought into the Temple of Chip, are the same way. They claim they never discuss the day's headlines. Balderdash.
"Everybody wants to say all this about Oregon," redshirt junior quarterback
Darron Thomas
said. "We don't like that. We've just been working hard, getting ready for the season, ready to shut everybody up, ready to come out and play ball and forget about all these other allegations that are eventually going to come out."
No one knows when things are "going to come out." The NCAA hasn't even gotten around to sending Oregon an official letter of inquiry, which would spell out how the organization plans to apply vague rules about the use of scouting services. Those who say they know the endgame are lying. Nonetheless, there's been lots of guessing that Oregon and Kelly are in big trouble, with a couple of columns suggesting Kelly will be fired.
"I hope whoever wrote that, and I didn't read it, isn't our athletic director or our president," Kelly said. "I'm very confident in everything that will happen."
It's sometimes hard to believe that Kelly has been a coach in FBS football for just four seasons. Recall that in 2006, he was the offensive coordinator at New Hampshire, a guy only a handful of offensive aficionados knew of. His two-plus years of leading Oregon have been more eventful than entire careers for many head coaches.
When asked if Kelly has shown any stress or strain during his tumultuous tenure, James almost seems amused. "He always seems the same to me," James said. "He maybe seems a little more relaxed."
James also called Kelly "a phenomenal coach." While Rich Brooks made Oregon respectable, and Mike Bellotti created a consistent winner, it's fair to say that Kelly's dynamic leadership has pushed the program to heights that no Ducks fans imagined it could reach, even mega-booster Phil Knight. And for that, James said, Kelly deserves predominant credit.
"Coach Kelly changed the whole identity of the program," said James, who redshirted in 2008, Bellotti's final season as head coach. "Everything is 100 percent different from when I was a true freshman."
What did Kelly change? "I literally mean every single thing," James said.
Of course, Brooks and Bellotti were able to avoid any major NCAA issues, too.
What's next for the Ducks? A win over LSU, a third consecutive conference title and another run at a national championship? NCAA sanctions?
Said Kelly, "I don't know what is going to happen next. No one knows what happens in the future."
One thing is likely: With Kelly and the Ducks, it at least figures to be interesting.
November, 24, 2010
11/24/10
10:52
AM ET
Shy Huntington surely never guessed it would take this long for Oregon to become a national power. After he grabbed three interceptions in the Ducks' 14-0 Rose Bowl victory over the
Pennsylvania Quakers
, he probably thought things were just beginning for the Ducks.
It was 1917.
From 1918 through 1988, however, Oregon would play in just five bowl games, winning one. Its first coach to win more than 33 games was Len Casanova, who went 82-73-8 from 1951-66. Oregon's next coach to post a winning record? Mike Bellotti.
[+] Enlarge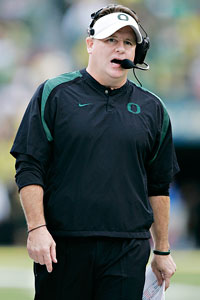 Joe Nicholson/US PresswireChip Kelly has the Ducks two wins away from their first undefeated season of the modern era.
Oregon is one of only 10 programs nationally to have played in at least 17 bowl games over the past 21 years, but it's clearly a member of the nouveau riche. The Ducks haven't finished unbeaten in the modern era and they've never won a national championship.
Yet now they are two wins away from doing the former and three from accomplishing the latter, starting with a home date with No. 21 Arizona on Friday.
This is uncharted territory for Oregon, but it also feels as if the arrival isn't temporary. The momentum -- having the right coach, great facilities, passionate fan base, national recruiting, a sugar daddy billionaire booster -- suggests Oregon is starting construction on a mansion in the neighborhood with programs like Florida, Alabama, Ohio State, Oklahoma, Texas and USC.
A character in "The Sun Also Rises" was asked how he went bankrupt. "Two ways," he replies. "Gradually and then suddenly." That description is apt for the Ducks, only in the opposite direction. Oregon broke through in the 1990s under Rich Brooks. Bellotti won 116 games from 1995-2008 -- the most in program history by a wide margin -- and created a Pac-10 and national contender.
Second-year coach Chip Kelly? He's on the cusp of winning a second consecutive Pac-10 title and earning a second BCS bowl berth, only this time in the national championship game on Jan. 10 in Glendale, Ariz. That qualifies as a good start to a career as a head coach.
For an Oregon fan in his or her 50s or 60s, this is a fairly shocking development. You remember cold, rainy days with only a few thousand fans on hand to watch the Ducks lose. You remember going down to Washington 66-0 (1974). Or tying rival Oregon State 0-0 in the 1983 Civil War (two bad teams, pouring rain, eleven fumbles, five interceptions, and four missed field goals, the last Division I game to end in a scoreless tie).
If you are, say, a 19-year-old freshman at Oregon, you grew up with the Ducks as a Pac-10 contender and a team that regularly appeared in the national rankings. Your first memory might be of Kenny Wheaton returning an interception 97 yards for a touchdown to beat Washington in 1994, the celebrated linchpin play of the Ducks' first Rose Bowl season in 37 years. You see your team headed for its sixth season with 10 or more wins since 2000.
You read about the construction of a new, $41 million, six-story, 130,000 square foot
operations building for the football program
that will begin early next year, and you (maybe) think, "About time."
"There is a difference between the people who have seen this program for 40 years and the people that have seen us for four years," Kelly said. "They obviously see it through a different set of eyes. This program wasn't always one of the top programs in the country... I still talk to some of the people who can remember the days gone by, when having a winning season was a big deal and making it to a bowl game was a really big deal."
Kelly adds that he's only known the good days. He arrived in 2007 as offensive coordinator, and Oregon has won 39 games -- and counting -- since then and finished each season nationally ranked, the last two in the top 11. Contemplating the present versus the past with nostalgia for days gone by? As he will tell you -- over and over and over and over -- he's only about winning the day, which is today and nothing else. Still.
"That's hard for me to fathom, this team struggling just to be bowl eligible," he said. "That's not the Oregon I know."
There is some respectful jealousy among other Pac-10 coaches. Want to know why California coach Jeff Tedford gets perhaps more understanding from sportswriters than Bears fans? Compare and contrast Oregon's facilities and the Bears'. It's major league vs. single-A (though Cal is -- finally -- in the process of a
major stadium project
that should help that).
Mike Stoops has led Arizona out of the Pac-10 cellar, but his facilities don't compare with Oregon's either. He noted -- indirectly -- that the Big 12's nouveau riche power, Oklahoma State, became a contender shortly after its billionaire sugar daddy, T. Boone Pickens, started to churn hundreds of millions of dollars into the program.
"They are both great examples of investing in your program, investing in your players and bringing first-class facilities to your program, and putting a lot of value to that," Stoops said. "You can see what's happened with Oregon. They continually won seven, eight, nine [games]. Now, all of a sudden, the last few years, they are competing for championships and competing for the national championship... Certainly, we are trying to do the same thing here in rebuilding our facilities as well."
Asked about whether he felt the powers-that-be at Arizona understood the value of facility upgrades, Stoops replied, "I can't erase 125 years of not going to the Rose Bowl. As much pressure as I can put on myself, I can't take all that responsibility. It can't be just all bad playing and all coaching."
(We, obviously, could start to debate the ethics and institutional value of the arms race in big-time college football when there are budget shortfalls on the academic side of things, but that prickly topic is for another day.)
Oregon's ascension also is fortuitously timed alongside the fall of USC. While the Ducks have won three of four versus the Trojans, the departure of Pete Carroll and the arrival of NCAA sanctions figure to benefit the Ducks as they tighten their moorings among the national elite.
Of course, the deal is not yet done. Irritated Washington fans, who have seen their Northwest supremacy taken away, would quibble: "Hey, win a Rose Bowl in the facemask era, would 'ya!" The Ducks haven't done that since Huntington's heroics. Two games remain in the regular season, and then there's the matter of closing the deal in Glendale.
But it's hard not to feel that Oregon is on the cusp of arriving. Consider this: Even if the Ducks don't win the national title game, when you look at what they have coming back in 2011, they are a good bet to begin next fall as the preseason No. 1.
March, 2, 2010
3/02/10
2:30
PM ET
By
ESPN.com staff
| ESPN.com
We've got the whole wide world in our yard to explore.
We always find things we've never seen before.
That's why every day we're back for more
With your friends, the Backyardigans.
February, 1, 2010
2/01/10
2:30
PM ET
By
ESPN.com staff
| ESPN.com
Before I built a wall I'd ask to know
What I was walling in or walling out,
And to whom I was like to give offence.
Something there is that doesn't love a wall,
That wants it down.
January, 1, 2010
1/01/10
10:19
AM ET
By
ESPN.com staff
| ESPN.com
LOS ANGELES -- Look up and down Oregon's roster:
Jeremiah Masoli
,
Ed Dickson
,
LaMichael James
, etc. Mike Bellotti recruited every one of those guys.

Bellotti
But Bellotti, 59, stepped aside as head coach last year and his offensive coordinator, Chip Kelly, stepped in. Bellotti became Oregon's athletic director, giving up the work he'd done his entire adult life.
Then those players and first-year coach stepped up and earned a berth in the Rose Bowl Game presented by Citi.
Bellotti and the Ducks had some great seasons during his 14 years as head coach -- they finished ranked No. 2 in the country in 2001 -- but they didn't play in a Rose Bowl together.
It's obvious, isn't it? Bellotti has to ache a little, right?
"A little bit but I knew what I was getting myself into," he said.
Bellotti seems far more thrilled that the Ducks are here in Pasadena than disappointed that he won't lead them onto the field on New Year's Day.
He said he thought Oregon might be pretty good this year. His stepping aside, though, wasn't about football. It was a personal and family decision.
"I had family and friends tell me -- football people -- that, 'You're not going to walk away. You've got a quarterback coming back. You've got a good team. USC is going to be down. All the stars are aligned,'" he said.
But he did. And he said he's fine with it. He noted that he did coach in a Rose Bowl -- he was the Ducks' offensive coordinator under Rich Brooks in 1994.
"I have that experience indelibly etched in my heart and my brain," he said. "I will really enjoy going in as the AD. It's still going to be the same pride factor."
It should. Those are his guys out there.
March, 31, 2009
3/31/09
3:30
PM ET
By
ESPN.com staff
| ESPN.com
Posted by ESPN.com's Ted Miller
Happy birthday Cesar Chavez! And Gabe Kaplan.
March, 13, 2009
3/13/09
6:07
PM ET
By
ESPN.com staff
| ESPN.com
Posted by ESPN.com's Ted Miller
My first experience with Mike Bellotti came in 1999 when I learned that many, many folks in Seattle loathed him.
I had just moved to the Northwest to cover Washington football for the Seattle Post-Intelligencer. Before the Huskies played Oregon, my boss asked me to write about Bellotti.
| | |
| --- | --- |
| | |
| | Kevin Terrell/Getty Images |
| | Mike Bellotti won 72 interconference games, the third most in Pac-10 history. |
I knew nothing about Oregon. I was an SEC guy, born and raised in the South. I had only a faint idea that the Ducks and Huskies hated each other. I had no idea who Kenny Wheaton was.
My story about what a great job Bellotti was doing with the Ducks delighted my Seattle audience like a poke in the eye. Some Huskies fans never forgave me.
Which tells you what Bellotti's ultimate legacy at Oregon is as he steps down and hands the program off to offensive coordinator Chip Kelly.
He made Duck football matter.
Washington fans hated Bellotti because he built a program that threatened the Huskies' longstanding Northwest dominance. And, in 1999, Bellotti hadn't even posted the first of his four seasons with 10 or more wins.
Number of 10-win seasons in Oregon history before Bellotti. Zero.
Bellotti's legacy? Since joining Rich Brooks' staff in 1989 as the Ducks' offensive coordinator, Bellotti has left fingerprints on nearly 28 percent of the program's 558 victories.
Brooks deserves credit for leading Oregon away from college football's skid row, but he posted a losing record in nine of his 18 seasons.
Bellotti, 58, posted only one losing season during his 14 as head coach.
Over the past decade, the Ducks have collected six Top 25 rankings. Since 2000, they've finished ranked in the top 10 three times, including a No. 2 perch in 2001 and last year's No. 10 finish.
Bellotti finished with an 116-55 record at Oregon. He went 72-43 in Pac-10 games. Only UCLA's Terry Donahue (98) and Washington's Don James (97) won more conference games.
Two words: Good company.
Some might point out that Bellotti never won a national title. Nor did he ever play in a Rose Bowl, though he would have in 2001 if the BCS computers hadn't spit out that scintillating Miami-Nebraska national title blowout in Pasadena.
Yet keep in mind that Bellotti built a Top-25 program in a state that produces only a handful of BCS conference signees a year -- only 44 in the last five years, in fact, according to SI.com.
Other critics would point at Nike founder Phil Knight's sugar-daddy relationship with the athletic department and the program's state-of-the-art facilities to downgrade what Bellotti has accomplished.
And don't even start on the uniform combinations that made college football traditionalists vomit.
Whatever. As if that stuff made it easy to win games.
Bellotti liked the facilities because they helped recruiting. He seemed mostly amused by the uniforms, always remarking it was about what his players wanted, not what he wanted or some 60-something booster or some 50-something media critic.
His office was modest. A little cluttered. Come visit in the summer, and Bellotti was likely wearing a golf shirt and flip-flops.
Want to chat? Sure, come on in.
Bellotti has long been one of the nation's most accessible and articulate coaches. He'd lead off the weekly Pac-10 coaches teleconference, and in-the-know writers from across the country would swarm in to ask him all sorts of random questions -- the halo rule? the BCS? Cover 2? scholarships for kickers? concussions? etc.
He almost always made his way to the hospitality room before Pac-10 media day. He'd hang out for a few hours. Have a few beers, too. Played the regular-guy role so well he might actually be a, well, regular guy.
Remember that horrible feud Bellotti had with Rick Neuheisel? Bellotti was one of the first people to reach out to Neuheisel when things started to go to hell at Washington -- a generous, empathetic gesture that couldn't possibly sprout from an ulterior motive.
Oh, not everyone loved him. He got accused of dirty recruiting more than a few times. And it seemed like he and USC's Pete Carroll never saw eye-to-eye -- you might recall Carroll's profane greeting to Bellotti during a game that was caught by television cameras.
When the succession plan was announced in December that established Bellotti would step aside for Kelly and then become athletic director, Bellotti chiefly cited a desire to spend more quality time with his family.
That seems like a good reason.
What he leaves behind is a distinguished career.
There was an ill-fated attempt to coin a nickname for Autzen Stadium last year: "House of Loud."
It didn't stick.
That's because Ducks fans know Autzen Stadium is the "House that Mike Built."