March, 31, 2010
3/31/10
9:40
AM ET
By
ESPN.com staff
| ESPN.com
TEMPE, Ariz. -- The cadaver on the examination table is Arizona State's 2009 season. It's not a beautiful corpse. It died after going 4-8.
Four of those losses, all to teams that won at least eight games, came by a combined 13 points. Those are puncture wounds. They don't look so bad on the outside, but the internal damage was severe. The other four came by at least 10 points. Those wounds are much messier.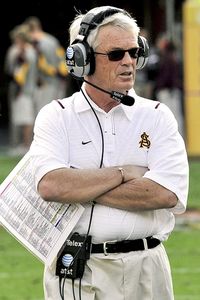 Matt Kartozia/US PresswireArizona State coach Dennis Erickson's team is looking to improve on their disappointing 2009 season.
The Sun Devils found a lot of ways to lose last fall, and by doing so they infected Dennis Erickson with an ailment he's never suffered through as a college coach: Consecutive losing seasons. That, in turn, has led many amateur football physicians to speculate that Erickson may suffer from hot-seat-itis.
So what did the autopsy reveal?
Start with a bad offense, one that averaged just 22.3 points and 334.4 yards per game -- numbers that ranked eighth and ninth in the Pac-10 -- and cost coordinator Rich Olson his job. That's the most obvious disease.
"You don't have to be a rocket scientist to figure out that we've got to figure out how to score some points," Erickson said.
But when you talk to the Sun Devils, many of them seem to believe the 2009 season passed away because of internal injuries.
"I think it was a lack of leadership," safety Clint Floyd said. "We didn't have much leadership last year. Guys wanted to be individuals. They didn't want to play as a whole, as a unit. I think that caused us to not be successful. Some guys were just out there for themselves."
Kicker Thomas Weber cited "a snowball effect": "It was one thing after another, and I think we could have reacted a lot better to certain things that happened, to losing those close games, instead of getting down on certain guys and stuff like that."
Weber saw the locker room fracture between one of the nation's best defenses -- 13th in the nation in total defense -- and the woeful offense.
"You could definitely see it happening like that," he said. "We weren't being accountable on both sides of the ball. I think that was one of our weaknesses last year -- that we did start to do stuff like that. Guys on the defensive side started to get on offensive side, instead of pushing them and supporting them. It was more like ridicule, coming down hard on them when some of the things they couldn't control."
Not to beat an already tortured metaphor, but the internal illness of 2009 is the foundation for the preventative medicine being implemented while 2010 is in its infancy as spring practices commenced this week.
The Sun Devils should again be good on defense, where they are fast and talented. New faces provide hope for offensive improvement, from new coordinator Noel Mazzone to quarterback
Steven Threet
, a Michigan transfer, to receiver
Aaron Pflugrad
, an Oregon transfer, to mammoth tackle Brice Schwab, a highly touted JC transfer who was headed to USC before Pete Carroll bolted for the NFL.
But the players talk as much about accountability, unity, goal setting, hard work and being positive with each other. If that all sounds like the Sun Devils have been working with a life coach, well, that's because they have.
Erickson enlisted the
Pacific Institute
and its
PX2 program
to help his players get their minds right.
"It's about getting your life going in the right direction, being responsible, being accountable," Erickson said. "It's not just about playing football. It's about their life after playing football."
Perhaps that raises an eyebrow or provokes a smirk. Moreover, it's not hard to imagine the same reaction from players who might be skeptical of self-help mumbo-jumbo.
That may be the case -- and probably is for some -- but it also appears that more than a few are buying in.
"It's a pretty cool thing," offensive lineman Matt Hustad said. "Lots of psychological stuff. Knowing what you want your goals to be. A lot of it has to do with keeping the positives in your life and weeding out the negative."
Hustad, who has suffered through three knee operations and will be limited to non-contact work this spring, said the Sun Devils, hungry to reverse the losing trajectory the program has taken since going 10-3 in 2007 -- Erickson's first season -- have set their jaded, young-adult cynicism aside.
"Usually, when we do these big team things people are kind of iffy about it, but I haven't heard one negative thing," he said. "Believe me, I'd hear it if people didn't like it."
Erickson himself isn't letting the negative chatter or
sagging ticket sales
drive him to distraction. This isn't his first tour of duty, after all. He turned 63 last week and has coached six college teams -- seven if you count two stints with Idaho separately -- and two NFL teams. While his NFL résumé isn't terribly impressive, he's always been a winner in college.
Hot seat? Whatever.
"I don't worry about that stuff," he said. "I've been on the hot seat 100,000 times in my life. It doesn't even phase me."
And he's got a encouraging prognosis for 2010: "We'll be a lot better next year," he said.
January, 4, 2010
1/04/10
2:57
PM ET
By
ESPN.com staff
| ESPN.com
Noel Mazzone will be Arizona State's next
offensive coordinator
, the school announced Monday.
Mazzone worked under Dennis Erickson at Oregon State (2002) and he's been an offensive coordinator at Ole Miss, Auburn and N.C. State. He comes to Arizona State after having served as wide receivers coach for the New York Jets from 2006-2008 and working as a personnel consultant for the Jets in 2009.
Mazzone will replace Rich Olson. The Sun Devils ranked ninth in total offense and eighth in scoring in 2009. They were seventh in scoring and total offense in 2008.
Coach Dennis Erickson picked Mazzone over Boise State assistant head coach Brent Pease and former Akron head coach J.D. Brookhart.
December, 9, 2009
12/09/09
5:24
PM ET
By
ESPN.com staff
| ESPN.com
Arizona State was a lopsided team this year -- good defense, bad offense. And the good wasn't good enough to cover for the bad.

The Sun Devils ranked first or second in the conference in just about every defensive category, while they ranked eighth or worse in just about every offensive category.
Senior quarterback
Danny Sullivan
fought hard to make things work, but there wasn't enough talent around him to make up for his shortcomings. ASU was a play or two away from winning much of the year, see four losses by five or fewer points.
The end-result was a season ruined for a second year in a row by a six-game losing streak, not to mention a second-consecutive losing season for the program for the first time since 1946-47.
That landed coach Dennis Erickson on the hot seat by season's end, which is probably the reason he fired longtime coaching pal Rich Olson, the beleaguered offensive coordinator.
Offensive MVP
-- Receiver
Kyle Williams
.
Williams caught 57 passes for 815 yards with eight touchdowns. His 48 points led the Sun Devils.
Defensive MVP
--Linebacker Mike Nixon.
Nixon not only was the leading tackler for the stout Sun Devils defense, he also was a mature, stabilizing leader on a unit that sometimes showed too much youthful energy (hello, Vontaze Burfict). Nixon finished with 73 tackles. He also had six tackles for a loss, three interceptions, three forced fumbles and a blocked kick.
Turning point
-- Arizona State was fighting all season to find its rhythm, but the game that seemed to ensure it wouldn't be found was the 23-21 loss to California on a last-second field goal on Oct. 31. That was the second and most heartbreaking loss of a six-game losing streak to end the season -- at least until the finale vs. Arizona.
What's next
-- The Sun Devils need to get better on offense -- duh -- and that starts on the offensive line and then moves on to what figures to be a spirited quarterback competition this spring between
Brock Osweiler
,
Samson Szakacsy
and Michigan transfer
Steven Threet
, who may be the frontrunner. Erickson figures to start next season on the hot seat, so the Sun Devils may need to get to a bowl game to keep him secure.
December, 4, 2009
12/04/09
2:30
PM ET
By
ESPN.com staff
| ESPN.com
Wanna know why I carry this tape recorder? To tape things. See, I'm an idea man, Chuck. I got ideas coming at me all day. ... I couldn't even fight 'em off if I wanted. Wait a second. ... Hold the phone! Hold the phone! Idea to eliminate garbage. Edible paper. You eat it, it's gone! You eat it, it's outta there! No more garbage!