September, 7, 2010
9/07/10
5:50
PM ET
"Philosophical" is not a term that often appears next to USC coach Lane Kiffin's name, but it accurately describes how he's responding to his Trojans "good news, bad news" performance at Hawaii last Thursday.
The good news was his offense rolling up 524 yards and 49 points, with quarterback
Matt Barkley
turning in a nearly flawless performance with five touchdown passes and no picks.
[+] Enlarge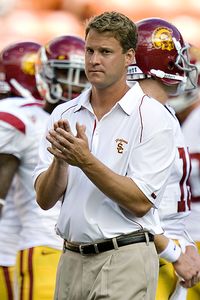 AP Photo/Eugene TannerLane Kiffin's defense has something to prove against Virginia on Saturday.
The bad news was the Trojans yielding an eye-popping 588 yards and 36 points and not tackling worth a spit.
"One game will not define us," Kiffin said. "Just like it will not define Matt on offense. Let's take a couple of games before we evaluate, before we make big statements about sides of the ball."
That said, Kiffin understands the concerns over his defense, which looked to be a strength entering the season, no matter a completely rebuilt secondary. The hand wringing over one bad game that, nonetheless, still ended up being a win is understandable, he said.
"That's who we are right now because it happened," he said.
See: Philosophical! The Trojans defense fell on a island and everyone saw it.
Therefore, that defense will be looking for redemption against Virginia on Saturday in the Coliseum, USC's only home game until Oct. 2. The Cavaliers beat Richmond 34-13 last weekend, the debut for new coach Mike London, but the Cavaliers only welcome back 12 starters from a 3-9 team that got Al Groh fired.
Moreover, Barkley might be working against a secondary minus its two best players: All-ACC cornerback Ras-I Dowling and junior strong safety Rodney McLeod didn't play against the Spiders. Dowling missed much of fall camp with a hamstring injury, while McLeod has a knee injury.
Another boost for the USC offense: The return of freshman running back
Dillon Baxter
from a one-game suspension. Kiffin has called Baxter USC's "most talented player."
The last time these two teams met in 2008, Mark Sanchez and the Trojans bludgeoned the Cavaliers 52-7 in Charlottesville. But the circumstances are much different this time. For one, there are two new head coaches. For another, USC is no longer riding a run of Pac-10 dominance to a certain BCS bowl berth. The rest of the Pac-10 took care of the former last fall, and the NCAA took care of the latter this summer.
Still, London said he doesn't see a neutered team.
"When you look at the game [film], you see athleticism -- from everybody," he said. "Even the water boy is athletic and fast."
So what went wrong at Hawaii on defense? Kiffin cited a number of things. For one, yes, it did hurt that the Trojans didn't do much full-contact work during fall camp in order to avoid injuries. That's an explanation for the poor tackling. Further, the Warriors surprised USC when they tweaked their spread scheme with a "pistol" formation.
Kiffin also gave credit to Hawaii: "That is a really good offense, and I think we'll see that throughout the year... They are going to put up lot of yards and points on people if they stay healthy."
Kiffin seemed excited that Virginia's style of offense will be more in the Trojans' comfort zone. He called the Hawaii game "a wake-up call" and expects his defense to be highly motivated after turning in an embarrassing performance.
And, no, the Trojans defense, which started hemorrhaging last year (though USC still led the Pac-10 in scoring defense at 19.8 ppg), hasn't lost its confidence. At least not yet.
"I look for us to play a lot better this week," Kiffin said. "If we play like that three weeks into the season, yeah, we're going to have a confidence issue. We're going to have a lot of issues. But I don't think that's going to be the case. I think our guys are going to really respond well this week."
Oh, and by the way, overconfidence shouldn't be a problem, either
"How we can be overconfident; we haven't done anything yet," Kiffin said.
June, 4, 2010
6/04/10
9:00
AM ET
By
ESPN.com staff
| ESPN.com
USC got a look at what its offense might look like without starting quarterback
Matt Barkley
during the spring game. The verdict? Not too shabby.
[+] Enlarge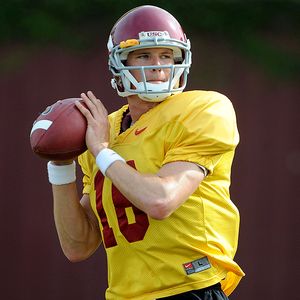 Kirby Lee/Image of Sport-US PRESSWIREIf Matt Barkley were to get injured or falter, the USC coaching staff would "be very comfortable" turning to Mitch Mustain, above.
With Barkley sidelined by a bruised hand,
Mitch Mustain
threw five touchdown passes while completing 19 of 29 for 299 yards to lead his team to victory.
While ESPN's College Football Live rates Barkley as "irreplaceable," the Trojans coaches doesn't seem too worried about the prospect of potentially turning to Mustain, a fifth-year senior.
"We'd be very comfortable," quarterbacks coach Clay Helton said.
Mustain is probably the nation's best known backup quarterback. He went 61-2 at Springdale (Ark.) High School and was named the 2005 Gatorade, USA Today and Parade Magazine National Player of the Year before becoming the biggest recruit in Arkansas history. He went 8-0 as a true freshman starter, yet things turned sour between Mustain and Razorbacks coach Houston Nutt -- let's just say it was complicated -- and Mustain opted to transfer to USC.
The Trojans offered a new start, but Mustain couldn't manage to win the starting job after sitting out a season, per transfer rules. He first served as Mark Sanchez's backup in 2008 and then failed to beat out Barkley last fall. He saw limited action in 2008 -- he passed for 157 yards with two TDs and two interceptions -- but didn't throw a pass last year and was a mostly a forgotten man under coach Pete Carroll and offensive coordinator Jeremy Bates.
With the arrival of new coach Lane Kiffin, however, the message was no job was safe. Even Barkley's.
"Mustain really wanted to come and compete and show that he's a big-time quarterback who can help the team in any way," Helton said. "We were very proud of the way Mitch responded during the spring."
While few expected Mustain to beat out Barkley, who emerged as a clear No. 1 when spring practices ended, he impressed the coaching staff, Helton said.
"I thought he really put in the extra effort and the extra time of really understanding the system," he said. "We're extremely pleased with him."
The good news is that Mustain's game experience likely means he won't be too wide-eyed if he's needed to step in for an injured Barkley. The bad news is that he's the last line of defense -- or offense. This spring, after
Aaron Corp
opted to transfer to Richmond, he and Barkley were the only two scholarship QBs on the roster, though
James Boyd
was moved from defensive end to fortify depth. In the fall, touted freshman
Jesse Scroggins
arrives, but turning to a true freshman quarterback is rarely a good thing in the Pac-10.
If Barkley is lights out and doesn't get hurt, it seems unlikely that Mustain will see much playing time. His future hope, of course, is to copy the path of Matt Cassel, Matt Leinart's backup at USC, who signed a six-year, $63 million contract in July 2009 with the Kansas City Chiefs.
But Helton isn't writing off Mustain.
"I think he is going to be a guy who definitely helps us in his last year," he said.
January, 11, 2010
1/11/10
5:18
PM ET
By
ESPN.com staff
| ESPN.com
Aaron Corp
believed the quarterback job would be exempted from USC's much-ballyhooed "culture of competition" next fall, so the sophomore opted last week to transfer to FCS power Richmond so he could legitimately compete for a starting spot.
The way Corp -- and almost every other observer -- saw it, coach Pete Carroll wasn't going to promote Corp ahead of
Matt Barkley
even if Corp scored five touchdowns with every four passes.
"That was probably what drove me, ultimately, to look elsewhere," he said. "I'm glad I landed here."
Of course, the minute he landed on the opposite coast, massive change happened at USC. Carroll resigned to become the head coach of the Seattle Seahawks, which Corp admitted he never saw coming.
"Just like everyone else on the team, I was shocked," he said. "I had no idea. Hopefully he can make it work."
The next question is obvious, isn't it? A new USC head coach might have given Corp a clean slate and a new opportunity to prove himself. More than a few coaches would have seen Corp's athletic ability and outstanding speed as a great asset that could stress an opposing defense.
Any regrets?
"No, my decision was made. There were no regrets," he said.
Corp, who will be eligible to play this coming fall, said he likes Richmond's campus and academics, as well as its football program.
Still, didn't he expect to miss the three-ring circus that was USC football, with its media horde and huge, celebrity-studded crowds at open practices?
Short answer: No.
"I think it will be a little bit of a relief not having to deal with all that craziness at 'SC," he said.
He said most -- though not all -- of his teammates were supportive of his decision to transfer.
As far going from being a mighty Trojan to a, er, Spider, Corp has already embraced his new, slightly unorthodox mascot.
"A spider seems pretty cool," he said. "They've got a great
logo
."
January, 7, 2010
1/07/10
7:39
PM ET
By
ESPN.com staff
| ESPN.com
USC has confirmed that No. 3 quarterback Aaron Corp has
decided to transfer to Richmond
.
"We wish Aaron the best. I know it'll work out well for him," coach Pete Carroll said in a statement.
Corp's transfer was first reported by WTVR CBS in Richmond.
January, 7, 2010
1/07/10
3:04
PM ET
By
ESPN.com staff
| ESPN.com
USC quarterback
Aaron Corp
is transferring to Richmond, an FCS school, according to
a report
from WTVR CBS in Richmond.
A message left for Corp by ESPN.com was not immediately returned. A USC spokesman couldn't confirm or deny the report.
The report said Corp is expected to enroll at Richmond on Monday. It also said that USC granted Corp a release "earlier this week," which runs counter to what Corp's father, Chris,
told reporters
on Tuesday. The elder Corp said his son had not asked for a release.
After beginning preseason practices as the starting quarterback, Corp fell to No. 3 on the depth chart during the season behind
Matt Barkley
and
Mitch Mustain
. Corp started one game in 2009, a 16-13 loss at Washington.
Because Richmond is an FCS school, Corp would be eligible to play next fall.
December, 18, 2008
12/18/08
12:00
PM ET
By
ESPN.com staff
| ESPN.com
Posted by ESPN.com's Ted Miller
Trying to play a little catchup here...
Sam from Oakland writes: Hey Ted. I love your coverage on the Pac 10 but I feel like this is one of the most incredible accomplishments in the country this year and I have not heard it get mentioned once. It might be even more impressive but ESPN's records only go back 7 years on [yards per carry]. Here's a comment I posted on Jahvid Best -- Why does Miller continue to forget to mention that Jahvid posted the second highest YPC in the last SEVEN years at 8.0 (that includes approx 840 teams). That is by far his most impressive accomplishment. (Only the professional Reggie Bush had a higher YPC over that time for players with more than 125 carries, Bush posted a ridiculous 8.7 and won the Heisman).
Ted Miller: Sam would like us all to enjoy some green eggs and ham -- on a boat with a goat? -- and to appreciate California running back Jahvid Best averaging 8.0 yards per carry on his way to the Pac-10 rushing title.
Come to think about it... that is pretty freaking impressive.
So kudos, Jahvid. You're the Best.
To be fair, though, Best had 174 carries, fewest among the top 30 running backs this year. Navy's Shun White averaged 8.65 yards per carry on 118 carries and Georgia Tech's Roddy Jones averaged 9.14 on 72 carries.
---
Nick from Tucson writes: I would like to know why Mike Thomas of Arizona is not getting enough recognition. I am biased but still. He is four catches away from being the PAC-10s all-time receptions leader. He is one of the better wide receivers in the conference. He is one of the best return men in the nation, his speed is amazing. Hes got great hands, runs after the catch great, and is very clutch. Hes always there to catch Tuitama's pass, whether its on the mark or not.

Ted Miller: And he makes a mean omelet.
I just threw in that last part. He may make a mean omelet, but I've never tasted one he's made.
Thomas is a two-time first-team All-Pac-10 receiver. So it's not like he's been given the cold shoulder.
He's a great player. And a cool dude.
But this wasn't much of a year for Pac-10 receivers. Thomas ranked third in the Pac-10 and 58th in the nation with 67 receiving yards per game and only caught four touchdown passes.
By way of comparison, Texas Tech's Michael Crabtree and Oklahoma State's Dez Bryant hauled in 18 TDs apiece.
Thomas did all he could to help a more balanced, less pass-happy Arizona offense this year. But his lack of postseason attention is connected to his unspectacular numbers.
---
Alex from Centralia, Wash., writes: Hey Ted- you've probably heard by now, but Casey Locker is Jake Locker's cousin not brother.
Ted Miller: Yes, Alex, I have heard. Boneheaded mistake on my part, considering the linked article clearly said "cousin."
---
Adam from Los Angeles writes: Do you think a victory by USC over Penn State will say anything about the Pac-10? I am sure everyone at USC is wishing they had drawn someone from the Big12 or SEC. Then they would have had a shot at shutting up the rest of the country. I just really haven't liked Penn State a lot this year and don't envision that being a close game. How great would a game against UT, OU, Bama or Florida have been?
Ted Miller: It would have been fun to see USC beat, er, play Alabama or Florida or Texas or Oklahoma.
But I'd suggest overconfidence in regards to Penn State is a mistake. Remember this game?
I would be shocked if USC blows out Penn State. For one, I doubt the Trojans bring their A-game to their fifth Rose Bowl in six years. Second, Penn State is a good football team.
---
Cal from San Francisco writes: My question is about the bowl contracts, particularly the ones between the january bowls (big bowls) and non Pac 10 conferences. When are these due to expire and do you see any chance of the Pac 10 conference getting over the hump of strictly west coast bowl games that seem to get far less publicity with the exception of the Rose Bowl.
Tim from Atlanta writes: To the point of the Pac-10's lousy bowl contracts. Of course they're not going to get a deal with a florida bowl, but the issue i have is why they can't make their existing bowls better. Las Vegas - for example, or something in PHX - would be a great place to invest some money, commit a higher choice (#3) and try to get a better team from the ACC or SEC. Or make the holiday bowl more prominent, as it is already a good bowl. I'm not expert, but it seems like there's a way to improve the existing bowls to get better opponents.
Ted Miller: My guess is the Pac-10 would love to upgrade the prestige and payoff for the conference's bowl games.
My guess is the Pac-10 would love to make the Holiday Bowl a $5 million per team, Jan. 1 game that is the West Coast version of the Capital One Bowl.
My guess is that cities and businesses would love to invest in a bowl game that is going to reap big profits.
So when folks ask me about why the Pac-10's bowl situation is so mediocre, I always say because no money is chasing the idea of making it better.
Jon Wilner did a great job of explaining this here.
---
Tim from Bellevue, Wash., writes: Do you really think Beaver fans blame you for wins/losses? I'd like to think we are a little more intelligent than that--however, I once read somewhere that one in four sports fans believe that they can actually alter the outcome of a game that they are watching. ONE IN FOUR! I understand that if you are at the game and you are making a lot of noise (Autzen is a great example) and you can influence small things here and there (emotion, energy, false starts). But at home??? Really? College graduates think that the socks they wear could change a football game?
Ted Miller: I'm only grateful Beaver fans aren't blaming me for the current economic meltdown.
That said: I feel terrible about the Civil War defeat. My bad.
---
Michael from Los Angeles writes: Ted, help settle an argument I am having with my fellow Wildcat fans. With all things considered, such as wins, schedules, competition in conference, would you say Arizona improved on last year or not? I don't see the improvement that all of my Wildcat brethren are seeing.
Ted Miller: Well, are you a half-full or half-empty sort of guy?
Sure, Arizona faced a much easier schedule than past years. And the only quality win came over California.
But your Wildcats are going to their first bowl game since 1998! And it's in Vegas!
Don't nitpick.
---
Spencer from New York writes: Thought this article would be great for your blog. Oregon DBs join boy?s fight a
gainst cancer By George Schroeder Register-Guard columnist.
Ted Miller: Missed this as a link. But you are right. Great column from George, and kudos to Walter Thurmond III and Patrick Chung.
---
Jim from Los Angeles writes: Where is the Richmond Spiders football update? Come on Ted - aren't they facing Montana for the title Dec. 19th?
Ted Miller: Check it out! Go Spiders! Where are Todd McShay and Brooks Hatch when I need them? What's even better is I'm a Bobby Hauck fan, so there's some consolation here if Montana prevails.
Which, of course, it won't.
PAC-12 SCOREBOARD
Saturday, 12/20
Monday, 12/22
Tuesday, 12/23
Wednesday, 12/24
Friday, 12/26
Saturday, 12/27
Monday, 12/29
Tuesday, 12/30
Wednesday, 12/31
Thursday, 1/1
Friday, 1/2
Saturday, 1/3
Sunday, 1/4
Monday, 1/12
Tweets from https://twitter.com/ESPNCFB/lists/pac12