August, 26, 2011
8/26/11
6:41
PM ET
By
ESPN.com staff
| ESPN.com
Ninth in a series looking at potential dream and nightmare scenarios for all Pac-12 teams.
Understand: These are not predictions. They are extreme scenarios and pieces of fiction. You can read
last season's versions here
.
We're going in reverse order of my
post-spring power rankings
(which might not be identical to my preseason power rankings).
Up next
: USC
Best case
In the bowels of the Coliseum, USC gathers before taking the field against Minnesota.
"I want to read you something," coach Lane Kiffin says, flicking open a one-page letter
"President Nikias. I appreciate your grace last week when announcing that USC would not pursue any further redress against the NCAA. What I find unconscionable is where this leaves the NCAA. I have personally reviewed the facts of USC's case before the Committee on Infractions, and I can tell you that I am not the only one inside these walls who has long been troubled by the Committee's findings and the resulting severe sanctions against your football program. USC was wronged well before news broke of the massive scandal at Miami under former athletic director Paul Dee, who was not fit to sit judgment of USC as the Committee chair. The combination of a poorly reasoned and unjust ruling and Dee's hypocrisy simply cannot stand. That is why I am taking the unprecedented action of ruling sanctions against USC null-and-void. Sincerely, NCAA president Mark Emmert."
That was not good news for the Golden Gophers, who go down 52-3.
"I'll tell you what it means," says linebacker Chris Galippo. "It means that the rest of college football hears one thing echoing in its collective head right now, 'They're baaaaaaack!'"
A rumor starts to float that SEC commissioner Mike Slive was found locked in his office closet, repeatedly murmuring, "But I don't want USC to be eligible. It's not fair!"
Poll voters immediately promote USC to No. 10 in the polls.
The Trojans batter Utah in the first Pac-12 game, 41-17.
"I know it's the new Pac-12," says ESPN's Chris Fowler. "But it seems a lot like the old Pac-10, circa 2002-2008."
The Trojans bludgeon Syracuse, 60-6 and rise to No. 5.
"Arizona State is going to test USC," says ESPN's Kirk Herstreit. "The Sun Devils have already manhandled a two good teams in Missouri and Illinois."
USC rolls the Sun Devils 38-10, with quarterback Matt Barkley throwing his ninth and 10th TD passes on the year. He throws 11, 12 and 13 in a 41-17 victory over Arizona and two more in a 44-7 win at California and a 33-17 win over Notre Dame.
"Barkley has 17 touchdown passes in seven games; Stanford's Andrew Luck has 16," says Fowler. "Fair to say the winner Saturday becomes the Heisman Trophy frontrunner?'
Stanford nips the Trojans 30-27, with Luck scrambling for 20 yards on third and 8 to set up the game-winning field goal.
The Trojans bounce back with blowout wins over Colorado and Washington, setting up a showdown with top-ranked Oregon, which is coming off a 33-30 overtime win over Stanford.
LaMichael James rushes for 154 yards and two scores in a 33-24 Ducks victory.
The Trojans batter UCLA, 45-20, beating the Bruins for the 12th time in 13 years.
The No. 8 Trojans face the top-ranked Ducks (again!) for the inaugural Pac-12 crown.
They gather before running into Autzen Stadium. Kiffin begins: "What a ride. We've seen a lot of stuff together these two years, huh? Stuff that was out of our control. Stuff that didn't let the Trojans be what Trojans truly are: Champions. But we're in control again, aren't we? It's about us again. And we've got a chance tonight to reclaim what has been taken from us. What is ours. Understand: Our victory will be remembered. It will become an important part of Trojans history. No, we're not going to get an opportunity to play for the national title like a lot of 'SC teams, though I'd like our chances in a playoff. But USC fans and former Trojans are going to remember you as the team who took back our championship identity, which was stolen from us. They will say, 'That was the team that reestablished the tradition.' And they will remember your names. The rest of college football is watching tonight, rooting against us, worried about the return of USC. Well, let's go out there and show them that their worries are 100 percent justified."
James is stuffed by Galippo on a fourth-and-goal inside the USC 1-yard line with 45 seconds left. Three Barkley sneaks later, and USC is a 29-23 winner, headed back to the Rose Bowl as Pac-12 champions.
USC stuffs Wisconsin 35-17 in the Rose Bowl to finish 12-2 and ranked fourth.
"I'm coming back for my senior year," Barkley announces. "because I want to win a national championship before I leave."
The Trojans signed the nation's No. 1 recruiting class.
"I'd like to announce a home-and-home series with USC," says a grim-faced Alabama athletic director, Mal Moore.
"Mr. Moore, over here," shouts an uncommonly stylish reporter. "Is this a reaction to the rumored reality series for the Pac-12 network this fall, 'See what SEC athletic directors do when USC calls!'"
"Shutup Miller," a grim-faced Alabama athletic director says.
Worst case
Quarterback Matt Barkley throws three touchdown passes in a 30-23 season-opening win over Minnesota.
"Yeah, I think everyone is curious what Utah will bring to the table," says Barkley. "Our job is to give them a rude welcome."
The game is tied 28-28 late in the fourth quarter. On a third and 3 from its own 15, Utes QB Jordan Wynn finds
DeVonte Christopher
for an 85-yard, game-winning touchdown after USC cornerback Nickell Robey fell down.
The Trojans bounce back by whipping Syracuse 33-10, but Arizona State sacks Barkley four times in a 24-10 victory. USC improves to 3-2 with a home win over Arizona, but gets drubbed at California 35-20 and gives up a late TD in a 30-24 loss at Notre Dame after another coverage breakdown. Andrew Luck throws three TD passes in a 40-24 Stanford win over the Trojans.
USC shows some fight, winning at Colorado and at home over Washington, but it looks lethargic while taking a 48-20 whipping at Oregon.
"We play a faceless opponent every week," Ducks coach Chip Kelly says when asked if it still feels special to stomp USC, which Oregon has done three years in a row.
"Is it easier selling that to your players now than it was in 2008?" asks an uncommonly stylish reporter.
Kelly smiles, "Shutup, Miller."
"We still have plenty to play for," Kiffin says. "For one, we always want to beat UCLA. That can make a season. Finishing .500 is certainly better than the alternative. And we can stop the Bruins from winning the South Division."
UCLA defensive end Datone Jones sacks Barkley three times as the Bruins roll over the Trojans 33-17.
"Do I feel sorry for USC?" Bruins coach Rick Neuheisel says. "A little."
The Bruins lose to Oregon in the Pac-12 title game but they whip Texas A&M in the Alamo Bowl and finished 10-4 and ranked 14th.
UCLA's 31-player class -- six elite prospects are brought in early to count against the 2011 class -- ranks sixth in the nation, two spots behind Notre Dame.
"It was great to cherry-pick Southern California recruiting," says Neuheisel. "So much talent. Glad we had a full allotment of scholarships."
USC's class of 15 ranks eighth in the Pac-12.
"Tough times don't last, tough people do," says Kiffin. "Wait...
where did I hear that
?"
Murmurs USC athletic director Pat Haden, "Not for long if they go 5-7 as USC's head coach."
Barkley, offensive tackle Matt Kalil, defensive end Nick Perry, defensive end Devon Kennard and safety T.J. McDonald each announced they are entering the NFL draft.
Ring! Ring!
"Pat, hiya! Mal Moore down here at the University of Alabama," says Mal Moore to Haden. "How you? Good, good. You want to bring your boys down here for a football game? We'd love to see 'ya!"
July, 11, 2011
7/11/11
2:30
PM ET
By
ESPN.com staff
| ESPN.com
Bats, they are sick. I cannot hit curveball. Straightball I hit it very much. Curveball, bats are afraid. I ask Jobu to come, take fear from bats. I offer him cigar, rum. He will come.
February, 18, 2011
2/18/11
12:39
PM ET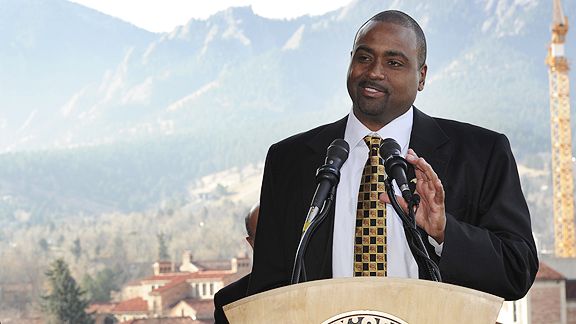 AP Photo/Jack DempseyNew Colorado coach Jon Embree is hoping to return the program to the prominence he remembers.
When you talk to new Colorado coach Jon Embree, two things stand out. First, as a former player and coach, his connection to the Buffaloes runs deep. Second, not unlike Colorado fans who feel a powerful affinity for the program -- those who remember the glory years under Bill McCartney -- the malaise of recent seasons eats at him on a visceral level.
Embree didn't negotiate the tricky coaching ladder just to become a head coach. He climbed it to become Colorado's head coach. As a competitor, he's always wanted to win, of course, whether he was at UCLA or the Kansas City Chiefs or the Washington Redskins. But Buffs fans should know this: Winning at Colorado is personal for Embree. Whatever he lacks in head-coaching experience, he may well make up for with a singular commitment to restoring football in Boulder.
"The plan was always to be back here," he said. "That was always the plan. This is the only job I've ever wanted."
There also may be an additional edge to Embree's drive to rebuild Colorado. Consider his résumé.
As a touted local recruit in 1983, he bought into what McCartney was selling and became an impact player as a true freshman tight end. In his final season, 1986, the Buffaloes overcame a 0-4 start to finish 6-6. Then it was off to a brief NFL career.
In 1991, he joined McCartney's staff as a volunteer assistant. In 1993, after a year as a high school assistant, he came back to Boulder with a full-time job, coaching tight ends, and he remained with the Buffaloes until 2002, sticking around to work for both Rick Neuheisel (1995-98) and Gary Barnett (1999-2002).
OK. This is boring. What's the point? Ah, glad you asked. Embree was in Boulder for 15 years as a player and coach from 1983-2002. What key years are missing? Correct: 1989 and 1990, when the Buffs won back-to-back Big Eight championships, went 22-2-1 and split the 1990 national title with Georgia Tech.
Embree signed with Colorado in 1983 because "I believed in the vision that Bill McCartney had for the program and where this place could go and how it could be special. It was really all Bill McCartney." And he experienced the highs and lows of a rebuilding program, including a 1-10 finish in 1984. But he wasn't there when Colorado reached the pinnacle, as a player or coach. Perhaps that's an itch that he'd like to scratch.
"I felt like we were always close," he said. "We were always right there. We were close. But we just couldn't get over the hump."
February, 15, 2011
2/15/11
11:04
AM ET
By
ESPN.com staff
| ESPN.com
Though there are notable exceptions -- Oregon last year, for one -- it's typically better to have a returning starter at quarterback than to have questions at the position heading into spring practices.
The Pac-12 will boast the best collection of quarterbacks in the country next fall. In fact, no other conference is even remotely close. Seven teams welcome back quality starters, and four of them -- Stanford's
Andrew Luck
, Oregon's
Darron Thomas
, USC's
Matt Barkley
and Arizona's
Nick Foles
-- are legitimate All-American candidates.
On the flip side, five teams have questions at the position, though just three competitions appear wide open: California, UCLA and Washington.
Here's a quick look at where each team stands.
Who's set?
Arizona
: While Nick Foles had some downs in 2010, he's still one of the premier quarterbacks in the country. The more interesting story is the Wildcats would like to redshirt capable backup
Matt Scott
so he can take over in 2012.
Oregon
: Darron Thomas greatly exceeded expectations as a sophomore starter in 2010. What will he do for an encore?
Oregon State
:
Ryan Katz
had his ups and downs last fall but his ups suggested tremendous upside. He might have the best arm in the conference. And history shows Beavers quarterbacks get better with age.
Stanford
: Andrew Luck likely would have been the top pick in this spring's NFL draft. Suffice it to say, the Cardinal are set at the position.
USC
: Junior Matt Barkley has been a starter since his true freshman season and he made a significant jump forward in 2010. He's expected to do so again this fall and then jump into the NFL draft.
Utah
:
Jordan Wynn
will sit out spring practices after shoulder surgery, but there is no question he's the Utes starter.
Washington State
:
Jeff Tuel
started as a true freshman in 2009 and took some knocks. He made a huge leap forward with a better supporting cast in 2010. And if he duplicates that improvement as a junior, the Cougars will start to win a few games.
Who's not set (working down to most uncertain)
Arizona State
: The biggest uncertainty here is
Steven Threet
's status after suffering three concussions in 2010. He has not been cleared to participate in spring practices. But the expectation around the program is that
Brock Osweiler
will be the starter this fall.
Colorado
: Experienced senior
Tyler Hansen
is the decided frontrunner, but there's a new scheme and coaching staff and he's coming back from a ruptured spleen. JC transfer Brent Burnette and redshirt freshman
Nick Hirschman
are the competition.
Washington
: The Huskies competition to replace
Jake Locker
is fairly straight-forward: sophomore
Keith Price
vs. redshirt freshman
Nick Montana
. Though Price, the 2010 backup, has a slight edge, in large part due to a solid start at Oregon last year, expect the battle to last into preseason camp.
UCLA
:
Kevin Prince
would be the slight favorite due to experience, but he's coming back from a knee injury and it is questionable how much he'll be able to do this spring. Where does
Richard Brehaut
stand, seeing he's playing baseball? And might Rick Neuheisel and new offensive coordinator Mike Johnson decide to go with touted true freshman Brett Hundley?
California
: This one is completely up in the air, though
Brock Mansion
likely takes the first snaps since he started the final four games of 2010 after
Kevin Riley
went down. The candidates after him include: sophomore Allen Bridgford, redshirt freshman
Austin Hinder
, junior Zach Maynard and junior
Beau Sweeney
. Spring figures to winnow the field to two, maybe three, candidates.
October, 31, 2009
10/31/09
7:36
PM ET
By
ESPN.com staff
| ESPN.com
Posted by ESPN.com's Ted Miller
Oregon State blew a big lead but regrouped in time to beat UCLA 26-19.
The Beavers led 16-0 at half and the Bruins had just 86 total yards at the break.
But UCLA and quarterback
Kevin Prince
found their rhythm in the second half and tied the game at 19-19 with 2:06 left with a 10-play, 94-yard touchdown drive.
Still, that was too much time for
Sean Canfield
and the Rodgers brothers.
Canfield completed 4 of 5 for 55 yards on the seven-play, 70-yard, game-winning TD drive. Two passes went to
Jacquizz Rodgers
. One went to
James Rodgers
, who ran 17 yards for the winning touchdown.
The Rodgers brothers combined to catch 17 passes for 198 yards. Jacquizz rushed 24 times for 112 yards. Canfield completed 25 of 34 for 305 yards.
But give credit to the Bruins and Prince for fighting back.
The talk most of the week was how coach Rick Neuhiesel planned to play two quarterbacks -- Prince and
Richard Brehaut
. But Brehaut played only one series and didn't throw a pass. Prince, meanwhile, completed 22 of 34 for 323 yards with two touchdown and no interceptions. He was nine of 13 for 198 yards in the fourth quarter, but the clock ran out with the Bruins on the Oregon State 15-yard line.
Hard to believe now that Prince isn't the best option at quarterback.
Still, UCLA finds itself in a big hole. It falls to 3-5 overall and 0-5 in Pac-10 play. It plays host to Washington next Saturday, a must-win game for both teams bowl hopes.
Oregon State improved to 5-3, 3-2 and visits California.
October, 14, 2009
10/14/09
7:24
PM ET
By
ESPN.com staff
| ESPN.com

Posted by ESPN.com's Ted Miller
Storms have drenched in the Bay Area this week, but there have been no reports of California coach Jeff Tedford going all King Lear, dashing outside and ranting insanely -- "Blow, winds, and crack your cheeks! rage! blow!" -- amid the tempests swirling around his team's fallen state.
Where there was once a No. 6 ranking, there is now a new number: 72-6.
That's the combined count of the Bears losses to Oregon and USC.
Tedford is well-aware that high expectations and Rose Bowl dreams have given way to frustration and recrimination among the fan base, who have pointed fingers at many things, but most particularly at Tedford.
"I know there's a lot opinions, and there's going to be naysayers and there's going to be critics, but it doesn't help anything," Tedford said. "Everybody's entitled to their opinion. I don't read it and I hope our players don't read it."
Tedford said after his team was overwhelmed at home by USC that he would not yell and scream at his players. He expressed confidence that the Bears wouldn't fracture like the 2007 crew that went from second-ranked to losing six of their final seven regular-season games.
He said it was no time to panic and that there was a lot of football left.
"There was a lot of disappointment, but the main thing was not to be discouraged," Tedford said.
Nor is he's going to call the visit to UCLA a proverbial "must-win" because that would create even more pressure for a team trying to rebuild its confidence.
Down in Los Angeles, coach Rick Neuheisel's Bruins also are in a wounded state. Just like Cal, they've also lost two in a row after a 3-0 start, and, just like Cal, they have issues on offense.
The Bruins were befuddled, much like the Bears, were by Oregon's resurgent defense, which ruined the return of quarterback
Kevin Prince
, who'd been out since Sept. 12 with a broken jaw.
It's probably not a surprise, though, that Neuheisel shares Tedford's belief that panicking would be a bad thing.
Might the Bruins scale back some game-plan complexity to help Prince this week? Yes. But there's no need for radical schematic or personnel changes because of defeats to a pair of good teams.
"I think sometimes there's an overreaction to disappointment -- you think you need to throw the baby out with the bath water," Neuhiesel said. "I don't believe that. We're not far away."
Prince and quarterback
Kevin Riley
should text each other for support. Riley's game has gone south during the two defeats. He's complete just 27 of 71 passes (38 percent) and led an offense that didn't find the endzone.
This week at practice, he said threw a ball into the turf and "I got a clap from [offensive coordinator Andy Ludwig]."
That's because Riley had been pressing against a strong pass rush and had reverted back to some of the mechanical problems that often caused his ball to sail high in 2008. Tedford had worked extensively with Riley during the offseason on his delivery, but he decided Riley needed a refresher course during the bye week.
"We worked a little bit last week on doing some things just to make sure he's confident and accurate with what he's doing," Tedford said. "I don't want him thinking about it too much, but we went back last week and talked about a few things and worked on a few things in his mechanics just to try to help him. I think it's gone fairly well for him."
Couple of other problems for Cal. First, the Bears haven't won in the Rose Bowl since 1999, and even that game was later forfeited for the use of ineligible players, so the last official win in Pasadena came in 1993, when Keith Gilbertson was the coach.
Second, UCLA, just like Oregon and USC, has a defense ranked among the nation's top-25. The Bruins almost certainly will stack the box with defenders to stop running back
Jahvid Best
and thereby dare Riley to beat them downfield.
Riley knows the only way to stop defenses from doing that is by making plays in the passing game, which he hasn't done since a 35-21 win at Minnesota on Sept. 19.
Riley and Tedford both know there's only one way to turn the frowns upside down in Berkeley.
"When you win, people love you," Riley said. "When you lose, people hate you. It's just part of football."
December, 23, 2008
12/23/08
10:48
AM ET
By
ESPN.com staff
| ESPN.com
Posted by ESPN.com's Ted Miller
'Twas the day before the night before the night before Christmas ...