October, 10, 2011
10/10/11
10:12
PM ET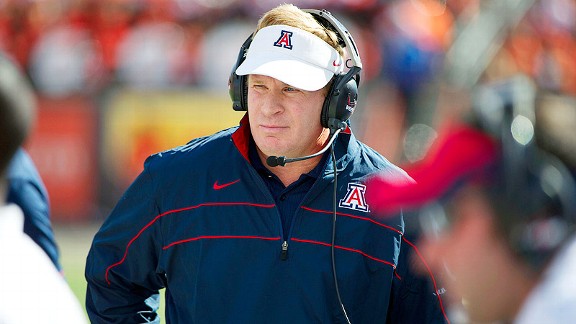 Jim Z. Rider/US PresswireMike Stoops was fired after Arizona lost to winless Oregon State -- the Wildcats' fifth loss in a row.
In the Hemingway novel, "The Sun Also Rises," a character is asked how he went bankrupt. He replies, "Two ways ... gradually and then suddenly."
And so we have the
firing of Arizona coach Mike Stoops
midway through his eighth season Monday.
On Oct. 30 of last year, Arizona won at UCLA and improved to 7-1 overall. The Wildcats, then ranked 13th in the AP poll, were headed to Stanford for a marquee showdown. The program's first-ever Rose Bowl was in play. Stoops was coming off consecutive eight-win seasons. He appeared to be on the cusp of becoming a hot coaching prospect.
But the Wildcats were slammed 42-17. It would be the first of 10 consecutive losses to FBS teams. As the losses piled up, "hot" became the way to describe Stoops' seat instead of his prospects.
Stoops, 49, inherited a program in the absolute dregs in 2004. The Wildcats hadn't posted a winning season since 1998. After a slow start, he led Arizona to three consecutive bowl games.
But the wheels came off badly this season. After opening with a victory over Northern Arizona, the Wildcats were blown out in four consecutive games. The schedule was brutal. The losing streak included two losses each to Oregon, Stanford, Oklahoma State and USC. But it also included one to archrival Arizona State to end the 2010 regular season. Then on Saturday, the Wildcats lost to then 0-4 Oregon State.
When the Wildcats lost to the beleaguered Beavers, the universal reaction was Stoops was in trouble. But few figured it would end so quickly.
Stoops was told Monday afternoon by athletic director Greg Byrne of the decision to fire him. Defensive coordinator Tim Kish will serve as interim coach.
"It just ended," Stoops said. "That's his decision as the leader of the program. It is what it is."
Byrne and school president Eugene Sander told reporters at a news conference announcing the decision that the speculation on Stoops' future was becoming a distraction.
Stoops will get a $1.4 million buyout. When I talked to him Monday, he was more gracious than grim. It's possible that the losing and frustration were wearing him down as much as they were fans and administrators.
Stoops, who leaves Tucson with a 41-50 overall record and a 27-38 mark in conference games, was heavily criticized for his animated sideline persona. He was not a guy who tried to hide his frustrations -- at officials, players or other coaches -- during games. When he won, it was tolerated, even amusing. When he lost, it was seen as a significant negative.
And little went right this year, starting in spring practices, when injuries to several key starters -- most notably safety Adam Hall and linebacker Jake Fischer -- started a downward spiral.
Two other issues hounded Stoops: (1) He had the best quarterback in program history in
Nick Foles
(the Wildcats haven't had a quarterback who even approximates Foles); (2) the defense, Stoops' bailiwick, is terrible.
Don't cry too hard for Stoops, though. He'll land on his feet. He's respected and well-connected as a coach -- his brother is Oklahoma coach Bob Stoops and he's good friends with Nebraska coach Bo Pelini. He'll get job offers, most likely in the short term as a defensive coordinator. And he's probably learned plenty of lessons during his first tour as a head coach that might help him get a second chance.
So what next for Arizona?
The first question: How much is Arizona willing to pay? Stoops' $1.4 million annual salary sounds great for most of us, but is fairly middling among marquee coaches. And beyond Stoops' replacement, you have to pay a coaching staff. Salaries for assistant coaches have gone way up, well beyond what Stoops' staff was paid.
Top name you will hear: Boise State's Chris Petersen. Three words: Huge long shot.
Second name: Mississippi State coach Dan Mullen. Three words: Huge long shot.
Just because Byrne knows Petersen and Mullen doesn't mean either is eager to bolt to an uncertain situation.
Other names: Former Oregon coach Mike Bellotti, former Texas Tech coach Mike Leach and former All-American Ricky Hunley.
All three of those guys would raise enthusiastic eyebrows. Each has plenty to offer.
The Wildcats are off until playing host to UCLA on Oct. 20, a Thursday night game. It will be interesting to see how the players react. Part of the reasoning to dump Stoops now was to make it easier for players to focus.
If the Wildcats were to end their losing streak, that reasoning would make sense.
And, of course, Arizona fans can always start thinking about basketball season.
December, 12, 2009
12/12/09
11:12
AM ET
By
ESPN.com staff
| ESPN.com
A Stoops has done well in Florida in the past.
[+] Enlarge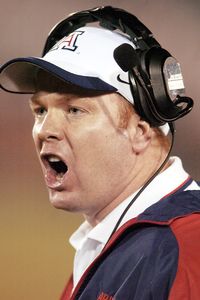 Kirby Lee/WireImage.comMark Stoops will join FSU's staff following the Holiday Bowl.
Bob Stoops paired with Steve Spurrier to win a 1996 national title. Then he got the head job at Oklahoma and won one for himself.
Mark Stoops was
hired Friday
to be Florida State's defensive coordinator under transitioning head coach Jimbo Fisher, thereby ending the successful tandem he had with head coach -- and brother -- Mike at Arizona.
Stoops was a
top candidate
for the head-coaching job at Youngstown State, but he likely sees this as the best step for him toward one day getting a chance to lead his own BCS conference program. This allows him to step out of his brother's shadow and to move into a football hotbed where there are more future job opportunities.
Mark Stoops will remain with Arizona until after the Wildcats play Nebraska in the Holiday Bowl on Dec. 30.
It will be interesting to see what Mike Stoops does next. With his brother, the Wildcats' defense was "in the family." The issue with the next coordinator will be whether he's asked to retain the Stoops system, which has been very effective through the years, or will he have the autonomy to bring in his own system. Keep in mind Mike Stoops is an old defensive coordinator himself, so it could be a challenge for him to keep his fingers out of the batter.
Not to mention it's his program.
Another element to consider is the Wildcats will be rebuilding on defense. They lose seven starters, including all three linebackers. Ends Ricky Elmore and Brooks Reed -- probably the best tandem in the conference in 2010 -- will be a good starting foundation, and Stoops has recruited well, but there will be unformed clay for a new guy to work with.
In other words, it won't be a bad year to tweak the system because a lot of guys won't have much experience in the old system.
Stoops may promote from within -- linebackers coach and assistant head coach Tim Kish might be a possibility.
Other names to think about include Boise State's Justin Wilcox, Utah's Kalani Sitake, Air Force's Tim DeRuyter, Texas Tech's Ruffin McNeill or perhaps former Arizona linebacker Ricky Hunley.
The guess here is that Stoops, considering his family connections, has plenty of names in his rolodex.