October, 10, 2012
10/10/12
12:00
PM ET
Oregon State coach Mike Riley is notoriously good-natured, even if that quality is measured against the general population and not only from within the grumpy realms of major college football coaches. He tends to maintain a sense of perspective about winning and losing and the ups and downs inherent in his job.
But you can ruin his day and provoke a frown. For example ...
Say it's Monday, Oct. 8. Say Riley is about to preside over a team meeting for the 4-0, 10th-ranked Beavers. And then ...
"The doctor and trainer came running down the hall," Riley said. "I knew something wasn't good."
Correct. Riley's starting quarterback,
Sean Mannion
, who was passing for 340 yards per game, had a knee injury that no one knew he had when he walked off the field last Saturday after a 19-6 victory over Washington State.
"It was a total shock," Riley said.
There goes Riley's smile. And there goes the season.
Or does it?
That's the big question as the Beavers send junior
Cody Vaz
out Saturday to make his first career start against a Brigham Young defense that is highly proficient at hitting the quarterback, a nationally ranked unit that has surrendered just nine points in its past three games.
[+] Enlarge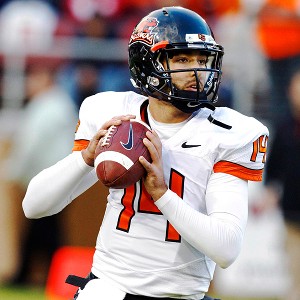 Jason O. Watson/US PresswireJunior quarterback Cody Vaz hasn't seen the field since 2010, and that was in very limited action.
"We don't really have to do anything different with Cody," Riley said. "Cody has been with us a long time."
He then added, "I've got a lot of faith in Cody."
Of course, no one expected anything else but protestations of faith from Riley and his players. There is no other way to be. It's got to be all about supporting the "next man in," or you essentially wave a white flag over what was previously blossoming into a special season.
Further, the injury isn't season-ending. Mannion will have meniscus surgery Wednesday, and his status thereafter will be "week-to-week." While it's purely speculative until the surgery is complete, he could be back in two to four weeks.
So if Vaz can maintain the Beavers' fast start, they might be able to stay in the Pac-12 North Division race.
Riley described Vaz as smart, competitive and talented. He said Vaz has a "great release" and "sees things well."
"He's not much of a different style than Sean," Riley said. "He's just shorter."
Mannion is 6-foot-5. Vaz is 6-1.
The bad news is that Mannion, though just a sophomore, is a veteran who was baptized by a horrible 3-9 season in 2011 that didn't kill him -- despite being sacked 27 times -- and apparently made him stronger. Past history has shown that quarterbacks tend to make great strides in their second year playing in Riley's system, but the first year is often filled with pratfalls.
Vaz will not only be making his first start, he will be seeing his first college action since getting some throw-away time in 2010.
"The only unfortunate part is I haven't played him enough," Riley admitted.
Still, BYU -- hardly an offensive juggernaut in any event -- has quarterback issues itself. Talented freshman
Taysom Hill
had played well filling in for injured senior starter
Riley Nelson
, but he blew out his knee last week late in a 6-3 win over Utah State. Nelson will get the start against the Beavers, but he's coming back from fractured vertebrae.
The best part of Nelson's game may be his athleticism, but a back injury isn't something you want to test with a lot of QB scrambles.
Oregon State has played good defense this season, particularly against the run. It also has a strong secondary that has grabbed seven interceptions. While Riley maintains that the playbook will be open for Vaz, it wouldn't be surprising if the Beavers leaned on their defense and hoped their running game got untracked.
Unfortunately, the running game remains a work in progress for Oregon State. The previous two seasons, it was horrible. This year?
"It's OK," Riley said. "We've gotten better for sure from a year ago. I wouldn't say it's reliable."
Did we mention that BYU is No. 1 in the nation against the run, yielding just 1.93 yards per rush?
Vaz has looked good in practice. In fact, he has looked like the Beavers' best signal-caller at times. Riley's comments last spring suggested that Vaz had gained on Mannion. While Riley said Tuesday that he "never made the point that there was an imminent change," he said that Vaz was good enough to make it clear that the competition "was real."
"The one good thing about this on our team is they all know Cody is good," Riley said.
Good in practice is one thing. Good in front of 63,500 fans at LaVell Edwards Stadium is another.
September, 17, 2012
9/17/12
10:00
AM ET
Taking stock of the third week of games in the Pac-12.
Team of the week:
Stanford didn't just beat No. 2 USC, it physically dominated the Trojans in a 21-14 victory, the Cardinal's record fourth consecutive win in the series. First, there was the post-Toby Gerhart Era. Then there was the post-Jim Harbaugh Era. Then there was the post-Andrew Luck Era. Maybe it's just the Stanford Era? The Cardinal is now squarely in the Rose Bowl race. And maybe the national title hunt.
[+] Enlarge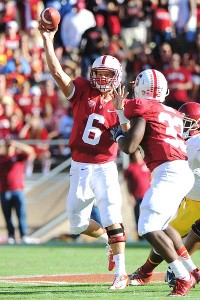 Kyle Terada/US PresswireCardinal quarterback Josh Nunes had one of the biggest plays of the week in the Pac-12.
Best game
: Utah's 24-21 win over BYU wasn't pretty. It wasn't, really, even deserving of a "best" tag. But it was really weird,
particularly the ending
, and weird is often noteworthy. On a weekend when four games came down to the fourth quarter, the Holy War had the most breathless finish because it had two breathless finishes.
Biggest play
: On third-and-10 from the 50 in the fourth quarter, Stanford QB
Josh Nunes
was under pressure. He scrambled and found himself bottled up and cut off. Yet a player not exactly known for his athleticism juked the USC defense and cut for a 13-yard gain and a first down. Two plays later, he hit TE
Zach Ertz
for a 37-yard TD and a 21-14 lead, the final margin of Cardinal victory.
Biggest play II
: California had No. 12 Ohio State on the ropes. The score was tied with just under four minutes left in the game, and the Buckeyes faced a third-and-7 from their 28-yard line. QB
Braxton Miller
was forced from the pocket, but the Bears secondary gagged and let
Devin Smith
get free behind the coverage. The ensuing 72-yard TD pass provided Ohio State its 35-28 margin of victory.
Biggest play III
: BYU had a first-and-10 on the Utah 25-yard line, down 10-7 in the third quarter. Lined up in a shotgun formation, QB
Riley Nelson
wanted to change the play. While he was barking signals, his center delivered the snap, which rolled past an unaware Nelson. Utah's
Mo Lee
scooped up the loose ball and rambled 47 yards for a TD. The Utes would need those points in a 24-21 win.
Offensive standout
: Stanford RB
Stepfan Taylor
was the best player on the field against USC. He rushed 27 times for 153 yards and a 59-yard TD and caught five passes for 60 yards and a 23-yard score in No. 21 Stanford's upset win over No. 2 Trojans.
Defensive standout
: UCLA CB
Sheldon Price
matched a school record with three interceptions in the Bruins' 37-6 win over Houston.
Special teams standout
: Not a lot to choose from. Oregon's
De'Anthony Thomas
returned four punts for 87 yards against Tennessee Tech, though he did fumble one.
Smiley face
: Cal RB
Brendan Bigelow
brought life to the Bears by doing his best De'Anthony Thomas at Ohio State, rushing for 160 yards on just four carries -- yes, an average of 40 yards per carry! He had touchdown runs of 81 and 59 yards, and both were spectacular. Might he give the Bears offense a weapon that turns around their season?
Frowny face
: Can anyone kick a freaking field goal? USC has no kicker, and Arizona, California, Oregon, Stanford and Utah were a combined 1-for-10, with the Bay Area schools going 0-for-6.
Thought of the week
: Two of the Pac-12's five unbeaten teams will go down this weekend because of head-to-head matchups. Arizona travels to Oregon, while UCLA plays host to Oregon State. We'll get a better measure of contenders and pretenders this weekend.
Questions for the week
: Is Oregon's Thomas ready to make a Heisman Trophy statement against Arizona? The set-up seems perfect: an ESPN game against a questionable defense. With USC and QB
Matt Barkley
going down, the Heisman race has opened up. Can Thomas be his fancy self and win the affection of the pundits?
September, 14, 2012
9/14/12
3:30
PM ET
The debate in Utah this week has been the state of the Holy War. Some feel it might be more heated on Saturday because of recent events -- Utah bolting for the Pac-12 and then taking a two-year hiatus from the rivalry -- and some feel it might be muted due to its early season date and no in-conference stakes.
It might come down to splitting rhetorical hairs. Is the rivalry scalding or sizzling? Is it boiling or simmering? Here's a guess that things will be fairly intense inside Rice-Eccles Stadium on Saturday.
"I don't know how there could be any increase on what's been in the past," Utes coach Kyle Whittingham said. "It was every bit as intense last year, and I expect it to be every bit as intense this year. It's one of the most heated rivalries in the country, and I don't see that changing, personally."
[+] Enlarge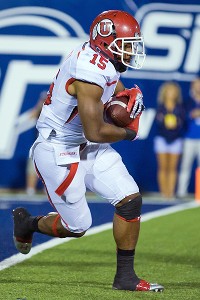 Russ Isabella/US PresswireUtah needs a big game from tailback John White against BYU.
You get the feeling from Whittingham, a BYU graduate, that he's going to leave the rivalry talk to fans and reporters. He just wants to win a freaking football game. He also knows that after losing last week at Utah State -- ending a 12-game winning streak in the series -- his Utes could suddenly find themselves in third place among the state's three FBS football teams.
Further, he doesn't have much time for the politics of Utah's decision to take "a break" from the series for two years starting in 2014, ending what will then be 70 consecutive years of play. He's got his own problems, such as losing starting quarterback Jordan Wynn, who was forced to retire because of recurrent shoulder injuries, and a porous offensive line.
The Utes gave up three sacks last week to the Aggies, and are averaging just 3.2 yards per rush.
"Obviously, we're sub-par protecting the quarterback," Whittingham said. "And that's going to be absolutely critical if we are going to have a chance to win the game. We have got to play much more efficiently on the offensive front."
The Utes have won seven of the past 10 games with the Cougars, including a shocking 54-10 victory in Provo last year, the biggest win in the series in 89 years. That game, in which BYU imploded with seven turnovers -- six fumbles -- is an anomaly. Over the past 15 years, 12 games have been decided by a touchdown or less and seven of those 12 were decided by a field goal or less.
But 2-0 and 25th-ranked BYU certainly enters the game seemingly in a better place. It outclassed Washington State and Weber State, getting good quarterback play from
Riley Nelson
and impressive work on both lines. The Cougars already have recorded nine sacks, and they surely plan to get after
Jon Hays
and true freshmen
Travis Wilson
, who will both step into the void created by the loss of Wynn.
The good news is both Hays and Wilson are mobile. The bad news is neither is a refined passer. That means the Utes need running back
John White
to reemerge. You might have heard this before: The Utes are 9-0 when White eclipses 100 yards rushing, and 0-6 when he doesn't. He had 174 yards in the blowout win against BYU a year ago. He had 96 against Utah State.
So this sets up in a fairly obvious way. Utah needs to get White going. BYU knows this. Expect the Cougars' 3-4 defense to be very crowded along the line of scrimmage, daring the Utes to throw over the top.
That might not be a great idea, though, at least in terms of a predictable strategy. If Hays and Wilson get time -- or can make time -- they have a strong crew of receivers and tight ends to throw to. They could gash the Cougars, and a few big plays could make the difference in what should be a low-scoring game.
Win or lose, this game won't count in the Pac-12 standings for Utah. Nor did the loss at Utah State. But it is significant, and not only because it's a rivalry game.
The Pac-12 South suddenly looks far deeper than it did in the preseason, with Arizona and UCLA now nationally ranked, and Arizona State getting votes in the national polls. Utah probably could use some momentum before it begins the conference schedule at Arizona State on Sept. 22. Then, after a bye, plays host to USC and visits UCLA.
Emotions and rivalries and bad feelings and Holy Wars, etc., are great copy. But Whittingham is more concerned with the football part of football. That part is keeping him busy enough.
September, 14, 2012
9/14/12
10:00
AM ET
Some notes to get you through the hours until Saturday. Many thanks to ESPN Stats & Information.
Dating to last season, Arizona has won four in a row. The Wildcats have not won five in a row since winning the final seven games of the 1998 season, which they finished 12-1.
Arizona quarterback Matt Scott has 836 yards of total offense in two games, tied for most in the FBS along Syracuse signal-caller Ryan Nassib. Scott's 418.0 yards-per-game average is tied for second in the FBS, behind Louisiana-Monroe QB Kolton Browning, who compiled 481 in his only game (Saturday's upset of Arkansas).
South Carolina State is 0-9 all-time vs current members of the FBS, getting outscored by a combined total of 319-60 (average loss margin: 28.8 PPG).
The Arizona State-Missouri series is split 3-3, with the Sun Devils winning 37-30 in overtime last season in Tempe. ASU is 0-2 in Columbia.
The Tigers left the Big 12 for the SEC this season, and the Sun Devils are 0-5 all-time against SEC schools.
Last time California and Ohio State played, Ohio State won 35-18 in Berkeley in 1972. That was Archie Griffin's freshman season at Ohio State.
California has forced 24 negative plays this season, tied for second-most in FBS (Oklahoma State leads with 26).
Ohio State QB Braxton Miller has averaged 8.0 yards on scrambles during his career, with 17 of his 51 runs gaining 10 yards or more.
This will be the sixth meeting between Colorado and Fresno State, but the first between the two schools at Bulldog Stadium. Colorado leads the series 4-1. The Bulldogs' only victory came in 2001, 24-22, behind quarterback David Carr.
Through its first two games this season, Oregon has come out with a vengeance, only to let off the gas in the second half. Oregon is outscoring opponents 85-16 in the first half; in the second half, the Ducks have been outscored 43-14.
Since the start of 2010 season, Oregon leads FBS in touchdown drives of two minutes or fewer (97); one minute or fewer (45) and three plays or fewer (41). In two games this season, Oregon has seven touchdown drives that lasted two minutes or fewer, tied with UCLA for most against FBS opponents (fourth-most overall; the top teams played Savannah State).
Marcus Mariota is completing 80 percent of his passes on third down, tied with USC quarterback Matt Barkley for the best in the Pac-12 (minimum 10 attempts).
Kenjon Barner is averaging 7.9 yards per rush inside the tackles this season (5.4 in 2011).
Stanford has owned its series with USC recently, winning four of the past five meetings.
It's not always useful to blitz Barkley. He has thrown 119 consecutive passes against five or more pass-rushers without an interception.
As a team, USC has gained 361 yards after the catch this season. Since the start of 2009, Barkley's first season as a starter, the Trojans are 23-3 when they have at least 100 yards after the catch and 6-8 when they do not. Two of the three losses were Stanford (2010, 2011) and the other to Oregon (2010). Marqise Lee has gained 73.4 percent (193/263) of his yards after the catch this season.
Last season, Stanford had the fewest three-and-out drives and negative plays in FBS with Andrew Luck under center. Through two games, Stanford is ranked in the bottom half of FBS in yards per play (tied for 80th), negative plays (T-61), three-and-outs per game (T-75) and third-down conversion rate (T-109).
UCLA has been nearly unstoppable moving the ball offensively. The Bruins followed up a 646-yard performance against Rice with a 653-yard effort against Nebraska -- good for two of the top 10 games in school history in terms of total offense. They currently rank third in FBS with 649.5 yards per game, and will be going against a defense in Houston which ranks 115, allowing 521.0 per game.
Defensively, the Bruins pass rush has excelled. UCLA has eight sacks so far this season (tied for seventh in FBS), a far better pace than last season, when the team finished with 14 sacks (tied for 112th) and didn't get its eighth sack until the eighth game of the season.
Running Johnathan Franklin had 217 rushing yards on 26 attempts in UCLA's upset of Nebraska. It was his second consecutive 200-yard rushing game and third of his career. Franklin's 215.5 rushing yards per game leads FBS this season and is more than 90 teams. For the season, Franklin leads FBS with six runs that gained 20 yards or more and is one of two players with two 60-plus-yard touchdown runs.
David Piland did not go down quietly in Houston's loss to Louisiana Tech. Piland attempted 77 passes, completing 53 for 580 yards, four touchdowns and no interceptions. His 77 attempts were sixth-most in FBS history; Drew Brees owns the record with 83 attempts against Wisconsin on Oct. 10, 1998.
The BYU-Utah rivalry is called the "Holy War" and this will be the 69th consecutive meeting between the teams. The rivalry will be put on hold after next season, however: Utah won't host BYU again until 2016.
There have been a lot of close games in this rivalry, especially over the past 15 seasons. In that span, 12 of the games have been decided by a touchdown or less with seven of those 12 decided by a field goal or less.
BYU QB Riley Nelson is completing 73.1 percent of his passes in shotgun this season (38.5 percent when under center).
Last season, Utah went on the road and dominated BYU 54-10, its biggest win in the series in 89 years. It was also the biggest win in the rivalry by either team since 1983. It was the seventh time in the past 10 meetings that the Utes beat the Cougars.
Washington and Portland State are meeting for the first time.
Two-time Huskies captain Nigel Burton is in his third season as head coach at Portland State. Two former Huskies are on his staff, linebackers Lester Towns and Ikaika Malloe.
If Washington State QB Jeff Tuel can't play due to a knee injury, redshirt sophomore Connor Halliday will replace him. Halliday went 5-for-11 passing with no touchdowns and an interception in the fourth quarter last week against Eastern Washington. Halliday saw limited action in the Cougars' 59-7 victory over UNLV last season, finishing 5-for-6 with two touchdowns and no interceptions, and this would be the second start of his career. He has starred in relief before, passing for a Pac-12 freshman record 494 yards and adding four touchdowns without an interception last season against Arizona State after Marshall Lobbestael was injured early in the game.
UNLV has lost seven consecutive games dating back to last season, which is tied for the third-longest active streak in FBS. Both Rebels losses this season came by three points, including a loss to FCS school Northern Arizona last week, when NAU scored 17 unanswered points in the second half.
UNLV is 6-25 against current Pac-12 schools, with the last victory coming in 2008 against Arizona State. Washington State has won all five previous meetings by double digits.
PAC-12 SCOREBOARD
Saturday, 12/20
Monday, 12/22
Tuesday, 12/23
Wednesday, 12/24
Friday, 12/26
Saturday, 12/27
Monday, 12/29
Tuesday, 12/30
Wednesday, 12/31
Thursday, 1/1
Friday, 1/2
Saturday, 1/3
Sunday, 1/4
Monday, 1/12
Tweets from https://twitter.com/ESPNCFB/lists/pac12