February, 21, 2012
2/21/12
4:00
PM ET
By
ESPN.com staff
| ESPN.com
The Pac-12 will send
45 players
to the NFL combine, which starts Wednesday in Indianapolis.
You can see the
complete list of invitees here
. And
here's the schedule
-- things don't really start rolling until Thursday.
There are plenty of subplots for the Pac-12 players on hand.
Arizona quarterback Nick Foles is among a handful of quarterbacks vying to be the third quarterback off the board after Stanford's Andrew Luck and Baylor's Robert Griffin. And, by the way, you might want to toss Arizona State quarterback Brock Osweiler into the mix there, too.
Arizona State cornerback Omar Bolden, who sat out the entire 2011 season, will try to prove his knee is 100 percent.
Will Arizona State linebacker Vontaze Burfict be able to rehabilitate his image, both with a strong performance and convincing interview? The scuttlebutt for him since the start of the season has been almost entirely negative, with the latest being this: He's a "fake tough guy." Even worse than rumors like that is the more measurable claim that he may show up out of shape.
Oregon cornerback Cliff Harris, who essentially missed the entire season due to suspension, will need to show some newfound maturity. And he'll need to test well to distract from the challenge he may face producing that.
Oregon running back LaMichael James could substantially boost his stock will an impressive 40-yard dash, which would prove he has elite speed and offset size concerns.
The same could be said for Washington running back Chris Polk, whose biggest knock is an apparent lack of top-end speed.
Oregon quarterback Darron Thomas, a surprise early entry into the draft, will get a chance to prove he's worthy.
Washington defensive tackle Alameda Ta'amu entered the 2011 season looking like a potential first-round pick, but his stock slid with a lackluster season. He also didn't impress during Senior Bowl practices. But 330 pound DTs are hard to find, particularly ones as athletic as Ta'amu. A good combine could get him back on the first-day radar.
Receivers Chris Owusu of Stanford and James Rodgers of Oregon State also need to overcome health issues. Rodgers needs to show his quickness is back after major knee surgery. Owusu will need to address issues with multiple concussions.
A guy the Pac-12 blog is curious about: Cal linebacker Mychal Kendricks. The conference defensive player of the year seems like a guy who might surprise folks and push into the early rounds.
The Pac-12 is sending a strong group of offensive linemen into the combine, with USC's Matt Kalil and the Stanford tandem of Jonathan Martin and David DeCastro likely first-round picks. But what about the other seven guys? Who might step up and generate some buzz? Perhaps Cal's Mitchell Schwartz?
January, 25, 2012
1/25/12
12:00
PM ET
By
ESPN.com staff
| ESPN.com
The Senior Bowl offers a prospect a chance to move up NFL draft charts, and many scouts and GMs are looking at the QB pecking order behind Stanford's
Andrew Luck
and Baylor's
Robert Griffin III
. That's where Arizona's
Nick Foles
has a chance to land.
But Foles hasn't made a big first impression at Senior Bowl practices,
according to Todd McShay
.
"Plenty of NFL talent evaluators I talked to entering the week named Foles as a player to watch, but he has failed to blow scouts and front-office types away. He simply hasn't shown anything over the first two days here that we haven't already seen on tape, and he's fallen short of the performance level in some of his best games from 2011.

"Foles has been a little less consistent with his accuracy, and as we've seen in the past he tends to do a lot of checking down and dumping off. That two-day practice showing alone isn't enough to change Foles' entire evaluation, but after watching things up close I've been surprised how much better [Oklahoma State's Brandon] Weeden's performance has been."
Another former Wildcat has made an impression — in good ways and bad ways — and that's Foles' top target, Juron Criner.
Arizona WR Juron Criner had a hard time creating separation and didn't show much explosiveness out of breaks, but he caught everything thrown his way. Criner was excellent on Day 2 with his ability to extend his arms and snatch balls out of the air.
Some other Pac-12 players made an impression.
From the
Philadelphia Eagles Blog
, two Pac-12 players moved up:
Marvin Jones/WR/Cal: Jones, 6-2, 198, was a reliable wideout all through his college career and today showed he has the skills to play at the next level. Jones ran crisp, precise routes which enabled him to get separation from defenders. He also displayed the ability to turn it on with a single step and beat defenders in the deep field. Jones caught everything thrown in his direction and has scouts believing he'll be a solid fit as a third wide out in the NFL.

Senio Kelemete/OL/Washington: Kelemete looked like the most athletic offensive lineman on the field today and did a great job handling the left tackle spot, where he spent the day. He moves his feet well, displays terrific quickness and handled the speed rushers that lined up against him. The big question about Kelemete is whether his 6-3 ? frame will allow him to play left tackle at the next level or whether he'll be forced to move to guard.
On the downside, there was Utah OT
Tony Bergstrom
and
Washington RB
Chris Polk
:
Tony Bergstrom/OL/Utah: Bergstrom, 6-5, 315, looked outclassed on a number of snaps today and was consistently beaten by defensive tackles. He showed little in the way of balance, strength or the ability to stay on his feet.

Chris Polk/RB/Washington: Polk has been running hard on the inside yet shows no elusiveness or creativity. He gets high in his stance and on several occasions during Tuesday practice was stopped dead in his tracks by defenders and showed no ability to bounce around piles or elude would-be tacklers.
Also, Huskies DT
Alameda Ta'amu
didn't impress
CBS draft guru Rob Rang:
The duo stood in strong contrast to Washington's Alameda Ta'amu and Boise State's Billy Winn, each of whom have been disappointments, thus far. Ta'amu is a powerful run plugger sure to intrigue 3-4 teams looking for a nose guard. His power and mass (6-2, 341) makes him a classic block-eater but his lack of any type of pass rush ability is painfully apparent during drills. If his opponent has the anchor and core flexibility to handle Ta'amu's bull rush, the big Husky can offer little else. Winn, who was used inside and out while with the Broncos, may be proving himself to be a 'tweener with a lackluster performance, thus far. He hasn't shown the agility to slip blocks nor the power to push the pocket.
But, as it's important to note, NFL beauty is in the eye of the beholder, and impressions will go up and down during the week.
Consider this on
Ta'amu.
Watching Washington DT Alameda Ta'amu, it's really impressive the kind of raw power he possesses when asked to simply overwhelm opposing lineman through contact. He also has a sneaky quick set of hands when trying to shed and can keep himself clean. However, he has a tough time keeping his pad level down through contact and far too often is easy to block because of it.
As a person who has covered multiple Senior Bowls, I can tell you that impressions are complicated. You stand at practice and you can only focus on one position group at a time. You watch 10 plays here. You watch 10 plays there. The 10 plays you see with either could end up being far different than the 10 plays that follow when you move on. The same with the NFL guys you chat with. And those guys often don't want to show their cards anyway.
So the analysis you read at the end of the week rather than the beginning tends to be more complete.
January, 13, 2012
1/13/12
11:00
AM ET
Our All-Pac-12 bowl team has two quarterbacks and a position we made up. And it wasn't easy to pick the defense, because many of the conference defenses underwhelmed during a 2-5 bowl run.
[+] Enlarge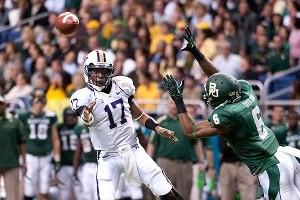 Brendan Maloney/US PresswireEven Andrew Luck would admire Washington QB Keith Price's seven-touchdown effort in the Alamo Bowl.
Offense
QB Andrew Luck, Stanford
: Luck completed 27 of 31 passes for 347 yards with two touchdowns and one interception in the Fiesta Bowl loss to Oklahoma State.
QB II Keith Price, Washington
: It's impossible to leave Price or Luck out. Price completed 23 of 37 passes for 438 yards with four TDs and zero interceptions in the Alamo Bowl loss to Baylor. He also rushed for 39 yards and three scores. Those numbers typically would eclipse what Luck did, but Baylor might have the worst defense in the Football Bowl Subdivision.
RB LaMichael James, Oregon
: James rushed for 159 yards on 25 carries with a TD in the Rose Bowl win over Wisconsin.
RB Stepfan Taylor, Stanford
: Taylor rushed for 177 yards on 37 carries with two touchdowns in the Fiesta Bowl.
WR Gerell Robinson, Arizona State
: Robinson caught 13 passes for 241 yards with a TD in the Las Vegas Bowl loss to Boise State.
WR Lavasier Tuinei, Oregon
: Tuinei caught eight passes for 158 yards and two scores in the Rose Bowl victory.
TE Zach Ertz, Stanford
: Ertz caught four passes for 38 yards and a touchdown in the Cardinal's Rose Bowl loss.
OL David DeCastro, Stanford
: The unanimous All-American dominated Oklahoma State's D-linemen in the Fiesta Bowl. The Cardinal rushed for 243 yards.
OL Mark Asper, Oregon
: Asper is the senior cornerstone of a line that led the way for 345 yards rushing in the Ducks' Rose Bowl victory.
OL Tony Bergstrom, Utah
: The senior tackle helped RB
John White
gain 115 tough yards against Georgia Tech in the Sun Bowl.
OL Hroniss Grasu, Oregon
: The Ducks freshman center made all the right line calls against Wisconsin.
OL Senio Kelemete, Washington
: The Huskies gained 620 yards and didn't allow a sack in the loss to Baylor.
Freak
: Our special position for
De'Anthony Thomas
, who scored TDs on runs of 91 and 64 yards in the Rose Bowl against Wisconsin. The Black Mamba also caught four passes for 34 yards and returned five kickoffs for 125 yards.
K: Giorgio Tavecchio, California
: Tavecchio capped a strong senior season with a 47-yard field goal in the Holiday Bowl loss to Texas.
RET: Rashad Ross, Arizona State
: Ross returned the third-quarter kickoff 98 yards for a TD against Boise State in the Las Vegas Bowl.
Defense
DL Josh Shirley, Washington
: While it's difficult to recognize anyone from the Huskies defense against Baylor, Shirley did sack Robert Griffin, the Heisman Trophy winner, three times.
DL Trevor Guyton, California
: Guyton had five tackles, with two coming for losses, and a sack in the Bears' loss to Texas in the Holiday Bowl.
DL Star Lotulelei, Utah:
The Utes DT had six tackles and a fumble recovery and generally blew up the middle of the Georgia Tech line in the Utes' Sun Bowl victory. He was named Most Valuable Lineman.
LB Jordan Zumwalt, UCLA
: Zumwalt had 10 tackles, including two for a loss, and an interception in the Bruins' loss to Illinois in the Kraft Fight Hunger Bowl.
LB Kiko Alonso, Oregon
: The Ducks LB had five tackles, including 2.5 for a loss, with a sack and a key interception in the Ducks' Rose Bowl win. He was named Defensive MVP.
LB Michael Clay, Oregon
: The Ducks LB had 13 tackles, including two for a loss, and a critical fumble recovery in the Rose Bowl victory.
LB Mychal Kendricks, California
: Kendricks had 10 tackles, including 1.5 for losses, in the Bears' loss to Texas in the Holiday Bowl.
DB Terrance Mitchell, Oregon
: Mitchell had five tackles in the Rose Bowl, but his most important contribution was forcing a Wisconsin fumble on the Ducks 27-yard line with four minutes left in the game. Perhaps even more important than that, he inspired coach Chip Kelly to jump up and down in a wonderful -- and slightly goofy -- show of spontaneous emotion (search YouTube for "Chip Kelly jumping").
DB Clint Floyd, Arizona State
: Floyd had seven tackles -- two for a loss -- and an interception in the Sun Devils' loss to Boise State.
DB John Boyett, Oregon
: Boyett had a bowl-high 17 tackles and half a sack in the Ducks' win over Wisconsin.
DB Marc Anthony, California
: Anthony had four tackles, one coming for a loss, and two pass breakups against Texas.
P Sean Sellwood, Utah
: Sellwood averaged 49.5 yards on eight punts against Georgia Tech in the Sun Bowl.
December, 29, 2011
12/29/11
10:30
AM ET
Three keys for Washington in the Valero Alamo Bowl against Baylor.


1.
Chris Polk, Chris Polk, Chris Polk
: Baylor ranks 102nd in the nation in run defense, giving up nearly 200 yards per game. Huskies running back Chris Polk is 16th in the nation in rushing with 112 yards per game. Polk is a tough, physical runner who could wear down a defense. His goal should be to hit the Bears season average all by himself. And while Polk is carrying the ball, Baylor QB
Robert Griffin III
is not.
2.
Bend, don't break
: Baylor averages 571 yards per game. That number isn't a concern. The Bears average 43.5 points per game. That one is. The Huskies can give up yards, but they need to try to squeeze the Bears when it comes to points. Here's a surprising factoid: Baylor isn't great in the red zone, ranking 91st in the nation. The Bears have 36 TDs on 58 red zone trips. By way of comparison, the Huskies have 36 TDs on 45 trips. If those TDs to red zone trips ratios hold true, Washington wins.
3.
Hit Griffin
: Washington wasn't particularly good rushing the passer this year, ranking eighth in the Pac-12 with 24 sacks. But it had some extra time to get creative with blitzes in advance of facing Griffin, and it needs to come after him. Though Griffin is a dangerous runner, he was sacked 25 times. The Huskies defense will need to take some chances because Griffin sitting back, comfortable in the pocket, is just not what you want. The nation's most efficient passer, he threw 36 TD passes with just six interceptions and completed 72.4 percent of his throws. Yeah, that's scary good. The Huskies have to pressure him and then deliver hard blows if he opts to run. Anything to get Griffin out of sorts.
November, 30, 2011
11/30/11
2:54
PM ET
By
ESPN.com staff
| ESPN.com
Stanford QB
Andrew Luck
is among five finalists for the Walter Camp Football Foundation 2011 College Player of the Year Award.
The other finalists are Baylor QB
Robert Griffin III
, Houston QB
Case Keenum
, Alabama RB
Trent Richardson
and LSU CB Tyrann Mathieu.
The 2011 Walter Camp Player of the Year recipient, who is voted on by the Football Bowl Subdivision head coaches and sports information directors, will be presented live on Dec. 8 during the 6 p.m. ET edition of ESPN SportsCenter.
Former Auburn quarterback Cam Newton, now playing in the NFL for the Carolina Panthers, won the award last year.
November, 28, 2011
11/28/11
9:00
AM ET
If you don't like where you are in the power rankings.... you should have played better.
Note: These are not final. They merely reflect the short-term positioning. The final power rankings will include the entire body of work.
See last week's
power rankings here
.
1.
USC
: It's been a good two weeks for the Trojans. They are playing as well as any team in the country, and that includes LSU and Alabama. Just imagine if quarterback
Matt Barkley
shocks the world and decides to return for his senior season. Can you say 2012 preseason top-5?
2.
Oregon
: Oregon just needs to avoid tripping over itself against UCLA on Friday and it will go to its third consecutive BCS bowl game after winning its third consecutive conference title. Life is good, eh Ducks?
3.
Stanford
: While
Andrew Luck
might not win the Heisman, it's hard to consider a second-consecutive 11-1 season anything but a raving success on the Farm. It's extremely likely the Cardinal will head to the Tostitos Fiesta Bowl opposite the Big 12 champion.
4.
Washington
: The Huskies, by virtue of winning their final game and owning victories over California and Utah, rise to the No. 4 spot, which likely means an invitation to the Valero Alamo Bowl. Also, good news that quarterback
Keith Price
looked all Keith Price-y against Washington State.
5.
California
: Shhh. Come closer. I don't want the Bears to hear this. Cal has quietly put together a nice run in November, winning three of four, the lone loss coming 31-28 at Stanford. If they were to beat a quality Big 12 team in the Bridgepoint Education Holiday, perhaps Baylor and
Robert Griffin III
, the Bears would post a pretty darn good season. Hey, keep it down. Don't want Cal to go all Cal on us again.
6.
Utah
: Utah! You were supposed to be different. The new guy who didn't know Pac-12 teams often go belly-up at unexpected times. The loss to Colorado certainly tripped up what looked like a nice run at the end of the Pac-12 schedule. You now are likely headed to the Hyundai Sun Bowl in El Paso, Texas instead of the Alamo Bowl in San Antonio. Hey, once you've seen one Riverwalk, you've seen them all.
7.
Arizona
: The Wildcats finished their season with consecutive wins -- beating their hated rival Arizona State along the way -- and have hired a good coach in Rich Rodriguez. Successful two weeks.
8.
Arizona State
: Not much to say. It looked like a potentially special season, then things collapsed, and it's going to cost Dennis Erickson his job. Hugely disappointing turn in Tempe.
9.
UCLA
: Not much different than Arizona State. The Bruins simply never arrived at any consistently solid level of play with Rick Neuheisel. UCLA fans and administrators need to ante up: This program needs a great hire, and that means spending money. If the Bruins don't invest, things won't get better.
10
. Colorado
: The Buffaloes showed heart on the season's final weekend at Utah, and 26 seniors go out as winners after ending a 24-game losing streak outside of their home state. That's a nice building block for the offseason, though it's clear this program has a ways to go.
11.
Oregon State
: A second consecutive losing season punctuated by getting flicked aside by rival Oregon has folks grumpy in Corvallis. There will be pressure on Mike Riley to turn things around next fall. And will he need to make tough decisions with his coaching staff, to which he has been extremely loyal?
12.
Washington State
: It appeared the Cougars had crawled out of the conference basement, but they then lost seven of their final eight games and almost certainly cost coach Paul Wulff his job. Hiring Mike Leach, we will quickly note, would cause a nice uptick in sentiment in Pullman.
October, 17, 2011
10/17/11
1:31
PM ET
Taking stock of the seventh week of games in the Pac-12.
Team of the week
: Oregon. The Ducks overcame injuries to running back
LaMichael James
-- before the game -- and quarterback
Darron Thomas
-- in the third quarter -- to beat No. 18 Arizona State 41-27. The Ducks won with backups and the defense stepping up, which is what happens with good teams.
[+] Enlarge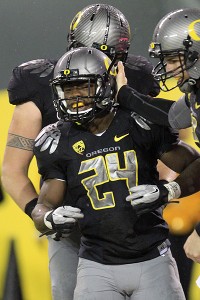 AP Photo/Don RyanTailback Kenjon Barner and Oregon held on to beat Arizona State.
Best game
: Oregon-Arizona State. While the final margin was fairly decisive, Arizona State took a 24-21 lead just after Thomas went down. The game was a back-and-forth affair before the Sun Devils' defense seemed to wear down. And the Ducks didn't.
Biggest play
: Late in the second quarter at Oregon, Sun Devils quarterback
Brock Osweiler
completed a 12-yard pass to
Gerell Robinson
on the Ducks 22-yard line. It appeared to set up the Sun Devils, leading 17-14 at the time, for more points. But Robinson took issue with safety John Boyett, who tackled him, and kicked him as he stood up. That earned a personal foul flag and pushed ASU back to the 37. Osweiler's next pass -- the receiver ran the wrong route --was intercepted by Cliff Harris in the end zone and returned 50 yards. Three plays later, the Ducks scored a TD and went up 21-17. That 10- or perhaps 14-point swing could have come in handy for the Sun Devils.
Offensive standout
: Washington quarterback
Keith Price
completed 21 of 28 passes for 257 yards with four TDs and no interceptions in the
52-24 blowout win
against Colorado. His 21 TD passes this season, already tied for fourth most in program history, rank second in the nation, tied with Boise State's
Kellen Moore
, just one behind Baylor's Robert Griffin. So his company is, you know, good.
Defensive standout
: Utah's senior defensive end Derrick Shelby, the Walter Camp Football Foundation
defensive player of the week
, had a team-high seven tackles (six solo), including 2.5 for losses and 1.5 quarterback sacks. He also intercepted a pass and returned it 21 yards for a touchdown.
Special teams standout
: Utah kicker Coleman Petersen was 4-4 field goals with a long of 45 in the win at Pittsburgh. He also was 2 for 2 on PATs.
Smiley face
: You must give credit to Oregon's backup quarterback
Bryan Bennett
for playing smart and showing poise coming off the bench in the third quarter against the Sun Devils. It seems like it's been taken for granted that Bennett would be fine, but he was a redshirt freshman taking his first meaningful snaps, trailing a ranked team. Said coach Chip Kelly, "You get a look at him and see how he is. But he didn't look like he was panicked at all. I didn't have to give him the speech about you have to do this and this. I was like, 'Alright, here you go, this is what we're calling."
Frowny face
: California. While Arizona, Oregon State and Colorado are starting to look like the bottom third of the Pac-12, the Bears, nonetheless, are on the same beleaguered cruise ship to nowhere at 0-3 in conference play. The worst news is quarterback
Zach Maynard
seeming to regress, instead of progress, each week.
Thought of the week
: Washington and Stanford finally get a game in which to make a Pac-12 and national statement. Neither has a win against a team with a winning record. The Huskies fell short in their only game with a ranked foe, falling at Nebraska. The Cardinal wants to win impressively to prove it belongs in the national title discussion. A Huskies victory would transform expectations in the North Division.
Questions for the week
: If Huskies quarterback Price outplays
Andrew Luck
in an upset win at Stanford on Saturday -- say he throws three more TD passes -- does he become a Heisman Trophy candidate? He presently ranks fifth in the nation in passing efficiency, and the Huskies likely would climb into the top-15 of the BCS standings. Perhaps the question is: How could he not?
October, 15, 2011
10/15/11
5:03
PM ET
Keith Price
is putting on a show in Husky Stadium.


Washington's sophomore QB has thrown four first-half TD passes as the Huskies
are stomping Colorado 38-10
.
Price is 18 of 23 for 230 yards. Baylor's Robert Griffin, after throwing three TD passes in a loss to Texas A&M, presently leads the nation with 22 TD passes. Price now has 21.
So don't slack off in the second half, Keith.
The Huskies outgained the Buffaloes 379 yards to 104 and have 22 first downs compared to six for the Buffs.
At this pace, Washington will enter the national rankings before it heads to Stanford on Oct. 22.
October, 7, 2011
10/07/11
5:41
PM ET
By
ESPN.com staff
| ESPN.com
Happy Friday.
Lead me on Twitter
!
To the notes!
John from Los Angeles writes
: What, in your opinion, do you think, has made the SEC the preeminent conference in the country? I remember the good old days when Washington, Colorado, UCLA, and USC were in the top 5 and top 10, with some National Championships along the way (Personally, I thought it had a lot to do with recruiting the Los Angeles area). But with the rise of the SEC do you think it has more to do with the changing of the game? More specifically, the move to more spread offenses and the need for speedier athletes, which the SEC currently has? Or do you think it has a lot to do with the defensive lineman in the SEC, who seem to be so much better than West Coast d-lineman? A lot of people say conference strength is cyclical, but is the current change in the game really cyclical or has it just evolved? Maybe it is demographics, as more and more people move to the Sunbelt and the talent pool has gotten bigger? Sorry, a lot to digest here from a concerned West Coast football fan.
Ted Miller
: This could be a 15,000-word essay. Or a 400-page book. But here's a CliffsNotes version.
Money: The SEC's rise parallels the rise of the BCS and the game growing from a pretty big business to a multi-billion dollar business. The SEC always had huge stadiums packed to overflow, but over the past 15 or so years, the conference has been able to monetize its popularity. What does money do? It hires elite coaches like Nick Saban, Urban Meyer and Steve Spurrier and it pays top assistant coaches what head coaches make in other conferences.
Recruiting: Demographics have concentrated more talent in the Southeast than anywhere else. You've got big guys and fast guys and fast big guys. (I mean Anthony Johnson: Are you kidding me?). The population may be greater in California, which still produces the premium quarterbacks, but a walk across a football field on a Friday night in the Southeast will have you asking if these are truly high school teams.
Culture: College football is king in the South (not the NFL, as it is everywhere else). Almost all the best athletes play football, and dream of playing in college, even though playing the most physically and mentally taxing sport in the Southeast humidity is worse than anywhere else. Want to know where all the West Coast linemen are? Playing basketball. Go to a big high school hoops tournament this winter. See all those 6-foot-5 guys? They will never sniff a Division I basketball court but they could have become NFL tight ends or offensive tackles. 100s of young men on the West Coast miss out every year on Pac-12 scholarships because they choose -- or are steered to -- basketball.
Self-fulfilling prophecy: Those who have been reading the Pac-12 blog since 2008, know I've taken on the topic of the SEC's dominance multiple times. Three years ago, I was more resistant to it. Not because I was a "Pac-10 homer," but because I didn't completely buy the "SEC rules" argument. That was three SEC national titles ago, including one lost by a Pac-10 team -- Oregon -- that I thought was going to stomp the team it lost to (Auburn). My feeling is all that "SEC rules!" talk, which has been around since Bear Bryant was the toast to of Tuscaloosa, was repeated so often, it became a recognized truth before it actually was true. And that perception helped the conference grow stronger and stronger until it became true. How? It also became a potent recruiting selling point. Consider the words of former top-rated recruit Ronald Powell of Moreno Valley, Calif. Yeah, not easy to hear for Pac-12 defensive coaches.
By the way, I know some of you might be tired of this topic. It seems like we take it on a few times a year. The reason I do that, though, is because it appears in the mailbag at least a handful of times every week. It seems like a topic that continues to be of genuine interest.
---
Brian from Beaverton, Ore., writes
: While you can't argue with the overall effectiveness of James at running back this year, have you noticed that even though they are running the spread offense, the majority of these running plays do not appear to be as read heavy between [QB Darron] Thomas and [RB LaMichael] James as they were last year? With Thomas being such an effective duel threat quarterback they are effectively removing an offensive weapon when he isn't taking the read option as much. This is allowing the defense to load up the tackle box and focus on the running back. Last year the defense had to be more honest because Thomas was more effective at holding onto the option and rushing himself. Do you see this as a fundamental change within the system or am I reading too much into it?
Ted Miller
: Chip Kelly has said repeatedly that Thomas is just doing his proper reads and has not been steered away from running the ball.
Of course, sometimes Chip just says "high" because a reporter said "low." I know that an opposing coach who was talking to me about the 3-4 looks Oregon sometimes uses on defense laughed in my face when I told him that Kelly said they didn't use a 3-4 defense. His response, which employed several colorful terms, was Kelly is full of malarkey and that reporters are stupid.
Thomas rushed for 486 yards in 13 games last year. He's rushed for 100 yards through five games. That does seem like a statistical trend suggesting he's running less. Is that just him reading what the defense gives him? I doubt it.
That said, Thomas rushed 10 times for 52 yards and scored both his rushing TDs against Arizona. So the threat is still there.
And, if I were going to crawl inside
Chip Kelly's head
and look around, I'd say that's exactly what he wants.
Because the Ducks run a spread-option, an opposing defense has to spend time accounting for the QB run. That takes up precious time. And if a defense coordinator takes note that Thomas rushed only five times in the first three games and decides to de-emphasize that possibility, he could get burned -- see Arizona.
Coaches spend a lot of time thinking about tendencies and what their opposition might be thinking. I think Kelly -- quite reasonably -- likes the idea of Thomas running less because it puts him at less risk for injury. But he also likes burning your butt when you start to think Thomas won't run.
---
Mark from La Quinta, Calif., writes
: Do you agree with your colleague Jesse Palmer when he stated that Cal had the two best wide outs in the conference? Or was he hyping the game as a lot of announcers tend to do on games they are broadcasting?
Ted Miller
: There are so many good receiver combos in the Pac-12 it's hard to choose, but Palmer's position is defensible: Entering the weekend,
Keenan Allen
ranked third and
Marvin Jones
sixth in the Pac-12 in receiving yards per game. No other tandem matched that. And that's notable because QB
Zach Maynard
only ranked fifth in passing yards per game (268.2).
Allen will be in the mix with USC's
Robert Woods
, Washington State's
Marquess Wilson
and Arizona's
Juron Criner
for first-team All-Pac-10. He's a big-time player. I suspect Jones will get drafted this spring.
So these guys are both good, experienced, A-list players.
So do I share Palmer's take? I might not have in the preseason, and I might not at season's end, but at this point, yes, they are the best 1-2 punch in the conference.
---
Jacob from Fort Hood, Texas, writes
: I feel as though Foles is getting the shaft because he is on a losing record team, but can you tell me why he isn't even being considered for the Heisman award even though he has more passing yardage than nearly every qb in the country? It doesn't make sense to me. Maybe you can shed some light on how the voting works and who is deserving in reality of the Heisman trophy. Is it more of a beauty pageant than an award for shear talent? Also, if Foles continues down the path that he is heading what round of the draft do you think that he will be picked up in?
Ted Miller
: The Heisman Trophy goes to a player for one of two reasons (and sometimes both). 1. Outrageous numbers; 2. Best player on best team. Often, those two are blended.
To start, Foles wasn't billed as a top candidate entering the season. Further, he is hurt because his team is 1-4.
To overcome those two issues, Foles would have to have outrageous numbers. He's got very good numbers, but not outrageous ones. He presently ranks 22nd in the nation in passing efficiency. And though he's piled up a lot of yards, 10 other QBs match or beat Foles' 14 TD passes.
As for the NFL draft, it's hard to say. I would be more surprised if he lasted past the third round than if he was selected in the first round. If you've ever chatted with him, he's a lot like
Andrew Luck
in terms of makeup. Smart, humble, eager to give credit to his teammates. And clearly very competitive.
---
Evan from Charlottesville, Va., writes
: You've written a couple times on the puzzling exclusion of
LaMichael James
from the current Heisman discussion. What is particularly confusing to me, however, is the fact that you yourself left him off of your ESPN Heisman Watch ballot this week. Assuming you vote Andrew Luck at number one, who filled out the rest of your ballot in spots two through five? And if you rated any other running backs ahead of James, what was your reasoning?
Ted Miller
: We do a top-five for ESPN.com each week. Here's mine from last week.
1. Andrew Luck. 2.
Kellen Moore
; 3.
Trent Richardson
; 4. Robert Griffin; 5.
Marcus Lattimore
(In retrospect, I should have dropped Lattimore after two straight underwhelming games).
My reasoning for leaving James off the ballot was twofold: 1. He didn't play well on a big stage against LSU (which he admitted); 2. His competition since then has been weak. His performance this week against a solid Cal defense will likely push him into my top five. Of course, now he's hurt and likely to miss at least a couple of weeks.
And if he doesn't, that would certainly add to his aura of being Heisman-worthy.
---
Spencer from Baton Rouge, La., writes
: Because I live a couple thousand miles away from the West Coast, Thursday's game against Oregon was the first time I have watched Cal play this season. Having listened to the other games via online radio streams, I knew Maynard struggled with accuracy. But I was shocked to see how poor his throwing mechanics are. How does a QB guru such as Jeff Tedford let such play fly? Granted, Maynard has not yet thrown the interceptions that Riley and Mansion did (which I attribute to poor decision making), but it is extremely surprising that Tedford would feel comfortable with the way Maynard throws the ball.
Ted Miller
: Without asking Tedford, my guess is that he chose not to mess with Maynard's natural throwing motion too much. Maynard is 22-years-old. Making drastic changes wouldn't be easy, especially with Maynard arriving at Cal as a junior, not a true freshman.
Sure, Maynard did have to sit out last year after transferring from Buffalo, meaning he could have refined his technique to a degree. I suspect Tedford has worked with him on his technique. But it might have been pretty late in the game for wholesale changes.
And I'm guessing that Maynard will get lots of work with Tedford based on how he threw at Oregon.
---
Rotfogel from Oakland writes
:
You have Cal only scoring 17
? Oregon's porous defense is going to hold the Pac 12's best WR tandem and offensive to 17? Maybe, highly unlikely but as you've said, Oregon is a tough place to play. I'm kinda happy you made that the score though, Cal's defense is far and away the Pac 12s best, hopefully they show it tonight.
Ted Miller
: I predicted 44-17. Oregon won 43-15.
I know: Gloating is unseemly. So sorry about that.
And is it just me or does it seem like the mailbag fills up more when I'm wrong than when I'm right?
---
Pete from Los Angeles writes
: Not sure if you saw this, but the Times of London's prestigious international rankings of the
top 400 universities
was released this week, and the Pac 12 has 4 schools in the top 25...in the world! No other AQ conference comes close. Once again shows that the Pac 12 is dominant in at least one category!
Ted Miller
: We are so smart.
Will I pick up any second-hand smart from hanging around with you guys?
October, 4, 2011
10/04/11
7:30
PM ET
By
ESPN.com staff
| ESPN.com
ESPN.com's
Heisman Predictor
, which uses a formula created by Ryan McCrystal, has published its latest Heisman Trophy rankings, and the only Pac-12 player on the list is Stanford quarterback
Andrew Luck
at No. 3.
Michigan quarterback
Denard Robinson
is No. 1 and Wisconsin quarterback
Russell Wilson
is No. 2.
McCrystal has only missed predicting the Heisman Trophy once since he started his system, so what we can guess is that Robinson shortly will tumble on this list.
Iron-clad guarantee: Robinson won't win the Heisman Trophy unless his passing numbers improved dramatically.
Robinson is the nation's 39th-rated passer. He's completed just 53 percent of his passes and thrown six interceptions with just eight touchdowns against a schedule that's featured no ranked teams.
Robinson is fourth in the nation in rushing with 139 yards per game -- he's as exciting a player as there is out there -- but he's still a quarterback, and if his passing numbers are mediocre, he won't win the Heisman. Not this year, with Luck, Wilson, Boise State's
Kellen Moore
and Baylor's Robert Griffin putting up eye-popping stats.
Oregon fans are probably going: What about
LaMichael James
?
James leads the nation in: 1. Rushing (153.3 yards per game); 2. All-Purpose yards (226.8); 3. Punt returns (22.8 yards per return).
Yes, no one has noticed.
But they will if he keeps rolling. For one, James will be on ESPN on Thursday night against California. If he puts up big numbers against a quality defense, he'll make a statement.
Then he needs to continue piling up numbers -- and the Ducks piling up wins -- in advance of the red-letter date with Stanford on Nov. 12. If he puts on a big show against the Cardinal --
as he did last year
-- and upstages Luck, he'll be well on his way to getting an invitation to New York again.
Oregon fans also want to root for this: Boise State to stumble, LSU to beat Alabama (and stuff running back
Trent Richardson
) and for Baylor to start losing. This weekend it would help James if Oklahoma quarterback
Landry Jones
plays poorly in a loss to Texas.
In other words, we've got lots of football ahead for Heisman candidates to rise and fall.
November, 18, 2010
11/18/10
11:36
AM ET
By
ESPN.com staff
| ESPN.com
Oregon running back
LaMichael James
and Stanford quarterback
Andrew Luck
are two of the "Players to Watch" for the Walter Camp Player of the Year award, the fourth-oldest college football award in the nation.
A list of five finalists will be announced on Wednesday, Dec. 1.
The 2010 Walter Camp Player of the Year recipient, who is voted on by the Football Bowl Subdivision head coaches and sports information directors, will be presented live on Dec. 9 during the 6 p.m. edition of ESPN's "SportsCenter."
Here's the complete list.
Justin Blackmon
, WR, Oklahoma State
Da'Quan Bowers, DL, Clemson
Andy Dalton
, QB, TCU
LaMichael James, RB, Oregon
Nick Fairley, DL, Auburn
Robert Griffin III
, QB, Baylor
Kendall Hunter
, RB, Oklahoma State
Colin Kaepernick
, QB, Nevada
Andrew Luck, QB, Stanford

Ryan Mallett
, QB, Arkansas
Kellen Moore
, QB, Boise State
Cam Newton, QB, Auburn
Terrelle Pryor
, QB, Ohio State
Denard Robinson
, QB, Michigan
Jordan Todman
, RB, Connecticut
PAC-12 SCOREBOARD
Saturday, 12/20
Monday, 12/22
Tuesday, 12/23
Wednesday, 12/24
Friday, 12/26
Saturday, 12/27
Monday, 12/29
Tuesday, 12/30
Wednesday, 12/31
Thursday, 1/1
Friday, 1/2
Saturday, 1/3
Sunday, 1/4
Monday, 1/12
Tweets from https://twitter.com/ESPNCFB/lists/pac12