December, 26, 2011
12/26/11
1:00
PM ET
VIP strip club outings, illegal campaign contributions, expense claims that qualified as only slightly less than stealing: The Fiesta Bowl organization sounded like it was inspired by "The Sopranos" in a series of stories written by the Arizona Republic from 2009-10. When the U.S. Attorney's Office, FBI and IRS began investigations, the resemblance was even more striking.
Former Fiesta Bowl COO Natalie Wisneski was indicted in Arizona federal court on nine criminal counts on Nov. 16, and among the seven felony counts were conspiracy and filing false tax records. More indictments could follow, including for former bowl CEO John Junker, who was forced out in March. Junker, according reports on the investigations, piled up nearly $5 million in expenses on the company's credit card over a 10-year period. Along the way, he allegedly paid for a $1,200 strip club visit and held a $33,000 birthday party for himself at Pebble Beach.
Bowl games already were catching heat in the media, and not just because of fans wanting a playoff instead of the BCS. More than a few news reports had questioned the bowl games' tax-exempt status. Tales of the lavish ways of the Fiesta Bowl certainly didn't help the public perception.
[+] Enlarge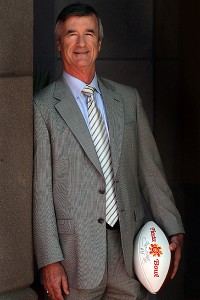 AP Photo/Darryl WebbRobert Shelton was hired to help repair the Fiesta Bowl's image.
Fiesta, indeed.
Into this swirling mess stepped Robert Shelton: an academic, a physicist, a former president of the University of Arizona. But his taking over the top spot at the Fiesta Bowl wasn't a moment for relativity. The bowl organization's issues were philosophic as much as anything. And Shelton's focus after taking over were existential. A branding group from Dallas was brought aboard to study the simple idea of why the Fiesta Bowl existed and what it should aspire to be.
"If we disappeared tomorrow, what would be better or what would be worse in the world?" Shelton said. "The answer is pretty simple in the end. The answer isn't bowl games. We exist to bring economic value to the state of Arizona, to be a window to the state of Arizona, a source of pride. That people outside the state of Arizona will come to see Arizona. We exist for philanthropic purposes. So that's why we are here."
And then he added: "If we keep that in mind, then we can say, 'How do we do this?'"
If the Fiesta Bowl -- the game itself -- isn't the end, but the means to an end, then the Fiesta Bowl's prime directive is to serve its community, though probably not at the local strip clubs and through backdoor routes to political coffers.
There have been changes, starting with a turnover of about one third of the bowl's 35 full-time employees. Even before Shelton arrived, the bowl adopted a new set of bylaws that included a far stricter set of checks and balances on how money is spent. There's a new "authorization matrix," which lists who can approve what expenditures at what levels and what kind of sign-offs you must have for purchases. Large expenditures require multiple sign-offs. The bowl now uses bowl-owned purchasing cards, instead of allowing employees to use their own credit cards for expenses, expecting reimbursement, which helps the bowl get a concrete idea of expenses. Further, all employees and volunteers undergo background checks, and all employees and board members sign a code of conduct.
And the old, infamous "Fiesta Bowl Frolic," which was basically a big party for college administrators, is now the "Fiesta Bowl Summit." It will include panels on important subjects, such as concussions in college football.
The Fiesta Bowl's problems were about the corrupt actions of individuals, but they also were about the bowl's culture. Both had to change.
"There were a handful of individuals alleged to have misbehaved," Shelton said. "But they were enabled by an atmosphere that was created over many, many years. Not through any evil intent but an atmosphere that wasn't cautious and reviewing or as informed as it should be."
Shelton was hired in June, but the months before he came aboard were precarious. Existential thoughts? The Fiesta Bowl, first played in 1971, was facing potential extermination. It could have been kicked out of the BCS, for one. And it could have lost its bowl licenses from the NCAA, which includes its oversight of the Insight Bowl. In the end, the BCS fined the bowl $1 million but retained the Fiesta Bowl, and the NCAA Postseason Bowl Licensing Subcommittee put the bowl on one-year probation.
Shelton believes the bowl game is back on firm ground, though he said it wasn't yet time for the bowl to be "sanguine."
"I think there is a sense we've done the right things, and the BCS and NCAA value what we bring to the bowls and postseason play," he said.
The bowl's mission as a charitable organization also has been reviewed. When asked how much the bowl gave to charity in past years, Shelton admitted it was "relatively low in the past."
That $1 million fine from the BCS has been paid out to charity, and the Fiesta Bowl has decided to give out another $400,000 to charitable causes. It's also adopted a more systematic fashion of giving, holding publicized general calls for charitable requests.
Of course, there's another apparent conflict of interest that Shelton must face leading up to this year's Fiesta Bowl between Stanford and Oklahoma State on Jan. 2.
Shelton is a Stanford graduate.
"I am completely neutral," he said. "I shall be dressed in neutral colors. I can't talk for my wife or kids who are also Stanford alumni."
It's a great matchup, arguably even better than the national title game between LSU and Alabama, considering that is a rematch. But while both teams have sold out their ticket allotments, the bowl is not yet a sellout.
It's possible that in a sagging local economy, the locals won't immediately re-embrace a bowl game that let its community down.
But Shelton is hoping, after an existential crisis, that the bowl finds a mythic ending.
"We could use the Fiesta Bowl's tragic events to come out even better," he said. "That's the nature of the word 'Phoenix.'"
December, 4, 2011
12/04/11
10:53
AM ET
What we now know: Oregon will play Wisconsin in the Rose Bowl.
I love that matchup, by the way. Two teams that were just outside the national title discussion with tons of offensive star power who do things differently.
Then what?
Stanford is likely headed to the Fiesta Bowl. But who will it play? It looked like the winner of the Oklahoma-Oklahoma State game until the Cowboys opened up a can of whup-butt in a 44-10 beatdown of their rival Sooners.
Now Alabama adherents are scurrying around telling folks not to do what their eyes and brains are saying to do: Put Oklahoma State opposite LSU, the most dominant No. 1 team of the BCS area, in the national title game and see what happens.
But that's another fight (and, yeah, if I were a coach, I'd rather play the Cowboys than the Crimson Tide).
The Pac-12 issue is if the Cowboys get promoted, who might play opposite Stanford? Likely the No. 2 team in the Big 12: Kansas State.
But there is a potential fly in the ointment,
well-described here by Jon Wilner
.
However, there is a remote chance that Stanford could get knocked out of the BCS. As the No. 4 team in the BCS standings, the Cardinal would be guaranteed a berth in all scenarios except one — the one that could become reality Sunday.

If Oklahoma State jumps Alabama, then the Crimson Tide would fall into the No. 3 spot and receive BCS protection as an at-large team.

In that case, Stanford would not be guaranteed a berth, and the Fiesta, under the letter of the BCS law, could invite someone else (best bet: Michigan). But would it? It seems highly unlikely that the Fiesta would pass on the No. 4 team in order to take a team ranked 8-10 spots lower. Never in the 13-year history of the BCS has the No. 4 team been left out.
Wilner also points out that the Fiesta Bowl's new executive director, Robert Shelton, is a Stanford graduate.
So let's assume a bowl that needs to do the right thing does so -- prioritizing merit -- and picks Stanford. Then with those two spots secure -- and the extra $6 million-plus it means for the conference -- there's the trickle down.
Washington is likely headed to the Alamo Bowl against an uncertain Big 12 opponent. First, we need to know what happens with Oklahoma State. Potential foes include Oklahoma, Baylor or Kansas State.
Then our guess is California goes to the Holiday Bowl (selected over Utah because they have the same conference record and Cal beat the Utes head-to-head). The Bears could face Baylor, Oklahoma or even Missouri or Iowa State.
Utah heads to the Sun Bowl (vs. Georgia Tech?), Arizona State goes to Las Vegas for Dennis Erickson's last game (TCU if it doesn't get a bounced into a BCS at-large berth, or Boise State if it does), and UCLA -- armed with its NCAA bowl waiver for a 6-7 record -- gets an invite to the Kraft Fight Hunger Bowl against ... hmm... Illinois? Wyoming?
There would be an obvious angle, of course, for a UCLA-Illinois matchup.
We'll, of course, have more later on the bowls. I assume you knew that, though.
June, 15, 2011
6/15/11
2:30
PM ET
Greetings from Big Ten country. Happy to fill in for Ted during his vacay.