July, 2, 2013
7/02/13
7:00
PM ET
We continue our series taking a closer look at each Pac-12 team's nonconference schedule.

Utah
Utah State, Aug. 29
Coach: Matt Wells, first year
2012 record: 11-2, 6-0 WAC
Returning starters: eight offense, seven defense
Offensive headliner: We read about quarterback Chuckie Keeton in USC's preview yesterday. Snapping him the ball is standout center Tyler Larsen, who anchors a very solid offensive line.
Defensive headliner: Defensive end Connor Williams started all 13 games last season and earned all-league honorable mention, notching 32 tackles and seven for a loss. He also led the Aggies with six sacks.
The skinny: The Utah State game last year was when it all started to unravel for the Utes. Week 2, Jordan Wynn went down (unfortunately, for the final time), the offensive line looked atrocious and the Aggies won 27-20 in overtime, ending a 12-game losing streak to the Utes. As noted yesterday, the Aggies were a legit non-BCS program under Gary Andersen, so we'll see if Wells can keep it going.
Weber State, Sept. 7
Coach: Jody Sears (2-9), second year
2012 record: 2-9, 2-6 Big Sky
Returning starters: seven offense, seven defense
Offensive headliner: Running back Bo Bolen was all-conference as a freshman and sophomore, averaging nearly 151 all-purpose yards in his first two seasons.
Defensive headliner: Linebacker Anthony Morales returns after earning all-league honorable mention last season. A two-time team captain, the senior led the conference with an average of 12 tackles per game.
The skinny: The Wildcats are replacing Mike Hoke, a two-year starter at quarterback. The competition is still on between senior Jordan Adamczyk and JC transfer Alfonso Medina. Whoever wins the job will be working with new offensive coordinator Robin Pflugrad (formerly of ASU, Washington State and Oregon). The last time the teams met was in 2008, when the No. 17 Utes won 37-21 behind a pair of touchdowns from Brian Johnson.
at BYU, Sept. 21
Coach: Bronco Mendenhall (74-29), ninth year
2012 record: 8-5, Independent
Returning starters: eight offense, six defense
Offensive headliner: BYU's top receiver the last three years, Cody Hoffman, is back for a fourth season after catching 100 balls for 1,248 yards and 11 touchdowns. He's on pace to become the school's all-time leading receiver in catches, yards and touchdowns.
Defensive headliner: Outside linebacker Kyle Van Noy is one of the best in the country at his position, finishing tied for second in the nation last year in sacks and fourth nationally in tackles for a loss.
The skinny: Van Noy is a game-changer, and his return is a significant boost to a BYU defense that has to replace three starters along the defensive line. There is some mixing and matching to be done on the offensive line, but they'll be blocking for very good runners in Jamaal Williams and Michael Alisa. There is plenty of talent to do some damage against a schedule that includes Boise State, Texas, Wisconsin, Nevada and Notre Dame.
Thoughts
: Week 1 will be critical. We need to see how the defense comes together with the new-look line and the Aggies will certainly provide a challenge there. Again, this isn't a low-level team and after winning last year, you can be sure they have developed a taste for it. Weber State isn't much of a threat and will likely provide a good opportunity to work out any Week 1 kinks that showed against Utah State. Obviously, the Holy War is the marquee game on the nonconference schedule -- especially since it goes on hiatus and bragging rights will linger. This rivalry is as heated as any in the country, and after last year's wild ending, tensions should be at a fever pitch. It took aligned stars for a good Utah State team to beat the Utes in overtime last year and with some more stability at quarterback and on the offensive line (keep an eye on LT
Jeremiah Poutasi
, who could be the league's next great lineman), the Utes should be better on offense. No one needs to be told how big BYU is. One game is an obvious win, the other two are "should" wins. Coming out of nonconference play at 3-0 wouldn't surprise me. But then again, neither would 2-1. 1-2 might.
February, 18, 2011
2/18/11
7:36
PM ET
After a tumultuous offseason that included dispatching both coordinators, Rick Neuheisel now has a full staff at UCLA.

The final piece is Inoke Breckterfield, who has been hired as the Bruins defensive line coach.

A former All-Pac-10 defensive lineman at Oregon State, Breckterfield coached the defensive line at Montana last season. He coached the same position at Weber State in 2009, and prior to that he was a graduate assistant coach for the Beavers in 2008 and 2007 and was a volunteer coach in 2006.

"Inoke is an outstanding young talent who I feel will have a great impact on our defensive linemen," Neuheisel in a statement. "[Oregon State head coach] Mike Riley and [Montana head coach] Robin Pflugrad were both effusive in their praise of Inoke and he really impressed me, Joe Tresey and the other defensive assistants during his interview. You can tell by listening to him that he is a real people person who will connect with our linemen and will be an outstanding recruiter as well."

The Grizzlies ranked first in the Big Sky and 14th in the BCS in tackles for loss (7.64 per game) and second in the league and 18th nationally in sacks per contest (2.64) in 2010. Montana ranked 103rd and 88th in those categories, respectively, in 2009.

He was a standout defensive lineman for the Beavers, playing his final two years (1997-98) under Riley. As a senior in 1998, he was named first-team Pac-10 and third team All-American (The Associated Press) at defensive end. In addition, he was voted team MVP, was the defensive winner of the Morris Trophy Award (the best defensive lineman in the league as voted on by Pac-10 offensive linemen), selected to play in the Hula Bowl and named Oregon State's "Male Athlete of the Year." Breckterfield left OSU as the school's career leader in tackles for loss (55.5) and sacks (19.5) and is currently ranked second in both categories at the school.

Following his college career, he played in the Canadian Football League for five seasons for the Toronto Argonauts (1999-2000) and the Winnipeg Blue Bombers (2001-03). He worked in the private sector in Aiea, Hawaii, from 2003-06 and then returned to OSU to attend school and serve as a volunteer assistant coach.
September, 21, 2010
9/21/10
5:47
PM ET
By
ESPN.com staff
| ESPN.com
Oregon is just sick. And by "sick" we mean
sick
in the ironic way the cool kids talk. Just
go look at these numbers
. We'll wait here.
See? Sick. Oregon ranks No. 1 in the nation in just about all the cool statistical categories -- total and scoring defense, total and scoring offense, etc.
[+] Enlarge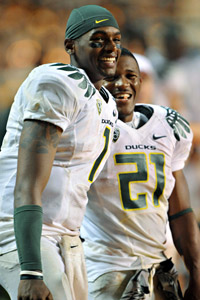 Kirby Lee/US PresswireDarron Thomas (left), LaMichael James and the rest of the Ducks are sitting atop the NCAA offensive rankings.
Of course, not everything is perfect. Oregon only ranks No. 2 in the nation in rushing offense, averaging a scant 380.67 yards per game, so that's a problem. Better get on that, Chip Kelly.
It's fair to ask if there's anything the fifth-ranked Ducks aren't doing well.
"I don't know the answer to that," Kelly said. "We don't put a whole heck of a lot into the stats after three games... I think we are playing well. I think we're playing hard. I like our effort. But we still have a ways to go to be a really, really good football team."
Oregon is bringing its PlayStation numbers to Arizona State on Saturday. In the preseason, this game probably elicited a "meh" from most observers. Oregon was projected No. 1 in the Pac-10. ASU was tapped ninth. And two games into the season, the reaction was likely the same.
But then the Sun Devils outplayed No. 11 Wisconsin on the road in a 20-19 defeat. There were so many ways that
game could have turned in their favor
, but there was an obvious positive spin, despite the loss: Arizona State can compete at a high level.
No, coaches and players don't like to talk about "moral" victories, but let's just say Kelly won't need to work hard this week to get his players to take their visit to Tempe seriously after they look at the Sun Devils-Badgers game film.
Coach Dennis Erickson said his team is more confident.
"I would say we are," he said. "We had chance to win a football game on the road against what we thought was a good football team. And yet, in looking at it, we did not play like we're capable of playing."
It's another good sign for the Sun Devils that a question about "moral" victories and "gaining confidence" seems to make quarterback
Steven Threet
wrinkle his nose in irritation.
"We didn't feel like the underdogs," he said. "I feel like going into it we knew we were a good team. I think some people thought it was a measuring stick for us, but I don't think anybody on our team believes in moral victories. We went in there to win the game. That was our goal."
Oregon thrashed the Sun Devils 44-21 in 2009, but the offense the Ducks will face on Saturday is a far more talented and confident outfit. That can be traced first to Threet, who is second in the conference with 280 yards passing per game, then to better offensive line play -- see 156 yards rushing per game -- and a deeper, more athletic array of skill players who can punish a defense when it messes up an assignment.
A lot like Oregon can.
Of course, the Ducks defense will be the best unit the Sun Devils have seen. But the same can be said for the Ducks offense.
In fact, if you are looking for a key matchup, start with Sun Devils linebacker Vontaze Burfict vs. the Ducks spread-option. While it's always about disciplined team defense when opposing the Ducks misdirection, Burfict is the sort of individual talent who could make things tough on running backs
LaMichael James
and
Kenjon Barner
.
Burfict upped his game at Wisconsin and became a force. He needs to take it a few more clicks forward against the Ducks (without committing any boneheaded personal foul or conduct penalties).
"That's probably the best he's played [at Wisconsin]," Erickson said. "But he hasn't played near what he is capable of. He's getting better all the time. You've got to be disciplined against any offense but particularly this one. If you make a mistake and miss a tackle against Oregon, they'll take it to the house."
Another level of intrigue: Two Sun Devils have more than the obvious reasons to dislike the Ducks. Receiver
Aaron Pflugrad
transferred from Oregon to ASU after his father, receivers coach Robin Pflugrad, was fired by Kelly. And Sun Devils defensive tackle Bo Moos is the son of Bill Moos, who was forced out as Oregon's athletic director in 2007.
"Obviously, they both want to play well against the University of Oregon, where they have had ties over the years," Erickson said. "But I think they'll have the emotional aspect of it under control."
Oregon has looked sick on both sides of the ball thus far. But there will be strong emotions, newfound confidence, a home crowd and a hot desert evening swinging the Sun Devils way.
Maybe all that will combine to make the Ducks just sick enough -- in the traditional sense of the word -- that the Sun Devils can notch the upset.
March, 30, 2010
3/30/10
5:51
PM ET
By
ESPN.com staff
| ESPN.com
TEMPE, Ariz. -- While Oregon suffered through a terrible string of off-field problems since its Rose Bowl run, an Arizona State Sun Devil watched from afar with feelings that could be best described as "complicated."
Aaron Pflugrad
, you see, was set to be the Ducks starting slot receiver in 2009. But his father, Robin, the the Ducks receivers coach since 2006, did not have his contract renewed for that season, a decision based on Chip Kelly's looming ascendancy to the head coaching job.
So, after catching six passes for 107 yards and two touchdowns in the spring game, Pflugrad opted to transfer.
While it's fair to say that Aaron Pflugrad doesn't hold warm feelings for Oregon, he doesn't seem like the sort to relish the Ducks misfortune with a smirking vindictiveness either.
It simply was clear to him after spring of 2009 that things weren't going to work out. Too much baggage.
"A couple of people whom I respected in the program-- [receivers coach Scott Frost, secondary coach John Neal and strength and conditioning coach Jim Radcliffe] -- they said I should give spring a go," Pflugrad said. "You've got a lot invested in a program, so you say, 'I'll give it a chance and see how things go.' But I just felt like I needed a fresh start."
Aaron said his father didn't push him to leave Oregon.
"When I decided to leave, I think he was shocked because I had a chance to be a starter in the Pac-10, something I wanted for so long," Aaron said. "He was good about it. He wanted what was best for me."
Did he leave behind hard feelings with Kelly?
"I don't think so," Pflugrad said. "I think we both realized it was a tough situation."
The good news is both Pflugrads found new opportunities. Aaron, after sitting out a year, is slated to start at receiver for a Sun Devils offense that is rebuilding at the position, while Robin is the new head coach at Montana.
"I'm pretty proud of him," Aaron said of his dad. "The situation at Oregon, I feel like a lot of coaches at that point in their career would have been backed into a corner. But he just kept grinding and now he's a head coach at a pretty solid program."
Pflugrad, now a junior, caught 23 passes for 247 yards and one touchdown and returned 11 punts for 72 yards for the Ducks.
While he calls Arizona State a "fresh start," Tempe isn't completely new to him. He grew up in the area when his father was the Sun Devils receivers coach and recruiting coordinator from 1995-2000 under Bruce Snyder. Nor is coach Dennis Erickson a stranger. Pflugrad went to an Oregon State football camp while Erickson was the Beavers coach. In fact, Erickson recruited him twice -- first as Idaho's head coach in 2006 and then at Arizona State.
As for the offseason problems at Oregon, Pflugrad seems shocked as much as anything.
"It's pretty surprising to see that going on," he said. "It's them making bad decisions. I'm friends with some of the guys. I was really close with some of them. I thought they were good guys. I just think they made some bad choices."
Of course, he would prefer to look forward with his present team, which will be starting a quarterback competition this spring between Michigan transfer
Steven Threet
and sophomore
Brock Osweiler
.
Naturally, a coach's son isn't going to prematurely handicap the competition.
"It's hard to tell right now," he said. "They're both big, tall guys who can wing it pretty good. I think we'll find out in the spring. Someone is going to rise to the occasion and take the job."
As for whether he's circled Sept. 25 when Oregon visits Arizona State -- "Family weekend," no less -- Pflugrad is a bit coy, while again sounding like a coach's son who isn't interested in fomenting a controversy with a biting comment.
"We'll see," he said. "I consider myself as someone who plays my hardest in every game. If you go by that, then it will be the same."
July, 30, 2009
7/30/09
11:23
AM ET
By
ESPN.com staff
| ESPN.com
Posted by ESPN.com's Ted Miller
Happy media day! Posting early because today will be busy.
June, 17, 2009
6/17/09
10:28
AM ET
By
ESPN.com staff
| ESPN.com
Posted by ESPN.com's Ted Miller
He was projected to start on Oregon's defensive line in 2009, but Tonio Celotto quit football in March and told the Eugene Register-Guard that he was moving back "to Southern California to attend to an ailing grandmother."
Celotto has resurfaced at Nevada, where he'll resume his football career after sitting out a season.
Hmm.
There was also this from the Register-Guard in March:
Celotto said the departure of former UO defensive line coach Michael Gray also factored into his thinking. [New head coach Chip] Kelly elected not to retain Gray when it was announced Kelly would replace Mike Bellotti as Oregon's head coach.

Celotto called new defensive line coach Jerry Azzinaro "an amazing guy" but said Gray was "not only like a father but also a friend."
Celotto also wanted to go into law enforcement and Oregon doesn't offer a major in criminal justice.
He was the first of four Ducks who were expected to start or be key reserves this season but ended up bolting this spring. He was followed by starting receiver Aaron Pflugrad, backup quarterback Justin Roper and potential starting receiver Chris Harper, a former quarterback.
Roper left to find playing time; Harper to play quarterback and be closer to home. Pflugrad skipped town because his father, Robin, was fired as receivers coach.
Celotto, it appears, falls somewhere between Pflugrad and Harper.
There is almost always player attrition after a coaching change. But, yes, this is more than usual, at least in terms of players who were likely going to be high-level contributors.
While it may raise an eyebrow or two, it doesn't strike me as terribly alarming. There's no indication anything sinister is at work here -- each of these four had valid reasons for leaving. And new coach Chip Kelly's consistent attitude of "if you don't want to be here, then go" is the correct approach.
It would only become a worrisome trend if similar transfers continued at the same rate into next year.
May, 15, 2009
5/15/09
10:24
AM ET
By
ESPN.com staff
| ESPN.com
Posted by ESPN.com's Ted Miller
A standout performance in Oregon's spring game appears to be junior receiver Aaron Pflugrad's goodbye to the Ducks. He's been granted a release to transfer.
While Pflugrad was mostly playing with the No. 1 offense this spring, his situation was complicated. His father, Robin Pflugrad, was fired as the Ducks' receivers coach by new head coach Chip Kelly.
Pflugrad only caught 23 passes for 247 yards and one touchdown over the previous two seasons, but he was expected to play a bigger role next fall after the departures of Jaison Williams and Terence Scott. He caught six passes for 107 yards and two touchdowns in the spring game.
Pflugrad, who has yet to redshirt, would have three years to play two seasons.