April, 14, 2014
Apr 14
12:00
PM ET
Coming into this season, the Oregon linebackers were expected to be one of the Ducks' biggest strengths, considering their depth and experience. On a defense that's looking for players to step into prominent roles, the linebackers return three of four starters while also boasting an impressive two-deep.
But rather than a statistical advantage, the biggest adjustment the linebackers are bringing to the Ducks this season is both emotional and mental. The leader of the unit, Don Pellum, has been promoted from LBs coach to defensive coordinator.
"We have our own linebacker culture that we've had for years," junior
Rodney Hardrick
said. "We have a different standard, different culture in our room and now that [Pellum is] the coordinator, we've extended that culture to the defense. Now, everyone is on the same page and is doing what we've been doing."
This culture preaches showing up early to practices, treatments and meetings, going the hardest and knowing the most about the defense.
Obviously all of those facets are parts that each position group on the Ducks defense found important, but with a group clinging to that as its identity, it becomes even more important. Thus, a culture is formed.
Senior linebacker
Derrick Malone
said he already has seen the defense practice faster, but to him it's pretty normal since Pellum has always coached the linebackers this way. Now, he's just coaching the entire defense this way.
"It's the way he gets us programmed that certain way right when we come [to Eugene]," Malone said. "Right when we come in as freshmen, that's the only way we know. As linebackers we don't know any other way. It's the foundation."
But now that's becoming the foundation of the defense, which will only help moving forward. If the defense continues to buy in to the linebacker culture, it should show major improvements this spring since the linebackers have been one of the Ducks' most consistent position groups.
"The whole defense is starting to come around," Malone said. "It's all spilling over to the other units. … You can see that change."
March, 27, 2014
Mar 27
5:30
PM ET
You remember the three-headed monster, right? It's about returning production that will scare -- terrify! --opponents. Or not.
On offense, it's elite combinations at quarterback, running back and receiver.
On defense, it's elite combinations of a leading tackler, a leader in sacks and leader in interceptions.
This year, we're breaking things down by division. We've already done offense for the
South
and
North
divisions. Wednesday we looked at defenses in the
South
.
Next up: North Division defensive three-headed monsters.
1. Stanford
LB
A.J. Tarpley
, DE
Henry Anderson
, S
Jordan Richards
The skinny
: The Cardinal lose their top tackler (
Shayne Skov
) and top sack guy (
Trent Murphy
). But there are others ready to take control. Tarpley has long been one of the league's most underappreciated linebackers (93 tackles last season) and Anderson's return boosts a front seven that should continue to party in the backfield. Richards is solid at one safety spot, though there are some questions about who will play opposite him. The Cardinal still boast the top defense in the league until proven otherwise.

2. Washington
LB
Shaq Thompson
, DE
Hau'oli Kikaha
, DB
Marcus Peters
The skinny:
The Huskies have some losses, like everyone else in the country, but there is plenty of talent coming back for the new coaching staff to work with. That returning production is enough to slot them No. 2. Thompson continues to get better with each season and appears on the verge of a breakout year. Kikaha has not-so-quietly turned into one of the Pac-12's most feared rushers (13 sacks last season) and Peters is back after making five interceptions last season. They lose some leadership with the departure of
Sean Parker
and there's some question marks in the secondary. But this should be a salty group in 2014.
3. Oregon
LB
Derrick Malone
, DE/OLB
Tony Washington
, CB
Ifo Ekpre-Olomu
.
The skinny
: Despite losing
Avery Patterson
,
Brian Jackson
and
Terrance Mitchell
, the secondary still boasts one of the top defensive backs in the country in Ekpre-Olomu. Mitchell led the team with five picks in 2013, but a lot of teams opted not to test Ekpre-Olomu. Malone is back after making 105 tackles, and
Rodney Hardrick
should be on his heels as top tackler. The linebackers should be a strength. Washington returns after recording 7.5 sacks to go with 12 tackles for a loss. Now, if they could just get off the dang field on third down ...

4. Oregon State
S
Tyrequek Zimmerman
, DE
Dylan Wynn
, CB
Steven Nelson
The skinny:
Zimmerman brings his 104 tackles back from last season and the return of OLB
Michael Doctor
, the team's leading tackler in 2012, should be a nice boost. Replacing the production of
Scott Crichton
and his 7.5 sacks will be difficult. Linebacker
D.J. Alexander
and Wynn should see their share of time in the backfield. Nelson, a former junior college transfer, had a spectacular first season with the Beavers with a team-high six interceptions (tied with
Rashaad Reynolds
) and eight breakups.

5. Washington State
LB
Darryl Monroe
, DT
Xavier Cooper
, ?
The skinny:
Do-all safety
Deone Bucannon
is gone after leading the team in tackles (114) and interceptions (6). He was an All-American for a reason. Monroe is an obvious choice for tackles, and Cooper is the obvious choice for sacks. But the secondary is wide open. Mike Leach has essentially said all four spots in the secondary are up for grabs. Clouding the issues is the future of cornerback
Daquawn Brown
, who has legitimate experience but also some legal hurdles to overcome.

6. California
S
Michael Lowe
, LB
Jalen Jefferson
, S
Avery Sebastian
?
The skinny:
We all know about the defensive injury issues the Bears had last season, which is why Lowe returns as the leading tackler and tied for the lead in interceptions with one (the Bears only had five all last season). Jefferson returns with the most sacks, and
Kyle Kragen
appears to be a good fit for the scheme. (Remember when
Kameron Jackson
had three in one game!) We'll see how oft-injured but talented
Stefan McClure
fares at safety. Getting Sebastian back from injury will help in the secondary. The pass rush should be improved with
Brennan Scarlett
's return.
October, 27, 2013
10/27/13
10:00
AM ET
Five things we learned in Week 9 in the Pac-12.
[+] Enlarge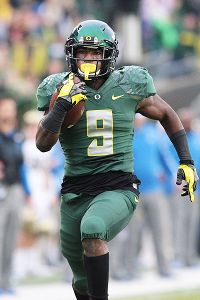 Scott Olmos/USA TODAY SportsByron Marshall rushed for 1,038 yards for the Ducks in 2013.
See Ducks run
: First, credit the Bruins for effort. They sold out and committed to the run and totaled 219 yards on the ground in playing the Ducks to a 14-14 halftime tie. They weren't intimidated and they didn't back down from the challenge. But like Jim Mora said, "the heck with being close." UCLA needs to start winning these games if it wants to be considered an elite Pac-12 team. That said, Oregon simply needed 48 minutes instead of its usual 30 to dispatch a team, ranked or not. And it was refreshing to see how the Ducks would react to being punched back. They reacted like a championship team should. Oregon picked up 325 yards on the ground, with 133 yards and three touchdowns from
Byron Marshall
. And we've been saying it in the blog for a while now: Oregon's defense is really, really good. The Ducks picked off
Brett Hundley
twice and held him to just 64 yards in the air.
Marcus Mariota
was a very clean 21-of-28 for 230 yards and a touchdown. His streak of games with at least one rushing and one passing touchdown came to an end, but he extended his interception-less streak to 292 consecutive passes. And it has to be comforting to know that if every Oregon running back is suddenly stricken with sprained ankles,
Rodney Hardrick
can always carry the rock.
Typical Stanford
: Stanford's offense survived on the strength of tough running by
Tyler Gaffney
and a defense that sacked Oregon State quarterback
Sean Mannion
eight times. But it was Gaffney's late-game fumble that should serve as a reminder that Stanford hasn't been scoring many points of late. So, not unlike last year's Stanford team, white knuckles will likely be required down the stretch. But credit the defense for creating pressure on Mannion, who was 41-of-57 for 271 yards and a touchdown. His partner in crime,
Brandin Cooks
, had nine catches for 80 yards and a score. Sans the late-game fumble, Gaffney was stellar again, this time going for 145 yards and three touchdowns. The Beavers saw their six-game winning streak come to an end. But there's little time to wallow with USC coming into town before a bye and then going on the road for two of their last three. The next time Stanford takes the field will be when Oregon comes to town. And despite the one Cardinal loss, that game still has all the fun subplots and polish we were hoping for.
Where's the offense?
The Utes are reeling after failing to win on the road for the second straight week. And the once-potent offense managed just three points and 201 yards, and it turned the ball over four times. Remember, this is the team that put up 410 yards on Stanford. But this was the worst offensive output by far. A lot of that has to do with the health of
Travis Wilson
, who sat out the second half for the second straight week. The offensive line looked leaky and the explosive attack we'd come to know the first half of the season looked flat. The defense did what it could, but the offense left it in bad spots. Which leads us to the Trojans. Not a particularly great offensive showing for them, either, so a game ball to
Andre Heidari
and his four field goals.
Cody Kessler
looked pretty good, taking care of the ball and completing 21 of 32 passes for 230 yards with a touchdown. But minus-30 yards in sacks left the Trojans with just 30 total rushing yards for the game. Credit USC's defense for being opportunistic and big ups to the Trojans for continuing to persevere despite a depleted roster. They did what they had to do to win. But now Utah's signature win a couple of weeks ago is starting to look more and more like a one-week-wonder.
Carey keeps rolling
: The leading rusher against Colorado was not Ka'Deem Carey, surprisingly enough. But Carey did rush for 119 yards and four touchdowns, giving him 10 straight games of at least 100 yards dating back to last year's game against Colorado. It was quarterback
B.J. Denker
who carried 15 times for 192 yards. The Buffs played this one tough for a while, even leading 13-10 with five minutes left in the half. But the Wildcats struck hard and fast with two late-half touchdowns, and it was game over from there. You can get the sense that this is a different Colorado team than last season. And
Paul Richardson
is simply outstanding (seven catches, 132 yards, one score). The results just aren't showing up in the win column. Arizona broke through with its second straight conference win and will look to become bowl eligible next week against Cal.
Huskies bounce back
: Washington got exactly what it needed: a win, and a convincing win at that. Cal continues to be everyone's slump buster. And the Huskies busted their three-game slump with a monster 241-yard, two-touchdown performance from
Bishop Sankey
. This win won't get the Huskies back in the Top 25. And beating Colorado next week probably won't, either. But the Huskies are one step closer to another year of bowl eligibility, and with back-to-back road games at UCLA and Oregon State before the Apple Cup, Washington has an opportunity to finish very strong and break the seven-win curse. For Cal, it's about finding the little positives. But the Bears have now dropped 10 straight Pac-12 contests dating back to last year. And after another blowout loss, you have to wonder if that streak will end this season.
August, 28, 2013
8/28/13
5:30
PM ET
Just because a position is questionable in the preseason doesn't mean it's not answerable.
Questionable: Oregon is replacing three A-list linebackers. Dion Jordan was first-team All-Pac-12 and the third overall pick in the 2013 NFL draft. Kiko Alonso and Michael Clay were both second-team All-Pac-12, with Alonso getting picked in the second round of the draft. Clay was cut this week by the Miami Dolphins.

The lone returning starter is
Boseko Lokombo
, who only ranked 10th on the team in tackles last year.
Answerable: Lokombo, a fantastic all-around athlete, has been a dominant playmaker during preseason practices, and the Ducks have five other linebackers with significant playing experience.
With the first official depth chart out,
Tony Washington
, as expected, will step in for Jordan at the position listed as defensive end opposite
Taylor Hart
, though everyone and their grandmother knows the Ducks defense is a base 3-4 and Washington will be an outside linebacker opposite Lokombo.
Juniors
Rodney Hardrick
and
Derrick Malone
, who were injured during spring practices, are the starters inside.
The three new guys are hardly green. Washington started twice for Jordan last year and finished with 20 tackles. Malone had one start and finished with 41 tackles, which ranked eighth on the team. Hardick had 11 tackles.
Depth? Backup
Tyson Coleman
, who can play inside and outside, had 34 tackles last year, and
Rahim Cassell
had 19. In fact, it wouldn't be surprising if the Ducks played nine linebackers against woeful Nicholls State on Saturday.
Still, Lokombo is the one to watch. The 6-foot-3, 232-pound senior could play his way into the early rounds of the NFL draft next spring if his production equals his potential this fall.
"He's a guy who is almost limitless from a potential standpoint," Oregon's first-year coach Mark Helfrich said. "We expect huge things from him. But he needs to be more consistent."
Lokombo had 39 tackles last year, with 4.5 tackles for a loss, two sacks and two interceptions. Look for the sack numbers, in particular, to go up. Lokombo is powerful -- 500 pound squat -- and fast, though he's more quick than a 40-yard dash guy. He started all 13 games last year and the native of Congo has seen action in 40 since arriving at Oregon from Abbotsford, British Columbia four years ago.
He doesn't seem too worried about the new starters surrounding him.
"Some of them already played a lot last year," he said. "They are ready to take on their roles. It's next man up and that's that."
It also helps that Oregon's defensive line and secondary are both among the best units in the Pac-12, with the secondary widely considered as good as any in the nation.
The Ducks 2012 defense was very good. This one might still be able to match it, even with a question at linebacker.
Said Helfrich, "We have a lot of unproven guys, but a bunch of guys who have played to this point in camp really hard and really well."
August, 28, 2013
8/28/13
10:00
AM ET
Across the ESPN blogosphere on Wednesday, we're looking at players/coaches/position groups with something to prove in each conference. In the Pac-12, the answers should be fairly obvious. Here are 10 from the league in no particular order.
1. Lane Kiffin
: OK, maybe this one is in particular order. USC's head coach is on the hottest seat in America after a disastrous 2012. There were embarrassments for the program on and off the field. That has led to plenty of speculation about what he needs to do to keep his job. Win 10 games? Nine? Win nine and beat UCLA or Notre Dame? Or both? This is a storyline that will no doubt carry deep into the season.
[+] Enlarge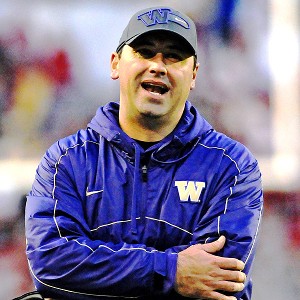 James Snook/US PresswireLane Kiffin isn't the only Pac-12 coach feeling growing pressure for a successful season.
2. Steve Sarkisian:
His seat isn't as hot as Kiffin's. But the heat index has certainly risen in the wake of another seven-win season. The Huskies have a lot of returning talent – including a quarterback with potential, a healthy offensive line, an outstanding running back and receivers (including TE), and a fairly veteran defensive core. The pieces are in place for Washington to, at the very least, get over the seven-win hump. Seven wins or fewer will be met with harsh criticism and questions about whether Sarkisian is the right guy for the job.
3. Oregon's linebackers
: This appears to be the only question mark for the Ducks, at least on paper, because they have a solid front and an outstanding secondary. Losing Michael Clay, Kiko Alonso and Dion Jordan is a big hit in terms of production, talent and leadership.
Boseko Lokombo
is a veteran presence, and
Tony Washington
,
Derrick Malone
and
Rodney Hardrick
have all been in the system for a few years. If they can match the production of their predecessors, the Ducks should be fine defensively.
4. Stanford's wide receivers:
Ty Montgomery
headlines this list. At the end of 2011, he showed explosive playmaking ability and his future looked sparkling. But injuries slowed him in 2012. With the Cardinal doing some overhauling after losing their top two tight ends, the receiver spot will likely take on more emphasis in 2013. Players such as
Devon Cajuste
,
Michael Rector
and
Kelsey Young
will need to be productive as well.
5. Paul Richardson
: The Colorado receiver missed all of last season with a knee injury and had to sit and watch his team fall apart around him. The Buffaloes went 1-11 and their coach was fired. A new coach, a new offense and a new enthusiasm in Boulder is motivating Richardson
to make up for lost time.
He is Colorado's most explosive player and knows he has the potential, and responsibility, to carry the offense. Now he just has to go out and prove he can do it.
6. Oregon State's receivers
: We know what we're getting with
Brandin Cooks
. He proved last season that he's an outstanding player. How much of that, however, was a product of the guy across the field, Markus Wheaton? With Wheaton gone, either
Richard Mullaney
or
Obum Gwacham
will have to step up as a complementary threat to Cooks -- along with
Kevin Cummings
in the slot.
7. QBs, old and new
: Not all the quarterback competitions are completed. But whoever wins the job at Arizona and USC will likely be looking over his shoulder for the bulk of the season.
Connor Wood
is back in the starting role for Colorado, true freshman
Jared Goff
gets the start for Cal, and
Sean Mannion
finally won Oregon State's job after a grueling seven-month competition with
Cody Vaz
. Nothing is set in stone at Washington State, so
Connor Halliday
will need consistent play to hold the job (we're assuming, for now, that it's Halliday). Expect these players to be under the microscope all season.
8. UCLA's running backs:
There are big shoes to fill with the departure of running back Johnathan Franklin, the school's all-time leading rusher and a Doak Walker finalist last year. Jim Mora has said that he'll likely use five backs throughout the season.
Jordon James
is the front-runner of the committee and has the best opportunity to distance himself. But expect
Paul Perkins
,
Malcolm Jones
,
Steven Manfro
and
Damien Thigpen
(health pending) to all fight for time and carries.
9. Utah's secondary
: It's not necessarily young. Just inexperienced. And in a pass-happy league, that could spell trouble. Free safety
Eric Rowe
has the most playing time among the group. Cornerback
Davion Orphey
is a juco transfer and opposite him is
Keith McGill
, a former safety and juco transfer who appeared in five games in 2011 but suffered a season-ending injury and then missed all of 2012. There is talent there. It's just mostly untested.
10. Arizona State:
Yep, the whole team. This is what you wanted, ASU fans … for the sleeping giant to be awoken. The alarm clock just went off. Now it's time to prove all the hype is worth it. A challenging schedule early -- including Wisconsin, Stanford, USC and Notre Dame in consecutive weeks -- will be a good measuring stick. Though the USC game is really the one that has South title implications. Still, the other three will go a long way toward determining how ASU is viewed nationally. Going 1-3 and beating USC wouldn't be disastrous. Going 0-4 will draw the requisite "same old ASU" criticisms.