September, 7, 2013
9/07/13
7:00
AM ET
Here's what's ahead today in the Pac-12.
Weber State (1-0) at Utah (1-0), 2 p.m. Pac-12 Network:
Utah leads the series 3-0. The last meeting was a 37-21 win in 2008. Weber State opened with a 50-40 win over Stephen F. Austin, while the Utes beat Utah State.
No. 3 Oregon (1-0) at Virginia (1-0) 3:30 p.m. ABC/ESPN:
First meeting. Virginia beat BYU 19-16 in its opener, a game that featured a two-hour rain delay. The Cougars outgained the Cavaliers 362 yards to 223. Three Ducks eclipsed 100 yards rushing against Nicholls State: QB
Marcus Mariota
, RB
De'Anthony Thomas
and RB
Byron Marshall
. Since 2000, the Pac-12 is 26-23 when playing in the Eastern time zone. The Ducks are 3-0 during that span, beating Michigan (2007), Purdue (2008) and Tennessee (2010).
Portland State (1-0) at California (0-1) 5 p.m. Pac-12 Network:
Cal leads the series 1-0, beating the Vikings 42-16 in 2006. Portland State beat Eastern Oregon 57-17 in its opener. In his first career start against Northwestern, Cal QB
Jared Goff
set a freshman record with 445 yards passing, the second-best overall total in school history, falling behind 503 yards from Pat Barnes in a four-overtime game against Arizona in 1996.
Hawaii (0-1) at Oregon State (0-1) 8 p.m. Pac-12 Network:
Oregon State leads the series 5-3, with the Beavers winning the last meeting 45-7 in 2008. The Rainbow Warriors opened with a loss to USC. The Beavers, of course, lost to FCS Eastern Washington. The preseason story for Oregon State was the quarterback competition, but perhaps it should have been the defense, which got run over by the Eagles. QB
Sean Mannion
completed 37 of 43 passes for 422 yards and three touchdowns, while WR
Brandin Cooks
caught 13 passes for 196 yards and two scores.
Central Arkansas (1-0) at Colorado (1-0) 8 p.m. Pac-12 Network:
First meeting. Central Arkansas beat Incarnate Word 58-7 on Saturday, while the Buffaloes snapped an eight-game losing streak with their win over Colorado State on Sunday. QB
Connor Wood
completed 33 of 46 passes for 400 yards and three TDs against the Rams. His interception-free game with 46 attempts was the second best in Buffs history.
Arizona (1-0) at UNLV (0-1) 10:30 p.m. CBS Sports Network:
Arizona leads the series 1-0, winning 38-21 in 2001. UNLV opened with a 51-23 loss at Minnesota. That was the 23rd loss in a row on the road for the Rebels, but the Wildcats are coming to Sam Boyd Stadium. The Rebels actually outgained Minnesota 419 yards to 320 and rushed for a strong 193 yards. All-American RB
Ka'Deem Carey
, who was suspended for the season-opener against Northern Arizona, is expected to make his season debut.
Washington State (0-1) at No. 24 USC (1-0) 10:30 p.m. FoxSports 1:
The first Pac-12 game of the season! USC leads the series 58-8-4, but the teams haven't played since a 50-16 USC win in 2010. The big question is how things will stack up at quarterback for the Trojans -- who will start and how much both
Cody Kessler
and
Max Wittek
will play.
Connor Halliday
is the Cougars quarterback and passed for 344 yards at Auburn, but also threw three costly interceptions. Now back in Pac-12 play, he will be facing a much more physical, athletic and talented defense this week. He can't afford similar mistakes, or Cougars coach Mike Leach might give
Austin Apodaca
a look.
San Jose State (1-0) at No. 4 Stanford (0-0) 11 p.m. Pac-12 Network:
Stanford leads the Bay Area series -- now the Bill Walsh Legacy Game -- 51-14-1, but the Spartans gave the Cardinal trouble last year before falling 20-17. Of course, at the time we didn't know San Jose State would finish 11-2 and send coach Mike MacIntyre off to Colorado. The Spartans are now coached by Ron Caragher, who was hired away from San Diego, where he followed Jim Harbaugh. Spartans QB
David Fales
was the nation's most accurate passer last year. The Spartans opened with a 24-0 win over Sacramento State. At No. 4, Stanford has its highest preseason rank in its history. The Cardinal has been ranked 45 consecutive weeks dating back to Sept. 5, 2010. That is the school's longest continuous ranking in the polls. Stanford owns a nine-game home winning streak, longest in the Pac-12.
September, 6, 2013
9/06/13
4:30
PM ET
Stanford kicks off its season tomorrow night against San Jose State, and offensive lineman
Kevin Danser
couldn't be more ready to start his fifth year. Danser, a 6-6, 295-pound guard who prepped at nearby Bellarmine, took some time to chat with the Pac-12 blog about the regional rivalry with the Spartans, the expectations for the Cardinal in 2013 and what the perfect offensive lineman would look like if he got to play Dr. Frankenstein.
The San Jose State game obviously isn't as big of a rivalry as Cal, but being from the Bay Area, do you get the sense that a rivalry exists?
Kevin Danser:
Of course. The San Jose State coach (Ron Caragher) is actually a former Bellarmine Bell, so we have that connection. There are a lot of local guys on the team. It's huge bragging rights as well. You want to beat every team in the Bay Area and this is a great game to kick it off. My brother played for San Jose State so there are also some in-house bragging rights.
Last year, there was so much talk about who is going to replace Andrew Luck, seemingly lost in that shuffle was the fact that you had to replace David DeCastro. Not easy. Did you feel that pressure and what was it like being the guy that had to follow David?
KD
: Obviously he was probably the best offensive lineman to ever come through this program. I never felt too much pressure. I came in and did my job. Listened to the coaches, they know what's best. I just came in everyday and put my blue collar shirt on, put my tunnel worker's hat on and came to work. I never really felt the pressure.
The line is obviously highly regarded -- some say it might be the best in the country. What are the goals you guys have set for yourselves on the line?
KD
: Our goal is to be the best offensive line in the country. We want zero sacks. We want at least four yards per every carry. And convert every situation, every third down. We have high expectations for the line. We like to say we're the forefront of the offense. It starts up front with us. We start it all off.
2011 was a fairly hyped year. A lot of that had to do with Luck coming back. This year you guys have a lot of expectations as well. How similar or different does this year feel going into the season versus 2011?
KD
: I like to say every year is a little different. Obviously that year we had a ton of talent with Andrew, David, Moose (
Jonathan Martin
), great receivers, great running backs like S.T. (Stepfan Taylor). This year also comes with expectations. Through our training camp, we've talked about that and we feel OK about the expectations.
You're going into your fifth year so you've really seen the evolution of this program. What's it been like to be a part of that and how have you seen the program change in the last half decade?
KD
: It's been unbelievable watching it change. The thing that sets us apart is competition. Every day you are out there competing. Whether it's competing for your job against Josh Garnett or competing against a defense that is one of the best in the country. No job, no spot is guaranteed. And that's what's really helped this program grow.
You're majoring in biomechanical engineering. If you were biomechanically engineering the perfect offensive lineman, would he look like David Yankey?
KD
: I don't want to throw Yank under the bus, but if I were biomechanically engineering the perfect offensive lineman he'd look like David DeCastro. That guy was a true specimen. He truly was a student of the game as well. The way he studied it and the way he approached it was unbelievable. In all aspects, he was one of the best linemen I've ever seen. But Yankey is up there. I don't want to sell him short. He's very good as well. He's not a guy to sleep on.
You were mentioned for the center job and then David Shaw said you were too good at guard and Khalil Wilkes ends up winning it. What does he bring that Chase (Beeler) and Sam (Schwartzstein) had. What's the common thread between Stanford centers?
KD
: The biggest thing is the experience he brings to the table. He played in 14 games last year. He knows the offense really well. He's a natural fit. Everyone feels good having him in there. We felt like Khalil brings to the party what we're looking for and he is of the mold of Chase Beeler or Sam Schwartzstein. We feel good about the way he communicates with us.
Finish this sentence for me. In 2013, Stanford football will be ….?
KD
: In 2013, Stanford football will have an epic year.
September, 6, 2013
9/06/13
11:00
AM ET
Saturday's 8 p.m. PT kickoff between Stanford and San Jose State ensures that the Cardinal, who had a Week 1 bye, will be the last team in college football to start its season. So yeah … Stanford's players are more than a little anxious to get going.
[+] Enlarge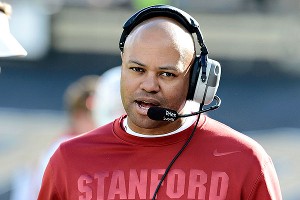 Ron Chenoy/US PresswireWith an extra week before starting the season, David Shaw and Stanford have not played a game in 250 days.
"I was 50-50 before but now I'm in favor of playing (in Week 1)," Stanford head coach David Shaw said. "It's hard not to play when other people are playing -- especially the start of a season. The start of the season has such a buildup. We're antsy."
Shaw split last Saturday watching games and pulling dad duty. Most of his players rallied around TVs and watched games with as critical of an eye as possible. Still, others were so focused on Stanford's Week 1 that they failed to realize it was actually college football's Week 1.
"I didn't even realize the season started on Saturday until I turned on the TV and saw College Football Live," defensive back
Usua Amanam
said. "It was awesome. I love watching football."
Now he gets to play some, finally, with a familiar foe coming to town. Last year the Spartans pushed the Cardinal in the opener. Not that the Cardinal took SJSU lightly last year, but they probably weren't expecting Mike MacIntyre's team to come out with such tenacity. A fourth quarter field goal was the difference in Stanford's 20-17 victory.
"We were ill-prepared," Amanam said. "They came out fast and punched us a couple of times in the mouth. It wasn't until the third or fourth quarter that we realized we were in a dog fight. Looking back at that game will help prepare us better for this year."
It's also, for the foreseeable future, the last Bill Walsh Legacy game on the schedule. Whether the game will/should continue in the future has added a little fuel to the rivalry
in the Bay Area media this week
.
The Spartans are led by new head coach Ron Caragher. Ironically enough, Caragher replaced Jim Harbaugh and Shaw -- Harbaugh's assistant -- at the University of San Diego after Harbaugh left for Stanford.
"We met for the first time at the Bay Area Media Day, about a month ago, which is strange because we know so many of the same people," Shaw said. "We had never met before or been in the same room before. I feel like I know him because I've heard so much about him from guys we've both coached at USD as well as other places he's been."
Pleasantries aside, the Cardinal will be out to rattle and disrupt Caragher's QB. San Jose State quarterback
David Fales
, the most accurate quarterback in FBS last year, is a top priority for the Stanford defense. With some good receivers around him like
Noel Grigsby
and
Chandler Jones
, the pressure is on Stanford's front seven to create some pressure, while the back half of the defense closes up passing lanes.
"He can fit tight balls in," Shaw said. "He played extremely well (last week) and still had a few balls that were dropped on him that were very well-placed. He's one of the best quarterbacks in the nation. He's hard to get to. He sees things quickly and gets the ball out of his hands."
The Cardinal offense, on the other hand, spent this past week installing new red zone schemes. With some critical weapons -- like running back Stepfan Taylor and tight end Zach Ertz – gone to the NFL, Shaw is looking for the next generation of players to step up.
"We've had good receivers, but the guy (Ertz) was phenomenal," Shaw said. "And I loved Coby Fleener. Coby Fleener was special. But I don't know if I've ever been around a guy like Zach that can run all the routes. He'd run every single route the smaller, quicker, faster guys could run and most of the times run them better."
Expect a heavy rotation of
Anthony Wilkerson
and
Tyler Gaffney
at running back, with others trying to carve out their own niche. The maturation of quarterback
Kevin Hogan
will also be a storyline to watch.
Stanford's defense, which is being heralded as one of the nation's best, is also looking to make a good first impression.
"We have a chance to do something special this year," Amanam said. "We want to make the most of the opportunities we have."
June, 27, 2013
6/27/13
7:00
PM ET
We continue our series taking a closer look at each Pac-12 team's nonconference schedule.
Stanford
San Jose State, Sept. 7
Coach: Ron Caragher, first year
2012 record: 11-2, 5-1 WAC
Returning starters: seven offense, six defense
Offensive headliner: Quarterback David Fales returns as the FBS's most accurate quarterback from 2012. Last year he completed 72.5 percent of his throws while tossing 33 touchdowns and 4,193 yards.
Defensive headliner: Defensive tackle Travis Raciti returns after earning All-WAC honors last season. He posted 13 tackles for a loss and 8.5 sacks.
The skinny: Mike MacIntyre revitalized the struggling program and in three years had them at double-digit wins. Now Caragher shepherds them into the Mountain West Conference. Stanford has dominated the Bill Walsh Legacy Game -- though the Spartans gave them quite the scare last season. The Fales-to-Noel Grigsby connection could end up being one of the most dangerous in the country and should not be taken lightly.
at Army, Sept. 14
Coach: Rich Ellerson (17-32) fifth season
2012 record: 2-10, Independent
Returning starters: seven offense, eight defense
Offensive headliner: Running back Raymond Maples is just the third Army player in school history to post consecutive 1,000 yard seasons after rushing for 1,215 yards and two touchdowns last year, averaging 5.4 yards per carry.
Defensive headliner: Defensive back Geoffrey Bacon returns after leading Army with 136 tackles last year -- which was fifth nationally in tackles per game at 11.3. This year he's moving from linebacker to the secondary.
The skinny: Despite the record, Army still had the No. 1 rushing attack in the country last year, averaging almost 370 yards on the ground per game. Match that against a Stanford front seven that was fifth nationally against the run and second in tackles for a loss and there should be plenty of helmet paint being traded.
Notre Dame, Nov. 30
Coach: Brian Kelly, (28-10), fourth year
Returning starters: six offense, eight defense
2012 record: 12-1, Independent
Offensive headliner: We talked about left tackle Zack Martin in the ASU nonconference primer. He'll be clearing the way for George Atkinson III, who averaged 7.1 yards per carry last year and scored five touchdowns on 361 rushing yards.
Defensive headliner: We mentioned Stephon Tuitt and Louis Nix in the ASU article. Nix is phenomenal at stopping the run, which is worth noting again, given what the Cardinal will want to do on offense.
The skinny: Stanford head coach David Shaw pointed to the Notre Dame game last year -- and its highly-controversial ending -- as a turning point for the Cardinal's run to the Rose Bowl. This one is the season finale for both teams so it's possible that it could have national-championship implications for both squads.
Thoughts
: A fairly challenging nonconference slate. Remember after the season opener last year, we were all wondering what was wrong with Stanford? Turns out San Jose State was pretty darn good. Shaw told us, we didn't listen. Considering who the Spartans have coming back, chances are they'll be good again. Interestingly enough, Caragher replaced Jim Harbaugh and Shaw at USD after the duo left for Stanford, so there's your Kevin Bacon moment for this game. Army doesn't pose much of a threat on the field and, of course, the Notre Dame game was one of the most controversial matchups in all of college football last season. The Cardinal are legitimate BCS championship contenders. Should they top San Jose State -- which should be considered a quality win, or at least, not a cupcake win -- it points them in the right direction heading into a difficult Pac-12 slate. Should they escape that unscathed, a home date with the Irish could determine Stanford's postseason placement. And for a team looking to add a fourth-straight BCS game, nay
the
BCS game, only 3-0 will do.
January, 3, 2013
1/03/13
1:30
PM ET
New Colorado coach Mike MacIntyre is bringing most of his staff with him from San Jose State. MacIntyre has hired six former assistants from the Spartans,
according to a report from the Daily Camera
, including both coordinator positions.

Writes Kyle Ringo:
MacIntyre has hired Brian Lindgren as offensive coordinator and Kent Baer as defensive coordinator. Klayton Adams, Gary Bernardi, Charles Clark and Jim Jeffcoat also have been hired. What positions those four will be assigned to coach and what titles and responsibilities each will hold were still being refined.
This is a solid first step by MacIntyre. Because while he gets a lot of the credit for turning San Jose State around, he clearly didn't do it all on his own. He did it with his guys.
And as coaches move up the ladder, sometimes loyalty gets lost along the way. With a bigger spending pool for assistants, sometimes there is the desire to go out and get "bigger-name" coordinators. But MacIntyre clearly believes in his staff and the job they did turning the Spartans into an 11-win team.
After it became clear San Jose State wouldn't hire its new head coach from within -- going instead with San Diego's Ron Caragher -- it would make sense that MacIntyre's guys would go with him. Baer, who coached the Spartans to a 29-20 win over Bowling Green in the Military Bowl,
reportedly wanted the job
but was passed over for Caragher. Baer is no stranger to the Pac-12, having served various roles throughout his career at Cal, Stanford, Washington and Arizona State.
Nice to see MacIntyre repaying the loyalty to the coaches who helped him get to where he is.