December, 20, 2012
12/20/12
12:00
PM ET
If you missed my stepping in for Kevin on the Wednesday chat -- he's on today at noon PT, 3 p.m. ET -- well, don't despair.
You can read the entire text here
.
Billy (Denver) How does Stanford do next year?
Ted Miller (2:02 PM)
May need to wait on some guys to make stay-or-go NFL decisions, but the Cardinal figure to be ranked top-10-15 in the preseason. There are some key losses:
Stepfan Taylor
,
Chase Thomas
,
Shayne Skov
, etc., but Stanford has recruited well, particularly on the O-line. The Cardinal should be a factor in the Pac-12 north.
Greg (LA) The Bruins look poised to bring in another highly rated class this year on top of their existing talent. Do you think UCLA is ready to compete in the PAC for the next few years?
Ted Miller (2:06 PM)
Absolutely... i feel nothing but positive vibes around the Bruins, starting with the fact they did what they did with a redshirt freshman QB with huge upside. The tide might be turning in LA.
Ken (Los Angeles) So is [Lane] Kiffin's decision on continuing his play-calling duties final? Or do you think he's just waiting until after the bowl game to prevent further distractions?
Ted Miller (2:08 PM)
It's probably final. He has a lot of pride, and he likely wants to prove wrong the nattering nabobs of negativism. But I do think his continuing to call plays is a mistake. We shall see.
Fork'd (Scottsdale) What's your outlook for ASU next year?
Ted Miller (2:11 PM)
Another team on the clear uptick... First question is does
Will Sutton
return. The Sun Devils need upgrades at receiver and DB also. But QB
Taylor Kelly
, a good stock of RBs and some nice talent coming back on the defensive front 7 coming back makes the Sun Devils a team that should be in the mix in the Pac-12 South. Could be another step forward in 2013, potentially even cracking top-25.
Phi Slamma Jamma (Los Eugeneles) Hello Mr. Gemmiller. Is your beef with the recent NCAA eligibility decisions (Long, Tuel) that they are wrong per se, or are you more critical of the NCAA's refusal to give justifications for their decisions?
Ted Miller (2:13 PM)
The NCAA should always err on the side of helping athletes. Is it such a bad thing a guy wants to STAY IN SCHOOL? Miss nine games due to injury? Yeah ... come on back. Return to school after some personal problems? Yeah, we want to help. I hear the arguments why the NCAA is like it is. But those arguments are weak.
Ty (California) Who are the top 5 coaches in the P12?
Ted Miller (2:15 PM
) Other than me and Kevin? [Chip] Kelly, [Mike] Riley, [David] Shaw, [Kyle] Whittingham & Rich Rodriguez.
Noah (Hollywood) Don't you think Chip Kelly should come out and say in front of a camera that he is coming back next year? This issue is the main reason why not many high school players have committed yet. Is Chip doing a disservice to the Ducks by not saying that he is coming back next year?
Ted Miller (2:22 PM)
Kelly can do whatever he wants. While some Oregon fans are bothered, the winning holds sway with the vast majority. It's clear that he's not ready to stand in front of a camera and say that. A lot of the way Chip sometimes conducts himself doesn't help his program, but the total package is previously unimaginable success.
BawlmerBeav (On the couch on holiday break) Riley and the Beavers have had a heck of a season. When do we know the past two years were the aberration, and how much does that really matter?
Ted Miller (2:32 PM)
I don't know if Oregon State will ever be a program that won't experience an occasional downturn. Riley's long-term track record is pretty amazing. I think the last 2 years were due to what downturns are usually due to: 1. Recruiting misses; 2. Injuries; 3. Young players forced into action. Things stack up pretty well for next season, though there are questions in the secondary and at DT. Things need to work themselves out at QB.
Chris (LaLaLand) Kiffin recently said that he's going to be making small changes in the defense for the Tampa 2. What's your take on this? Wouldn't you think he would scrap the Tampa 2 and hire a DC that can stop the spread?
Ted Miller (2:41 PM)
Well, if he brings in a good defensive coordinator, that coordinator is going to tell Kiffin, "It's my defense. Back off." The incoming coordinator should choose the scheme. If he doesn't, then Kiffin didn't hire a good one.
Ian (Los Angeles) Can USC win a national title with Lane Kiffin as the head coach? Nobody seems to get less out of their talent at this point.
Ted Miller (2:46 PM)
Kiffin had a nice year coaching in 2011. He had a poor year in 2012. Typically you don't get the USC job when you're still figuring out how to be a head coach, but that is the case. I still think Kiffin has a chance to become a good head coach. He, however, needs to get better at self-analysis. He has the resources to hire a great staff and then get out of their way. He needs to do that.
Jack Gladney (The-College-on-the-Hill) Us Cal Bears were pretty bummed to see Ron Gould let go. How do you feel about [Sonny] Dykes not holding on to any of the former staff. Especially one with such longstanding success and ties to the University as Gould. Hard to argue with his string of RB's...
Ted Miller (2:49 PM)
Transitions are difficult. Dykes has his own preferences and loyalties and his offense will be much different than what [Jeff] Tedford ran. Gould has a distinguished record, but maybe it was time for him to move on ... and he's a head coach now at UC Davis.
Hazen (Pasco, WA) With Jeff Tuel leaving for the NFL and a somewhat experienced QB stepping up next season with one RS Freshman and true freshman Tyler Bruggman coming in to compete, what do you see coming from Washington State Football and Mike Leach in the next couple seasons?
Ted Miller (2:52 PM)
I continue to believe Leach will win in Pullman because he won in Lubbock. I hope he has the humility to realize he made some mistakes with his public comments about his team this year. i think Leach has a vision for his team, and it may take a couple of years to recruit to that vision. I do think the Cougs will win more than three games next year. Not sure if they are ready to get to a bowl game, though.
Pete (Work (Shhh)) Who are 5 guys that could be in the Heisman race next season from the pac-12?
Ted Miller (2:56 PM)
Ka'Deem Carey
, Taylor Kelly,
Marcus Mariota
,
Brett Hundley
,
Marqise Lee
. Got to win, though. Few Heisman finalists come from middling teams.
Keith (Seattle, WA) Will the Washington program take the next step in 2013 and make a serious run at the conference title?
Ted Miller (2:58 PM)
I think Washington will take a next step. Could win 9 games. But I'm not sure they can get by Oregon and Stanford at the top of the conference. And Oregon State also looks like a top-25 team.
April, 13, 2011
4/13/11
1:30
PM ET
By
ESPN.com staff
| ESPN.com
Good feature here
on California defensive line coach Tosh Lupoi, 29, the youngest coach on ESPN.com's list of top 25 recruiters in 2011 and the youngest football assistant in the Pac-10 last year.
The story tells you where Lupoi came from and how he became who he is: A young man singularly fixated on football his entire life.
Why is Lupoi such a great recruiter?
"The kids understand when they talk to him, how much he cares about this place," said running backs coach Ron Gould, who is in his 15th year at Cal. "Kids want to be around that kind of passion. You look in his eyes, and you see this guy has no quit. Listen to him for 30 seconds, and you feel his heart beat."
April, 13, 2011
4/13/11
1:00
PM ET
BERKELEY, Calif. -- California coach Jeff Tedford hears the negative chatter but he's trying not to listen. The operative word there being "trying." He understands why some Golden Bears fans are grumbling, but such talk nonetheless frustrates him.
Tedford rebuilt a lousy program and created a high standard to which Cal fans happily became accustomed. Yet over the past few seasons, he has not consistently met that high standard.
"All of a sudden, you have an eight-win season and it's not good enough," Tedford said. "Then, all of the sudden, you have a [losing season] and it's, 'Wow, what happened here?'"
[+] Enlarge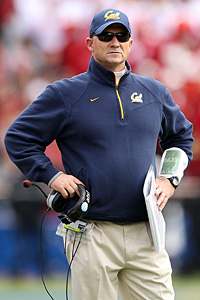 Ezra Shaw/Getty ImagesAn imposing front seven on defense should help coach Jeff Tedford and Cal be competitive against elite teams in 2012.
Things turned sour in Berkeley in 2010; a 5-7 finish that was Tedford's first losing season (fewer than seven wins) in nine years leading the program. Meanwhile, on the south side of the Bay Area equation, archrival Stanford won a BCS bowl game and appears poised to start 2011 ranked in the top 10. That juxtaposition doesn't sit well with the Old Blues.
It no longer matters where Tedford started, taking over a 1-10 program in 2002 that had won seven or more games just four times in the 24 previous seasons. Forget that from 1978 to 2001 Cal won three or fewer games nine times. Sure, back then a couple of seven-win seasons -- heck, even 5-7 -- would have seemed pretty nice.
No longer.
But it's more than that, Tedford's critics will tell you.
What happened to Tedford, the quarterback guru? Tedford transformed Kyle Boller from a five-star recruiting bust into a first-round NFL draft pick. He then discovered Aaron Rodgers out of nowhere and made him into a first-round pick. Nate Longshore appeared poised to join them after he led the Bears to a 5-0 start and No. 2 national ranking in 2007. But really, since Longshore sprained his ankle during a marquee win at Oregon on Sept. 29, 2007 -- Cal fans just fainted recalling the memory of
what happened next
-- the Bears haven't benefited from consistent play at quarterback.
It's not just losing, either. It's the nature of the defeats. In Tedford's first seven seasons, the Bears suffered only two defeats by more than two touchdowns. Over the past two seasons, they've lost eight games by 17 or more points and six by 27 or more.
Further, the staff turnover, particularly at offensive coordinator, has been notable. Not including himself, Tedford has gone through four offensive coordinators before arriving at his present, complicated configuration, with offensive line coach Jim Michalczik returning as coordinator, running backs coach Ron Gould set as running game coordinator, receivers coach Eric Kiesau set as passing game coordinator and Tedford (again) helping with the quarterbacks and (again) calling plays.
A couple of years ago, Tedford listened to the nattering nabobs of negativism and he wanted to smack them. Now, he's trying to be philosophical about criticism. Trying.
"I have it back in focus now, not to worry about the external things," he said. "That one year [2009] we went [8-5] and it felt like we went [5-8], it felt like people were real irritable about that. I was irritable, too. About their reaction to [8-5]. Now, I'm just back to focusing on what it takes to get us back on the upward trend again."
If you're the sort who prefers optimism, there's grounds for that, too. For one, Michalczik and Kiesau were with Tedford during the "glory years." There's history and comfort there. And Michalczik is widely considered an elite line coach, perhaps the best in the Pac-12. The play of the Bears' O-line wasn't as good the past two seasons while Michalczik was with the Oakland Raiders.
Further, Tedford is reengaging on the offensive side, and not only by calling plays, as he did during his early years at Cal. He's also working extensively with the quarterbacks, even to the point of sitting in on all QB meetings.
"Consistency at quarterback has been something that has hurt us at times," Tedford said.
Another big-picture item for Cal fans to be upbeat about: An uptick in recruiting that, perhaps not coincidentally, began when stadium and facilities renovation projects began in earnest after protesters -- old school Berkeley! -- were forced
out of the trees
. The Bears are nomads this spring, traveling from site to site in search of good grass to practice on, and they will play "home" games in AT&T Park this year. But when Memorial Stadium reopens in 2012, the structure will match the grandeur of its Strawberry Canyon home.
As for hot-seat talk (it's probably more accurate to call Tedford's chair lukewarm) the players are aware of said chatter. They don't live in a protective bubble. And they are aware that pointed observations about the blowout defeats also fall on them, whether those embarrassments were about poor preparation, a lack of mental toughness in the face of adversity or (gulp) a propensity to quit when an opponent asserts itself.
"We all love Coach," offensive tackle Mitchell Schwartz said. "His past record of success, that's why we are all here. There's no grumbling [in the locker room]. We're more disappointed in ourselves. We feel like we let the coaching staff down."
And of late, Cal fans feel let down. When the Bears were controversially blocked from playing in their first Rose Bowl since 1959 by Texas and the BCS computers following the 2004 season -- Cal fans just fainted for a second time while reading this story -- the consolation was a confident belief that it was just a matter of time before a Tedford squad ended that lengthy, painful Rose-less run.
The clock is still ticking -- 52 years and counting -- on that one, though.
April, 11, 2011
4/11/11
8:02
PM ET
BERKELEY, Calif. -- California has something sort of old and something sort of new this spring on both sides of the ball.
On defense, Clancy Pendergast is back for his second season coordinating the Bears defense. On offense, Jim Michalczik is back in town after spending a couple of years with the Oakland Raiders. Pendergast turned in a successful first campaign, with his more aggressive version of a 3-4 scheme ending up ranked third in the Pac-10 in scoring and first in total defense. And from 2002-2008, Michalczik might have been the best offensive line coach in the conference.
Here are some notes from chats with both coordinators as well as head coach Jeff Tedford.
Other than a blowout loss to Stanford, the Bears defense turned in its best work in November, most notably holding Oregon to just one offensive touchdown in a 15-13 Ducks win. Pendergast didn't think that was a coincidence: "I think our guys trusted the system, trusted each other. Had better eyes. All those things." As for year two, the longtime NFL coach, probably has a better grasp on some of the quirky offenses he'll face in the conference. "Anytime you go into a second year, you're going to be more comfortable," he said.

Pendergast on former defensive end Cameron Jordan, who is expected to be a first-round NFL draft pick on April 28: "He'll be solid, consistent player at next level who can do a lot of different things."

[+] Enlarge

Chris Morrison/US PRESSWIRECal's Clancy Pendergast expects to be more comfortable coaching against Pac-12 offenses in his second season.

Pendergast is clearly high on the incoming freshmen. He repeatedly mentions them -- first and last names -- when talking about his potential depth chart. When asked if he expects a handful to play, he said, "No question." Names he -- and later Tedford -- mention: defensive tackle Todd Barr, defensive tackle Viliami Moala, defensive end Brennan Scarlett, and cornerbacks Stefan McClure, Joel Willis and Kameron Jackson.

The top three defensive ends are Trevor Guyton, Deandre Coleman and Ernest Owusu. At nose tackle, both Aaron Tipoti and Kendrick Payne are out with shoulder injuries. Guyton has had a good spring, while Tedford said, Coleman "should be much better this year."

The inside 'backers are Mychal Kendricks, who put up huge numbers last fall playing outside, and D.J. Holt, also a returning starter. As for Kendricks move inside, Pendergast said, "He's probably a better fit as a stack inside linebacker than an outside linebacker."

There will be two new starters at outside linebacker. At present, Ryan Davis and David Wilkerson (strongside) are with the ones, with Chris McCain, Cecil Whiteside and Lucas King providing depth.

In the secondary, Marc Anthony and Steve Williams are the corners. The depth appears unsettled -- see Pendergast and Tedford both listing three freshmen who are not on campus yet as being in the mix. Pendergast seemed most pleased with Anthony, whom he said was playing physically and with a lot of confidence. At safety, there's Sean Cattouse and D.J. Campbell, with Adrian Lee, C.J. Moncrease, Alex Logan and Michael Coley earning note. It's hard to say if true freshman Avery Walls, who's participating in spring practices, will get into the mix.

On offense, Michalczik is mostly focused on the offensive line. Tedford will call plays this fall and is working with the quarterbacks as well, while receivers coach Eric Kiesau is the passing game coordinator and running backs coach Ron Gould is the running game coordinator. So there will be plenty of input on offense.

Michalczik wouldn't commit too much on the offensive line: "We've got some young guys and we've got some time," he said. Left tackle Mitchell Schwartz and center Dominic Galas are likely starters, but both are sitting out with injuries. Matt Summers-Gavin has bounced from guard to right tackle. Brian Schwenke and Justin Cheadle are the No. 1 guards at present. Youngsters to watch include Chris Adcock and Mark Brazinski at center, as well as Alejandro Crosthwaite, Bill Tyndall and Tyler Rigsbee.

Marvin Jones and Keenan Allen are set at receiver, but the No. 3, 4 and 5 options are not. Michael Calvin -- yes, him again -- Coleman Edmond and Kaelin Clay earned note from Tedford, who said of Clay, "He's been very good, very fast, brings big-play potential."

Tedford isn't very happy at running back behind Isi Sofele. His highest praise goes to walk-on Mike Manuel, who was impressive in the scrimmage Saturday. Injuries are a big issue at the position, but it seems as though Tedford isn't happy with the group, which includes a number of touted recruits. "As of right now, it looks like to me we are going to have to rely on younger guys who are coming in," he said.

Quarterbacks? It's still wide open, but it shows how serious Zach Maynard's candidacy is that Tedford said he doesn't expect to announce a starter until well into fall camp, specifically because he wants to give Maynard, who transferred from Buffalo last year, as much time as possible to digest the offense. Said Tedford, "He does have some athleticism. He can make plays with his legs. He throws the ball accurately. He can throw all the balls on the field. He's a lefty. He can throw the deep ball. He's got zip on the ball. His main thing is just going to be the mental part of understanding our offense and understanding what we're looking for."

As for Brock Mansion, who started the final four games after Kevin Riley went down, Tedford said, "You can tell that Brock is better because of the experience he had last year. He's more comfortable. And he's even learned some things physically. You can see the maturity there a little bit. Still not where we need to be."

As for Allan Bridgford, the question might be athleticism. Said Tedford, "Smart guy. Can throw the ball. He can throw all the balls on the field. Escape dimension? Haven't seen that yet. That's a concern, but he's not a led-foot by any means."

One problem for the Bears this spring is injuries. There are a lot of them, which makes it more difficult to give the QBs full-tilt, looks. "That's a challenge, to get QB's enought reps without beating up the whole team," Tedford said.
March, 30, 2011
3/30/11
12:19
PM ET
There's lots of change going on at California this spring, starting with the Bears becoming nomadic.
Cal will practice at six different sites due to renovations at Memorial Stadium and problems with the team's temporary practice facility on Witter Rugby Field. And, of course, home games this fall will be played in AT&T Park, not in Memorial Stadium, the team's home for the past 88 seasons.
Beyond the grass under their feet, the Bears have plenty of issues. Most folks know there's as wide open a competition at quarterback between
Brock Mansion
,
Beau Sweeney
, Zach Maynard,
Allan Bridgford
and
Austin Hinder
. But that's not the only question.
[+] Enlarge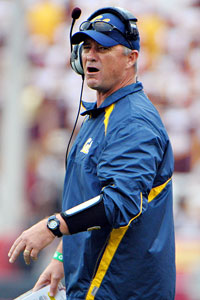 Kirby Lee/US PresswireJeff Tedford is going to have an expanded role in the offense this season.
The offensive line underachieved in 2010 and now must replace two starters. What's the pecking order at tailback (and, by the way, who's healthy enough to compete)? There are four voids on the defensive front seven -- two on the line, two at linebacker -- and two in the secondary. And what about improving the special teams?
Further, coach Jeff Tedford is taking a bigger role with the offense, though that role hasn't been defined, other than him coaching quarterbacks. It seemed he
said he was going to call plays this fall
, but then he apparently backtracked on the
first day of spring practices Tuesday
.
There are a lot of chefs in the offensive kitchen. In addition to Tedford, who is looking to reclaim his title as quarterback guru, there's offensive coordinator/line coach Jim Michalczik, passing game coordinator/receivers coach Eric Kiesau and running game coordinator/running backs coach Ron Gould. While they are all familiar with each other -- Michalczik and Kiesau are returning to Berkeley after stints elsewhere -- those lines of communication will need to be worked out.
Further, in terms of personnel, the Bears have recruited well the past two years. It's likely a number of younger players -- redshirt freshmen, sophomores as well as incoming players this fall -- will immediately compete for playing time.
So Cal's spring practices are as much about transition as they are renewal after a disappointing 5-7 season.
Some notes:
Injuries
: This is fresh from Jonathan Okanes of the
Contra Costa Times
after the first practice:
Several players will practice only in limited fashion this spring because of injuries/surgeries: Among them are left tackle Mitchell Schwartz (back), center Dominic Galas (shoulder), fullback Will Kapp (shoulder) and nose tackles Kendrick Payne (shoulder) and Aaron Tipoti (shoulder). All of these players were there and in their gear today doing individual drills. But they won't be involved in team drills.
Running back pecking order
? Also out is running back
Dasarte Yarnway
(knee), and fellow running backs
Covaughn DeBoskie-Johnson
and
Trajuan Briggs
are coming back from injuries -- though both are
reportedly ready to go
-- so it's difficult to project how the competition will go with
Isi Sofele
, whom Tedford designated as the No. 1 guy before spring practices. Brandon Bigelow, Daniel Lasco and junior college transfer C.J. Anderson join the fray in the fall. It's more than likely that the ultimate depth chart at the position won't be resolved until mid-to-late August.
As for the QBs
: Tedford almost certainly won't name a starter after spring practices, though he would like to narrow the
field of five (or so) to three
. If you were a betting Pac-12 blog reader -- and you probably are -- you should put your money on Brock Mansion, junior Zach Maynard and sophomore Allan Bridgford being the top troika heading into the offseason. The basis of that, it must be noted, is pure hunch -- Tedford's veneer of vague has been admirably tenacious on the matter. It's possible he truly doesn't have much sense of a pecking order in his own head at this point.
Youngsters to watch
: Youngsters and new players who might challenge for starting or key roles include wide receivers
Tevin Carter
and
Kaelin Clay
; linebackers Nick Forbes, Dave Wilkerson, Chris McCain and Cecil Whiteside; defensive end Gabe King; O-linemen Mark Brazinski and Matt Williams; and safety Avery Walls.
March, 2, 2011
3/02/11
11:00
AM ET
By
ESPN.com staff
| ESPN.com
Only Oregon and Washington
didn't experience any staff turnover
this offseason, so we're running through the staff changes for the other 10 Pac-12 teams.
Next up is California, which had considerable turnover on both sides of the ball but particularly on offense.
Team in parenthesis is where the departing coach ended up.
Out

Andy Ludwig, offensive coordinator/QBs (San Diego State)
Steve Marshall, offensive line (Colorado)
In

Jim Michalczik, offensive coordinator/O-line
Marcus Arroyo, quarterbacks
Out

Kevin Daft, receivers
In

Eric Kiesau, receivers/passing game coordinator
Out

Al Simmons, secondary
In

Ashley Ambrose, secondary
Reaction
: This is a lot of turnover, and seeing that coach Jeff Tedford has gone through offensive coordinators like Charlie Sheen through, er, girlfriends -- himself, George Cortez, Mike Dunbar, Frank Cignetti, Andy Ludwig and now himself, Michalczik, Kiesau and running game coordinator Ron Gould -- it's not unreasonable for Cal fans to wonder what the heck the problem is. Shoot, Tedford even changed strength coaches (Out: John Krasinski; In: Mike Blasquez). If you wanted to paint a dark picture, you could go for "Desperation & Instability" after the first losing season of the Tedford era. But there is this small comfort for Bears fans: This is a good staff, certainly better than 2010. Michalczik and Kiesau are known quantities: They know Tedford and coached with him when things were clicking in Berkeley. Michalczik might be the best line coach in a conference that has a lot of good line coaches. After signing an outstanding recruiting class, Tedford remarked to me. "It's like reassembling the band." The real test, though, is the quality of music that is played this fall.
February, 6, 2011
2/06/11
11:40
AM ET
By
ESPN.com staff
| ESPN.com
California's offense will feature a lot of chefs in the kitchen this fall as the Bears attempt to rediscover their mojo following the first losing season under coach Jeff Tedford.
As expected, Jim Michalczik
has been announced
as the offensive coordinator and line coach. Marcus Arroyo, an offensive coordinator or co-offensive coordinator at Wyoming the past four years, has been hired as quarterbacks coach. Associate head coach and running backs coach Ron Gould has been promoted to the team's run game coordinator. Receivers coach Eric Kiesau will serve as passing game coordinator.
It is not yet clear who will have final word on play calls. That might be Tedford, who has said he will be more involved with the quarterbacks -- the competition starting this spring is wide open -- and he also said Wednesday that it's "possible" he will call plays.
Michalczik and Kiesau previously coached with Tedford when the Bears' offense was rolling up big numbers, on the ground and through the air. Michalczik spent seven seasons coaching the Bears' line from 2002-08. He has been the offensive line coach for the Oakland Raiders the past two seasons after 19 previous campaigns in the collegiate coaching ranks.
"We had a tremendous amount of success in our offensive line play during Jim's previous tenure at Cal and we plan to resume and surpass that level of success in the future," Tedford said in a statement.
Cal was 59-30 (.663) record during Michalczik's tenure and ranked in the nation's top 30 in scoring offense in six of his first seven seasons in Berkeley. Cal's rushing attack produced 1,000-yard rushers in each of Michalczik's first seven seasons and also did well in pass protection. Over the 2006 and 2007 seasons, the Bears allowed only a combined 24 sacks in 26 games -- the fewest in the Pac-10 and third best in the nation during that period.
Arroyo, a former San Jose State quarterback, has spent the past eight seasons coaching at the collegiate level.
During his two seasons at Wyoming, Arroyo developed 2009 true freshman quarterback Austyn Carta-Samuels into the Mountain West Conference Freshman of the Year and the offensive MVP of the 2009 New Mexico Bowl. In 2009 he installed a new spread offense that helped the Cowboys score 30 or more points five times, winning all five of those games. Arroyo's offense displayed an ability to come from behind in his first season, recording five fourth-quarter comebacks. His offensive unit did an outstanding job of protecting the ball as well. Wyoming ranked No. 7 in the nation in fewest turnovers lost (14) and was No. 15 in the NCAA in both fewest fumbles lost (7) and fewest interceptions thrown (7).
Arroyo coached San Jose State's quarterbacks from 2005-2008, where he turned Adam Tafralis into one of the nation's most prolific and efficient passers. Tafralis set school records for career passing yards (7,548) and career total offense (8,111) and went on to sign a free-agent contract with the Indianapolis Colts in the spring of 2008.
Now what can these guys do to rebuild an offense that has fallen on mostly trended down since Aaron Rodgers departed in 2004? Tedford thinks the collective wisdom and familiarity among the coaches will lead to beautiful music.
"There's so much familiarity between coach Gould, Keisau and Michalczik, it's like reassembling the band," Tedford said after he signed a highly ranked recruiting class on Wednesday. "We are all back together. There are no hidden agendas. Everybody understands what's going on."