July, 3, 2012
7/03/12
5:30
PM ET
Week 1 can't get here soon enough. Every team plays an out-of-conference opponent in the first two weeks of the season, so we thought we'd take a quick look at who is coming up in Week 1. We'll go into greater detail as the start of the season draws closer. This is just a primer for those who need their beaks moistened and whistles whet. Earlier today
we looked at the South
.
NEVADA
Game
: at Cal, Saturday, Sept. 1
Coach
: Chris Ault (226-103-1, 28th year)
2011 record
: 7-6 (5-2, WAC)
Did you know
: Another team new to the Mountain West, Nevada returns six starters on offense and seven on defense. The Wolf Pack has been to seven straight bowl games, but also had a significant amount of turnover in the coaching staff this past season. Plus they've lost a lot of defensive linemen from a group that was only 101st in tackles for a loss last year. Dual threat quarterback
Cody Fajardo
is the one to keep an eye on.
ARKANSAS STATE
Game
: at Oregon, Saturday, Sept. 1
Coach
: Gus Malzahn (first year)
2011 record
: 10-3 (8-0, Sun Belt)
Did you know
: Malzahn won the Broyles Award -- which goes to the nation's top assistant coach -- for his work with Auburn and their title run in 2010-2011. Not that a win would make Oregon feel better for what happened in the title game, but hey, it can't hurt. Returning quarterback
Ryan Aplin
, who is a three-year starter and has some NFL buzz, owns 16 school records and is the reigning conference player of the year.
NICHOLLS STATE
Game
: at Oregon State, Saturday, Sept. 1
Coach
: Charlie Stubbs (5-17, third year)
2011 record
: (1-10, 0-7 Southland)
Did you know
: The Colonels have lost 10 straight after opening last season with a win over Evangel University. Nicholls State posted a 42-0 victory, but has been outscored 16-38 in its last 10 contests. Stubbs' first full-time coaching gig was at Oregon State, where he started as a receivers and tight ends coach before becoming the Beavers offensive coordinator in 1987.
SAN JOSE STATE
Game
: at Stanford, Friday, Aug. 31
Coach
: Mike MacIntyre (6-19, third season)
2011 record
: 5-7 (3-4, WAC)
Did you know
: This will be the 21st time Stanford has opened its season against the Spartans. The Cardinal are 19-1 in those other meetings and hold a 50-14-1 record in what has now been dubbed the Bill Walsh Legacy Game.
SAN DIEGO STATE
Game
: at Washington, Saturday, Sept. 1
Coach
: Rocky Long (8-5, second season)
2011 record
: 8-5 (4-3, MWC)
Did you know
: The Aztecs lost three stars -- QB Ryan Lindley, RB Ronnie Hillman and LB Miles Burris -- to the NFL, but the addition of Pac-12 transfers Ryan Katz (QB, Oregon State) and
Brice Butler
(WR, USC) give offensive coordinator Andy Ludwig (formerly of Cal) some new firepower. After being bowl-less since 1998 the Aztecs have gone to the postseason in back-to-back years.
BYU
Game
: Washington State, Thursday, Aug. 30.
Coach
: Bronco Mendenhall (66-24, eighth season)
2011 record
: 10-3 (independent)
Did you know
: Of FBS coaches with at least five years experience, Mendenhall's .733 winning percentage ranks eighth among all coaches -- ahead of names such as Nick Saban and Les Miles. This isn't the only time we'll see BYU this year. They'll renew their rivalry at Utah in Week 3. Mike Leach has also talked extensively about how his time as a BYU student shaped the philosophies he would embrace as a head coach.
September, 29, 2011
9/29/11
10:15
AM ET
Ten issues to consider heading into the fifth week of games.
Wynn flinging it
? Utah QB
Jordan Wynn
is understandably tired of talking about his surgically repaired shoulder, but many will continue to wonder about it until he looks 100 percent in an A-list performance. He's mostly improved each week, but coming off a bye week he should be well-rested and as healthy as he's been. With a high-scoring Washington offense coming to town, he might need to look like his old, efficient self for the Utes to win.
[+] Enlarge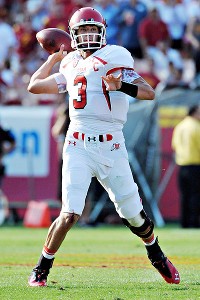 Kirby Lee/US PresswireUtah quarterback Jordan Wynn has passed for 578 yards and five TDs this season.
Arizona D steps up or Barkley bounces back
? Trojans QB
Matt Barkley
turned in a poor performance at Arizona State, with two interceptions, a fumble and a number of missed throws. Arizona's defense has been a perfect backdrop so far for tour de force offensive performances. Will Barkley be the latest A-list player to make the Wildcats look bad? Or will the Wildcats step up, as their friends in Tempe did a week ago?
ASU stays focused
: Speaking of Tempe, the Sun Devils are at home against 0-3 Oregon State. On paper, it would look like an easy, blowout win. But ASU isn't a team that can believe anything will be easy just yet, particularly against a program that has beaten it three straight times. The Sun Devils need to step on the gas early and keep pressing until the game is clearly in hand.
Does Lobbestael get time to throw
? Washington State's strong crew of receivers has a decided advantage against Colorado's secondary, which was questionable even before it got banged up. That would seem to play right into Cougars QB
Marshall Lobbestael
's hands. But the Buffaloes compensate for their secondary with a fierce pass rush, see 14 sacks, which leads the Pac-12. So will Lobbestael be able to punish Colorado pressure? Or will he have a long day looking up at the lights around Folsom Field?
Luck vs. Bruins defense
: While the Bruins defense played OK at Oregon State, it's still been dreadful this year, mustering just three sacks while giving up 183 yards rushing per game, which ranks 11th in the conference. If Stanford runs well bell-to-bell, this is going to be a blowout. And if
Andrew Luck
can stand in the pocket unmolested, this is going to be a blowout. The 2011 Bruins defense was billed as a group that would attack. It's going to have to take some aggressive chances to slow down Luck and the Cardinal.
Polk versus Utes run defense
: Huskies running back
Chris Polk
is one of the nation's best runners. He ranks second in the Pac-12 with 127 yards rushing per game. Utah's run defense is yielding just 79 yards per game, which ranks third in the conference. While UW QB
Keith Price
has been brilliant thus far -- see a nation-leading 14 TD passes -- know that coach Steve Sarkisian wants to challenge the Utes with the running game. If the Utes make the Huskies one-dimensional, that will make things tough for Price on the road.
Any help for Foles
? The defense isn't Arizona's only problem. The Wildcats also have one of the nation's worst running games and have surrendered 12 sacks, most in the conference. It's mostly been QB
Nick Foles
versus the world during the three-game losing streak. Will any other Wildcats step up? Will a defender make a play that gives Foles a short field? Will the running backs and offensive line create any sort of running threat? Will the O-line give Foles time to throw? Foles can't do it alone, particularly on the road against a quality team.
Rodgers revs up
: Know what would be the best way for the Beavers to energize? A couple of big plays from receiver
James Rodgers
, who will be playing his second game since returning from knee surgery. Rodgers looked good against UCLA and made some plays. Here's a guess he'll be less focused on his knee and more focused on making plays than he was in his first game back. When healthy, he's one of the most dangerous players in the nation. Can he unleash his old self on the Sun Devils?
Rodney Stewart let loose
: San Diego State running back
Ronnie Hillman
gashed the Cougars for 191 yards and four touchdowns. Can Colorado's Rodney Stewart follow his lead? The Cougars are better on defense than they have been, but these are still many of the same players who yielded 220 yards on the ground in 2010. Stewart and the Buffs running game has mostly been held in check, see a No. 11 ranking in the conference. It would be a good time for Stewart and company to reverse that early-season trend.
Bruins get physical
: One of the best things UCLA can do is keep Luck off the field. That means run the ball. The Bruins have run well in the early going with 214 yards per game. Stanford has the nation's No. 1 rated running defense, but it has yet to play a good running team. Also, this is the Cardinal's first game without standout linebacker Shayne Skov. If the Bruins can run consistently, and physically challenge the Cardinal front seven, that could open things up for QB
Richard Brehaut
. And Stanford is yielding a 65.8 percent completion rate, third worst in the conference.
September, 15, 2011
9/15/11
10:15
AM ET
Ten issues to consider heading into the third week of games.
1.
Luck versus Foles
: Both
Andrew Luck
and
Nick Foles
are mature starters with lots of skills with NFL futures. They won't spend a lot of time comparing stats during the game, but it's hard to imagine both are completely uninterested in the other and how he performs. Quarterbacks study other quarterbacks. While both these guys want to win above all else, they'd also like to walk away with a better looking stat sheet than the other. Luck has a better running game and a better defense supporting him. Foles has better receivers. Who ends up with the best efficiency rating, oh and the W?
2.
Nebraska's O-line versus Washington's D-line
: The Cornhuskers offensive line is billed as perhaps the youngest in program history, with a freshman and two sophomore starters. And the 'Huskers 2010 O-line lost the battle with the Huskies D-line in the Holiday Bowl, rushing for just 91 yards. UW's 333-pound DT Alameda Ta'amu, in particular, dominated inside. While the Huskies pass defense has been suspect so far, the run defense is another story, ranking seventh in the nation. UW is talented and experienced up front. Nebraska is a run-first team, and quarterback
Taylor Martinez
is much more comfortable running than passing. While the Huskies pass defense, again, has been poor, coordinator Nick Holt certainly would feel better about his unit's chances if Martinez is forced to throw downfield to move the ball.
[+] Enlarge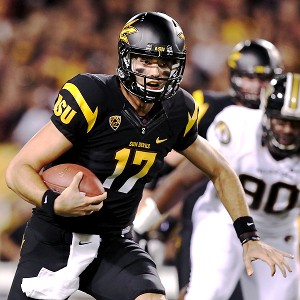 Christian Petersen/Getty ImagesCan Brock Osweiler repeat the dominant performance he had against Missouri last week when the Sun Devils face the Illini?
3.
Osweiler's encore
? Arizona State quarterback
Brock Osweiler
was a tour de force in the win over Missouri, passing for 353 yards and three touchdowns and rushing for 34 yards and a score. Also, he projects confidence and is a vocal leader. The Sun Devils will be challenged to match the intensity they showed against Missouri on the road at Illinois. That's where Osweiler's leadership comes in. He needs to rally the locker room and make sure distraction and complacency don't take root. It would be nice if he played like he did against Missouri, too.
4.
Can UCLA run against Texas
? Texas' defense has been stout in the first two games. It held BYU to just a field goal in the second half. It's yielding just 86.5 yard rushing per game. In the Bruins upset victory last year, the Longhorns couldn't stop UCLA's pistol offense, which raked up 264 yards on the ground. The Bruins are still a run-first team with a questionable passing game. But it will be much easier to throw downfield if the running game is gashing the Longhorns and giving them a sense of déjà vu.
5.
Washington State's defense makes a stand
? The Cougars defense has been outstanding so far, and it's particularly encouraging that it has been stout against the run, which hasn't been the case for three years. But Idaho State and UNLV are terrible, and San Diego State is not. In fact, it has two NFL prospects leading the offense in quarterback
Ryan Lindley
and running back
Ronnie Hillman
. Both put up huge numbers in 2010, and they will challenge the Cougs with a potent pass-run balance. Want to know if the Cougs D is for real? This game will tell. And if the D passes the test, Washington State should win because it should be able to score plenty of points against the Aztecs.
6.
Rodney Stewart gets going
: Colorado ranks 114th in the nation in rushing even though it has an A-list running back in Stewart. While the passing game has been impressive, coach Jon Embree is not the sort to abandon the run and surrender balance. Colorado State gave up 150 yards rushing to New Mexico. You'd think the Buffs can at least match that, even with a injury-riddled offensive line. And if Stewart gets going, that will open up chances for quarterback
Tyler Hansen
to find wide receiver
Paul Richardson
over the top.
7.
Pin your ears back, Trojans
: Despite a soft schedule featuring Wake Forest and Rhode Island, Syracuse ranks 107th in the nation in rushing (78.5 yards per game). While
Ryan Nassib
is a nice quarterback, life won't be easy for him against a strong Trojans pass rush if he's got no running game to keep the defense honest. He's already been sacked four times, and his offensive line hasn't seen the likes of the Trojans front four.
8.
Rediscover the run, Utes
: While
Jordan Wynn
is a gamer, he looked significantly better at USC than in the season opener. But he's not the sort who can win a game alone, at least not while he's still regaining his shoulder strength after surgery. He needs a running game, which he didn't have against USC. BYU plays tough defense, but the Utes need to establish a run threat and some offensive balance to make life easier for Wynn, both in terms of opening up the downfield passing game and protecting Wynn's surgically repaired shoulder.
9.
Road tough
? Good teams win on the road, and good conferences have teams that consistently win on the road. Utah, Arizona State, Washington and Washington State each can make statements for themselves and for the Pac-12 if they take care of business in hostile environments. None are favored to do so. If the conference goes 3-1 in these games, it will significantly bolster the conference's Q-rating nationally. Oh, and its computer rating in the BCS standings.
10.
Oregon and California
? Oregon plays Missouri State and California plays Presbyterian. What to watch? Something else.
September, 15, 2011
9/15/11
9:00
AM ET
Went 8-2 last week as my upset predictions for Utah and Colorado went splat in the waning moments.
Season record stands at 17-5.
Some of you might not like these picks. In advance, sorry. I won't mind being wrong.
All games are Saturday.
Stanford 35, Arizona 24
: Two great QBs going at it, but the Cardinal also have a running game and a defense. The Wildcats' chances will be a lot -- A LOT -- better if receiver
Juron Criner
plays.
Arizona State 40, Illinois 28
: In the past, we'd circle this as a game the Sun Devils might blow. But we're leaning toward believing these Sun Devils are different. And we like QB
Brock Osweiler
's play and leadership.
Nebraska 30, Washington 24
: Lincoln is a tough place to play for a new starting quarterback, but the Huskies will give the Cornhuskers all they can handle in what will be the best-played game in the three-game series.
BYU 28, Utah 27
: Both teams are coming off tough losses, but BYU is at home, and that's the difference after the Utes won by a single point at home in 2010.
Texas 27, UCLA 14
: Texas has positive momentum after a comeback victory over BYU and it's highly motivated after getting embarrassed by the Bruins in Austin in 2010. That San Jose State effort by UCLA was hard to stomach.
USC 35, Syracuse 20
: With just five starters back on defense, Syracuse will have a hard time stopping
Matt Barkley
,
Robert Woods
& company. And the Orange have zero running game, which will make things easy for the Trojans' D.
San Diego State 33, Washington State 30
: The Cougars are 2-0, but they've yet to play a quality foe. The Aztecs are a quality foe and they are playing at home. Seems like there will be just a little too much
Ryan Lindley
and
Ronnie Hillman
for the Cougs' defense.
Colorado 30, Colorado State 21
: The Buffaloes will get the win because they'll finally get running back
Rodney Stewart
going, even with a beaten-up offensive line.
Oregon 80, Missouri State 2
: Chip Kelly will be unhappy with the shotgun snap from the backup center that costs the Ducks a shutout.
California 742, Presbyterian 5
: We won't be taking this game seriously.
September, 13, 2011
9/13/11
4:42
PM ET
It would be easy to wildly extrapolate program transformation at Washington State based on a 2-0 start. Sure, the competition was terrible, but the Cougars asserted complete dominance on both sides of the ball.
The term "well-oiled machine" came to mind for a team that, to be kind, has looked in recent years like a rusted-out, red pickup truck that had been abandoned along a Palouse highway.
But it seems justifiable to take the bridle off the enthusiasm because things were feeling completely lost just one quarter into the season.
[+] Enlarge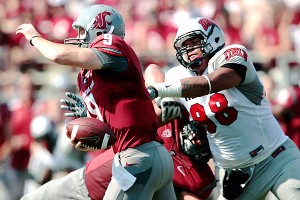 AP Photo/Dean HareMarshall Lobbestael has been a surprise for the Cougars after they lost starter Jeff Tuel.
Let's face it: It's likely that a majority of Cougars fans thought the year was cooked when promising starting quarterback
Jeff Tuel
broke his clavicle against Idaho State.
Senior backup
Marshall Lobbestael
had experience, yes, but it was completing-less-than-50-percent-of-his-passes-and-throwing-more-interceptions-than-touchdowns experience and not the good kind.
So when Lobbestael went all
Andrew Luck
on Idaho State and then UNLV, well, please excuse the Cougs for grinning ear-to-ear and allowing themselves to be flushed with hope.
Lobbestael now ranks third in the nation in passing efficiency. He's completed 74.5 percent of his throws with five touchdowns and no interceptions while averaging 296 yards per game. And this isn't just dink-and-dunk. He's averaging 11.6 yards per completion.
When asked if he expected such efficiency from Lobbestael, coach Paul Wulff answered honestly: "Probably not." It's likely, in fact, that few players or coaches felt confidence when Tuel went down. Lobbestael had to win them over. By doing so he would restore the brittle confidence of a team that felt like it would be better this fall, but that still had the failure of just two conference wins over the past three seasons looming in the back of their collective minds.
"Marshall, to be quite honest, by his performance, has put everybody at ease," Wulff said. "That's where it starts."
The competition level will take a significant step up at San Diego State (2-0) on Saturday. Even though head coach Brady Hoke headed off to Michigan, the Aztecs welcomed back 13 starters from a nine-win 2010 team, including eight on offense. That offense is anchored by four senior offensive linemen and one of the nation's best quarterback-running back combinations in
Ryan Lindley
and
Ronnie Hillman
. Lindley passed for 3,830 yards and 28 touchdowns last year, while Hillman rushed for 1,532 yards and 17 touchdowns.
Not only are the Aztecs no Idaho State, they also are at home. The Cougars have one road win over the past three seasons.
But if the Cougars can steal one, a 3-0 start would have them heading into Pac-12 play halfway to bowl eligibility, which almost certainly would save Wulff's job.
The first thing Wulff talks about with his resurgent team is chemistry. "Players are all on the same page for the first time," he said. The second is experience. "They're just older. No body in college football wins with youth," he said.
The third area of improvement is defense. While the offense took big steps forward in 2010, the defense still lagged behind. Through two games, however, the Cougs are No. 2 in the conference in both scoring defense (14 ppg) and total defense (305.5 ypg).
Here's a guess that things are trending up on defense because Wulff upgraded his coaching staff this offseason with Chris Tormey coaching linebackers and Todd Howard the defensive line.
Still, Lobbestael's performance thus far has to be considered the surprising glue between the disparate parts. He certainly fits in with the program's blue-collar image.
"He's the first guy if the locker room is messed up and there's tape on the ground, he's picking it up during training camp and putting it in garbage," Wulff said.
Still, the program certainly hasn't arrived, and there are plenty of potential pratfalls ahead. For one, the Pac-12 schedule, particularly playing in the North Division, will be arduous. Five of the nine conference games are on the road, too. Even with a 3-0 start, getting three more wins won't be a sure-thing.
Further, how might the Cougs react if they lose at San Diego State? Might self-doubt creep back in? And if the Cougs string together a couple of losses, then the chirping about Wulff's job security will get louder and more distracting.
Wulff said he's aware of the "win-now" expectations -- "I'm not a dummy," he said when asked about the negative chatter -- but he also said "I don't get too caught up in it."
He sees a bright future for a team that is still young. But he's also starting to feel pretty good about the present.
"We're on our way," he said.
September, 12, 2011
9/12/11
8:14
PM ET
By
ESPN.com staff
| ESPN.com
Oregon State is the only Pac-12 team off this week, and there are several big nonconference games and a big conference one in Tucson.
All games are on Saturday, Sept. 17. Here's a quick look (all times ET).
Colorado versus Colorado State (Denver), 1:30 p.m., FSN
: The Buffaloes took a step forward last weekend against California after a poor showing at Hawaii, but at 0-2 they are desperate for a win. The Rams are 2-0 after beating New Mexico and Northern Colorado. The Buffs have won four of the past six in the series.
Texas at UCLA, 3:30 p.m. ABC/ESPN3
: Texas wants revenge for last season's embarrassing loss at home. Both teams have issues at quarterback. But Mack Brown's seat isn't nearly as hot as Rick Neuheisel's.
Washington at Nebraska, 3:30 p.m. ABC/ESPN3
: The rubber match in a three-game series. The first two games couldn't have been more different: A Nebraska blowout win in Husky Stadium followed by a physically dominant performance by Washington in the Holiday Bowl.
Missouri State at Oregon, 3:30 p.m. OSN
: This will be a long, long day for Missouri State.
Presbyterian at California, 5:30 p.m
.: The Blue Hose just want to escape with their lives. And a paycheck.
Washington State at San Diego State, 6:30 p.m. Mountain West Network
: The Cougars can get halfway to bowl eligibility with a victory on the road. Both teams are 2-0. Quarterback
Ryan Lindley
and running back
Ronnie Hillman
will test what looks to be a vastly improved Cougar defense. And can WSU quarterback
Marshall Lobbestael
keep up his torrid pace?
Arizona State at Illinois, 7 p.m. Big Ten Network
: The Sun Devils will try to avoid a letdown on the road after beating Missouri at home. Illinois and quarterback
Nathan Scheelhaase
have yet to be tested after playing two patsies, but that also means the Sun Devils have no useful film for this game.
Syracuse at USC, 8 p.m. FX
: The Trojans hope to improve to 3-0 against a Syracuse program that appears to be climbing in the Big East pecking order.
Utah at BYU, 9:15, ESPN2/ESPN3
: Utah won the Holy War 17-16 last year -- the Utes blocked a last-second field goal attempt -- and has won six of the past 10 matchups in the series. This is the first matchup of the former Mountain West Conference foes with the Utes in the Pac-12 and BYU an Independent, which is why the game is in September instead of at the end of the regular season.
Stanford at Arizona, 10:45 p.m., ESPN/ESPN3
: After two easy games, quarterback
Andrew Luck
and Stanford get a tough road test in front of the 'Zona Zoo. This is the second of three games versus top-10 foes for the Wildcats. A nice matchup of quarterbacks with
Nick Foles
trying to get the Wildcats back on track.