January, 11, 2010
1/11/10
7:25
PM ET
By
ESPN.com staff
| ESPN.com
In a sprawling 20-minute, stream-of-consciousness monologue, Pete Carroll was full of "thank yous" and nostalgia as he said goodbye to USC during a Monday evening press conference at the school.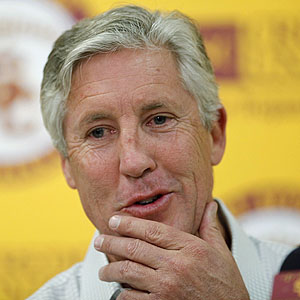 AP Photo/Damian DovarganesPete Carroll called his years at USC "gorgeous times" during a press conference announcing that he will take a job with the Seattle Seahawks.
Carroll said he's breaking up with USC not because of anything the Trojans did -- or because of the NCAA or athletic director Mike Garrett, for that matter -- but because the Seattle Seahawks made him an offer he couldn't refuse.
"Why can't it keep going?" Carroll rhetorically asked. "It can't keep going because I can't pass up this opportunity that has come up."
What exactly the "opportunity" the Seahawks are giving Carroll is presently vague.
Carroll repeatedly has said he'd never give the NFL another try unless he received total control of the franchise. Early reports were the Seahawks planned to give him that. Then there were conflicting stories as to how much power Carroll would have that arose due to
questions about
the Seahawks compliance with the "Rooney Rule," which requires NFL teams to interview minority candidates for coaching jobs. To this point, all the Seahawks have said is Carroll will have "a collaborative capacity on football matters."
Carroll, who has had a number of previous chances to return to the NFL, described that "collaborative capacity" as a "unique opportunity."
"I thought I would be here forever and then this came along," he said.
Hmm.
But that's the NFL side of things, which Carroll mostly refused to talk about, including which members of the USC staff he plans to take to Seattle. At present, he's expected to bring along offensive coordinator Jeremy Bates, linebackers coach Ken Norton and offensive line coach Pat Ruel.
Instead, Carroll, who talked to his now-former players before his press conference, reviewed his nine years at USC and thanked everyone -- really, everyone -- around the program, from players, to administrators, to fans, to people who work for his charity, to police officers, to his beat reporters, etc.
He called his years at USC "gorgeous times" "a marvelous run."
"It hurts to separate right now," he said.
He said he's separating, however, because his competitive fire won't let him pass up "the challenge of a lifetime."
Carroll denied that he is leaving because of the football program's NCAA issues, as well as his widely reported schism with Garrett.
"If you say something else, you are not telling the truth," he said.
He didn't provide many details about his meeting with the Trojans players.
"For the guys that are here right now, it's a bit of a shock that this is happening," he said. "But they're strong. They're tough. They'll compete to take the next step."
Now the next step for USC is hiring a new coach coach to replace a man who produced one of the greatest runs in college football history.
For Carroll, it's about taking his competitive fire to the "highest and most intense level."
It wasn't an easy decision to make.
"There's nothing easy about it," he said. "My body is in shock. My emotional side is in shock. I haven't slept in days."
June, 24, 2009
6/24/09
10:42
AM ET
By
ESPN.com staff
| ESPN.com
Posted by ESPN.com's Ted Miller
A bill that would require Oregon state universities to interview at least one minority candidate when hiring head coaches or athletic directors rolled through the state Senate on a 52-0 vote Tuesday, and Gov. Ted Kulongoski is expected to sign the bill, making Oregon the first state to enact such a law.
Good for Oregon.
Only seven of the 119 FBS programs have black head coaches even though roughly 50 percent of the players are black. Four of those black coaches -- Miami of Ohio's Mike Haywood, New Mexico State's DeWayne Walker, New Mexico's Mike Locksley and Eastern Michigan's Ron English -- were hired last year. So obviously none were added at BCS schools.
And the lack of diversity extends through all divisions, according this story, "Excluding historically black colleges and universities, only 3.9 percent of the 582 football programs in Divisions I, II and III have coaches of color, according to the NCAA."
The NFL has a "Rooney Rule," upon which the Oregon bill was based. Six of the 32 NFL head coaches are black.
The idea isn't to force an institution to hire anybody. It's not affirmative action.
It simply requires closed networks to at least pretend to open up. It says, "You want to hire this guy. Fine. But at least talk to this guy."
The idea is that a forced, even perfunctory, interview might open some eyes and, in the long term, increase diversity.
Note how debate also improved the law -- the process works! -- by setting an expiration date for the law of 2020.
Like I said: Good for Oregon.
April, 6, 2009
4/06/09
10:05
PM ET
By
ESPN.com staff
| ESPN.com
Posted by ESPN.com's Ted Miller
The Oregon Legislature is considering instituting a "Rooney Rule," which would require the state's public universities to interview at least one minority candidate when there's a football head coaching vacancy.
Ken Goe, the respected college sports writer for The Oregonian, wrote about it on his blog, supporting the effort. He also noted that "the last time I wrote about this, I was surprised at the visceral reaction my opinion provoked."
First, I agree with Ken. This is a good thing.
Second, I'm shocked that Ken is telling us he's surprised by the reaction.
(See the comments section under his story and links for a taste).
You can quibble about whether a Rooney Rule is effective, though that's an argument you'd lose because it is -- see the Super Bowl champions.
Or you can shrug your shoulders.
But if the notion offends you and makes you angry then perhaps you need to ask yourself where those feelings come from. No. Where they really come from.
I've never met anyone -- ANYONE -- who knows about the inner-workings of big-time football schools who doesn't believe the process of hiring a head football coach is stacked against minority candidates.
When I tell you it is, I'm not saying, "My opinion is the process is stacked against minority candidates."
It's not an opinion.
I know this sounds dogmatic. But I get weary of folks acting like this is a debate with two sides -- or at least two sides grounded in reality and guided by a moral compass.
A Rooney Rule doesn't say a school has to hire a minority. It only requires an interview. An opportunity.
I've talked to more than a few black assistant coaches about this through the years. When asked if they'd be bothered by the specter of a token interview, nearly all said, "Hell no!'
Why?
Well, would you turn down an interview for your dream job, even if you knew you were the longest of shots?
Hell no.
You'd go in there full of bravado and prepared to the hilt and you'd knock the freaking interview out of the park.
Which is why all these black guys who continually get passed over want an opportunity to do.
Nothing is more American than that.
PAC-12 SCOREBOARD
Saturday, 12/27
Saturday, 12/20
Monday, 12/22
Tuesday, 12/23
Wednesday, 12/24
Friday, 12/26
Monday, 12/29
Tuesday, 12/30
Wednesday, 12/31
Thursday, 1/1
Friday, 1/2
Saturday, 1/3
Sunday, 1/4
Monday, 1/12
Tweets from https://twitter.com/ESPNCFB/lists/pac12