January, 2, 2010
1/02/10
12:42
PM ET
By
ESPN.com staff
| ESPN.com
PASADENA, Calif. -- Oregon's season was encompassed by two bookends of disaster. While what lay in the middle was mostly outstanding -- historically good, even -- the boundaries were made by two terrible incidents, though of much different gravity.
[+] Enlarge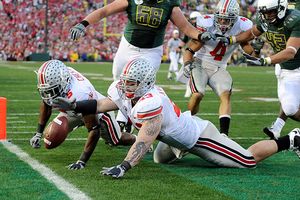 Kirby Lee/Image of Sport/US PresswireA fumbled exchange between Jeremiah Masoli and LeGarrette Blount ended up a touchback for OSU.
Both featured running back
LeGarrette Blount
.
When Blount punched a Boise State player after the Ducks' humiliating season-opening defeat at Boise State, it became a launching point for a surprising run to the Pac-10 championship and a berth in the Rose Bowl Game presented by Citi.
And Blount's fumble with just over five minutes left in the third quarter of the Rose Bowl was the critical, transformational play in the Ducks'
26-17 defeat
to Ohio State.
"That was kind of game-changing," said Blount, who spoke to reporters for the first time since the night he melted down at Boise State and was suspended for eight games.
Blount fumbled on a second-and-2 on the Buckeyes' 18-yard line. At that point the Ducks were down 19-17, but their offense had driven for a touchdown on its previous possession and appeared to be finding its rhythm.
After that play, little else went well.
"That one turnover probably was the turning point," tight end
Ed Dickson
said. "That was probably the game right there. We had the momentum, but once we had that fumble, you could feel the momentum switch."
With his mother in the stands sitting behind the Ducks' bench, Blount scored a touchdown to tie the game at 10-10. He mostly played well, rushing for 36 yards on five carries, looking like the 240-pound, physical runner who was expected to be one of the nation's top running backs during the preseason.
Then the fumble.
It wasn't the stuff of fairy tales. But life is often messy like that.
The fumble, to be fair, wasn't completely Blount's fault. "It was just a miscommunication between me and [quarterback
Jeremiah Masoli
]," he said.
The punch was his fault, Blount said. But he also wanted to deliver a clear message to reporters who encircled him in the back of the locker room.
No, he hasn't changed much as a person since the incident. Why? Because, he said, that terrible mistake wasn't who he is as a person.
"I'm the same person that I was back then," he said. "I made a mistake. That's all I can say about it. Emotions were running high and I just made a mistake. It was one of the biggest mistakes of my life and I take full responsibility for it. I shouldn't have done it. But you can ask my teammates. You can ask my family and friends. That's not the kind of person I am."
It caused a minor stir at Rose Bowl media day when Blount didn't show up to talk to reporters, despite BCS bowl game rules that every player should be available. Oregon coach Chip Kelly and other officials said Blount simply didn't want to talk.
"I didn't want it to be a distraction to my team," he said. "I didn't want to be chased down by ... ESPN. No offense."
Blount's Oregon career ended with the Rose Bowl. Now he wants to move on, and that means the NFL. Once a solid prospect, Blount's stock has fallen. He's obviously aware of that.
"I haven't really put the NFL stock stuff into perspective," he said. "I haven't really been thinking about it. I've heard people say my stock is down to undraftable and all the way up to my stock is fifth, sixth or seventh rounds. It doesn't bother me."
His Oregon career didn't get its redemptive, happy ending. Much like Blount's career, the evening started with promise but then featured a terrible mistake under the national spotlight.
But Blount is looking forward. That is, of course, all he can do. Maybe his happy ending is ahead? Maybe it will be in the NFL.
"I'm just trying to get there," he said. "I just want that shot. If I get that shot, I can definitely prove to people the [person] they think they saw [at Boise State] is definitely not what I am."
December, 31, 2009
12/31/09
3:00
PM ET
By
ESPN.com staff
| ESPN.com
What are three keys for Oregon in the Rose Bowl Game presented by Citi?
1.
Play loose
: Ohio State carries a heavy burden into the Rose Bowl: its recent futility in big games as well as the Big Ten's sagging national image (fair or unfair). Whatever the players -- and coaches -- say, that is part of their pregame mindset. Oregon? It carries unusual uniforms into the scenic stadium. It carries its fancy-pants swagger. At least it should. While the Ducks have been poised in big games all year, this is the biggest stage by far. How will the young players respond to the moment, particularly if things go wrong early? The Buckeyes' defense figures to be the best unit the Ducks have faced this season. Will that stiff resistance cause frustration? Or what if the Buckeyes' running game has its way against an undersized Ducks defense? Oregon must gear up for a 60-minute game. It can't tighten up or panic if things go wrong early.
2.
Attack Pryor
: Texas' Vince Young had his "hello word" moment in the 2005 Rose Bowl against Michigan, and it's not impossible to imagine Buckeyes' talented but inconsistent quarterback,
Terrelle Pryor
, posting his versus Oregon. The Ducks can't let Pryor gain early confidence, and they particularly can't let him run without paying a price. Pryor is banged-up -- he's playing with knee and ankle injuries -- so when he breaks contain on scrambles or takes off on designed run plays, the Ducks need to smack the heck out of him. Make him think. Make him want to slide or run out of bounds. And when Pryor and his powerful but often errant arm drop back to pass, the Ducks can't let him feel comfortable and set his feet. A skittish Pryor is the best kind of Pryor for an opposing defense.
3.
Spread the wealth
: For Oregon, it all starts with the spread option: quarterback
Jeremiah Masoli
and running back
LaMichael James
. Ohio State has to stop that first, and don't be surprised if the Buckeyes' rugged front seven is up to the task early. The key is variety and balance. Such as, the spread option becomes a play-action pass and becomes Masoli to tight end
Ed Dickson
downfield against man coverage. Or, Masoli takes off to the perimeter but then dumps the ball to receiver
Jeff Maehl
. A little
LeGarrette Blount
up the middle for some physical play. And, you know, Masoli throws a pretty good deep ball. Oregon can't let a good Ohio State defense get comfortable. The Ducks must use all of their playmakers and force Ohio State to account for all areas of the field.