February, 25, 2014
Feb 25
1:00
PM ET
STANFORD, Calif. -- As Stanford players jogged off the practice field Monday evening, nothing stood out in particular. Significant only because it marked the first spring practice of the year, and it had the look and feel of just another day on the Farm.
Maybe temperatures don't always hover around 70 degrees until just past sunset in late February, but there was no fanfare or anything ceremonious about the day.
In that respect, nothing has changed over the past five years.
[+] Enlarge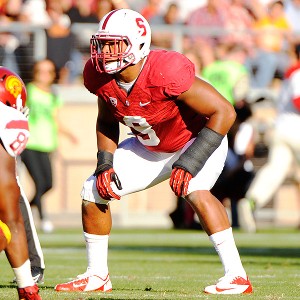 AP Photo/Rob HoltJames Vaughters spurned the SEC to join a Stanford team that, at the time of his commitment, was just beginning its upswing.
"It was a good start. The tempo I thought was outstanding for a first day, which is always what you're looking for when you lose so many seniors," coach David Shaw said. "It wasn't perfect, of course, but it was fast and that's what we were looking for Day 1."
As the only program to play in BCS bowls the past four seasons, there is no denying Stanford's place in the current hierarchy of college football. Any list of the nation's elite must include the Cardinal or it would be incomplete.
In that respect, everything has changed.
Former coach Jim Harbaugh recruited with an offer for a world-class education and the chance to turn things around. When Stanford signed outgoing fifth-year seniors such as
Shayne Skov
,
Trent Murphy
,
Ben Gardner
and
Ryan Hewitt
in 2009, it did so following a 5-7 season.
That group leaves Stanford not knowing what it's like to be a part of a losing team.
Only the 13 fifth-year seniors on the spring roster were on the 2010 team, Harbaugh's last season, and only defensive end Blake Leuders saw action that season. They're the last group that bought into a program that had yet to play in a major bowl game and, as a byproduct of that, the first not to miss one.
Senior outside linebacker
James Vaughters
is in a different boat. He spurned several SEC offers and left his home state of Georgia to sign with Stanford following its Orange Bowl victory to cap the 2010 season.
"They showed me they were just as committed to winning as the schools that were recruiting me from the South," Vaughters said.
He got what he signed up for.
"If you see success, it's a challenge to sustain it," Vaughters said. "It's a matter of finding a formula that works. When you have so many guys that started for so many years, we just have to find our way to be successful."
One could worry about a sense of entitlement creeping into a program with as much success as the Cardinal has experienced over the past four years, but both Vaughters and Shaw didn't seem to think that it would be a problem.
Shaw pointed to senior running back
Ricky Seale
as an example.
"[Last year] he would just be on the sidelines on his toes," Shaw said. "So now we have the anxiety and that energy because they all want a chance to play. I think we're in a great spot because we're going to get their best because they all want to get on the field."
Senior receiver
Ty Montgomery
(knee) and senior nose tackle
David Parry
(midsection) will both miss the first session of two spring sessions with minor injuries.
Backup quarterback
Ryan Burns
will miss the first session to due a disciplinary reason, according to Shaw.
Shaw has still not hired a defensive backs coach, but he said it "should be solved in the next week or so." For the time being, graduate assistant Marc Mattioli will coach defensive backs.
February, 24, 2014
Feb 24
7:00
PM ET
Spring has sprung in the Pac-12
, with Stanford starting spring practices this week and several schools following suit next week.
Ergo, we break down where teams stand with each position group, starting with quarterbacks.

Arizona
: The Wildcats probably have the most wide-open QB competition, with four guys having a legitimate chance to replace the departed
B.J. Denker
. Three are transfers from big-time programs: senior
Jesse Scroggins
(USC), sophomore
Connor Brewer
(Texas) and junior
Jerrard Randall
(LSU). The fourth, redshirt freshman
Anu Solomon
, was one of the biggest stars in the 2013 recruiting class. Don't expect much to be settled by the end of spring, though coach Rich Rodriguez might at least allude to some sort of pecking order. Or a top three.

Arizona State
: The Sun Devils are strong at QB with senior
Taylor Kelly
, a third-year starter who has put up big numbers the past two seasons, and junior
Mike Bercovici
, a big-armed backup -- perhaps, in fact, the best backup in the Pac-12. That's why
Michael Eubank
opted to transfer to Samford in Birmingham, Ala. It will be interesting to see which of the youngsters on the roster emerge as a No.3, a guy who might challenge Bercovici in 2015.

California
: It seems unlikely that sophomore
Jared Goff
will be unseated, particularly after
Zach Kline
opted to transfer. Goff was uneven last season -- his entire team was -- but flashed plenty of potential. He and a talented crew of receivers should get better this spring. The big question might be whether anyone challenges senior
Austin Hinder
for the backup job.

Colorado
: Sophomore
Sefo Liufau
is solid as the returning starter. He took some lumps last season but also flashed plenty of promise -- as both a player and leader. After him, there's junior college transfer
Jordan Gehrke
, a redshirt sophomore, the likely backup. Depth is a problem, at least this spring. As the
Boulder Daily Camera noted
, "Five quarterbacks have left the CU program either to transfer to other schools or give up the sport entirely since the start of spring football last year. A sixth completed his eligibility last season." That's why the Buffs added walk-on Trent Sessions to the roster. He worked with the equipment staff last year.

Oregon
: The Ducks probably feel pretty good about their third-year starter, junior
Marcus Mariota
, a leading 2014 Heisman Trophy candidate who would have been a first-round pick if he'd entered the 2014 NFL draft. The competition for the backup spot, however, will be interesting because Mariota is almost certain to enter the NFL draft after the season. Sophomores
Jeff Lockie
and
Jake Rodrigues
are 2A and 2B, with Lockie first off the bench as the backup in 2013, but Rodrigues the more physically talented player as a runner and passer.

Oregon State
: Like their friends to the south, Oregon State is fortunate its 2013 starter,
Sean Mannion
, decided to return instead of entering the NFL draft. Mannion's chief focus will be finding some receivers to replace the production of the departed
Brandin Cooks
. The battle for the backup job also will be interesting between sophomore
Brent VanderVeen
and redshirt freshman
Kyle Kempt
. Of course, their battle might not resolve things much for 2015, with incoming Alabama transfer
Luke Del Rio
joining the fray after sitting out a season.

Stanford
: It seems unlikely that two-year starter
Kevin Hogan
will be challenged for the starting job this spring, even though he had some ups and downs in 2013, but there is no lack of talent battling for the backup job. Junior
Evan Crower
was the backup in 2013, but redshirt freshman
Ryan Burns
is a big-time talent. As is incoming freshman
Keller Chryst
, who officially will arrive in the fall but, as a Palo Alto resident, figures to hang around spring practices.

UCLA
: Heading into his third season running the offense,
Brett Hundley
gives the Bruins one of the best starting quarterbacks in the nation. He's a proven dual threat and leader who will be refining his game this spring and building chemistry with his receivers. After him, however, things are a bit iffy, in large part because of the 2013 preseason transfer of
T.J. Millweard
to Kansas. The chief competitors for the backup job are
Jerry Neuheisel
, the 2013 backup, and redshirt freshman
Asiantii Woulard
, with Woulard being the guy with the most future upside. Of course,
there is another QB out there
some UCLA fans might be thinking about.

USC
: The returning starter facing the most formidable challenge to his starting job this spring is probably
Cody Kessler
, even though Kessler played well in the second half of the 2013 season. With the transfer of
Max Wittek
, touted redshirt freshman
Max Browne
, at the very least, sets up to be a high-quality backup next season. But plenty of folks think Browne has a legitimate shot to unseat Kessler, particularly with new coach Steve Sarkisian taking over.

Utah
: There's still no final word on the long-term health issue that might end QB
Travis Wilson
's career, and anything decisive might not come for weeks. If Wilson gets cleared, the good bet is on him returning to the starting job. If not, a spring competition will begin between
Adam Schulz
, who stepped in when Wilson went down, and redshirt freshmen
Conner Manning
and
Brandon Cox
. In the fall, dual-threat QB
Donovan Isom
arrives.

Washington
:
Keith Price
, a three-year starter, is gone, but the Huskies seemed fairly set at QB with sophomore backup
Cyler Miles
appearing plenty capable of stepping into the cockpit this spring. In limited action last season, Miles completed 61 percent of his throws for 418 yards with four TDs and two picks, and he also showed good mobility, rushing for 200 yards. The pecking order at least seemed set, that is, until Miles got into some
off-field trouble that threatens his status for spring practice
and perhaps beyond. If Miles is still suspended, that means opportunity comes knocking for sophomore
Jeff Lindquist
or redshirt freshman
Troy Williams
to make an impression.

Washington State
:
Connor Halliday
will be a senior, three-year starter and the Cougars' top leader in the third season running Mike Leach's "Air Raid" offense. He figures to put up huge numbers this fall with a strong crew of receivers. His 2013 backup, sophomore
Austin Apodaca
, opted to transfer, perhaps believing that redshirt freshman
Tyler Bruggman
had the inside track to the starting job in 2015. Depth is a bit of a question, with the No. 3 this fall likely being true freshman
Peyton Bender
.
February, 7, 2013
2/07/13
10:00
AM ET
Continuing with the hits and misses from Pac-12 recruiting.
CALIFORNIA

Needs filled
: The Bears added nice depth to the offensive line with tackles
Aaron Cochran
and
Erik Bunte
. Junior-college transfer
Sione Sina
can also be a nice stopgap at defensive end. They went heavy in the trenches with five offensive linemen and seven defensive linemen.
Holes remaining:
Cal is looking for a quarterback to run the new-look offense under new head coach Sonny Dykes. Could be
Zach Kline
of the 2012 recruiting class. Could be
Jared Goff
of this year's class, an early enrollee. The Bears addressed a lot of positions, but whether some youngsters can step up remains to be seen. The 11th-hour flip of offensive guard
Cameron Hunt
to Oregon has to sting.
OREGON

Needs filled
: The Ducks went heavy on offense, and running back
Thomas Tyner
highlights a group that is loaded with speed (what did you expect, it's Oregon). They added two stellar offensive guards in Hunt and
Evan Voeller
and a premier defensive end in
Torrodney Prevot
, previously a USC commit. There are speedy receivers down the line like
Darren Carrington
. And they added kicker
Matt Wogan
. The Ducks were 11th in the conference in field goals made in 2012.
Holes remaining:
The Ducks still have holes to fill at linebacker. Junior-college transfer
Joe Walker
, an outside linebacker, could step in to help immediately. But with the losses of inside linebackers
Michael Clay
and
Kiko Alonso
, the Ducks have mostly untested talent at the position and this year's class didn't add much depth to a position that is already a question mark.
OREGON STATE

Needs filled
: When you look at the top two players the Beavers lost --
Jordan Poyer
and
Markus Wheaton
-- it's nice to look at their recruiting class and see a cornerback and wide receiver as the two highest-rated players.
Dashon Hunt
and
Hunter Jarmon
might never develop into a Poyer or a Wheaton, but the Beavers saw the holes and addressed them. JC defensive tackles
Kyle Peko
and
Edwin Delva
should help immediately and
Kyle Kempt
could develop into the quarterback of the future in a couple of years. a href="http://espn.go.com/college-sports/football/recruiting/player/_/id/136903/jordan-villamin">Jordan Villamin, 6-foot-4 wide receiver, might also develop into a nice red zone target.
Holes remaining:
The JC transfers help with the defensive line in the immediate future, but the Beavers signed only two high school defensive linemen, leaving some questions about depth in the future. It's likely a position they'll address heavily next season.
STANFORD

Needs filled
: This is a class low on numbers, but extremely high on potential. If quarterback
Ryan Burns
is as advertised, it's possible he could challenge for the starting job as early as 2014.
Francis Owusu
has tremendous upside as a receiver and
Peter Kalambayi
adds depth to one of the best front sevens in the nation. Plus, three tight ends (
Austin Hooper
,
Greg Taboada
and
Eric Cotton Jr.
). How very Stanfordish of them.
Holes remaining:
The Cardinal loaded up on defensive linemen with five last year and there is plenty of depth, albeit untested, at running back. The Cardinal didn't sign any running backs or defensive linemen this year. It's not a bad thing -- for now. But if a couple of guys get injured or if there is any attrition, it could bite them. For now, the Cardinal seem to be in good shape across all positions.
WASHINGTON

Needs filled
: The Huskies added some much-needed depth on the defensive line with five linemen -- headlined by ESPN 150 defensive tackle
Elijah Qualls
.
Damore'ea Stringfellow
and
Darrell Daniels
-- both ESPN 150 wide receivers -- provide a nice one-two offensive punch.
Troy Williams
, the nation's No. 3-rated dual-threat quarterback -- could potentially be the heir apparent to
Keith Price
. It was a good class that fills a lot of needs.
Holes remaining:
For solid as the defensive line class was, the Huskies signed only three offensive linemen -- though one of them is
Dane Crane
, the nation's No. 4-rated center. If you recall, however, the Huskies were decimated with offensive line injuries this year and coach Steve Sarkisian made it a point to talk about the team needing more depth to be able to absorb that kind of injury hit. Three more guys helps; but is it enough to sustain them if another injury bug ravishes the line?
WASHINGTON STATE

Needs filled
: This was quietly a very good encore recruiting class for Mike Leach in his second season at the helm. It's heavy on linemen, heavy in the secondary and it's headlined by a four-star wide receiver in
Vince Mayle
-- a JC transfer from Rocklin, Calif. Interestingly enough, it also has two fairly highly rated running backs. We know Leach isn't going to be a run-first guy -- but the Cougars could certainly use the help after rushing for 29.1 yards per game last season.
Holes remaining:
Who is going to run the offense? It could be
Connor Halliday
. But it's also possible Leach pulls the trigger on
Tyler Bruggman
, the No. 22-rated pocket passer in the country from Phoenix. That remains the No. 1 priority for the Cougars in the offseason. Otherwise, this recruiting class plugged a lot of holes. The question is whether they are the right guys to help immediately.
February, 6, 2013
2/06/13
5:55
PM ET
The Stanford Cardinal officially announced the 12 members of its 2013 recruiting class.
Pro-style quarterback
Ryan Burns
headlines the list of 12 players from eight different states. Seven of the 12 are on the offensive side of the ball, including three tight ends.
To see complete bios and videos of the new Cardinal players,
click here
. For ratings and analysis, you can check out Stanford's ESPN.com page
here
.
March, 5, 2012
3/05/12
11:00
AM ET
It was 33 days ago today that Stanford head coach David Shaw said it would be "safe to assume" that recruiting a quarterback for the 2013 class would be a priority.
Over the weekend, assumption turned to fact.
The Cardinal
picked up a commitment Saturday

from
Ryan Burns
of Ashburn, Va. -- a 6-foot-5, 220-pound pro-style prototype who looks the part
with pads on
, and
without
.
Commitments this early -- especially from top-flight players like Burns, who is on the ESPNU 150 watch list for 2013 -- come with a double-edged sword. On one hand, you feel pretty good about locking up a player who is projected to be one of the best in the country at his position. But that also means you have to work to keep him. No doubt, other programs will be swooping in over the next 11 months to try to lure him away.
At the same time, he could turn out to be one of Stanford's strongest cheerleaders, which was the case with outside linebacker Noor Davis, who committed to Stanford last May and worked tirelessly to bring in more talent to bolster the 2012 class.
"I think every program in the nation always has one or two guys who commit early and is determined to help build the class," Shaw said
in a signing-day Q&A
.
It sounds like Burns is pretty solid with his commitment though,
telling Mike Farrell
of Rivals.com that neither
Andrew Luck
's departure, nor the outstanding offensive line class the Cardinal picked up in 2012, had an impact on his decision.
I would have picked Stanford regardless of how the previous [quarterback] did, but I had a really good time meeting him last summer.
Burns on the offensive line class:
It is a big bonus, but I would have picked them regardless.
The news comes as the current Cardinal squad is in the thick of a quarterback competition to replace Luck. Stanford started the first of two spring sessions last week with an emphasis on base offense and defense. Shaw said he doesn't expect to have a quarterback named until close to the start of the season, but hopes he'll have at least a pecking order in mind by the time Stanford wraps up spring drills.
Brett Nottingham
, Luck's understudy last season, and
Josh Nunes
took the majority of snaps in an 11-on-11 drill, according to Tom Fitzgerald of the San Francisco Chronicle,
and Nottingham said his game
"wasn't that sharp. Lots of things to clean up, but it's still relatively early in spring ball."
Shaw described Nottingham and Nunes as "not great, but solid."
The two are competing with
Robbie Picazo
,
Kevin Hogan
and
Evan Crower
to replace Luck, who graduated with most of Stanford's passing records and is all but inked in as the No. 1 pick in the upcoming NFL draft.
Burns is the second Cardinal commit to the 2013 class -- and also the second from Virginia. Linebacker Doug Randolph (Woodberry Forest), also on the ESPNU 150 watch list, committed to Stanford in June of 2011. Last year's Stanford media guide lists offensive coordinator Pep Hamilton as the primary recruiter in Virginia. The Cardinal appear to have a pretty good grasp of the region, having just signed defensive back Alex Carter (Ashburn, Va.) in the 2012 class. Carter, who Shaw called a "lock-down corner" was 111th on the 2012 ESPNU 150 list.