July, 3, 2012
7/03/12
5:30
PM ET
Week 1 can't get here soon enough. Every team plays an out-of-conference opponent in the first two weeks of the season, so we thought we'd take a quick look at who is coming up in Week 1. We'll go into greater detail as the start of the season draws closer. This is just a primer for those who need their beaks moistened and whistles whet. Earlier today
we looked at the South
.
NEVADA
Game
: at Cal, Saturday, Sept. 1
Coach
: Chris Ault (226-103-1, 28th year)
2011 record
: 7-6 (5-2, WAC)
Did you know
: Another team new to the Mountain West, Nevada returns six starters on offense and seven on defense. The Wolf Pack has been to seven straight bowl games, but also had a significant amount of turnover in the coaching staff this past season. Plus they've lost a lot of defensive linemen from a group that was only 101st in tackles for a loss last year. Dual threat quarterback
Cody Fajardo
is the one to keep an eye on.
ARKANSAS STATE
Game
: at Oregon, Saturday, Sept. 1
Coach
: Gus Malzahn (first year)
2011 record
: 10-3 (8-0, Sun Belt)
Did you know
: Malzahn won the Broyles Award -- which goes to the nation's top assistant coach -- for his work with Auburn and their title run in 2010-2011. Not that a win would make Oregon feel better for what happened in the title game, but hey, it can't hurt. Returning quarterback
Ryan Aplin
, who is a three-year starter and has some NFL buzz, owns 16 school records and is the reigning conference player of the year.
NICHOLLS STATE
Game
: at Oregon State, Saturday, Sept. 1
Coach
: Charlie Stubbs (5-17, third year)
2011 record
: (1-10, 0-7 Southland)
Did you know
: The Colonels have lost 10 straight after opening last season with a win over Evangel University. Nicholls State posted a 42-0 victory, but has been outscored 16-38 in its last 10 contests. Stubbs' first full-time coaching gig was at Oregon State, where he started as a receivers and tight ends coach before becoming the Beavers offensive coordinator in 1987.
SAN JOSE STATE
Game
: at Stanford, Friday, Aug. 31
Coach
: Mike MacIntyre (6-19, third season)
2011 record
: 5-7 (3-4, WAC)
Did you know
: This will be the 21st time Stanford has opened its season against the Spartans. The Cardinal are 19-1 in those other meetings and hold a 50-14-1 record in what has now been dubbed the Bill Walsh Legacy Game.
SAN DIEGO STATE
Game
: at Washington, Saturday, Sept. 1
Coach
: Rocky Long (8-5, second season)
2011 record
: 8-5 (4-3, MWC)
Did you know
: The Aztecs lost three stars -- QB Ryan Lindley, RB Ronnie Hillman and LB Miles Burris -- to the NFL, but the addition of Pac-12 transfers Ryan Katz (QB, Oregon State) and
Brice Butler
(WR, USC) give offensive coordinator Andy Ludwig (formerly of Cal) some new firepower. After being bowl-less since 1998 the Aztecs have gone to the postseason in back-to-back years.
BYU
Game
: Washington State, Thursday, Aug. 30.
Coach
: Bronco Mendenhall (66-24, eighth season)
2011 record
: 10-3 (independent)
Did you know
: Of FBS coaches with at least five years experience, Mendenhall's .733 winning percentage ranks eighth among all coaches -- ahead of names such as Nick Saban and Les Miles. This isn't the only time we'll see BYU this year. They'll renew their rivalry at Utah in Week 3. Mike Leach has also talked extensively about how his time as a BYU student shaped the philosophies he would embrace as a head coach.
March, 21, 2012
3/21/12
5:30
PM ET
Oregon State coach Mike Riley and former quarterback Ryan Katz opened up about what went wrong in Corvallis and why Katz decided to make the move to San Diego State.
In
interviews with the San Diego Union-Tribune
, Katz and Riley both candidly explained the downfall of Katz at OSU -- from his injury, to the rise of
Sean Mannion
and Katz' eventual decision to leave the program.
Here's what Riley told the U-T's Brent Schrotenboer:
It wasn't anything Ryan did or didn't do. The other kid just played well. It was just a coach's decision. It was competition. He was bitterly disappointed (to get benched) but handled it like a pro. When the right time came, he came to see me and said he wanted to find someplace he could play his senior year. I was all for him. I just encouraged him to find the right place. That's why he's at San Diego State.
Katz said he spoke with former USC wide receiver
Brice Butler
, who also decided to transfer to SDSU
when things started falling apart with the Trojans
.
Said Katz:
When you have a top player like that coming with you, it definitely went into the decision. I'm glad. I think I made the right choice.
While it seems like there were some hurt feelings -- understandable, considering Katz started 12 games for the Beavers the previous season -- the split appears to be fairly amicable.
Added Katz:
That's behind me. It happened. I really don't want to get into that, to tell you truth... Things happen. It was a bad situation what happened. I'm an Aztec now. I'm not really looking in the rear-view mirror and don't want to reflect on that.
According to reports, Katz has looked strong in SDSU's spring camp and appears to be the frontrunner to replace
Ryan Lindley
, a four-year starter who is likely NFL bound. In 2010, Katz completed 60 percent of his passes for the Beavers (213-of-355), throwing for 2,401 yards, 17 touchdowns and 11 interceptions.
January, 12, 2012
1/12/12
5:40
PM ET
By
ESPN.com staff
| ESPN.com
Former Arizona QB
Nick Foles
will be receiving snaps from a Sun Devil at the Senior Bowl on Jan. 28 in Ladd-Peebles Stadium in Mobile, Ala.
Foles was named one of three QBs for the South squad, along with Oklahoma State's
Brandon Weeden
and San Diego State's
Ryan Lindley
.
The Senior Bowl, the nation's premier college all-star game, also selected former Arizona State center
Garth Gerhart
.
"I think we've identified three solid quarterback prospects in Brandon Weeden, Nick Foles and Ryan Lindley," Senior Bowl President and CEO Steve Hale said in a statement. "All three guys are 6'4" and above and all possess tremendous arm strength and the leadership abilities that NFL clubs are looking for. We're excited about bringing them here to the Senior Bowl to compete at the highest level."
More from the press release:
Foles was an Honorable Mention All-Pac 12 selection in 2011 after throwing for a single-season school record 4,334 yards and 28 touchdowns for the Wildcats. The three-year starter also broke the Arizona record for attempts (560) and completions (387) this season and finished the year with a 69.1% completion percentage. He ranked in the top five in most major passing categories, including completions per game (32.3—2nd), passing yards per game (361.2—3rd), total offense per game (352.6—4th) and total passing yards (4,334—5th).

"It's a great honor. It's something that growing up as a kid you always want to play in an all-star game like the Senior Bowl and I have the privilege to be one of six quarterbacks selected," Foles said.

Foles leaves Arizona as the Wildcat's all-time leading passer with 10,011 yards and is tied for the lead on the school's all-time list with 67 touchdown passes. He also holds the school record for career attempts (1,369), completions (933) and total offense (9,722).

"It's really exciting. It's a different game now, it's not college football and it's not high school so I'm just going to go out there and get a taste of what the NFL is going to be like—that's what I'm looking forward to," Foles added.
September, 17, 2011
9/17/11
8:12
PM ET
By
ESPN.com staff
| ESPN.com
Two touchdown passes from
Marshall Lobbestael
have Washington State up 17-14 at San Diego State.


In fact, in the matchup of quarterbacks, Lobbestael has the edge over the Aztecs touted starter,
Ryan Lindley
. Lobbestael has completed 12-of-22 for 201 yards. Lindley has completed 13-of-24 for 155 yards with an interception.
It's been a back-and-forth affair, but winning the turnover battle 2-1 in the half is probably the difference.
The Cougs outgained the Aztecs 260-221 at the break.
The screws are going to tighten in the second half -- this doesn't feel like a blowout game either way.
The question is who blinks? It's been a while since the Cougars were playing for big stakes in a tight game. How will they react?
September, 15, 2011
9/15/11
10:15
AM ET
Ten issues to consider heading into the third week of games.
1.
Luck versus Foles
: Both
Andrew Luck
and
Nick Foles
are mature starters with lots of skills with NFL futures. They won't spend a lot of time comparing stats during the game, but it's hard to imagine both are completely uninterested in the other and how he performs. Quarterbacks study other quarterbacks. While both these guys want to win above all else, they'd also like to walk away with a better looking stat sheet than the other. Luck has a better running game and a better defense supporting him. Foles has better receivers. Who ends up with the best efficiency rating, oh and the W?
2.
Nebraska's O-line versus Washington's D-line
: The Cornhuskers offensive line is billed as perhaps the youngest in program history, with a freshman and two sophomore starters. And the 'Huskers 2010 O-line lost the battle with the Huskies D-line in the Holiday Bowl, rushing for just 91 yards. UW's 333-pound DT Alameda Ta'amu, in particular, dominated inside. While the Huskies pass defense has been suspect so far, the run defense is another story, ranking seventh in the nation. UW is talented and experienced up front. Nebraska is a run-first team, and quarterback
Taylor Martinez
is much more comfortable running than passing. While the Huskies pass defense, again, has been poor, coordinator Nick Holt certainly would feel better about his unit's chances if Martinez is forced to throw downfield to move the ball.
[+] Enlarge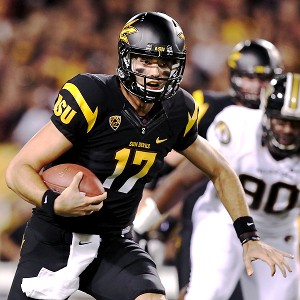 Christian Petersen/Getty ImagesCan Brock Osweiler repeat the dominant performance he had against Missouri last week when the Sun Devils face the Illini?
3.
Osweiler's encore
? Arizona State quarterback
Brock Osweiler
was a tour de force in the win over Missouri, passing for 353 yards and three touchdowns and rushing for 34 yards and a score. Also, he projects confidence and is a vocal leader. The Sun Devils will be challenged to match the intensity they showed against Missouri on the road at Illinois. That's where Osweiler's leadership comes in. He needs to rally the locker room and make sure distraction and complacency don't take root. It would be nice if he played like he did against Missouri, too.
4.
Can UCLA run against Texas
? Texas' defense has been stout in the first two games. It held BYU to just a field goal in the second half. It's yielding just 86.5 yard rushing per game. In the Bruins upset victory last year, the Longhorns couldn't stop UCLA's pistol offense, which raked up 264 yards on the ground. The Bruins are still a run-first team with a questionable passing game. But it will be much easier to throw downfield if the running game is gashing the Longhorns and giving them a sense of déjà vu.
5.
Washington State's defense makes a stand
? The Cougars defense has been outstanding so far, and it's particularly encouraging that it has been stout against the run, which hasn't been the case for three years. But Idaho State and UNLV are terrible, and San Diego State is not. In fact, it has two NFL prospects leading the offense in quarterback
Ryan Lindley
and running back
Ronnie Hillman
. Both put up huge numbers in 2010, and they will challenge the Cougs with a potent pass-run balance. Want to know if the Cougs D is for real? This game will tell. And if the D passes the test, Washington State should win because it should be able to score plenty of points against the Aztecs.
6.
Rodney Stewart gets going
: Colorado ranks 114th in the nation in rushing even though it has an A-list running back in Stewart. While the passing game has been impressive, coach Jon Embree is not the sort to abandon the run and surrender balance. Colorado State gave up 150 yards rushing to New Mexico. You'd think the Buffs can at least match that, even with a injury-riddled offensive line. And if Stewart gets going, that will open up chances for quarterback
Tyler Hansen
to find wide receiver
Paul Richardson
over the top.
7.
Pin your ears back, Trojans
: Despite a soft schedule featuring Wake Forest and Rhode Island, Syracuse ranks 107th in the nation in rushing (78.5 yards per game). While
Ryan Nassib
is a nice quarterback, life won't be easy for him against a strong Trojans pass rush if he's got no running game to keep the defense honest. He's already been sacked four times, and his offensive line hasn't seen the likes of the Trojans front four.
8.
Rediscover the run, Utes
: While
Jordan Wynn
is a gamer, he looked significantly better at USC than in the season opener. But he's not the sort who can win a game alone, at least not while he's still regaining his shoulder strength after surgery. He needs a running game, which he didn't have against USC. BYU plays tough defense, but the Utes need to establish a run threat and some offensive balance to make life easier for Wynn, both in terms of opening up the downfield passing game and protecting Wynn's surgically repaired shoulder.
9.
Road tough
? Good teams win on the road, and good conferences have teams that consistently win on the road. Utah, Arizona State, Washington and Washington State each can make statements for themselves and for the Pac-12 if they take care of business in hostile environments. None are favored to do so. If the conference goes 3-1 in these games, it will significantly bolster the conference's Q-rating nationally. Oh, and its computer rating in the BCS standings.
10.
Oregon and California
? Oregon plays Missouri State and California plays Presbyterian. What to watch? Something else.
September, 15, 2011
9/15/11
9:00
AM ET
Went 8-2 last week as my upset predictions for Utah and Colorado went splat in the waning moments.
Season record stands at 17-5.
Some of you might not like these picks. In advance, sorry. I won't mind being wrong.
All games are Saturday.
Stanford 35, Arizona 24
: Two great QBs going at it, but the Cardinal also have a running game and a defense. The Wildcats' chances will be a lot -- A LOT -- better if receiver
Juron Criner
plays.
Arizona State 40, Illinois 28
: In the past, we'd circle this as a game the Sun Devils might blow. But we're leaning toward believing these Sun Devils are different. And we like QB
Brock Osweiler
's play and leadership.
Nebraska 30, Washington 24
: Lincoln is a tough place to play for a new starting quarterback, but the Huskies will give the Cornhuskers all they can handle in what will be the best-played game in the three-game series.
BYU 28, Utah 27
: Both teams are coming off tough losses, but BYU is at home, and that's the difference after the Utes won by a single point at home in 2010.
Texas 27, UCLA 14
: Texas has positive momentum after a comeback victory over BYU and it's highly motivated after getting embarrassed by the Bruins in Austin in 2010. That San Jose State effort by UCLA was hard to stomach.
USC 35, Syracuse 20
: With just five starters back on defense, Syracuse will have a hard time stopping
Matt Barkley
,
Robert Woods
& company. And the Orange have zero running game, which will make things easy for the Trojans' D.
San Diego State 33, Washington State 30
: The Cougars are 2-0, but they've yet to play a quality foe. The Aztecs are a quality foe and they are playing at home. Seems like there will be just a little too much
Ryan Lindley
and
Ronnie Hillman
for the Cougs' defense.
Colorado 30, Colorado State 21
: The Buffaloes will get the win because they'll finally get running back
Rodney Stewart
going, even with a beaten-up offensive line.
Oregon 80, Missouri State 2
: Chip Kelly will be unhappy with the shotgun snap from the backup center that costs the Ducks a shutout.
California 742, Presbyterian 5
: We won't be taking this game seriously.
September, 13, 2011
9/13/11
4:42
PM ET
It would be easy to wildly extrapolate program transformation at Washington State based on a 2-0 start. Sure, the competition was terrible, but the Cougars asserted complete dominance on both sides of the ball.
The term "well-oiled machine" came to mind for a team that, to be kind, has looked in recent years like a rusted-out, red pickup truck that had been abandoned along a Palouse highway.
But it seems justifiable to take the bridle off the enthusiasm because things were feeling completely lost just one quarter into the season.
[+] Enlarge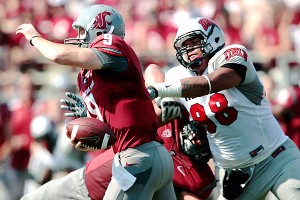 AP Photo/Dean HareMarshall Lobbestael has been a surprise for the Cougars after they lost starter Jeff Tuel.
Let's face it: It's likely that a majority of Cougars fans thought the year was cooked when promising starting quarterback
Jeff Tuel
broke his clavicle against Idaho State.
Senior backup
Marshall Lobbestael
had experience, yes, but it was completing-less-than-50-percent-of-his-passes-and-throwing-more-interceptions-than-touchdowns experience and not the good kind.
So when Lobbestael went all
Andrew Luck
on Idaho State and then UNLV, well, please excuse the Cougs for grinning ear-to-ear and allowing themselves to be flushed with hope.
Lobbestael now ranks third in the nation in passing efficiency. He's completed 74.5 percent of his throws with five touchdowns and no interceptions while averaging 296 yards per game. And this isn't just dink-and-dunk. He's averaging 11.6 yards per completion.
When asked if he expected such efficiency from Lobbestael, coach Paul Wulff answered honestly: "Probably not." It's likely, in fact, that few players or coaches felt confidence when Tuel went down. Lobbestael had to win them over. By doing so he would restore the brittle confidence of a team that felt like it would be better this fall, but that still had the failure of just two conference wins over the past three seasons looming in the back of their collective minds.
"Marshall, to be quite honest, by his performance, has put everybody at ease," Wulff said. "That's where it starts."
The competition level will take a significant step up at San Diego State (2-0) on Saturday. Even though head coach Brady Hoke headed off to Michigan, the Aztecs welcomed back 13 starters from a nine-win 2010 team, including eight on offense. That offense is anchored by four senior offensive linemen and one of the nation's best quarterback-running back combinations in
Ryan Lindley
and
Ronnie Hillman
. Lindley passed for 3,830 yards and 28 touchdowns last year, while Hillman rushed for 1,532 yards and 17 touchdowns.
Not only are the Aztecs no Idaho State, they also are at home. The Cougars have one road win over the past three seasons.
But if the Cougars can steal one, a 3-0 start would have them heading into Pac-12 play halfway to bowl eligibility, which almost certainly would save Wulff's job.
The first thing Wulff talks about with his resurgent team is chemistry. "Players are all on the same page for the first time," he said. The second is experience. "They're just older. No body in college football wins with youth," he said.
The third area of improvement is defense. While the offense took big steps forward in 2010, the defense still lagged behind. Through two games, however, the Cougs are No. 2 in the conference in both scoring defense (14 ppg) and total defense (305.5 ypg).
Here's a guess that things are trending up on defense because Wulff upgraded his coaching staff this offseason with Chris Tormey coaching linebackers and Todd Howard the defensive line.
Still, Lobbestael's performance thus far has to be considered the surprising glue between the disparate parts. He certainly fits in with the program's blue-collar image.
"He's the first guy if the locker room is messed up and there's tape on the ground, he's picking it up during training camp and putting it in garbage," Wulff said.
Still, the program certainly hasn't arrived, and there are plenty of potential pratfalls ahead. For one, the Pac-12 schedule, particularly playing in the North Division, will be arduous. Five of the nine conference games are on the road, too. Even with a 3-0 start, getting three more wins won't be a sure-thing.
Further, how might the Cougs react if they lose at San Diego State? Might self-doubt creep back in? And if the Cougs string together a couple of losses, then the chirping about Wulff's job security will get louder and more distracting.
Wulff said he's aware of the "win-now" expectations -- "I'm not a dummy," he said when asked about the negative chatter -- but he also said "I don't get too caught up in it."
He sees a bright future for a team that is still young. But he's also starting to feel pretty good about the present.
"We're on our way," he said.
September, 12, 2011
9/12/11
8:14
PM ET
By
ESPN.com staff
| ESPN.com
Oregon State is the only Pac-12 team off this week, and there are several big nonconference games and a big conference one in Tucson.
All games are on Saturday, Sept. 17. Here's a quick look (all times ET).
Colorado versus Colorado State (Denver), 1:30 p.m., FSN
: The Buffaloes took a step forward last weekend against California after a poor showing at Hawaii, but at 0-2 they are desperate for a win. The Rams are 2-0 after beating New Mexico and Northern Colorado. The Buffs have won four of the past six in the series.
Texas at UCLA, 3:30 p.m. ABC/ESPN3
: Texas wants revenge for last season's embarrassing loss at home. Both teams have issues at quarterback. But Mack Brown's seat isn't nearly as hot as Rick Neuheisel's.
Washington at Nebraska, 3:30 p.m. ABC/ESPN3
: The rubber match in a three-game series. The first two games couldn't have been more different: A Nebraska blowout win in Husky Stadium followed by a physically dominant performance by Washington in the Holiday Bowl.
Missouri State at Oregon, 3:30 p.m. OSN
: This will be a long, long day for Missouri State.
Presbyterian at California, 5:30 p.m
.: The Blue Hose just want to escape with their lives. And a paycheck.
Washington State at San Diego State, 6:30 p.m. Mountain West Network
: The Cougars can get halfway to bowl eligibility with a victory on the road. Both teams are 2-0. Quarterback
Ryan Lindley
and running back
Ronnie Hillman
will test what looks to be a vastly improved Cougar defense. And can WSU quarterback
Marshall Lobbestael
keep up his torrid pace?
Arizona State at Illinois, 7 p.m. Big Ten Network
: The Sun Devils will try to avoid a letdown on the road after beating Missouri at home. Illinois and quarterback
Nathan Scheelhaase
have yet to be tested after playing two patsies, but that also means the Sun Devils have no useful film for this game.
Syracuse at USC, 8 p.m. FX
: The Trojans hope to improve to 3-0 against a Syracuse program that appears to be climbing in the Big East pecking order.
Utah at BYU, 9:15, ESPN2/ESPN3
: Utah won the Holy War 17-16 last year -- the Utes blocked a last-second field goal attempt -- and has won six of the past 10 matchups in the series. This is the first matchup of the former Mountain West Conference foes with the Utes in the Pac-12 and BYU an Independent, which is why the game is in September instead of at the end of the regular season.
Stanford at Arizona, 10:45 p.m., ESPN/ESPN3
: After two easy games, quarterback
Andrew Luck
and Stanford get a tough road test in front of the 'Zona Zoo. This is the second of three games versus top-10 foes for the Wildcats. A nice matchup of quarterbacks with
Nick Foles
trying to get the Wildcats back on track.
August, 15, 2011
8/15/11
4:19
PM ET
By
ESPN.com staff
| ESPN.com
First in a series looking at potential dream and nightmare scenarios for all Pac-12 teams.

Understand: These are not predictions. They are extreme scenarios and pieces of fiction. You can read
last year's versions here
.
We're going in reverse order of my
post-spring power rankings
(which might not be identical to my preseason power rankings).
Up first
: Washington State
Best case
Idaho State isn't good; no one would say the Bengals should have been competitive with Washington State. But there was something about the way the Cougars marched over the Bengals like an army of steamrollers in a 62-3 victory that raised a few eyebrows in Pac-12 towns.
A 42-10 manhandling the following weekend over UNLV raised a few more. But it was a 38-17 victory at San Diego State that confirmed it: The Cougs will not be patsies in 2011.
"Making a statement? I don't know about that," said Cougars quarterback Jeff Tuel after throwing three touchdown passes and outplaying touted Aztecs quarterback Ryan Lindley. "We're 3-0. That's good. We've got a bye coming up. That's good. Then we start the Pac-12 season at Colorado. That's probably where we try to make a meaningful statement."
For three quarters, the only statement from the Cougs is "almost." Colorado leads 24-10 with eight minutes left in the final frame and is driving. But on a third and 4 from the Cougs 18, Travis Long catches Buffaloes quarterback Tyler Hansen from behind and slaps the ball loose. Washington State recovers. Three completions from Tuel gets the Cougars to the Buffs 25. A draw play for Rickey Galvin gets the rest of it.
The defense stops the Buffs again, but the ensuing punt is downed on the Cougs 8-yard line with 2:15 left.
Tuel to Marquess Wilson converts a third and 8. Tuel to Kristoff Williams for 33 yards gets the Cougs into Colorado territory. A screen to Logwone Mitz reaches the 14. Tuel scrambles to the four, but takes a sack on second and goal. On fourth down, Tuel loops a throw to Wilson in the corner of the endzone with seven seconds left.
"I started thinking about our 2-point play when we got the ball on the eight," Washington State coach Paul Wulff said after his Cougars improved to 4-0 with a 25-24 win. "I thought, 'What kind of name is Gino Simone anyway?' Sounds like some sort of pretentious fashionista doesn't it? Like, 'The spring collection from Gino Simone features silk and ruffles and bright colors that will make you feel fabulous!' Thought the kid needed a football moment. And I thought he would be open. I was right, eh?"
The Cougs get votes in both the AP and Coaches polls.
But then the rebirth hits a wall. An overtime loss at UCLA, is followed by a blowout home defeat to Stanford. Oregon State gets revenge for a 2010 loss to the Cougs, and Oregon rolls at home. A four-game losing streak has fans once again questioning Wulff. Athletic director Bill Moos says he won't comment until after the season, which is read as a refusal to give a vote of confidence.
Washington State picks up win No. 5 at California, but falls back to .500 on a late field goal by No. 19 Arizona State. Utah comes to town with hopes of a South Division championships, but the Utes trudge out 27-24 losers. Tuel scrambles for the winning score with no time left, which rocks Martin Stadium like it's 2002, as though Drew Dunning is again sliding on his knees after USC is vanquished in overtime.
Washington State, after winning just five games the previous three years under Wulff, is bowl eligible.
"Bowl eligible? That's great," Wulff said. "But I hate purple and that's all I can see right now."
The Cougars rolls 35-24 over the faltering Huskies -- last place in the Pac-12 North -- at CenturyLink Field in Seattle. Headline in the Sunday Seattle Times, "Sarkisian on the hot seat?"
Washington State whips Army in the Kraft Fight Hunger Bowl to finish 8-5, winning four of its final five games.
Wulff signs a contract extension exactly one month before signing a recruiting class ESPN.com's Tom Luginbill calls, "Shockingly good."
Worst case
It was a 2-0 start, but the 24-21 victory against Mountain West bottom-feeder UNLV didn't inspire many folks in Pullman.
The 35-30 loss at San Diego State felt revealing. Sure, quarterback Jeff Tuel can throw the football -- see three TD passes -- but giving up four sacks and rushing for just 96 yards isn't going to get it done. Nor is the defense yielding 487 yards.
The Cougars lose at Colorado but come back to surprise UCLA. That inspires hope: They are just three wins from bowl eligibility.
But no more wins come. Stanford, Oregon and Arizona State deliver beatdowns. Competitive games with Oregon State, California and Utah still include unhappy endings.
Wulff announces his resignation before the Apple Cup.
"While the program is better off today than when I took it over in 2008, my chief regret is that we just didn't get it done," he says. "I am and will forever be a Cougar. I only wish great things for this program in the future."
No. 15 Washington trounces Washington State 41-17. The Huskies head to the Alamo Bowl, where they bludgeon Texas A&M 35-10. ESPN.com shortly dubs them "darkhorse national title contenders in 2012."
The Cougars hire Tyrone Willingham to replace Wulff.
June, 7, 2011
6/07/11
10:30
AM ET
By
ESPN.com staff
| ESPN.com
We'll be reviewing each Pac-12 team's schedule, starting with the North Division.
Up next:
Washington State
Breakdown
: six home (four conference games), six road (five conference games)

Nonconference opponents (with 2010 records
)
Sept. 3
Idaho State (1-10)
Sept. 10
UNLV (2-11)
Sept. 17
at San Diego State (9-4)
North Division games
Oct. 15
Stanford
Oct. 22
Oregon State
Oct. 29
at Oregon
Nov. 5
at California
Nov. 26
at Washington (Qwest Field)
Crossover games
Oct. 1
at Colorado
Oct. 8
at UCLA
Nov. 12
Arizona State
Nov. 19
Utah
Conference misses
USC
Arizona
Key stretch
: Washington State can't afford to start slowly, and this schedule is set up for a fast start: Each of the first five games is winnable. The Cougars should be 2-0 when they visit a tough San Diego State team. Win that one, and they are halfway to bowl eligibility. After an off week to get ready for Pac-12 play, the Cougars face two road dates at Colorado and UCLA, teams that are expected to finish in the bottom half of the conference.
Trap game
: The Cougars don't really have the right to take any foe lightly, but some of their fans might prematurely pencil in a win at San Diego State without looking at the Aztecs, who won nine games last year and have one of the best quarterbacks in the nation in
Ryan Lindley
.
Sure thing
: The Cougars will open 1-0, beating an Idaho State team that finished winless in the Big Sky last season.
Analysis
: Washington State is hoping for a massive transformation: From five wins in three years under coach Paul Wulff to bowl eligible -- six wins -- in 2011. That is doable with this schedule. The key is the first five games. At worst, the Cougs need to start 3-2. As shocking as it might sound, 5-0 is not implausible, though winning consecutive road games at Colorado and UCLA -- teams with more overall talent -- is unlikely. It's not only about stockpiling victories during the soft part of the schedule, it's also about building confidence. At, say, 4-1, the Cougs would no longer see themselves as the conference patsy. That matters. And, of the final five games, only the visit to Oregon seems to be a sure loss. Although Stanford, Oregon State (seeking revenge for last year's embarrassment in Corvallis), Arizona State and Utah surely expect to beat the Cougars, recall that Pullman is not an easy place to play when the fans are into the action, particularly in November. Further, keep in mind that the Apple Cup will be played at Qwest Field. Playing in Seattle against the Huskies still qualifies as a road game, but it won't be as challenging as Husky Stadium. Wulff is on the hot seat. This schedule gives him a fair shot at getting off it.
May, 20, 2011
5/20/11
3:00
PM ET
By
ESPN.com staff
| ESPN.com
Every team has hope heading into the offseason. And every team has concerns.
Ergo, we're going to run through the conference and look at the chief matters -- on the up and downside -- for each Pac-12 team.
Next up:
Utah

Biggest reason for hope
: The program knows how to win.
The biggest preseason story for Utah's first go-round in the Pac-12 won't be about individual players or player groups. It will be about how well the Utes will do in their first experience competing in an AQ conference, where the depth of talent should be superior to the Mountain West. So forget about Utah's overall talent and positions of strength and concern for a moment, though the Utes' 31 NFL draft picks since 2000 speak for themselves. Utah is a well-coached team that has won 33 games over the past three years as well as two BCS bowl games since 2004. How many teams can match that? This is a confident program that won't be awed by Pac-12 membership. And for good reason: The Utes own bowl victories against Georgia Tech, Alabama, California and Pittsburgh in recent years. In the regular season, they've bounced Michigan, Oregon State, UCLA, Louisville, Arizona, Oregon and Texas A&M. My impression of the Utes during a spring visit is they mostly are amused by the notion they'll get humbled in Pac-12 play. They seemed genuinely baffled by the idea. That confidence borne of having done it before matters.
Biggest reason for concern
: Is the secondary ready for a steady diet of NFL quarterbacks?
Utah faced some good quarterbacks last season: TCU's Andy Dalton, San Diego State's
Ryan Lindley
and Boise State's
Kellen Moore
. But that troika doesn't match the overall talent and sophistication the Utes will face in 2011, even though their schedule includes misses of Stanford and quarterback
Andrew Luck
and Oregon and quarterback
Darron Thomas
(at least, until a potential date in the Pac-12 title game). Toss in receivers such as Arizona's
Juron Criner
, USC's
Robert Woods
, Washington State's
Marquess Wilson
, Washington's
Jermaine Kearse
, California's
Keenan Allen
and Oregon State's
James Rodgers
(cross your fingers, Beavers fans), and the Utes' pass defense will be stressed this fall far beyond what it faced in 2010. Further, Utah is replacing all four starters from a secondary that ranked 88th in the nation in pass efficiency defense -- or ninth in the Pac-10. (Lindley completed 36 of 54 passes for a career-high 528 yards and four touchdowns in a 38-34 defeat to the Utes; Dalton completed 21 of 26 for 355 yards and three TDs in a 47-7 win; Moore was 28 of 38 for 339 yards and two TDs in a 26-3 win). The preliminary returns on the secondary from spring practices were hopeful: There's nice young talent across the board. But if you're looking for an area where the Utes will most feel an uptick in competition in the Pac-12, it's defending sophisticated passing games led by future NFL quarterbacks on a week-to-week basis.