Pac-12:

Sacramento State Hornets
July, 16, 2014
Jul 16
7:00
PM ET
We continue with our series looking at each Pac-12 team's nonconference opponents in 2014.
CALIFORNIA
At Northwestern, Saturday, Aug. 30
Coach: Pat Fitzgerald (55-46), ninth year
2013 record: 5-7, 1-7 Big Ten
Returning starters: 9 offense, 9 defense
Offensive headliner: After playing the last couple of seasons in a two-quarterback system, Trevor Siemian is the full-time guy. He has more than 3,700 yards and 20 touchdowns to his credit.
Defensive headliner: Remember Collin Ellis? You should. He had a pair of pick-sixes for the Wildcats in the second half of last year's game that ended up being the difference. Now he's making the transition to middle linebacker to replace the departed Damien Proby.
The skinny: After starting out 4-0 last year, the Wildcats went on to drop seven straight before closing out the season with a win over Illinois. Four of those losses were by a touchdown or less and two of them were in overtime -- including a triple-overtime loss to Michigan. With 18 starters coming back, surely there are some lessons learned about playing in close games.
Sacramento State, Saturday, Sept. 6
Coach: Jody Sears (interim), first year
2013 record: 5-7, 4-4 Big Sky
Returning starters: 10 offense, seven defense
Offensive headliner: Wide receiver DeAndre Carter caught 64 balls for 934 yards and matched the team record with 14 receiving touchdowns last season. He was recently named to the preseason All-Big Sky squad.
Defensive headliner: Linebacker Darnell Sankey, who spent most of last season at defensive end, is making the move to middle linebacker and will try to replace all-conference linebacker Todd Davis.
The skinny: This is not a team to be taken for granted. Recall, the Hornets topped Oregon State in the season opener in 2011 and then stung again by beating Colorado in 2012. But that was under Marshall Sperbeck, who suddenly resigned after seven seasons in April amid possible NCAA allegations. Still, you can't take an FCS team for granted -- especially this one and its recent history of upsets.
BYU, Saturday Nov. 29
Coach: Bronco Mendenhall (82-34), 10th year
2013 record: 8-5, Independent
Returning starters: eight offense, six defense
Offensive headliner: Quarterback Taysom Hill is a dynamic dual-threat player. He started in every game last year and threw for 19 touchdowns while rushing for 10 more.
Defensive headliner: Safety Craig Bills returns after posting 78 tackles last season, which was second on the team. He's versatile enough to play either safety spot.
The skinny: BYU always seems to be good. But never great. Still, this is a big challenge for a Cal team that is looking to make strides in Year 2 under Sonny Dykes. The timing of the game is interesting. It's the season finale for both teams. By Nov. 29, the Bears could be a battle-tested group and Jared Goff could be having an all-conference season. Or, not. BYU has won just once in its last five games against the Pac-12.
Thoughts
: There are a lot of "ifs-thens" going on in Berkeley these days.
If
some defensive players come back healthy ...
if
Jared Goff takes the next step and his receivers play to their potential ...
if
the change at defensive coordinator pays dividends ...
if
,
if
,
if
... then Cal will be better. Being on the road for your first game of the season is always a challenge -- regardless of the opponent. But recall that Cal was in that game against Northwestern if not for a couple of tipped passes. You never want to overlook an FCS team. And with just one career win at Cal (against an FCS team), Sonny Dykes certainly won't be overlooking Sacramento State. As for the BYU game, it's almost impossible to make any sort of prediction, because it's likely both teams will look very different on Nov. 29 than they do when the season opens in August. We can all agree that a winless nonconference slate would be devastating to Dykes' rebuilding efforts. One win is expected. But a second or third would be considered tangible signs of improvement -- and probably a welcomed treat for the Cal faithful.
June, 25, 2013
6/25/13
5:30
PM ET
We're taking a look at the can't-miss games of the 2013 Pac-12 season. The Ultimate Road Trip continues.
Welcome to Week 2.
Thursday, Sept. 5
Sacramento State at Arizona State
Saturday, Sept. 7
Weber State at Utah
Oregon at Virginia
Portland State at California
Hawaii at Oregon State
Central Arkansas at Colorado
Arizona at UNLV
Washington State at USC
San Jose State at Stanford


My choice:
Washington State at USC
Why:
Anyone else still recovering from last week's excitement? Fourth-and-1 with 35 seconds left and down by a touchdown, Boise State calls a QB sneak at the Washington 40-yard line to keep a drive alive. After a controversial spot, there is a replay and it's called back. Oh, sweet irony! Washington's defense holds, turnover on downs, Huskies win 24-17 and have a week to relax before heading to Soldier Field.
As for Week 2, Pac-12 play is upon us. Yeah, it happens that fast. The first Pac-12 conference game of the year features Washington State -- still giddy after
Connor Halliday
and
Gabe Marks
connected for four touchdowns in the surprisingly easy road win over Auburn -- traveling to a 1-0 and well-tanned USC team. (The Cougars owe me a makeup for my BYU pick last year. Don't let me down.)
The Trojans haven't lost to the Cougars at home since 2000. And it's a safe bet that USC will probably be double-digit favorites in this game. But it's also the first time USC will be facing the Cougars in the Mike Leach era -- and the Pac-12 blog is expecting some improvement out of Washington State in 2013. Recall that while USC ranked third in pass defense last year, they were middle of the road in pass efficiency defense, allowing 20 touchdowns in the air while quarterbacks completed 60.4 percent of their throws against the Trojans. Not horrible numbers, but not lockdown, either.
Looking at the rest of the Week 2 lineup, there isn't a lot of intrigue with four FCS teams on the docket. Then again, the league has lost to an FCS team two straight years -- so nothing can be taken for granted. San Jose State/Stanford was tight last year, and as it turned out, the Spartans were a pretty darn good team under one Mike MacIntyre -- and the dangerous connection of quarterback
David Fales
to receiver
Noel Grigsby
is intact. But MacIntyre is gone, Ron Carragher is in (along with former Washington assistant Jimmie Dougherty as offensive coordinator) so we'll have to see if the Spartans can keep things rolling post-Mac.
Still, we're road tripping to L.A. since it's the first Pac-12 conference game of the year and we're banking on Sacramento State's two-game win streak against the league to end in Tempe. Plus, USC's choice of quarterback is going to be an intriguing storyline to follow all season. And, if anything, I hear the Transformers 3-D ride at Universal Studios is supposed to be pretty sweet.
June, 19, 2013
6/19/13
7:00
PM ET
We continue our series taking a closer look at each Pac-12 team's nonconference schedule.
Arizona State
Sacramento State, Sept. 5
Coach: Marshall Sperbeck (30-37), seventh year
2012 record: 6-5, 4-4 Big Sky
Offensive headliner: Running back Ezekiel Graham is the top offensive threat, rushing for 861 yards and five touchdowns last season. Not huge numbers, but he also makes his mark as a receiver out of the backfield, catching 40 balls for 406 yards and two touchdowns last year.
Defensive headliner: Linebacker Todd Davis has led the Hornets in tackles the past couple of seasons and there's little reason to think he won't again. He posted 103 tackles last year -- including an impressive 13.5 for a loss.
The skinny: Not to worry. It's just an FCS team, right? Well, considering the Hornets have beaten Pac-12 teams in back-to-back years, that should at least perk the ears of ASU up a little bit. They topped Oregon State 29-28 in overtime in 2011 and then a year later beat Colorado, 30-28, on a walk-off field goal by a walk-on kicker. The chance of an upset isn't likely. But the history suggests enough to not sleepwalk through this game.
Wisconsin, Sept. 14
Coach: Gary Andersen, first year
Returning starters: eight offense, six defense
2012 record: 8-6, 4-4 Big Ten
Offensive headliner: Wide receiver Jared Abbrederis headlines a pretty deep wide receiving corps. A first-team All Big Ten selection last year, he caught 49 balls for 837 yards and five touchdowns. The former walk-on QB is tops among all active FBS players with an average of 16.7 yards per catch. He's also a dangerous punt returner.
Defensive headliner: Linebacker Chris Borland needs 144 tackles this season to become Wisconsin's all-time leader. He's forced 14 career fumbles -- the most in school history and most among active NCAA players.
The skinny: Andersen was a hot name among potential Pac-12 coaching vacancies, but last year's WAC coach of the year instead ended up in the land of cheese. Last year the Badgers became the third Big Ten team to play in three consecutive Rose Bowls -- though they lost all three, including to Stanford last season and Oregon in 2011-2012. New offensive coordinator Andy Ludwig also has strong ties to the Pac-12, having worked at Cal, Utah and Oregon.
Notre Dame, Oct. 5 (In Arlington, Texas)
Coach: Brian Kelly (28-10), fourth year
Returning starters: six offense, eight defense
2012 record: 12-1 Independent
Offensive headliner: Skill position players are more fun to talk about, but left tackle Zack Martin will be starting for the fourth straight year and he's a captain. Watching him against ASU's defensive front will be a great game within the game.
Defensive headliner: Take your pick between defensive end Stephon Tuitt or noseguard Louis Nix. Both are elite playmakers and present a defensive front that rivals the talent and athleticism of ASU's.
The skinny: The last time we saw Notre Dame, it was getting run up and down the field by Alabama in the BCS National Championship Game. But before that, the Irish were perfect -- including wins over Stanford and USC. Though they tiptoed through quite a few rain drops along the way -- and haven't had the quietest of offseasons -- this should be a game of national interest. Both teams will have already played tough games (ASU: Wisconsin, at Stanford, USC; Notre Dame: at Michigan, Oklahoma) but a potential meeting of Top-25 teams on a neutral site will draw plenty of intrigue.
Thoughts
: No, I don't think Sacramento State will make it three in a row. ASU should out-distance and out-muscle the FCS squad fairly early. But the rest of the nonconference slate will get the Sun Devils some national attention. The Wisconsin game is intriguing. But because what the Sun Devils bring to the table -- that's a very winnable game. Notre Dame is the really interesting one. Not only because of the
little bit of nastiness
that's built up between the programs in recent weeks, but because it's on a neutral site and it comes after three straight games against Wisconsin, at Stanford and home to USC. That's a brutal gauntlet that could either propel ASU into the national spotlight or leave them scrambling to pick up the pieces. A 3-0 record is very possible. Going 2-1 is probable and 1-2 is the worst-case scenario (we're not even putting 0-3 on the table).
November, 1, 2012
11/01/12
10:15
AM ET
A few storylines to keep an eye on this week in the Pac-12.
1.
Game of the year?
Will USC-Oregon live up to all of the hype? This one doesn't smell nearly as sweet with a two-loss USC squad, but there are still playmakers up the ying-yang on both sides of the ball, including the four Pac-12 players getting votes in the
ESPN.com Heisman poll
. Here's hoping the hype is justified. Then again, last year's Oregon-Stanford game had similar hype and it was a total letdown. USC, however, is a much higher-profile program than Stanford, so even a two-loss USC team versus Oregon is significant.
2.
Colorado curse?
What do Colorado State, Fresno State, Washington State, UCLA, Arizona State and USC all have in common? They have all lost the week after playing Colorado. Every FBS team that has faced the Buffs this year has gone on to lose the following week. Only Sacramento State has survived the Buffs' curse (and as Pac-12 fans know, Sacramento State is all kinds of awesome). Why is this pertinent -- other than it's a sort of a freaky coincidence? Who did Oregon play last week? Just sayin' … but then again, you could also claim an Oregon curse. Every team that has played them this year ends up in the fetal position, weeping softly with a gallon of Icy Hot on their fannies.
[+] Enlarge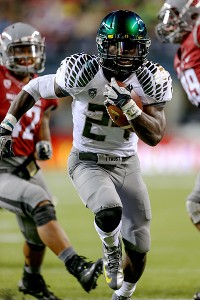 Otto Greule Jr/Getty ImagesKenjon Barner is one of four players participating in Saturday's Oregon-USC game who is receiving Heisman votes in ESPN.com's poll.
3.
Flying high:
Arizona and UCLA are both coming off of emotional victories. The Wildcats had the huge home upset of USC and the Bruins won at ASU on a last-second field goal. Both were thrilling, if not exhausting performances. They meet in Pasadena on Saturday, and whichever team is able to put last week behind it takes a big step forward in the race for the Pac-12 South crown.
4.
Start of something big?
Washington's home win against Oregon State was a huge step forward for the program. But can they keep it up? The Huskies close out their season with four straight games against unranked, sub-.500 teams. Last week could have been the start of a five-game win streak to close out the year. For as frustrating as the first half of the year was, an eight-win season would be pretty nice all things considered.
5.
Start of something bad?
This isn't unfamiliar territory to Arizona State fans, who year after year have seen their team start hot and finish cold. And the Sun Devils seem to be frustratingly keeping to script. After jumping out to a 5-1 mark, ASU has dropped its past two. Now it has to face three ranked teams in its final four. Not saying they won't be bowl eligible, but it might not come until they are back at home on Nov. 17 versus Washington State.
6.
Big decision:
Oregon State head coach Mike Riley was decisive when he opted for
Cody Vaz
over
Sean Mannion
at quarterback. He wasted little time and Vaz has worked the entire week with the first-team offense. Some say good for him for pulling the trigger. Others say this isn't the time to shake up the locker room on a 6-1 team. I'm on the fence. Unless Vaz blows up against ASU -- then it's a great call.
7.
Keepin' it tight:
Say this for the Sun Devils, they said they wanted to commit to the tight end, and they have.
Chris Coyle
has 38 catches for 473 yards -- second nationally among tight ends. The national leader is Washington's
Austin Seferian-Jenkins
and Stanford's
Zach Ertz
isn't far behind with 32 catches for a conference-best 525 yards among tight ends. Expect all three to play major roles this week -- as they have all season. Which one gets the nod for first-team all-conference? Tough call.
8.
Maturing quarterbacks:
For as tough as
Jeff Tuel
had it last week against Stanford, he showed some maturity in understanding the offense and was pretty gritty in the loss. Same for Utah's
Travis Wilson
, a true freshman, who is starting to get a hang of things as well. Age and experience separates these two when they meet in Salt Lake City, but both are in similar situations trying to make weekly progress.
9.
More snaps:
While Colorado continues its quarterback carousel, Stanford looks to be making a slight change in that direction. Head coach David Shaw said
Kevin Hogan
will see more snaps this week, outside of the read-option package he has run the past few weeks. Could be Shaw just wanting to get the youngster some work. Could be a move toward a full-fledged quarterback change.
September, 13, 2012
9/13/12
10:15
AM ET
A few storylines to keep an eye on in Week 3.
[+] Enlarge

AP Photo/Rick ScuteriTodd Graham is one of three new Pac-12 coaches who has started out 2-0 this season.

These guys can coach: A pretty good start to the Pac-12 careers for the four new coaches -- who have a 7-1 record through the first two games. Arizona coach Rich Rodriguez, ASU coach Todd Graham and UCLA's Jim Mora are all perfect through the first two weeks at their schools. Mike Leach is 1-1 with Washington State. And there's a good chance the newbies will keep winning this weekend. Arizona, UCLA and Washington State are all facing easier competition, though Graham and the Sun Devils will be tested in their first road game of the year at Missouri. Of the 28 FBS teams with new head coaches, only six of them are undefeated through the first two weeks. Half of those six are in the Pac-12.

Speaking of newbies: Rough week for Utah and Colorado, who are both in their sophomore years with the conference. Utah loses to Utah State (and lost a quarterback along the way) and Colorado dropped a game to FCS Sacramento State -- archnemesis of the Pac-12. Let's not get too down on these guys. Oregon State lost to Sacramento State and a year later they are slapping down a ranked Big Ten team. With that said, both teams have quarterback issues -- Utah needs a new one, though will probably play two, and Colorado will dip its toe into the two-QB pool with the news that Connor Wood will get some snaps. Even though it's on the road, is this Colorado's best chance for a win? And Utah, well, they only play their biggest rival. A rivalry, by the way, that will be splintered starting in 2014.

The conference of offense: For all the talk and chatter about better defensive play in the Pac-12 this year, this is still an offense-first conference. Eight teams are averaging better than 30 points per game and six teams are averaging more than 440 yards of offense. UCLA leads the group. The Bruins are averaging 649.5 yards per game.

It's conference time: The first conference game of the year matches a pair of ranked teams. That's all kinds of cool. No. 2 USC travels to No. 21 Stanford in a game that has come down to the final play the past two years. Matt Barkley has a few demons to exorcise against the Cardinal -- the only Pac-12 team he's failed to beat. Stanford, after a strong bounce-back performance against Duke, wants to show it's better than the sluggish Week 1 performance. Great playmakers on both sides of the ball headline what could be another wild matchup.

Added pressure: UCLA and Arizona State are putting up defensive numbers unseen last year -- and a lot of it has to do with new defensive schemes and increased pressure. The Bruins lead the conference with nine sacks and could eclipse last year's total of 14 (ranked 11th in the conference) this week. And that was playing a 14-game schedule, mind you. ASU enters the week behind the Bruins with eight sacks. Last year ASU had 26, which was eighth in the conference. We do love our offense in the Pac-12, but it's time to start giving some snaps to Lou Spanos and Paul Randolph.

Protect the rep: Big weekend last week for the Pac-12 in terms of bumping up the national reputation of the conference. Cal has a chance to build off of that when it travels to Big Ten country to take on No. 12 Ohio State -- the only nonconference game this week against a ranked opponent [edit: from a BCS conference]. But the Bears have to clean up some things on defense. Cal ranks last in the Pac-12 in third-down defense (teams are converting 52.5 percent) and has given up the most touchdowns (6) of any Pac-12 team in the red zone. This is the kind of game that can salvage Cal's season -- and maybe Jeff Tedford's job. With USC on the docket next week, the Bears could be staring down the barrel of a 1-3 start.
September, 8, 2012
9/08/12
8:32
PM ET
By
ESPN.com staff
| ESPN.com
The Pac-12 should stop scheduling Sacramento State. And Colorado might want to rethink its ideas about FCS teams.


Sacramento State, which won at Oregon State in the 2011 opener,
beat Colorado 30-28
with a 30-yard field goal as time expired.
Colorado, 0-2 after losing to Colorado State in the opener, is now 1-2 all-time against FCS teams. It lost to Montana State in 2006.
The Buffaloes didn't just lose, they got beaten. They jumped to a 14-0 lead, but the Hornets didn't back down. They outgained the Buffs 466 yards to 341. While Sac State did most of its damage through the air, it still outrushed Colorado 154 yards to 153.
But the biggest difference was at quarterback. Sophomore
Garrett Safron
threw for a career-best 312 yards on 25-of-37 passing for the Hornets. He also was 4-for-5 for 53 yards on the game-winning drive.
Colorado quarterback
Jordan Webb
was just 12 of 24 for 160 yards. In Webb's defense, it's clear the Buffs don't have much talent at receiver.
The lone bit of good news for Colorado was freshman fullback
Christian Powell
, who ran for 147 yards and three touchdowns.
Colorado was hoping to get its young team off to a fast start against a very soft early schedule. Now that the Buffs are 0-2 against that soft schedule, it's not easy to see where victories -- even a victory -- will come.
A notoriously bad team on the road, Colorado will be at Fresno State next weekend.


California 50, Southern Utah 31
: California led just 20-17 in the third quarter, but the the Bears erupted in the fourth quarter to post an easy win. Quarterback
Zach Maynard
completed 17 of 23 passes for 229 yards with a touchdown and an interception. Running back
Isi Sofele
rushed for 104 yards on 19 carries, and wide receiver
Keenan Allen
had two touchdowns, one on a 69-yard punt return. It was the Bears' first victory inside newly renovated Memorial Stadium. A week after looking terrible in a loss to Nevada, the Bears piled up 518 yards, scoring 30 points in the fourth quarter. Still, it was hardly an impressive win. The Bears defense, expected to be strong, surrendered 371 yards. The Thunderbirds had just 209 yards in a 34-3 loss to Utah State the previous week. Cal is at Ohio State next weekend.


Washington State 24, Eastern Washington 20
: Mike Leach has his first win coaching the Cougars, but his offense is still not clicking.
Jeff Tuel
threw a pair of touchdown passes to
Isiah Myers
, but the Cougs were outgained by the FCS Eagles 469 yards to 355. The Cougs' highlight, in fact, was a 60-yard field goal just before halftime from
Andrew Furney
. Tuel completed 20 of 26 passes for 171 yards and two touchdowns with no interceptions. He may have cemented his hold on the starting job, as backup
Connor Halliday
completed just 5 of 11 for 76 yards with an interception. Washington State is at UNLV on Friday.
September, 6, 2012
9/06/12
9:00
AM ET
Welcome to Week 2. Ted went 9-2 in Week 1; Kevin went 8-3. The difference was Kevin picking a Washington State upset of BYU.
Friday
Kevin: Utah 35, Utah State 10
. The Utes will see a stronger offense than they saw last week, but it won't matter much because the defense is so solid. Love the emergence of
Jake Murphy
and the increased attention to the tight ends.
Ted
:
Utah 28, Utah State 17
. It won't be as easy as last weekend but the Utes will be in control on both sides of the ball. Expect quarterback
Jordan Wynn
to take a few more shots downfield.
Saturday
Kevin: Cal 31, Southern Utah 14
. Maybe this is the week Memorial Stadium sees a victory. The last one was on Oct. 23, 2010. Cal should win based on its athletes alone.
Ted: Cal 35, Southern Utah 10
. The Bears should get a couple of injured guys back on defense, which should help. Playing angry might help, too.
Kevin: Washington State 28, Eastern Washington 14
. The Cougs let me down last week, but I'm cautiously picking them again this week. I think the offense gets going. The defense actually showed some life in the second half against BYU, giving hope that it will carry into this week.
Ted: Washington State 35, Eastern Washington 24
. If I were picking an FCS team to play, the Eagles might be the last one I'd pick -- just ask Washington. There's a reason the Cougars have avoided their neighbors since 1908. Still, I suspect the Cougs' offense will get going this week.
Kevin: Colorado 21, Sacramento State 10
. Colorado did some good things last week, but was just too inconsistent. The younger players should have the jitters out of their systems and the Buffs should be able to run the ball against an FCS team. If not, things are worse than we thought.
Ted: Colorado 33, Sacramento State 17
. This qualifies as a must-win, and I suspect the Buffs will take care of business in a focused fashion.
Kevin: USC 45, Syracuse 17
. No issues for the Trojans this week -- they'll cruise. Wouldn't be surprised to see a little more balance on offense this week, considering they are on the road again next week at Stanford and they'll probably want to test drive the run game.
Ted Miller
:
USC 48, Syracuse 20
. It will be interesting to see how many of the three injured USC defensive starters return this week. I suspect things will look more polished on both sides of the ball. Ditto on what Kevin said about running the ball.
Kevin: Wisconsin 21, Oregon State 17
. Tough to gauge the Beavers since they didn't play in Week 1. And though Wisconsin struggled last week, it's never easy to start the season against a ranked opponent.
Ted: Wisconsin 34, Oregon State 24
. Was tempted momentarily to pick the upset, but then I remembered that
Montee Ball
is back. For those who don't know, he's really good. I doubt the Beavers' defense, though improved, can contain him for four quarters.
Kevin: Oregon 49, Fresno State 21
. Taking into account that Oregon's fifth-string players will be in by the second quarter, I'll give the Bulldogs three touchdowns throughout the course of the game. Ducks breeze through another one.
Ted: Oregon 55, Fresno State 24
. They say a new quarterback makes his biggest improvement from Game 1 to Game 2. If so, here's a "Yikes!" on behalf of the Bulldogs in advance of facing
Marcus Mariota
.
Kevin: Nebraska 28, UCLA 27
. I saw a lot of good things out of the Bruins in Week 1. I also saw a lot of things that won't fly against the Cornhuskers. I want to pull the trigger on the Bruins, but the youth on the offensive line is still a concern.
Ted: Nebraska 35, UCLA 24
. The Bruins will battle, but Nebraska quarterback
Taylor Martinez
is a third-year starter who appears to have figured it all out. I want to see how the Bruins run the ball and stop the run. Of course, that's all about taking a measure of UCLA's physicality up front.
Kevin: Oklahoma State 45, Arizona 28
. A nice win for the Wildcats last week, but the defense probably isn't ready yet for a high-powered offense like the Cowboys'.
Ted: Oklahoma State 35, Arizona 30.
I suspect the Wildcats have a better shot than many suspect, playing at home against a freshman quarterback, with
Matt Scott
giving Arizona a significant advantage behind center. That said, the Wildcats' track record in two previous meetings as well as a questionable front seven makes it difficult to pull the trigger on an upset pick.
Kevin: Stanford 24, Duke 17
. Traveling cross-country is never easy. We saw that last season when Duke hung with the Cardinal in the first half in Durham. The Cardinal have some core fundamentals to fix before next week's game against the Trojans.
Ted: Stanford 30, Duke 17
. The Cardinal will play better this weekend on both sides of the ball. And they need to. Duke thinks it has a bowl team and is hungry to earn respect.
Kevin: Arizona State 27, Illinois 14
. Color me impressed by the Sun Devils, who showed no mercy in Week 1. There are quarterback issues surrounding the Illini and regardless of who starts for them, the Sun Devils face either a backup in
Reilly O'Toole
or a limping starter in
Nathan Scheelhasse
.
Ted: Arizona State 24, Illinois 17
. This pick assumes that Scheelhasse won't play or will be severely limited by his bum ankle. The key for the Sun Devils is getting the running game going, whether that's with
Cameron Marshall
,
Marion Grice
or
D.J. Foster
. Or all three.
Kevin: LSU 28, Washington 17
. I was impressed with the defense against San Diego State, but if the offense struggles against LSU, it could be a long day. Losing
Jesse Callier
doesn't help.
Ted: LSU 41, Washington 17
: LSU will be able to run and stop the run. Washington won't. While Huskies quarterback
Keith Price
will have his moments, it's too much to ask him to beat -- or even to be competitive with -- the Tigers on the road.
June, 20, 2012
6/20/12
7:00
PM ET
Welcome back to the road trip. We're taking a week-by-week look at the entire Pac-12 schedule and picking out the game we feel is the marquee game of the week. If you have the time and means this is the game you want to see.
Week 2
Friday Sept. 7
Saturday Sept. 8
Washington at LSU
E. Washington at Washington State
Sacramento State at Colorado
Southern Utah at Cal
USC at Syracuse
Wisconsin at Oregon State
Fresno State at Oregon
Nebraska at UCLA
Duke at Stanford
Illinois at Arizona State
Oklahoma State at Arizona
My choice
: Washington at LSU
Why
: After watching WSU's
Jeff Tuel
throw for 484 yards and four touchdowns against BYU last week, we shift our focus to defense and the Washington at LSU game. One team has arguably the best defense in the country, the other has a defense that is fighting to overturn its reputation from last season.
But the real question in this game is can the Huskies move the ball against an LSU defense that is loaded from front to back.
Keith Price
, who didn't do anything to hurt his Heisman chances last week against San Diego State, now faces the stingiest defense of his career. This game probably won't break his Heisman campaign, but it can go a very long way toward making it.
The X factor is that Price is as good of a dual threat quarterback as the LSU is going to see all season. He was finally healthy in the Alamo Bowl and showed what he can do with his legs. And while Chris Polk was certainly a workhorse back, the by-committee approach might work to Washington's favor to keep fresh legs going against a ridiculously talented defensive front, headlined by
Sam Montgomery
and
Barkevious Mingo
. Washington's offensive line issues are certainly a concern going against this group and any weaknesses will be exploited.
Washington's best mismatch is tight end
Austin Seferian-Jenkins
. If LSU commits a spy linebacker or safety to Price, ASJ could have some success over the middle with single coverage.
There are a couple of other intriguing matchups in Week 2: Illinois at ASU is a big one and there are a couple of traditional powers on the docket with Wisconsin and Nebraska. But UW's game is the most important for the conference. And while Washington will be considerable road underdogs, every Pac-12 fan should be pulling for the Huskies in this one. Plus, an upset win would be a great way to keep SEC trolls at bay.
May, 18, 2012
5/18/12
9:00
AM ET
Every game counts. But some games count more. Or tell us more.
We're going through the Pac-12 and picking out one game that seems most important -- or potentially most revealing -- for each team from our vantage point today.
We're going in alphabetical order.
Colorado
Most important game
: Sept. 22 at Washington State

Why it's important
: Imagine it, Colorado fans, a 3-0 start. Colorado State, Sacramento State and Fresno State to open the season, and victories in those three games are achievable. Then it's off to Pullman where, no doubt, last year's collapse against the Cougars is still fresh in the minds of those in Boulder. Remember the 10-point lead with five minutes left in the game? Only to watch
Marshall Lobbestael
throw two touchdowns in the final two minutes -- including a 63-yarder to
Marquess Wilson
with 1:10 left to play -- en route to a 31-27 come-from-behind win.
This game could be the most pivotal of Colorado's season. If the Buffaloes start off 3-0, then get a victory in Pullman, they'll head home to face a still-uncertain UCLA team before the bye week. It's not out of the realm of possibility for Colorado to be -- wait for it -- 5-0 heading into the bye week. Of course, a lot of things have to fall into place for all of this to come together. And it might be a stretch -- but it's not a big stretch.
If the Buffaloes can take care of business in the first three games, they'll have plenty of motivation for revenge against Washington State, and a ton of confidence as they look to the second half of the season and the very real possibility of achieving a bowl game.
True, there is a bit of a rivalry growing between Colorado and Utah, seeing as both were Pac-12 newcomers last year and the Buffaloes stunned Utah last season. It's actually a renewal of the old rivalry between the two schools from the 19-teens, through 40s. Maybe in a few years, that rivalry will rekindle (though doubtful it will ever reach the status of the CU-Nebraska rivalry).
But for now, Week 4 is the swing game for the Buffaloes and one that could alter the entire trajectory of the 2012 season.
February, 17, 2012
2/17/12
5:00
PM ET
We're looking at the top individual performances in the Pac-12 in 2011.
Up next
: Malcolm up the middle.

Who & against whom
: Oregon State true freshman running back
Malcolm Agnew
made a splash in his collegiate debut against Sacramento State, looking very much like the replacement back to Jacquizz Rodgers.
The numbers
: Agnew broke loose for 223 yards and three touchdowns on 33 carries. Two of the touchdown runs came in the fourth quarter and the third -- a 17-yard score -- came in overtime.
A closer look
: One problem. Oregon State lost. And to an FCS team no less. Sacramento State opted for a 2-point conversion in overtime, which it converted to lock up the 29-28 upset win. If you can get over that fact, then you shouldn't let it damper a very good debut by an up-and-coming back in the conference. If you can't, it's understandable. Sacramento State (4-7, 3-5 Big Sky) didn't exactly go on to do great things last season. Unfortunately for Agnew, this was as good as it was going to get in 2011. Injuries kept him out of six games -- though he did bounce back briefly to rush for 103 yards and a score against Washington State. Coach Mike Riley said hopes Agnew
will be at full speed for spring ball
and if the Beavers get their offensive line situated, Agnew could be one of the more intriguing backs to keep an eye on in the coming years.
September, 5, 2011
9/05/11
12:30
PM ET
Taking stock of the first week of games in Pac-12 history (and perhaps the
last first weekend of games
in Pac-12 history).
[+] Enlarge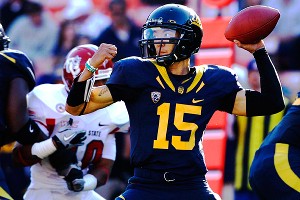 AP Photo/Jeff ChiuCalifornia quarterback Zach Maynard recovered nicely after an early interception.
Team of the week
: California was far from perfect in its 36-21 win over Fresno State -- the offensive line struggled at times -- but the Bears, singled out by some as a potential game one upset victim, made a solid statement against the Bulldogs that they might be a factor in the Pac-12 North Division. The biggest piece of news was the solid play of quarterback
Zach Maynard
. That he bounced back so well from an early interception might even be more meaningful. His two predecessors were known for letting mistakes linger and affect their performances.
Best game
: It shouldn't have been a thriller, but Washington needed a late interception to outlast Eastern Washington 30-27. And it's worrisome that the Huskies were outgained by the Eagles 504 yards to 250. Hey, guys, how about a little pass defense?
Biggest play
: Sure you've seen the highlight of UCLA receiver
Nelson Rosario
's 54-yard reception against Houston, ESPN's Play of the Day on Saturday, though it came in a losing effort. Rosario, turned around with his back to the endzone in tight coverage, grabbed the ball with his right hand, then trapped it on the back of the Cougars defender to make the catch. An instant classic. Now, Nelson, how about becoming consistent on routine plays?
Offensive standout
: USC wide receiver
Robert Woods
caught a school-record 17 passes for 177 yards and three touchdowns in the Trojans'
19-17 win
over Minnesota. A tip of the cap to Oregon State's true freshman running back
Malcolm Agnew
, who rushed for 223 and three TDs on 33 carries in the Beavers upset loss to Sacramento State.
Defensive standout
: While Arizona State linebacker Vontaze Burfict (three sacks) and Utah linebacker Brian Blechen (two interceptions) put up nice numbers versus FCS foes, Cal linebacker Mychal Kendricks piled up a game-high nine tackle with 2.5 coming for a loss -- the 0.5 was a sack -- against a solid Fresno State team. He also broke up a pass as the Bears held the Bulldogs to 218 yards and 11 first downs. It's possible the Bears will have the best defense in the conference.
Special teams standout
: Washington kicker Erik Folk was 3 for 3 on field goals of 40-plus yards in the tight win over Eastern Washington, connecting on kicks of 53, 47 and 40 yards.
Smiley face
: To the Bay Area. Both Cal and Stanford took care of business with solid performances. Sure, San Jose State isn't much, but Stanford was cruelly efficient in dispatching the Spartans. Cal surely raised more than a few eyebrows in the conference.
Frowny face
: The state of Oregon. Both Oregon and Oregon State went down, though to very different foes in very different ways.
Thought of the week
: Two things we thought we'd see on Saturday that we didn't: An improved UCLA defense and a strong performance from Colorado at Hawaii. The Buffs defense was pretty solid, though the Hawaii offense was rebuilding other than quarterback
Bryant Moniz
. But the offensive line is a big concern, giving up seven sacks and struggling to open holes for the running game. A struggling offensive line doesn't bode well for Cal's visit. As for the UCLA defense, it played much better in the second half at Houston. We'll see if the first half was an anomaly--
Case Keenum
is a pretty good QB, after all -- or the start of a pattern of inconsistency.
Questions for the week
: Welcome to "measuring stick" week. There are big nonconference games across the board that likely will establish how the Pac-12 is viewed nationally, particularly after a lackluster opening frame. Will the conference notch a couple of quality wins? Or will it get cut down and see its national perception plummet? Further, Utah's visit to USC is the first Pac-12 game in,well, history. Will the Utes immediately prove they belong?
June, 28, 2011
6/28/11
11:29
AM ET
The conventional wisdom is Oregon State's already formidable trip to Wisconsin on Sept. 10 became even more daunting Monday with the
Badgers' addition
of quarterback
Russell Wilson
, a transfer from NC State who passed for 8,545 yards and 76 touchdowns in his career with the Wolfpack.
Maybe. Makes sense. Wilson, who has one year of eligibility remaining and can play right away because he has already graduated, is a dual-threat quarterback who also has, by the way, played baseball in the Colorado Rockies' minor league system after being a fourth-round pick last year.
[+] Enlarge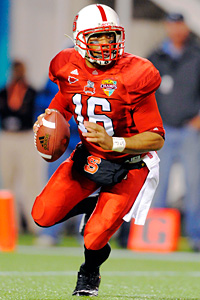 Scott A. Miller/US PresswireDoes the addition of Russell Wilson give Wisconsin a bigger advantage over Oregon State?
Further, the Badgers' play at quarterback was mediocre to bad this spring, with no one stepping to the fore to replace
Scott Tolzien
. Wilson, it would seem, is an instant upgrade, even over Tolzien. Wilson completed 58.4 percent of his passes for 3,563 yards with 28 touchdowns and 14 interceptions and rushed for 435 yards and nine touchdowns last season. Tolzien's 2010 numbers, though good enough to get the Badgers to the Rose Bowl, don't even compare.
The general feeling is this makes Wisconsin the Big Ten favorite. Which makes the Beavers look like road kill, right?
Again, maybe. But we live in a world of unintended consequences. There are no sure things, and the unexpected often happens.
For one, Wilson will be learning a new offense with new teammates with only a month or so this summer and fall practices to prepare. That's not easy. Sure, he's a veteran college QB. But he'll still be the new guy -- not unlike incoming freshmen.
His first order of business? Decisively beating out
Jon Budmayr
,
Joe Brennan
and Joel Stave. If Wilson is only marginally better, or if there's doubt within the team that he earned the starting job, then things could get prickly in the locker room.
The ideal situation for Oregon State would be for Wilson to not get a warm-up game before the Beavers come to town. That's not the case. Not only does Wisconsin open against UNLV, it also has a couple of extra days between that Thursday, Sept. 1 opener to iron out the kinks and get ready for the Beavers.
Oregon State opens its season against Sacramento State, giving it a preseason game in which to get in rhythm without revealing a lot. The Beavers certainly should be able to get more from the Badgers-Rebels game film than Wisconsin will from the Sac State film.
Wilson should make the Badgers better, but it's reasonable to believe he will be better as the season matures than he is early-on, when he's still figuring out the offense and his teammates. So Oregon State has that going for it.
With or without Wilson starting, the Badgers will be heavy favorites when Oregon State visits. The Beavers are coming off a 5-7 season with lots of questions and they do not own a distinguished record for starting fast. They've, in particular, suffered a few bad nonconference whippings on the road in the early-going -- see ill-fated trips to Louisville, Boise State, Cincinnati and Penn State.
The conventional wisdom will write this one into the Oregon State loss column before it's played, and the Badgers' addition of Wilson makes it less risky to do so in pen rather than pencil.
Right? Well, maybe. Let's just say lots more folks figure to tune into the Wisconsin-UNLV opener than before.
June, 2, 2010
6/02/10
9:00
AM ET
By
ESPN.com staff
| ESPN.com
A bad start stinks. It can be overcome -- see Oregon's implosion at Boise State in 2009 -- but it still stinks.
Every Pac-10 team carried optimism into the summer because that's what teams do. But it is more than likely that after the season's opening weekend at least one team will be 0-1 and just a bit less optimistic.
Which teams are at risk for 0-1? Here's a ranking of first-weekend danger.
1.
Washington State at Oklahoma State
: Both teams are rebuilding. But the Cougars are rebuilding a program that has been 3-22 over the past two seasons, while the Cowboys are transitioning from a team that has been 18-8 during the same span. Oh, and the Cougars haven't won on the road since 2007.
2.
Oregon State vs. TCU (Cowboys Stadium, Arlington, Texas):
The Horned Frogs welcome 18 starters back from a team that went 12-1. They almost certainly will be ranked in the preseason top 10. And this one functions as a road game-plus for the Beavers. If the game were played at TCU, then the Beavers would face just 44,000 hostile fans. At Cowboys Stadium, they'll see 80,000. Beyond all this, Oregon State has been a notoriously slow-starting team over the past few seasons, last posting a 3-0 start in 2002.
3.
Washington at BYU
: BYU is rebuilding, while Washington welcomes back 18 starters, including
Jake Locker
. Still, this is a road game at a tough venue. Moreover, the Huskies haven't posted a winning season since 2002, while the Cougars have won 43 games over the past four seasons. And, by the way, the Huskies haven't won on the road since 2007 at Stanford.
4.
UCLA at Kansas State
: UCLA didn't have much trouble with the Wildcats in 2009,
winning 23-9
, but it's never easy to win on the road. And here's a hunch that Bill Snyder, in the second year of his second tenure in Manhattan, will have a much saltier team in 2010.
5.
Arizona at Toledo
: Sure, Toledo is a MAC program that welcomes back only 13 starters from a 5-7 team. But the Rockets beat Colorado in the Glass Bowl last year 54-38, and the players figure to be a bit more comfortable with second-year coach Tim Beckman. Moreover, this will be the first test of a rebuilt Wildcats defense.
6.
USC at Hawaii
: Hawaii has 15 starters back from a 6-7 team, but the Warriors' only chance is if the Trojans spend too much time at a luau on Sept. 1. USC hasn't lost a nonconference road game since 2002.
7.
New Mexico at Oregon
: New Mexico welcomes back 10 starters from a 1-11 team. Oregon welcomes back 18 from the defending Pac-10 champions, though running back
LaMichael James
will sit this one out because of an offseason legal scrape. Ducks will win.
8.
Northern Arizona at Arizona State
: The Lumberjacks are an FCS team that went 5-6 last year. If the Sun Devils lose, the ASU campus in Tempe
will be relocated here
.
9.
UC Davis at California
: UC Davis. I C Davis. We all C Davis! But U won't C a Davis win.
10.
Sacramento State at Stanford
: Not to sound like a know-it-all, but Sacramento isn't a state. Unless you're in a Sacramento state of mind, which
might look something like this
.