August, 12, 2011
8/12/11
9:00
AM ET
In 2008,
the then-Pac-10 blog noted
that "If you Google 'Arizona State' and 'sleeping giant,' 3,400 articles come up."

If you did it this week, you get 85,900 results (in 0.23 seconds! Technology rocks! Though it doesn't seem as if all the matches are relevant, Google).
In 2008, we wrote, "If a Pac-10 team has a chance to break USC's choke-hold on the conference title -- or at least to regularly challenge the Trojans for the top spot -- it's the Sun Devils."
Drrrrrr.
We were wrong. Somehow I want to blame Chip Kelly.
We are considering programs that are "teases" in the Pac-12, which my new boss,
Ruthless Reynolds
, described as "teams that always look great in the preseason only to underwhelm when play starts."
Sun Devils, why can't we quit you?
Well, lots of reasons.
You have the only coach in the conference who's won a national title in Dennis Erickson. As a resident of north Scottsdale living in the shadow of Black Mountain, I can confirm that the weather -- though a bit toasty in the summer -- is just about perfect eight months of the year. Tempe is just a short flight from the recruiting hotbed of Southern California. The, er, scene at Arizona State strikes this codger as something that might appeal to an average 18- or 19-year-old male. Academic standards don't typically limit recruiting options.
And the program has been there before, becoming a national power in the 1970s under Frank Kush and then again in the 1996 season, when it lost a national title in a thrilling Rose Bowl defeat to Ohio State.
Still, it's one of the great questions in college football: Why doesn't Arizona State win more consistently?
Of late, the Sun Devils have typically underperform compared to expectations. In four of the past six years, they've finished below where they were picked in the Pac-10 preseason media poll, most notably in 2008 -- that year! -- when they were picked second in the conference but finished sixth with a 5-7 record.
To be fair, though, they've eclipsed their preseason prediction in two of the four years -- 2007 and 2010 -- under Erickson.
And so we have 2011.
The Pac-12 blog started touting Arizona State as a 2011 contender before last season was done. Why? It wasn't just that the Sun Devils went nose-to-nose with some of the best teams in the country -- Oregon, Wisconsin, Stanford -- it was coaches from other teams specifically noting how talented the Sun Devils were.
Then you looked at the 2010 depth chart: Everyone was coming back. Seriously: The only senior starters last year were receiver Kerry Taylor and defensive tackle Saia Falahola.
Wow. To be honest, my thought process immediately saw 6-6 in 2010 and thought Rose Bowl shot in 2011.
But after a nice finish to the 2010 season, little has gone right for the Sun Devils. Defensive tackle Lawrence Guy made a poor decision and entered the NFL draft. Quarterback Steven Threet was forced to retire due to concussions. Fellow quarterback Samson Szakacsy left the team. Unanimous All-Pac-10 cornerback Omar Bolden blew out his knee at the beginning of spring practices, followed shortly thereafter by top returning receiver T.J. Simpson. Starting defensive end James Brooks quit, and the status of talented running back Deantre Lewis (gunshot wound) remains up in the air as he might redshirt this season.
That's five starters, a co-starter (Lewis) and an experienced backup quarterback. So, Sun Devils fans, you have a ready-made excuse if the season falls short of expectations and you end up only wondering what might have been.
That said, Arizona State, despite these major personnel losses, is still good enough to win the South Division. It also helps, by the way, that USC's ineligibility means it's only a five-team race among squads that each have significant holes.
But every time you start to think they'll be OK, something else happens, such as All-American linebacker Vontaze Burfict
fighting a receiver
he outweighs by 50 pounds in the locker room last week, or linebacker Oliver Aaron suffering a high ankle sprain, or backup defensive tackle Joita Te'i suffering a foot injury that will sideline him for seven weeks, or cornerback Devan Spann dislocated his left shoulder two times in the first week of practice.
Still, 28 seniors back in the locker room, five starters back on the offensive line, Burfict leading impressive talent in the front seven, an underrated running back in Cameron Marshall and a quarterback in Brock Osweiler who looks ready to lead.
Sun Devils, why can't we quit you?
February, 8, 2011
2/08/11
4:19
PM ET
Arizona State is looking for a new defensive line coach after Grady Stretz was
hired by the Tampa Bay Buccaneers
, a school spokesman confirmed.
Stretz, who was also the Sun Devils recruiting coordinator, spent five seasons at ASU. He signed a three-year contract with the Buccaneers, according to the Arizona Republic, which includes a significant raise.
Whoever replaces Stretz inherits one of the few questionable positions for Arizona State, which welcomes back 19 starters and is the probable favorite in the Pac-12 South Division. Two of the three lost starters -- other than both specialists -- are at defensive tackle: Lawrence Guy, who opted to enter the NFL draft a year early, and Saia Falahola.
December, 1, 2010
12/01/10
7:17
PM ET
On page 13 of Arizona State's
weekly release
you find the team's depth chart. You don't need to review it now. We'll come back to that in a bit. The immediate business at hand for the Sun Devils is their game Thursday with rival Arizona.
The matchup is meaningful, and not just because it's a rivalry game that divides the state. It's also meaningful because the Sun Devils are still angling for a bowl berth.
While there are already 70 bowl-eligible teams, and Arizona State can't win seven games, the amount required by NCAA rules on bowl eligibility when you play two FCS teams, as the Sun Devils have, they nonetheless have submitted a waiver to the NCAA Legislative Relief Committee for review, and the Pac-10 office is backing that appeal with "emails and phone calls," according to a conference spokesman, Dave Hirsch.
"It is our hope that the waiver receives full consideration," Hirsch wrote in an e-mail. This was first reported by the
Arizona Republic
.
[+] Enlarge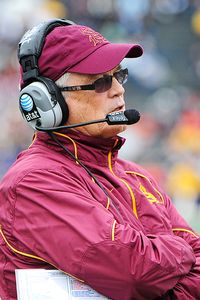 Kyle Terada/US PresswireArizona State coach Dennis Erickson only has 13 seniors on his 2010 roster.
So the Territorial Cup may or may not serve as a launching point for the Sun Devils in 2011. For one, they could lose; they are the underdogs in Tucson, where the 'Zona Zoo can be a bit of a problem. And, if they win, it might not be their last game, with the Holiday, Sun or Las Vegas bowls being potential options if the NCAA grants the waiver.
But now let's return to that depth chart. Just two likely starting position players against the Wildcats are seniors: receiver
Kerry Taylor
and defensive tackle Saia Falahola, who is listed as a co-starter with Bo Moos. In fact, the Sun Devils only have 13 total seniors. The only area in which graduations hits hard is with the specialists: both kicker Thomas Weber and punter Trevor Hankins are seniors.
That youth, coupled with a 5-6 record that includes four defeats by four or fewer points, suggests the Sun Devils could be pretty salty in 2011. As in: Top-25, top-third of the Pac-12 salty.
But, alas, coach Dennis Erickson wouldn't play along with this line of thinking -- Thursday as a potential launching point for promising 2011 campaign -- which is probably wise. He does have a game to get ready for, you know.
"I don't know if you can look at it as that. You've got to look at it as what it is," he said. "We're worried about what is going to happen Thursday, not next year. But when they're young like that, with some of the guys we've got coming back, you look forward to the next year -- when this year is over with."
As for the Wildcats, the present situation is they are headed to a good bowl game, but they'd like to show up at that game without a sign saying "Four-game losing streak!" blinking over their collective heads. A win, and they likely head to the Alamo Bowl. A loss, and they might end up the Holiday Bowl if Washington beats Washington State.
Coach Mike Stoops doesn't beat around the bush when assessing why his team's fortunes have been sagging of late after they played into the nation's top-10 earlier in the season.
"We've played better teams down the stretch, teams that emphasize running the football," he said. "Our inability to stop the run consistently has led a little bit to our demise."
The last three foes -- Stanford, USC and Oregon -- each rushed for more than 200 yards in wins over the Wildcats, including 389 yards on the ground from the Ducks. But the Sun Devils, not unlike the Wildcats, are a passing team. Arizona ranks No. 1 (314 yards passing per game) and the Sun Devils second (288.2 yards per game) in the Pac-10 in passing.
Speaking of passing, both teams have interesting quarterback situations, which will be interesting heading into the offseason and spring practices as well.
When Sun Devils starter
Steven Threet
suffered a concussion early against UCLA,
Brock Osweiler
came off the bench and was brilliant, passing for 380 yards and four touchdowns. He'll start Thursday, and if he plays well, expect there to be another tight QB competition in Tempe before the 2011 season.
As for the Wildcats,
Nick Foles
is one of the best quarterbacks in the country and likely will get preseason All-American attention in 2011. He threw for a career-high 448 yards at Oregon last week. Still, backup
Matt Scott
did enough in two starts while Foles was hurt to make a big impression on Stoops.
"It will be a conversation for another day how we move forward with both of these players moving into their senior year next year," Stoops said.
In other words, he wants Scott to anticipate playing a role next fall as more than a pure backup.
Last year's game between these two was a defensive-minded thriller, a 20-17 Arizona victory that was heartbreaking for the Sun Devils. ASU receiver Kyle Williams made a spectacular catch in the end zone to tie the game at 17, but just moments later he muffed a punt that set up the Wildcats' game-winning field goal. Afterwards, their was a brief fight at midfield as tempers flared.
Expect another tight one in this underrated rivalry.
"They are much improved football team than they were a year ago," Stoops said. "They are way better offensively. They have an identity."
If Stoops' team prevails, it figures to return to the national rankings -- it's already No. 23 in the BCS standings -- and then play in a quality bowl game against a nationally ranked Big 12 team.
It's not yet certain what a win would mean for the Sun Devils in terms of the postseason. But an upset victory might be viewed this way in the big picture: As a launching point for justifiable optimism heading into 2011.
September, 27, 2010
9/27/10
11:26
AM ET
Oregon State's loss at Boise State was
costly in more ways than one
.
First, All-American receiver
James Rodgers
is questionable for Saturday's home game with Arizona State after suffering
a concussion in the loss to Broncos
.
Second, linebacker Dwight Roberson, the Beavers' leading tackler, is doubtful with
a sprained knee
.
Those could be two big personnel losses heading into a game that is critical for both teams.
As for the hit on Rodgers that knocked him out, coach Mike Riley had this to say: "I don't know what to say. It was definitely helmet to helmet. I don't know if it was inadvertent."
The Sun Devils, meanwhile,
aren't exactly healthy
after losing to Oregon. They might be without starting left tackle Dan Knapp, who also sprained his knee. Linebacker Vontaze Burfict and defensive tackles Lawrence Guy and
Saia Falahola also are banged up.
August, 3, 2010
8/03/10
12:09
PM ET
By
ESPN.com staff
| ESPN.com
Defensive tackles clog the middle and collapse pockets. Dominant ones who demand attention from two blockers make life much easier for defensive coordinators, who suddenly see their linebackers running to the ball unmolested.
And it's typically not a strength position in the Pac-10. Coaches who have worked both down south and out west will tell you that one of the peculiar differences is how many more DTs there are in SEC and ACC country. (Quarterback goes the other way.)
[+] Enlarge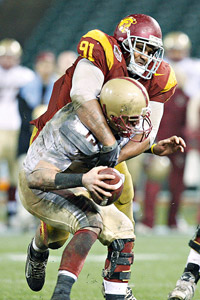 Tony Medina/SMICasey Jurrell had 54 tackles and four sacks in 2009.
In 2010, however, defensive tackle is solid in the conference. The three teams at the top of this list feature potential All-Americans at the position.
So how do things stack up?
Great shape
USC: The Trojans would rank among the nation's best at the position if not for the season-ending knee injury to Christian Tupou. Still, Jurrell Casey is a beast, Hebron Fangupo is huge and DaJohn Harris was one of the surprises of spring practices.

Oregon State: All-America candidate Stephen Paea is powerful and explosive and if he turns in a big season beating double-teams, he could end up a first-round NFL draft pick. Brennan Olander is a returning starter and converted end Kevin Frahm provides depth.

Arizona State: Both 2009 starters, Lawrence Guy and Saia Falahola, are back, and Corey Adams and Williams Sutton should provide quality depth.
Good shape
Oregon: Brandon Bair is underrated, and Zac Clark saw plenty of action as a backup in 2009. While inexperienced, there's young talent to provide depth.

Washington: The Huskies are solid with Cameron Elisara and Alameda Ta'amu, returning starters who turned in their best work this past spring.

California: Hard to rate teams that use a pure 3-4 because there's only a single nose tackle. Still, if Derrick Hill can stay healthy, he and Kendrick Payne will be an outstanding tandem making life tough for opposing centers.

Stanford: The Cardinal is breaking in its own 3-4 this year. Nose tackle Sione Fua is solid in the middle, with Terrence Stephens his backup. Stephens saw limited action as a true freshman in 2009.
We'll see
UCLA: The Bruins are replacing two starters, including the dominant Brian Price. David Carter, Justin Edison and Nate Chandler were solid in spring practices, so the position isn't a huge concern.

Arizona: The Wildcats are replacing two starters, including the underrated Earl Mitchell, a third-round NFL draft pick. After spring practices, Sione Tuihalamaka and Lolomana Mikaele topped the depth chart, which featured six names.

Washington State: Another position where the Cougars might be "better than you think," particularly if Bernard Wolfgramm can stay healthy. Touted JC transfer Brandon Rankin was impressive this spring, and true sophomore Anthony Laurenzi, a five-game starter in 2009, offers experienced depth.
May, 17, 2010
5/17/10
5:16
PM ET
By
ESPN.com staff
| ESPN.com
Arizona State's Toa Tuitea, a sophomore defensive tackle, has been named the Sun Devils' "Hard Hat Program Champion," which recognizes his work in the football program's strength and conditioning program.
He topped a list of 48 Sun Devils who were honored.
A news release from the school said the "Hard Hat Program was created to reward those individuals who do what's right in the weight room even when no one is looking ... a Hard Hat Player is someone who is self-motivated, a competitor, committed to personal and team excellence, dependable, accountable, disciplined and most importantly, puts the team first."
To become a Hard Hat Player, a player has to achieve a certain point total during winter workouts. He earns points based on his effort for strength training, speed development and conditioning sessions. They are also awarded points for competitive events and performing extra workouts in the "Blitz Package Program." Each athlete is evaluated after every workout by the sports performance staff with input from an athlete's position coach when applicable.
The list of the honored includes:
Corey Adams
, Derrall Anderson, George Bell, Omar Bolden,
Jarrid Bryant
, Mike Callaghan, Jonathan Clark, Chris Coyle, Dean DeLeone, Eddie Elder,
Steven Figueroa
, Evan Finkenberg, Clint Floyd, Garth Gerhart, Lawrence Guy, Jon Hargis,
J.J. Holliday
, Matt Hustad, Osahon Irabor, Patrick Jamison, Keelan Johnson,
Brandon Johnson
, Anthony Jones, Kyle Johnson,
Cameron Kastl
, Ronald Kennedy,
Dan Knapp
,
Trevor Kohl
,
LeQuan Lewis
, Shelly Lyons,
Cameron Marshall
, Shane McCullen,
Jamal Miles
, Bo Moos,
James Morrison
, Gerald Munns,
Brock Osweiler
,
Aaron Pflugrad
,
Cole Rarrick
,
Jamarr Robinson
, Andrew Sampson, Zach Schlink,
Max Smith
, Adam Tello,
Steven Threet
,
Matthew Tucker
and Thomas Weber.
Starters or key contributors who didn't make the list (for whatever reason, including injury or excused absence) include: linebacker Vontaze Burfict, receiver
Gerell Robinson
, receiver
Kerry Taylor
, defensive end James Brooks, defensive tackle Williams Sutton, defensive tackle Saia Falahola, defensive end Greg Smith and linebacker Brandon Magee.
July, 20, 2009
7/20/09
8:01
PM ET
By
ESPN.com staff
| ESPN.com
Posted by ESPN.com's Ted Miller
The 2006 recruiting class members are either seniors or redshirt juniors this fall, so they should be the backbones of most Pac-10 team's starting lineups.
Therefore, it seems like a reasonable moment to look back and review some recruiting hits and misses.
In the big picture, USC ranked No. 2 in the nation, according to ESPN.com's Scouts Inc., behind No. 1 Florida (sorta makes sense, eh?). UCLA, at No. 19, was the only other Pac-10 team in the Scouts Inc., top-25.
Scout.com ranked USC No. 1 in the nation, Arizona 19th, UCLA 20th and California 23rd. The rest of the Pac-10 went, in order, Arizona State (32nd in nation), Washington (35th), Stanford (38), Oregon State (41), Washington State (45) and Oregon (52).
Oregon last? Hmm.
Anyway... here's an overview
Arizona
Class: 24
How many are expected to start in 2009: Nine (CB Devin Ross, DT Earl Mitchell, FS Cam Nelson, WR Terrell Turner, DE Brooks Reed, DE Ricky Elmore, WR Delashaun Dean, OG Conan Amituanai, C Colin Baxter)
Misses: QB Tyler Lyon, RB Derke Robinson
Verdict: This is an underrated class -- even guys who aren't listed as starters are projected to contribute in 2009. It's also notable that the few who didn't pan out -- or were problems, such as DE Louis Holmes -- were the big names.
Arizona State
Class: 24
How many are expected to start in 2009: Seven (SS Ryan McFoy, RB Dimitri Nance, OG Jon Hargis, WR Kyle Williams, DT Saia Falahola, QB Danny Sullivan, LB Travis Goethel OR LB Gerald Munns)
Misses: DE Jermaine Williams, RB Rodney Glass
Verdict: A solid class when you consider that nine of the 24 signees were JC players who have already moved on -- a group that included RB Ryan Torain and S Troy Nolan, who were the class's most elite performers.
California
Class: 20
How many are expected to start in 2009: Six (CB Darian Hagan, DT Derrick Hill, QB Kevin Riley, C Chris Guarnero, DE Tyson Alualu, LB Mike Mohamed)
Misses: RB James Montgomery, RB Tracy Slocum, DT Justin Prueitt
Verdict: Ratings, smatings. Montgomery, Slocum and Prueitt were highly rated, Alualu and Mohamed barely registered. Overall, a solid class.
Oregon
Class: 20
How many are expected to start in 2009: Five (C Jordan Holmes, LT Bo Thran, RT C.E. Kaiser, DT Brandon Bair, LB Spenser Paysinger)
Misses: The class included three quarterbacks: Cody Kempt, Justin Roper and Nate Costa. Kempt and Roper have transferred, Costa has been riddled by injuries.
Verdict: Decidedly mixed. One thing is for sure: This class bolstered the Ducks offensive line. Also interesting, Bair and Paysinger transitioned to their current positions from tight end and receiver, respectively.
March, 11, 2009
3/11/09
7:13
PM ET
By
ESPN.com staff
| ESPN.com
Posted by ESPN.com's Ted Miller
Turns out the post on Pac-10 defensive tackles doesn't fit our present format either. Drat.
So let's take another look.
Great shape
Arizona: Earl Mitchell leads a crew of five returning tackles from the 2008 depth chart, not to mention the return from suspension of former starter Lolomana Mikaele.
Oregon State: Stephen Paea had five sacks and 11 tackles for a loss in 2008. He's a load. Junior Mitchel Hunt is the frontrunner for the other tackle, and the depth chart features four or five guys who can play.
UCLA: Brian Price's 14 tackles for a loss led all conference interior defensive linemen. If he sharpens up against the run, he could become an All-American. Jerzy Siewierski and Jess Ward will battle for the spot next to Price. Both have seen significant action.
USC: Fili Moala is gone, but four of the top five tackles from 2008 are back, including returning starter Christian Tupou. Sophomores Jurrell Casey and Armond Armstead look like the next great Trojan DTs.
Good shape
Arizona State: Lawrence Guy earned Freshman All-American honors and Saia Falahola and Jonathan English have both seen a lot of action. In the fall, 292-pound touted freshman Corey Adams arrives.
Stanford: Ekom Udofia, Matt Masifilo, Sione Fua and Brian Bulcke give the Cardinal an effective, experienced crew inside. They combined for 12.5 tackles for a loss in 2008.
California: A 3-4 defense obviously means fewer tackles, but the Bears top two nose tackles -- Derrick Hill, who will miss spring after arthroscopic surgery on his knee, and Kendrick Payne -- should be solid.
We'll see
Oregon: Both starters need to be replaced. Tonio Celotto, who battled nagging injuries last year, and Blake Ferras appear to have the inside track, but newcomers will have to help immediately.
Washington: Everyone is back, but no one stood out in 2008. The thinking is sophomores Alameda Ta'amu and Senio Kelemete should be much better after being prematurely thrown into action. There's also junior Cameron Elisara and Johnny Tivao, a 5-foot-10, 350-pound JC transfer.
Washington State: Three of their top four tackles on the season-ending depth chart are gone, but maybe that's the good news. Junior Toby Turpin, who had 20 tackles and 3.5 tackles for a loss last year, will man one spot and Bernard Wolfgramm is the frontrunner for the other.
February, 23, 2009
2/23/09
4:43
PM ET
By
ESPN.com staff
| ESPN.com
Posted by ESPN.com's Ted Miller
There's this Guy who doesn't think much of Arizona State's Freshman All-American defensive tackle.
That would be the man-child himself, Lawrence Guy, who recorded 44 tackles and 10 tackles for loss with two sacks in his debut season for the Sun Devils.
| | |
| --- | --- |
| | |
| | Liam Foley/Icon SMI |
| | Lawrence Guy has already bulked up 15 pounds this offseason. |
"I was hoping to get more than I did," Guy said. "I thought I did bad this year. I could have done way better."
The Las Vegas product might just do that in 2009. The 276 pounds he carried on his 6-foot-5 frame in 2008 made him look almost skinny at times, but he's added 15 pounds this offseason and expects to play at around 295 in the fall.
"I'm just trying to go from a D-end's weight to a D-tackles weight," he said. "I feel like I'm going to be harder to move with the extra weight on. And I'll have even more strength. I was at a disadvantage at the lower weight."
While last year was supremely disappointing for the Sun Devils -- they went from a preseason ranking to a losing season -- Guy will be one of the cornerstones of a talented defense that returns seven starters from a unit that ranked fourth in the Pac-10 in scoring (22.7 points per game).
Toss in two of the nation's top incoming freshmen defenders -- linebacker Vontaze Burfict and defensive tackle Corey Adams, ranked Nos. 16 and 53 on the ESPNU 150 -- and third-year coach Dennis Erickson appears on his way to building a defense that annually joins USC among the nation's elite.
Guy met Adams during his visit, and he knows that another big body up front means less attention for him and pass-rush specialist Dexter Davis, who's rolled up 27.5 sacks over the past three seasons.
"He's going to be a big help in there," Guy said.
While Guy and Davis are settled up front, there should be plenty of competition for vacancies at tackle and end created with the departures of David Smith and Luis Vasquez.
Saia Falahola and Jonathan English will bring experience inside, while James Brooks, Jamaar Jarrett and Jamarr Robinson will battle it out with 25-year-old newcomer -- and workout warrior -- Dean DeLeone at end.
"We're going to have a good defensive line next year," Guy said. "I think we'll be one of the best defenses in the Pac-10 and, hopefully, in the nation. We play with passion."
February, 16, 2009
2/16/09
4:59
PM ET
By
ESPN.com staff
| ESPN.com
Posted by ESPN.com's Ted Miller
You're going to hear a lot of talk over the coming weeks heading into the NFL draft about how important defensive tackles are and how rare the dominant ones are.
The recent history with defensive tackles in the Pac-10, outside of USC, of course, isn't great. Not counting the Trojans, the only conference defensive tackle picked in the first round since the 2000 draft was Oregon's Haloti Ngata in 2006.
That may change in either 2010 or 2011 with UCLA's Brian Price, a rising junior and the top returning interior defensive lineman in the conference.
Here's our list of the top returning tackles heading into spring practices, followed by notes on where each team stands at the position.
Brian Price, UCLA: 4.5 sacks, 14 tackles for a loss led all conference interior defensive linemen.
Stephen Paea, Oregon State: He's a load who's also productive, see five sacks, 11 tackles for a loss.
Lawrence Guy, Arizona State: 10 tackles for a loss as a true freshman. Hello upside.
Earl Mitchell, Arizona: 40 tackles, 5.5 for a loss after switching from H-back.
Christian Tupou, USC: Sure, he only had 12 tackles last year, but he started for the nation's best defense, which counts for a lot.
Derrick Hill, California: Mostly platooned with Mika Kane last year, but he's got the talent to break through as a junior.
Some notes:
Arizona: The Wildcats welcome back all five tackles listed on their 2008 depth chart and are expected to reinstate suspended former starter Lolomana Mikaele. Toss in marquee, 21-year-old JC transfer Jonathan Hollins, and the Wildcats probably have more depth at the position than any other team in the conference.
Arizona State: The biggest question is will 292-pound incoming freshman Corey Adams start beside Guy from day one. Saia Falahola and Jonathan English have both seen a lot of action, so it's not a sure thing.
California: A 3-4 defense obviously means fewer DT-types play. The question for the Bears is the pecking order behind Hill: Cody Jones and Kendrick Payne both missed last season with injuries, and is rising sophomore Trevor Guyton a big end or nose tackle?
Oregon: The interior d-line is probably the Ducks biggest question mark, seeing that both starters need to be replaced. There are high expectations for Tonio Celotto, who battled nagging injuries last year, but there is little to no experience. A pair of incoming JC tackles are expected to help immediately.
Oregon State: Paea can be a force when healthy, and there are experienced players competing to replace Pernnell Booth. The spring focus will be mostly on replacing both defensive ends.
Stanford: Brian Bulcke and Sione Fua give the Cardinal a quietly effective combination inside. They combined for seven sacks and 10 tackles for a loss. Matt Masifilo leads the depth, which will be at issue this spring. [Edit: As a reader pointed out in an email, starting DT Ekom Udofia will be back in 2009. So the Cardinal D figures to be fairly solid in the interior].
UCLA: Price will demand two blockers next year, particularly with the departure of the solid Brigham Harwell. The Bruins will be fairly experienced inside, but will any other player step forward to complement -- and take the focus off -- Price?
USC: Sure, Fili Moala is a big loss, but the Trojans will still will boast the strongest interior defensive lineup in the conference. Start with Tupou and the player he beat out in 2008, Averell Spicer. Then toss in Jurrell Casey and Armond Armstead, who both were impressive in limited action as true freshmen last year. USC actually might be STRONGER at tackle than 2008. Seriously.
Washington: Good news is just about everyone is back. Bad news is the Huskies got pushed around up the middle last year. Still, if rising sophomores Alameda Ta'amu and Senio Kelemete have big off-seasons in the weight room, they could form a solid troika with Cameron Elisara. And incoming JC transfer Johnny Tivao is listed at 5 foot 10, 350 pounds, so that's something.
Washington State: Lots of questions here for the Cougars, who will be young inside with the departure of three of their top four tackles on the season-ending depth chart. Rising junior Toby Turpin, who had 20 tackles and 3.5 tackles for a loss last year, will man one spot and Bernard Wolfgramm is the frontrunner for the other. And might the Cougs consider adopting a 3-4 scheme?