June, 28, 2011
6/28/11
11:29
AM ET
The conventional wisdom is Oregon State's already formidable trip to Wisconsin on Sept. 10 became even more daunting Monday with the
Badgers' addition
of quarterback
Russell Wilson
, a transfer from NC State who passed for 8,545 yards and 76 touchdowns in his career with the Wolfpack.
Maybe. Makes sense. Wilson, who has one year of eligibility remaining and can play right away because he has already graduated, is a dual-threat quarterback who also has, by the way, played baseball in the Colorado Rockies' minor league system after being a fourth-round pick last year.
[+] Enlarge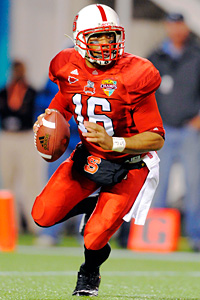 Scott A. Miller/US PresswireDoes the addition of Russell Wilson give Wisconsin a bigger advantage over Oregon State?
Further, the Badgers' play at quarterback was mediocre to bad this spring, with no one stepping to the fore to replace
Scott Tolzien
. Wilson, it would seem, is an instant upgrade, even over Tolzien. Wilson completed 58.4 percent of his passes for 3,563 yards with 28 touchdowns and 14 interceptions and rushed for 435 yards and nine touchdowns last season. Tolzien's 2010 numbers, though good enough to get the Badgers to the Rose Bowl, don't even compare.
The general feeling is this makes Wisconsin the Big Ten favorite. Which makes the Beavers look like road kill, right?
Again, maybe. But we live in a world of unintended consequences. There are no sure things, and the unexpected often happens.
For one, Wilson will be learning a new offense with new teammates with only a month or so this summer and fall practices to prepare. That's not easy. Sure, he's a veteran college QB. But he'll still be the new guy -- not unlike incoming freshmen.
His first order of business? Decisively beating out
Jon Budmayr
,
Joe Brennan
and Joel Stave. If Wilson is only marginally better, or if there's doubt within the team that he earned the starting job, then things could get prickly in the locker room.
The ideal situation for Oregon State would be for Wilson to not get a warm-up game before the Beavers come to town. That's not the case. Not only does Wisconsin open against UNLV, it also has a couple of extra days between that Thursday, Sept. 1 opener to iron out the kinks and get ready for the Beavers.
Oregon State opens its season against Sacramento State, giving it a preseason game in which to get in rhythm without revealing a lot. The Beavers certainly should be able to get more from the Badgers-Rebels game film than Wisconsin will from the Sac State film.
Wilson should make the Badgers better, but it's reasonable to believe he will be better as the season matures than he is early-on, when he's still figuring out the offense and his teammates. So Oregon State has that going for it.
With or without Wilson starting, the Badgers will be heavy favorites when Oregon State visits. The Beavers are coming off a 5-7 season with lots of questions and they do not own a distinguished record for starting fast. They've, in particular, suffered a few bad nonconference whippings on the road in the early-going -- see ill-fated trips to Louisville, Boise State, Cincinnati and Penn State.
The conventional wisdom will write this one into the Oregon State loss column before it's played, and the Badgers' addition of Wilson makes it less risky to do so in pen rather than pencil.
Right? Well, maybe. Let's just say lots more folks figure to tune into the Wisconsin-UNLV opener than before.
September, 14, 2010
9/14/10
6:23
PM ET
By
ESPN.com staff
| ESPN.com
The bad joke provoked an eye-roll from Arizona State coach Dennis Erickson that was palpable even through the telephone line.
So, sounds like Wisconsin has a bit of a finesse offense, eh coach?
"Yeah, right," Erickson said. "They are physical. That is the best way to describe them. They are physical on the offensive front. We obviously haven't see that this year."
Nope. Arizona State is 2-0 after whipping a pair of FCS teams. Wisconsin is ranked 11th in the nation. Among FBS teams.
The Sun Devils defense ranks among the nation's leaders in most statistical categories. Erickson thought he had a good defense entering the season and he still thinks he has a good defense.
But thinking and knowing are two different things.
"We obviously don't know where we're at because of the competition in the first two football games," he said.
So let's just say Wisconsin will bring the knowledge. On paper, it has no offensive weaknesses. It welcomes back 10 starters from the Big Ten's highest scoring offense in 2009.
Quarterback?
Scott Tolzien
is a senior who led the Big Ten in passing efficiency last year. Running back? 250-pound
John Clay
is one of the nation's best, and the rotation behind him is deep and talented. Receiver?
Nick Toon
was preseason second-team All-Big Ten, according to Phil Steele, and
Lance Kendricks
might be the best tight end in the Big Ten.
But it's the offensive line that stands out. They average 6-foot-5, 320 pounds and have a combined 117 career starts between them. Steele ranked them the second-best unit in the nation.
If the Sun Devils shut down -- or just significantly slow down -- the Badgers, Erickson will know his defense is among the best in the nation.
Now, even if the Sun Devils shine on defense, that doesn't mean they'll notch the upset. Their new spread offense will make its debut against BCS conference competition in front of 80,000-plus fans who won't be terribly supportive. The Badgers defense will look nothing like Portland State or Northern Arizona, and the latter held the Sun Devils to 56 yards rushing on 29 carries (1.9 yards per carry).
ASU quarterback
Steven Threet
, a Michigan transfer, has some history with the Badgers. As a redshirt freshman in 2008, he led the Wolverines to the second biggest comeback in school history when he rallied them from a 19-0 third-quarter deficit to a 27-25 win over Wisconsin. In a Sun Devils uniform, he has looked good thus far, but it's unlikely he'll be able to just sit comfortably in the pocket without any support from a run game.
Wisconsin also has a big, physical defense that will challenge the Sun Devils inexperienced offensive line. It's going to be a long day if the Sun Devils are completely one-dimensional.
While Arizona State hasn't played anyone of note, there have been enough flashes of potential versus the FCS foes to suggest it might be better than ninth-place in the Pac-10, where it was dumped in the preseason media poll after finishing in that spot in 2009.
How the Sun Devils show at Wisconsin, however, should be mighty revealing.
Said Erickson, "They are ranked 11th in the country, so we will find a lot about ourselves in this game."
June, 30, 2010
6/30/10
1:49
PM ET
By
ESPN.com staff
| ESPN.com
Most preseason rankings of the BCS conferences will dump the Pac-10 into fourth or fifth place. Even the Pac-10 blog did that
a month ago
.
How does the Pac-10 improve its position in this highly subjective pecking order? That's easy: 1. Win big nonconference games; 2. Earn two BCS bowl berths and win 'em both; 3. Or, failing that, just do well during the bowl season.
Obviously, we'll have plenty of time to look at the bowls. But let's start with the regular-season nonconference game. Here are six that could improve the Pac-10's national perception.
(Oh, and by the way, you are correct in guessing that no other BCS conference in the nation
plays five top-11 teams
in its nonconference schedule).
Oregon State vs. TCU, Sept. 4
: TCU welcomes back 18 starters from a team that went 12-1 in 2009, losing the Fiesta Bowl to Boise State. The Horned Frogs figure to be ranked in the preseason top 10, perhaps even the top five. Further, the game will be played in Cowboys Stadium, meaning it will seem like even more of a home game for TCU than if it were played at TCU (Amon G. Carter Stadium only seats 44,000). The Beavers, meanwhile, are notoriously slow starters -- see at least two losses each September since 2004. Moreover, they will be breaking in a new quarterback -- sophomore
Ryan Katz
-- on the road. Still, this is a veteran Oregon State team, and the Rodgers brothers will stress the Horned Frogs defense. An upset is not inconceivable, and it certainly would start the Pac-10's 2010 campaign on a high note.
Oregon at Tennessee, Sept. 11
: Oregon should -- needs to -- win this game. The Ducks are more talented and more experienced. The Volunteers are rebuilding. But style points matter. Sure, winning is winning, even more so when a team is on the road, particularly when it's crossing multiple time zones. But if the Oregon spread-option attack runs over, around and through an SEC defense, while shutting down an SEC "offense" (we use the term loosely), and wins big, it will send a statement, not the least of which is that this team can thrive without quarterback Jeremiah Masoli. And, of course, the Pac-10's decade-long pattern of success against the SEC then would continue for another season.
Iowa at Arizona, Sept. 18
: One gets the feeling that the Wildcats didn't earn Iowa's respect during a 27-17 loss last year. The Wildcats' offense was listless -- you might recall this is the game when quarterback
Nick Foles
came off the bench to take over the starting job -- and the defense was mostly mediocre. Heading into the fall, Arizona has significant questions on defense, while the Hawkeyes figure to rank in the top 15. Most of their fans are penciling this one in as a victory. But the Wildcats are a different team at home playing in front of the 'Zona Zoo. It figures to be a toasty evening, and if Foles and the offense get hot, it could be a chance for an upset.
Arizona State at Wisconsin, Sept. 18
: Wisconsin might be the top challenger to Ohio State in the Big Ten this year. It welcomes back 18 starters, including 10 on offense. Typically, the Badgers' offense is described as "physical," which might be construed as a code word for "plodding." No longer. They are, yes, physical, but now there are some athletes surrounding quarterback
Scott Tolzien
, most particularly running back
John Clay
. This will be a great test for an Arizona State defense that believes it will rank among the nation's best. Of course, the Sun Devils will have to score to win. For an upset to happen, a rejiggered offense and new starting QB will have to step up.
Nebraska at Washington, Sept. 18
: The Cornhuskers are another team that likely will be ranked in the preseason top 10. Most have already penciled them into the final Big 12 championship game opposite Texas or Oklahoma. They welcome back 18 starters, including eight from what could be the nation's best defense. If the Huskies manage to start 2-0, this could be a red-letter game for the program as well as for quarterback
Jake Locker
's Heisman hopes. Husky Stadium was once a fearsome place to play. Might Huskies fans, won over by coach Steve Sarkisian, be regaining their mojo? Some of us old timers remember a highly rated Miami team swaggering into Seattle in 2000 and getting manhandled by the Huskies, who went on to finish 11-1 and win the Rose Bowl.
UCLA at Texas, Sept. 25
: Fair to say the Bruins' chances at Texas are remote. The Longhorns, a certain top-five team, played for the national title last season and are looking to do so again in 2010. UCLA is taking baby steps forward under Rick Neuheisel, but the Bruins' offense is a huge question mark. Of course, an unheralded UCLA squad did once before play at Texas, and in 1997 the Bruins walked away 66-3 winners over the No. 11 Longhorns. (The following year Texas redeemed itself by only losing 49-31 to the Bruins in the Rose Bowl). Still, what seems most important here is for UCLA to put on a competitive show. That could provide some confidence heading into the meat of the Pac-10 schedule.