September, 13, 2013
9/13/13
4:30
PM ET
The
Utah Utes
are 2-0 and playing confident football behind their quarterback,
Travis Wilson
. Through two games, he's completed 31 of 47 passes for 566 yards with five touchdowns and no interceptions. He took some time to chat with the Pac-12 blog before his team kicks off league plays Saturday against Oregon State.
How much fun are you having right now? It looked like you had a huge smile on your face all day Saturday.
Travis Wilson:
I'm having a lot of fun. I think this season has started great and it's shaping up to be a really good season. I'm having a blast right now.
[+] Enlarge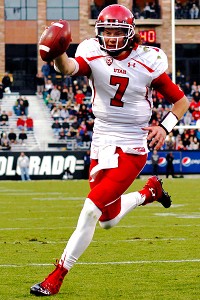 AP Photo/David ZalubowskiUtah QB Travis Wilson, who has thrown five TDs and run for two more this season, says throwing them beats running them in.
Utah is a team that's struggled with quarterback consistency over the last couple of years. A lot of that had to do with injuries. Is it weird that you're being referred to as a savior for this offense?
TW
: It's not too weird. I just want to make sure that I stay healthy. We've had some struggles there in the past. I just want to make sure I keep up my end of the bargain and that I'm playing my best every day and in every game.
What's the biggest lesson you learned from last year to this year?
TW
: I think just not playing nervous. I think that was something I struggled with last year. I was pretty nervous coming into games. This year I'm playing a lot more confident and I'm playing with a lot more motivation.
Is there anything you are doing different to calm those nerves? Or is it just the fact that you have more experience?
TW
: I think it's that I have more experience and I'm going into every game knowing I need to have fun while playing this game and making sure I'm not taking things too seriously.
What was Kyle Whittingham's message to you guys during the offseason?
TW
: Just to make sure we keep our heads up and make sure we play as a team. Make sure we're accountable to each other and make sure that we get our work done.
What has the addition of Dennis Erickson meant for you guys on offense?
TW
: It's been really great. He's been a great coach and helped us out a lot. I'm looking forward to him being here for a long time.
As a quarterback, what's better: Running for a touchdown or passing for a touchdown?
TW
: They both definitely have their plus side. Both are fun. But I think passing. I'd rather see one of my wide receivers catch a touchdown pass than me running it in, so I'd prefer that.
Speaking of wide receivers, you lose Kenneth Scott for the season in the first game. How have you seen some of the other receivers respond?
TW
: They've really stepped up a lot.
Sean Fitzgerald
and
Anthony Denham
have really stepped it up and filled that role. I'm really excited to have them out there. I know Kenneth would be proud of them too.
Fill in the blank: The biggest difference between Travis Wilson last year and this year is …?
TW
: I would definitely say confidence. I have a lot more confidence this year. I have more motivation and I have a great team that I'm playing for.
September, 1, 2013
9/01/13
10:00
AM ET
A look at what we learned about the Pac-12 in Week 1.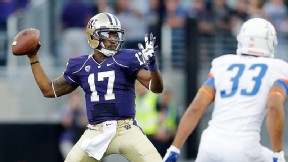 AP Photo/Ted S. WarrenWashington's Keith Price dazzled in his 2013 debut, throwing for 324 yards and two TDs.
Washington looks to be legit
: Per my co-blogger, Washington quarterback
Keith Price
was "lights out" in his performance against Boise State.
Bishop Sankey
picked up where he left off last season, and the defense kept the Broncos out of the end zone. For those nervous about letting their expectations get raised, go ahead and raise them. Oh yeah, and you get the best tight end in the country back next week.
Andy Phillips is now a household name
: In his first career game, the redshirt freshman kicker from Utah went 3-for-3, including a 45-yarder on his first career kick -- and executed a perfect onside kick to swing the momentum in the Utes' victory over in-state rival Utah State.
USC QB TBD
: Is it going to be
Cody Kessler
or
Max Wittek
at USC? What we learned is we didn't learn much. Neither looked particularly sharp as USC struggled offensively against Hawaii. Kessler was 10-of-19 for 95 yards with a touchdown and an interception. Wittek was 5-of-10 for 77 yards. Both seemed constrained by a conservative gameplan of short throws and swing passes.
Oregon likes to run (well, duh):
Three different Ducks eclipsed the 100-yard mark:
De'Anthony Thomas
,
Marcus Mariota
and
Byron Marshall
. In all, the Ducks rushed for 500 yards and a robust 11.1 yards per carry against Nicholls State. It marked the first time in school history three players went for 100 yards in the same game. Yes, it was Nicholls State, but you have to figure rushing records are getting harder and harder to break at Oregon.
DAT the featured back?
New Oregon coach Mark Helfrich had been fairly noncommittal when talking about how Thomas would be used. He looked the part of an every-down back Saturday night, carrying 18 times for 128 yards and two touchdowns. The 18 carries were a career high.
Utah's depth will be tested
: For the second season in a row, the Utes lost a big-name player for the year at the hands of Utah State. Wide receiver
Kenneth Scott
will miss the rest of the season after suffering a leg injury in the first quarter. Others will have to step up.
Sean Fitzgerald
looked pretty good in relief, catching five balls for 79 yards.
They're serious about this ejection thing
: The NCAA's new targeting rule, which went into effect this season, can lead to an ejection on the spot if the official deems it a head-to-head hit. The first big-name casualty was Oregon cornerback
Terrance Mitchell
, who makes up half of Oregon's outstanding cornerback tandem with
Ifo Ekpre-Olomu
. Miller was ejected late in the first quarter of Oregon's win over Nicholls State.
Really, Beavers?
Maybe more of the offseason focus should have been on the defense, and less about the quarterback competition.
Sean Mannion
played brilliantly. The defense, not so much, allowing Eastern Washington quarterback
Vernon Adams
to throw for 411 yards and run for 107. Not that it bears repeating, but this is the second time in three seasons the Beavers have opened the season with a loss to an FCS team.
We're not done yet
: One more game on the Week 1 docket with Colorado and Colorado State squaring off Sunday in Denver.
The Cougs looked better:
A gutty effort in SEC country from Washington State, which went toe-to-toe with Auburn before falling 31-24. Turnovers continue to be a curse and three interceptions from
Connor Halliday
, including one in the red zone in the fourth quarter, contributed to WSU's downfall.
Speaking of turnovers:
In its nine games (Colorado pending), the Pac-12 won the turnover battle, 15-11. When the Pac-12 tied in turnovers (Utah, Cal, Oregon State, Washington), it was 2-2. When it won the turnover battle (Arizona, Oregon, USC), it was 3-0, and when it lost the turnover battle (UCLA, Washington State), it was 1-1.
Special teams had special plays
: See Vincenzo D'Amato's pass to
Jackson Bouza
on the fake field goal (one of the more creative give-and-gos I've seen). See UCLA's punt block for a touchdown against Nevada. See Phillips' performance.
Speaking of special:
After posting the worst field-goal percentage in college football last year (67.9 percent) the Pac-12 kickers came out swinging in Week 1, converting on 14 of 17 attempts (82 percent).