September, 27, 2010
9/27/10
4:20
PM ET
By
ESPN.com staff
| ESPN.com
UCLA's big win over No. 7 Texas continues to earn kudos as two Bruins earned Pac-10 Player of the Week honors.
Bruins center Ryan Taylor and linebacker Sean Westgate earned offensive and defensive honors, while Stanford place kicker Nate Whitaker earned the nod for special teams.
Taylor, a senior from Denison, Texas, keyed the Bruins running attack that accounted for 264 yards against the nation's No. 1 rushing defense in the 34-12 win at Texas. UCLA's ground game was instrumental in the Bruins eating up 35:29 on the clock, compared to 24:31 time of possession for Texas. Taylor is the first lineman to earn the Pac-10 weekly offensive honor since Oregon tackle Adam Snyder claimed the award on Sept. 20, 2003.
Westgate, a junior from Oak Park, Calif., collected a career-high and team-high 11 tackles (seven solos) and forced a fumble on a punt to set up UCLA's first touchdown of the game. The Bruin defense limited Texas to 85 yards rushing and 264 yards passing (85 passing yards came on Texas' final possession of the game). Westgate leads the team with 32 tackles and ranks tied for seventh in the Pac-10, averaging 8.0 per game.
Whitaker, a senior from San Diego, Calif., matched a single-game Stanford record with five field goals. He was successful on all five attempts: 24, 41, 36, 33, and 29 yards. He added two PATs to tally 17 points in the Cardinal's 37-14 win at Notre Dame.
Also nominated for offensive player of the week honors were wide receiver
Juron Criner
of Arizona, and running backs
Deantre Lewis
of Arizona State and
Shane Vereen
of California, quarterback
Darron Thomas
of Oregon, and running backs
Stepfan Taylor
of Stanford and
Stanley Havili
of USC. Also nominated on defense were defensive tackle Justin Washington of Arizona, defensive back Chris Conte of California, linebacker Casey Matthews of Oregon, linebacker Shayne Skov of Stanford, and cornerback Nickell Robey of USC. Also nominated for special teams play were punter Trevor Hankins of Arizona State, punter Jackson Rice of Oregon, wide receiver/returner
James Rodgers
of Oregon State, punter Jeff Locke of UCLA and defensive end Wes Horton of USC.
August, 30, 2010
8/30/10
2:30
PM ET
By
ESPN.com staff
| ESPN.com
Gentlemen, the hopes and dreams of an entire town are riding on your shoulders. You might never matter again in your life as much as you do right now.
August, 9, 2010
8/09/10
2:29
PM ET
By
ESPN.com staff
| ESPN.com
UCLA opens preseason camp today. Here's a quick look.
Who's back
: Seven starters on offense, five on defense and both specialists.
Big names
: K Kai Forbath, FS Rahim Moore, LB Akeem Ayers, P Jeff Locke
What's new
: Clark Lea was promoted from graduate assistant to LBs coach in February. Coach Rick Neuheisel and offensive coordinator Norm Chow adopted a "pistol" offense -- Nevada coach Chris Ault created it -- during spring practices. It features an option out of an abbreviated shotgun formation. Two transfers are eligible to play and likely will play a lot: receiver Josh Smith (Colorado) and tight end Joseph Fauria (Notre Dame).
Key competition
: What's the pecking order at tailback? Will a veteran such as
Derrick Coleman
or
Johnathan Franklin
prevail, or will one of the touted incoming freshman take the lead spot? Two linebacker positions are uncertain: It's junior Steve Sloan versus sophomore Patrick Larimore in the middle and junior Sean Westgate against Glenn Love on the weak side. There are also "or"s on the depth chart between Aaron Hester and Andrew Abbott at right cornerback and Keenan Graham and Iuta Tepa at defensive end.
Breaking out
: There are a lot of potential playmakers on offense. At the "F" position, there's
Damien Thigpen
and
Morrell Presley
. Smith and
Randall Carroll
could be legitimate deep threats. Defensive end Datone Jones looked like a force at times in the spring.
Quote
: Neuheisel on expectations his team is due for a turnaround: "For the first time since I got to UCLA, we are an experienced football team. That doesn't mean we won't have an infusion of young guys that will still be key players. But we have guys like Rahim,
Kevin Prince
and Akeem Ayers. These guys have played and played at a high level. And our kicking game is quite possibly the best in the country."
Notes
: The Bruins' top two tackles won't be around: Xavier Su'a-Filo is on a two-year Mormon mission, while Nik Abele was forced to retire because of neck problems. ... JC transfer Darius Bell might offer an athletic option at QB. ... Three incoming freshmen were kicked off the team for allegedly stealing a purse and are headed elsewhere: cornerback Shaquille Richardson (Arizona), LB Josh Shirley (Washington) and receiver Paul Richardson (perhaps Colorado).
May, 25, 2010
5/25/10
11:00
AM ET
By
ESPN.com staff
| ESPN.com
UCLA's must replace six starters on defense, including three first-team All-Pac-10 performers.
That is a cause for concern.
On the other hand, safety Rahim Moore, linebacker Akeem Ayers and end Datone Jones are future high NFL draft picks who provide a cause of optimism.
Although the Bruins walked away from spring practices with some questions -- particularly at two linebacker spots -- and an obvious need for some youngsters to immediately contribute, there's enough talent for them to again rank as one of the Pac-10's top defenses.
[+] Enlarge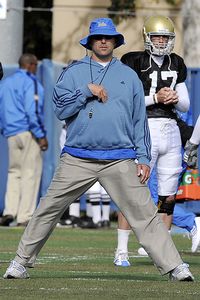 Rose Palmisano/Icon SMIChuck Bullough needs to identify some new leaders on his defense.
Here's what coordinator Chuck Bullough had to say.
You lost a lot of guys who saw a lot of action: Who's going to be hardest to replace?
Chuck Bullough
: All of them were good. The hardest to replace? It's really different aspects. Obviously, Brian Price being such a disruptive force up front -- that's a guy you're going to miss. Then we have our two linebackers. Reggie Carter was a four-year starter, so obviously his experience, him knowing everything. He was a team leader of the defense. And obviously Alterraun Verner, who was one of the best corners to ever play here. But we have young guys who played well in spring who we hope can step up. Now, I don't know if they will be at the same level as those guys were because those guys were obviously seniors and these guys are younger. But these guys have the ability to get to that level.
How might the 2010 defense be different than the 2009 unit?
CB
: We'll be a little younger. We lost those five seniors. But the guys who played this spring -- [middle linebackers] Steve Sloan and Patrick Larimore -- played really well. Replacing Kyle Bosworth at "will" linebacker we've got [Sean Westgate] and we moved a safety down there, Glenn Love, who played real well and was a real surprise of spring. They have a chance to be comparable to the guys from last year. We moved
Nate Chandler
over from tight end to defensive tackle. He's a big 6-foot-5, fast with great feet. Between him and David Carter and a couple of the young puppies coming in, we'll replace Brian Price. Well, a Brian Price only comes along every once in a while with his explosiveness. But these guys are good football players. The guy stepping in for Verner would be Sheldon Price. He was a freshman last year but he started as a true freshman just like Verner did. It all depends on them taking that next step and being leaders. We lost all our leadership. So I think, with the defense, it will have to be seen as to who takes over the leadership role with these guys gone, when it comes to the fall and it's time to play games, who are the leaders of the defense.
Let's go through the three levels: What are you happy with concerning your defensive line and what concerns you?
CB
: We feel very good about our D-line. Obviously, we lost both our tackles, but like I said, Nate Chandler came over and played really well. David Carter has improved. Both of those guys are big bodies -- 6-5 and 6-4, 290 and both of them can run. A tackle we have coming in, Cassius Marsh, who we've been keeping in touch with, is really strong for a freshman, which is usually the problem they have coming in and trying to play Pac-10 football from high school. They aren't strong enough. But he's really strong and he's got a nasty streak. So we're expecting him to have to be in the rotation. We've got a guy, Sealii Epenesa, from Hawaii, who's a big, huge body guy. We'll have to see if he can hold up strength-wise but he'll definitely have the ability down the road. Then we have a guy named [Wesley] Flowers who's coming in. We're not sure if he's a D-end or D-tackle yet. But defensive tackle-wise, I feel pretty confident with the switch-over with Nate and having those other guys step up and grow up and the young puppies coming in and being able to help -- they probably won't be able to start -- but they will be able to help. We'll play about four tackles a game. Defensive end, we lost Korey Bosworth, but we have Iuta Tepa and Keenan Graham who made big improvements during spring. Obviously, Datone Jones should become a dominant defensive line player at tackle and end. He's taken a step up. I project for him down the road that he will be a first-round draft pick. He's that good, that big, that fast and he's really hungry. The other two guys obviously didn't play much, so when the live action starts we'll have to find out about those two. And obviously we have [
Owamagbe Odighizuwa
] coming in -- one of the top defensive ends in the nation. Then again, can he learn the defense? He's got the ability. But you never know until they get here and try to learn the defense. Obviously there's a lot more scheme in college. So we came out of spring feeling pretty good defensive line-wise, compared to going in. Going in we didn't know what Nate Chandler had, we didn't know what Keenan Graham had, we didn't know that Datone had made such a big jump, which he did.
At linebacker, what does Akeem Ayers need to do to become an All-American sort of player?
CB
: He's a guy who should be another high-round draft pick for the NFL. He's grown with the defense and he's probably the most athletic linebacker you're going to find. He's a guy who, the more he's in the system, every year, he's gotten better. His second year, we had to play him as a nickel linebacker because he couldn't mentally handle both base and be a nickel. Those were just two different spots. Last year, he could. This year, we feel he should be even more comfortable with the defense. He should not even have to think at all. He still had to think a little bit last year, I believe, but he should just react now because he knows the defense inside and out
How do the competitions at middle and weakside linebacker stand?
CB
: I've mentioned Sloan and Larimore need to battle it out next fall and Westgate and Love got to battle it out in the fall. Both are open. Both will be competitions in training camp. They have three months here to improve and we'll see in training camp. But we've got four guys who we believe can play. They did a good job in spring and showed it. Now it's just going to be a training camp battle.
Rahim Moore is already an All-American: Where can he improve?
CB
: He's started for two years. He's into the system for a third year. Now his role has become that he has to be the leader in the secondary. Verner was kind of the leader last year. Now Moore has got to be the leader.
Besides Moore, tell me about what's good and what concerns you in the secondary?
CB
: We feel pretty good with our two safeties. Obviously, both Tony Dye and [Moore] have both played. They've started for two years now. That's where our veterans are in the secondary and the safety position. And obviously we have Dietrich Riley coming in who's a big-time recruit who is very bright. We expect him to be able to come in and contribute and play. And we've got some guys who've got another fall to improve. We feel good about the safety position. The corners, obviously I mentioned Price before. He's a second-year starter. He's a tall guy who's gaining weight. Last year, he didn't have enough weight. He was probably 160 pounds. He was too small. But he's gained 15 or 20 pounds, I think, without losing his 10.5 speed in the 100 [meters]. He could be a special player and it's his turn to take over at corner. Then we have Aaron Hester who was a starter before he broke his leg. He's another big, tall, long-armed guy who can run like the wind. We feel comfortable with him. We have Andrew Abbott and Courtney Viney behind those two who are two savvy veterans that we feel can play. And obviously we've got a couple of freshmen coming in. We've got Anthony Jefferson and Tevin McDonald. With Tevin McDonald, we don't know if he's a safety or a corner. We also have Shaq Richardson coming in. So we have some guys there. But it's hard to know with those rookies until they actually play. If those guys can play, they will just be bonuses.
When you lose six guys like you lost, most folks think you'll take a step back. Do you think the 2010 unit can be as good as your 2009 crew?
CB
: I think it will be interesting who steps up and becomes a leader. The "mike" [middle] linebacker in my defense has always been that guy. He makes all the checks. So Sloan and Larimore, one of them -- whoever it is -- has got to step up. Reggie Carter grew up into that leadership role as he got older. In spring, we saw Datone and Ayers and Rahim take up that leadership role which last year was with the older guys. Those three guys should be the leaders because they've played so much and gotten a lot of accolades.
May, 19, 2010
5/19/10
12:55
PM ET
By
ESPN.com staff
| ESPN.com
Seventh in a series taking a look at top position competitions this fall.

UCLA: Linebacker (times two!)

Why the competition? Middle linebacker Reggie Carter, a four-year starter, and "will" outside linebacker Kyle Bosworth, a 21-game starter, are both gone.

Candidates: In the middle: junior Steve Sloan (6-foot-4, 232) and sophomore Patrick Larimore (6-3, 250). On the outside: junior Sean Westgate (5-11, 216) and junior Glenn Love (6-4, 216).

The skinny: A quick review of the Bruins' depth chart reveals few areas without a fairly clear post-spring pecking order, but both these linebacker spots are wide open. Sloan started nine games as a redshirt freshman, so he has more experience, but Larimore is a hard-hitter who played well this spring. Love had 27 tackles last year as a backup safety in 2009 before being moved up. He has the frame and athleticism to beat out the undersized Westgate, but he's still learning the position. Westgate had 18 tackles and started once last fall. If things don't shake out like the Bruins' coaches want them to, then expect at least one of the three incoming freshmen linebackers to press for playing time. And if touted recruit Anthony Barr isn't the answer at running back, might his athleticism be intriguing on defense?
May, 7, 2010
5/07/10
7:30
AM ET
By
ESPN.com staff
| ESPN.com

UCLA
2009 overall record
: 7-6
2009 conference record
: 3-6
Returning starters
Offense: 7, Defense: 5, punter/kicker: 2
Top returners
: K Kai Forbath, QB
Kevin Prince
, WR
Nelson Rosario
, FS Rahim Moore, LB Akeem Ayers, DE Datone Jones, P Jeff Locke
Key losses
: TE Logan Paulsen, OT Xaiver Su'a-Filo (LDS mission), DT Brian Price, CB Alterraun Verner, LB Reggie Carter, DE Korey Bosworth, LB Kyle Bosworth
2009 statistical leaders (*returning starter)
Rushing
:
Johnathan Franklin
* (566)
Passing
: Kevin Prince* (2,050)
Receiving
: Nelson Rosario* (723)
Tackles
: Reggie Carter (79)
Sacks
: Brian Price (7)
Interceptions
: Rahim Moore* (10)
Spring Answers
1. The revolver will evolve:
While the new "revolver" offense -- read: Nevada's pistol -- wasn't a smashing success, coach Rick Neuheisel and coordinator Norm Chow believe adopting some spread-option elements will add productive wrinkles to the offense, which will burden an opposing defense's preparation. Quarterback Kevin Prince ran something similar in high school and is a good athlete. Will it become the base offense? We'll see.
2.
There's speed on the rebuilding D
: Sure, the Bruins should take a step back on defense. Losing six quality starters, including three first-team All-Pac-10 performers is a blow. But one thing may accelerate the rebuilding: The defense will be faster in 2010. That doesn't mean it will be better, but speed makes for a more favorable margin of error.
3.
The transfers will help
: While they were both banged up this spring, receiver Josh Smith and tight end Joseph Fauria -- transfers from Colorado and Notre Dame respectively -- both flashed enough potential during the off-season and the spring to make clear they will be major contributors to the offense.
Fall questions
1.
Is there enough in the trenches
? UCLA's depth is questionable on both lines, most particularly the offensive line. If everybody stays healthy, things should work out fine -- there's enough experience and talent to get the job done. But a couple of injuries could mean trouble.
2.
Who wins out at linebacker
? Akeem Ayers is a given at strongside linebacker, but the other two spots haven't been decided. In the middle, sophomore Pat Larimore is battling junior Steve Sloan, while Sean Westgate and Glenn Love, a converted safety, are competing on the weakside.
3.
Will Prince break through
? Prince has talent and he's been productive at times. A run of injuries hampered his progress in 2009. If he takes a step forward this fall and stays healthy, he has enough skill around him for the Bruins to score plenty of points.
April, 2, 2010
4/02/10
12:29
PM ET
By
ESPN.com staff
| ESPN.com
Seventh in a
series looking at lineup holes
that are important even if they don't make headlines.
UCLA

Everybody is talking about
: Three defensive players who earned first-team All-Pac-10 honors need to be replaced: defensive tackle Brian Price, linebacker Reggie Carter and cornerback Alterraun Verner.
Bigger shoes than you think
: The Bosworth brothers: defensive end Korey and weak side linebacker Kyle.
These two never became stars but they were multi-year starters who played hard and made plenty of plays for a good defense. Kyle ranked second on the Bruins in 2009 with 77 tackles, with 7.5 coming for a loss. Korey ranked sixth on the team with 58 tackles, 14 coming for a loss. He also broke up five passes.
Who is stepping in
: There's not much experience at either position, and it's possible that incoming freshman will immediately enter the mix at both spots. At end, redshirt freshman Keenan Graham is atop the spring depth chart ahead of sophomore Iuta Tepa, who recorded a single tackle last year. There's also senior Reginald Stokes, who's seen plenty of action but is sitting out spring practices with a knee injury. His status for the fall is "undetermined." At linebacker, junior Sean Westgate will get first crack. He recorded 18 tackles last year. Behind him are true freshman Jared Koster, who grayshirted in 2009, and converted safety Glenn Love.
November, 16, 2009
11/16/09
4:28
PM ET
By
ESPN.com staff
| ESPN.com
Stanford running back
Toby Gerhart
, UCLA linebacker Akeem Ayers and California kicker Giorgio Tavecchio have been named Pac-10 Players of the Week.
Gerhart rushed 29 times for 178 yards and three touchdowns in Cardinal's
55-21 upset win
at No. 11-ranked USC. This is the second week in a row Gerhart has been selected for player of the week honors.
Ayers intercepted two passes, both of which set up touchdowns, and had two quarterback sacks among his four solo tackles in UCLA's
43-7 win
at Washington State.
Tavecchio accounted for 12 of California's 24 points in the
24-16 win
over Arizona. He was good on 4 of 5 field goal attempts, connecting from 46, 22, 46 and 22 yards (his miss was from 47 yards).
Also nominated for offensive player of the week were running backs
LaMichael James
of Oregon,
Jacquizz Rodgers
of Oregon State,
Shane Vereen
of California and
Chane Moline
of UCLA. Also nominated on defense were cornerback Richard Sherman of Stanford and linebackers Spencer Paysinger of Oregon and Mike Mohamed of California. Also nominated for special teams play were
James Rodgers
of Oregon State and Sean Westgate of UCLA.
PAC-12 SCOREBOARD
Saturday, 12/20
Monday, 12/22
Tuesday, 12/23
Wednesday, 12/24
Friday, 12/26
Saturday, 12/27
Monday, 12/29
Tuesday, 12/30
Wednesday, 12/31
Thursday, 1/1
Friday, 1/2
Saturday, 1/3
Sunday, 1/4
Monday, 1/12
Tweets from https://twitter.com/ESPNCFB/lists/pac12