May, 8, 2013
5/08/13
6:30
AM ET
WASHINGTON HUSKIES
2012 record
: 7-6
2012 conference record
: 5-4 (Fourth in North Division)
Returning starters
: Offense 10; Defense 8; Kicker/punter: 2

Top returners
: QB
Keith Price
, RB
Bishop Sankey
, WR
Kasen Williams
, TE
Austin Seferian-Jenkins
, DB
Sean Parker
, LB
John Timu
, DE
Josh Shirley
, LB
Shaq Thompson
.
Key losses
: CB Desmond Trufant, DB
Justin Glenn
, C
Drew Schaefer
, FB
Jonathan Amosa
.
2012 statistical leaders (*returners)
Rushing
: Bishop Sankey* (1,439)
Passing
: Keith Price* (2,726)
Receiving
: Kasen Williams* (878)
Tackles
: John Timu* (91)
Sacks
: Josh Shirley*;
Andrew Hudson
* (6.5)
Interceptions
: Justin Glenn, Shaq Thompson*,
Marcus Peters
* (3)
Spring answers
Picking up the pace: We know the Huskies spent the spring installing a new up-tempo offense. How much of it was installed and how comfortable the players are running it remains to be seen. But Steve Sarkisian has made a point that his team needs to 1) do a better job keeping up with the up-tempo offenses in the league and 2) do a better job keeping teams on their heels. This philosophical switch seems to address both since the defense has been practicing against an up-tempo offense.
Starting five: Many believe this is the best team Sarkisian has had since coming to Washington. And part of that might be that he finally has a healthy offensive line with quality depth behind the starters. The group of Micah Hatchie (LT), Dexter Charles (LG), Mike Criste (C), James Atoe (RG) and Ben Riva (RT) worked as the first-team starting five all spring. And former starters Erik Kohler and Colin Tanigawa, along with experienced backup Shane Brostek, give the Huskies quantity and quality up front.
Progress of Price: The breakout player of 2011 and embattled starter of 2012, Keith Price, quickly shook off whispers of a quarterback competition with a strong spring that left Sarkisian feeling good about his third-year starter. He distanced himself from would-be challengers and, if he can return to that 2011 form, could have Washington in the top 25.
Fall questions
After Price: It looks like Cyler Miles has established himself as No. 2 in the quarterback hierarchy, but the battle to be Price's understudy will continue into the fall with Derrick Brown and Jeff Lindquist still in the mix. The Huskies were one of only four teams in the conference last year to have the same quarterback start every game. So Price has proven his durability. But having a clear pecking order behind the starter can be equally important.
Replacing Trufant: No easy task to replace Desmond Trufant, a staple in the Washington defensive backfield who at one point started 45 straight games. Marcus Peters is all but locked in on one side, leaving Greg Ducre and Travell Dixon battling it out on the other side. Tre Watson will also be in the mix.
ASJ MIA: How long will Austin Seferian-Jenkins, the Pac-12's top tight end, be out? Will he miss any games? He's been suspended indefinitely stemming from his DUI arrest and many are wondering if he'll miss at least the season opener against Boise State. Sarkisian pointed to the silver lining of the situation -- noting that his absence has allowed others at the position to get extensive work this spring. He also said Seferian-Jenkins is taking all of the proper steps to rejoin the team. There is little doubt he'll be the most dominant tight end in the league in 2013, and probably the country. The timetable for his return will be of great interest in the coming months.
April, 29, 2013
4/29/13
5:30
PM ET
With spring ball in the books, Washington head coach Steve Sarkisian took some time to chat with the Pac-12 blog about his impressions over the 15 practices, moving on without
Austin Seferian-Jenkins
and what it's like to actually have a healthy offensive line.
I know every coach has a laundry list of things that they want to get done in spring. But was there one particular thing you felt like you wanted to address?
[+] Enlarge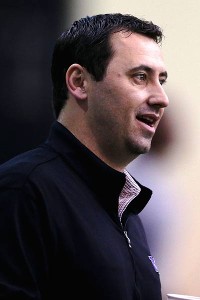 Elaine Thompson/AP PhotoCoach Steve Sarkisian says the Washington Huskies had a successful spring season, despite some distractions along the way.
Steve Sarkisian
: There's always more than one. When you come out of a season and you assess your football team and the things you have to work on and the needs you have -- whether it's from a team standpoint, personnel, development -- there were numerous things I felt like we had to address. I feel like we addressed the majority of those things by design. Some of those we found out couldn't be addressed until some of the players we signed arrived on campus. But I felt good about having a purpose going into spring on a variety of fronts and then addressing those things of purpose and feeling good about them coming out.
Where's your confidence level with [quarterback] Keith [Price]?
SS
: I felt great about Keith coming out of spring, quite honestly. Of the 15 practices we had, he might have had one that wasn't his best and another where he was just OK. But outside of that I thought he was fantastic. Bringing Marques Tuiasosopo back on board as a quarterbacks coach -- he's a guy I coached in the NFL at Oakland and he was with us here for two years when we first came on board -- bringing him back has been good and the style of coaching he has is what I'm looking for and it's consistent with myself. Keith has really responded to that. He came out and had a really good spring. He's upbeat about what we're doing offensively. I think he feels good about what we're doing up front with the offensive line and also with the wideouts and the running back situation. That genuine confidence that he has in himself, as well as his confidence in what's going on around him, is as high as it's been.
You talked about the offensive line. It seems like you guys finally have healthy depth. How nice has it been to have the same five working with the offense and then knowing you've still got Erik [Kohler] and Colin [Tanigawa] waiting in the wings?
SS
: It's been huge. For myself and Dan Cozzetto, our offensive line coach, just the continuity up front of having those five guys communicate with one another, playing with one another, making decisions with one another on the fly has been big. But also for us, having depth -- and not just depth in number -- but depth in experience. You look at
Colin Tanigawa
. You look at
Erik Kohler
.
Shane Brostek
is a backup who has a lot of game experience as well. Really, we have eight offensive linemen who have a lot of game experience against some top-level talent who could step in and play, as well as some younger guys who are really developing. We feel really good about that position group as long as we can stay healthy.
I talked with Bishop [Sankey] a couple of weeks ago and all he wanted to talk about was how he needs to get better at everything -- very little about what he's already accomplished. What's the next step for him?
SS
: Bishop is a great kid. Everyone sees what he did on the field and they see how he progressed and got better and better as the year went on and the maturity he exuded -- not only through the tough times early on -- but also in the good times late in the year for himself. The beauty of it all is you turn around and look at our GPA -- he had the highest on the team with a 3.8.
He didn't mention that when we talked.
SS
: He'd be the first not to tell you that. He's such a humble kid. But it's everything he does. And it's not just on the field. It's in the classroom, it's in the community. We're seeing now more than ever the leadership he possesses, and I'm really proud of what he's been able to accomplish. I think his best days are ahead of him. There's a lot he can improve on and he's working hard at improving and we're working hard to make him better.
How much of a distraction has the situation with Austin [Seferian-Jenkins] been this spring?
SS
: It really wasn't bad. Especially internally. At the end of the day, we touched on this with the team, guys are going to make mistakes. I deal with 18-to-22-year-old males and I've got 105 sons on this roster. To think that all 105 aren't going to make mistakes in a four-to-five year span isn't reality. What I do know, and what our team knows, is that Austin is a really good guy. He's done a great deal for our community. He's a good student. He just got over a 3.0 as well. He's been working hard and was having a good offseason. But
he made a mistake
. Is that mistake truly indicative of Austin's character? No, it's not. We all understand that. We all have to learn from the mistake he made, unfortunately. But we're moving on. We practiced 12 times without Austin. It was actually good for us. It allowed some of the other guys in his position group to develop and improve. And when the time is right for him to re-join us, he'll re-join us and we'll move on.
You guys were really two different teams when you were at home versus on the road last year. I know there is no magic-bullet answer, but what do you need to do to improve the road play?
SS
: We have to continually try to expand our comfort zone. We're obviously a very good team when we're in the friendly confines -- whether it's CenturyLink Field or Husky Stadium -- I think what's key for us is no matter where we go, who we play, what time the game is, what the weather is that we go play Husky football. That's something we've talked about since the locker room of the Las Vegas Bowl, quite honestly, and we continue to talk about it every single day. That won't change.
Speaking of Husky Stadium, what are you expecting from the fans, and what's the game day experience going to be like for them?
SS
: I would rival the game day experience with any other school in the country. I had a chance to go through it [last week] and I'm still blown away every time I go in there. I think the proximity to the fans and how close they'll be to the field is going to enhance the game day experience for the fans and for our players. From a crowd noise standpoint. From an energy standpoint they'll provide, it will be a great environment. To go along with the setting of Lake Washington and Montlake Boulevard, I don't know what's better out there in college football.
The defense was much better last year. What's the next step for them as a unit?
SS
: I think we have to continue to be an opportunistic defense -- one that creates turnovers. We did a great job of that last year. Continue being really sticky in pass defense. You have to be in our conference with so many people throwing the football. And play really good red-zone defense. Those are three areas we drastically improved last season. To continue to build upon that; our ability to defend the up-tempo offense is going to be big for us; and our ability to disrupt quarterbacks -- whether that's sacks or knockdowns, things of that nature -- playing in the offensive backfield more than we had last season are two areas we're very focused on. We focused on that this spring and we'll continue to focus on it in the fall. Defending the up-tempo offense and then wreaking havoc in the offensive backfield.
Whose name are we going to be hearing in 2013 that we didn't hear about in 2012?
SS
: I think a name to keep an eye on is a kid who redshirted for us last year and I think can be a playmaker for us in the defensive backfield and in the return game is
Cleveland Wallace
. He's a guy that possess a really high football IQ. He has a knack for being around the football. He really improved this spring. I think he's a guy to keep an eye on.
January, 15, 2013
1/15/13
2:30
PM ET
Before we focus forward, we're going to look back with team-by-team season reviews.
We continue today in reverse alphabetical order.

WASHINGTON
Grade:
C
MVP
: Running back
Bishop Sankey
transformed from a by-committee guy to a primary back when
Jesse Callier
was hurt in the first game of the season. As he grew into the role, he went from serviceable, to good, to elite right before our eyes. He finished with 1,434 yards -- fourth best in the conference -- with 16 touchdowns. In any other league in college football, he'd be a first- or second-team all-conference player with those credentials. But three All-Americans happened to be in the Pac-12, making him,
in one blogger's opinion
, the most underrated player in the conference. He was one of the few bright spots on an offense that took a major step backwards in 2012.
What went right
: For starters, the defense showed a drastic improvement from the 2011 edition that was, well, epically bad. New defensive coordinator Justin Wilcox has a lot to do with that. Consider: In 2011, Washington ranked 106th in total defense nationally and 108th in scoring defense -- allowing an average of 35 points per game. In 2012, the defense shaved off an average of nine points per game, checking in nationally at 39th in scoring defense and allowing 24 points per game. They were also 31st in total defense. That's legitimate improvement with the numbers to back it up.
What went wrong
: All those numbers cited above about the defense, well, flip them around and that's what happened to the offense in 2012. After averaging 33 points per game in 2011 and ranking 25th in scoring offense, the Huskies dropped to 88th in 2012, posting only 24 points per game. In total offense, they slipped from 38th nationally to 97th in 2012. A lot of that had to do with injuries to the offensive line. Already short heading into the season, they lost
Colin Tanigawa
and
Erik Kohler
early in the year and that forced younger players like
Shane Brostek
(who also had to play some defense) into action sooner -- and the depth just wasn't there to absorb those kinds of losses.
Keith Price
also took a big step backwards as a quarterback -- completing just 61 percent of his throws with 19 touchdowns and 13 interceptions, down from 67 percent and 33 touchdowns in 2011, where he had 11 interceptions. It didn't help that he was sacked 37 times (Washington ranked 102nd nationally in sacks allowed). If the offseason project last year was fixing the defense, this year's priority has to be getting the offense back on track. Oh yeah, they choked up the Apple Cup (in case anyone forgot).
2013 Outlook
: The good news is there are plenty of key players coming back. Washington
welcomes back 10 starters on offense and eight starters on defense
. The talk was always that Washington would make its big push in 2013. Price, Sankey, tight end
Austin Seferian-Jenkins
(who has to be the preseason front-runner for the Mackey Award) and wide receiver
Kasen Williams
are all back. The hope is that the continuity will help the offense return to its 2011 form. The schedule isn't nearly as tough as it was last season, but they still play in the Pac-12 North, which will arguably be the toughest division in all of college football next season with Stanford and Oregon expected to be ranked in the top 10 and Oregon State in the Top 25. The new facility upgrades should provide a nice emotional boost -- especially in that season opener against Boise State.