April, 25, 2011
4/25/11
9:00
AM ET
By
ESPN.com staff
| ESPN.com
LOS ANGELES -- One of the coachspeak quotes that often raises an eyebrow from the media is the ole, "We're young" declaration. Sometimes it's true, of course. But even so, it seems like a ready-made excuse.
But when USC coach Lane Kiffin throws it out -- "We're going to be extremely young" -- he recites numbers that back him up.
[+] Enlarge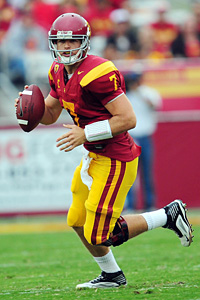 Gary A. Vasquez/US PresswireWith uncertainty at several positions, USC will be relying heavily on returning quarterback Matt Barkley.
The Trojans have just 12 scholarship seniors and 14 scholarship juniors, he said. Further, 12 players on the two-deep sat out spring practices. Eight players who did participate this spring are early enrollees from this February's recruiting class. In the fall, 23 first-year players arrive.
That means 35 players who aren't participating this spring will be new to competition for playing time during preseason camp. In other words, the USC you saw -- or read about -- this spring isn't really going to be the USC that shows up this fall.
At least, that's the hope for Kiffin, because things were far from pretty -- particularly on offense -- this spring.
Some notes.
It's difficult to judge quarterback Matt Barkley this spring because his supporting cast was so thin. Kiffin mostly lauded his leadership, and the general feeling is that Barkley and receiver Robert Woods are going to light things up this fall. As for quarterback depth, it seems redshirt freshman Jesse Scroggins took the lead for the backup role over touted true freshmen Max Wittek and Cody Kessler. Kessler seemed slightly more polished than Wittek this spring.

The depth looks strong at running back, even if Marc Tyler can't stay healthy. Dillon Baxter, D.J. Morgan and Curtis McNeil each had their moments. Morgan is intriguing but "still very raw," said Kiffin, who added that McNeil, who was academically ineligible last season, "actually outperformed all those guys." The fullback is Soma Vainuku, a freshman.

The receiving corps is going to be long on potential and short on experience. Woods often looks like a budding All-American. Said Kiffin: "Robert Woods has really taken his game to the next level. It's hard to imagine he's only in his second semester." If Kyle Prater can stay healthy, he also has all-star potential. Brandon Carswell, De'Von Flournoy and Markeith Ambles -- who's struggled to stay out of the doghouse because of discipline issues -- provide uncertain depth. It's almost certain that incoming freshmen, including the celebrated tandem of George Farmer and Victor Blackwell, will get immediate looks.

Rhett Ellison has had a good spring and is getting looks at both tight end and fullback. Xavier Grimble, Christian Thomas and Brandall Telfair also are in the tight end mix, with each bringing different skills to the position.

The offensive line? Huge question mark. The only certainty is Matt Kalil at left tackle. Khaled Holmes started at guard last season and is expected to start at center this fall, but he didn't do contact work this spring. Kevin Graf probably fits in somewhere. There really wasn't a second unit of scholarship players this spring. Incoming freshmen Cyrus Hobbi and Aundrey Walker will get serious looks in the fall. Former coach Pete Carroll was an outstanding recruiter, but he fell short recruiting offensive linemen over his final few seasons.

Andre Heidari, the No. 1 prep kicker in the nation last year, has looked solid this spring. The hope is incoming freshman Kristopher Albarado will win the punting job.

The big question on the defensive line is the uncertain health of Armond Armstead. An undisclosed health issue prevented him from practicing and his future is uncertain. Said Kiffin, "That's big. He really came on at the end of the year. We'll know more this summer." With him, the Trojans' defensive line could be elite. Without him, it still could be pretty good. Junior end Nick Perry, if he can stay healthy, will become an NFL prospect. He was clocked at 4.6 in the 40 at 250 pounds. Said Kiffin, "He's everything you want. He's an NFL dream, height, weight, speed, jumping." Redshirt freshman defensive tackle George Uko has made the most gains this spring. End Wes Horton and tackle DaJohn Harris have experience, as does tackle Christian Tupou, who should return from a knee injury that killed his 2010 season.

The likely starting linebackers -- Chris Galippo, Devon Kennard and Shane Horton -- sat out with injuries. Things are thin behind them, though redshirt freshman Hayes Pullard "has played extremely well," according to Kiffin. This is another position where incoming freshmen -- Lamar Dawson? Tre Madden? -- could make an impact.

Cornerback Nickell Robey has had and outstanding spring, and safety T.J. McDonald is a budding star. There's less certainty at the other two spots, though Anthony Burnett appears to have caught Kiffin's eye at the other corner. Jawanza Starling, Drew McAllister, Demetrius Wright and Marshall Jones are competing at the other safety. Dion Baily is getting a look at a "nickel linebacker."
March, 21, 2011
3/21/11
5:49
PM ET
By
ESPN.com staff
| ESPN.com
Spring is supposed to be a time of renewal and hope, but USC coach Lane Kiffin seemed to be suffering a prolonged case of the winter blahs Monday. And for good reason. He said 20 players -- many of them projected starters or key contributors -- won't be available for full-contact work when the Trojans begin spring practices Tuesday.
[+] Enlarge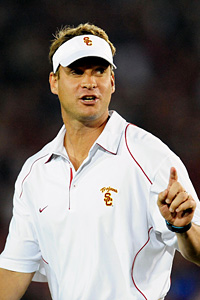 Gary A. Vasquez/US PresswireLane Kiffin is concerned about his team's spring injuries, particularly on the offensive line.
Rebirth and renewal of the Trojan empire after a middling 8-5 finish in 2010? Humbug.
"There's too many questions," Kiffin said. "I think it would be a little tough to say this team is better than last year."
Most of these injuries are not expected to be issues when preseason practices begin in August. But you never know. And there were some
troubling additions
to the already
long injury list we noted last week
, including linebacker Chris Galippo, whose back is giving him trouble again. Toss in injuries to Devon Kennard (hip) and Shane Horton (hip), and none of the projected starting linebackers are ready to practice. In fact, when you toss in an injury to backup Ross Cumming, the only available linebacker from last year's depth chart is redshirt freshman Will Andrew.
Few position groups have been spared the injury bug. Defensive linemen are out: end Armond Armstead, tackle Christian Tupou and end Wes Horton. Offensive linemen are out: Khaled Holmes, tackle Kevin Graf and center Abe Markowitz. Defensive backs are out: safety Drew McAllister and cornerbacks T.J. Bryant and Torin Harris. And a receiver is out:
Kyle Prater
.
So while, officially, 13 starters are back -- 6 on offense; 7 on defense; no specialists -- there will be plenty of opportunities for young players to shine. Of the 86 players on the spring roster (that includes walk-ons), just 38 saw action in 2010 and 47 have never taken a college snap, so there will be a bit of "Hello, my name is..." this spring. Just 14 returning Trojans have started at least 10 games.
Further, because of the lack of bodies -- particularly on the lines -- Kiffin said that much of the work this spring will be 7 on 7 -- "You're not going to be able to have normal practices," he said.
What's Kiffin's chief concern? The offensive line, which he calls "a gigantic issue."
There is some good news in terms of continuity on Kiffin's coaching staff. The only change is the departure of receivers coach John Morton, who joined Jim Harbaugh's staff with the San Francisco 49ers. He was replaced by
Ted Gilmore
, who was at Nebraska last year.
The spring game is April 23 in the Coliseum.
Some other notes:
Spread?
Kiffin talked last year about adopting some spread elements to his offense going forward, but that was more about one-back, four receiver sets, not a spread-option similar to what Oregon runs. The reasoning is largely about personnel. The Trojans lose the versatile
Stanley Havili
-- perhaps the best fullback in the nation -- and have little experience ready to step in at the position. And there's lots of intriguing young talent at receiver.
Position changes
: Redshirt freshman Dion Bailey moved to linebacker from safety.
Robert Woods
takes over at "Z" receiver -- flanker -- the position
Ronald Johnson
played last season.
Positions to watch
: Obviously, injuries all over the depth chart mean youngsters will get plenty of reps this spring, which means plenty of opportunities to impress. Here are some spots Kiffin made specific note of, other than the injury-riddled lines:
Tight end: Rhett Ellison is back, but what will be the pecking order between Xavier Grimble, Randall Telfer and Christian Thomas? The Trojans would like to run more two tight end sets.

Running back: Marc Tyler is the returning veteran, but he struggles to stay healthy. What will the pecking order end up between Dillon Baxter, Curtis McNeal and D.J. Morgan?

Backup QB: Matt Barkley is the starter (duh), but with the departure of Mitch Mustain, who's his backup? Redshirt freshman Jesse Scroggins would seem to have an inside track, but touted true freshmen Cody Kessler and Max Wittek will both participate in spring practices.

Linebacker: Great opportunity for guys to catch their coaches eyes: Bailey, Andrew, Dallas Kelly, Marquis Simmons, Simione Vehikite, Hayes Pullard, etc.
What about Barkley
? Barkley, a true junior, took a step forward last season as a second-year starter, but he still missed too many throws, 12 of which ended up as interceptions. Kiffin said he expects Barkley's next step to be playing at a consistently elite level. "He's competing against the best in the country," Kiffin said. "He's competing against the Andrew Lucks. He's got to take that mindset in every practice."
What about that NCAA appeal
? On Saturday, it will be nine weeks since USC president Max Nikias, athletic director Pat Haden and four other university representatives spent more than four hours talking with the NCAA infractions appeals committee in Indianapolis. Most appeals take four to eight weeks. Ah, but nothing in the USC case has moved quickly. Kiffin said he had no idea when USC would learn if the appeals committee will reduce the penalties that appear more draconian by the day, as other schools end up in headlines about alleged rules violations that appear far worse than the findings against USC.
March, 14, 2011
3/14/11
6:58
PM ET
By
ESPN.com staff
| ESPN.com
Michael Lev of the Orange County Register provides an
injury update
for USC, and it ain't pretty: 12 players who are either projected starters or likely contributors are expected to be out or limited when spring practices start on March 22.

Obviously, as Lev points out, it's premature to panic because sitting out spring is often about being healthy in the fall.
Still, it's quite a list (see link for details): WR
Kyle Prater
, OL Khaled Holmes, OT Kevin Graf, C Abe Markowitz, DE Wes Horton, DL Armond Armstead, DT Christian Tupou, MLB Devon Kennard, OLB Shane Horton, S Drew McAllister and CBs T.J. Bryant and Torin Harris.
Of particularly concern: Three offensive linemen and eight defenders are out.
The Trojans lack depth on their offensive line, which must replace three starters as well as part-time starter Butch Lewis. Now it appears that left tackle Matt Kalil will be the only full-go returning starter available this spring.
Meanwhile, the defense is looking to bounce back from a sub-par year under coordinator Monte Kiffin. While injuries to veterans will allow younger players to see more action, there's something to be said for the veterans being available to more fully digest the elder Kiffin's schemes during spring when there's more time to teach.
October, 11, 2010
10/11/10
4:22
PM ET
By
ESPN.com staff
| ESPN.com
Oregon State quarterback
Ryan Katz
, California cornerback Darian Hagan and Cal punter Bryan Anger have been named Pac-10 Players of the Week.
Katz, a sophomore from Santa Monica, Calif., completed 30 of 42 passes for 393 yards -- 10th most in school history -- with two touchdowns and one interception in the Beavers 29-27 win against No. 9 Arizona. It was his first interception of the season in 148 attempts. He also rushed for a touchdown and three times scrambled for a first down. Oregon State put up 486 yards of offense against a unit that ranked second in the nation in total defense (230.75 yards per game) entering the contest.
Hagan, a senior from Los Angeles, Calif., had the first two sacks of his career against UCLA, adding an interception, a pass breakup and a team-high-tying five tackles. California's defense limited UCLA to 144 yards, including 26 yards rushing to a Bruin squad that had been averaging 262.4 yards rushing per game.
Anger, a junior from Camarillo, Calif., punted five times for 252 yards -- 50.4 yards per punt -- and placed three punts inside the 20-yard line.
Also nominated for offensive player of the week honors were quarterback
Steven Threet
of Arizona State, wide receiver
Juron Criner
of Arizona, running back
Shane Vereen
of California, quarterback
Nate Costa
of Oregon, quarterback
Andrew Luck
of Stanford, and wide receiver
Robert Woods
of USC. Also nominated on defense were safety Max Tabach of Arizona State, linebacker Casey Matthews of Oregon, linebacker Shane Skov of Stanford, and linebacker Shane Horton of USC. Also nominated for special teams were punt returner Cliff Harris of Oregon, place kicker Nate Whitaker of Stanford, and punter Jeff Locke of UCLA.