February, 28, 2014
Feb 28
5:30
PM ET
Welcome to the mailbag.
Follow the Pac-12 blog on Twitter
.
To the notes!

Justin from Chantilly, Va., writes:
I believe Utah fans should be excited for a QB competition entering spring practice. What are the odds of Oklahoma transfer
Kendal Thompson
assuming the starting role? Can Utah medically redshirt
Travis Wilson
for a year to evaluate?
Ted Miller
: Things look at lot better at quarterback for Utah than they did a couple of months ago, eh?
Not only is there hope that 2013 starter Wilson will be able to play this fall, there's also the arrival this summer of Thompson, an Oklahoma transfer who is immediately eligible. Those are two guys most Utes fans probably weren't counting on.
I would suggest adopting a pose of cautious optimism.
You should be optimistic because Wilson brings experience and competence behind center that makes the Utes a bowl team. You should be optimistic because Thompson sounds like the sort of athlete who can help the Utes, whether he wins the job outright or not.
You should be cautious, however, because Wilson has not yet been cleared to play in 2014, only to participate in spring practices without contact. While the recent news is good, we won't know until well into the summer if he has overcome the pre-existing medical condition that ended his 2013 season.
[+] Enlarge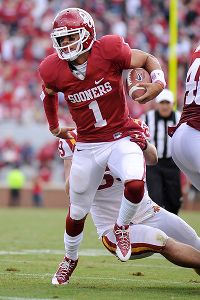 Mark D. Smith/USA TODAY SportsKendal Thompson showed flashes of potential at Oklahoma.
And you should be cautious because Thompson, the 6-foot-1, 199-pound son of former Oklahoma QB Charles Thompson, has thrown only 13 passes in three seasons with the Sooners, though a foot injury was a big issue last season. He only completed four of those passes and one was intercepted. This is not like Russell Wilson leaving NC State for Wisconsin.
As for the odds of Thompson winning the job, I have no idea. I haven't seen him play and we still don't know Travis Wilson's status. It does seem, however, that plenty of other programs wanted Thompson, and he fits well in new offensive coordinator Dave Christensen's theme.
The positive, big-picture issue is Utah now has more options than it had the past three seasons, when injuries to Jordan Wynn and then Wilson muted the Utes offense.
When you toss in
Adam Schulz
, who stepped in when Wilson went down, and redshirt freshmen
Conner Manning
and
Brandon Cox
, plus incoming freshman
Donovan Isom
, the Utes no longer seem to be all-in with just one guy. That's important.
As for redshirting Wilson, Utah could. He has a redshirt season available. Not sure if that's in play here, but I'm also not sure if it's not.
---
Jeff from Atlanta writes
: How much of Stanford's recent success do people/fans/media in Pac-12 land attribute to Shannon Turley? The amazing Cardinal W-L stats seem to coincide directly with his tenure. I have read a number of articles on his FMS [Functional Movement Screen scores] and think it is a breakthrough mindset. It is only a matter of time before other schools start migrating away from the old ways.
Ted Miller
: Jeff,
you are not the first to take note
of Turley and his innovative conditioning techniques and philosophies. The National Strength and Conditioning Association named Turley its strength and conditioning coach of the year in 2013. More than a few folks around Stanford call him the Cardinal's secret weapon, pretty much a conditioning guru.
For one, this is a pretty strong sell from Turley's bio
:
In 2013, his position became the first endowed football directorship in the FBS and was renamed the Kissick Family Director of Football Sports Performance. Turley has created a comprehensive player development program designed to achieve three primary goals: injury prevention, athletic performance enhancement and mental discipline development.

Turley was FootballScoop's 2011 Strength & Conditioning Coach of the Year as determined by a panel of coaches and previous recipients. Turley has earned significant credit from the Stanford coaching staff for his role in turning around a program that won a single game the year before his arrival to a program with three straight BCS bowl appearances.
And this is a pretty strong sell in the New York Times from former Stanford star Richard Sherman.
"We have an advantage when we get into the NFL," Sherman said. "It shows you how little scouts know in their assessments. I'll roll with Shannon Turley."
While he might not be well-known nationally, Turley was important enough on the Farm to merit a
three-part series in The Stanford Daily
.
I've long believed that a football team's strength coach is every bit as important as a position coach who doesn't call plays, and they should be paid accordingly.
All good teams have great natural athletes with potential. What makes a team elite is what is done with those athletes to maximize that potential.
---

Jordan from Pullman, Wash., writes:
I get that you didn't write the
spring breakdown for running backs
, but I'm assuming you had some oversight on the article. I have an issue with Washington State's coverage. The Air Raid isn't going to produce thousand-yard rushers often. Or ever. But that doesn't mean that Wazzu doesn't have some very good backs already established, and a few intriguing prospects coming in for next year. The three rushers coming in are three-star recruits. Also,
Teondray Caldwell
and
Marcus Mason
averaged 5.4 ypc, a VERY respectable number, especially in an offense that is not built to produce on the ground. Come on Pac-12 Blog, where's the love?
Ted Miller
: I have no oversight. Maybe undersight. Or near sight. Or lack of insight.
I will grant you that Mason finished the regular season with three strong performances, rushing for 203 yards on 32 carries -- 6.3 yards per tote -- while catching 21 passes for 117 yards. Perhaps not coincidentally, the Cougars won two of those games and played a competitive Apple Cup on the road at Washington.
And I will grant you that the Cougs' measly 2.9 yards per carry last year, which ranked 120th in the nation, is a bit deceiving because Mason and Caldwell averaged 4.9 and 5.4 yards per carry, respectively, while also combining for 78 receptions, catching throws that mostly operated as aerial handoffs.
And the Pac-12 blog wants to give love. That's, really, what we are all about.
But I also think we can all agree that no Pac-12 team puts less emphasis on the running game, and until the Cougars make a big move in the North Division without a running game, a lot of folks will be skeptical that at team can thrive in the deep, physical Pac-12 without at least a fair-to-middling rushing threat.
---
Benvolio from Los Angeles writes:
I was just reading your article on the state of spring ball in the Pac-12 and found the line, "Just one first-team All-Pac-12 performer is back -- Ducks CB
Ifo Ekpre-Olomu
." Ted, you forgot
Leonard Williams
AGAIN. Don't make me tell Leonard.... He's 6-5, 300 pounds and worked hard for that All-Pac-12 title.
Ted Miller
: Man, forget Leonard Williams a couple of times and Benvolio goes from peacemaker to biting his thumb at the Pac-12 blog.
Perhaps Queen Mab hath been with me, distracting me from recalling the Pac-12's best defensive lineman this past fall?
Or maybe I just miss you, Benvolio, and wanted to see if you were paying attention?
Or maybe it was just a stupid oversight?
No, couldn't be that. That's too out of character. Had to be Queen Mab.
June, 7, 2013
6/07/13
2:30
PM ET
June, 6, 2013
6/06/13
1:00
PM ET
Stanford outside linebacker
Trent Murphy
has considered the college football hype machine. He mostly has thought it frivolous and worthless. But not without just a trace of longing.
Such is the plight of an underrated player who has performed better than his Q-rating suggests.
"There was a little period of time when I thought that it could affect your draft stock, that it might mean a lot -- media hype and television hype," he said. "But I've gone back to my foundation, which is it really doesn't matter. If I'm doing my job between the whistles, if I'm beating guys, that's what matters. If I'm recognized for that or not, I don't think it means a whole lot as long as my team's winning games and the coaches who really know what's going on see the film. That's your resume. It speaks louder than preseason watch lists."
[+] Enlarge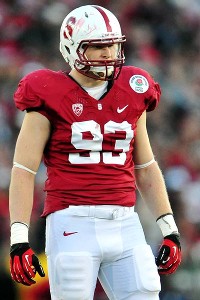 Gary A. Vasquez/USA TODAY SportsLinebacker Trent Murphy bears the responsibility of leading the Cardinal into the 2013 season as national-title contenders.
Ah, but Murphy might be ready for his closeup. Long considered Stanford's "other" outside linebacker opposite Chase Thomas, Murphy is finally getting his due, including being named a
second-team preseason All-American by Phil Steele
.
More important: Murphy, an athletic 6-foot-6, 261 pounder, is solidly on the NFL radar. The question in 2013 is whether he plays himself into the first round of the 2014 draft. As a junior, first-team All-Pac-12 selection in 2012, he had 56 total tackles and led Stanford in both tackles for a loss (18) and sacks (10). He also had an interception, forced fumble and five pass defenses.
But first things first: the 2013 season.
Stanford is a Pac-12 favorite and national title contender -- along with Oregon -- in large part because of a defense led by Murphy which might be the nation's best. The Cardinal is deep and talented at all three levels, and that defense will now be supported by an offense led by an experienced quarterback in
Kevin Hogan
.
The pieces are in place, and the hype machine has noticed. More than a few pundits believe the Cardinal might be capable of ending the SEC's seven-year reign atop college football.
But that could be a trap. Preseason plaudits often act as a lullaby. Just ask USC.
"That's the biggest concern around here: Entitlement and complacency," Murphy said. "Those are things that all good teams fight. It's kind of the difference between being a good team and being a great team."
That's why, for example, strength coach Shannon Turley might decide that a stray Gatorade bottle during an off-season workout offends the very core of his being and transforms him into a tornado of outrage over entitlement and complacency among his novitiates.
That's the rub with Stanford. Its rise to prominence on the college football landscape has been a battle against type. Stanford students are the proverbial cream of the crop, future tech innovators and venture capitalists camping out on an idyllic campus just down the road from Silicon Valley. While there's a quasi-ironic embrace of #nerdnation on Twitter among the school's student athletes, there's also a constant battle against 94305 disease. And every Stanford person knows exactly what that is.
Yet be forewarned. Stanford football players have an odd way of dealing with praise.
"We just kick them in the shin and keep moving forward," Murphy said. "Any time anyone compliments you, kick them in the shin and keep moving."
(
Note to myself
).
Stanford and Murphy both have plenty of motivation heading into 2013. For the Cardinal, it was losing a pair of tight road games it shouldn't have against Washington and Notre Dame. If Stanford wants to play for a national title, it can't do that.
Meanwhile, Murphy sees his own missed opportunities. It's notable that he also led Stanford with six quarterback hurries, which he rates as "blown sacks."
"To be honest, I probably missed more sacks than I made," he said. "That's about finishing."
If you play defense for Stanford, missing a sack means you missed the party. The unit's unofficial motto -- we've been unable to figure out if it was invented by Thomas or linebacker
Shayne Skov
-- is "Party in the Backfield."
Is there a new motto for 2013?
Said Murphy, "'Party in the backfield' will be hard to get rid of. People love that."
Murphy said a video might be forthcoming.
But this isn't just flippant or self-indulgent. There's hype and there are meaningful words. Stanford's more academically minded players value the latter. It's part of the team culture.
"Right now the seniors are working on a team covenant," Murphy said. "Which is kind of the senior class wanting to put their personality into team goals, a team mission. What our mentality is going to be. Our motto will likely come out of that meeting. I'll keep you posted."
We'll be checking the scoreboard.
May, 17, 2013
5/17/13
2:30
PM ET
March, 23, 2012
3/23/12
11:00
AM ET
It was vintage
Andrew Luck
. Big smile. Precision accuracy. And, as usual, doing what he can to make his teammates look good.
Following his Cirque de Pro Day yesterday on the Stanford campus, Luck was asked if there was one particular pass out of his 50 that he was most proud of. He could have picked one of the passes where he rolled to his left and threw across his body -- a difficult task even in shorts and a T-shirt. Or he could have gone with the 70-yard bomb on his final toss of the day. After all, hasn't that been the knock against Luck all along? No arm strength?
He could have singled out that throw as the cherry on his told-ya-so sundae -- the index finger over his lips followed by a symbolic "shhhhh."
But that's not Luck's style. He picked the pass just prior that, a 20-yard fade to
Coby Fleener
-- intentionally thrown high to make the 6-foot-6 tight end up go up for it.
"I wanted to give him a chance to jump up there and show off his hops and his stretch and show what he can do in the red zone," Luck said. "I'm secretly very proud of putting it in the right spot for him."
[+] Enlarge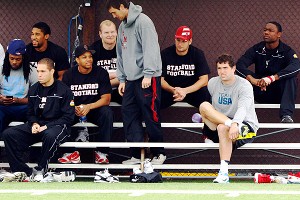 Jason O. Watson/US PresswireAndrew Luck's Stanford teammates got to showcase themselves in front of a hoard of NFL scouts on hand to see the quarterback, bottom right.
It's no real secret. Luck has put his teammates in the spotlight his entire career. And he did it one last time Thursday with more than 100 personnel from all 32 NFL teams on hand to watch.
Luck could have gone 10-for-50 and still would probably be the top pick in next month's NFL draft. Instead, he went 46-for-50. Three of those were dropped (sound familiar, Stanford fans?). Luck couldn't really do much with his pro day other than feed a starving media and hush a critic or two.
It was really about the other guys participating. Offensive linemen
Jonathan Martin
and
David DeCastro
are both expected to be taken in the first round and Fleener is regarded as the top tight end in the draft. But because Andrew Luck is Andrew Luck, some of his former teammates not expected to be drafted on the first day had the benefit of working out in front of every NFL team.
"That was a big focus for me," Luck said. "I'm in a unique position ... I have the chance to be drafted really high. So maybe a pro day is not going to hurt or help me as much as it could these other guys. I wanted to go out there and really showcase the strength of our receivers."
DeCastro is essentially a lock as the top interior lineman in the draft. But because Martin and Fleener didn't workout at February's NFL scouting combine in Indianapolis -- Martin because of illness and Fleener because of a high ankle sprain suffered in the Fiesta Bowl -- this was their first time to record measurables for scouts.
"We might have gotten guys drafted today," said Stanford's sports performance coordinator Shannon Turley
told GoStanford.com
. "And a few others may have locked up spots in the first round."
Fleener, who chopped his flowing locks and apparently now goes to DeCastro's barber, was appreciative of Luck going out of his way to make him look good.
"Andrew will be a great pro because of his brain and his hard work," Fleener said. "It seems like you can give him endless amounts of information and he can process it and then access and use it during a game. I think you guys saw during the combine that he has more tools than people give him credit for as far as his physical attributes."
And looking to return the favor, Fleener had no problem taking a jab at those who criticized Luck's arm strength.
"Well, how far did he throw it at the end today?" asked Fleener, referring to the 70-yard ball. "I think he could probably throw it further than that. Maybe in fact his arm strength isn't his weakness after all."