Pac-12:

Sione Tuihalamaka
January, 14, 2014
Jan 14
11:00
AM ET
There were many remarkable performances in the Pac-12 this year. And some remarkably bad ones. Of course, one team rolling is another team getting rolled.
Here are some high & low lights of the 2013 season (conference games only).
And some of these are intriguing because they say the opposite thing.
Such as …
Worst rushing performance:
Washington rushed for negative-5 yards at Arizona State on Oct. 19 in a 53-24 defeat.
Best rushing performance
: Washington rushed for 530 yards at Oregon State in a 69-27 win on Nov. 23.
Best yards per rush
: Washington averaged 9.1 yards per carry at Oregon State.
Most points
: Washington at Oregon State.
Most rushing TDs
: The Huskies at seven rushing touchdowns at … well, you get the picture.
[+] Enlarge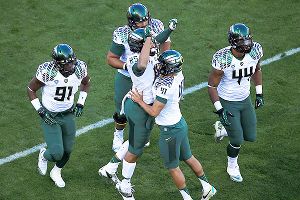 Doug Pensinger/Getty ImagesThe Oregon Ducks had plenty to celebrate when they piled up 755 yards against Colorado on Oct. 5.
Most yards
: Oregon gained 755 yards at Colorado on Oct. 5.
Most yards per play
: USC averaged 9.8 yards per play at California on Nov. 9.
Longest run
: USC running back
Javorius Allen
had a 79-yard touchdown run at Cal.
Longest pass
: Cal QB
Jared Goff
connected with
Chris Harper
for an 89-yard TD against Washington State on Oct. 5
Fewest pass completions
: Utah completed just six passes against Arizona State in a 20-19 defeat on Nov. 9.
Worst completion percentage:
Utes QB
Travis Wilson
completed 28.6 percent of his throws against the Sun Devils.
Best completion percentage
: Arizona's
B.J. Denker
completed 86.4 percent of his throws -- 19 of 22 -- against Oregon on Nov. 23.
Most interceptions
: Wilson threw six interceptions in the Utes 34-27 loss to UCLA on Oct. 3.
Shortest "long" pass in a game
: USC's longest completion against Washington State on Sept. 7 went for 8 yards.
Longest field goal
: Arizona's
Jake Smith
(vs. Cal) and Colorado's
Will Oliver
(vs. Arizona) both made 53-yard boots.
Longest punt
: Utah's
Tom Hackett
posted a 70-yard punt against Arizona State.
Best punt average in a game
: Cal's Cole Leiniger averaged 54.2 yards on four punts at Colorado.
Longest punt return
: USC's
Nelson Agholor
returned a punt 93 yards for a TD at Cal. He also had a 75-yard TD on a punt return in that game.
Longest kick return
: Stanford's
Ty Montgomery
went 100 yards for a touchdown at Utah on Oct. 12.
Most fumbles lost
: Cal lost four fumbles at Oregon on Oct. 28.
Most sacks allowed
: UCLA gave up nine sacks to Arizona State on Nov. 23.
Most sacks by a player in a game
: Both Arizona State's
Chris Young
(vs. UCLA) and Arizona's
Sione Tuihalamaka
(vs. Arizona State) had three.
Most penalties
: UCLA had 13 penalties for 100 yards at Utah.
Most penalty yards
: The Bruins had 122 yards in penalties -- on 11 flags -- against Colorado.
Touchdowns in one game
: Montgomery had five at California on Nov. 23 (four receiving, one rushing).
Most rushing yards in a game
: Washington's
Bishop Sankey
gained 241 yards against Cal.
Most passing yards in a game
: Washington State's
Connor Halliday
passed for 557 yards at Oregon. (Just don't remind Nick Aliotti).
Most passing touchdowns in a game
: Oregon State's
Sean Mannion
threw six touchdown passes against Colorado.
Most receiving yards in a game
: Oregon State WR
Brandin Cooks
had 237 yards receiving at Cal on 13 receptions.
Most receiving TDs in a game
: Montgomery had four against Cal.
October, 21, 2013
10/21/13
6:00
PM ET
Arizona running back
Ka'Deem Carey
has been named the Pac-12's offensive player of the week, along with defensive player of the week
Jordan Richards
of Stanford and special teams player of the week
Zane Gonzalez
of Arizona State.
Here's some more on the trio and other nominees per the Pac-12's release:
Carey, a junior from Tucson, Ariz., carried the ball a school-record 40 times for 236 yards and a game-clinching touchdown as Arizona beat Utah 35-24 on Saturday night at home. He gained 30-yards on his first carry of the game and ran for a 44-yard touchdown on his last carry with 90 seconds remaining to secure the Wildcats'first Conference win. The 236 rushing yards is Carey's second-highest career tally and third-highest in Arizona single-game history. The reigning national rushing champion now leads the nation with 161.0 rushing yards per game.

Richards, a junior from Folsom, Calif., intercepted two passes, broke up another pass and recorded a team-leading 10 tackles as Stanford rebounded after its first loss of the season to take down No. 9 UCLA 24-10 on Saturday afternoon. Both of Richards' interceptions set up Stanford touchdowns, which proved to be the difference in the game. It was his first multi-interception game of his career.

Gonzalez, a freshman from Deer Park, Texas, set a career-high for field goals, going 4-for-4 in the Sun Devil's 53-24 win over No. 20 Washington at Sun Devil Stadium on Saturday. He has connected on 11-straight field goal attempts and is 15-of-18 on the season. Gonzalez scored 17 points in the game, bringing his season total to 80 points and ranks No. 5 nationally in scoring at 11.4 ppg.

Also nominated for offensive player of the week honors were quarterbacks Sean Mannion of Oregon State and Connor Halliday of Washington State; running backs Marion Grice of Arizona State, Byron Marshall of Oregon, Tyler Gaffney of Stanford, and Silas Redd of USC and tailback Michael Adkins of Colorado. Also nominated for defensive player of the week honors were defensive linemen Sione Tuihalamaka of Arizona, Will Sutton of Arizona State, Scott Crichton of Oregon State, Leonard Williams of USC and Trevor Reilly of Utah; and safety Randall Goforth of UCLA. Also nominated for special teams player of the week honors were kickers Conrad Ukropina of Stanford and Ka'imi Fairbairn of UCLA, Utah punter Tom Hackett; wide receiver/punt returner Nelson Agholor of USC; and Arizona running back Terris Jones-Grigsby.
July, 5, 2011
7/05/11
9:00
AM ET
By
ESPN.com staff
| ESPN.com
See your team in your mind's eye -- 24 starters, including specialists.
If you could put an absolute halo of safety -- perhaps a girdle of indestructibility? -- around just one, who would it be?
We're rating each team's most indispensable player. And when the choice is too obvious -- say, Stanford -- we'll try to offer a second choice.

Up first:
Arizona
.
DT Justin Washington
You felt certain this would be
Nick Foles
, didn't you? And the
uncertain status
of receiver
Juron Criner
easily volunteers him as a possibility, too. But Arizona may have the best backup quarterback in the conference in
Matt Scott
, and it also is very deep at receiver. Instead, we think losing Washington would leave a huge void in the Wildcats' defensive line and entire defense. Start with this: Without Washington, the Wildcats would be without any returning starters on their D-line. Second, backup tackle Willie Mobley blew out his knee playing basketball, so the position already has taken a hit. The other first-team DT, Sione Tuihalamaka, is a solid player, but he had just 23 tackles last year. Washington was a force as a true freshman early in the season until he got banged up. He finished with 11.5 tackles for a loss, which was second on the team. Finally, the Wildcats already have lost two returning defensive starters to knee injuries -- two of their best players, in fact -- in linebacker Jake Fischer and safety Adam Hall. Losing Washington would be a hit not only in terms of production, it also would be demoralizing for the unit.
April, 14, 2011
4/14/11
6:42
PM ET
By
ESPN.com staff
| ESPN.com
TUCSON, Ariz. -- It was just a short, shells -- shorts and shoulder pads -- practice Thursday at Arizona, but even then there was plenty of "wow" in the downfield passing game.
No team in the Pac-12 can offer up two quarterbacks as good as
Nick Foles
and
Matt Scott
. No team in the Pac-12 can match the Wildcats depth and talent at receiver.

That's the good news. Questions, though, remain, starting with five new starters on the offensive line.
"We're going to have to throw to set up the run, I don't think there's any question about that," coach Mike Stoops said.
As for folks questioning the line, Stoops understands and has no problem with it. He hopes it bothers them.
"They'll hear about it," Stoops said. "I think that will serve as motivation."
On defense, the Wildcats must replace defensive ends Brooks Reed, Ricky Elmore and D'Aundre Reed. And it's not good that talented safety Adam Hall is standing on the sidelines with a surgically repaired ACL.
Some notes from Arizona practice -- two days before Saturday's spring game -- after chats with Stoops, offensive coordinator Seth Littrell and defensive coordinator Tim Kish.
The plan remains to redshirt Scott, if possible. He's certainly not going to enter a game late in the fourth quarter to take a knee. But if Foles gets hurt, Scott would be the guy. He'd probably start for a majority of teams in the Pac-12.
At running back, Daniel Jenkins has had "one of the best springs of any of our young players," Stoops said. He looks like Keola Antolin's backup. Both Stoops and Littrell, however, expect incoming freshmen Ka'Deem Cary and Jared Baker to perhaps push into the mix.
Receiver? Well, there's Juron Criner -- an All-American candidate -- David Douglas, Texas transfer Dan Buckner, David Roberts, Richard Morrison, Tyler Slavin, Austin Hill, Terrence Miller and speedster Garic Wharton. Suffice it to say, the Wildcats will be able to spread the field in 2011.
As it stands now, the starting offensive line goes line this: LT Mickey Baucus, LG Chris Putton, C Kyle Quinn, RG Trace Biskin, RT Fabbians Ebbele. Only Quinn has started a game -- the Alamo Bowl last December -- and both tackles are redshirt freshmen. On the plus side, if you want to look ahead, no lineman on the two-deep is a senior. Four are freshmen, two are sophomores and four are juniors.
H-back Taimi Tutogi hinted at great things last preseason but was ultimately disappointing. There's a feeling that he could break through in 2011. While he's not an elite blocker by any stretch, the 260 pounder isn't easy to deal with when he has the ball in space.
On defense, the ends are C.J. Parrish and Mohammed Usman. Both are listed at 245 pounds, which means the Wildcats will be much smaller at end compared to a year ago. On the depth chart, redshirt freshman Dan Pettinato and converted tackle Dominique Austin are listed, but JC transfer Lamar De Rego is likely to immediately jump into the mix.
Kish called Parrish "a pleasant surprise...We didn't think he'd pick it up as quick as he did and be as effective as he is."
Inside at defensive tackle, there's solid depth. Justin Washington, who's sitting out with a shoulder injury, and Sione Tuihalamaka are the starters and Willie Mobley and Kirifi Taula are the backups. Aiulua Fanene is a fifth option.
Stoops said the Wildcats "are much better inside," and Kish made an interesting point about last fall. Because Reed and Elmore were so good at pinching down from the outside against the pass, while the tackles were limited and not getting much inside push, the Wildcats often created passing lanes for opposing quarterbacks. Passing lanes and running lanes, which some of you Wildcats fans might remember quarterbacks scrambling through, such as Arizona State's Brock Osweiler.
The good news is all three starting linebackers are back. The bad news is a lack of depth, particularly after R.J. Young -- the fourth LB -- and Trevor Erno quit. Presently, walkon Bilal Muhammed -- "He's damn good," said Kish -- is the backup at two spots and undersized though athletic Kyle Benson is No. 2 behind Jake Fisher on the outside. Both Kish and Stoops expect help from incoming freshmen Rob Hankins, Dominique Petties and Hank Hobson.
The good news in the secondary is the renewed focus of cornerback Trevin Wade, who had a poor junior year after earning accolades as a sophomore. Stoops and Kish don't hold back when talking about Wade's struggles in 2010, but both see a different player this spring: "He took a lot for granted (last year)," Stoops said. "He has a different attitude, a different level of effort (this spring)."
Along with Wade at corner, there's Jonathan McKnight, brother of former USC RB Joe McKnight and perhaps the best pure cover corner, and Shaquille Richardson, who's sitting out with a shoulder injury.
Robert Golden has moved back to safety from cornerback -- he's started extensively at both spots -- after Hall went down, where he's beside free safety Marquis Flowers. Redshirt freshamn Jourdan Grandon is making a bid to be the nickel, though there's clearly competition for backup roles. Neither Mark Watley nor Josh Robbins has made a decisive push for playing time. And there's some hope that Hall could make a fast recovery and be back by October.
August, 3, 2010
8/03/10
12:09
PM ET
By
ESPN.com staff
| ESPN.com
Defensive tackles clog the middle and collapse pockets. Dominant ones who demand attention from two blockers make life much easier for defensive coordinators, who suddenly see their linebackers running to the ball unmolested.
And it's typically not a strength position in the Pac-10. Coaches who have worked both down south and out west will tell you that one of the peculiar differences is how many more DTs there are in SEC and ACC country. (Quarterback goes the other way.)
[+] Enlarge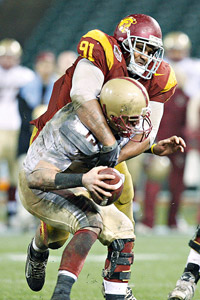 Tony Medina/SMICasey Jurrell had 54 tackles and four sacks in 2009.
In 2010, however, defensive tackle is solid in the conference. The three teams at the top of this list feature potential All-Americans at the position.
So how do things stack up?
Great shape
USC: The Trojans would rank among the nation's best at the position if not for the season-ending knee injury to Christian Tupou. Still, Jurrell Casey is a beast, Hebron Fangupo is huge and DaJohn Harris was one of the surprises of spring practices.

Oregon State: All-America candidate Stephen Paea is powerful and explosive and if he turns in a big season beating double-teams, he could end up a first-round NFL draft pick. Brennan Olander is a returning starter and converted end Kevin Frahm provides depth.

Arizona State: Both 2009 starters, Lawrence Guy and Saia Falahola, are back, and Corey Adams and Williams Sutton should provide quality depth.
Good shape
Oregon: Brandon Bair is underrated, and Zac Clark saw plenty of action as a backup in 2009. While inexperienced, there's young talent to provide depth.

Washington: The Huskies are solid with Cameron Elisara and Alameda Ta'amu, returning starters who turned in their best work this past spring.

California: Hard to rate teams that use a pure 3-4 because there's only a single nose tackle. Still, if Derrick Hill can stay healthy, he and Kendrick Payne will be an outstanding tandem making life tough for opposing centers.

Stanford: The Cardinal is breaking in its own 3-4 this year. Nose tackle Sione Fua is solid in the middle, with Terrence Stephens his backup. Stephens saw limited action as a true freshman in 2009.
We'll see
UCLA: The Bruins are replacing two starters, including the dominant Brian Price. David Carter, Justin Edison and Nate Chandler were solid in spring practices, so the position isn't a huge concern.

Arizona: The Wildcats are replacing two starters, including the underrated Earl Mitchell, a third-round NFL draft pick. After spring practices, Sione Tuihalamaka and Lolomana Mikaele topped the depth chart, which featured six names.

Washington State: Another position where the Cougars might be "better than you think," particularly if Bernard Wolfgramm can stay healthy. Touted JC transfer Brandon Rankin was impressive this spring, and true sophomore Anthony Laurenzi, a five-game starter in 2009, offers experienced depth.
May, 7, 2010
5/07/10
10:30
AM ET
By
ESPN.com staff
| ESPN.com

ARIZONA
2009 overall record
: 8-5
2009 conference record
: 6-3 (tied for second)
Returning starters
Offense: 9, Defense: 4, punter/kicker: 2
Top returners
: QB
Nick Foles
, WR
Juron Criner
, RB
Nic Grigsby
, C Colin Baxter, CB Trevin Wade, DE Brooks Reed, DE Ricky Elmore
Key losses
: WR
Terrell Turner
, OT Mike Diaz, DT Earl Mitchell, LB Xavier Kelly, FS Cam Nelson, CB Devin Ross
2009 statistical leaders (*returning starter)
Rushing
:
Keola Antolin
* (643)
Passing
: Nick Foles* (2,466)
Receiving
: Juron Criner* (582)
Tackles
: Devin Ross (81)
Sacks
: Ricky Elmore* (11.5)
Interceptions
: Trevin Wade* (5)
Spring Answers
1.
So far so good with four coordinators
: It was only a first run through spring practices but the Wildcats new arrangement with both offensive and defensive co-coordinators seemed to work well throughout spring practices. For one, it appears they've got a plan for the press box and play calling. Further, it helps that coach Mike Stoops is familiar with sharing a coordinator job (he shared the defensive job at Kansas State). It also probably helps that all four guys seem to like each other.
2.
There's a lot of skill here
: Start with quarterback Nick Foles. Then there's Juron Criner, who is as physically talented as any receiver in the Pac-10. Then there's Bug Wright,
David Douglas
,
Delashaun Dean
,
Travis Cobb
and Gino Crump. And Nic Grigsby, Keola Antolin and
Taimi Tutogi
in the backfield. Lots of guys who can do things with the ball in their hands.
3.
The ends are the beginning
: Ends Ricky Elmore and Brooks Reed are a good start for a rebuilding defense that lost seven starters. If a defense can pressure the quarterback -- and Elmore and Reed can -- that makes things easier everywhere else.
Fall questions
1. How will Matt Scott be used
: While Scott lost the starting quarterback job to Foles early last season, the coaches still think he's capable of helping the offense, particularly with his speed. Scott also looked like a more confident and refined passer this spring -- guidance from new QB coach Frank Scelfo helped -- so he figures to have a few personal packages inserted into the game plan. And if Foles falters or gets hurt, Scott is a nice plan B.
2.
How quickly will the new LBs pick things up
? It's not easy to replace seven starters, but it seems particularly burdensome to have voids at all three all LB spots. Things are even more difficult when you're counting on a pair of JC transfers -- Derek Earls in the middle and Paul Vassallo on the weak side -- to immediately step into the starting lineup. The Wildcats will be fine in the secondary -- watch out for incoming freshman Marquis Flowers to get into the mix -- because that's Stoops' specialty. And there's some intriguing talent at defensive tackle, including redshirt freshman Sione Tuihalamaka. But the linebacker question wasn't answered this spring.
3.
Paging Nic Grigsby
: Grigsby can be a dynamic player with the ball. He's got home run speed and 2,424 career rushing yards. He averages 5.3 yards per carry. He's a good receiver out of the backfield. But he needs to find a way to stay healthy, which he didn't this spring or much of last year. With capable players like Antolin, Tutogi,
Greg Nwoko
and
Daniel Jenkins
eager for touches, at some point coaches might just sit Grigsby and go with guys who can stay on the field.
May, 4, 2010
5/04/10
3:47
PM ET
By
ESPN.com staff
| ESPN.com
Every spring, a handful of players make names for themselves. Here are pairs for each Pac-10 team -- one on offense and one on defense -- who should make names for themselves into the fall.
Arizona
FB Taimi Tutogi
: The sophomore can play fullback, tailback or tight end. At 6-foot-2, 258 pounds, he packs a punch.
DT Sione Tuihalamaka
: The redshirt freshman appears to be a potential starter inside, replacing Earl Mitchell.
Arizona State
OT Evan Finkenberg
: The redshirt freshman is likely to start at one tackle spot for the Sun Devils.
DE Greg Smith
: The true sophomore backed up Dexter Davis last fall. Word is he's a high-motor guy.
California
RB Isi Sofele
: The sophomore isn't big but he's got the quickness to be a playmaker and counterpoint to starter
Shane Vereen
.
NT Kendrick Payne
: The sophomore had a great spring and may unseat Derrick Hill as the starter.
Oregon
WR Justin Hoffman
: The sophomore not only caught everything thrown his way, he also is a tenacious blocker on the outside.
DE Dion Jordan
: The sophomore switched sides of the ball from tight end and looks like a potential star.
Oregon State
RB Jordan Jenkins
: The versatile sophomore could push
Ryan McCants
-- who also had a good spring -- for touches behind
Jacquizz Rodgers
this fall
DE Taylor Henry
: The Beavers needed the sophomore to step up after Matt LaGrone quit the team. He did. Looks like a potentially dangerous pass rusher.
Stanford
TE Levine Toilolo
: The 6-foot-8, 244-pound redshirt freshman has an imposing frame as well as good speed. Made a lot of plays this spring.
LB Shayne Skov
: The sophomore became a starter last year when Clinton Snyder blew out his knee. Don't be surprised if he earns All-Conference honors.
UCLA
WR Randall Carroll
: The true sophomore looked more like a receiver with great speed than a speed guy playing receiver this spring.
DT Nate Chandler
: The junior moved from tight and immediately earned a spot in the starting lineup.
USC
RB Dillon Baxter
: The early-entry true freshman made more spectacular plays this spring than any other USC player.
SS Jawanza Starling
: The sophomore was a standout in the rebuilding secondary, though he'll face a challenge from Drew McAllister in the fall.
Washington
RB Deontae Cooper
: Cooper and fellow true freshman Jesse Callier made the most of their early entries, playing well enough to look like contributors next fall
FS Will Shamburger
: The redshirt freshman was a standout from start to finish, and finished spring practices as the starter ahead of sophomore Nate Felner.
Washington State
OT Wade Jacobson
: The 6-foot-6, 307-pound JC transfer was a standout this spring and figures to start at one of the tackle spots.
DT Brandon Rankin
: The touted JC transfer needs to gain a few pound in order to play inside but he looked like a dynamic presence much of spring.
July, 23, 2009
7/23/09
5:19
PM ET
By
ESPN.com staff
| ESPN.com
Posted by ESPN.com's Ted Miller
The first of 10 quick updates on offseason Pac-10 goings on.

Arizona in a sentence
Things are a lot more upbeat in Tucson after Arizona played in -- and won -- its first bowl game since 1998, but it seems as though some pundits believe key departures might cause the Wildcats to regress in 2009.
The big issue
With the departure of four-year starter Willie Tuitama, the quarterback competition is tight between Matt Scott and Nick Foles. That will be the story of the preseason, while how the eventual winner performs could be the story of the season itself.
Quick hit news
Defensive tackle Kaniela Tuipulotu, who dropped on the depth chart during spring practices, opted to transfer to Hawaii.
As of today, coach Mike Stoops hasn't decided how he will handle incoming freshman cornerback Ryan Milus' decision to drop football in favor of track, which he wants to pursue at another school. Milus has asked for a release from his letter of intent. Stoops could grant it with or without conditions.
Twenty of the 21 members of Arizona's recruiting class are already on campus. The only missing member is defensive tackle Sione Tuihalamaka, but coaches are optimistic he will be eligible.
After a successful visit last year, Arizona will return to Fort Huachuca for fall camp, this time for an extended five-day stay, Aug. 12 to Aug. 17.
PAC-12 SCOREBOARD
Saturday, 12/20
Monday, 12/22
Tuesday, 12/23
Wednesday, 12/24
Friday, 12/26
Saturday, 12/27
Monday, 12/29
Tuesday, 12/30
Wednesday, 12/31
Thursday, 1/1
Friday, 1/2
Saturday, 1/3
Sunday, 1/4
Monday, 1/12
Tweets from https://twitter.com/ESPNCFB/lists/pac12