December, 29, 2012
12/29/12
3:00
PM ET
SCOTTSDALE, Ariz. -- Oregon running back
Kenjon Barner
is how most folks want star college football players to be. He's humble but confident. He's quiet but articulate. You don't worry about him turning up on a police blotter. And 1,624 yards rushing, 6.5 yards per carry, 21 touchdowns and consensus All-American honors are pretty cool, too.
He's had a great career, rushing for 3,480 yards and 41 touchdowns while averaging more than 6 yards per carry each of the past four seasons. But after the Tostitos Fiesta Bowl on Jan. 3, he'll pass the torch, just as LaMichael James handed it to him.
The question is whether the preternaturally talented
De'Anthony Thomas
is ready to take it.
[+] Enlarge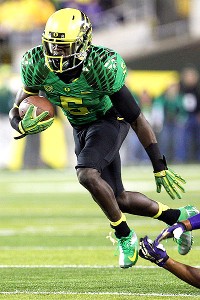 Cal Sport Media via AP ImagesOregon's De'Anthony Thomas has scored 15 touchdowns this season.
Said Barner, "Absolutely. He was up for it this year. There will be no letdown."
The truth is many were more focused in the preseason on Thomas as the Ducks' top weapon. His 16 touchdowns as a true freshman in 2011 -- most of them of the "No he didn't!" variety -- had him near the top of many preseason Heisman Trophy lists. He was a hybrid receiver/running back/return man who was touted as perhaps the fastest player in college football.
He was good this season. Just not as good as 2011. He rushed for more yards (686 versus 595 in 2011) and more touchdowns (11 versus 7), but he was far less effective as a receiver (385 yards versus 605, and four TDs versus nine). His all-purpose yards decreased from 159.6 yards per game to 130.2.
It wasn't so much that he took a step back but that Barner and quarterback
Marcus Mariota
took a step (or two) forward.
Said Thomas, "I'm not really a stats guy. I just like winning."
Barner was asked a lot of questions at Pac-12 media day back in July about Thomas, but he ended up getting the accolades while Thomas was only an All-Pac-12 honorable mention.
The questions focused on Barner in the preseason mostly centered on filling James' large shoes, and whether he could be an every-down back. He answered those inquiries best with his play, but you shouldn't expect him to gloat over some sort of validation.
"To myself? No. Maybe to everyone else," he said. "I don't need validation from anybody to feel a certain way about me. To myself, I didn't prove anything. I knew what I can do. I know what God blessed me with the talent to be able to do."
Those talents best came together during Oregon's win at USC, when he set a school record with 321 yards rushing and five touchdowns. Barner certainly improved his NFL draft stock by coming back for his senior season. The 5-foot-11, 192-pounder could be selected as early as the third round this spring.
"I think that's a great example of a guy that needed that seasoning, to prove that he could be 'the man,'" offensive coordinator Mark Helfrich said.
As for Thomas, the groundwork has been laid for him to get more touches in 2012. While Mariota and receiver
Josh Huff
also will return in 2013, Thomas will be the elder statesmen among the Ducks' running backs, where sophomore
Byron Marshall
and, very likely, at least one incoming true freshmen also will be in the mix. He will be the leader, the guy the youngsters turn to when the screws tighten.
"I'm ready for it," Thomas said. "Any team I've ever been on, I've been that guy who shows leadership to the team. I'm pretty much prepared for it."
Barner said Thomas didn't require much mentoring, that he arrived in Eugene pretty grounded, despite long being a celebrated athlete at Crenshaw High School in Los Angeles. Thomas, you might have heard, was dubbed the "Black Mamba" by none other than Snoop Dogg.
"When you have a young guy come in who is as highly touted as De'Anthony was, you expect something different than a guy who is a two- or three-star player," Barner said. "But with De'Anthony, there wasn't too much to tell him. He carried himself in the right way. He wasn't cocky. He wasn't arrogant. He wasn't disrespectful. He was just a great kid."
The message Thomas would hear from James and Barner? Don't get distracted by the bright lights and by the hangers-on.
Said Barner, "You maybe had to open his eyes to some things. He's still a young kid. You kind of have to let him know that not everybody is in your corner."
When asked about his goals, Thomas mostly talks about winning and having fun. He's certainly not the go-to quote that Barner, a member of the Pac-12's All-Interview Team, has become with reporters. But Oregon fans probably will like what he calls his chief focus for the future.
The Heisman?
Said Thomas, "Not at all. My goal is to win a national championship."
June, 27, 2012
6/27/12
2:30
PM ET
By
ESPN.com staff
| ESPN.com
We all wanna know how low can you go.
I said wo-ah, race you to the bottom!
December, 27, 2011
12/27/11
11:00
AM ET
According to
National Geographic
, "Black mambas are fast, nervous, lethally venomous, and when threatened, highly aggressive. They have been blamed for numerous human deaths, and African myths exaggerate their capabilities to legendary proportions. For these reasons, the black mamba is widely considered the world's deadliest snake."
Which reminds me: Did I tell you about the time Oregon's
De'Anthony Thomas
caused a sonic boom at Autzen Stadium? He caught a kickoff against USC and -- just as he crossed the Trojans' 30-yard line -- BOOM! It shook the stadium as he strutted into the end zone. I thought we were under attack.
Or what about when the player known as the "Black Mamba" caught that screen pass against Nevada and the field caught on fire behind him as he jetted for a 69-yard TD? I wouldn't lie to you.
Or that time Thomas hypnotized Washington State safety Tyree Toomer at the end of a 45-yard screen pass for a TD? He said to Toomer, "Look right, look left, look right, look left!" As Thomas went left, went right, went left, went right.
[+] Enlarge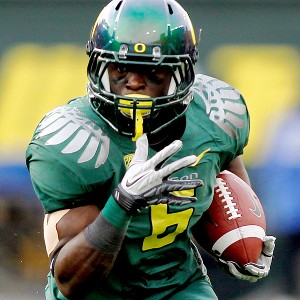 Jonathan Ferrey/Getty ImagesFreshman De'Anthony Thomas was Oregon's leading receiver with 42 catches for 571 yards and nine scores. He also rushed for 440 yards and five more scores, while adding two return TDs.
Kobe Bryant calls himself the Black Mamba, and that's cool. He's a righteous basketball player. But Snoop Dogg started calling Thomas the Black Mamba when Thomas was playing Pop Warner ball way back in 2005. Against Snoop's team.
Advantage: Thomas.
"I guess I'm deadly on the field," said Thomas, the Pac-12 Offensive Freshman of the Year, when asked for the significance of the nickname.
No doubt. While USC QB
Matt Barkley
is the conference's leading Heisman Trophy candidate heading into 2012, plenty of smart money next preseason will chase Thomas. Is there a more electric player in college football? No, because no other college football player can send bolts of electricity from his eyeballs.
OK. We made that one up. But Thomas' résumé of thrills, numbers and prone defenders lying in his wake is electrifying.
He was the Ducks' leading receiver with 42 catches for 571 yards and nine TDs. So 21.4 percent of his receptions ended up in TDs. USC receiver
Robert Woods
also is a spectacular player (see all of his All-American honors). But his 15 TDs on 111 receptions breaks down to a TD rate of just 13.5 percent.
But that's not all!
Thomas was the Ducks' third-leading rusher with 440 yards. He averaged 8.3 yards per carry and scored five TDs.
But that's not all!
Thomas also led the Pac-12 in kickoff returns with a 27.7 average, including two TDs. His 16 touchdowns not only set a school record for a freshman, no other freshman in the nation scored as many. He was Oregon's first true freshman to earn team MVP honors, too, which he shared with tight end
David Paulson
.
"The first thing that jumps out is his athletic ability -- how quickly he can do things," Ducks coach Chip Kelly said. "Not only is he fast, but his ability to change direction is incredible. It's how quick he gets out of cuts. There's a suddenness to him. I don't think people appreciate it until they really see him in person. Then they're like, 'Wow!'"
Thomas' elusiveness became legendary during his career at Crenshaw High School in Los Angeles, but his figurative shake-and-bake move on USC just before signing day also inspired a few "Wow" reactions. He grew up a USC fan and was a longtime commitment before switching to the Ducks the final week before signing day.
"It still doesn't make sense," USC coach Lane Kiffin said before the teams' met in Eugene on Nov. 19. "It was very strange."
Thomas has been consistent when explaining his change of heart, which has inspired more than a few unsubstantiated conspiracy theories. He liked USC until he fell in love with Oregon after a visit.
As for trading the Southern California sunshine for the tenacious winter drizzle of the Northwest, Thomas is unbowed.
"To me the weather, it doesn't really affect me," he said. "I adapted to it real fast. It doesn't bother me."
If junior running back
LaMichael James
departs for the NFL draft, as expected, Thomas should step into the role of primary playmaker for the Ducks, though James' backup,
Kenjon Barner
, is hardly chopped liver. Kelly, known for his offensive creativity, said Thomas will continue to play a hybrid role that allows him to challenge a defense from many spots on the field.
"That's the fun part for us," Kelly said. "How many ways can we get him into the right spots to exploit a matchup without him getting confused? He's done a great job of it so far, but we haven't put everything on his plate, either."
As in: What happens if Thomas touches the ball 200 times instead of 126? Zeus himself might come down from Mount Olympus and hang out with Phil Knight in his Autzen Stadium box to see such a thing.
Thomas seems pretty blasé about his budding stardom. Sure, he and Snoop keep in touch. Heisman talk? It will be great motivation next season. Does he have a favorite play from this season? Nope. Does he watch YouTube highlights of himself? Nope.
Those spectacular plays that sometimes inspire mythologizing are just what Thomas does.
"It's always been the way I was," he said. "Sometimes I don't even know where the moves come from. It's just playing the game of football and having fun."
Did you hear about the time a Pac-12 defensive coordinator spontaneously combusted while thinking about Thomas? Well, that's because it hasn't happened, silly.
Not yet, at least.
December, 23, 2011
12/23/11
3:30
PM ET
By
ESPN.com staff
| ESPN.com
Other than USC fans celebrating the return of
Matt Barkley
, there was a lot of sourness in the pre-Christmas mailbag.
You can
follow me on Twitter here
.
To the notes!
Mark Twinbridges, Mont., writes
: Have you read the full NCAA report on the two schools [USC and Ohio State]? I cannot believe
you would write such an inane piece if you had read the reports
. Comparing the OSU situation to the USC violations is like comparing a dog to a rabid wolf. USC used impermissible benefits to recruit, that strikes at the very heart of NCAA rules. Then the university hindered the investigation at every turn.
Ted Miller
: Yes, I have read both reports.
You wrote: "USC used impermissible benefits to recruit." Wrong.
You wrote: "Then the university hindered the investigation at every turn." Wrong.
You made two points. Both were wrong. And if you had read the USC report, or really any news stories about USC's NCAA violations, you would know that.
But I am sorry that you found my story "inane."
Interlude
... (insert sigh).
Yes, the mailbag was inundated with angry rants from Ohio State fans this week. It was frustrating. Not because I was repeatedly called names. I've grown to enjoy that part of this job for some perhaps masochistic reason. No, it was because the amount of factually incorrect assertions was mind-numbing. Sure, a lot of it was Buckeyes fans who are of the "my school, wrong or right, I don't care about the truth, I just attack, attack, attack anyone who doesn't subscribe to my worldview" sort of fans. Every team has those, and they are part of the wonderful tapestry of college football.
But what bothered me was the number of seemingly intelligent folks who just don't know what they are talking about. Many of you may recall that some weeks ago, I wrote I was done dealing with the amount of ignorance surrounding USC's case with the NCAA. It was time to move on. I am so sick of writing about USC's NCAA case. I really, really wanted to move on. But, alas, I can not.
---
Jay from San Diego writes
: At first I thought your article was meant in a joking manner. Then I realized you were actually being serious. I'm sure some of the people who follow you will eat your "piece" up but it appears blatantly misinformed & devoid of intelligence.
The above link regards your article
.
Ted Miller
: First off, I like
Eleven Warriors
. Probably one of the best fan blogs out there. I even appreciate a mostly gentle touch while they ripped apart my article.
But here's the problem: The very first line of critique is factually incorrect. "A player getting over $X00,000 in impermissible benefits." No USC player got that. Reggie Bush's parents lived for free in a fancypants house in San Diego provided by would-be agents, but it's a matter of record that extra benefits provided to Bush didn't approach $100,000. A minor distinction? Well, the distinction between player and parent certainly worked out for Auburn and Cam Newton in 2010.
It is correct that I often used "patronizing closed door language." That is because the door is closed. When I wrote "everybody in college sports knows" USC was treated unfairly, it was an overstatement to make a clear point that just about everybody knows this. I've talked to many, many people who have a professional awareness of USC's case. I've talked to people who sat in the room with the NCAA's Committee on Infractions hearing with USC. Everybody thinks USC got screwed, not just USC folks. And, when I've talked to folks who might say differently, I've always been able to easily win the ensuing argument by stating the facts.
I don't intend that to sound arrogant. It's not brilliant rhetorical ability. It's the facts. Let me show you an example of facts.
Eleven Warriors
includes this link
, which is a comparison done by another Ohio State fan site of Ohio State's case with USC's and others before the NCAA.
Eleven Warriors writes this: "And 'impossible not to conclude Ohio State case was far more severe.'? USC's took four years to complete, largely in part because
USC stifled the investigation
. Ohio State's was done in under a year."
The link provided by Eleven Warriors, however, includes this: "While the mainstream media has been trying hard to push the 'USC fought the NCAA' meme,
it's absolutely not true
. USC's former student athletes, and the agents and representatives therein, may not have worked with the NCAA, but the University absolutely did. That is even expressed (apparently) in the Notice of Allegations, where the NCAA thanked USC for their help and support. In fact, pages 56 and 57 of the
NCAA Public Infractions Report
."
So ... facts, you know?
How did the "USC didn't cooperate" storyline begin? Well, it likely emerged from a perception of USC's self-defense. USC administrators found it difficult to stomach the idea that they were supposed to know what was going on in San Diego with a player's parents and men who were: 1) unaffiliated with the school; 2) not even actual agents who might be known in the industry.
Yes, USC was not obsequious. Yes, USC, in fact, aggressively defended itself. Yes, USC, in fact, probably hurt it self by actually WINNING THE ARGUMENT.
From the link and written by an Ohio State fan: "For the most part, USC makes a fantastic case regarding the issues that it denied wrong doing..." and, "It is easy to believe that USC got hammered beyond what they deserved."
I'm not going to spend 1,500 words debating the particulars of the Ohio State case. After coach Jim Tressel was sacked, it seemed the sanctions the Buckeyes received were not unreasonable. My point was merely they made the ruling against USC even more unreasonable. And, yes, I think the Ohio State case was worse than USC's, and if you cleared a room of Buckeyes and Trojans fans and asked folks to make a ruling, I suspect they'd agree.
Let me share a story that will annoy USC fans but many will find interesting. During a flight delay last year, I was cornered at an airport by an administrator from a major program outside the Pac-12. He made fun of me as a "USC fanboy" because of my rants against the NCAA ruling against the Trojans. But we started talking. Turned out he agreed with just about all my points. (He just didn't like USC.)
He told me, after some small talk and off-the-record, that "everybody" thought USC got screwed. He said that he thought the NCAA was trying to scare everyone with the ruling, but subsequent major violations cases put it in a pickle.
Then he told me that USC was punished for its "USC-ness," that while many teams had closed down access -- to media, to fans, etc. -- USC under Pete Carroll was completely open, and that was widely resented. There was a widespread belief the national media fawned on USC because of this. Further, more than a few schools thought that the presence of big-time celebrities, such as Snoop Dogg and Will Ferrell, at practices and at games constituted an unfair recruiting advantage for the Trojans.
It wasn't against the rules, but everyone hated it. This, as he assessed his own smell test, was a subtext of the so-called atmosphere of noncompliance that the NCAA referred to -- an atmosphere that oddly yielded very few instances of noncompliance around the football program even after a four-year NCAA investigation.
But you'll note that Snoop and Will are no longer hanging around USC, which now has strict access guidelines.
Another point people keeping making to me: USC's case involved three sports and involved a lack of institutional control. That is not an invalid point, but this is the Pac-12 football blog. It doesn't cover basketball or tennis. And the violations connected to the basketball recruitment of O.J. Mayo shouldn't have, say, cost USC an extra 15 football scholarships. That's not how the process works, based on NCAA policy.
Anyway. The pointlessness of debating moot points was supposed to be the gist of my original column. What's done is done; all this is academic. Some Ohio State fans will read this and go, "Oh, interesting." But many others will simply go, "Idiot." And that's fine.
But, Buckeyes fans, would it help if I just wished you a Merry Christmas?
---
Josh from Fairbury, Neb., writes
: Hey Ted, big news for USC with Matt Barkley returning for his senior season. It's a little early, but how do you see the Heisman award situation panning out next year in the Pac-12? I've personally always considered Barkley to as good (if not better) than
Andrew Luck
. Who else from the Pac-12 conference might be a Heisman hopeful for 2012?
Ted Miller
: Barkley is No. 1. If I were to crown a No. 2, it would be Oregon's do-everything offensive weapon
De'Anthony Thomas
.
It's entirely possible the player who wins the Trojans-Ducks matchup next fall will be headed to New York as a result.
---
Brian from Kent, Wash., writes
: I am trying to find the Pac-12 record book for all passing stats and seeing how close Matt Barkley is to shattering all of them, can you help me out?
Ted Miller
: Barkley set the Pac-12 single-season record for TD passes this year with 39, breaking Matt Leinart's mark of 38 set for USC in 2003.
Barkley has 80 career TD passes. He needs 20 in 2012 to break Leinart's conference record of 99 -- which is 14 more than anyone else before him.
Barkley has 9,054 career passing yards. He needs to throw for 2,765 yards to eclipse Carson Palmer's conference record of 11,818.
In other words, unless Barkley gets hurt, he's going to own just about every major career conference passing record by season's end.
---
Darryl from Oakland writes
: I understand the "rah rah" aspect of the SEC, but in reality, shouldn't the
USC Trojans
be considered the #1 team in the country in the preseason polls for 2012?
Ted Miller
: USC likely will get some No. 1 votes but my guess is LSU will be the preseason No. 1. The Tigers' defense has a chance to be even better in 2012 than this year.
And, yes, though it's preposterously early to project, an LSU-USC matchup would be great fun on many levels, including the "rivalry" that was based on LSU finishing No. 2 behind USC in 2003.
Ha! I know at least one head just exploded in Baton Rouge. Some might say that was a split national title.
---
Garen from Los Angeles writes
: Dear Mr. Miller, For the last several years I have dealt with very difficult times in both my professional and personal life. Its hard to find the words to describe how much your blog has meant to me during these times, but it has become much more than just news and entertainment. Day after day, year after year, your blog has provided me with a constant source of escape and relief, and I cant begin to thank you enough for that. I look forward to reading your blog on a daily basis. Than you again for the wonderful job that you do. Happy Holidays and Go Bears!
Ted Miller
: Thanks, Garen. You made my day.
The mailbag often highlights people who call the Pac-12 blog names, notes that typically are countered with snarky replies.
But with Christmas coming up this weekend, why not have a nice note to wind things up?
May, 5, 2011
5/05/11
12:36
PM ET
The
Wall Street Journal
wonders if it's time to induct coach Chip Kelly and his
Oregon Ducks
into the "Hall of Geniuses."
In a potentially related item: Thousands of heads spontaneously exploded throughout Seattle and Corvallis.
The gist of the story is that, "Every now and then in sports, some team will come up with a better way," and that Oregon's high-tempo, spread-option attack is a "better way" in large part because it doesn't rely on A-list talent.
[+] Enlarge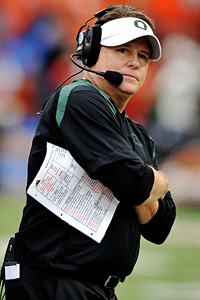 Steve Dykes/Getty ImagesChip Kelly has built a reputation for fielding an elite team without having a lot of elite talent.
But before you Duck-haters out there spew all over your computers, consider that the WSJ article doesn't compare Oregon to sports dynasties such as the Celtics, Lakers, Steelers or even Pete Carroll's
USC Trojans
. Instead:
Think "Total Football"—the free-flowing brand of soccer that the Dutch club team Ajax perfected in the 1970s; or the warp-speed Loyola Marymount basketball program of two decades ago, which still holds the single-season Division I scoring record (122.4 points per game); or the University of Houston football team, whose innovative run 'n' shoot passing attack allowed it to score 95 points in a single game.
Dutch soccer, Loyola Marymount hoops and
Houston Cougars
football: My guess is Oregon fans aren't popping champagne over those comparisons.
Still, it's an interesting take. After touring the Pac-12 over the past few years, I can say this: Oregon has replaced USC as the most interesting place to observe practice.
During the glory days under Carroll, Trojans practices were like the circus: Famous people -- Snoop Dogg! Will Ferrell! The Terminator II Terminator! -- watching future NFL stars. Practices were boisterous, with lots of hitting and spectacular athleticism.
Now it's Oregon, though for far different reasons. Oregon plays fast in games but they practice faster. Crisp undersells it. It's finely tuned mayhem and it's often fun to watch. Last spring, Kelly made a point in a team meeting that while other coaches across the country were complaining about bad practices, the Ducks never had a bad practice. That runs counter to old-school coaching psychology of mostly withholding praise as a motivational tactic.
From the WSJ article:
This team's recent accomplishments have been well noted. Using a warp-speed offense that operates 34% more quickly than most conventional teams, Oregon averaged 47 points and 531 yards per game last season, both No. 1 nationally, and has won 20 of its past 21 games in the Pac-10 conference. Though Oregon lost to Auburn in the BCS national championship game, it recently received another kind of validation that's typical of genius teams: that it has done what it has without superior talent. During the NFL's recent seven-round draft, only one Oregon player was selected.
Of course, several Ducks who will start next season are NFL prospects, starting with running back
LaMichael James
and tight end
David Paulson
. Still, most see Oregon as being a sum of its parts rather than a gathering of individual stars.
The article quotes several coaches who admitted that "solving" Oregon is a high priority.
"We can't just wait until the week of the game to get our defense prepared for that tempo," said Washington coach Steve Sarkisian. He said the Huskies will do more no-huddle work in practice to learn how to compete when fatigued. He said he'll shuffle the lineup earlier to keep players fresher. "We have to get to that level in order to compete with them," he said.
Still, here's a guess that Kelly isn't interested in being a part of this so-called "Hall of Geniuses." Why?
Historically, the life cycle of "genius" teams is often short. [UCLA coach Rick] Neuheisel points out that previous college-football innovations like the triple option, the run 'n' shoot and the West Coast offense, all have been cracked. The famed "46" defense popularized by the 1985 Chicago Bears, with its emphasis on pressuring quarterbacks, was eventually killed off by the quick, short passing of the West Coast offense.
What's the big takeaway from the story? That Oregon's best bet for retaining its elite position is retaining Kelly, who has made a quick ascent up the ladder of "best coaches in college football."
Whether he's a genius or not.
June, 10, 2010
6/10/10
7:32
PM ET
By
ESPN.com staff
| ESPN.com
Under Pete Carroll, USC won consecutive national titles and just missed a third. It became the premier college football program in the country, a Heisman Trophy and NFL pipeline where you were liable to run into Snoop Dogg or Will Ferrell on the sidelines. USC was where the cool kids went. You know -- all those prep All-Americans.
[+] Enlarge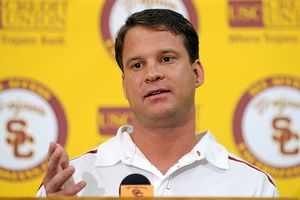 AP Photo/Mark J. TerrillLane Kiffin will have to find a way to keep recruiting as USC appeals the NCAA ruling.
The program was a colossus standing astride college football, sporting a smirk that infuriated its rivals (though, let's be honest, both Oregon and Stanford busted the Trojans in the chops last year in blowout victories as they staggered to a 9-4 finish and Pete Carroll ran off to the Seattle Seahawks).
It certainly didn't happen overnight -- it took four years, actually -- but the NCAA cut the Trojans off at the knees Thursday, citing the program for the dreaded lack of institutional control and sanctioning it with a two-year bowl ban and a loss of 30 scholarships -- 10 per recruiting class -- over the next three years.
USC will appeal. It believes the infractions committee didn't give its defense a fair shake. We'll see. A completely different committee will review any appeal, so maybe a new set of eyes will see things differently. Of course, a lengthy process -- a final ruling on an appeal wouldn't come until the spring of 2011 and might take much longer considering the complexity of the case -- could just prolong the embarrassing notoriety and delay any righting of the program under first-year coach Lane Kiffin.
Yes, USC will right itself. Eventually, no doubt. The right coach at USC, which may or may not be Kiffin, will win, just like the right coach at Alabama or Ohio State or Florida or Texas will win.
Just know that these sanctions have teeth. A loss of 10 scholarships from the next three recruiting classes will significantly damage overall depth. And, as Tom Luginbill
points out
, the margin for error in recruiting will become razor thin. A couple of busts and the program could find itself with gaping holes heading into the 2013 and 2014 seasons.
But it's not just about the loss of 10 scholarships per class, it's also about the remaining 15. Kiffin will be challenged to convince elite prospects who have no emotional ties to the program to sign. The bowl ban won't matter that much. Even with the 2011 class, you're talking about an incoming freshman only missing one postseason (though an appeal would mean the Trojans could play in a bowl after this season but not the next two). No, the recruiting challenge will emerge from USC not being in the national title hunt in the near future. A recruit who signs this February or the next one or the next one probably can't count on being a member of a national contender.
And, you may have noticed, national contenders seem to
do well in recruiting

.
Will USC's 2011 recruiting class, which is off to a fast start, hold together? And will the Trojans see a number of players transfer? We shall see.
We will also see if another Pac-10 team can take advantage of USC being knocked to the canvas. Obviously, there will be more hotshot southern California prospects available and more reasons for them to look elsewhere.
The first beneficiary could be UCLA. Bruins coach Rick Neuheisel already has made big recruiting inroads, even beating USC for a couple of elite prospects in February.
Football monopoly
? The Trojans just lost their hotels on Park Place and Boardwalk.
Oregon appears on the cusp of moving up from a top-25 program to something more elite, and the Ducks seem like the team most likely to get the first shot at taking the Trojans perch. They now are the favorites to win a second consecutive Pac-10 title. You might recall that winning consecutive conference championships wasn't easy before Carroll arrived at USC and did it seven times.
But the Pac-10's overall depth is as good as it's ever been. The conference, in the short term, could revert to its old, unpredictable self, pre-Carroll. Rose Bowls from 1995 to 2003 featured seven different Pac-10 teams, including Washington State twice and the mighty Trojans just once.
Then there's this little expansion issue. When USC's bowl ban is over heading into the 2012 season, the conference might look very different. Texas over in the Pac-16 Eastern Division might have already tried to extend its powerful recruiting tentacles into Trojans territory. That could get interesting.
Alabama got hit hard by NCAA sanctions in 2002, losing 21 scholarships over three years. The Crimson Tide appears to be in fine shape today.
No reason USC can't recover as quickly.
But the NCAA, without question, has changed the near-term trajectory of the Trojans program, which means the Pac-10 heads into 2010 feeling much different than it has in recent years.
April, 29, 2010
4/29/10
10:00
AM ET
By
ESPN.com staff
| ESPN.com
LOS ANGELES -- This winter, Lane Kiffin was handed his second plum college head coaching job just three years after becoming the youngest head coach in NFL history. Yet his record is 12-21. How the heck did he get the cardinal and gold keys to USC's Heritage Hall? His most notable achievement is manufacturing controversy with both his words and actions. Substance? Kiffin's critics will tell you "there's no there, there."
[+] Enlarge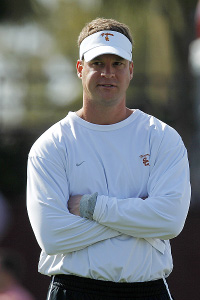 AP Photo/Jae C. HongLane Kiffin knows the only way to prove himself is by winning.
No there? We can tell you Kiffin was there, in his office at 3 a.m. PDT on April 15 watching frenetic defensive line coach Ed Orgeron scarf down a super-sized Red Bull -- No. 2 or 3? -- while presiding over his bleary-eyed staff. Why 3 a.m. on April 15? Because programs are allowed one call to a junior prospect during the spring recruiting evaluation period from April 15 to May 31, and Kiffin had decided that the first voice elite East Coast recruits would hear would be from a Trojan coach.
"We decided we were going to beat everybody in the country," Kiffin explained. "But we're on the West Coast. So if we're going to beat everybody, we're going to have to get up early and we're going to have to wake up East Coast parents."
At 4 a.m, the calls hit the Central time zone. At 5 a.m., they hit the Mountain time zone. And at 6 a.m., Kiffin and Orgeron, perhaps the best recruiting combination in the country, woke up the prospects in Los Angeles.
"The best part about it is Orgeron thinks everybody is going to be real excited about coming in at 3 a.m," Kiffin said. "He's so different. He goes, 'Hey guys, it's going to be great! I'm going to buy you guys donuts and Red Bull!'"
But donuts and Red Bull, and insanely intense recruiting, probably won't surprise you about Kiffin, who turns 35 on May 9. This might, though.
"It's more tightly run now. Businesslike, more serious," linebacker Malcolm Smith said. "We have to clean the locker room -- seriously -- now. They run us if you miss a class. There's no room for error. They've tightened the ship up."
According to Kiffin, if a player is "even one minute late" to a class, study hall or a session with a tutor, they have to meet Orgeron at 5 a.m. for extra running.
Smith's tone and expression makes the following line superfluous: "That is something you don't want to do."
When one coaching staff replaces another, the stories that immediately follow are predictable: The new staff is doing things better. More rules or more freedom? Players' coach or disciplinarian? Longer practices or shorter practices? Old is bad; new is good. Then there are the harder workouts, better schemes (attacking defense!), more coaching of fundamentals, etc.
Yet Pete Carroll's program was so open and observable that it's not speculative, or unfair, to note that things were a bit, er, loosey goosey at times. When the Trojans were regularly winning national and Pac-10 titles, that was a celebrated characteristic -- dancing with Snoop Dogg in the meeting room, wheeeeee! When the Trojans were getting manhandled by Oregon and Stanford and going -- disaster! -- 9-4, it was the root-cause of the fall of a football dynasty.
So if a basic contrast is to be drawn between the Ways of Carroll and the Ways of Kiffin as spring practices come to a close with Saturday's spring game, the early returns might be surprising: Kiffin seems to be closer to channeling Woody Hayes than Carroll, his old mentor.
There's a new sheriff in town and his name is Lane Kiffin. Y'all be cool.
"It's going to be done our way, which is the productive way of doing things right -- on and off the field," Kiffin said. "We feel that is how you are successful on Saturday and how you're disciplined on Saturday: how you are Monday through Friday. We are very hard on our guys. We have extremely high standards. We want it to be difficult to be a USC Trojan football player. They're never late to football meetings. So why are they late to other stuff? I believe it's emphasis."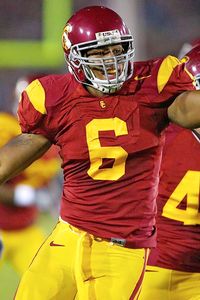 Gary A. Vasquez/US PresswireMalcolm Smith says Kiffin's staff is running a tighter ship.
Kiffin is aware he's in a bit of a pickle. Reporters repeatedly ask him about the team he inherited. If he notes shortcomings and concerns, he's seen as criticizing Carroll, who put Kiffin's career on the fast track when he handed him the keys of the Trojans offense in 2005. But Kiffin isn't good at not telling folks what's on his mind.
"It's not what it was when we left here," he said.
Kiffin sees sloppy play, noting the Trojans ranked 114th and 88th in the nation in penalties the past two seasons. He sees a lack of toughness when players skip practices and workouts because of minor injuries. He sees the "USC way" of players leaving early for the NFL draft only if they are first-round picks being abandoned -- see Everson Griffen, Damian Williams and Joe McKnight.
He sees a team that got its butt kicked last fall, posting the two worst losses of the Carroll Era.
"We have to figure out what went wrong because all of the sudden something really changed," Kiffin said.
The Kiffin Way means publicly calling out players, as he did when he stripped cornerback T.J. Bryant and receiver De'Von Flournoy of their No. 1 jerseys because they were under performing. Or when he said
the running backs
"don't have a clue right now on what we need to do to be a championship running team."
It means digging out players who fell out of favor with the old staff, such as defensive tackle DaJohn Harris, or challenging returning starters to fight for their jobs, such as linebacker Chris Galippo. It means repeatedly telling reporters that more than a handful of incoming freshmen will immediately compete for playing time.
The final one, actually, was a standard of Carroll's culture of competition that may have fallen off a bit the past couple of seasons.
No "there" there with Kiffin? Let's just say Kiffin seems to know exactly where he is.
He landed his dream job. And it will remain a dream job only if he wins -- and thereby proves himself a coach of substance.
Said Kiffin, "You can't come to this job with a rebuilding plan. You've got to win."