Pac-12:

Stefphon Jefferson
December, 15, 2012
12/15/12
4:57
PM ET
How's that for an opener to the bowl season? Twice the
Arizona Wildcats
overcame three-score deficits -- also recovering an onside kick in the final minute -- to shock Nevada in the Gildan New Mexico Bowl.
Here's how it all went down
in Albuquerque, N.M.


It was over when
: Not until the clock read zeros, seriously. After cutting the score to 48-42 with 42 seconds left, the Wildcats recovered the onside kick at their own 49. They needed only three plays to move 51 yards. With 19 seconds left,
Matt Scott
connected with
Tyler Slavin
on a 2-yard pass to tie the score at 48-48, and the PAT from
John Bonano
was the deciding margin. Nevada quarterback
Cody Fajardo
was intercepted in the closing seconds to complete Arizona's comeback.
Gutsy call
: With 3:20 left in the game and Nevada leading 45-35, Wolf Pack coach Chris Ault opted to go for it on fourth-and-1 at the Arizona 11-yard line. Nevada converted and forced Arizona to use all of its timeouts.
Allen Hardison
then hit a 25-yard field goal to put Nevada up 48-35, and that appeared to be the clincher. "Appeared" being the operative word.
Second guessing
: As good as Ault's call was there, you question burning a timeout to ice Bonano on the go-ahead PAT. It turned out to be meaningless because of the interception, but with 19 seconds left, timeouts could have been very valuable.
Game ball goes to
: No questions here. Although much of the attention was on the running backs, Arizona's
Ka'Deem Carey
and Nevada's
Stefphon Jefferson
, it was Fajardo who turned in a gritty performance. He ran for 139 yards and a touchdown and threw for 255 yards and three touchdowns. Tip of the cap goes to his Arizona counterpart, Scott, who tossed for 369 yards and three TDs and showed a lot of poise on the go-ahead drive.
Unsung hero
: Arizona linebacker
Marquis Flowers
recovered the onside kick that allowed the Wildcats to go ahead -- and came up with the interception with 13 seconds left.
Stat(s) of the game
: As expected, plenty of offense. The teams combined for 1,234 yards and 70 first downs (39 from Nevada).
December, 15, 2012
12/15/12
9:30
AM ET
Three things to watch in today's New Mexico Bowl between Arizona and Nevada:


1. Slow down Ka'Deem Carey. Then what?
Carey is the national leader, averaging 146 yards per game and he's scored 20 times on the ground with nine 100-yard rushing performances (and let's not forget that 366-yard performance). But quarterback
Matt Scott
is an awfully good runner as well. He averages 4.5 yards per carry, has five rushing touchdowns and he's netted 485 yards. Who steps up to spy Scott?
2. Slow down Stefphon Jefferson. Then what?
Jefferson, who is No. 2 in the nation behind Carey in rushing yards per game, has rushed for 1,703 yards and 22 touchdowns (and let's not forget about his seven touchdown performance against Hawaii). He's run for at least 100 yards in nine games this season. But even if the Wildcats can slow him down, they still have to worry about quarterback
Cody Fajardo
, who will run the ball, on average about 15 times per game. At 5.8 yards per attempt, he actually has a higher per-carry average than Jefferson. He also has 11 rushing touchdowns and needs just 19 more yards to crack 1,000. Who steps up to spy Fajardo?
3. One defense has to step up:
There's a reason we keep hammering home the idea of playing defense -- it's because both offenses are really good and neither defense is particularly stout, especially when it comes to applying pressure. Both units rank in the bottom half of the country in sacks and tackles for a loss. Both are in the negative on turnover margin. This might come down to the proverbial situation of whichever team can make two or three stops will win the game. Punters need not apply.
December, 15, 2012
12/15/12
9:00
AM ET
Arizona (7-5, 4-5 Pac-12) vs. Nevada (7-5, 4-4 MWC)


WHO TO WATCH
: Don't blink, or you might miss the running backs. Arizona's
Ka'Deem Carey
leads the nation in rushing yards per game, and Nevada's
Stefphon Jefferson
is right behind him at No. 2 nationally. They have a combined 42 touchdowns on the ground this season. Carey, a consensus All-American, has done more with less (275 carries), averaging 6.3 yards per carry, and Jefferson has been more of a workhorse, averaging 4.9 yards per carry on 341 attempts.
WHAT TO WATCH
: Safeties and linebackers. Because, as good as both running backs are, both quarterbacks are equally potent with their legs.
Matt Scott
(Arizona) and
Cody Fajardo
(Nevada) are second on their teams in rushing behind Carey and Jefferson, respectively. Both will run some option; both will spread defenders out with designed runs; and both will scramble if nothing is open through the air. The better "spy" defender could be the difference-maker.
WHY TO WATCH
: If watching the nation's top two statistical running backs isn't enough motivation, you need to find a new hobby. Both are fantastic players. But if you do need another reason, it's the first bowl game of the postseason -- so there is some novelty there. Two explosive offenses -- both ranking in the top 20 in scoring -- should make for a fun postseason kickoff.
PREDICTION
: Arizona has traveled a far more difficult road to its 7-5 season, playing five ranked teams and going 2-3 versus Top 25 competition. Nevada played just one ranked team -- Boise State -- and fell 27-21. The Wildcats are more battle-tested. Arizona 41, Nevada 31.
December, 5, 2012
12/05/12
7:05
PM ET
Good running backs see holes even before they open, so it should come no surprise that Arizona's
Ka'Deem Carey
immediately recognized holes in a reporter's questions.
So, Ka'Deem, are you thinking about maybe hitting 2,000 yards rushing in 2013?
"Hopefully 2,000 this year!" he said, laughing.
Carey will head into the Gildan New Mexico Bowl against Nevada on Dec. 15 with 1,757 yards rushing. Considering he broke the 28-year-old Pac-12 single-game record rushing record when he pilled up 366 yards against Colorado, Carey getting 243 against the Wolfpack isn't that much of a stretch. He also rushed for 204 yards against a good Utah run defense.
Carey leads the nation in rushing with 146.42 yards per game.
So, Ka'Deem, how does it feel to win the FBS rushing title?
"That is good," he said. "But it's not done yet."
True. Bowl stats now count for official season statistics.
In fact, Carey's closest pursuer will be eyeballing him from across the field in Albuquerque: Nevada's
Stefphon Jefferson
, who averages 141.92 yards per game.
Both should see at least a little daylight in the bowl game. Arizona is 87th and Nevada 110th in the nation in run defense. And both offenses rank in the nation's top-20 in scoring.
Carey, who averages 6.4 yards per carry and has scored 20 touchdowns, may need to find the endzone a handful of times.
"I'll hopefully do that," Carey said. "But I feel like our defense is going to step up and make big plays."
It's smart on Carey's part not to knock the Wildcats' defense, which has probably exceeding low preseason expectations. It also shows him to be a budding leader. He'll need to be next fall. With the graduation of QB
Matt Scott
, the Wildcats offense will face some uncertainty. Carey will be the first and perhaps second option.
The first-team All-Pac-12 performer didn't get an invitation to the Heisman Trophy ceremony -- "I knew I had no chance," he said -- despite his big numbers against A-list competition, but he certainly will make a number of 2013 preseason Heisman lists. He will be the face of the Arizona program, and his leadership will need to take another, more vocal step.
"I'm definitely ready," he said. "I learned a lot from Matt and the other seniors, just the way they led the team."
But first Carey needs to make sure he leads the nation in rushing.
December, 2, 2012
12/02/12
9:35
PM ET
Nevada Wolf Pack (7-5) vs. Arizona Wildcats (7-5)
Dec. 15, 1 p.m. ET, Albuquerque, N.M. (ESPN)
Nevada take
from RecruitingNation blogger David Helman
: Unlike in 2010, Nevada's upset bid against Mountain West rival Boise State fell just short in Reno. The 27-21 loss capped off a 1-4 finish that saw the Wolf Pack drop from 6-1 to 7-5.
The rushing attack that gained so much notoriety under Colin Kaepernick was at full throttle once again in 2012, as the Wolf Pack boasted the nation's No. 7 rushing attack with 260 yards per game. The bulk of that went to junior running back
Stefphon Jefferson
, who rushed for 1,703 yards and 22 touchdowns. Sophomore quarterback
Cody Fajardo
added 981 yards and 11 touchdowns on the ground to go with an efficient 2,530 yards and 17 touchdowns through the air.
A scoring defense ranked among the worst in the sport is going to be the big regret for this Wolf Pack team. Boise State's 27 points were the lowest output by an opponent in Nevada's losses. The Wolf Pack defense allowed 32, 39, 48 and 52 points in their other four setbacks.
---
Arizona take by Pac-12 blogger Ted Miller:
Arizona had an up-and-down season, one that featured some impressive wins.

The first four losses came to ranked teams. That was justifiable. But losing the finale at home to rival Arizona State quashed some of the momentum built up in new coach Rich Rodriguez's first year.
Still, this team, which entered the season with a highly questionable defense found ways to win -- mostly because of its high-powered offense. Senior QB
Matt Scott
took to Rodriguez's spread-option attack with aplomb, and running back
Ka'Deem Carey
finished second in the nation in rushing.
First, there was a fast start. The Wildcats started 3-0 with wins over Toledo -- it looked better as the season went on -- and Oklahoma State. The Wildcats went to Oregon with high hopes, but were stomped 49-0. They then lost in overtime at Stanford 54-48, but that was double what any other Cardinal foe would score against the conference's best defense.
Arizona then posted impressive wins over Washington and USC. The Wildcats were in the South Division race, which meant they had Rose Bowl hopes. But those mostly died at UCLA after a shocking 66-10 defeat.
The Wildcats bounced back with consecutive wins over Colorado and Utah, but the home loss to Arizona State in the season-finale leaves Arizona needing a bowl win to head into the offseason feeling good about itself.
September, 5, 2012
9/05/12
1:00
PM ET
Cal folk and Stanford folk don't really like being lumped together. Unless the words "Big" and "Game" accompany the two schools in the same sentence, folks from either side of San Francisco Bay would just as soon they not be mentioned together, thank you very much.
This week, however, the Bay Area's two Pac-12 teams find themselves in strikingly similar positions:
Both teams performed well below expectation in Week 1.

Both teams have very winnable games in Week 2.

Both teams have season-defining showdowns in Week 3.
Translation: There ain't much time to get your stuff together.
There is one massive difference that shouldn't be overlooked. Stanford was a winner in Week 1, surviving San Jose State
20-17
. Cal can say no such thing, falling to Nevada
31-24
. But when we take that very important factoid out of the equation, we're left with a couple of teams -- thought to be toward the top of the Pac-12's North division hierarchy -- scrambling to patch holes on Sept. 8 before crucial contests on Sept. 15.
Both teams had issues on defense -- a perceived strength in 2012 for each program. Cal, in particular, had few answers for Nevada and its pistol offense, yielding 220 yards on the ground, including 145 and three touchdowns from running back
Stefphon Jefferson
and 97 yards and a score from quarterback
Cody Fajardo
.
[+] Enlarge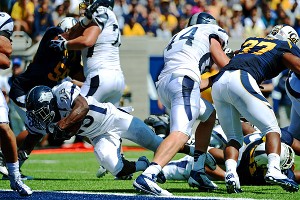 Kyle Terada/US PresswireStefphon Jefferson (25) and Nevada ran all over Cal in its opener on the way to 31-24 victory.
Nevada had 15 offensive drives in the game. Of those 15, five consisted of nine plays or more, four consumed at least four minutes and Nevada's first touchdown came on a 16-play, 80-yard drive that ate up 6 minutes, 13 seconds of clock. Cal's defense allowed the Wolf Pack to convert 11 of 20 third downs -- a point that doesn't sit well with Cal coach Jeff Tedford, who said third-down defense was what frustrated him the most.
"It seemed like last week, what could have gone wrong did," Tedford said. "They did a nice job executing, you have to give them credit. But we couldn't get off the field on third down. They put long drives together."
Across the bay at Stanford, third downs were also an issue -- at least for the offense -- which converted just 2 of 13 chances (15 percent). For a little perspective, last season the Cardinal converted 53 percent.
After taking the opening kickoff 81 yards on 13 plays (6 minutes, 32 seconds) for a touchdown, the Cardinal failed to put a drive together that lasted more than eight plays. Of their 11 offensive drives (not counting the final drive that ended in victory formation), Stanford had four three-and-out drives. For a little more perspective, Stanford had 16 three-and-out drives
all of last season
.
"The best I can say is there was some dissatisfaction with the way that we played," said Stanford head coach David Shaw. "San Jose State played us extremely tough and extremely well. But at the same time, we didn't play up to our capabilities and the positive is we were able to gut out a win and get some stops on defense in the fourth quarter. Those were positives and we ended the game with an interception. But at the same time, we were dissatisfied with our execution."
Both teams are at home in Week 2, with Stanford hosting Duke and Cal hosting FCS Southern Utah of the Big Sky Conference. And just to be clear ...
"We're in no position to overlook anyone after losing last week," said Tedford.
Still, next week is looming. Stanford will play host to USC -- which was ranked No. 1 to start the season -- and Cal travels to Ohio State. Both games have tremendous implications for the rest of the season. For Stanford, it's a chance to silence critics who say the Cardinal will fall back to mediocrity now that Andrew Luck is gone. For Cal, it's a significant out-of-conference game that could bolster the league's national reputation.
Fajardo scorched Cal on zone-read runs. Imagine what
Braxton Miller
will do if the Bears don't tighten up. San Jose State's
David Fales
threw for 217 yards on 24 of 35 passing against the Cardinal.
Matt Barkley
and his wide receivers will be far more formidable.
In other words, if each school performs the way it did in Week 1, Sept. 15 could be a very long day.
September, 1, 2012
9/01/12
8:00
PM ET
Rough Saturday so far for the Pac-12.


NEVADA 31, CAL 24:
Cody Fajardo
,
Stefphon Jefferson
and the
Nevada Wolf Pack
spoiled the grand re-opening of Memorial Stadium.
Fajardo, Nevada's quarterback, rushed for 97 yards on 21 carries with a touchdown and also completed 25 of 32 balls for 230 yards. Jefferson carried the ball 34 times for 145 yards and three scores.
The Bears fell behind 14-0 in the first quarter after Jefferson capped a 16-play drive for the Wolf Pack and then Fajardo scored on a 49-yard run. The Bears were kept off the scoreboard until 4:38 in the second quarter and struggled to keep drives going, converting just 3 of 14 third-down attempts.
Cal quarterback
Zach Maynard
, who didn't start the game because he missed a tutoring session during the summer, came in late in the first quarter and finished the game 17-of-30 for 247 yards and two touchdown passes; one to
Bryce Treggs
and another to
Chris Harper
.
Keenan Allen
(five catches, 69 yards) scored on a 39-yard reverse.
C.J. Anderson
took the bulk of the carries for Cal, carrying 14 times for 66 yards.
Isi Sofele
, a 1,000-yard rusher last season, carried five times for 21 yards.
With the score tied at 24-24, Cal took over at their own 2 with 5:44 remaining and a chance to drive for the lead. But the Bears couldn't get past their own 12. Nevada took the punt and marched 61 yards for the winning score, a 2-yard run by Jefferson.
Cal's defense -- which has been tops in the conference the last two seasons -- gave up 450 yards, including 220 on the ground from Nevada's pistol offense.


COLORADO STATE 22, COLORADO 17:
Speaking of spoilers, the
Colorado State Rams
muscled their way to victory over Colorado in Denver, wrecking the debut of Kansas transfer
Jordan Webb
, who won Colorado's starting quarterback job after just a month on campus.
Webb ran hot-and-cold most of the night, missing his first four passes as the Buffaloes fell behind 3-0 on a
Jared Roberts
47-yard field goal.
Then Webb put it together in the second quarter, coordinating a nine-play, 81 yard drive that ended with a 15-yard dart to
Nelson Spruce
and a 7-3 Colorado lead. Later in the quarter,
Tyler McCulloch
scooped up a one-handed grab on a 9-yard throw to give Colorado a 14-3 advantage.
But Colorado State's pursuit of Webb was relentless, sacking him five times and putting him on the ground several more. He finished 22-of-41 with 187 yards.
Tony Jones
did the bulk of the work on the ground for Colorado, carrying the ball 16 times, but managed just 43 yards. As a team, Colorado mustered just 58 rushing yards and was out-gained by the Rams 298-245.
Colorado re-took the lead in the fourth quarter when
Will Oliver
's 30-yard field goal gave the Buffs a 17-16 advantage. But Roberts converted back-to-back field goals to give CSU the lead and extend the score to 22-17.
Colorado had a chance to drive for the win in the closing minute, but failed to convert on a fourth-and-2 at the Colorado State 39.
PAC-12 SCOREBOARD
Saturday, 12/20
Monday, 12/22
Tuesday, 12/23
Wednesday, 12/24
Friday, 12/26
Saturday, 12/27
Monday, 12/29
Tuesday, 12/30
Wednesday, 12/31
Thursday, 1/1
Friday, 1/2
Saturday, 1/3
Sunday, 1/4
Monday, 1/12
Tweets from https://twitter.com/ESPNCFB/lists/pac12