June, 27, 2013
6/27/13
7:00
PM ET
We continue our series taking a closer look at each Pac-12 team's nonconference schedule.
Stanford
San Jose State, Sept. 7
Coach: Ron Caragher, first year
2012 record: 11-2, 5-1 WAC
Returning starters: seven offense, six defense
Offensive headliner: Quarterback David Fales returns as the FBS's most accurate quarterback from 2012. Last year he completed 72.5 percent of his throws while tossing 33 touchdowns and 4,193 yards.
Defensive headliner: Defensive tackle Travis Raciti returns after earning All-WAC honors last season. He posted 13 tackles for a loss and 8.5 sacks.
The skinny: Mike MacIntyre revitalized the struggling program and in three years had them at double-digit wins. Now Caragher shepherds them into the Mountain West Conference. Stanford has dominated the Bill Walsh Legacy Game -- though the Spartans gave them quite the scare last season. The Fales-to-Noel Grigsby connection could end up being one of the most dangerous in the country and should not be taken lightly.
at Army, Sept. 14
Coach: Rich Ellerson (17-32) fifth season
2012 record: 2-10, Independent
Returning starters: seven offense, eight defense
Offensive headliner: Running back Raymond Maples is just the third Army player in school history to post consecutive 1,000 yard seasons after rushing for 1,215 yards and two touchdowns last year, averaging 5.4 yards per carry.
Defensive headliner: Defensive back Geoffrey Bacon returns after leading Army with 136 tackles last year -- which was fifth nationally in tackles per game at 11.3. This year he's moving from linebacker to the secondary.
The skinny: Despite the record, Army still had the No. 1 rushing attack in the country last year, averaging almost 370 yards on the ground per game. Match that against a Stanford front seven that was fifth nationally against the run and second in tackles for a loss and there should be plenty of helmet paint being traded.
Notre Dame, Nov. 30
Coach: Brian Kelly, (28-10), fourth year
Returning starters: six offense, eight defense
2012 record: 12-1, Independent
Offensive headliner: We talked about left tackle Zack Martin in the ASU nonconference primer. He'll be clearing the way for George Atkinson III, who averaged 7.1 yards per carry last year and scored five touchdowns on 361 rushing yards.
Defensive headliner: We mentioned Stephon Tuitt and Louis Nix in the ASU article. Nix is phenomenal at stopping the run, which is worth noting again, given what the Cardinal will want to do on offense.
The skinny: Stanford head coach David Shaw pointed to the Notre Dame game last year -- and its highly-controversial ending -- as a turning point for the Cardinal's run to the Rose Bowl. This one is the season finale for both teams so it's possible that it could have national-championship implications for both squads.
Thoughts
: A fairly challenging nonconference slate. Remember after the season opener last year, we were all wondering what was wrong with Stanford? Turns out San Jose State was pretty darn good. Shaw told us, we didn't listen. Considering who the Spartans have coming back, chances are they'll be good again. Interestingly enough, Caragher replaced Jim Harbaugh and Shaw at USD after the duo left for Stanford, so there's your Kevin Bacon moment for this game. Army doesn't pose much of a threat on the field and, of course, the Notre Dame game was one of the most controversial matchups in all of college football last season. The Cardinal are legitimate BCS championship contenders. Should they top San Jose State -- which should be considered a quality win, or at least, not a cupcake win -- it points them in the right direction heading into a difficult Pac-12 slate. Should they escape that unscathed, a home date with the Irish could determine Stanford's postseason placement. And for a team looking to add a fourth-straight BCS game, nay
the
BCS game, only 3-0 will do.
June, 19, 2013
6/19/13
7:00
PM ET
We continue our series taking a closer look at each Pac-12 team's nonconference schedule.
Arizona State
Sacramento State, Sept. 5
Coach: Marshall Sperbeck (30-37), seventh year
2012 record: 6-5, 4-4 Big Sky
Offensive headliner: Running back Ezekiel Graham is the top offensive threat, rushing for 861 yards and five touchdowns last season. Not huge numbers, but he also makes his mark as a receiver out of the backfield, catching 40 balls for 406 yards and two touchdowns last year.
Defensive headliner: Linebacker Todd Davis has led the Hornets in tackles the past couple of seasons and there's little reason to think he won't again. He posted 103 tackles last year -- including an impressive 13.5 for a loss.
The skinny: Not to worry. It's just an FCS team, right? Well, considering the Hornets have beaten Pac-12 teams in back-to-back years, that should at least perk the ears of ASU up a little bit. They topped Oregon State 29-28 in overtime in 2011 and then a year later beat Colorado, 30-28, on a walk-off field goal by a walk-on kicker. The chance of an upset isn't likely. But the history suggests enough to not sleepwalk through this game.
Wisconsin, Sept. 14
Coach: Gary Andersen, first year
Returning starters: eight offense, six defense
2012 record: 8-6, 4-4 Big Ten
Offensive headliner: Wide receiver Jared Abbrederis headlines a pretty deep wide receiving corps. A first-team All Big Ten selection last year, he caught 49 balls for 837 yards and five touchdowns. The former walk-on QB is tops among all active FBS players with an average of 16.7 yards per catch. He's also a dangerous punt returner.
Defensive headliner: Linebacker Chris Borland needs 144 tackles this season to become Wisconsin's all-time leader. He's forced 14 career fumbles -- the most in school history and most among active NCAA players.
The skinny: Andersen was a hot name among potential Pac-12 coaching vacancies, but last year's WAC coach of the year instead ended up in the land of cheese. Last year the Badgers became the third Big Ten team to play in three consecutive Rose Bowls -- though they lost all three, including to Stanford last season and Oregon in 2011-2012. New offensive coordinator Andy Ludwig also has strong ties to the Pac-12, having worked at Cal, Utah and Oregon.
Notre Dame, Oct. 5 (In Arlington, Texas)
Coach: Brian Kelly (28-10), fourth year
Returning starters: six offense, eight defense
2012 record: 12-1 Independent
Offensive headliner: Skill position players are more fun to talk about, but left tackle Zack Martin will be starting for the fourth straight year and he's a captain. Watching him against ASU's defensive front will be a great game within the game.
Defensive headliner: Take your pick between defensive end Stephon Tuitt or noseguard Louis Nix. Both are elite playmakers and present a defensive front that rivals the talent and athleticism of ASU's.
The skinny: The last time we saw Notre Dame, it was getting run up and down the field by Alabama in the BCS National Championship Game. But before that, the Irish were perfect -- including wins over Stanford and USC. Though they tiptoed through quite a few rain drops along the way -- and haven't had the quietest of offseasons -- this should be a game of national interest. Both teams will have already played tough games (ASU: Wisconsin, at Stanford, USC; Notre Dame: at Michigan, Oklahoma) but a potential meeting of Top-25 teams on a neutral site will draw plenty of intrigue.
Thoughts
: No, I don't think Sacramento State will make it three in a row. ASU should out-distance and out-muscle the FCS squad fairly early. But the rest of the nonconference slate will get the Sun Devils some national attention. The Wisconsin game is intriguing. But because what the Sun Devils bring to the table -- that's a very winnable game. Notre Dame is the really interesting one. Not only because of the
little bit of nastiness
that's built up between the programs in recent weeks, but because it's on a neutral site and it comes after three straight games against Wisconsin, at Stanford and home to USC. That's a brutal gauntlet that could either propel ASU into the national spotlight or leave them scrambling to pick up the pieces. A 3-0 record is very possible. Going 2-1 is probable and 1-2 is the worst-case scenario (we're not even putting 0-3 on the table).
November, 22, 2011
11/22/11
6:24
PM ET
Notre Dame enters Saturday's regular-season finale at Stanford as an underdog for the first time this season. But Brian Kelly is not quite playing the us-against-the-world card this week.
"I don't know that I see ourselves as a spoiler, to be quite honest with you," Kelly said Tuesday. "We have a great deal of respect for Stanford, and they've earned everything. They're a darn good football team. We see this as just another opportunity to play our last regular-season game. I know our guys are excited. It's a relevant game in November and it's on national television. That gets 18-21-year-olds' attention more than being a spoiler so to speak."
[+] Enlarge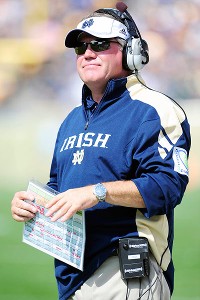 Jeanine Leech/Icon SMI"It's a relevant game in November and it's on national television," Brian Kelly said. "That gets 18-21-year-olds' attention more than being a spoiler so to speak."
The stakes are high, but they are also unclear. The No. 6 Cardinal (10-1) are likely playing for a spot in a BCS-bowl game. The No. 22 Irish? At 8-3, there is a very remote chance they could jump eight spots and become BCS-bowl eligible themselves with a win -- with an emphasis on the
very remote
part.
More pressing, however, is the validation that would come with a road win over a top-10 opponent in the second year of a new regime, which would also give the Irish a chance at a 10-win season.
They finished last season on a four-game winning streak to go 8-5.
"Well, it's still about, for us, you know, preparing the right way and then performing on Saturdays," Kelly said. "I've said this a number of times. I like the way we've prepared. We haven't performed on Saturdays the way we need to consistently. We're showing that at times.
"This is just another one of those — it's not a referendum on our season, but it's another step towards where we want to be in consistency in November. We have done very well in November, and we want to continue to build on that in this game against Stanford."
Notre Dame has won all six of its November games since Kelly took over. The second-year Irish coach has actually won 16 straight regular-season contests in November and December, dating back to 2007, when he coached Cincinnati.
He has already faced quarterback
Andrew Luck
, the likely top NFL draft pick and a strong Heisman Trophy contender.
Luck has completed more than 70 percent of his passes this season, throwing for 2,937 yards, 31 touchdowns and just eight interceptions, and he will likely be playing the final home game of his career.
In a 37-14 win at Notre Dame last season, Luck was 19-for-32 for 238 yards, with one touchdown and two interceptions.
"Boy's under pressure more than anything else," Kelly said. "Some of the throws that he made against us last year. We brought an allout blitz inside the 15-yard line, and we had a freeblitzer and he just kept back-pedalling and hit a tight end on a choice route in the end zone.
"That's poise under pressure. He has the ability to make the throws when he's under duress as well. And to have that, you've got to have the skill, but also the utmost confidence in your ability. He has all this intrinsic things necessary to be a great quarterback."
The onus on Notre Dame's quarterback,
Tommy Rees
, may be heavier this week. Starting running back
Jonas Gray
's season is over after tearing the anterior cruciate ligament in his right knee Saturday, and a pair of unproven freshmen —
George Atkinson III
and
Cam McDaniel
— will back-up junior
Cierre Wood
.
Freshman end Stephon Tuitt's status is uncertain after missing the last game with an illness as well.
"It's huge," Rees said after Saturday's game. "To go finish November strong, finish the season strong against a good opponent, and I think it would just give us some momentum heading into a bowl, and we look forward to it just like any other opponent. We can't focus too much on everything that's going around us. We're ready to play another football game."