March, 7, 2014
Mar 7
2:30
PM ET
December, 16, 2011
12/16/11
4:05
PM ET
By
ESPN.com staff
| ESPN.com
Some links of interest from LA.
First, USC defensive end Nick Perry has
opted to enter the NFL draft
, joining offensive tackle Matt Kalil as Trojans who are bypassing their senior seasons.
Neither was a surprise. And odds are that quarterback Matt Barkley and safety T.J. McDonald will join them. But who knows? Every year someone opts to stay who was expected to go.
The deadline to declare is Jan. 15; the deadline to pull out of the draft once declared is Jan. 18.
On the other side of town, the news is good at UCLA: ESPN.com West Coast recruiting expert Greg Biggins reports that Jim Mora's new staff hires are
striking a positive note in recruiting
.

Mora hired three coaches -- Adrian Klemm (from SMU), Steve Broussard (Arizona State) and Demetrice Martin (Washington) -- who rank among the nation's best recruiters. That is something the Bruins have lacked in recent years.
Former coach Rick Neuheisel was actually the Bruins' best recruiter the last four years, but the head coach can only do so much of the leg work and there was a sizeable drop after him and the rest of the staff. Former coach Karl Dorrell had Jon Embree and Eric Bieniemy, both of whom were excellent recruiters, but there has always been the feeling that UCLA went after players it thought it could get the easiest, rather than working to land the top, blue chip athletes. It's always important to know who you can and can not get, but it's also good to have some grinders on the staff who will outwork everyone else and won't take no for an answer.
Biggins doesn't just write this as an opinion, by the way. He talked to a number of recruits, including some committed to other Pac-12 schools, who are now looking at the Bruins.
December, 16, 2011
12/16/11
10:45
AM ET
New UCLA coach Jim Mora is putting his staff together quickly with names most Pac-12 fans will recognize.

His hires of Demetrice Martin (secondary), Adrian Klemm (offensive line), Inoke Breckterfield (defensive line), Marques Tuiasosopo (tight ends) and Steve Broussard (running backs)
have been announced
. The Arizona Republic also reported that the expected move of Arizona State offensive coordinator Noel Mazzone to the
same position with the Bruins is now done
.
That's six of nine spots filled. The biggest remaining one is defensive coordinator.
December, 14, 2011
12/14/11
6:04
PM ET
By
ESPN.com staff
| ESPN.com
Jim Mora is quickly filling out his staff, and doing so impressively.
Three hires have been confirmed: Adrian Klemm (offensive line, formerly at SMU), Demetrice Martin (defensive backs, formerly at Washington) and Steve Broussard (running backs, formerly at Arizona State).
The LA Daily news has reported
two others: Noel Mazzone (offensive coordinator, formerly at Arizona State) and Marques Tuiasosopo (tight ends, formerly an intern at UCLA who is presently serving as QBs coach).
Simply put: These are five extremely strong hires, both in terms of recruiting and coaching. And they each are college guys, though Klemm, Broussard and Tuiasosopo had solid NFL careers in the not-too-distant past. Mazzone also has coached in the NFL. Mora, an NFL lifer, will benefit from having staff members who know college football and the Pac-12.
Four of five, notably, are on offense. How Mora handles the defense will be interesting. He's a defensive guy, so he'll know a lot of NFL defensive coaches. But, as has been frequently noted, there are lot more funky offenses in college than in the NFL. Veteran NFL defensive coaches won't know as much about the no-huddle, up-tempo, spread and spread-option attacks that area all over college football and the Pac-12.
You'd think Mora would want a good mix of NFL and college guys on defense. That said, good defensive coaches can adapt -- see Clancy Pendergast at California and Vic Fangio at Stanford before he followed Jim Harbaugh back to the NFL. In fact, it seemed that USC's Monte Kiffin had a far better grasp of things in year two than year one.
December, 14, 2011
12/14/11
10:38
AM ET
By
ESPN.com staff
| ESPN.com
While the hiring of Jim Mora by UCLA has received a lukewarm greeting from some Bruins fans, his first two assistant coach hires shouldn't.
Mora has hired SMU offensive line coach and recruiting coordinator Adrian Klemm as its new
offensive line coach and run game coordinator
and Arizona State wide receivers coach Steve Broussard as the Bruins
running backs coach
, Jon Gold of the LA Daily News reported. And, also from Gold,
here's why these are good hires
.
These are two top recruiters with considerable experience in Southern California. Further, Klemm, one would think, might provide some access to Texas, if the Bruins opt to cast a wider recruiting net.
And please allow your humble Pac-12 blogger interject here.
Because of UCLA's high academic standards, Mora might be wise to look at UCLA as being closer to Stanford than to USC in terms of recruiting strategy, and therefore become a more active national recruiter. Say like into the Southeast and Texas, as Stanford has done --a certain QB you may have heard of.
Gold notes this from Klemm's bio: "Klemm was drafted in the second round of the 2000 draft by the New England Patriots, and played in the NFL for five seasons. He began coaching in 2008 and quickly moved up the ranks, ultimately being named Rivals.com's top non-BCS recruiter in 2010."
As for Broussard, he was widely regarded as a
key player for the recent uptick in ASU recruiting
. A former Washington State and eight-year NFL running back, he knows the lay of the West Coast recruiting landscape and can also talk to young athletes specifically about playing on Sundays.
Further, it appears that Sun Devils offensive coordinator Noel Mazzone is in play for UCLA,
as well as a couple of other schools
.
One knock against Mora was his lack of college coaching experience. It appears with his early hires, he's surrounding himself with assistants who can compensate for that.
December, 13, 2011
12/13/11
5:53
PM ET
By
ESPN.com staff
| ESPN.com
Anyone else ready for Arizona State to hire a coach? Me too.
Anyway,
here's a nice update
on the state of things from the Arizona Republic's Doug Haller. The gist? Lots of smoke but little visible fire with the search for a head coach -- it seems candidates from the NFL have suddenly become popular -- but the Sun Devils apparently are about to lose two of their best assistant coaches to UCLA: offensive coordinator Noel Mazzone and receivers coach Steve Broussard.
Nothing has been confirmed, but Haller writes:
It's possible -- maybe even likely in Broussard's case -- that the coaches are waiting for an official announcement. Both UCLA and ASU are preparing for bowl games. The Bruins meet Illinois in the Dec. 31 Kraft Fight Hunger Bowl, while the Sun Devils meet Boise State in the Dec. 22 Maaco Las Vegas Bowl.
Both Broussard and Mazzone have expressed desires to stay at ASU. Broussard, who put together much of ASU's 2012 recruiting class, has a daughter in school here, but he also is from Los Angeles.
Mazzone recently bought a house in the Valley. He'd also like to continue his development of ASU quarterback Brock Osweiler, who he thinks should be an All-American candidate next season.
Both are coaches who won't have any trouble landing a job. And if Jim Mora lands both, he will have immediately done something that should raise optimistic eyebrows among UCLA fans.
Broussard has been a great recruiter for the Sun Devils, and Mazzone has done wonders with the once-anemic offense in just two years. Osweiler has been trying to tell anyone who will listen he wants Mazzone to remain in Tempe.
August, 26, 2011
8/26/11
10:00
AM ET
Oregon State quarterback
Ryan Katz
laughs. Yeah, he remembers receiving a head-butt from Arizona State linebacker Vontaze Burfict after a play last season.
"That started before the game, though. He was on the sidelines talking and everything," Katz recalls.
[+] Enlarge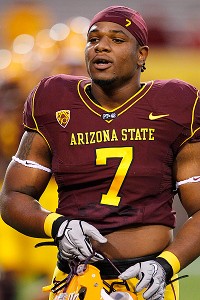 Rick Scuteri/US PresswireArizona State is counting on a drama-free season from star linebacker Vontaze Burfict.
He then pauses. Katz is a sharp guy who favors giving reporters vanilla answers. But it's not hard to hear the wheels turning. He's being goaded to spice things up and he's considering whether than might be fun or not.
He takes a pass. Said Katz, "It's just competitive juices flowing. I don't take it personally. Things happen. I know he's an emotional player. He was just trying to get in our head."
Just about everyone who has played or coached against Burfict has a story. Many are about his breath-taking skills that rate the 6-foot-3, 252-pound true junior perhaps the nation's best linebacker, one with an NFL All-Pro future. But others are about him being unhinged, his intensity so overwhelming his self-control that he often hurts his team with his antics.
The head-butt to Katz, in fact, convinced Dennis Erickson, a coach not typically thought of as a strict disciplinarian, to take away Burfict's starting job last fall (albeit briefly).
A few weeks later, in a tight game with Stanford, Burfict was called for a critical face-mask penalty. It was a bad call, but Burfict couldn't resist the urge to point that out to officials, which earned him an unsportsmanlike conduct penalty on top of the face mask, which gave Stanford the ball on the Sun Devils' 7-yard line. Shortly thereafter, Stanford pushed in the game-winning score, foiling a potential major upset that also would have earned the Sun Devils bowl eligibility.
In a highly competitive game with Oregon, Burfict spent a lot of time focusing on the Ducks' sideline, including mocking coach Chip Kelly's well-publicized method of signalling plays with random graphics on a large poster board.
Want more? Go to YouTube. If you search Vontaze Burfict, you'll find a long list of great plays and dubious behavior caught on film -- both noticed and unnoticed by officials.
"A lot of people ask about Vontaze -- from Oregon, from other places," said former Ducks and current Sun Devils wide receiver
Aaron Pflugrad
. "They are like 'What's up with this guy?' He's a shy, quiet guy off the field, but he's just a monster on it. That's the only way to explain it. I've never played with anyone like him before."
While Burfict loves to talk, intimidate and get inside opponents' heads, he's not so chatty or revealing about his own state of mind off it. After a spring and offseason when he worked with the school's sports information office and granted more interviews than he did his first two years, he has turned down interview requests -- including one from the Pac-12 blog -- this summer.
While part of that is because Burfict is reclusive and insecure with public speaking, another part involves things he doesn't want to talk about, including a locker room fight with 200-pound receiver
Kevin Ozier
, which the school attempted to downplay. Since that incident, reports of
other off-field skirmishes
, including a practice altercation with receivers coach Steve Broussard -- which Erickson told reporters was "totally ridiculous" -- have surfaced.
All this has clouded a storyline that Erickson and ASU officials had been working on since the spring: Burfict as team leader, a role even more required of him after cornerback Omar Bolden and linebacker Brandon Magee went down with season-ending injuries.
Said Erickson at Sun Devils media day, which Burfict chose not to attend: "He's matured a whole heck of a lot. I'm really proud of how he's matured." That was just days after the locker room fight.
Fellow linebacker Shelly Lyons, like Magee a former Burfict teammate at Centennial High School (Corona, Calif.), was asked what Burfict needs to work on this season.
"I would say when he gets frustrated," Lyons said. "He really has all the attributes as a player -- size, speed, he can hit. So I'd just say that when he gets frustrated to take it easy. The referees have a target on him. He's got to hold it back this year."
Last season, Burfict led the Sun Devils -- and was ninth in the Pac-10 -- with 90 tackles, including 8.5 for a loss. He also forced two fumbles. While there are some holes in his game -- his frenetic style sometimes gets him out of position -- physically, he's a finished product, one whose ability screams he's a certain top-15 NFL draft pick.
But the lack of self-control, on and off the field, will be an issue with NFL general managers.
If Burfict can fully focus his ability and intensity on what happens between the whistles, he could win the Butkus Award as the nation's best linebacker. And the Sun Devils' defense, despite injuries, could become one of the top units on the West Coast.
If that happens, Burfict and the Sun Devils will have a happy ending: Perhaps a Pac-12 South Division title and a high draft pick.
"Hopefully this year it's controlled insanity and he doesn't go after a player or anything," Pflugrad said.
If it isn't, well, it's still likely to be great theater.
February, 17, 2011
2/17/11
7:08
PM ET
Scott Brown, who's coached the past four seasons at Colorado State, is Arizona State's new defensive line coach. He replaces Grady Stretz, who left to take the same position with the Tampa Bay Buccaneers.
Brown, 59, was at Duke 12 years before arriving at Colorado State. He's also coached at Minnesota and TCU.
"Scott Brown brings a wealth of knowledge to Arizona State on coaching defensive line play," head coach Dennis Erickson said in a statement. "Everyone I spoke with talked about his work with the players and how much they learned from him. Scott will be a tremendous help to Craig Bray in our game planning during game week. I was extremely impressed with his ideas and concepts of a defense. He brings us so much more than just a position coach in that regard. He gave us a very impressive interview. Our defensive linemen, who met with Scott while he was on his interview, were very impressed with his style and his passion for the game. They were ready to play immediately."
Erickson also cited Brown's recruiting experience in Texas.
"He has recruited the state of Texas for 30 years," Erickson said. "He has extensive contacts there and not just in a certain area, but in the entire state of Texas. Trying to get into the state of Texas with no connections is difficult. With Scott's connections we will have instant credibility in that state."
The
Arizona Republic
reported that "Brown likely won't replace Stretz as recruiting coordinator. Those duties could fall to receivers coach Steve Broussard or running backs coach Bryce Erickson."
August, 4, 2010
8/04/10
10:00
AM ET
By
ESPN.com staff
| ESPN.com
Arizona State opens preseason camp today. Here's a quick look.
Who's back
: Three starters on offense, four on defense and both specialists.
Big names
: LB Vontaze Burfict, DT Lawrence Guy, K Thomas Weber, P Trevor Hankins

What's new
: New offensive coordinator Noel Mazzone has been charged with fixing an offense that has struggled mightily for three consecutive seasons. Also new are linebackers coach Trent Bray and receivers coach Steve Broussard.
Key competition
: Sophomore
Brock Osweiler
and junior Michigan transfer
Steven Threet
were in a dead-heat at the end of spring practices. Threet entered spring as a solid favorite, but Osweiler, who struggled in his one 2009 start, surged and made the competition wide-open. It wouldn't be surprising if both saw action in the Sun Devils first two games, which are both against FCS foes.
Breaking out
: Brandon Magee and Shelly Lyons will flank Burfict at linebacker and give the Sun Devils an athletic threesome. Oregon transfer
Aaron Pflugrad
should give the receiving corps a boost. CB Omar Bolden is back after missing most of 2009 and he looked good during spring drills.
Quote
: Coach Dennis Erickson on the QB competition: "You'd like to name one before the first game, but you never know. The good thing is that we have two good quarterbacks and that will help us as the season goes on."
Notes
: The Sun Devils lost their top-two guards to knee injury: Jon Hargis and Zach Schlink... Bray is defensive coordinator Craig Bray's son as well as a former two-time All-Pac-10 linebacker for Oregon State... The Sun Devils have the fewest returning starters in the Pac-10... They are coming off their first consecutive losing seasons since 1946-47... Erickson hadn't posted consecutive losing seasons in 19 years as a head coach until last year... The Sun Devils lost four games by five or fewer points, including three on late field goals in 2009... ASU was tapped ninth in the preseason Pac-10 media poll.
April, 16, 2010
4/16/10
2:30
PM ET
By
ESPN.com staff
| ESPN.com
February, 11, 2010
2/11/10
12:53
PM ET
By
ESPN.com staff
| ESPN.com
Arizona State officially announced Thursday that it hired Steve Broussard as its receivers coach, which was widely
reported a week ago
.
Broussard is a former NFL and Washington State running back. He will replace Eric Yarber, who was hired by the Tampa Bay Buccaneers.
You can read the
school's release here
.
February, 5, 2010
2/05/10
10:28
AM ET
By
ESPN.com staff
| ESPN.com
Steve Broussard is leaving Washington State for Arizona State, where he will become the Sun Devils' receivers coach, the
Spokesman Review reported
.
Broussard will replace Eric Yarber, who was hired by the Tampa Bay Buccaneers this week.
Broussard is a former Cougars and NFL running back and coached that position at Washington State.