February, 14, 2014
Feb 14
5:30
PM ET
Greetings. Welcome to the mailbag.
Follow the Pac-12 blog on Twitter
.
To the notes!
Haggmeez from Cincinnati writes:
What are your thoughts on the proposed new 10-second defensive substitution window rules, or what I'm calling "The Oregon Rule." Please explain to me how teams with smaller, faster players can ever expect to beat teams with bigger, stronger players if speed is not a viable weapon. I feel like I'm watching Nick Saban tell Chip Kelly to get off of his lawn in slow motion. Please make it stop. Football needs FEWER esoteric rules instead of more.
[+] Enlarge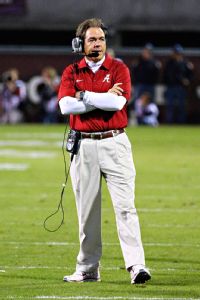 Spruce Derden/USA TODAY SportsNick Saban would not win any popularity contests on the West Coast.
0006shy from Los Angeles writes:
I just saw the proposed rule change to punish hurry-up offenses. What a joke! What an absolute joke! If the NCAA truly cares about player safety then they should ban games against FCS teams (USC, UCLA and Notre Dame have NEVER played an FCS team.) Nick Saban's five-star athletes pounding Chattanooga players for 60 minutes creates far more serious injuries than a no-huddle offense ever will.
John from Eugene, Ore., writes:
Please, reassure us Pac-12 fans that this ridiculous rule change intended to slow down uptempo offenses is not going to pass. Please tell me that just because the rest of the football world seems to worship the ground Nick Saban walks on, that doesn't mean that the NCAA will pass rules that give him exactly what he's whining for? I can't imagine I'm the only person writing in on this. There's no way this proposed change is actually made, is there?
Ted Miller
: Don't forget Arkansas coach Bret Bielema.
He's as much behind this as Saban
.
Further, yes, it is notable that the sudden concern for player safety comes from coaches who don't run uptempo attacks and have been gashed by them over the past few seasons. Hmm.
And, yes, their motives are, at best, 97.6 percent disingenuous. Bielema and Saban, a fantastic football coach who reportedly once ignored and
stepped over a convulsing player
, and others who support this proposed rule change, are doing so to gain a strategic advantage. Pure and simple.
The diversity of schemes in college football is one of the biggest reasons the sport is so popular. I can tell you without any doubt whatsoever that the sport would not be as popular -- probably not nearly so -- if everyone ran Alabama's or, yes, Stanford's offense.
A fast-paced game not only is fan-friendly, it -- as Haggmeez notes -- gives teams that rely on smaller, faster players a better chance to compete with teams with a gaggle of five-star recruits with NFL measurables.
As uptempo coaches such as Arizona's Rich Rodriguez have noted, if you really are concerned about player safety, make blitzing illegal. That would reduce the number of blow-up shots during game by 30 percent, a number that was arrived at with just as much science as went into this effort to thwart uptempo offenses.
Do I think it will pass? No.
But the NCAA is involved. It's presence tends to inspire stupid and/or disingenuous things to happen.
---
Andrew from Agoura Hills, Calif., writes:
Very happy to see that my top 25 list ran this past week
(for the second year in a row, might I add). Obviously, since I kept all the same players on my list as the official Pac-12 Top 25, I didn't have any major problems with it. My question is in regard to the logic behind the order of some of the choices. In your response to my list, you mentioned that most people would probably pick
Marcus Mariota
first if holding a conference draft, and I tend to agree with that. But in that same scenario, someone like
Marqise Lee
would certainly be among the top 10 picks too, and I don't think he belongs in the top 25 for this past season. Later, you continue to assert that
Will Sutton
belongs ahead of
Leonard Williams
, even though (I assume) you and Kevin were responsible for Williams being named an ESPN first-team All-American. I guess my question is, when does production/accolades overshadow potential/other intangibles (like positional value), and when is it the other way around?
Ted Miller
: Don't expect perfect logic. There are a variety of considerations -- many subjective -- that go into our weekly power rankings of teams, as well as our top-25 ranking of players.
It's a blend of factors such as postseason accolades, statistics, NFL prospects, positional value and a player's pure value to his team. Kevin doesn't consider NFL prospects as much as I do, though I think of that consideration as more of my mental draft picking -- as in, who would I pick first? -- when making a tough distinction.
That was my thinking for Mariota over Arizona RB
Ka'Deem Carey
. You could argue that Carey was more accomplished in 2013, but I'd still say that Mariota's numbers plus his overall value, which is augmented by his playing the most important position, give him the edge.
You noted Marqise Lee. Good question. Lee, in terms of talent and potential, certainly is among the top 25 players in the Pac-12. Probably top 10. But you have to take into account what he actually did this season. His numbers, in large part due to poor QB play and injuries, were not very good. So his down numbers get prioritized over his talent, knocking him off this list.
In some ways, my "draft" idea also overlaps with production -- what a guy actually did that past season. And poor production mutes pure talent factors. See also, Thomas, De'Anthony.
Similar reasoning, by the way, also cost Stanford DE
Ben Gardner
. The coaches still gave him a first-team All-Pac-12 nod, despite his missing the season's final six games because of injury, but we pretty much ruled him out because of that. Not his fault, but that still seems reasonable to me.
As for Sutton and Williams, most would project Williams having a higher NFL upside. He also had slightly better numbers than Sutton this year, though Williams was a defensive end and Sutton a tackle. Yet what kicked Sutton up a notch was the simple fact he -- again -- was named the Pac-12's Defensive Player of the Year by the coaches. That was slightly surprising, but it also was something that validated the idea that Sutton's numbers were down from 2012 because of blocking schemes that were obsessed with him, an invaluable benefit for a defense.
Are we always 100 percent consistent? No. But we do try.
---
Jonathan from New York writes:
With respect to your concerns about Stanford being able to replace
Tyler Gaffney
's productivity at the running back position, I wonder if you had any insight into whether
Barry Sanders
has the potential to have a 1,500-yard season. It's true that Coach Shaw didn't give him enough carries this year to come to any conclusions, and even on the punt return unit he mostly had fair catches. But I don't know whether Sanders had such little playing time because Gaffney was just so dependable and successful, or whether it was because Sanders was not showing much potential in practice. Perhaps you don't know any more than I do, but I'd be curious for your take if you have any thoughts.
Ted Miller:
My guess is Stanford won't have a back gain 1,500 yards next year. My guess is it will be more of a committee effort. I also think the Cardinal still will run the ball well, just not in the Toby Gerhart, Stepfan Taylor, Tyler Gaffney one-workhorse way.
Of course, in advance of the 2014 season, I expected it to be 60-40 between Gaffney and backup
Anthony Wilkerson
. Gaffney just played too well to take him out.
As for Sanders, I really have no feeling for how things will play out for him next fall. While it's fun to imagine him being a clone of his father, perhaps the most thrilling ball-carrier in NFL history, it's probably unfair to expect him also to have once-in-a-generation talent.
Sanders will be competing with
Remound Wright
and
Ricky Seale
for carries, and I've heard little that suggests one is leaps and bounds superior to the other. They seem to have complementary skill sets, so that suggests they each get touches. As the season progresses, one would expect a more clear pecking order to develop.
This, by the way, is a good review
of where the Cardinal stands at running back heading into spring practices.
---
Mitty from Saint Joe, Calif., writes:
Which Pac-12 fan base do you most like to target with passive-aggressive shots? I've only noticed one. Kevin will get the same question because he targets the same fan base.
Ted Miller
: Passive-aggressive? Moi?
I've always thought of myself as aggressive-aggressive, though my fuse, thankfully, has grown longer in my fourth decade.
Kevin and I, on occasion, discuss tweaks, insults and rants directed at us in the comment sections or elsewhere, but it takes up less of our time than you might think. We don't hold grudges. We really do try our best to remain as objective and fair as possible with all 12 teams. I've never heard anything from an official representative of a school -- coach, AD, sports information director, etc. -- suggesting we were being unfair or favoring or disfavoring a program. That's a fact we take a lot of pride in.
What I have noticed is that fans of teams that aren't doing well tend to think we are unfair to their team, whether that's about win-loss record or recruiting. The inescapable fact is teams that are winning get more coverage, just as teams that sign highly ranked recruits get more attention on national signing day.
Of course, more coverage for a team probably means more of their fans are showing up on the blog, and fans come in all forms. There clearly has been an "Oregon Effect" since the blog started in 2008. Ducks fans, by my unscientific estimates, seem to be the most active here, expressing both love and hate for your gentle bloggers.
But mostly love. Because it's impossible not to, in the end, love the Pac-12 blog.
---
GoCougs from Chandler, Ariz., writes:
Kevin forgot about one Pac-12 alum's participation in the Super Bowl.
Please pass on the love for Steve Gleason
.
Ted Miller
: Great stuff.
Gleason is an inspiration. An all-time great.
February, 1, 2013
2/01/13
2:30
PM ET
March, 2, 2012
3/02/12
6:45
PM ET
By
ESPN.com staff
| ESPN.com
Happy Friday.
Follow me on
Twitter here
.
To the notes.
Derek from Pullman writes
: I was just offered a fellowship at the U of Utah for graduate school. I also wanted to buy into the Coug Athletic Fund after I graduate from WSU. The problem is that I feel like I'm stealing from one girlfriend to help out my other girlfriend. Even worse, they live on the same block and see each other several times a year at various sporting events. What is the proper etiquette in this situation?
Ted Miller
: I'm viewing this question as one about potentially divided loyalties: What are the rules for having an undergraduate degree from one Pac-12 school and a graduate degree from another?
My position goes like this: 1. Your No. 1 school is the one you grew up rooting for; 2. But if you grew up, say, a UCLA fan yet then got your undergraduate degree at USC, you have a one-time right to declare a change; 3. If you try to change more than once -- say rooting for the team that is doing better at the moment -- you are committing a breach of etiquette; 4. The same goes for undergrad and graduate schools, though most would say the undergrad should hold precedent. You have a one-time right to change your allegiances.
The undergrad-graduate dilemma doesn't have to be horrifying, though. It does, in the mind of the Pac-12 blog, give you a justification for something that makes many uncomfortable: You have a right to claim a second favorite team, though sports philosophers and theologians have been debating sports polygamy for millennia. Socrates believed a person could root for two teams, as did Kierkegaard. Descartes -- best known for stating, "I read the Pac-12 blog, therefore I am" -- said otherwise, as did Nietzsche, who scholars only recently discovered was an obsessive troll on many sports message boards.
In other words, Derek, you can go to Utah games and even cheer, though preferably without much gusto. There, rightly, should be a bit of an existential crisis over wearing the colors. And when the Utes and Cougs play, you don the Crimson & Gray "In Leach We Trust!" shirt and proudly walk into Rice-Eccles Stadium. Though you might want to steer clear of the MUSS on such occasions.
Or you can decided to dump your Cougs in favor of the Utes, a divorce that can happen but once in your lifetime.
JJ from Tumalo, Ore., writes
: Ted, does Les Miles have nasty pictures of you? Les is a magnificent recruiter with a major recruiting pool to draw from. But as a game planner and manager he is suspect at best. Did LSU win at Bama last season or did the Tide lose the game? The BCSCG result seems to confirm that Bama choked at home.Why do you think LSU's passing game will be much better next season? if [QB
Zach Mettenberger
]
was all that he'd still be at UGA, no? Is there a coach on the LSU staff who can coach a top drawer pass offense? The was much disharmony coming from the LSU team during and after the BCSCG. This was a poorly as coached a team as I have seen since TOSU was blown out by Florida. What do you think a guy like Riley could do with Les' talent?
Ted Miller
: Les Miles is 75-18 at LSU. Before he arrived in Baton Rouge, he rebuilt Oklahoma State into a winner from nothing. He's won a national title. This past season, LSU put together the most impressive regular season that I can remember -- perhaps of the modern era. And, by the way, he did that with mediocre-to-poor QB play, which is astounding.
Yes, the Tigers laid an egg in the national title game. Yes, Miles has produced some lunkheaded in-game moments. But college football coaching is the total package: Recruiting, building chemistry, Xs and Os, leadership, etc. Where Miles might fall short in one area, he excels in others. The proof is the win-loss record. He's clearly on the short list of the nation's best coaches.
I dare you to try and not like him after
reading this story
.
And, as of today, LSU will be atop my preseason top-25.
Geoff from Coos Bay, Ore., writes
: How can you possibly rank
Darron Thomas
12th? 12th is reasonable for
De'Anthony Thomas
. I think he should be higher but he was a freshman. But Darron Thomas was the QB of a Rose Bowl winning team.
Paul from Eugene, Ore., writes
: You think
12 is about right
for De'Anthony Thomas? I would have been disappointed if he wasn't in the top 5.
Brett from Claremont, Calif., writes
: I know there was a
bit of a snafu
with the D. Thomases' rankings, so Darron Thomas' true location on your list would be a bit fuzzy, but how much do you think he really regressed this season vs. not improving beyond 2010 in the way some expected? You're not the only one I've read who he made similar assessments, and I'm not asking about his ranking but in the qualitative assessment of his performance. He threw roughly the same number of yards (80 less seems like statistical noise to me), while missing almost two games, ahd threw three extra touchdowns and two fewer interceptions, all without his two leading receivers from the previous year. I definitely didn't feel like he was playing as well in 2010, but I'm not sure that isn't based on my own inflated expectations for him.If Oregon had pulled out a win in the USC game and somehow ended up back in the national championship game, do you think people would still be saying he didn't play as well as in 2010?
Ted Miller
: Obviously, if I hadn't screwed up and forgotten one of the Thomases -- Oregon QB Darron Thomas or Oregon RB De'Anthony Thomas -- in the original list, one of them would have been ranked something other than 12th. When I recognized I'd blown it, it seemed to make sense to pair the two Ducks together.
I certainly think you can make a compelling argument for either in the top-10, but I'm also not having major second thoughts about ranking both 12th.
It was interesting that the mailbag was mostly split on who got screwed more. With De'Anthony, I think some of you are projecting ahead. With Darron, I think there was a bit of him being the QB of record during the best back-to-back seasons in Oregon history.
De'Anthony -- Mr. Versatility -- produced 1,200 total yards from scrimmage and 18 TDs. Very good numbers but not mind-blowing. He ranked fourth in the Pac-12 in scoring. The No. 2 guy, Arizona State runnning back
Cameron Marshall
, didn't make the list. De'Anthony had a handful of quiet games. And there were a couple of fumbles you might recall.
By the way, De'Anthony is certain to be top-five in our preseason list, which projects ahead.
Darron was hurt by this: He was a productive and accomplished college QB leading perhaps the most productive and accomplished offensive system in college football. But how elite of a QB is he? Some of his poor-to-middling NFL evaluations did trickle into this. As perhaps did the not-too-quiet carping of a loud minority of Ducks fans who seemed to believe the offense would be better with backup
Bryan Bennett
, a position I didn't share.
And, by the way, this top-25 list is just the opinion of the Pac-12 blog. If you gathered 100 sportswriters in a room, everyone's top-25 list would be different. And you'd have a very smelly room.
Robert from Amarillo, Texas, writes
: i have a feeling UCLA will be the surprise of the PAC-12 i like the attitude of jim mora. could it happen?
Ted Miller
: Yes.
UCLA has 16 returning starters from a team that won six games. The Bruins could improve that number in 2012.
Do I think UCLA -- or any other South Division team -- is going to eclipse USC?
No.
My list of teams that might surprise folks in 2012? UCLA, Oregon State, California and Arizona. That list, of course, is fluid. Heck, we haven't even had spring practices yet.
John from Spokane writes
: Check
out this video
on former Coug great Steve Gleason. One of the best players that I have ever seen and truly an inspiration.
Ted Miller
: Definitely worth a look. Gleason was a heck of a guy well before he got sick, but he's an inspiration now, no doubt.
November, 8, 2011
11/08/11
2:30
PM ET
By
ESPN.com staff
| ESPN.com
She knew that you could love somebody more than anything and still not love the person all that much, if you were busy with other things.
September, 26, 2011
9/26/11
6:39
PM ET
By
ESPN.com staff
| ESPN.com
Is Steve Gleason your favorite Washington State player of all time?
But of course he is.
The scrappy linebacker scrapped all the way to an eight-year NFL career, becoming a New Orleans folk hero in the process.
Who is he? Here's how a story on him in the New Orleans Times-Picayune described him:
His fearless play and free-spirited personality captured the fancy of the team's eclectic and loyal fans. He became the ultimate counterculture hero in a counterculture town.

He grew his hair long to support the Locks of Love charity.

He bought a diesel pickup truck and launched a recycling program at the Saints' practice facility.

His fashion sense tended toward T-shirts and flip-flops, except on chartered team flights when he leaned toward bow ties and seersucker.

He wrote poetry, played the guitar and studied Eastern philosophy.

While his teammates lived in suburban enclaves, he rented a one-bedroom apartment in the heart of Uptown.

While they lifted weights in the offseason conditioning program, he would retreat to the indoor practice facility for a solo yoga routine.
So, now that we all agree that Steve Gleason is our favorite Coug, I'm about to break your heart. He has been diagnosed with amyotrophic lateral sclerosis, or ALS, best known as Lou Gehrig's disease. It's a terminal disease that has taken a toll already on Gleason.
From the Times-Picayune:
Although he disclosed his condition to friends and family after his diagnosis in January, he decided for personal reasons not to go public until now. He believes that through his newly formed Team Gleason organization he'll be able to inspire just as many, if not more, people than he did on the football field. He sees his condition not as a death sentence but as yet another adventure in life.

"It's easy to start questioning whether God has this plan and why the plan would include me getting diagnosed with this disease," Gleason said. "And that's when you can start why-ing yourself to death. More than that, I've thought, what does this mean, how does this help me fulfill my purpose in life? If we have a purpose in life beyond being a cog in the human machine, mine is to help inspire people and that's pretty cool. I would like to motivate the world."
I found Gleason's attitude when he revealed his condition to his close inner-circle particularly moving.
In an email to his inner circle a day later, he admitted his emotions were running the gamut from depression and fear to anger and frustration. Yet, he promised "to fight and believe and expect the extraordinary and smile and laugh and cry and love our lives for every breath that remains in my body."
It's a well-done story by Jeff Duncan. Sad and inspiring.
Go read it
.