January, 17, 2013
Jan 17
9:00
AM ET
Fun chat yesterday -- might have been one of the best ever. And I actually mean it this time. You can
check out the full chat here
or simply enjoy the
De'Anthony Thomas
-esque highlights.
Marty (Manhattan, KS): Hey ducks....Hahahahaha. That is all.
Kevin Gemmell (2:01 PM): 35-17. That is all.
Jeremy (Honolulu): I asked this questions last week but now it seems a little more relevant... Who do you see replacing Helfrich as OC now that Chip has, ehem, left for the NFL? #WTD
Kevin Gemmell (2:06 PM): Not sure yet. Depends if they want to stay in house. Gary Campbell might get a shot? Steve Greatwood has some previous experience as the run game coordinator. Let's get the HC in place first and then we can worry about coordinators.
Anthony(Las Vegas) [via mobile]: Will the Pac12 be setting up a grief counseling hotline for us Oregon fans?
Kevin Gemmell (2:08 PM): Yes. That would be
Ted's mailbag
.
Robert (New York): How much improvement can we expect from Cougars with Yost hiring among other things?
Kevin Gemmell (2:12 PM): I like the move because it just brings a different set of eyes and a fresh take on the offense. Obviously, there are a lot of the same philosophies and beliefs -- but kudos to Mike Leach for making the move and bringing in a fresh perspective.
Freaky Kikki (Tempe): How many losses will it take for USC to start looking for new head coaches next season?
Kevin Gemmell (2:16 PM): I think if there is another seven or eight win season -- coupled with more off-the-field embarrassments (deflated balls, number switching, lying about the coaches poll, jogging away from press conferences when asked about injuries) then he could be gone. If he gets 8-9 and there are zero off-field distractions or issues, he could buy more time.
jeff berez (florida): Hello Kevin, Do you agree with Coach Shaws statement after the Rose Bowl victory that Stanford still doesn't get the respect it deserves? It seems they were a bit low in the final rankings considering they won 8 in a row including victories over 4 straight ranked teams! I feel the Cardinal have a legitimate shot at playing for the BCS Championship game. If they hadn't gagged the game against the Huskies they most likely would have played Notre Dame in a rematch! That would have been a great story.
Kevin Gemmell (2:23 PM): I think Shaw uses the lack-of-respect tactic to keep his players hungry. There is nothing better than an us-vs.-the-world mentality and it obviously works. I don't underestimate Stanford -- but I do think they have some offensive holes that need to be worked out.
CougarBrian (Nendels Inn): There was a lot of hype for WSU's first game this season vs. BYU, and we know how that turned out. With a down Auburn as the Cougs' opener in 2013, do you think expectations will be tempered, or will hype be high due to the Apple Cup win and a lesser(ish) opponent?
Kevin Gemmell (2:25 PM): I think they'll probably be a bit more tempered. 2012 was a reality check that things are going to take a little more time than we all initially thought. Can you believe there were folks out there actually predicting a big win for WSU against BYU (gulp).
Mike (Brussels): Do you think Pep Hamilton will leave Stanford?
Kevin Gemmell (2:27 PM): Not sure. He seems to be making himself available to the market, which is interesting. But I still have trouble believing he would leave for a lateral job as an OC somewhere else. If he gets a head coaching opportunity, he'd take it.
Larry Scott (undisclosed location): Who will be the next coach I lose to the NFL?
Kevin Gemmell (2:43 PM): Interesting question -- Mora or Shaw seem to be the most obvious choices right now. But both seem awfully content. Going to be a couple of years at least until we see another one go to the NFL. Just my guess.
robert (Puyallup, WA): is ASJ the best tight end in the conference now?
Kevin Gemmell (2:43 PM): Conference, yes. Country, yes.
Chip Kelly (Philadelphia): How are the Philly fans going to treat me?
Kevin Gemmell (2:49 PM): Dude, they booed Santa Clause...
Matt (Tucson): Arizona has a ___% chance of successfully replacing matt Scott next season
Kevin Gemmell (2:52 PM): 30. I don't think people appreciate how good Scott was this year. And Carey and Hill both benefited from that.
Nate (Tacoma, WA) [via mobile]: Will the PAC-12 finally join the rest of the leagues in an eight game conference schedule?
Kevin Gemmell (2:58 PM): I hope not. Ted is for the eight-game schedule. I'm still on the fence, but tend to lean more toward the nine-game schedule. I like that winning your conference really means something. Stanford earned its conference title this year.
August, 18, 2011
8/18/11
2:30
PM ET
He had decided long ago that no Situation had any objective reality: it only existed in the minds of those who happened to be in on it at any specific moment.
June, 7, 2011
6/07/11
4:00
PM ET
It all starts up front, coaches will tell you.
So perhaps offensive line experience is a better way to evaluate a team than just looking at returning skill players who grab the headlines. The Wall Street Journal
said as much before the 2009 season
.
Of course, there's no perfect formula, and more than a few folks have noted it's as much about
quality as quantity
when evaluating a line. It's notable that the the WSJ touted Texas before the 2009 season due to 91 starts coming back on its O-line. The Longhorns went on to play for the national title. Only the team they lost to, Alabama, was supposed to be in trouble due to just 50 career starts.
And Oregon fans might note that a certain Rose Bowl team did OK even though it had just 20 career starts on its line.
Phil Steele has compiled a complete list of the numbers of career starters for
every FBS team's offensive line
. Here's how the Pac-12 stacks up (number to the left is national ranking).
Number of returning starts on the offensive line
No. 17 Colorado, 97
No. 22 Oregon State, 91
No. 30 California, 85
No. 32 Arizona State, 84
No. 37 UCLA, 80
No. 53 Washington State, 71
No. 62 Washington, 65
No. 65 Utah, 63
No. 83 Oregon, 56
No. 89 Stanford, 50
No. 111 USC, 27
No. 120 Arizona, 1
What to make of these numbers, other than you see why USC and Arizona both have big questions on their lines?
Well, I'd probably take what Stanford has coming back on its line -- first-team All-Pac-10 linemen Jonathan Martin and David DeCastro -- over what Oregon State, California, UCLA, Washington State and Washington welcome back. Pretty sure their coaches would, too.
Still, this is firm grounds upon which to project better line play this fall from Oregon State, California and Arizona State.
You also may see a repeat of 2009 for the Ducks. Sure, they lack experience up front. But Mark Asper, Carson York and Darrion Weems are a pretty solid returning core, not to mention that Steve Greatwood is one of the best line coaches on the West Coast.
And Colorado's experience up front -- though losing tackle Nate Solder can't be just written off -- combined with a very good running back in
Rodney Stewart
, might give some pause before relegating the Buffaloes to also-ran status this fall.
November, 11, 2010
11/11/10
11:18
AM ET
Oregon's offensive linemen are sick of it. They won't be objectified anymore. They want the world to know they are more than just a bunch of big, nameless, sexy guys.
Sure, they
made a calendar
. And, yes,
the photos are hot
. Women everywhere swoon at the thought of Ducks offensive linemen.
But they want to be taken seriously as football players. So there was no beefcake calendar this year.
"Believe it or not, we have a pretty big following," center Jordan Holmes said. "They were very disappointed."
Oh, Jordan, we believe it.
[+] Enlarge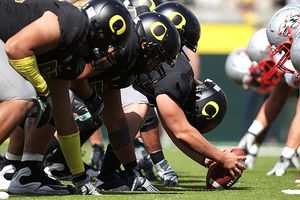 Tom Hauck/Getty ImagesThe Oregon offensive line has helped pave the way for the top-ranked Ducks.
But there is a larger issue here: When folks talk about the high-powered Oregon offense, they start with coach Chip Kelly and tempo and the spread-option, then move on to
LaMichael James
and
Darron Thomas
. Someone chirps in about underrated receivers, such as
Jeff Maehl
. "Underrated!" someone invariably counters. "That's tight end
David Paulson
's middle name!" Then someone says that's an unusual middle name. And another pipes in that they thought his middle name was "Joshua."
You get the point. They rarely talk about the offensive line. Heck, only dedicated Ducks fans know any of their names: Holmes, tackles Bo Thran and Mark Asper and guards Carson York and C.E. Kaiser. Ask Kelly to name his line's standouts and he doesn't -- and not because Kelly gets a kick out of not telling reporters what they want to hear.
"I don't know if there is [a standout]. I think they're all really good," said Kelly, whose top-ranked Ducks visit California on Saturday. "It's not like we have one dominant offensive lineman and then four other guys. I think we've got five pretty good guys -- actually six, actually seven or eight pretty good guys. ... I don't know if there's a standout. And to be honest, maybe that's a good thing."
Seven different guys have started games. And you can't argue with the results. The Ducks rank fifth in the nation in rushing (305.4 yards per game) and have given up just five sacks, which is tied for ninth in the nation.
So why doesn't Oregon get mentioned when folks talk about dominant offensive lines?
"They do a phenomenal job there of turning players into system-fit guys," USC coach Lane Kiffin said. "I don't think you have first-round picks on their line, guys the NFL is jumping all over. They played really, really fast in the system."
Then Kiffin adds a bit of a zinger: "Obviously, it doesn't help very much for the next level, because there's no carryover in what they do."
Hmm. That's debatable. The Ducks are masters of zone blocking, which is popular in the NFL. And three Ducks linemen -- Geoff Schwartz (seventh round), Max Unger (second round) and Fenuki Tupou (fifth round) -- were picked in the 2007 and 2008 drafts. And all five 2009 starters returned this year, so none were eligible this past spring.
What do Oregon linemen do that's so different? Kelly insists that blocking is blocking, and his line coach, Steve Greatwood, is considered one of the top teachers in the nation.
Still, there is some "new school" at work here (though zone blocking isn't terribly new). The Ducks' line doesn't try to knock you back so much as stretch you out and create spaces for playmakers, such as James. It's not about driving; it's about sticking. There isn't a designated "hole," which sometimes takes some getting used to for young linemen.
"There are so many options -- I don't know what else goes on behind my back," Holmes said. "Sometimes it's frustrating not knowing where the ball's going. But as long as we're moving the ball downfield, we're OK with it."
But the real difference is tempo. The Ducks want to play as fast as possible, and plays can't start until Holmes has a spotted ball and can set the line. Suffice it to say, he gets to know the referee better than any other player on the field.
"There are a lot of officials who like to stand over the ball and wait for their buddy officials to get set up before they'll actually spot the ball," Holmes said. "They'll say, 'Don't snap the ball until I'm out of the box.' But we really never listen to them. As soon as he puts it down, we're trying to snap it."
While zone blocking isn't as aggressive as drive blocking, it's hardly patty-cake. When you watch the Ducks' line work, you see plenty of defenders on the ground. There's plenty of mauling going on, particularly at the second level. And physical play at a fast pace wears a defensive front seven down. Even a layman can sense a defense's will getting broken. Just pay close attention late in the third quarter.
"It's usually in the middle of a drive," Holmes said. "You can read body language. They're having a tough time getting their calls in. They kind of start to snap at each other. When that happens, you know they are not feeling too good. Then it's time to attack."
Yes, Holmes admits he and his linemates get tired. They are big dudes running around, after all. But he also noted they usually score a touchdown before exhaustion sets in, so they can go to the bench and relax with a cup of juice and an orange slice.
Their work has earned notice. While James and Thomas are like Brad Pitt and George Clooney starring in the blockbuster that is the Ducks' offense, the line is like William H. Macy, Forest Whitaker and Harry Dean Stanton, playing supporting roles that earn acclaim from educated eyes.
"I think that line is under-appreciated because of the numbers being run up by the individuals involved -- the quarterback's numbers, LaMichael James' numbers -- everybody's got a place to point their attention," UCLA coach Rick Neuheisel said. "But I think that line does a pretty remarkable job in handling everything at the tempo. And as well with as many schemes as they run."
But who should earn, say, All-Pac-10 honors?
"They all stand out," Cal coach Jeff Tedford said. "They are technicians who are able to move in space."
So, please, don't only see the Ducks' linemen as mere zone-blockers playing in a system. Or even as eye candy in alluring poses. See them as technicians. Men who move in space.
But, just FYI: Word is there will be a new Ducks linemen calendar this spring.
July, 13, 2009
7/13/09
12:47
PM ET
Posted by ESPN.com's Ted Miller
Fourth in a series on grounds for optimism and worry.
Biggest reason for hope -- Quarterback Jeremiah Masoli.

Masoli was thrown into the fire as a junior college transfer in 2008 and even got booed in Autzen Stadium. That could crush a guy's confidence. Masoli, however, just shrugged and became a spectacular playmaker over the final quarter of the season, completing 50 of 75 (67 percent) passes for 830 yards and six touchdowns with one interception and rushing 38 times for 248 yards (6.5 yards per carry) and seven scores. It's reasonable to assume he'll show improvement -- nearly all quarterbacks do -- with experience. Or just multiply those numbers by four. If that happens ... golly. Masoli might even steal some of that Big 12 quarterback spotlight.
Biggest reason for concern -- Six starting linemen need to be replaced.
Four of those guys -- two offense, two defense -- got drafted, too, so this isn't just a case of plug and play. Oregon's offensive line under assistant Steve Greatwood has quietly become one of the most consistent units in the Pac-10, but it didn't look very good in spring, though injuries were a big reason for that. As for the D-line, it did look good this spring, but three new starters is always a cause for concern.
May, 26, 2009
5/26/09
10:04
AM ET
Posted by ESPN.com's Ted Miller
Every team enters spring practices with at least a couple of personnel questions, even those with their starting lineup returning nearly intact.
Sometimes those questions get answered. Other times they don't.
Such as...
Arizona: The Wildcats didn't walk away from spring practices worried about their quarterback spot -- Matt Scott and Nick Foles acquitted themselves fairly well. But if you look up and down the depth chart, quarterback is where you eyes linger. Yes, Willie Tuitama's shoes are big.
Arizona State: You, of course, know what's coming. Sorry to be a broken record: offensive line. Matt Hustad, Zach Schlink and Adam Tello have to get healthy and the entire unit needs to get good or the Sun Devils won't bounce back.
California: It's as simple as this: If the Bears get solid -- not spectacular, solid -- play at quarterback, this is a top-10 team. And quarterbacks can do a lot in the offseason to firm up their foundation on the team (hint, hint).
Oregon: The Ducks lost three multi-year starters from the offensive line to the NFL. Projected starters Bo Thran and C.E. Kaiser sat out spring practices. In their absence, the O-line mostly got stuffed. If Steve Greatwood works his magic again, the offense again hits ludicrous speed. If not...
Oregon State: The Beavers lost two multi-year starters at cornerback to the NFL. The secondary got burned throughout spring, though there was some redemption in the spring a game. The general feeling is there's plenty of athleticism here, but recall that it took a while for Keenan Lewis and Brandon Hughes to become Keenan Lewis and Brandon Hughes.
Stanford: Let's just go ahead and say that Andrew Luck is going to be an outstanding quarterback. So who's going to catch the ball? There's plenty of experience at receiver and there some athleticism, but you ain't it until you do it.
UCLA: Much like Arizona State, this one is embarrassingly predictable, but Bruins fans are well-aware that their season hangs on getting at least adequate play on the offensive line. Injuries clouded the issue during the spring, so the hope is a clean bill of help will bring significant improvement.
USC: The Trojans need a kicker, but we're going to go with quarterback. While it's easy to be impressed by the talent and spring performances of Aaron Corp and Matt Barkley, they still haven't done squat when the lights are on.
Washington: An 0-12 team has a lot of need areas, but the Huskies must replace both specialists. As any coach will tell you, special teams are critical, and here's a guess that at least a couple of games will swing one way or the other for the Huskies, depending on how good their answers are at kicker and punter.
Washington State: Only one starter, tackle Toby Turpin, returns on the defensive line, a position that was a decided weakness in 2008 in any event. After spring practice, redshirt freshman end Cory Mackay, who'd played well during spring practices, suffered a serious back injury in an automobile accident. Young and unproven players will need to step up. And the Cougs are due for some good fortune.
May, 22, 2009
5/22/09
6:27
PM ET
Posted by ESPN.com's Ted Miller
Happy Friday...
To your letters.
King from San Diego writes: Given the controversy caused by the differences in conference scheduling, shouldn't the NCAA require all conferences to either do a round robin schedule like the Pac-10 or a division setup with a Conference Championship game at years end like the SEC, Big 12 and ACC?
Ted Miller: The NCAA doesn't have that sort of control over FBS football. It really only does rules enforcement. The BCS and the bowl games operate outside the NCAA, and the conferences mostly make their own decisions about divisions and schedules.
Moreover, round-robin schedules wouldn't work for 12-team conferences and splitting up into divisions doesn't make much sense for the Pac-10 or eight-team Big East.
I understand your sentiments. You want standardization. But I don't foresee that happening any time soon.
---
Jorge from Chambersburg, Pa., writes: I recently read an article on Tim Tebow and it made me think about his tremendous leadership. This, sadly, reminded me of Vince Young, his great leadership, and how far these two had taken their teams. Who will be the Trojan's leader (on offense) or will Taylor Mays be the leader for both sides of the ball? Will the new leader match Mark Sanchez's fire?
Ted Miller: There are plenty of candidates -- there are veterans at every spot on offense, other than quarterback. The offensive line is a good place to start, most particularly guys like multiyear starters Jeff Byers, Kristofer O'Dowd and Charles Brown.
But a quarterback has to be a leader. That will be a critical part of Aaron Corp's offseason -- convincing his teammates that he's the guy to follow into battle.
---
Michael from Tucson writes: Why no love for Arizona. Class is out and we're killing for news from the desert. But other then some features on a particular player there's nothing coming out. The team is barely making it into the lunch links more then once a week! What up in Tucson??? Why no love?
Ted Miller: Well, Arizona started and finished spring practices first. There's not a lot going on over there.
Moreover, you should probably be happy you aren't reading much about the Wildcats -- the softball team is getting all the headlines at present. If you were reading a lot of football stories right now, they would likely be bad news -- suspensions, transfers, off-field problems, etc.
Moreover, all our recent posts -- spring reviews -- have had Wildcats tidbits, and this story was about defensive end Brooks Reed.
---
Scott from Rochester, Minn., writes: Ted, really really disappointed in your answer to the guy from NYC about arguing the PAC 10 is better than SEC. Seriously man, there are enough people who speak without thinking you are supposed to be on our side. I am tired of the ass kissing everyone does for the SEC.
Ted Miller: Hey, the SEC is the nation's best conference, on average, over the past decade. While that can't be stated as fact, there's plenty of anecdotal and circumstantial evidence -- starting with number of different teams that have won national championships -- to support that idea.
My major contentions in this conference strength debate -- tiresome at times, but also catnip for passionate fans -- have been twofold: 1. USC is the best program in college football. If the Trojans had played in the SEC since 2002, they would have dominated and probably won three or four national titles; 2. The difference between the Pac-10 and SEC -- and Big 12 and Big Ten and everyone else -- isn't nearly as large as SEC adherents and many national commentators claim it is.
For example: Oregon would have been the second-best team in the SEC last year and California and Oregon State would have been in the top-five.
---
Kenny from Corvallis writes: Ted- I'd like it if you would give me an honest (not sugar coated) assessment of the Oregon State program, and its possibilities. I understand that is is going to be difficult given the size of the program to consistently win 10 games a year and became a major player. I also believe that a reason Mike Riley's underrated recruiting classes work is because that Pac-10 has been down of late, but once the Washingtons and UCLAs of the conference pick up steam, that he is going to have to get better athletes, plain and simple. What are your thoughts?
Ted Miller: Kenny, are you trying to get me into trouble?
Well, Oregon State's best team (2000) was put together when both Washington and Oregon were up. And recall that team was a nail-biting game at Washington away -- what if someone had blocked Larry Tripplett on that play! -- from being undefeated and playing for the FREAKING NATIONAL CHAMPIONSHIP!
I think Mike Riley has something going in Corvallis. A down season will be around .500. The program will regularly win seven, eight or nine games. And every so often they will be in the running for a BCS bowl berth.
I don't think UCLA or Washington rising will damage the Beavers that much.
---
Bearcatvol from Dalton, Ga., writes: Ted, Loved the roadtrip list but it seems like you missed an amazing potential double header football day. September 19th- Utah (Sugar Bowl) at Oregon and Cincinnati (Orange Bowl) at Oregon State. If TV works the right kickoff times you could easily attend both games and they would be very good non-conference clashes.... all within an hour and 20 minute drive of each other. I'm coming across country for it, hope I get both games in.
Ted Miller: That is a good one. Can you bring me some carpet when you come to the West Coast? (Inside joke about Dalton, Ga., from an Atlanta native.)
That's also a huge twin-bill for the Pac-10, considering both are revenge matchups that the Beavers and Ducks previously lost.
---
Nate from Pleasanton, Calif., writes: Obviously there has not been much success with Stanford's passing game in recent years but with Andrew Luck primed to be a starter and with the receiving corps improving since the loss of Mark Bradford and Evan Moore, could this be the year were a powerful combination of Stanford's rushing game and passing game push them into the upper part of the Pac-10 and possibly into a bowl game?
Ted Miller: How upper?
My guess is Stanford earns a bowl berth this season. And I wouldn't be surprised if the Cardinal challenge for a spot in the top-half of the conference, though they may still be a year or two away.
By the time Luck is a senior and coach Jim Harbaugh's stellar recruiting settles in? Things could get interesting.
---
Michael from Parts Unknown writes: There is quite a bit of optimism and expectation for Arizona going into next season. I'm not so convinced. While I can certainly see the team winning eight or games because of the softer schedule, given the number of starters they have to replace on defense while also losing the heart and soul of the offense (i.e. Tuitama, Britton, Thomas), I can just easily see the Wildcats losing as many eight games in 2009. Thoughts? As a followup, I'm wondering what happens to Stoops if the latter scenario plays out considering the recent contract extension.
Ted Miller: Hey, nothing shocks me in the Pac-10.
At least not since USC lost at home to Stanford.
I'd be surprised if the Wildcats tumble. Mike Stoops has collected some good talent and I think he's transformed the culture in a positive way.
But if things did go south, and Arizona went 4-8, well, the hot-seat talk would begin anew. That's just the way it is in big-time college coaching.
---
Dan from Eugene, Ore., writes: Can you elaborate on why Oregon's offensive line is such a big issue? None of your previous postings have convinced me that this is true.
Ted Miller: The Ducks lost three multiyear starters from their dominant offensive lines of 2008 and 2009. Two of whom -- center Max Unger and tackle Fenuki Tupou -- were drafted. The third, 26-game starter Mark Lewis, signed a free-agent deal with Miami.
They were the Ducks' three best linemen in 2008. By far.
The returning players with experience who are expected to fill four of five starting spots -- Bo Thran, C.E. Kaiser, Jordan Holmes and Mark Asper -- have combined for 19 starts.
The fifth spot is currently manned by Carson York, who's a redshirt freshman.
Thran and Kaiser missed spring due to injuries.
Without those two, the line often looked overwhelmed this spring by a defensive line that also is replacing three starters.
In a previous mailbag, I noted that the Ducks' issues up front aren't as worrisome as they might seem -- they've got four guys back with starting experience and line coach Steve Greatwood is first-rate.
But any Ducks fans who tells you he's not worried at least a little bit is working the fan spin pretty hard.
January, 9, 2009
1/09/09
2:30
PM ET
Posted by ESPN.com's Ted Miller
So who do you think would win if USC played Florida this weekend? Me too.