April, 4, 2012
4/04/12
1:30
PM ET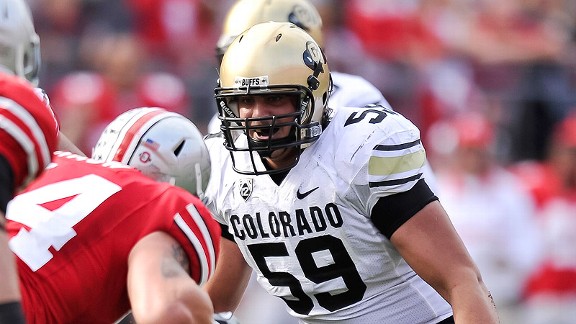 Jamie Sabau/Getty ImagesOffensive tackle David Bakhtiari has high expectations for the Buffaloes this season.
Receiver
Paul Richardson
is Colorado's best player. He's got Pac-12 speed, which the Buffaloes were sorely lacking in 2011. Coach Jon Embree's chief task in recruiting is to get more Paul Richardsons -- speedy guys for both sides of the ball.
But the rebuilding project in Boulder is going to require just as much
David Bakhtiari
as Paul Richardson. Bakhtiari, the Buffs' left offensive tackle, earned second-team All-Pac-12 honors in 2011 as a sophomore, the only Colorado player to get an All-Conference nod.
He's a want-to guy. A guy who talks about chemistry and a sense of urgency. A guy willing to lead. A guy who seems slightly bothered -- politely so, of course -- when a reporter notes the Buffs' significant holes heading into 2012.
Why should folks believe Colorado can improve on a 3-10 finish despite losing its top passer, top rusher and top-two receivers (Richardson missed four games due to injury)?
"There is definitely a sense of urgency that I can see from last year's team to this year's team," Bakhtiari said. "People are moving around with a purpose. They are buying into our common goal, which is a bowl game. We've decided we are tired of going home in December and watching all these games."
Bakhtiari has been impressed with QB
Connor Wood
, the Texas transfer who has the inside track to replace
Tyler Hansen
. He raves about RB
Tony Jones
, who will step in for
Rodney Stewart
. Stewart only led the Buffs in rushing four consecutive years and now ranks second on the school's all-time rushing list. And a healthy Richardson is the obvious choice to replace the receptions that departed with Stewart (45) and
Toney Clemons
(43).

But if the Buffs are going to improve, they are going to need to score more than 19.8 points per game, a total that ranked last in the Pac-12 in 2011. That starts with Bakhtiari and the O-line, which is replacing guards
Ethan Adkins
and
Ryan Miller
.
Offensive line coach Steve Marshall,
speaking to B.G. Brooks
, called Bakhtiari "probably was our most productive player (in 2011) game in and game out." He'll be protecting Wood's blindside as well as leading the charge for a rushing offense that needs to do better than 3.5 yards per carry and 109 yards per game.
Like most Colorado players, Bakhtiari was recruited by Dan Hawkins, a far softer touch than the demanding, straight-talking Embree. (Said Bakhtiari, "Embree is a little more, 'I want production and I'm going to get it.'"). Unquestionably, there was an adjustment to the change in styles in 2011. There was a lot less nurturing and a lot more barking at practices. And Embree isn't afraid to publicly question his players commitment to winning.
But there were hints of accord late last season between coaching staff and locker room. After a 1-9 start, the Buffs won two of their final three games, including a shocking and impressive 17-14 win at Utah, which knocked the Utes out of the Pac-12 title game.
"Guys are now understanding what these coaches want and how they want it to be," Bakhtiari said. "Last year, we were kind of chickens with our heads cut off."
That's a start. It's probably going to take a few more Richardsons and Bakhtiaris to get the Buffs into Pac-12 South Division contention. But that's a start.
March, 3, 2011
3/03/11
12:45
PM ET
By
ESPN.com staff
| ESPN.com
Only Oregon and Washington
didn't experience any staff turnover
this offseason, so we're running through the staff changes for the other 10 Pac-12 teams.
Next up is Colorado, which fired head coach Dan Hawkins and hired Jon Embree. So there was plenty of turnover.
Team in parenthesis is where the departing coach ended up.
Out

Dan Hawkins, head coach
In

Jon Embree, head coach
Holdovers from Hawkins' staff

Brian Cabral, linebackers
Darian Hagan, recruiting coordinator (was running backs coach for Hawkins)
Out

Eric Kiesau, offensive coordinator/QBs (California)
Darian Hagan, running backs (retained as recruiting coordinator)
In

Eric Bieniemy, offensive coordinator/RBs
Rip Scherer, quarterbacks/assistant head coach
Out

Romeo Bandison, defensive line
In

Kanavis McGhee, defensive line
Mike Tuiasosopo, defensive line
Out

Robert Prince, receivers (Boise State)
In

Bobby Kennedy, receivers
Out

Ron Collins, defensive coordinator (Ohio)
Ashley Ambrose, secondary (California)
In

Greg Brown, defensive coordinator/secondary
Out

Denver Johnson, offensive line (Tulsa)
In

Steve Marshall, offensive line
Out

Kent Riddle, tight ends/special teams (North Texas)
In

J.D. Brookhart, tight ends/special teams/passing game coordinator
Reaction
: There's a lot to like about Embree's first staff if you're a Buffaloes fan. It's still not clear if the defense will run a 4-3 or 3-4 -- or a little of both; the base in 2010 was a nickel (3-3-5) -- so McGhee's and Tuiasosopo's responsibilities haven't been defined. Brown and Tuiasosopo were hired away from Arizona and Marshall from California, and Kennedy coached at Washington before spending his last seven seasons at Texas, so there's plenty of Pac-12 knowledge on staff. Cabral has spent the past 23 years at Colorado, so he provides local continuity, as do Hagan, Bieniemy, McGhee and Embree, who all played at Colorado. Brookhart (Akron) and Scherer (James Madison and Memphis) have head coaching experience, while Embree, Bieniemy, Scherer, Marshall and Brown have significant NFL coaching experience.
March, 2, 2011
3/02/11
11:00
AM ET
By
ESPN.com staff
| ESPN.com
Only Oregon and Washington
didn't experience any staff turnover
this offseason, so we're running through the staff changes for the other 10 Pac-12 teams.
Next up is California, which had considerable turnover on both sides of the ball but particularly on offense.
Team in parenthesis is where the departing coach ended up.
Out

Andy Ludwig, offensive coordinator/QBs (San Diego State)
Steve Marshall, offensive line (Colorado)
In

Jim Michalczik, offensive coordinator/O-line
Marcus Arroyo, quarterbacks
Out

Kevin Daft, receivers
In

Eric Kiesau, receivers/passing game coordinator
Out

Al Simmons, secondary
In

Ashley Ambrose, secondary
Reaction
: This is a lot of turnover, and seeing that coach Jeff Tedford has gone through offensive coordinators like Charlie Sheen through, er, girlfriends -- himself, George Cortez, Mike Dunbar, Frank Cignetti, Andy Ludwig and now himself, Michalczik, Kiesau and running game coordinator Ron Gould -- it's not unreasonable for Cal fans to wonder what the heck the problem is. Shoot, Tedford even changed strength coaches (Out: John Krasinski; In: Mike Blasquez). If you wanted to paint a dark picture, you could go for "Desperation & Instability" after the first losing season of the Tedford era. But there is this small comfort for Bears fans: This is a good staff, certainly better than 2010. Michalczik and Kiesau are known quantities: They know Tedford and coached with him when things were clicking in Berkeley. Michalczik might be the best line coach in a conference that has a lot of good line coaches. After signing an outstanding recruiting class, Tedford remarked to me. "It's like reassembling the band." The real test, though, is the quality of music that is played this fall.
January, 24, 2011
1/24/11
3:17
PM ET
By
ESPN.com staff
| ESPN.com
Most California fans have had mixed feelings about Bears offensive coordinator Andy Ludwig, so his departure to San Diego State probably won't inspire much gnashing of teeth.
Multiple sources --
here first
and
here second
and
here third
-- are reporting Ludwig's departure to join new Aztecs coach Rocky Long.
Ludwig, 46, has bounced around. In addition to Cal, he's been the coordinator at Utah (2005-08), Oregon (2002-04) and Fresno State (1998-2001).
Ludwig's departure, as
Jonathan Okanes notes
, probably explains the delay of the much-anticipated announcement of Jim Michalczik's return as the Bears offensive line coach.
There are no mixed feelings about Michalczik, who was a member of coach Jeff Tedford's first staff in 2002, serving as assistant head coach and co-offensive coordinator, in addition to line coach, before he bolted to Washington (for a few weeks) and then the Oakland Raiders. He was widely credited for the consistency of the Bears blocking -- run and pass protection -- which fell into decline when he left.
Of course, the Bears also seemed to drop off in line talent over the past two seasons, so it doesn't seem completely fair to dump on Steve Marshall, who is now at Colorado.
There are a few different issues now at play here.
Michalczik could become line coach and offensive coordinator, but would he also call plays?
Might Tedford take over play-calling duties again?
Or might Eric Kiesau, another old Cal assistant returning for a second go-around, call plays. His title is "passing game coordinator/wide receivers coach."
And who's the QBs coach, which was Ludwig's responsibility?
So intrigue abounds!
Suffice it to say, there's been a lot of change in Berkeley this offseason, with four assistants leaving -- or being pushed out -- and new ones arriving. But with recruiting surging,
most of the changes have felt like upgrades
.
Still, the biggest question this spring will be finding a new starting quarterback and rediscovering a program's offensive mojo. This major reshuffling only makes those issues bigger.
January, 4, 2011
1/04/11
1:11
PM ET
By
ESPN.com staff
| ESPN.com
Al Simmons, California's secondary coach, has left the program in order to "to pursue other professional opportunities," the school announced Tuesday.
That means coach Jeff Tedford now is looking for two new assistants. He also needs to replace offensive line coach Steve Marshall, who bolted for Colorado.
Simmons spent six seasons at Cal during two stints in Berkeley as the cornerbacks coach from 1998-2000 and defensive backs coach from 2008-10.
"I am thankful to Al for the dedication and commitment he displayed during his time with the Cal football program," Tedford said in a statement. "I'm confident that those traits combined with the other outstanding qualities he possesses will lead to continued success in his future."
The Bears had outstanding pass defense in 2008, ranking sixth in the nation in passing efficiency defense and grabbing 24 interceptions.
But the Bears' secondary, with all its top talent returning, struggled in 2009 and finished seventh in the Pac-10 in passing efficiency defense. The numbers improved in 2010, but the Bears grabbed just nine interceptions, tied for second fewest in the conference.
For another take,
read here
.
January, 1, 2011
1/01/11
11:10
AM ET
By
ESPN.com staff
| ESPN.com
Eric Kiesau is returning to California to again coach the Bears
receivers and coordinate the passing game
.
Kiesau, who's been out of a job since Dan Hawkins was fired at Colorado where he served as offensive coordinator since 2009, coached the Bears' receivers from 2002-05 before leaving for Colorado.
Some analysis here that gives the
hiring a thumbs-up
.
Kiesau will replace Kevin Daft, who was fired two weeks ago. Cal is still lacking an offensive line coach since Steve Marshall left to take the same position at Colorado.
Cal's passing game struggled last year, so Kiesau, who was part of the Bears' staff when the passing game was outstanding, should inject some new (old?) ideas.
Anyone else notice the back-and-forth on coaching staffs between Colorado and the rest of its future conference foes? Colorado
previously hired
Marshall and two Arizona coaches: defensive coordinator Greg Brown and defensive line coach Mike Tuiasosopo.
December, 29, 2010
12/29/10
9:26
AM ET
By
ESPN.com staff
| ESPN.com
Colorado has hired Texas receivers coach Bobby Kennedy to oversee the same position for the Buffaloes, the
Boulder Daily Camera
and
Denver Post
reported.
This seems like an inspired hire by new head coach Jon Embree for a variety of reasons.
First, Kennedy is a Boulder native who went to Northern Colorado, so he knows the state and the university. Second, he's been Texas' assistant recruiting coordinator since 2005. He'll bring extensive knowledge of recruiting that talent-rich state. Third, he knows the Pac-10. He coached two years at Washington and one at Arizona, so he knows Pac-10 recruiting -- read: California -- too.
Kennedy is the eighth assistant Embree has hired. The Daily Camera also reported that a quarterbacks coach from an NFL team is expected to be named next week.
Kennedy joins a staff that includes offensive coordinator Eric Bieniemy (running backs), defensive coordinator Greg Brown (secondary), offensive line coach Steve Marshall, tight ends coach and special teams J.D. Brookhart, inside linebackers and defensive running game coordinator Brian Cabral, outside linebackers and defensive ends Kanavis McGhee and defensive tackles Mike Tuiasosopo.
December, 17, 2010
12/17/10
12:35
PM ET
It was pretty clear that changes were coming to Jeff Tedford's staff at California, and the first to fall is receivers coach Kevin Daft, the school announced Friday.
Daft spent seven seasons at Cal, working with the receivers the past three years after previous stints as quarterbacks coach and as an offensive graduate assistant.
"Kevin is a quality person with high character who made significant contributions during his time on our staff," Tedford said in a statement. "We wish him all the best in his future endeavors."
While much of the fan frustration was at quarterback, the Bears have underachieved for the past few seasons at receiver -- dropped passes, poor separation, etc...
The Contra Costa Times also reported that conditioning coach John Krasinski
will not be retained
after nine years in Berkeley.
The Bears also are looking for a new offensive line coach after Steve Marshall bolted for Colorado.
December, 10, 2010
12/10/10
10:36
AM ET
By
ESPN.com staff
| ESPN.com
New Colorado coach Jon Embree is not wasting any time introducing himself to the Pac-12.
After hiring
two assistants
away from Arizona earlier this week, it appears he found his new
offensive line coach
at California, hiring Steve Marshall away from the Bears.
The story was first reported by Rivals.com.
Marshall is a former Colorado assistant under Gary Barnett, so he knows Boulder as well as the conference formerly known as the Pac-10.
California coach Jeff Tedford only hired Marshall in 2009 after the highly respected Jim Michalczik bolted for a brief -- he never coached a practice -- stint at Washington before heading to the Oakland Raiders.
Embree also has hired former Buffaloes linebacker Kanavis McGhee to serve as
defensive ends and outside linebackers
coach. That's another tie-in to the Colorado team that split the national title with Georgia Tech in 1990, but McGhee also was in the news of late for another reason -- you might have seen this Sports Illustrated article:
Confessions of a agent
.
Of course, that was 20 years ago. Bygones?
Embree appears to have a clear plan on what he wants out of his staff, going for Colorado, NFL and Pac-10 ties. That's sound in terms of knowing a program, knowing future foes and recruiting.
And you have got to love how Embree trashed-talked his son, UCLA receiver Taylor Embree,
here to the Denver Post
:
"Taylor is excited," Embree said. "He hasn't beaten me at anything yet, whether it's basketball, pool, PlayStation. . . . He probably thinks this is the time he can get me. He's happy for me. He's a great kid. One of the things is, he grew up wanting to play here, but the opportunity didn't present himself."
February, 19, 2009
2/19/09
6:30
PM ET
By
ESPN.com staff
| ESPN.com
Posted by ESPN.com's Ted Miller
It's fair to say that few California fans -- or reporters -- are treating offensive coordinator Frank Cignetti's one-and-done bolt from Berkeley to Pittsburgh as a big deal.
The loss of offensive line coach Jim Michalczik? A big deal. He's credited with creating and maintaining the Bears consistently strong running game under Jeff Tedford.
But Steve Marshall was a good hire to replace him.
Few would say Cal's quarterback play -- that was Cignetti's responsibility -- was good last year. The Bears ranked seventh in passing offense and sixth in passing efficiency in the Pac-10, despite using two quarterbacks with significant experience.
The larger issue, explored here by Jonathan Okanes, is whether Tedford can replace Cignetti with someone he trusts calling the offensive plays.
That potential someone will be calling plays from Tedford's offense -- not his own -- so not every quality offensive mind will jump at the chance. This is hardly a post with complete autonomy.
Tick, tick, tick. Spring practices start March 10.
What about Tedford calling the plays again?
Perhaps. But recall that Tedford admitted last year that he lost touch with his locker room during the second-half slide of 2007. He only gave up play-calling responsibilities in 2008 because he wanted to have a more active role in supervising/managing his team.
So, here are the issues as we see them.
Calling plays is a huge job. Can Tedford find the right guy to do it? And can he find the right guy to coach his quarterbacks in the process?
Bears fans know that solid quarterback play could make or break 2009.
And, failing that: Is Tedford willing to again take over the play-calling duties? And, if so, does that mean he risks losing touch with his locker room again?
These are big questions, particularly considering that Cal has the talent to challenge for the Pac-10 crown next fall and reach its first Rose Bowl since 1959.
February, 18, 2009
2/18/09
10:28
AM ET
By
ESPN.com staff
| ESPN.com
Posted by ESPN.com's Ted Miller
A report says California offensive coordinator Frank Cignetti has been offered the same post at Pittsburgh, and that Cignetti, a Pittsburgh native, is leaning toward bolting back East.
That means Cal coach Jeff Tedford could be looking for a new man to lead his offense with less than four weeks until spring practices begin.
And that would mean the Bears will change offensive coordinators for the fifth time since 2005.
That also means further upheaval for an offense that will be intently focused on a quarterback competition between Kevin Riley and Brock Mansion this spring, improving a lackluster passing game in general and breaking in a new offensive line coach in Steve Marshall.
Hardly insurmountable, particularly with an experienced team, but not exactly ideal, particularly for a team that's eyeballing USC atop the Pac-10.