November, 6, 2013
11/06/13
1:00
PM ET
Arizona State has won three games in a row in dominating fashion. Average score? 54-19, with the an average of 558 total yards of offense, including 267.3 yards rushing. Each foe's offense was held below its season's scoring average by at least eight points.
Blowing away Colorado won't win any awards and winning at Washington State isn't terribly glamorous, but the Sun Devils' 53-24 pounding of then-No. 20 Washington is difficult to dismiss.
[+] Enlarge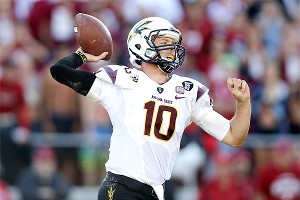 AP Photo/Marcio Jose SanchezSince losing at Notre Dame, Arizona State has won three straight and Taylor Kelly has thrown 10 touchdown passes.
"This team is starting to do some things to resemble a team that can compete for a championship," ASU coach Todd Graham said.
Pollsters have also noticed. Arizona State is 22nd in the BCS standings and 23rd in the AP poll.
The Sun Devils seem close to breaking through in Year 2 under Graham as they prepare for a visit to Utah. They control their own destiny in the South Division and own probably the most forgiving schedule among their top competition -- UCLA, USC and Arizona. The Nov. 23 visit to UCLA, in fact, looms large as potentially the deciding game in the division, just as it did in the preseason.
But that sort of forward-looking talk is the kind that shouldn't seep into a locker room. Looking ahead is akin to inviting disappointment into the room in college football.
And, yes, Graham has noticed that too, which is why he's most happy with his team's maturity.
"All we can do is control what is in front of us," he said. "This team has been very diligent about staying focused on the job at hand and getting better every week. We control our own destiny. All we've got to do is go out and figure out a way to beat Utah and then go on to the next one."
There are, however, plenty of potential distractions this week for the Sun Devils. For one, it was announced Tuesday that athletics director Steve Patterson is leaving for the same job at Texas, which inspired some rumblings that Graham might become a candidate for the Longhorns job if
Mack Brown
were to retire or get fired. That won't completely go away, despite all the Nick Saban talk, or because Arizona State made it a precondition for Patterson being granted permission to interview with Texas that he agreed to not hire anyone from Arizona State.
Further, Utah's offensive coordinator Dennis Erickson was Arizona State's coach from 2007-2011, though Erickson told reporters this week that the game has no special meaning for him.
"Dennis is a pretty even keel guy," Utes coach Whittingham said. "He keeps his emotions in check. I haven't noticed any difference in his demeanor this week compared to any other."
Another issue for the Sun Devils might be overconfidence. The Utes have lost three of four, including their last two, a pair of South Division road games at Arizona and USC. Erickson's once thriving offense has taken a nose dive, in large part because his quarterback,
Travis Wilson
, has been battling injuries to his throwing hand. Wilson has completed just 8 of 23 passes for 66 yards with four interceptions in the last two games, and he was replaced in both by backup
Adam Schulz
.
And, of course, the Sun Devils brutalized the Utes 37-7 last year in Tempe.
"That was one of our poorest performances in the Pac-12 since we joined the conference," Whittingham said.
Still, the Sun Devils should be wary. The Utes are coming off a bye week, and Whittingham said Wilson is healthy and won't need the protective glove that seemed to hinder his performance at USC. Rice-Eccles Stadium is not an easy place to play, just ask Stanford, which lost there three weeks after whipping Arizona State. And the stakes are high, as a loss would remove the Sun Devils one-game lead in the division race.
Graham, however, thinks he has an ace-in-the-hole there, too: Leadership, which starts with quarterback
Taylor Kelly
, who is making a push for second-team All-Pac-12 QB behind Oregon's
Marcus Mariota
.
"I think he is
the
leader of our team," Graham said. "Taylor is one of the most respected people in this building just because of how he works."
Graham calls Kelly, "A tremendous giver of respect." He also is one of the nation's top dual-threat QBs, presently ranking eighth in the nation and second in the Pac-12 in
total QBR
.
"He's getting close to having a mastery of what we are doing," Graham said. "He's almost like having an offensive coordinator on the field. He understands the strengths and weaknesses of what we are doing."
Arizona State has been showing more strength than weakness of late. It will test the Sun Devils, however, to bring those strengths in full force to a second-consecutive road game against a rested team coming off a bye.
November, 5, 2013
11/05/13
7:30
PM ET
The inevitable reaction after Arizona State athletic director Steve Patterson was hired for the same job at Texas was speculation that Sun Devils coach Todd Graham would shortly follow him if, of course, Longhorns coach Mack Brown is fired or retires.
Arizona State immediately thought of that possibility, too. School president Michael Crow told the
Arizona Republic
on Tuesday afternoon that a precondition for Patterson being granted permission to interview with Texas was his agreeing to not hire anyone from Arizona State.
[+] Enlarge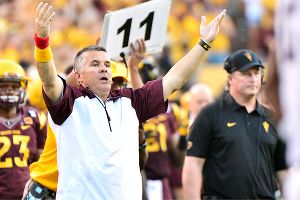 Matt Kartozian/USA TODAY SportsArizona State coach Todd Graham has been linked to Texas, but that move might not be possible.
Of course, where there's a will -- and motivated rich guys -- lawyers perhaps can find a way. Apparently, binding contracts in college football are often circumvented.
Still, file Graham-to-Texas speculation away for the moment, as, at the very least, such a turn of events would require Arizona State continuing its recent surge and turning in a special season. Or a few special seasons.
At present, such speculation operates only as a distraction Graham would prefer to avoid.
"You can't control things you can't control," he said. "We've got to be focused going into this week. … I can't do anything about what people say."
While Graham's immediate focus is a visit to Utah on Saturday, he also surely shares with Sun Devils fans a central concern over Patterson's departure: the much-needed renovation of Sun Devil Stadium.
That project was the centerpiece of Patterson's agenda, and it will require a massive fundraising effort. If you're wondering about what skill will top the list of the soon-to-be-formed Arizona State AD search committee, it will be the ability to get boosters and local businesses to invest in that project.
While the reason Patterson was hired in March of 2012 was his business acumen, his background was almost exclusively in pro sports. It's fair to say he's unproven as a college athletic director and fundraiser, though the early returns have been positive, something of which Texas was surely aware. Also, his roots are deep in Texas. He got his undergraduate and law degrees at Texas and worked with Texas pro sports teams from 1989 to 2003.
It's not like he has deep roots in Phoenix.
In other words, he's not irreplaceable, and Sun Devils fans shouldn't view his departure as catastrophic for the stadium renovation effort.
There's no reason Arizona State can't recruit a new AD with a proven ability to convince boosters to write checks.
September, 20, 2013
9/20/13
5:30
PM ET
Welcome to the week 4 mailbag. It will be done in sanskrit.
Follow the Pac-12 blog on Twitter
. It's this new Internet thing that just might work out.
To the notes!
Scott from Norfolk, Va., writes:
Todd Graham really does seem like a great fit at ASU and he really did seem to bring about a very positive and much-needed cultural overhaul to the program. That said, doesn't his
contract extension
and raise seem a little premature? He's great so far, but "so far" is only 15 games, in which he's 10-5. Dennis Erickson was 12-3 in his first 15 games. I have to imaging this increases Graham's buyout (though I haven't seen direct mention of it, perhaps you can inform us as to whether that's true?), so isn't ASU unnecessarily limiting its options down the road here? Or am I overreacting and this is par for the course (and it's only fair that if coaches are now getting fired after two years they should also get raises on the same time scale)?
Ted Miller
: I see this as a renewal of vows, Arizona State and Graham making it clear to everyone they are happy -- at present -- with each other (and let's also note the same can be said for AD Steve Patterson, whose contract was also extended).
Of course, we all know college contracts often end up getting broken, one way or another. A coach can leave for a big-money job, at which point the new school often picks up the buyout tab, or boosters can get so worked up about a surprising downturn that the school decides to eat the contract and move on. And, yes, sometimes extensions bite a school in the butt -- see Colorado with Dan Hawkins and Iowa with Kirk Ferentz, two coaches who got big-money extensions that proved too expensive to buy out when things went south.
This new contract isn't a big risk for either party. Graham's current contract runs through 2016, this new one runs through 2018. He wasn't given a 10-year deal that could expose Arizona State should the Sun Devils start losing two years from now. As for Graham,
his buyout of $1.5 million isn't terribly big
. Chip Kelly's buyout at Oregon was $3.5 million.
Another interesting detail, though, is Graham is forbidden from taking a Pac-12 job through the life of the former contract. If I were a Pac-12 AD, I 'd always try to get that written into a head coach's contract. It's a good way to protect program secrets. Not saying any Pac-12 program would ever have any.
But, yes, if Texas wanted to hire Graham, it could easily handle the buyout, even though this extension is intended to prevent Graham's name from getting aggressively thrown into the rumor mill.
Why now? Well, you might have noticed the rumor mill already is starting to grind. From the ASU perspective, just about everything Graham has done thus far with the Sun Devils has been positive, and that's not just about winning.
Kevin, as you know,
spent a lot of time with Graham and his staff last week
. I think the picture he paints is of a highly functioning coaching staff with a strong, driven, organized leader running the show.
I know media members aren't allowed to write nice things about Graham. Kevin's and my problem is we actually have spent enough time with him to actually know what we are talking -- and writing -- about.
---
Sam from Sammamish, Wash., writes:
I am noticing some chippiness of late between long-time conference allies, the Pac-12 and the Big Ten. Here is a link to a story about Sark thinking on
the fly about where to practice on Friday prior to the game in Chicago
. What the story neglects to mention is Northwestern University decided to deny UW access to its practice fields less than 24 hours prior to arrival because it would give their Big Ten brethren Illinois an unfair disadvantage. Add this questionable gesture or lack thereof to the Wisconsin/ASU officiating debacle and methinks there may be some outright animosity building up?
Ted Miller
: The Rose Bowl conferences are business partners, but that doesn't mean they aren't rivals who desperately want to win and claim superiority. That sometimes involves gamesmanship, which is what it appears Northwestern did in this instance.
Here's what coach Steve Sarkisian
said on the matter
:
"It's an unfortunate situation. I don't think there's a whole lot of love lost right now between the Big Ten and Pac-12 right now, quite honestly, especially after the Arizona State-Wisconsin game. So it is what it is. Pat Fitzgerald and I exchanged some comments, and we're fine. I don't know where it's going to go from a conference level. It was unfortunate, but in the end, I think it was a positive. It just kept lending to, there's no distractions for us on this team. If we have to walk through the streets of Chicago to a park in downtown Chicago with a light pole in the middle of the field to practice, we'll do it. And our guys didn't skip a beat. It actually worked out really well for us. It's not a big deal for us anymore. We've moved on."
Oh, well. I've got a really high regard for Fitzgerald, so he gets a pass from me. Sark and Huskies fans might feel differently.
The bottom line is Washington beat Illinois 34-24 and the Pac-12 is 3-2 versus the Big Ten. So pffft to our friends from the Midwest.
---
Bill from Portland writes:
What are the odds of USC and Texas meeting in the Holiday Bowl, and if they did, would those be some of the hottest hot seats in college football? P.S. How crazy is it that in the same year it is a good possibility that USC, Texas and Nebraska may be looking for new coaches at the same time?
Ted Miller
: Those certainly are some A-list jobs that might open up by season's end. Suffice it to say, there's already plenty of chatter about how those potential openings might go.
It's certainly not that long of a shot that the Trojans and Longhorns could play in the Holiday Bowl -- or the Alamo Bowl for that matter -- for the first time since their epic national title game after the 2005 season, albeit in far different circumstances. Of course, both teams will need to climb a bit in their respective conference's pecking order to make it happen, particularly 1-2 Texas.
That said, I'm not sure either team would embrace the idea, though both would like an invitation to a quality bowl game. After all, the theme of most advance stories would be: Look how the mighty have fallen!
---
Lee from Ripon, Wisconsin writes:
You are so incredibly stupid it is beyond belief.
To compare a judgment call (pass interference) with a failure of the game officials to call a play by the rules defies basic logic
. Of course basic logic is obviously beyond you. But when you make statements that are factually incorrect, you really display your stupidity. The Pac-12 is the only major conference that uses officials from its league for home nonconference games. The other conferences have the game officials in essence travel with the visiting team. The game officials that worked the ASU at Wisconsin game in 2010 were from the Pac-12. The referee was the same individual who worked the Ohio State at Cal game Saturday night. It was NOT a Big Ten official who missed the pass interference call that you are basing your fallacious argument on; it was a Pac-12 official. If you weren't so fricking lazy you would have checked this out prior to making a factually incorrect statement; it is called research. I will be sending this email to the president of ESPN and suggest that they fire your sorry butt. An individual too fricking lazy to do basic research and as a result base an "argument" (what you stated doesn't meet the definition of a sound argument, but obviously the explanation of what qualifies as a sound argument is way beyond your severely limited mental capacity) isn't qualified to be a sports reporter. You aren't even qualified to be a dog catcher, or a member of the Bush cabinet. Hell, you aren't even qualified to be a Pac-12 football game official.
Ted Miller
: Thank you for your interest in the Pac-12 blog. We value your input. Please press one for customer service, two for new accounts ...
Lee, you are correct. I am stupid and lazy. That has never been so clear until this week when many Wisconsin fans showed up to help become smarter-er. But, to be honest, your world of Badger sophistication frightens and confuses me. I read "factually incorrect" and I want to bury my face into my blankie. I read "fricking lazy" and "research" and I want to know, "Where did these highfalutin concepts get created...
The Kollege Klub
?"
But there is one thing I
do
know.
That referee
Bill LeMonnier
led a
Big Ten crew on Sept. 18, 2010 inside Camp Randall Stadium
for Arizona State's visit to Wisconsin.
I guess I'm just lucky my computer is connected to the Internet-S.
---
Don from Palo Alto, Calif., writes:
Ted --Please pass this on to Kevin -- seems every time I try and click on "send email to Kevin" it displays your smiling face. Is this part of your evil scheme?I wanted to commend Kevin on his very fine profile of Todd Graham. It was well written, informative and unflinching. As a Stanford fan, and Stanford having not played ASU since 2010, I had kind of lost track of the program (although certainly the Graham hire made news). So with the game coming up this week, it was time to get into Graham and the program a bit, and Kevin's piece filled out everything very nicely. Pac-12 blog rocks!
Ted Miller
: I have many evil schemes. This is not one of them, though now I'm sort of wishing it were. A guy can never have too many evil schemes, right?
Yet just two seconds ago, I was gazing at Kevin's Clooney-esque mug.
Did you click here
? There are two places to send your Pac-12 mail, one to me and one to Kevin.
Typically, if you are angry and want to insult us, those notes should go to Kevin. If you want to write how great the Pac-12 blog is, those notes go to me.
---
Jesse from Portland writes:
I know of your long gripe with the word, "Natty." However, an Oregon player first invented that word. And since it has gone global in it's usage, though originating in Oregon, we claim that word. If you actually took the time to visit every single sports forum and blog, you would quickly see that this word is used by every single fan nationally describing the NCG. It has become a universal word and has so for three years now. Get with the times. You are getting old. The only people who hate that word are Oregon haters, cause they know a Duck invented it. And because it was first invented by a Oregon player, we are NOT going to to stop using that word, not now, not ever! We are the only Pac-12 team to go to a Natty in the last eight years. And we are projected to make another one this year. So we have every right to use that word. So Natty, Natty, Natty, wish you were at the Natty. Natty is here to stay. Both now, forever and into all time. It is a Oregon thing, going to a Natty. And unless you are a Duck, you just cannot understand. You Natty old reporters ... don't like the Natty? Well ... go Duck yourself then. Natty times are here to stay!
Ted Miller:
(A sigh ... and then a slow clap ... everyone in the coffee shop slowly stands and joins in).
August, 19, 2013
8/19/13
7:00
PM ET
This is the tenth in a series looking at potential dream and nightmare scenarios for all Pac-12 teams.
Understand:
These are not predictions.
They are extreme scenarios and pieces of fiction. You can read
last year's versions here
.
We're going in reverse order of my
post-spring power rankings
(which might not be identical to my preseason power rankings).

Up next
: Arizona State
Best case
Arizona State defensive tackle
Will Sutton
comes to a stop outside Sun Devil Stadium. It's 9 p.m. He realizes he left his playbook in the coaches' offices.
He re-enters the athletic building, but he hears music. It's coming from head coach Todd Graham's office.
Here we go yo, here we go yo
So what so what so what's the scenario?
"Coach Graham listens to A Tribe Called Quest?" Sutton wonders. "Now that is unexpected."
Sutton opens Graham's door. He sees Graham sitting at his desk. Another man is sprawled on the sofa laughing.
"Will," Graham says. "Have you met my friend Jay-Z?"
Later, Sutton tells quarterback
Taylor Kelly
about seeing Jay-Z in Graham's office.
"You didn't know that coach hangs with all those hip-hop guys?" Kelly replies. "I saw Lil Wayne in his office once. Coach was telling him how to make a court deposition hilarious. Yep, Coach been smooth since days of Underroos. Arizona [Kelly fake gags] is
all about country western
. We're urban up here."
Sutton almost notes that Kelly is from Eagle, Idaho, population 20,000, but says nothing.
After Arizona State whips Sacramento State 55-3 to open the season, Wisconsin comes to town. The Sun Devils hold the Badgers to just 197 total yards in a 21-3 victory.
Sutton and safety
Alden Darby
meet with reporters after the game. They are asked about how they could so thoroughly shut down a big physical team like Wisconsin.
Says Darby, "Ain't nothin' but a D thang, baaaaabay!"
Sutton gives him a fist bump, "Corona and Long Beach together, now you know you in trouble."
Stanford is also a big, physical team, but it surprises the Sun Devils by throwing the ball early and often.
Kevin Hogan
's three touchdown passes prove the difference in a 28-27 Cardinal victory.
"Guys," Graham says after the game. "That was a tough one. We've been hit with a few shells but we don't walk with a limp. We'll just get back to work."
The Sun Devils bounce back with a 30-21 win over USC. Running backs
Marion Grice
and
D.J. Foster
combine to rush for 260 yards and three scores.
Grice and Foster are asked after the game about sharing the ball and whether that's ever frustrating.
Says Grice, "It takes two to make a thing go right."
Adds Foster, "It takes two to make it outta sight."
The Sun Devils move up to No. 15 in the AP poll as they head to Texas to play Notre Dame in Cowboys Stadium. Things go poorly in the first half as the Fighting Irish jump to a 17-0 lead and take a 24-3 advantage into the halftime locker room.
But the Sun Devils drive 80 yards for a touchdown on their first possession of the second half and the momentum shifts. Still, it's 31-27 Notre Dame when the Sun Devils get the ball back on their 35-yard line with 2:30 on the clock. They drive to the Irish's 22 with one minute left, but face a fourth-and-inches. They take their final time out.
Kelly returns to the huddle. He looks at receiver
Jaelen Strong
.
"You've been dogging that corner all night and he's nervous," Kelly said. "They'll be thinking run, so I'm going to play-action and you're going to do a hitch on the near side. Can you make a hitch work?"
Replies Strong, "I got 99 problems but a hitch ain't one. Hit me."
Kelly connects with Strong, who slips the corner in press coverage and sprints for the winning touchdown.
Reporter
: That was quite a comeback. Do you think this marks a program, long called a sleeping giant, waking up?
Linebacker
Carl Bradford
seems mildly irritated by the question. He replies, "Don't call it a comeback. We've been here for years."
Reporter
: I suppose you're going to tell us the plan is to put suckas in fear, makin' the tears rain down like a monsoon. And, you know, make the bass go boom?
Bradford
: No. We're going to play one-game-at-a-time and give 110 percent.
Arizona State moves up to 12th in the national polls. It buries Colorado and slips Washington 24-20. It's greeted by a blizzard at Washington State, but Grice and Foster lead a rushing attack that gains 375 yards against the Cougars. Kelly throws just two passes.
Says Graham, "Today I didn't even have to use my T.K. I got to say it was a good day."
Arizona State rolls past Utah and nips Oregon State to win its seventh game in a row. Up next is a visit to No. 12 UCLA, which has only lost to Stanford and Oregon.
Kevin Gemmell
: The winner in Pasadena will position itself to win the South Division and get a shot in the Pac-12 championship to make a date with the Granddaddy. The problem both defenses have is opposing quarterbacks who are at the top of their games.
Ted Miller
: If there was a problem, Yo – I'll solve it! Check out the hook while DJ revolves it!
Gemmell
: Please -- please! -- don't ever do that again.
Arizona State and UCLA are tied 24-24, but
Brett Hundley
drives the Bruins to the Sun Devils' 17 with three minutes left. He drops back, looking for Shaq Evans, but he's sacked from behind by Sutton. Darby picks up the loose ball and dashes for what proves to be the winning touchdown.
Sutton turns to Hundley, "You're just a butter knife, I'm a machete."
Hundley replies, "If I wasn't so angry, I would salute that old school reference."
At 10-1, Arizona State moves up to No. 5 in the nation. Rival Arizona comes to town limping at 5-6, needing a win to become bowl eligible. Arizona State runs onto the field with Kool Moe Dee's "Wild Wild West" blaring through the Sun Devil Stadium sound system. There is a suspicion on the opposite sideline that Graham is
making fun of the Wildcats and coach Rich Rodriguez
.
"He's making fun of us!" Rodriguez says to quarterback
B.J. Denker
.
Says Graham, "I'm making fun of them!"
Arizona State wins the toss. As the players shake hands, Kelly pulls Arizona linebacker
Marquis Flowers
close. He says, "You are now about to witness the strength of street knowledge."
The Sun Devils roll 38-17. That earns them a spot opposite unbeaten and second-ranked Oregon in the Pac-12 title game.
Graham gathers the Sun Devils in the locker room at Autzen Stadium.
"Look, if you had one shot, or one opportunity, to seize everything you ever wanted -- one moment! -- would you capture it or just let it slip?" he says to his players. "Yo?"
The Sun Devils take a 33-30 lead in the second overtime. Ducks kicker
Matt Wogan
lines up for a 27 yard field goal to send it to a third overtime.
Announcer
: Wide left! For the third time in three years, a missed field goal ruins Oregon's season.
Arizona State whips Ohio State in the Rose Bowl and finishes 13-1 and ranked third.
The athletic department receives an anonymous gift of $200 million to finance the $300 million renovation of Sun Devil Stadium.
Explains Steve Patterson, ASU vice president for athletics: "Cash Rules Everything Around Me -- C.R.E.A.M. -- Get the money! Dollar, dollar bill y'all!"
Worst case
Arizona State bombs Sacramento State, but Wisconsin grinds down the smaller Sun Devils defense, and the Badgers mostly mute the Sun Devils running game. The passing game falters in the fourth quarter, with a Taylor Kelly interception killing a final drive in a 24-20 loss.
The Sun Devils' struggles are even more pronounced against Stanford, owners of one of the nation's best defenses. Not only do they go down 28-10, they lose their composure when frustration sets in during the fourth quarter, getting a pair of unsportsmanlike conduct flags.
"No, we're not reverting to former undisciplined ways," Graham tells reporters. "We've just got to keep our heads in the game. We knew our schedule was going to be tough. We just need to get back to our high-octane ways."
That doesn't happen against USC, which blisters the Sun Devils 30-13.
Kevin Gemmell
: A 1-3 start is bad, but losing two conference games probably means the Sun Devils can't lose another Pac-12 game if they hope to win the Pac-12 South Division.
Ted Miller:
They better start thinkin' of a master plan, 'Cuz ain't nuthin' but sweat inside their hands.'
Gemmell
: Really? You need to learn to let a conceit go.
The Sun Devils fall 20-17 to Notre Dame in Cowboys Stadium. The opposing defensive plan has been set: Gang up against Marion Grice and D.J. Foster and force the Sun Devils to throw the ball. As of yet none of the receivers, including touted recruit, Jaelen Strong, has been able to make the defense pay consistently. The defense has been solid, but it's not unreasonable to wonder if a guy like Will Sutton will start thinking about the NFL as the losses pile up.
"I'm not thinking about the NFL," Sutton says. "I'm thinking about Colo... oh ... is that a Bentley driving down Mill Avenue?"
The Sun Devils dump Colorado 30-20, upset Washington and even their record with a 28-24 win at Washington State. A late field goal gives Arizona State a 31-30 win at Utah.
"We need one more win to become bowl eligible," Graham says. "But we also think we can win out and get to a good bowl game."
Oregon State whips the Sun Devils 28-17, and UCLA scores 21 fourth-quarter points to win 35-31. That sets up a Territorial Cup with Arizona over big stakes. The Wildcats need to win to capture the South Division title, which will give them an opportunity to play in the program's first Rose Bowl. The Sun Devils need to win to become bowl eligible.
The Wildcats end all intrigue by halftime.
Ka'Deem Carey
rushes for 205 yards and QB B.J. Denker passes for 235 and three scores in a 44-17 victory.
The Sun Devils finish at 5-7, their fourth losing mark since 2008.
Carey wins the Heisman Trophy. Arizona upsets unbeaten Stanford for the Pac-12 title and then beats Ohio State in the Rose Bowl to finish 12-2 and ranked sixth.
The Wildcats also win national titles in basketball, baseball and softball.
Graham texts his players at 4 a.m. on Dec. 25 that he's leaving to become special teams coach at Arizona.
He calls it his dream job.
Previous "Best case-worst case" posts
California
Washington State
Colorado
Utah
Arizona
USC
Oregon State
Washington
UCLA
June, 12, 2013
6/12/13
4:00
PM ET
As previously noted
, Arizona State and Notre Dame will play in Tempe on Nov. 8, 2014, which represents a compromise on the Fighting Irish trying to get out of a home-and-home contract with the Sun Devils.

There is, however, an interesting story behind how things got to this point, with Notre Dame giving up a home game in 2017 and being forced to play a road game.
So check out Ivan Maisel's College Football Podcast.
His first segment is with
Arizona State athletic director Steve Patterson.
Let's just say the Sun Devils grinned widely at the fine print of the original game contract when Notre Dame announced it wanted out. Or the lack thereof: There was no buyout in the contract. There was not only an obligation to play, but also wording that required a major effort to reschedule due to Acts of God.
"Last time I checked, joining the ACC wasn't an Act of God ," Patterson said.
It would have cost the Irish beaucoup dinero to straight cancel the contract. So they are coming to Tempe.
What does this mean for Arizona State? It means a big time program, one that doesn't play road games against just anybody, will give the Sun Devils a marquee Saturday and a sold out stadium.
Now can Todd Graham and company get the W?
June, 11, 2013
6/11/13
9:15
PM ET
Notre Dame wanted out of its series with Arizona State, but the Sun Devils wanted to play. A compromise was announced Tuesday that is a win for the Sun Devils.


The Fighting Irish will visit Tempe on Nov. 8, 2014, but the Sun Devils won't make a return trip to South Bend, Ind., in 2017.
The meeting scheduled for Oct. 5, 2013, between the teams at Cowboys Stadium outside Dallas has nothing to do with this game contract. It's still on.
A statement from ASU vice president for athletics Steve Patterson:
"We're pleased that Notre Dame was able to resolve its scheduling issues in a way that allows it to play at Sun Devil Stadium in 2014. ... Our entire Sun Devil family -- season ticket holders, fans, students, alumni -- and our entire community here in the Valley have been looking forward to playing Notre Dame in Tempe since the original agreement was signed in 2008. While the game at Notre Dame in 2017 has been canceled, what is most important to us is that the game in Tempe has been saved."
Notre Dame, which has been reworking its schedule after it agreed to play five ACC football games per year from 2014 on, apparently had a weakness in its negotiating position with ASU: Not including a buyout in the original game contract.
April, 12, 2013
4/12/13
2:30
PM ET
March, 12, 2013
3/12/13
11:00
AM ET
UCLA's Dan Guerrero is the Pac-12's top paid athletic director,
according to recently released figures from USA Today
, while Colorado's Mike Bohn ranked last in the conference among the public schools that are required to disclose salaries.
The salaries for Stanford's Bernard Muir or USC's Pat Haden are unavailable because they work for private schools.
Vanderbilt's David Williams tops the list at $3.24 million, but he's a special case. The "true" leader is Louisville's Tom Jurich at $1.412 million.
Nine athletic directors make more than $1 million a year, though none in the Pac-12. It's also notable that the cost of living is much higher in Pac-12 cities compared to cities in just about every other conference.
Guerrero's total pay of $715,211 ranks 18th in the nation.
August, 14, 2012
8/14/12
7:15
PM ET
This is the second in a series looking at potential dream and nightmare scenarios for all Pac-12 teams.
Understand:
These are not predictions.
They are extreme scenarios and pieces of fiction. You can read
last year's versions here
.
We're going in reverse order of my
post-spring power rankings
(which might not be identical to my preseason power rankings).

Up next
: Arizona State
Best case
While a 40-7 win over Northern Arizona wasn't terribly revealing, it became clear in la ast-second victory over Illinois what new Arizona State coach Todd Graham saw during preseason practices when he lauded quarterback
Taylor Kelly
's scrappiness.
The homestanding Sun Devils lined up fourth-and-goal on Illinois' 7-yard line with 10 seconds left and the Illini leading by four. Kelly took a quick drop but was immediately surrounded by orange helmets. He rolled to his right, reversed field around the pursuit, back-peddled and then, just after delivering a punishing stiff-arm to Illini end
Michael Buchanan
, he lobbed a ball across his body to the far corner of the end zone.
Where
J.J. Holliday
outleaped two defenders for the game-winning touchdown.
"Exactly how we drew it up," Graham quips after the game. "No, that's just a guy making a play on his own. That's what we saw this preseason and, more important, that's also what his teammates saw."
Also important: The Sun Devils have just one turnover and four penalties for 30 yards. None are personal fouls or unsportsmanlike conducts.
"That's still too many mistakes," Graham says.
The Sun Devils produce another thriller at Missouri, which was held to just 45 points in a SEC-debut win over Georgia. With the Sun Devils up 28-24 late in the fourth quarter, the Tigers face a second-and-goal on the Arizona State 1-yard line. Quarterback
James Franklin
tries to sneak it in, but he's met inches from the goal line by linebacker
Brandon Magee
, whose blow knocks the ball loose.
Mike Pennel
, the 340-pound defensive tackle, nimbly scoops up the ball at the 10-yard line, and then takes an amusing minute and a half to rumble the other way for a touchdown -- Tigers bouncing off his rotund 6-foot-5 frame all the way down the field.
It's the ESPN Play of the Day, provided musical accompaniment by Henry Mancini's "Baby Elephant Walk."
The end result is a No. 20 ranking with No. 18 Utah coming to town.
"It's a battle of unbeatens in Tempe, the winner perhaps looking like the top contender against USC in the South Division," says Chris Fowler of ESPN's "College GameDay."
"And with Missouri stomping South Carolina earlier today, you might call the winner the early favorite in the SEC East," adds Kirk Herbstreit.
It proves to be a
Cameron Marshall
-
John White IV
battle, as both running backs eclipse 150 yards and score twice. The difference, however, proves to be Marshall turning a screen from Kelly into a 44-yard TD.
Junior Onyeali
's fifth sack of the season snuffs a late Utes drive and seals the 30-24 victory.
The Sun Devils are flagged just once for five yards.
"Still too much," Graham says.
It's not easy, however, for a program to cure all its bugaboos in a single season. The Sun Devils just don't win in the state of California very often and that holds true during a 20-17 loss to Cal in Berkeley.
The Sun Devils bounce back with a 42-17 victory over Colorado and, at 5-1, move up to No. 19 in the nation, but they get drubbed 44-19 by No. 3 Oregon the following weekend.
"This is about where we lost it last year," Marshall says. "We fell apart like we were Snooki taking the SAT."
A date with UCLA certainly doesn't bring back good memories. This is a different team, with different leadership, though.
Alex Garoutte
kicks field goals of 38, 48 and, with five seconds left on the clock, the winning 56-yarder in a 30-28 victory over the Bruins. That winning drive included the Sun Devils converting on a third-and-29 play.
The Sun Devils slip Oregon State 31-27, but get rocked 45-21 at No. 1 USC. A 44-40 win over Washington State pushes them to 8-3 and back into the top 25.
And so it's off to Tucson to try to take back the Territorial Cup from Arizona. The Wildcats need a victory to become bowl-eligible. An Arizona State win sends the Sun Devils to the Holiday Bowl in San Diego. A loss means El Paso, Texas, and the Sun Bowl.
Magee gathers his teammates.
"We've had a lot of bad times in this program since I've been here," he says. "But I wouldn't trade them for anything because that's how I got here tonight -- this moment -- with you guys. This is the best place to be in the world, right here in this locker room before we open a can of whup-butt. We are the beginning. We are the foundation. And for that, we will always be remembered. When Arizona State wins a Rose Bowl, wins a national championship, we will all celebrate together as Sun Devils. And then everyone that wears our colors will raise their hands and point at us and say, 'But it started with you guys.'
"Now let's go bust those guys to pieces."
Arizona State rolls 38-20 and earns a berth in the Holiday Bowl opposite Texas. A 41-28 victory over the Longhorns earns the Sun Devils a 10-3 finish and final No. 14 ranking.
The Sun Devils lead the nation in fewest penalties per game.
Pittsburgh finishes 3-9, with players taking to Twitter saying how much they miss Coach Graham.
"I've got great news," says Steve Patterson, ASU vice president for athletics. "Now that the economy is rallying and local housing prices are soaring, we are pleased to announced a $200 million anonymous donation that will help finance a $300 million renovation of Sun Devil Stadium."
It turns out that ASU alumni Nick Nolte, Jimmy Kimmel and David Spade pooled their money and gave the school the $200 million.
Says Spade, "Hey, 'Joe Dirt' was huge in France."
Worst case
It takes more than optimism and saying all the right things to transform a program. It doesn't take long for Graham to find out that talking about unity and discipline is one thing. Imposing it in the Arizona State locker room is another.
After whipping Northern Arizona in the opener, things go down hill quickly. Illinois sacks quarterback Taylor Kelly six times in a 28-10 defeat. Missouri QB James Franklin accounts for five touchdowns in a 40-17 loss, with
Michael Eubank
replacing Kelly in the second half but failing to rally the Sun Devils.
Eubank gets the start against Utah, but the Sun Devils turn the ball over three times in the first half and gain just 97 yards against a physical Utes defense. Kelly starts the second half but things don't get any better. Players are seen mouthing, "Put
Mike Bercovici
in!" on the sidelines.
After a blowout loss at California, the Sun Devils are averaging 105 yards in penalties per game.
Bercovici leads the Sun Devils to a 35-30 victory at Colorado, but he gets into a brief skirmish with Graham after he tells the punt unit to get off the field before a fourth-down play from the Buffs' 44-yard line.
It appears the Sun Devils completely surrender in a 52-3 loss to Oregon.
"This obviously isn't going to get fixed overnight," Graham says amid rumors of a post-game locker-room fight between offensive and defensive players. "It takes time to change a program's culture."
Just 24,000 fans show up to watch the Sun Devils fall to 2-6 against UCLA. The season further spirals down the toilet after a loss at Oregon State, a 56-6 evisceration at USC and a 42-21 home defeat to Washington State.
"I know this team will show up with some fight at Arizona," Graham says. "We always fight against the Wildcats."
Arizona whips the Sun Devils 44-24 and advances to the Holiday Bowl, where the Wildcats beat Texas and finish the season 9-4 and ranked 25th.
Tempe's own
Priest Willis
commits to Arizona, as do
Jalen Ortiz
and
Cole Luke
.
Arizona alumni Linda Ronstadt, Geraldo Rivera and Garry Shandling give the Wildcats athletic department $200 million dollars.
"We just want all their stuff to be way better than Arizona State's," Ronstadt explains. "Bear down!"
Pittsburgh wins the Orange Bowl.
Graham texts his players at 4 a.m. on Dec. 25 that he's leaving for the head coaching job at McNeese State.
"It's always been my dream to coach the Honey Badger," he types.
Tyrone Willingham hired to replace Graham.
March, 29, 2012
3/29/12
2:30
PM ET
By
ESPN.com staff
| ESPN.com
No, she gets a special cologne. It's called Sex Panther by Odeon. It's illegal in nine countries. Yep, it's made with bits of real panther, so you know it's good. (
Anchorman 2
!)
March, 28, 2012
3/28/12
1:45
PM ET
Athletic directors don't last long when football and men's basketball struggle, and that appears to be what has happened to Lisa Love at Arizona State.
Love will be replaced as the Sun Devils athletic director by Steve Patterson, the
school announced Wednesday
. Patterson was hired in July as the athletic department's chief operating officer and managing director of the Sun Devil Sports Group.

The school's official release says Love "is leaving ASU to pursue other career opportunities." The
Arizona Republic
, however, reported that she was fired after meeting with school president Michael Crow on Tuesday.
Love was hired in April of 2005. While many of the the Sun Devils' nonrevenue sports have thrived, Love's big-name hires haven't, including Dennis Erickson for football and Herb Sendek for men's basketball. Love also had a contentious relationship with successful baseball coach Pat Murphy,
who was fired
in November of 2009 during an NCAA investigation. Further, the search for a replacement for Erickson, which eventually ended with Todd Graham's hiring away from Pittsburgh, was far from smooth.
Patterson's background is mostly in pro sports. He spent nearly a quarter of a century as an executive in the NFL with the Houston Texans, in the NBA with the Houston Rockets and Portland Trail Blazers, and in professional hockey with the Houston Aeros. Prior to joining ASU in July 2011, he was the president of Pro Sports Consulting.
Quotes from the press release:
"In his time at ASU Steve Patterson has shown a level of sports management expertise rarely seen at the college and university level," said President Michael M. Crow. "He is the ideal person to build on the foundation Lisa built and to take Sun Devil sports to the next level - to the highest level.
"I wish to thank Lisa for seven years of excellent service. During her tenure here ASU won seven national championships and the academic performance and graduation rates of our student-athletes improved dramatically."
"I'm excited that Dr. Crow gave me the opportunity to oversee Sun Devil Athletics," said Patterson. "We expect to have a program that consistently competes for Pac-12 championships, with athletes that graduate, connect and serve our community, and operate with integrity, discipline and respect. It's time for our men's basketball and football programs to compete for championships and perform at the same level as our successful spring sports."
More Patterson background from the release:
Steve Patterson has built championship professional teams and designed, financed, built and run stadiums and arenas. As General Manager of the Houston Rockets he built the 1994 NBA Championship team. Later, he successfully led the effort to bring the Houston Texans NFL team and Super Bowl XXXVIII to Houston, Texas. As President of the Portland Trail Blazers, The Rose Garden and Rose City Radio, Patterson refined his skills as a turnaround specialist, while garnering national recognition for his player acquisition skills player acquisition skills when he took over as the team's General Manager.
Patterson also served as the President, General Manager and Governor of the Houston Aeros hockey team. For his efforts he was named the 1995 winner of the Andy Mulligan Trophy as the IHL's Executive of the Year.
In addition to his roles with the Aeros, Patterson also acquired and served as President and Partner in Arena Operating Company, which managed and operated Compaq Center, Houston's home of the Rockets, Aeros and Comets.
Born and raised in Beaver Dam, WI. Patterson attended the University of Texas, graduating with honors earning a Bachelor's Degree in Business Administration in 1980. He graduated from UT's Law School in 1984.
Oregon and Oregon State fans may not provide glowing recommendations for Patterson, whose tenure with the Portland Trail Blazers was
stormy on multiple levels
.