October, 25, 2010
10/25/10
9:32
PM ET
The
hits keep coming for UCLA
.
After losing 60-13 at Oregon on Thursday, UCLA announced the suspensions of receiver
Ricky Marvray
and offensive tackle Sean Sheller for the Arizona game on Saturday due to violations of team rules.
Both are starters. Micah Kia likely will replace Sheller at left tackle, while junior
Josh Smith
-- a Colorado transfer -- figures to replace Marvray.
Smith was one of two players suspended from the Oregon game. The other was F-back
Morrell Presley
.
The
LA Times
and
Orange County Register
both reported that all four failed a drug test.
Losing a starting tackle isn't a good thing before playing Arizona, which has the best defensive end tandem in the Pac-10. Also, the Bruins anemic passing game might struggle to get better without it's leading receiver. On the plus side, the Bruins might get receiver
Nelson Rosario
back. Rosario, the team's best receiver, has missed the past two games with a sprained ankle.
Another issue: Middle linebacker Patrick Larimore, the
UCLA Bruins
middle linebacker, is going to miss three weeks with a dislocated left shoulder. His replacement, Steve Sloan, will be playing with loose bone fragments in his right new. After Sloan, there's freshman Jordan Zumwalt, who's moved over from strong side linebacker.
August, 9, 2010
8/09/10
2:29
PM ET
By
ESPN.com staff
| ESPN.com
UCLA opens preseason camp today. Here's a quick look.
Who's back
: Seven starters on offense, five on defense and both specialists.
Big names
: K Kai Forbath, FS Rahim Moore, LB Akeem Ayers, P Jeff Locke
What's new
: Clark Lea was promoted from graduate assistant to LBs coach in February. Coach Rick Neuheisel and offensive coordinator Norm Chow adopted a "pistol" offense -- Nevada coach Chris Ault created it -- during spring practices. It features an option out of an abbreviated shotgun formation. Two transfers are eligible to play and likely will play a lot: receiver Josh Smith (Colorado) and tight end Joseph Fauria (Notre Dame).
Key competition
: What's the pecking order at tailback? Will a veteran such as
Derrick Coleman
or
Johnathan Franklin
prevail, or will one of the touted incoming freshman take the lead spot? Two linebacker positions are uncertain: It's junior Steve Sloan versus sophomore Patrick Larimore in the middle and junior Sean Westgate against Glenn Love on the weak side. There are also "or"s on the depth chart between Aaron Hester and Andrew Abbott at right cornerback and Keenan Graham and Iuta Tepa at defensive end.
Breaking out
: There are a lot of potential playmakers on offense. At the "F" position, there's
Damien Thigpen
and
Morrell Presley
. Smith and
Randall Carroll
could be legitimate deep threats. Defensive end Datone Jones looked like a force at times in the spring.
Quote
: Neuheisel on expectations his team is due for a turnaround: "For the first time since I got to UCLA, we are an experienced football team. That doesn't mean we won't have an infusion of young guys that will still be key players. But we have guys like Rahim,
Kevin Prince
and Akeem Ayers. These guys have played and played at a high level. And our kicking game is quite possibly the best in the country."
Notes
: The Bruins' top two tackles won't be around: Xavier Su'a-Filo is on a two-year Mormon mission, while Nik Abele was forced to retire because of neck problems. ... JC transfer Darius Bell might offer an athletic option at QB. ... Three incoming freshmen were kicked off the team for allegedly stealing a purse and are headed elsewhere: cornerback Shaquille Richardson (Arizona), LB Josh Shirley (Washington) and receiver Paul Richardson (perhaps Colorado).
August, 4, 2010
8/04/10
12:40
PM ET
By
ESPN.com staff
| ESPN.com
Linebacker is not an easy position to rate in the Pac-10. It's fair to say that only Oregon is worry-free at the position.
There are plenty of good individual players: Arizona State's Vontaze Burfict, California's Mike Mohamed and UCLA's Akeem Ayers are getting preseason All-American attention and Washington's Mason Foster looks primed for a breakout. But other than the Ducks, every team gives you reason to pause over the depth chart.
So what's the pecking order?
Great shape
Oregon: The Ducks are fast and deep and experienced. Casey Matthews was second-team All-Pac-10, while Spencer Paysinger was his equal in production. Josh Kaddu and Boseko Lokombo are impressive enough that returning starter Eddie Pleasant moved to rover. And sophomore Michael Clay might end up the best of the lot by season's end.

USC: Everyone read all about the Trojans problems at LB during spring practices, but that was mostly about a lack of depth. The bottom line is there are three returning starters from the Pac-10's No. 1 scoring defense, and sophomore Devon Kennard may be good enough to beat out Chris Galippo in the middle.
Good shape
[+] Enlarge

Matt Kartozian/US PresswireVontaze Burfict had 61 tackles and two sacks last season.

Arizona State: Burfict may be the best middle LB in the conference, and Brandon Magee and Shelly Lyons saw plenty of action as backups for a unit that ranked No. 1 in the conference in total defense. Still, there's reason to pause over the loss of Mike Nixon and Travis Goethel, two heady, productive players.

Stanford: The Cardinal switched to a 3-4 defense, and the lineup of LBs is impressive in terms of potential. Sophomore Shayne Skov is a budding star and Owen Marecic is a beast, though this will be his first season as a full-time LB after playing FB last year. It's possible Chase Thomas and Thomas Keiser will be better OLBs than DEs. But we'll have to see.

California: Mohamed led the Pac-10 in tackles last year and, though two starters must be replaced, there's talent and experience on the depth chart, particularly if Mychal Kendricks breaks through. The Bears ranked second in the conference in run defense in 2009.

UCLA: The Bruins are breaking in two new starters next to Ayers, though MLB Steve Sloan started nine games in 2008. But Ayers may end up the conference's defensive Player of the Year, so he makes up for a lot of the issues here.

Washington: Mason Foster is as good a LB as any in the conference, and Cort Dennison is solid in the middle. But who starts on the strong side is one of the Huskies' biggest preseason questions.

Oregon State: The Beavers are replacing their two best linebackers: Keaton Kristick and David Pa'aluhi. Keith Pankey and Dwight Roberson both have significant experience platooning on the outside, though it remains to be seen how full-speed Pankey is after tearing his Achilles during the offseason. Tony Wilson and Rueben Robinson are competing in the middle.
We'll see
Washington State: Though the Cougs are replacing two starters, they have plenty of experience. The problem is the run defense has been terrible the past two years.

Arizona: The Wildcats, you might have heard, are replacing all three starters. Derek Earls and Paul Vassallo are JC transfers who have never played a down in the Pac-10. Sophomore Jake Fischer is hardly a veteran. Things could turn out fine, but as the title says, "We'll see."
July, 21, 2010
7/21/10
9:00
AM ET
By
ESPN.com staff
| ESPN.com
The 2007 recruiting class members are either seniors or redshirt juniors this fall, so they should be the backbones of most Pac-10 team's starting lineups.
Therefore, it seems like a reasonable moment to look back and review some recruiting hits and misses. (And, yes, we did this last summer with the 2006 class, which you can
review here
-- Ducks fans should get a kick out of it).
As for the 2007 rankings, USC ranked
No. 1 in the nation
, according to ESPN.com's Scouts Inc. Oregon, at No. 23, was the only other Pac-10 team in the Scouts Inc., top-25.
Scout.com
ranked USC No. 2 in the nation, Oregon ninth, and California 12th. The rest of the Pac-10 went, in order, Washington (29th in nation), UCLA (36th), Arizona State (38), Oregon State (40), Stanford (43), Arizona (49) and Washington State (54).
Here's an overview.
Arizona
Class
: 17
ESPNU top 150 players
: 2 (DE
Apaiata Tuihalamaka
, TE
Rob Gronkowski
)
How many are expected to start in 2010
: Four (RB
Nic Grigsby
, CB Trevin Wade, WR
William Wright
, K Alex Zendejas)
Misses
: Tuihalamaka, QB
Bryson Beirne
,
Verdict
: Obviously, the biggest catch of this class, Gronkowski, is gone. Otherwise, a lot of these guys qualify for the "where are they now?" file.
Arizona State
Class
: 24
ESPNU top 150 players
: 0.
How many are expected to start in 2010
: Five (C Garth Gerhart, WR
Kerry Taylor
, CB Omar Bolden, DE James Brooks, OG Matt Hustad)
Misses
: OL
Po'u Palelei
, LB
Oliver Aaron
Verdict
: This is a decent class, particularly when you factor in the contribution of the since-departed JC signees, such as LB
Morris Wooten
and DE
Luis Vasquez
. And there are several non-starters who will contribute this year.
California
Class
: 27
ESPNU top 150 players
: 0
How many are expected to start in 2010
: 10 (OT Matt Summers-Gavin, P Bryan Anger, LB D.J. Holt, WR
Alex Lagemann
, OT Mitchell Schwartz, S Sean Cattouse, S
Chris Conte
, OG Justin Cheadle, DE Cameron Jordan, RB
Shane Vereen
).
Misses
: QB
Brock Mansion
, CB
D.J. Campbell
Verdict
: Obviously, ESPN.com's Scouts Inc., missed with its evaluation of this solid recruiting class, particularly when you consider RB Jahvid Best, WR
Nyan Boateng
and LB Devin Bishop were significant contributors before their tenures were done. Jordan and Vereen obviously were well underrated. And there were 21 running backs better than Best?
Oregon
Class
: 29
ESPNU top 150 players
: 1 (DE
Kenny Rowe
)
How many are expected to start in 2010
: 10 (Rowe, WR
D.J. Davis
, LB Casey Matthews, CB Talmadge Jackson, OG Carson York, TE
David Paulson
, OG Mark Asper, WR
Jeff Maehl
, S Eddie Pleasant, DE
Terrell Turner
).
Misses
: DT
Myles Wade
, S
Malachi Lewis
Verdict
: When you toss in DE Will Tukuafu, WR
Aaron Pflugrad
(a starter who transferred to Arizona State) and WR Terence Scott, this is a good, if not great, class. Three or four of these guys should be All-Conference players.
Oregon State
Class
: 35
ESPNU top 150 players
: 0
How many are expected to start in 2010
: Eight (HB
Joe Halahuni
, S Cameron Collins, WR
Darrell Catchings
, CB Brandon Hardin, FB
Will Darkins
, DE Taylor Henry, LB Keith Pankey, WR
James Rodgers
)
Misses
: CB
David Ross
, RB
Reggie Dunn
Verdict
: We don't have the time to go back and retrace the maneuvers that are part of managing a 35-man recruiting class (each class can only include a maximum of 25 members, but there are lots of ways to fudge numbers). Obviously, there are the Beavers typical crew of so-called diamonds in the rough -- hello, James Rodgers -- but here's a guess that coach Mike Riley winces over some of these names. Certainly not a lot of production from the six JC guys.
Stanford
Class
: 19
ESPNU top 150 players
: 0.
How many are expected to start in 2010
: Six (P David Green, CB Corey Gatewood, LB/FB
Owen Marecic
, TE Coby Fleenor, DE Thomas Keiser, DE Matt Masifilo)
Misses
: QB
L. D. Crow
, S
Sean Wiser
Verdict
: An interesting class considering that six of the eight lowest rated players are on the Cardinal's preseason two-deep depth chart, including three starters. In terms of skill positions -- see the two QBs -- this class doesn't measure up.
UCLA
Class
: 11
ESPNU top 150 players
: 2 (QB
Chris Forcier
, RB
Raymond Carter
)
How many are expected to start in 2010
: Five (LB Akeem Ayers, LB Glenn Love, LB Steve Sloan, DT
Nate Chandler
, OT Mike Harris)
Misses
: Forcier, Carter
Verdict
: This is a very small but highly productive class collected by former coach Karl Dorrell -- note that it includes DT Brian Price, who bolted early for the NFL. The only busts were the two highest rated players, Forcier and Carter, and JC LB Mike Schmitt. The other eight members are either on the two-deep or, in Price's case, already in the NFL.
USC
Class
: 20
ESPNU top 150 players
: 10 (RB
Joe McKnight
, LB
Chris Galippo
, RB
Marc Tyler
, S
Marshall Jones
, DE
Everson Griffen
, QB
Aaron Corp
, WR
Ronald Johnson
, OT
Martin Coleman
, DT
DaJohn Harris
, C
Kris O'Dowd
)
How many are expected to start in 2010
: Four (LB Chris Galippo, WR Ronald Johnson, C Kristofer O'Dowd, LB Malcolm Smith)
Misses
: S
Marshall Jones
, OT
Martin Coleman
Verdict
: Obviously, this class, ranked No. 1 in the nation, was overrated, even when you factor in that McKnight, Griffen and Damian Williams already are in the NFL, and NT Christian Tupou would be a second-year starter if he didn't blow out his knee this spring. Lots of guys who never contributed or left the program.
Washington
Class
: 27
ESPNU top 150 players
: 0
How many are expected to start in 2010
: Eight (WR
Devin Aguilar
, LB Alvin Logan, LB Cort Dennison, SS Nate Williams, LB Mason Foster, CB Quinton Richardson, DE Kalani Aldrich, K Erik Folk)
Misses
: DE
Emeka Iweka
, DT
Nick Wood
Verdict
: You read the names of the seven highest-rated players in this class and you have one reaction: Terrible. But then you see six defensive starters among the lower rated guys. Still, the Huskies defense is a huge question mark. How it performs this year will tell you how this class should be rated.
Washington State
Class
: 26
ESPNU top 150 players
: 0
How many are expected to start in 2010
: Five (CB Aire Justin, WR
Daniel Blackledge
, C Andrew Roxas, OG B.J. Guerra, SS Chima Nwachukwu)
Misses
: WR
Deon Ford
Verdict
: Not much should be expected from Bill Doba's final recruiting class, and this one doesn't deliver much sizzle. A couple of solid hits, though, including a couple of departed JC transfers.
May, 25, 2010
5/25/10
11:00
AM ET
By
ESPN.com staff
| ESPN.com
UCLA's must replace six starters on defense, including three first-team All-Pac-10 performers.
That is a cause for concern.
On the other hand, safety Rahim Moore, linebacker Akeem Ayers and end Datone Jones are future high NFL draft picks who provide a cause of optimism.
Although the Bruins walked away from spring practices with some questions -- particularly at two linebacker spots -- and an obvious need for some youngsters to immediately contribute, there's enough talent for them to again rank as one of the Pac-10's top defenses.
[+] Enlarge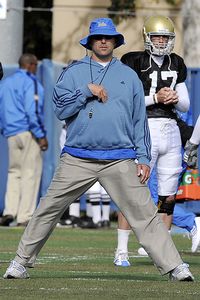 Rose Palmisano/Icon SMIChuck Bullough needs to identify some new leaders on his defense.
Here's what coordinator Chuck Bullough had to say.
You lost a lot of guys who saw a lot of action: Who's going to be hardest to replace?
Chuck Bullough
: All of them were good. The hardest to replace? It's really different aspects. Obviously, Brian Price being such a disruptive force up front -- that's a guy you're going to miss. Then we have our two linebackers. Reggie Carter was a four-year starter, so obviously his experience, him knowing everything. He was a team leader of the defense. And obviously Alterraun Verner, who was one of the best corners to ever play here. But we have young guys who played well in spring who we hope can step up. Now, I don't know if they will be at the same level as those guys were because those guys were obviously seniors and these guys are younger. But these guys have the ability to get to that level.
How might the 2010 defense be different than the 2009 unit?
CB
: We'll be a little younger. We lost those five seniors. But the guys who played this spring -- [middle linebackers] Steve Sloan and Patrick Larimore -- played really well. Replacing Kyle Bosworth at "will" linebacker we've got [Sean Westgate] and we moved a safety down there, Glenn Love, who played real well and was a real surprise of spring. They have a chance to be comparable to the guys from last year. We moved
Nate Chandler
over from tight end to defensive tackle. He's a big 6-foot-5, fast with great feet. Between him and David Carter and a couple of the young puppies coming in, we'll replace Brian Price. Well, a Brian Price only comes along every once in a while with his explosiveness. But these guys are good football players. The guy stepping in for Verner would be Sheldon Price. He was a freshman last year but he started as a true freshman just like Verner did. It all depends on them taking that next step and being leaders. We lost all our leadership. So I think, with the defense, it will have to be seen as to who takes over the leadership role with these guys gone, when it comes to the fall and it's time to play games, who are the leaders of the defense.
Let's go through the three levels: What are you happy with concerning your defensive line and what concerns you?
CB
: We feel very good about our D-line. Obviously, we lost both our tackles, but like I said, Nate Chandler came over and played really well. David Carter has improved. Both of those guys are big bodies -- 6-5 and 6-4, 290 and both of them can run. A tackle we have coming in, Cassius Marsh, who we've been keeping in touch with, is really strong for a freshman, which is usually the problem they have coming in and trying to play Pac-10 football from high school. They aren't strong enough. But he's really strong and he's got a nasty streak. So we're expecting him to have to be in the rotation. We've got a guy, Sealii Epenesa, from Hawaii, who's a big, huge body guy. We'll have to see if he can hold up strength-wise but he'll definitely have the ability down the road. Then we have a guy named [Wesley] Flowers who's coming in. We're not sure if he's a D-end or D-tackle yet. But defensive tackle-wise, I feel pretty confident with the switch-over with Nate and having those other guys step up and grow up and the young puppies coming in and being able to help -- they probably won't be able to start -- but they will be able to help. We'll play about four tackles a game. Defensive end, we lost Korey Bosworth, but we have Iuta Tepa and Keenan Graham who made big improvements during spring. Obviously, Datone Jones should become a dominant defensive line player at tackle and end. He's taken a step up. I project for him down the road that he will be a first-round draft pick. He's that good, that big, that fast and he's really hungry. The other two guys obviously didn't play much, so when the live action starts we'll have to find out about those two. And obviously we have [
Owamagbe Odighizuwa
] coming in -- one of the top defensive ends in the nation. Then again, can he learn the defense? He's got the ability. But you never know until they get here and try to learn the defense. Obviously there's a lot more scheme in college. So we came out of spring feeling pretty good defensive line-wise, compared to going in. Going in we didn't know what Nate Chandler had, we didn't know what Keenan Graham had, we didn't know that Datone had made such a big jump, which he did.
At linebacker, what does Akeem Ayers need to do to become an All-American sort of player?
CB
: He's a guy who should be another high-round draft pick for the NFL. He's grown with the defense and he's probably the most athletic linebacker you're going to find. He's a guy who, the more he's in the system, every year, he's gotten better. His second year, we had to play him as a nickel linebacker because he couldn't mentally handle both base and be a nickel. Those were just two different spots. Last year, he could. This year, we feel he should be even more comfortable with the defense. He should not even have to think at all. He still had to think a little bit last year, I believe, but he should just react now because he knows the defense inside and out
How do the competitions at middle and weakside linebacker stand?
CB
: I've mentioned Sloan and Larimore need to battle it out next fall and Westgate and Love got to battle it out in the fall. Both are open. Both will be competitions in training camp. They have three months here to improve and we'll see in training camp. But we've got four guys who we believe can play. They did a good job in spring and showed it. Now it's just going to be a training camp battle.
Rahim Moore is already an All-American: Where can he improve?
CB
: He's started for two years. He's into the system for a third year. Now his role has become that he has to be the leader in the secondary. Verner was kind of the leader last year. Now Moore has got to be the leader.
Besides Moore, tell me about what's good and what concerns you in the secondary?
CB
: We feel pretty good with our two safeties. Obviously, both Tony Dye and [Moore] have both played. They've started for two years now. That's where our veterans are in the secondary and the safety position. And obviously we have Dietrich Riley coming in who's a big-time recruit who is very bright. We expect him to be able to come in and contribute and play. And we've got some guys who've got another fall to improve. We feel good about the safety position. The corners, obviously I mentioned Price before. He's a second-year starter. He's a tall guy who's gaining weight. Last year, he didn't have enough weight. He was probably 160 pounds. He was too small. But he's gained 15 or 20 pounds, I think, without losing his 10.5 speed in the 100 [meters]. He could be a special player and it's his turn to take over at corner. Then we have Aaron Hester who was a starter before he broke his leg. He's another big, tall, long-armed guy who can run like the wind. We feel comfortable with him. We have Andrew Abbott and Courtney Viney behind those two who are two savvy veterans that we feel can play. And obviously we've got a couple of freshmen coming in. We've got Anthony Jefferson and Tevin McDonald. With Tevin McDonald, we don't know if he's a safety or a corner. We also have Shaq Richardson coming in. So we have some guys there. But it's hard to know with those rookies until they actually play. If those guys can play, they will just be bonuses.
When you lose six guys like you lost, most folks think you'll take a step back. Do you think the 2010 unit can be as good as your 2009 crew?
CB
: I think it will be interesting who steps up and becomes a leader. The "mike" [middle] linebacker in my defense has always been that guy. He makes all the checks. So Sloan and Larimore, one of them -- whoever it is -- has got to step up. Reggie Carter grew up into that leadership role as he got older. In spring, we saw Datone and Ayers and Rahim take up that leadership role which last year was with the older guys. Those three guys should be the leaders because they've played so much and gotten a lot of accolades.
May, 19, 2010
5/19/10
12:55
PM ET
By
ESPN.com staff
| ESPN.com
Seventh in a series taking a look at top position competitions this fall.

UCLA: Linebacker (times two!)

Why the competition? Middle linebacker Reggie Carter, a four-year starter, and "will" outside linebacker Kyle Bosworth, a 21-game starter, are both gone.

Candidates: In the middle: junior Steve Sloan (6-foot-4, 232) and sophomore Patrick Larimore (6-3, 250). On the outside: junior Sean Westgate (5-11, 216) and junior Glenn Love (6-4, 216).

The skinny: A quick review of the Bruins' depth chart reveals few areas without a fairly clear post-spring pecking order, but both these linebacker spots are wide open. Sloan started nine games as a redshirt freshman, so he has more experience, but Larimore is a hard-hitter who played well this spring. Love had 27 tackles last year as a backup safety in 2009 before being moved up. He has the frame and athleticism to beat out the undersized Westgate, but he's still learning the position. Westgate had 18 tackles and started once last fall. If things don't shake out like the Bruins' coaches want them to, then expect at least one of the three incoming freshmen linebackers to press for playing time. And if touted recruit Anthony Barr isn't the answer at running back, might his athleticism be intriguing on defense?
May, 7, 2010
5/07/10
7:30
AM ET
By
ESPN.com staff
| ESPN.com

UCLA
2009 overall record
: 7-6
2009 conference record
: 3-6
Returning starters
Offense: 7, Defense: 5, punter/kicker: 2
Top returners
: K Kai Forbath, QB
Kevin Prince
, WR
Nelson Rosario
, FS Rahim Moore, LB Akeem Ayers, DE Datone Jones, P Jeff Locke
Key losses
: TE Logan Paulsen, OT Xaiver Su'a-Filo (LDS mission), DT Brian Price, CB Alterraun Verner, LB Reggie Carter, DE Korey Bosworth, LB Kyle Bosworth
2009 statistical leaders (*returning starter)
Rushing
:
Johnathan Franklin
* (566)
Passing
: Kevin Prince* (2,050)
Receiving
: Nelson Rosario* (723)
Tackles
: Reggie Carter (79)
Sacks
: Brian Price (7)
Interceptions
: Rahim Moore* (10)
Spring Answers
1. The revolver will evolve:
While the new "revolver" offense -- read: Nevada's pistol -- wasn't a smashing success, coach Rick Neuheisel and coordinator Norm Chow believe adopting some spread-option elements will add productive wrinkles to the offense, which will burden an opposing defense's preparation. Quarterback Kevin Prince ran something similar in high school and is a good athlete. Will it become the base offense? We'll see.
2.
There's speed on the rebuilding D
: Sure, the Bruins should take a step back on defense. Losing six quality starters, including three first-team All-Pac-10 performers is a blow. But one thing may accelerate the rebuilding: The defense will be faster in 2010. That doesn't mean it will be better, but speed makes for a more favorable margin of error.
3.
The transfers will help
: While they were both banged up this spring, receiver Josh Smith and tight end Joseph Fauria -- transfers from Colorado and Notre Dame respectively -- both flashed enough potential during the off-season and the spring to make clear they will be major contributors to the offense.
Fall questions
1.
Is there enough in the trenches
? UCLA's depth is questionable on both lines, most particularly the offensive line. If everybody stays healthy, things should work out fine -- there's enough experience and talent to get the job done. But a couple of injuries could mean trouble.
2.
Who wins out at linebacker
? Akeem Ayers is a given at strongside linebacker, but the other two spots haven't been decided. In the middle, sophomore Pat Larimore is battling junior Steve Sloan, while Sean Westgate and Glenn Love, a converted safety, are competing on the weakside.
3.
Will Prince break through
? Prince has talent and he's been productive at times. A run of injuries hampered his progress in 2009. If he takes a step forward this fall and stays healthy, he has enough skill around him for the Bruins to score plenty of points.
April, 21, 2010
4/21/10
2:35
PM ET
By
ESPN.com staff
| ESPN.com
LOS ANGELES -- The UCLA glass is half-empty on defense. Everyone acknowledges that losing first-team All-Pac-10 tackle Brian Price, cornerback Alterraun Verner and linebacker Reggie Carter as well as three other starters from one of the best units in the conference is an issue.
But the Bruins glass is also half-full on that side of the ball.
"Rahim Moore, Akeem Ayers, Datone Jones, David Carter -- those four guys are big-time players," coach Rick Neuheisel said. "They all will get chances to play at the next level. The next seven who come after them have to play their [rear ends] off. I think there's enough talent. There's just not a lot of experience."
Fact is the Bruins look pretty good getting off the bus. Take converted tight end
Nate Chandler
, a 6-foot-5, 291 pounder who's lining up beside Carter at defensive tackle.
"He's a physical specimen. In the weight room, he's a freak of nature," quarterback
Kevin Prince
said.
Then there are cornerbacks Sheldon Price and Aaron Hester. Both are over 6-feet. Both are fast. Both have good hips.
"You can't go out and look at two prettier corners," Neuheisel said. "They look like what the NFL looks for. But they've got to play like it."
Glenn Love has a 6-foot-4 frame that could fill out and make him a speedy outside linebacker instead of an inconsistent safety. Hard-hitting Patrick Larimore is making noise at middle linebacker, where he's competing with Steve Sloan.
Still, the front-seven depth is questionable. What is not questionable is whether a
highly rated crew of incoming freshmen
will contribute. "They have to," Neuheisel said.
The Bruins led the conference in turnover margin a year ago in large part because they forced 30, which was five more than any other team. Three fourths of a secondary that grabbed 20 interceptions is back. UCLA ranked third in scoring defense (21.2 ppg) and total defense (334 yards per game), which was even more impressive when you consider that the offense was mostly rotten.
The offense should be better this fall because Prince and most of the starters are back. The question now is whether -- or how much -- the defense falls off. It has been solid in recent years in large part due to Price, Verner and Carter, who combined for 120 starts over the past four seasons.
"I feel real comfortable with the defense," Prince said. "They don't have the names yet but I think they will start establishing names for themselves."
That's the message. The big names are gone. Which means new names are poised to grow.
Jones, for one, thinks the defense will be faster in 2010. And, he said, it will play angry.
"A lot of guys think we lost a lot but we're going to be loaded," he said.
December, 16, 2009
12/16/09
10:34
AM ET
By
ESPN.com staff
| ESPN.com
As far as school traditions go, UCLA's "Wall Day" is pretty lame -- hmm, dotting the "I" at Ohio State or bailing out on practice? -- but that tradition was re-enacted Tuesday when the Bruins
bolted over the brick wall
at Spaulding Field, leaving Rick Neuheisel and his staff with an unexpected couple of hours off.
But the L.A. Times, linked above, included a note that should be more concerning as the Bruins prepare for a date with Temple in the EagleBank Bowl on Dec. 29: Senior All-Pac-10 linebacker Reggie Carter is in danger of being academically ineligible for the bowl game. If Carter doesn't pass his classwork, he'd likely be replaced by sophomore Steve Sloan.
As for "Wall Day," Neuheisel participated in them when he played for the Bruins, but he's not necessarily been a fan of
the tradition
as the head coach. He, however, was a good sport this week, according the
news reports
, because the practices had been focused on developing underclass players and not yet on the Temple game plan.
"They caught us all by surprise with this one," Neuheisel told reporters. "I do compliment them on the choice of days, when we are still getting back into football mode. I am pleased with the leadership in terms of the choice."
September, 1, 2009
9/01/09
6:30
PM ET
By
ESPN.com staff
| ESPN.com

Posted by ESPN.com's Ted Miller
Just about every Pac-10 team feels good about its linebackers.
Not an easy position to rank.
UCLA: Senior Reggie Carter was second-team All-Pac-10, up-and-coming sophomore Akeem Ayers and senior Kyle Bosworth man the two outside positions, while sophomore backup Steve Sloan started nine games last year.
Oregon State: Keaton Kristick was second-team All-Pac-10, and the two-headed monster on the weakside -- Dwight Roberson and Keith Pankey -- is back. Sophomore David Pa'aluhi -- a mixed martial arts fighter -- is promising in the middle.
USC: Yes, USC gets the benefit of the doubt, despite three new starters. By season's end don't be surprised if Chris Galippo, Michael Morgan and Malcolm Smith look like the conference's best unit.
Oregon: Spencer Paysinger and Casey Matthews return, and Eddie Pleasant steps in for Jerome Boyd on the outside. There's good depth and good speed here.
Arizona State: The Sun Devils have a lot of experience as well as young talent, but the starting crew of Travis Goethel, Gerald Munns and Mike Nixon doesn't possess top-end speed. And sophomore Shelly Lyons is hurt and the NCAA Clearinghouse hasn't yet cleared spectacular true freshman Vontaze Burfict.
California: On the outside, Mike Mohamed and Eddie Young have plenty of experience. Inside, Mychal Kendricks and D.J. Holt are promising but green. The depth is solid.
Arizona: The Wildcats are fast with Sterling Lewis, Xavier Kelly and Vuna Tuihalamaka, and Lewis and Kelly have starting experience. There's a pretty fair drop-off to the second unit.
Stanford: Clinton Snyder will lead a solid crew that includes Will Powers and Chike Amajoyi. The uncertain status of Alex Debniak (knee) hurts.
Washington: The Huskies have a solid triumvirate. E.J. Savannah returns after missing all of 2008 due to a suspension. He'll play outside opposite Mason Foster with Donald Butler in the middle. Depth is an issue.
Washington State: Andy Mattingly's return on the strongside from defensive end should help. Jason Stripling is a senior on the weakside, but isn't terribly experienced -- he missed almost all of 2008 with a shoulder injury. JC transfer Alex Hoffman-Ellis will man the middle. He redshirted last year. It would help if undersized but quick Louis Bland was 100 percent because he would add much-needed speed.
September, 19, 2008
9/19/08
10:56
AM ET
By
ESPN.com staff
| ESPN.com
Posted by ESPN.com's Ted Miller
Happy Friday! The Pac-10 will be undefeated today -- guaranteed.
September, 18, 2008
9/18/08
6:38
PM ET
By
ESPN.com staff
| ESPN.com
Posted by ESPN.com's Ted Miller
Remember that great line in Hemingway's "The Sun Also Rises"? A character is asked how he went broke and he responds: "Two ways. Gradually and then suddenly."
UCLA's 59-0 loss at BYU was nothing like that.
The Bruins skipped the "gradual" part and went directly to "suddenly." If a team is going to lose by 59, it needs to hurry and play badly. The Bruins did just that.
Already down 14-0, UCLA fumbled on three straight possessions in the second quarter that result in three straight BYU scores.
"The scoreboard looks like a slot machine when that happens," coach Rick Neuheisel said.
Talk about emotional extremes. A couple of weeks ago, Neuheisel and the Bruins were the toasts of college football after they notched a surprising upset over then-No. 18 Tennessee.
So how do they respond to losing after providing such a rotten followup to winning?
Writing off a 59-zip loss, the program's worst defeat since 1929, seems a little naive. By the same token, a prolonged period of mourning could ruin the season.
"I think I see the right measure of disappointment in what's past and also the right amount of resolve in terms of making sure we atone this weekend," Neuheisel said.
Of course, this weekend the Bruins face a team as desperate as they are. While Arizona didn't get blown out at New Mexico, its second consecutive loss to the Lobos reignited the flame under Wildcats coach Mike Stoops seat.
It's fair to say that both teams are trying to crawl out of the bottom half of the Pac-10 at the other team's expense. When each perused their respective schedules during the preseason, they both probably penciled in a victory.
It's also fair to say that the loser Saturday will feel like the college football gods just put a dent into their bowl hopes.
A couple of angry, desperate teams clawing for survival?
"I always hesitate to say desperate because we're still in week three and the first game in the conference," Neuheisel said. "But it's a game that both teams want desperately."
The truth is, Arizona might be slightly more desperate, at least in the sense that Neuheisel is a first-year coach still in the midst of his honeymoon period who is leading a team with talent issues that aren't his fault.
Stoops is still looking for his first winning record in his fifth season in Tucson.
In the first two games, the Wildcats, against the weakest nonconference schedule in the conference, were dominant on both sides of the ball. But that went away against New Mexico.
Quarterback Willie Tuitama not only threw his first two interceptions of the season in the 36-28 defeat, he also fumbled twice.
Offensive coordinator Sonny Dykes questioned his own play-calling, telling the Tucson Citizen: "We sort of played right into their hands and threw more than we should have. I didn't do a good job."
Said Stoops, "You can't turn the ball over five times and win a football game. We know we're a good football team."
The Wildcats figure to be a much better team with tight end Rob Gronkowski returning to the lineup after missing the first three games due to illness. Gronkowski, an All-American candidate, was touted as the focal point of the offense during the preseason, and Dykes suggested he had a chance to haul in 100 receptions.
So the generally healthy Wildcats are getting healthier, while the Bruins are one of the nation's most injury-riddled teams. The latest casualties are linebacker Kyle Bosworth (sprained knee) and center Micah Reed (MCL tear).
Losing a starting center for two to four weeks -- the Bruins most experienced lineman, in fact -- doesn't help when your offensive line is struggling and lacks depth.
UCLA presently ranks last in the nation with 19 yards rushing per game -- 0.8 yards per carry -- with a long run of seven yards.
"We're trying to solidify who's going to play," Neuheisel said. "One of the major issues we've had since I've been here is the revolving door situation as to who's in the game and who's not."
With Bosworth out, the Bruins also will shuffle their linebackers. Redshirt freshman Steve Sloan will see his first career action on defense, starting at middle linebacker, while Reggie Carter will move from the middle to weakside LB, Bosworth's spot.
Neuheisel told reporters this week that he's looked for wisdom from a note UCLA legend John Wooden sent him before the season began about the peaks and valleys of competition, and also similar words that his former coach at UCLA, Terry Donahue, told him about never getting too high or too low.
The Bruins have seen both extremes. Now they need to figure out who they really are.
"We took one on the chin," Neuheisel said. "We need to take from it what we can take from it and be disciplined enough to not repeat the mistakes. But maybe be more disciplined to forget about it and let it go."